"Expanding our family through adoption was something that had crossed my mind, but I never thought it would come to fruition. So, when I found myself at a crossroads after having our second biological child and wondering if our family had room for more, I felt a soft prodding leading me to learn more about adoption.
I have been asked so many times why our family chose to adopt when we can have our 'own.' And the truth is this: our faith as Christians has taught us another view of family, one that isn't defined by blood. And so, if we are called to love others like 'our own,' then to love my adopted daughter the same way I do my biological sons is easy.
Beginning The Adoption Process
After many years of prayerful consideration, we started the adoption journey in 2018. The thing people have to understand is the process of adoption is difficult. I always say it's not for the faint of heart. It is an unpredictable, unnatural, often emotionally conflicting journey. It requires a commitment of time and finances. This is true whether you are adopting through a private organization, through your local child services, or internationally.
In Toronto, Canada, where I'm from, we had to complete the local foster/adoption requirements as well as the ones set by Korea (where our daughter was born). Honestly, this was a full-time job. Korea has one of the most established adoption organizations; they are a well oiled machine. And with that, their requirements are one of the most strict on the international stage. Everything had to be done within a six month period. All the documents had to be up to date. But the paperwork was only the tip of the iceberg. Yes, it was a lot of work, but nothing in comparison to the emotional rollercoaster that came after we submitted our dossier.
It took us 9 months to complete the paperwork. In October 2018, our file was officially sent to Seoul, South Korea. At the time, we were told a match would likely happen anywhere between 6-8 months. So we waited… and waited.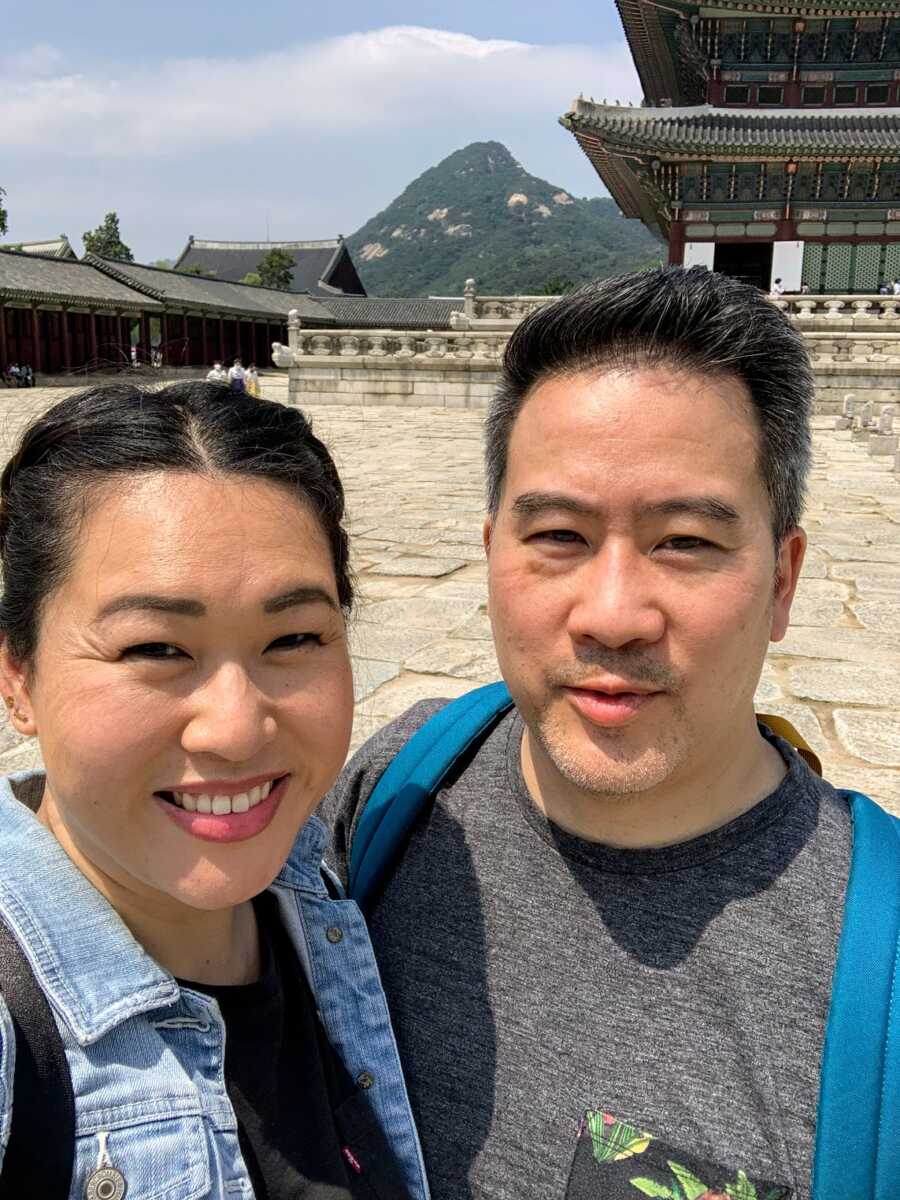 Waiting For The Right Match
In the summer of 2019, we were approached by our agency to gauge our feelings on a potential match. He was a 8-month-old boy who was recently diagnosed with epilepsy. Could we take him on? We were given three days to decide. It was an agonizing three days, and this is what I meant by adoption being unnatural. If I had carried that baby in utero, and he came out to have epilepsy, there would be no question to whether or not we'd see it through. But now I get to choose? How can I play God? In the end, we decided not to pursue this potential match for many reasons, but the greatest one being we did not feel our family had the capacity to give adequate care for this child. He was eventually adopted by another family, but this experience carries a heavy weight in my heart to this day. I often think about him and pray for his family.
By the end of 2019, we were still without a match, but due to policies and politics, the landscape of international adoption had changed. We found ourselves having to update a significant amount of the dossier so our file would still be considered. You can imagine how anxious our family was at this time.
Then, in March 2020, the world came to a halt. Covid-19 shut down everything. The adoption community stood by to watch as some were waiting for matches, others were anticipating a court date to finalize an adoption, and even more horrific, parents were unable to travel to bring their child home.
I was so emotionally drained at this point. We had gone through one potential match, several dossier changes, and were now dealing with a virus no one knew anything about. All along, I had felt God leading us through this storm with a promise He would open doors and help us walk through. But right now, it felt like it was hailing and He left me without an umbrella. If you're a person of faith, you can understand this feeling.
Still, we trudged along and continued to wait — two years into the journey at this point! A lot of my energy was focused on other things. Our boys were doing school online, we were trying to navigate how to do work in this lockdown, and we had a new puppy in our lives. (I look back at our decision to get a dog, and I wonder if it was because I was nesting.)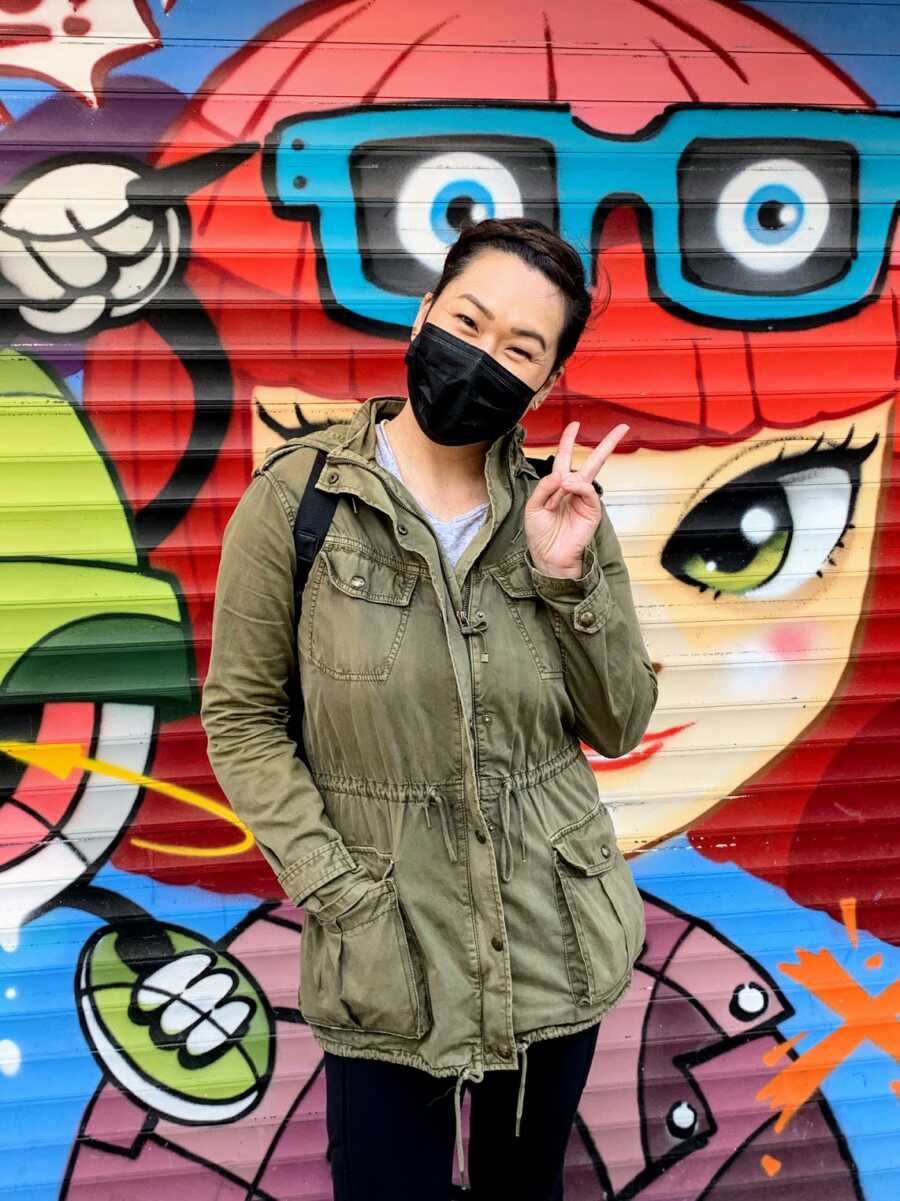 Months rolled on, and in the summer of 2020, our social worker came to us and told us our file was nearing its expiration date. Who knew it would only be active for two years?! We would have to redo the paperwork if we wanted to keep it open and still be on the waiting list. Honestly, by this point, I was seriously doubting whether or not we should continue. It had been almost three years, the boys were getting older, and we were moving toward a different life stage for our family. But I did not have peace to just give up at that moment. I did not feel that release from this journey quite yet.
Matching With Our Daughter
So, around August 2020, we started the paperwork again. Then, one Friday morning in October 2020, our agency contacted us to schedule a video conference. I thought to myself, 'This is either going to be really good or really bad.' Maybe we were waiting so long the Korean agency didn't think it was worth it to keep our file. Maybe something happened and we were no longer eligible to be considered. Many thoughts and scenarios ran through my mind.
It did not even occur to me this meeting would be one where our agency was presenting a match. But when we hopped on that call and a picture of a little girl was shown on the screen, I had to stop the meeting to clarify she was being presented to us as a potential match for adoption. It was a surreal moment and it felt just right.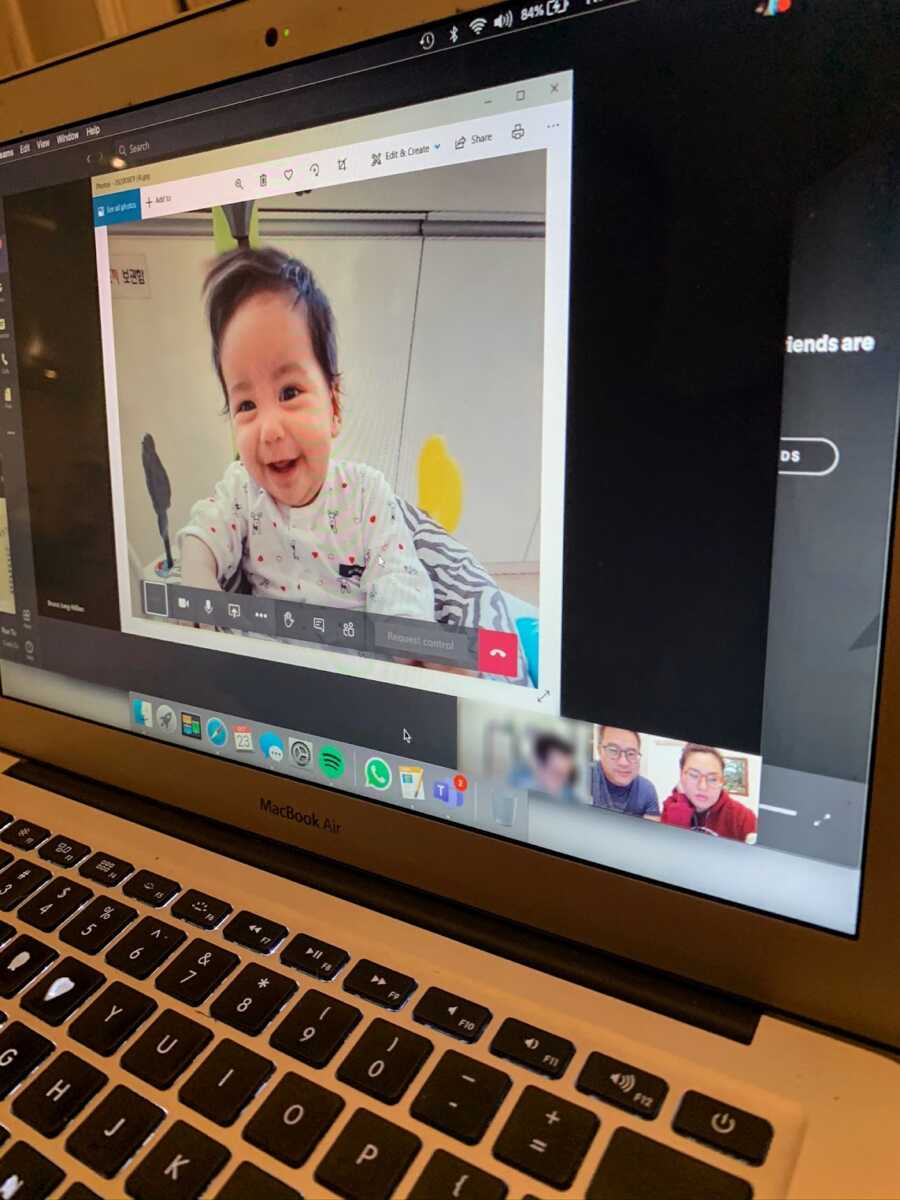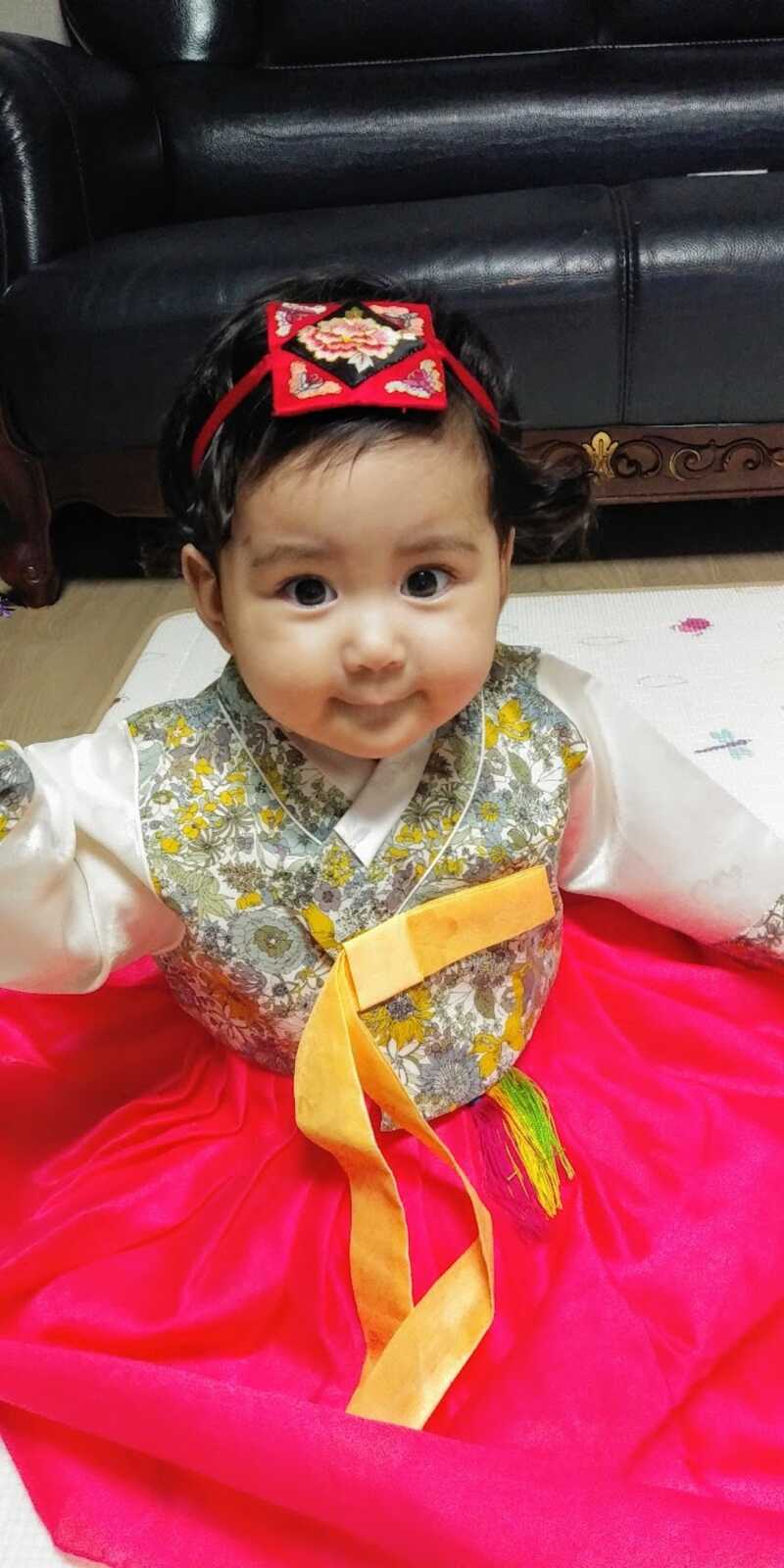 It moves pretty fast after that. Until it doesn't. You have two weeks to accept or decline the match. Some parents bring the baby's medical file to specialists to have it looked at. For us, we knew it was a yes from day one. So within those two weeks, you have to complete the acceptance form and give a name to your baby. We chose Gwendolyn as her English name, and kept Areum as her Korean name (which was given to her by her birth mother). We gave her a Chinese name that kept in line with traditions we have for her and her brother's generation. And then, it was another bout of waiting.
For Canadians, to finalize the process was usually twofold; flying to Korea to meet Areum and attend court was the next step. Then, going home to wait for the immigration paperwork to be completed was the step after. When that was all done (usually a few months between court and immigration), we would fly back to Korea to take custody. Of course, COVID had other plans.
We received a court date for the end of May 2021. Normally this wouldn't be a problem, but because of new COVID restrictions from Seoul (like a mandatory two week quarantine and visa application), we had only three weeks to plan our trip from when we were officially summoned to court.
Traveling To Meet Areum
We left Canada (and the boys) in early May 2021 and flew to Korea, right in the middle of a third COVID wave. Our plan was to stay for three weeks. Two weeks in quarantine, and one week to have two visits with Areum and attend court. Then, we were going to head back to Canada to wait for immigration to come through.
I didn't know what to expect when meeting Areum for the first time. I knew I already loved her in my heart, but this interaction was different than with my other children. At 14 months old, she didn't know who I was. We had no connection. I felt like a babysitter the first time we met. (My husband, on the other hand, jumped right in!)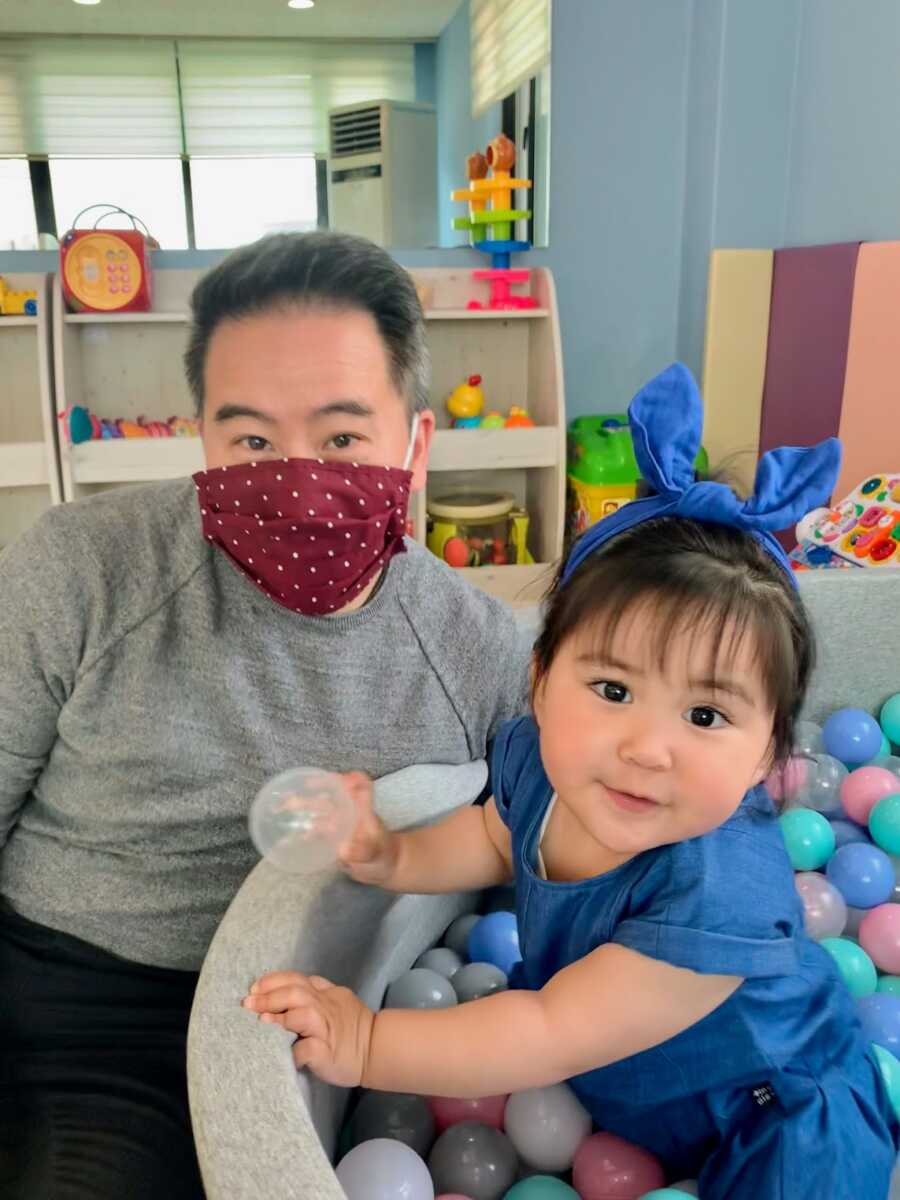 The second visit went smoother. We brought her toys and she opened up a bit more. But still, the connection wasn't there. Nor should it be, given these circumstances. Areum was very attached to her foster family. She had been with them for over a year, and they loved her very much. To this day, we still keep in touch with them and send them updates every few months. The court date came and went. Standing before the judge, answering questions about how we would talk to Areum about her adoption or how we'd keep Korean culture alive in our home, felt like the longest 15 minutes of my life. Thankfully, our answers satisfied their judicial system and our case was approved. We were preparing to fly back home a few days after court.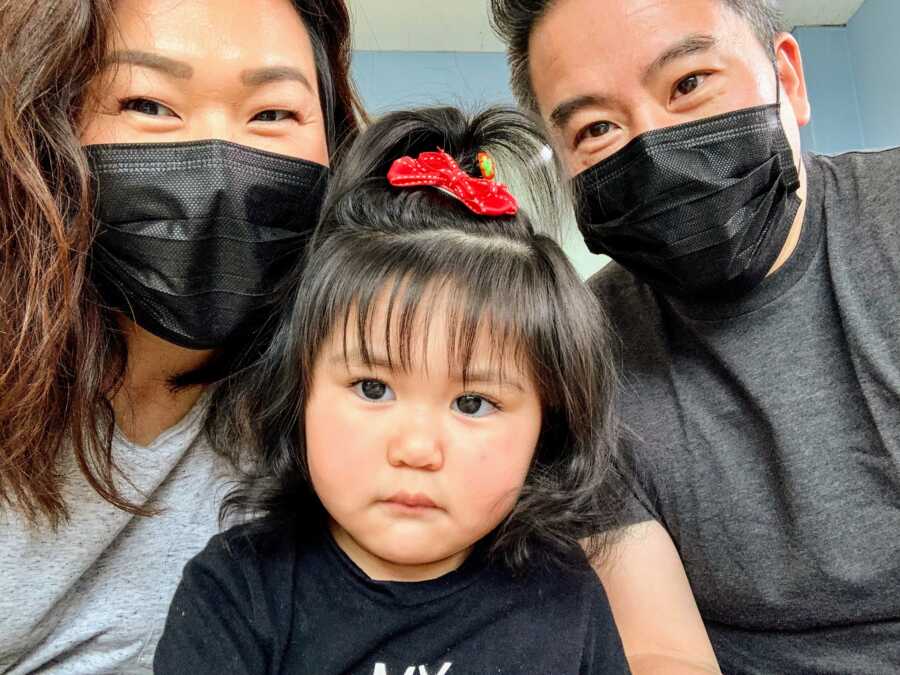 48 hours before our flight back to Toronto, the Korean agency reached out to us. Apparently, due to the current COVID climate, the process of immigration had sped up considerably. Instead of the usual 2-3 month wait time between court and custody, families were seeing their adoptions finalized within 3-4 weeks. Her question to us: Did we really want to leave Seoul when we could potentially be called back within a few weeks?
At the time, Canada had their mandatory three day quarantine. Flying back to Korea would mean we would have to apply for a visa and also do the 14 day quarantine again. If we flew back as scheduled, the earliest we could get back into Seoul would be 6-8 weeks later. So we stayed.
I've never gone to visit a country without having a return date scheduled. But we found ourselves in limbo. One week turned into two, and two turned into three. We were just waiting around until the Canadian government issued the immigration orders and we could take our daughter home. It was another agonizing wait.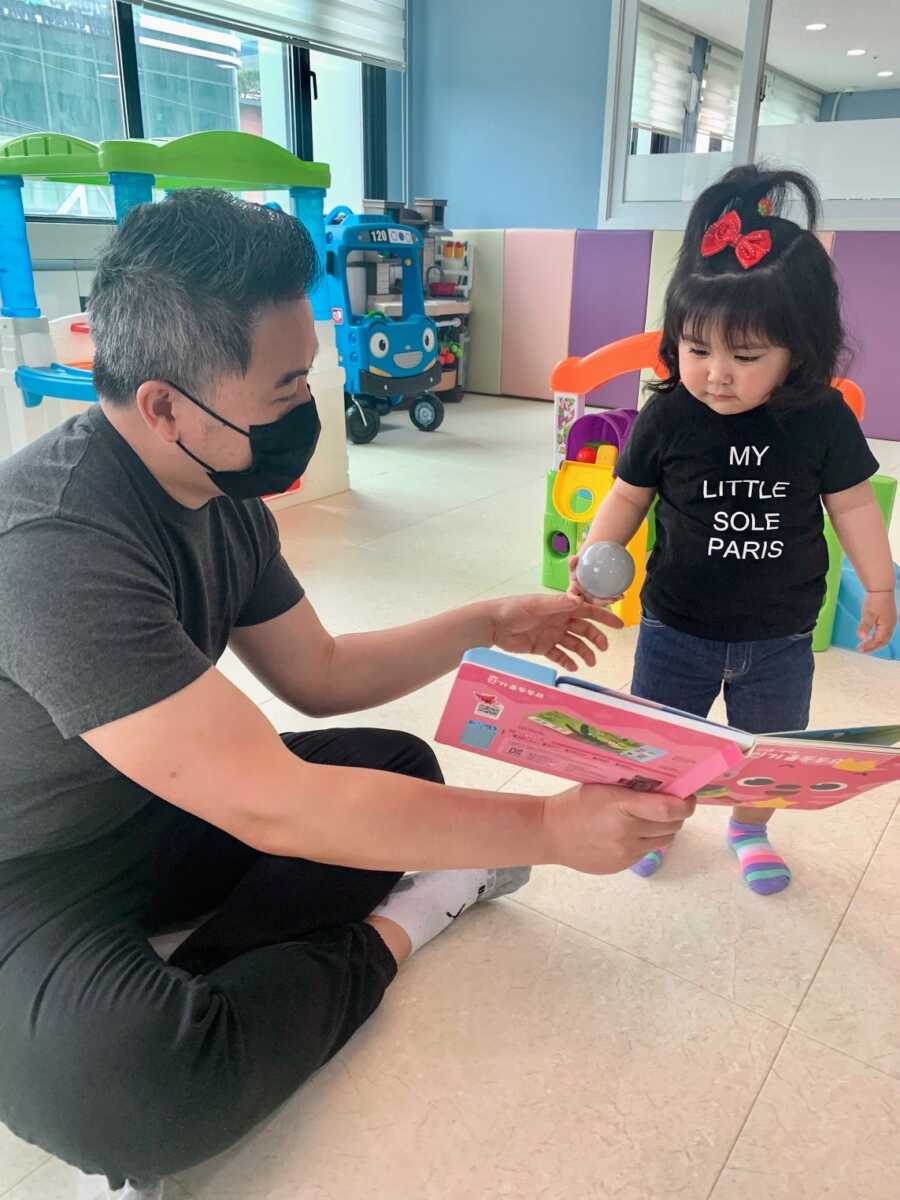 Bringing Areum Home
Finally, we received word the paperwork was processed and we'd be able to take custody of Areum. We were so anxious we scheduled it the day after. I'll never forget the moment we walked into the agency and saw her there with her foster family. They had packed her belongings in some bags, and we spent an hour going through each item. There were her favorite toys, her feeding essentials, clothes… even a small gift from her maternal grandmother. I knew the foster family was grieving, especially the foster mom. They were happy Areum was going to be part of our family, but she had spent over a year with them and they loved her deeply.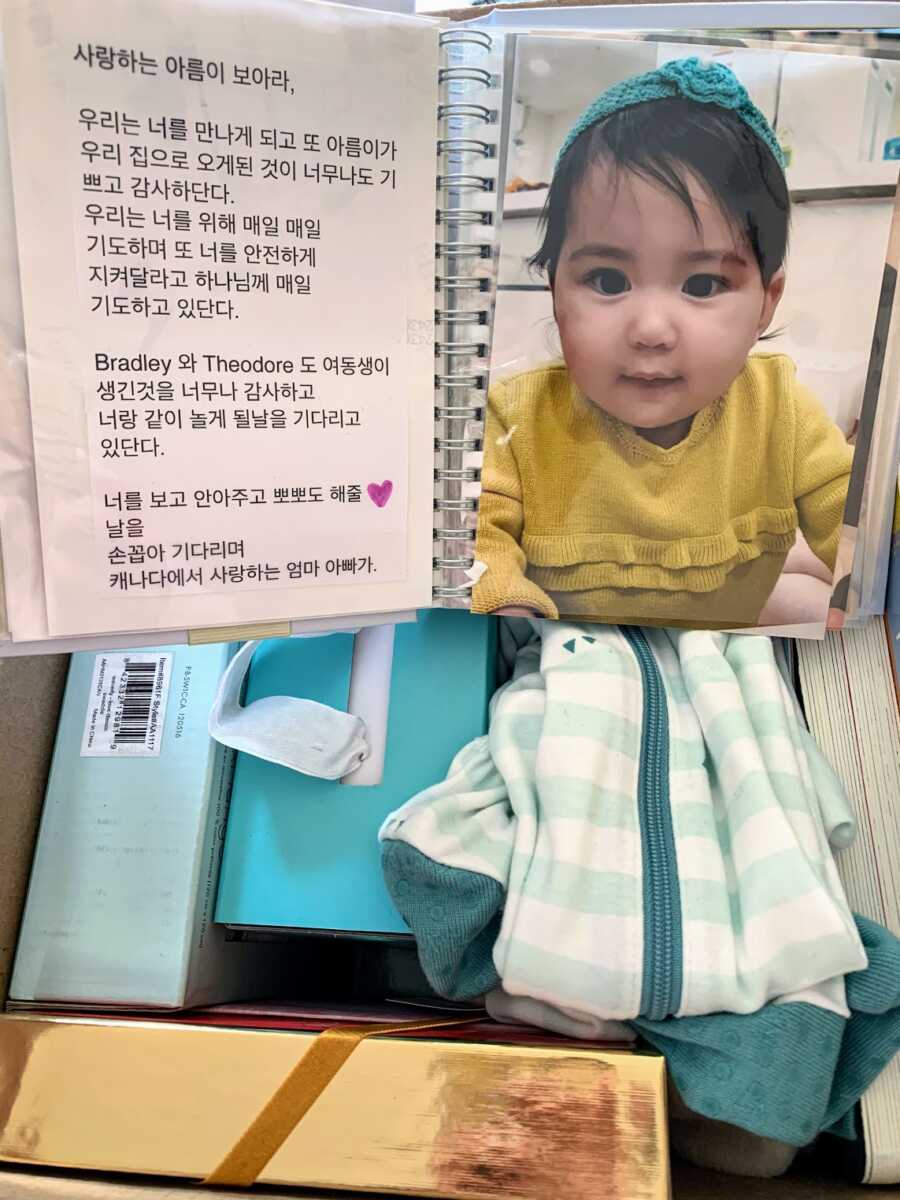 As we said our emotional farewells, I remember walking to the elevator and asking if they would be coming down to see us off. The social worker gently said 'no' and asked me to take our daughter and go. The foster mom handed Areum to me, and I was crying so hard. All I could do was thank her, telling her we would meet again one day. Then, holding our daughter, I watched the doors of the elevator slowly close, with tears in my eyes.
The next few days were a whirlwind of experiences and emotions. We decided to fly home the next day because we had spent so much time away from the boys already. It was tough with a toddler who didn't trust or connect with us, but she latched onto me over her dad. When I think back to our travels back home, I always recall one convicting incident. As the plane start to ascend, I held Areum on my lap and looked out the window, saying goodbye to Seoul. I started to cry because I realized Areum was leaving her home country, and I grieved for all she would lose. Her birth country, language, culture, home… her birth parents. All of this was out of her control, and she would grow up searching for her identity and trying to fill that puzzle. I knew then and there I would do everything in my power to try and make those connections for her.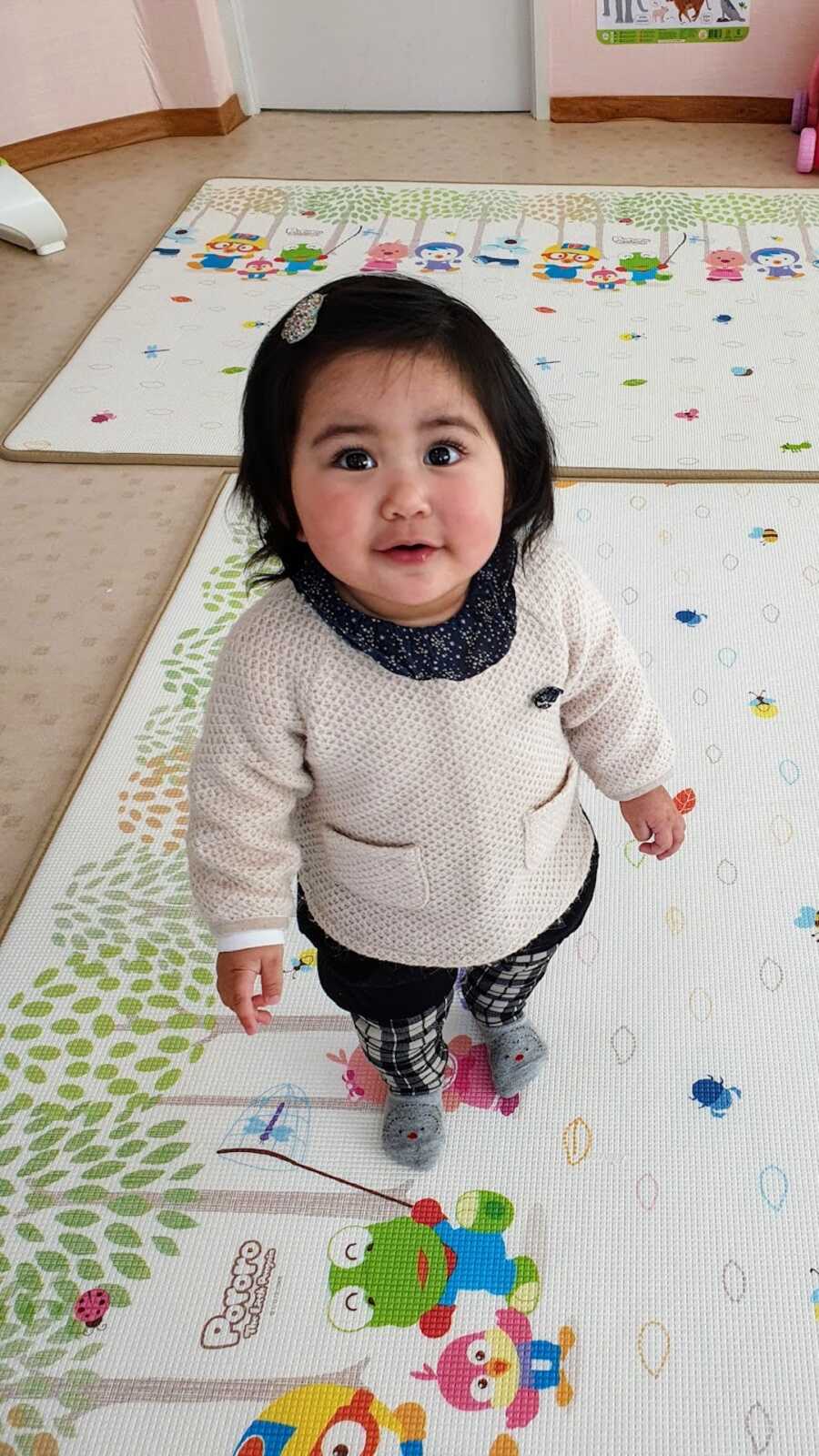 Reality Of Adoption
People often think of adoption as a way of growing a family when a couple has infertility issues, or an act of social justice to give a new life to an orphan. It's painted as a very beautiful picture, where a child who has no family now gets a forever one. And, while adoption can be a positive thing, adoption only happens when there has been trauma. There had to have been a loss for a gain.
Areum was wanted. She was loved. But she came from a broken system and a culture that shamed single parenthood. That's the beginnings of her story, but it goes to show the complexity and messiness of adoption. It's not at all what main stream media portrays. That's why it's so important to educate yourself and hear the voices of adult adoptees. When they were children, adults spoke for them. But now, they are their own voices, and they have their own experiences and trauma to tell.
It's been a year since Areum has been my daughter. It has been a whirlwind of exhaustion and emotion. We've come a long way since the days where she wanted nothing to do with her dad or when she'd cry so much she'd vomit on me. I'm especially thankful to our community of friends and family who have embraced Areum and joined us on this journey. A lifetime to go."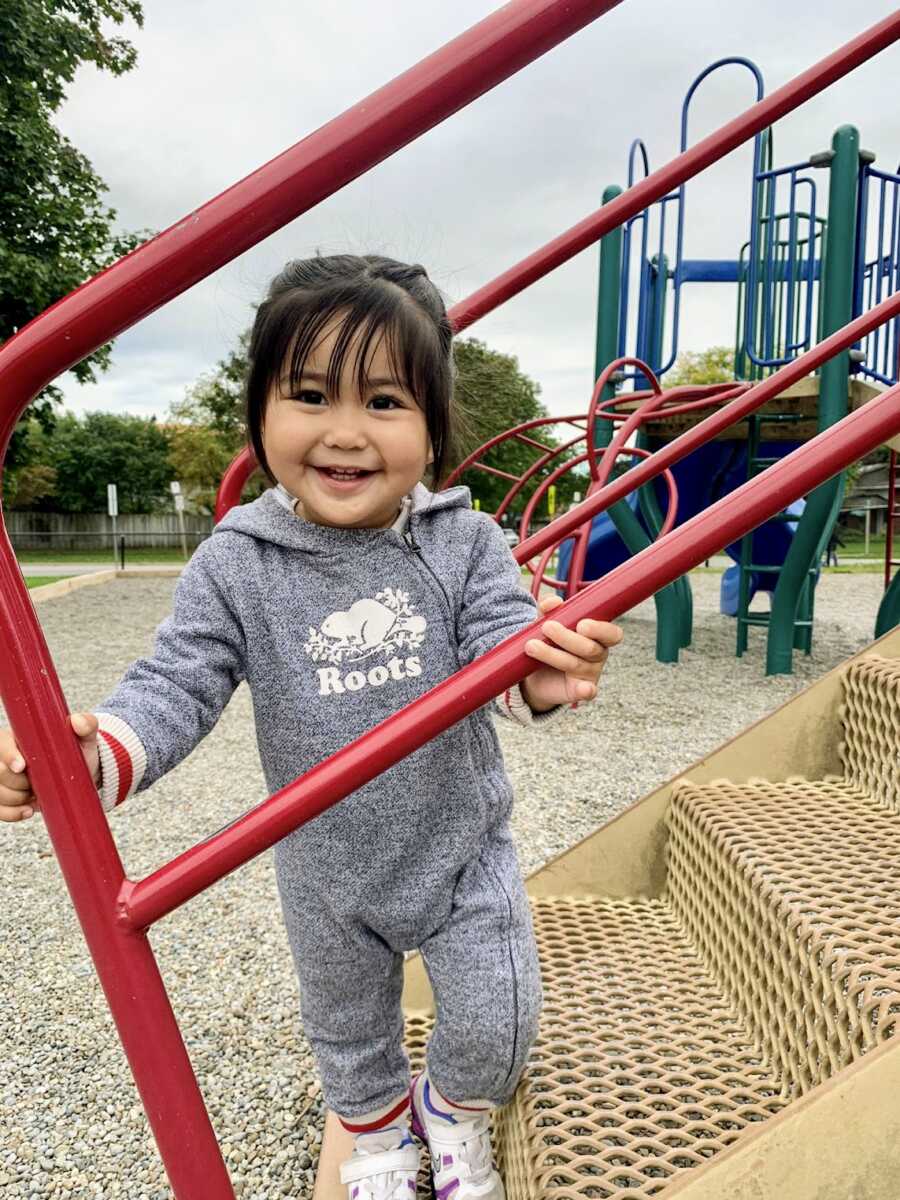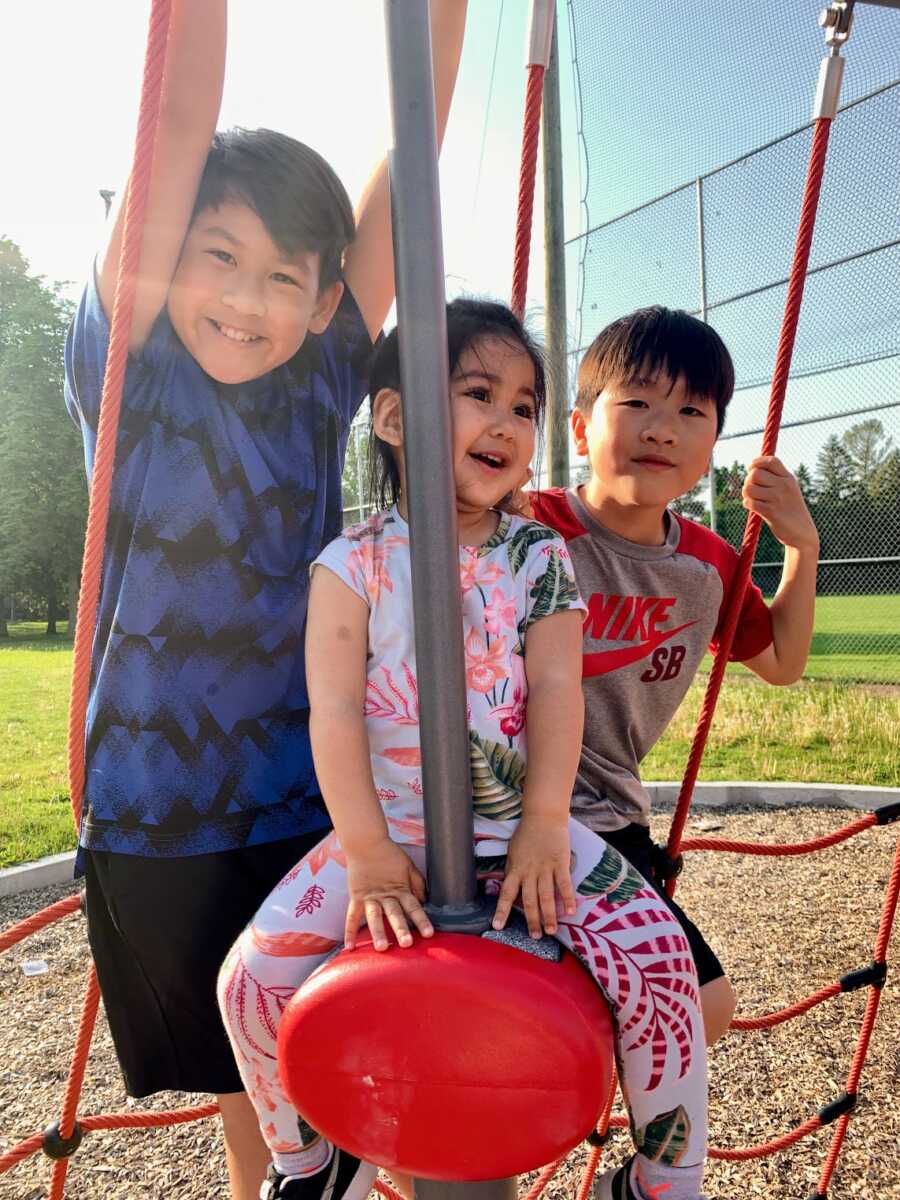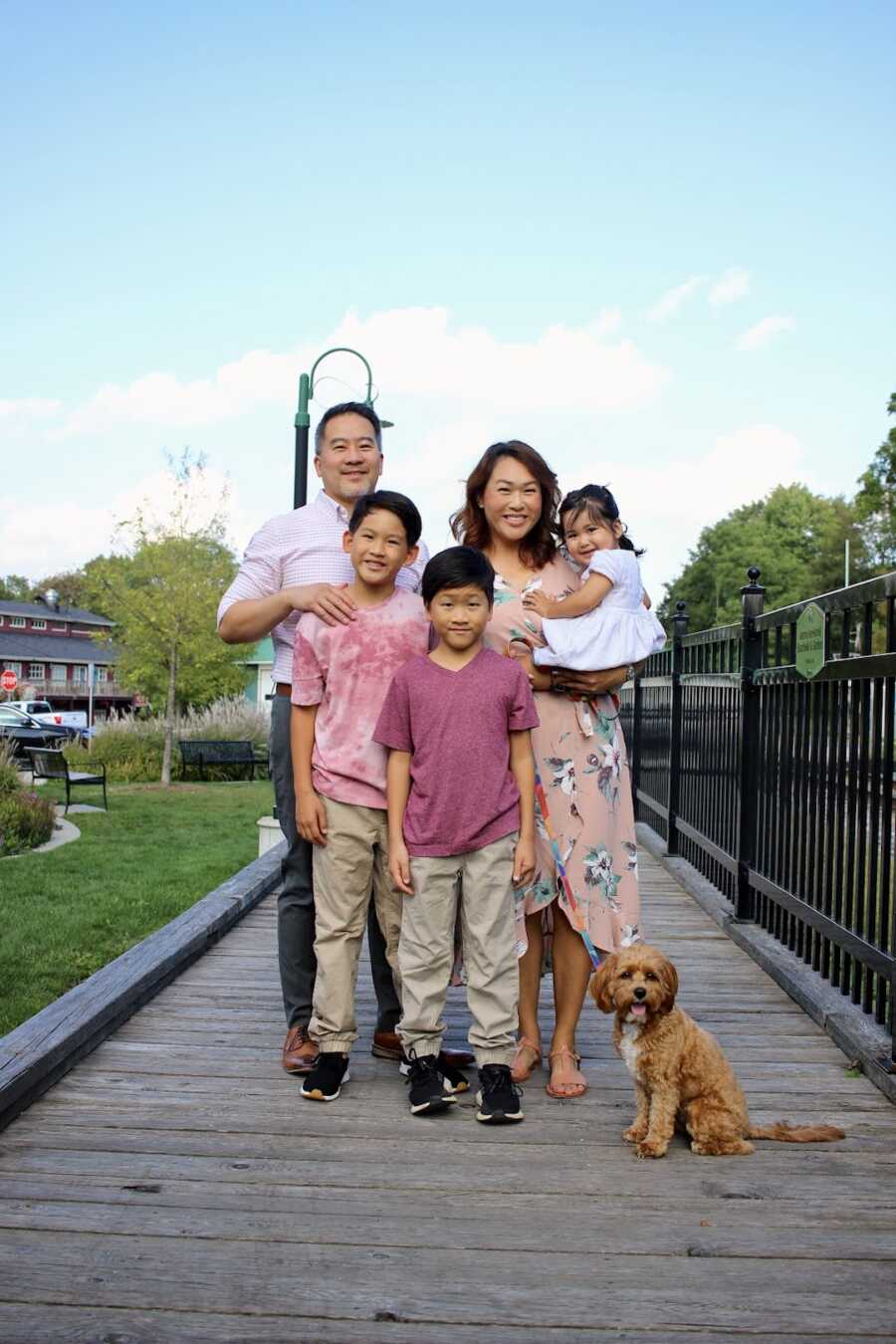 This story was submitted to Love What Matters  by Kelly J. Tam from Toronto, Canada. You can follow her journey on  Instagram and Twitter. Submit your own story here, and be sure to subscribe to our free email newsletter for our best stories, and YouTube for our best videos.
Read more adoption stories:
'At 11, his adoptive parents abandoned him at a hospital. 'Mr. Peter, can I call you my Dad?' I began to cry uncontrollably.': Single dad adopts 11-year-old boy from foster care after biological, adoptive family abandon him
'Oh, are you babysitting?' 'They're mine.' I'm a 30-year-old single black woman with 3 white kids. Love has no color in my home.': Woman adopts 1 boy, 2 siblings from foster care, 'Love is love'
'I've never had real parents before. I've waited my entire life to be treated the way y'all treat me.': Couple adopts 18-year-old who was 'abandoned by his birth mother with no name'
SHARE this story on Facebook with family and friends to remind them to love what matters most.