Building A Family
"I met my ex when I was 19 and he was 23; it was fast-moving from the start. We were living together after a few months and our lives were predominantly full of fun. When I was 21, I fell pregnant. Unfortunately, it was a pregnancy in an unknown location (similar to an ectopic pregnancy). It was tough on both of us. I then fell pregnant again at 23. My pregnancy was such a wonderful experience, but at 35 weeks my doctors noticed our baby wasn't growing. I was induced at 37 weeks and thankfully our beautiful daughter was born healthy. She was absolutely perfect and truly a dream. Her dad was a wonderful father to her and we loved being parents.
My son came less than 2 years later, and I felt our family was complete. However, when my son 6 months old, it became evident my ex wasn't happy. We tried to make it work, but looking back now I believe he was suffering from depression, and I just wasn't capable of looking after him along with my children. We went our separate ways, and our co-parenting journey began.
Child Of Divorce
When I was 11 years old, my parents decided to divorce. My dad no longer loved my mom, and the best decision was for them to go their separate ways. Fast forward to a few years later, they had both moved on. My mom remarried, and we lived with her and my stepdad. I had a very rocky relationship with him; I was testing boundaries and always going a bit too far. However, my stepdad had such a bearing on who I am now. He instilled so many qualities I have taken through to my adult life. The impact he has had on my role as a mother and a person has been profound. Yet, the relationship between my parents wasn't always amicable and that trickled into mine and my sister's lives as we grew up. I knew when my children's dad and I separated I did not want that for my kids. I wanted them to have as much of a normal childhood as possible and look at their parents not being together as a positive thing rather than a negative.
My Rocky Co-parenting Journey
To begin with, I stayed in the family home, and he moved to a house 5 minutes away. We began with alternating weekends, and he occasionally came over to bathe and put the children to bed. I started looking at what I could do as a single parent to better mine and my children's lives. So, I enrolled in college and for 10 weeks I did a basic counseling course. Through this, I was able to dissect parts of my life that had caused me trauma. It was a start to the healing process that has been ongoing for the past 5 years.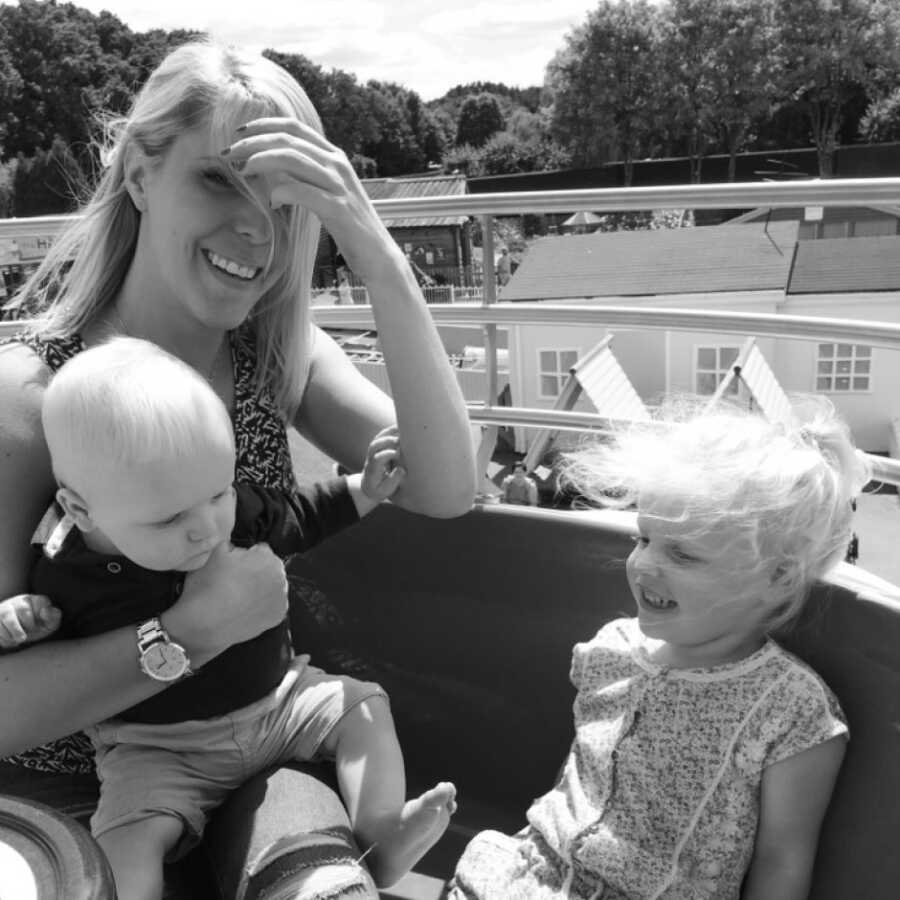 In all honesty, in the beginning, neither of us knew what we were doing. I would pack a suitcase for the children including food because I had no idea what he had in his cupboards or whether he had clothes for them. I would FaceTime him constantly because I needed to know if they were okay. I felt so out of control in a situation I had never experienced, and the emotional toll was crushing. I had no idea what boundaries should be in place between us and what steps were best for the children. There was no handbook for co-parenting, and I desperately felt like I was grasping at straws. I was diagnosed with depression and anxiety a few months later, which just added to my feelings of loss and emptiness. Yet somehow, we muddled through those first few months.
I began seeing someone (big mistake) and 4 months after my ex had moved out, he also began dating someone. Now the lines felt blurred even more so. We were no longer just navigating our own feelings but also those of other people. The relationship I was in fizzled out, but my ex's new girlfriend became a permanent fixture. Did I like her in the beginning? NOPE. I absolutely hated the idea that someone could walk into my children's lives and automatically gain their love and affection. They would run up to her, give her cuddles and kisses and tell her they loved her, and honestly, my heart broke each and every time.
Her family embraced my children, and I couldn't wrap my head around how they were suddenly calling her mom and dad 'Nanny and Grandad.' Additionally, she had feelings and opinions also. At the time, I didn't appreciate that they were starting a new relationship and that her voice mattered. In my mind, I was the kids' mother, and I knew best. We argued about silly things when I look back now. Communication was lacking, to begin with, and nobody understood what anyone's true motives were.
This continued for the next year. It wasn't consistent but occasionally one of us would do something that would annoy the other and we would air how we felt. However, what I will say is it never affected the children or how we parented the children.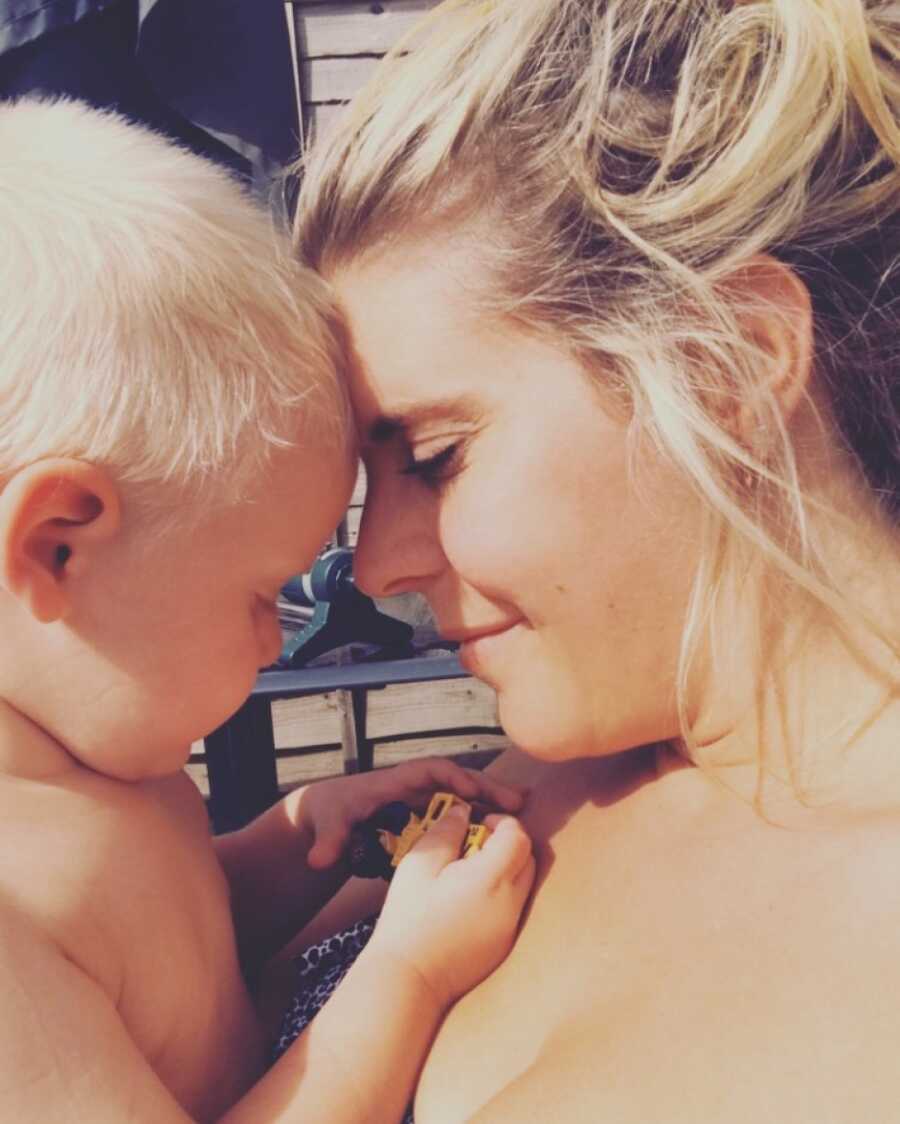 The Road To Peace
I then met my partner and my perspective shifted. He had opinions on aspects of how I was parenting, and his family embraced the children as much as they did me. Which, of course, is something I truly appreciate. My compassion for the children's step-mom and everything she had put into helping my two babies grow was exemplified when Covid hit. We had no choice but to figure everything out together. Our family unit was now the 6 of us. This became a huge turning point in our co-parenting journey. We began spending more time together. Parents' evenings were done together. Doctor's appointments were done together. Even Christmas Eves have been spent together.
My partner and the kids' dad take our son to football and their step-mom and I take our daughter to the pantomime every year. Last year we celebrated our daughter's birthday and it was a whole family affair. We all danced and sang together, and our children had the biggest smiles on their faces. Most recently, it was the kid's sports day. The fact that the children only had to look in one place when we were cheering them on (very loudly might I add) was a bonus and a credit to the fact we all get along and have worked hard to establish a good relationship. Everything is centered around the children and through all the highs and lows we have developed friendships.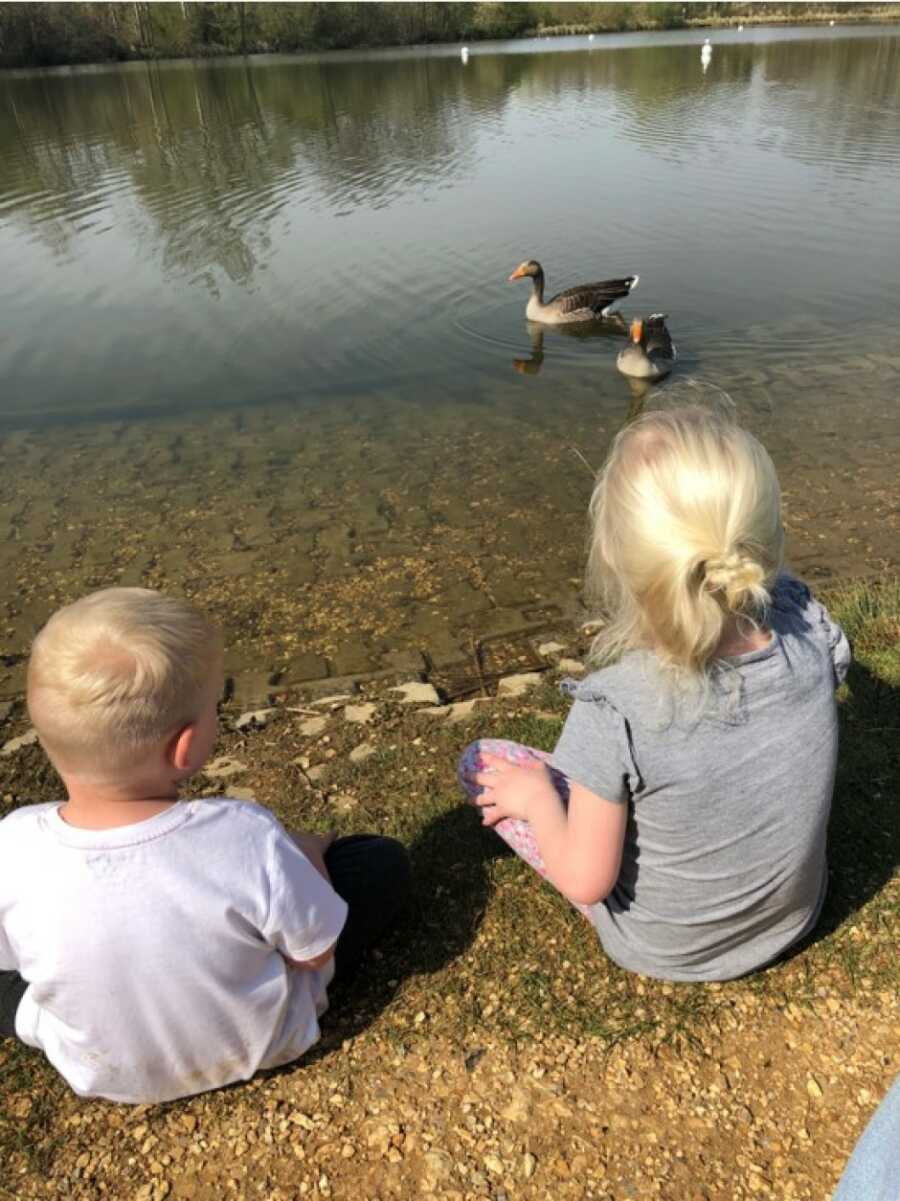 My children's step-mom fell pregnant, and they had a daughter. She has truly been such a highlight in the past year and it's such a wonderful experience being able to watch my children be her big brother and sister and the love they have for her.
To sum it up, there is no real guide to how co-parenting should work. Every person is different, and every family is different. We all have feelings and experiences that shape who we are and how we decide to react to the situations we are faced with. However, if you can create a successful co-parenting relationship it's so worth it. Not only for your children, but for you."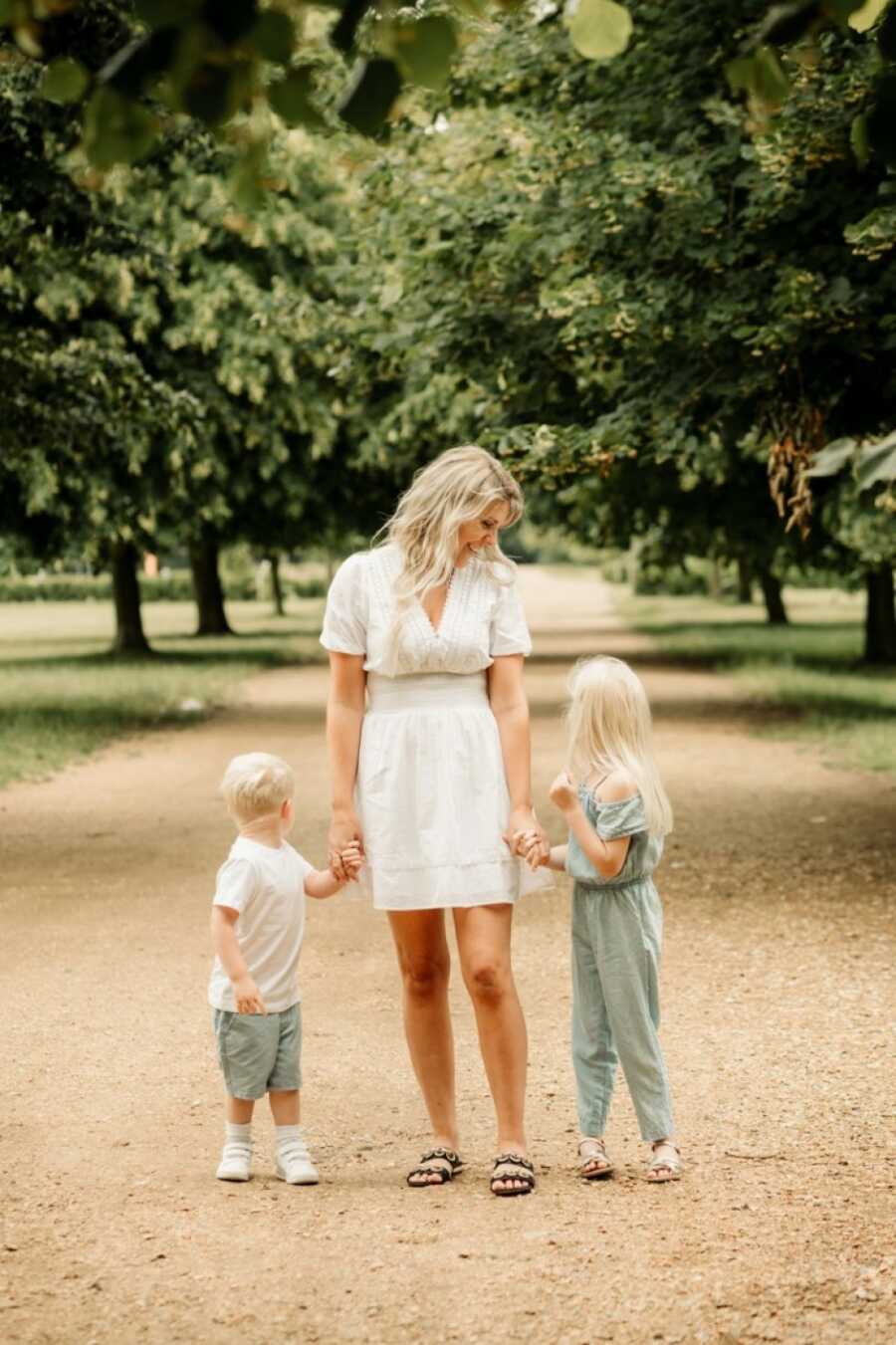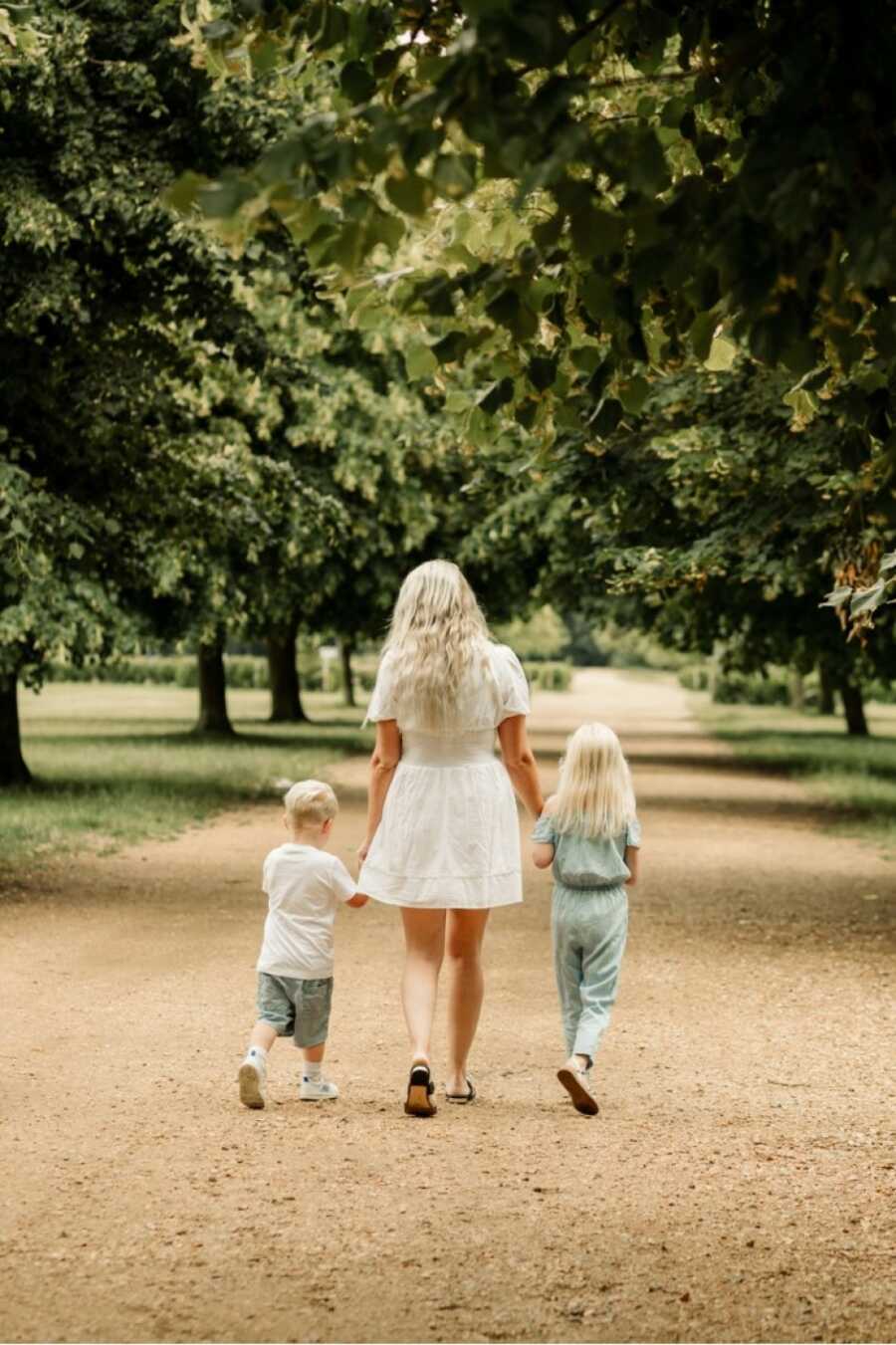 This story was submitted to Love What Matters by Hannah Willisson-Hill from Southampton, UK. You can follow her journey on Instagram. Submit your own story here, and be sure to subscribe to our free email newsletter for our best stories, and YouTube for our best videos.
Read more stories like this:
'I wanted her approval. Ever since we met, she's been amazing. We're not a group of friends. We're two sets of parents, killing the co-parenting game.': Step-mom says co-parenting says is a 'blessing'
'Be more patient with him when he cries.': Mom shares trials of co-parenting, 'Love them enough to let go sometimes'
'Enough is enough.' The moment she wrote me back and agreed to a fresh start was a huge relief.': Moms come together and make amends to co-parent
'Dad and I are still friends.' It was absolutely gut-wrenching. We were determined to beat the statistics. We could still be great parents together.': Mom shares co-parenting journey, 'We're one family, full of love'
Help show it's the depth of the love that matters. SHARE this beautiful story on Facebook with your friends and family.