"Once upon a time, a 30-year-old, strong, independent, adventurous woman living in California took on the adventure of a lifetime and went to surprise her high school friend, of over 15 years, at her wedding in Belgium. But wait, before we launch into the story, we have to first go back to the one that started it. You see, this 30-year-old woman is me, Cheyanne Cleyman. In 2011, soon after graduating college, I had made the courageous decision to pursue my dreams of working in Hollywood, and moved to Los Angeles, from Florida. I spent 8 years there, making many memories and many mistakes.
The entertainment industry is very exhilarating and yet also very unpredictable and exhausting. In 2017, after 6 long years of trying to make my 'big break,' I found myself in deep financial debt. After a lot of prayers and 'going back and forth' in my heart, I decided to leave the city of my dreams and move in with my parents in San Diego, CA, so I could pay back my debt. I felt like a failure. I am not a quitter, and this felt like quitting. I kept feeling this still small voice in my soul saying, 'I needed to give up my one dream so I could have an even better one.'
Flash forward to about 6 months after moving in with my parents, and I had finally started to get back on my feet financially. I had even started savings! Wahoo! Around this time, I got this surprise message on Facebook from a dear friend from high school's fiancée inviting me to their wedding in Belgium. YES, Europe! The catch was…I'd be coming as a total surprise to her! At the time, I hadn't seen her in 11 years. We had met in French class in Florida in 2004. Had her fiancée and best friend asked me just a few months earlier, I would have had to say NO. There would have been no way I could have afforded it–and now, I could! As a 30-year-old woman, who wasn't exactly where she wanted to be in life professionally or personally, I wanted to give this gift to myself.
When the time for the wedding came in September, I was so excited to take on this adventure of a lifetime. I wondered what the week would hold for me…never could I have actually imagined or fathomed what was waiting for me. I left for the wedding on September 6, 2018, my parent's wedding anniversary, and the wedding was on Saturday, September 8. The morning of the wedding, I showed up on the doorstep of my friend, Aline, and she was beyond shocked. It was such a special moment that neither of us will ever forget.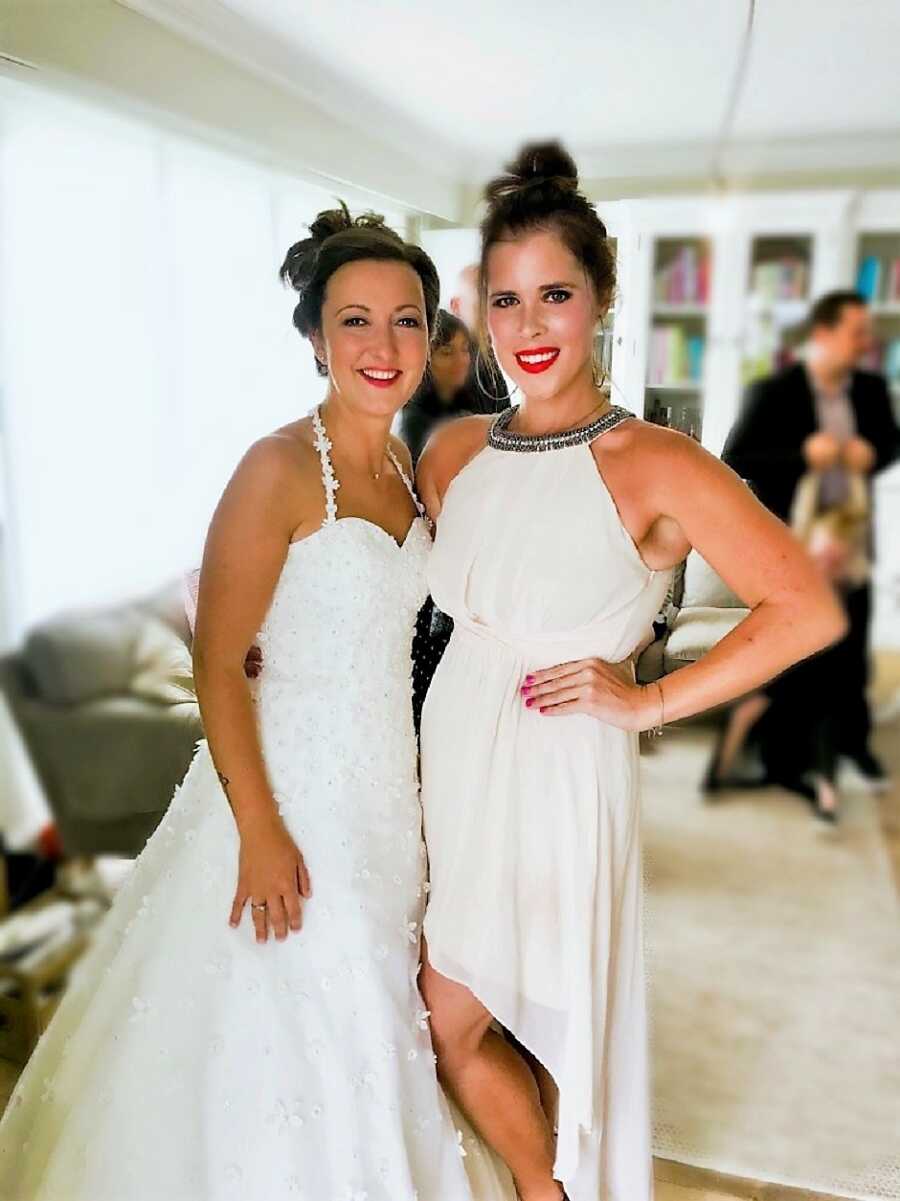 Later that day, after the church ceremony, a select number of us were invited to go to their exclusive reception…which was at a castle in The Netherlands. I was thinking, 'Wow, does EVERY European party like this?' As a young American woman, I already felt like I was in a Hallmark movie!  Upon checking into the castle, we all met up in the castle's foyer for drinks before dinner. When I walked into the room, my eyes took me looking at all these new faces, and suddenly my eyes and my heart stopped. There he was…the most handsome man I'd ever laid eyes on in my entire life.
I instantly elbowed the bride and said, 'Wow, you certainly have friends in high places. You have Thor at your wedding!' Because, this amazing hunk of a man had long, curly blond hair, a strong build, and green eyes. I knew, no matter what, I had to talk to this man. If this had been a few years before, I may not have had the guts to do so. You see, I had gone through quite a physical and emotional transformation. Starting shortly after college and up until around 2016, I went through a dramatic weight-loss battle. I had struggled with obesity and an unhealthy self-image since I was a pre-teen.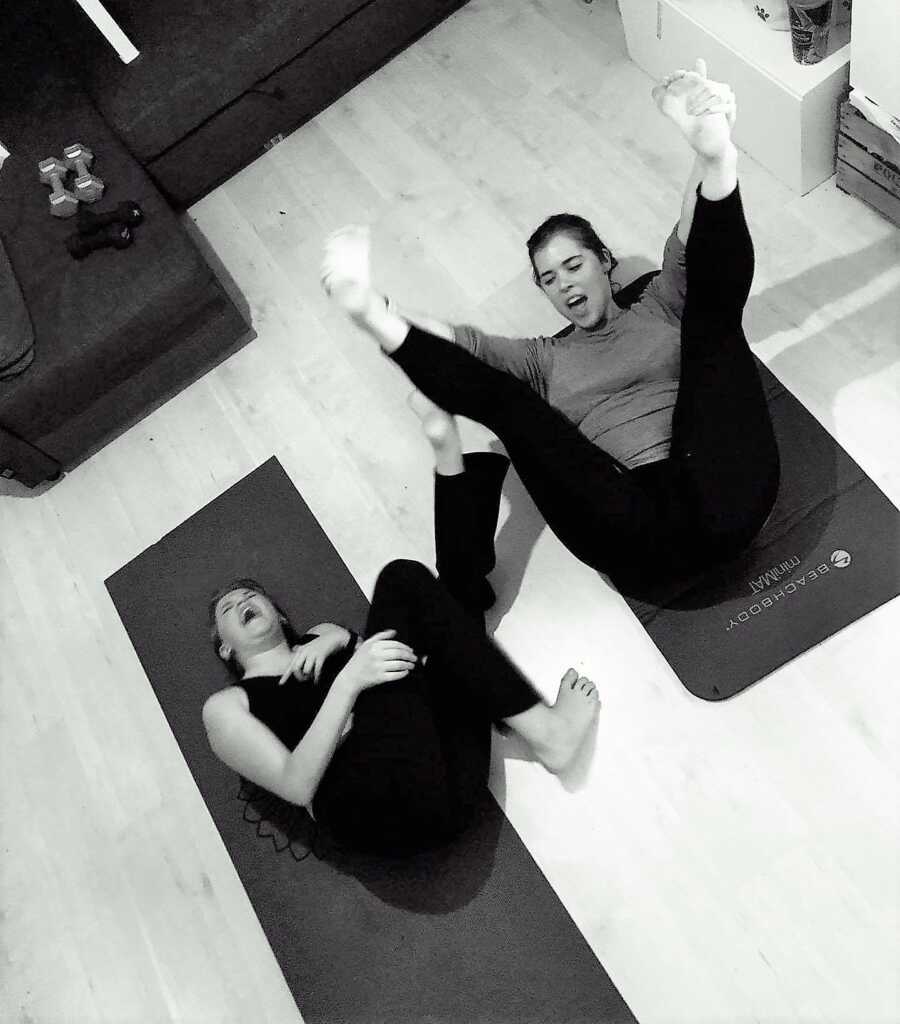 At my highest, I was 260 pounds. When I was a struggling actress and host in Los Angeles, I decided it was time to go deep and deal with the emotional side of my battle once and for all; some of which was featured as I filmed the weight-loss TV show on TLC, 'Fat Chance.' Only after experiencing incredible triumph inside and out with my health journey, was I finally confident enough to go after the man I wanted. And this man, at this wedding, was definitely a man I wanted to get to know. From the start, this man, Kim, and I hit it off. We spent most of the night talking, laughing, and dancing.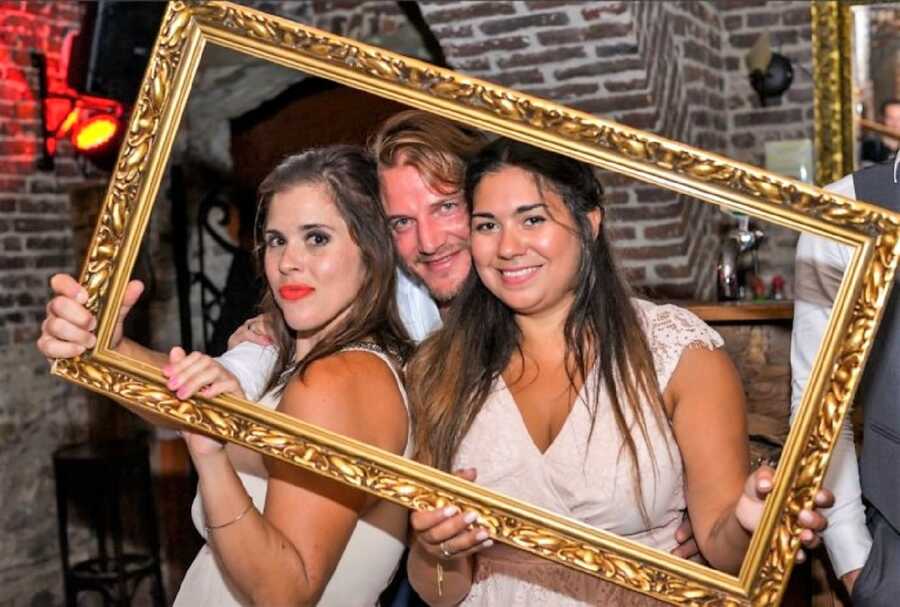 We didn't make it back to our hotel rooms until 5 a.m. where we sealed the night with a kiss (I instigated) by a firepit under the stars. I know, cue the music now!  The next morning, the whole wedding party went out and enjoyed an excursion in the Holland countryside where Kim and I continually were lost in conversation. When it was time to part ways, I left before Kim could get a chance to say goodbye. This prompted him to ask for my phone number. Good move, I must say. After texting a bit, we decided to go on our first date later that week before I flew home to the USA on Friday.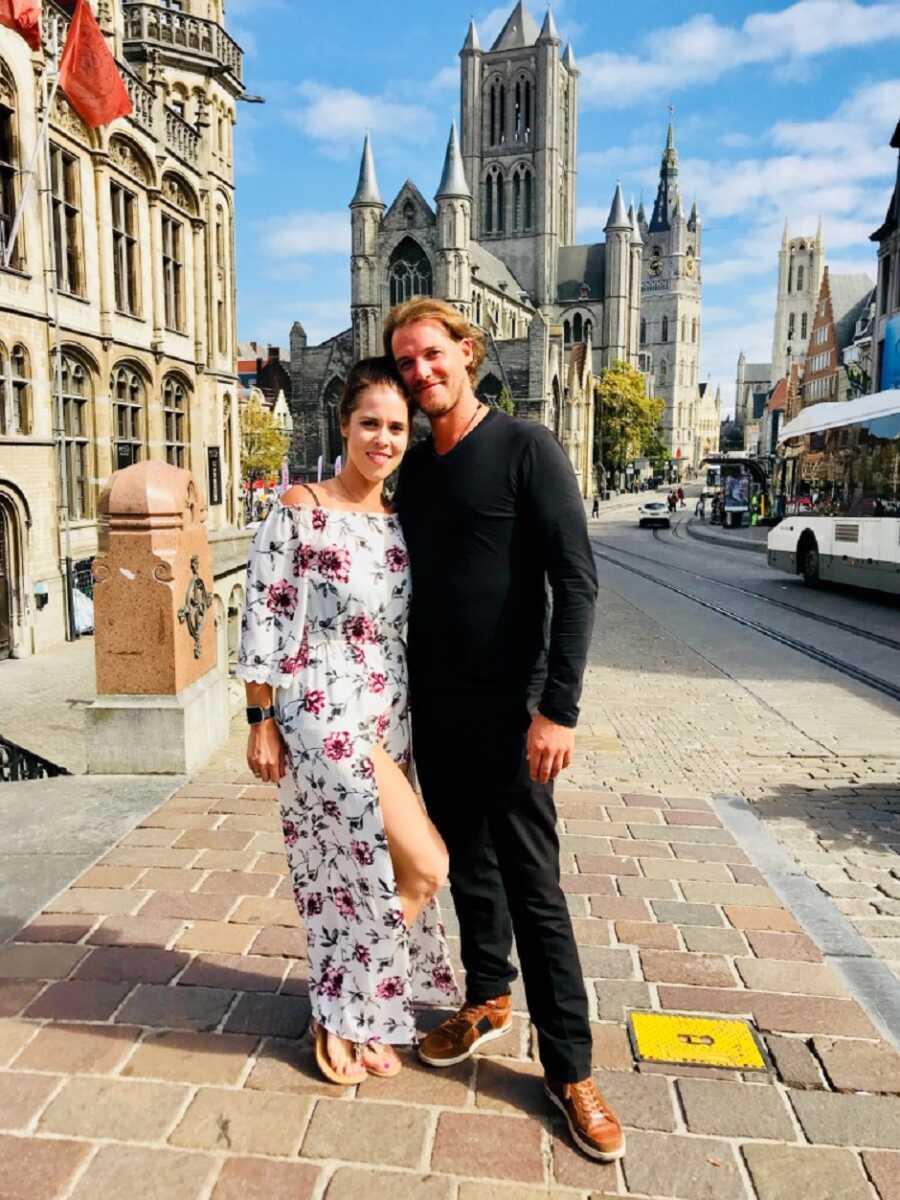 I was so nervous and excited about our date. We decided to meet up in the magical city of Ghent, where I was going kayaking earlier in the morning. We only had time to go for a lunch date, as Kim was a teacher and a Dad, and had to pick up his daughter from school. However, this lunch date was the best of both of our lives. Time stood still. We both were captivated by one another and didn't want to leave. One huge detail I should mention is about the dress I wore to our date. It was a dress I had bought two years before, and hung on my bedroom door, and prayed over.
I felt God tell me I would wear this dress on my first date with my husband. I have no idea why I packed it to go to Europe, but something in my gut told me to do so…and now, I am so glad I did!  After our date, we agreed to have Kim bring me to the train station the next morning so I could catch my flight out of Paris back to Los Angeles. I couldn't believe I went to Europe for a week's adventure, and I was coming back having met the most amazing man in the world.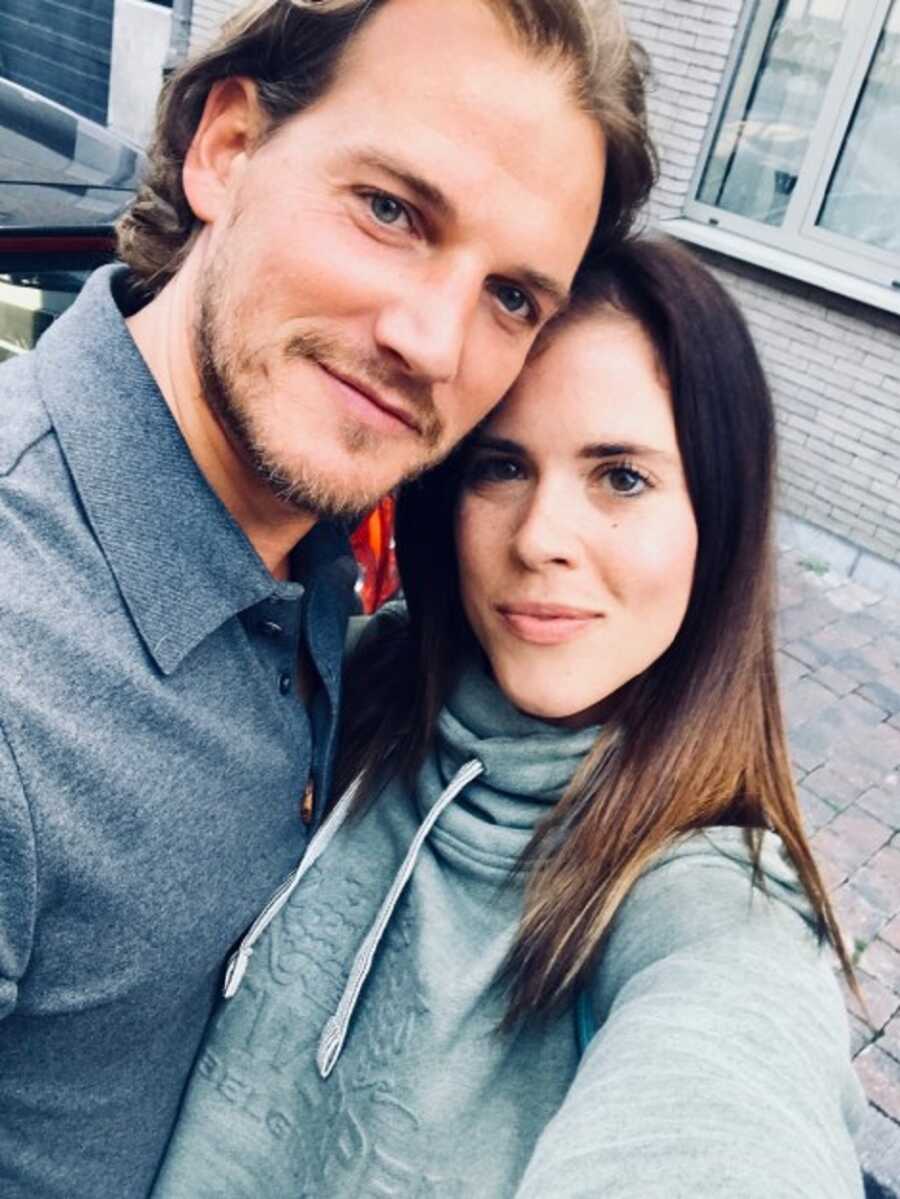 After having an amazingly passionate goodbye at the train station, where Kim sent me off with a lot of kisses and a book with a hand-written note in for me, I thought my 'Hallmark movie' of a week was over. Boy, I couldn't have been more wrong. After I landed in Los Angeles, I turned my phone on to receive a ton of text messages from Kim and this is where our romance truly began. I was amazed; this incredibly handsome, kind, and loving man was pursuing ME back.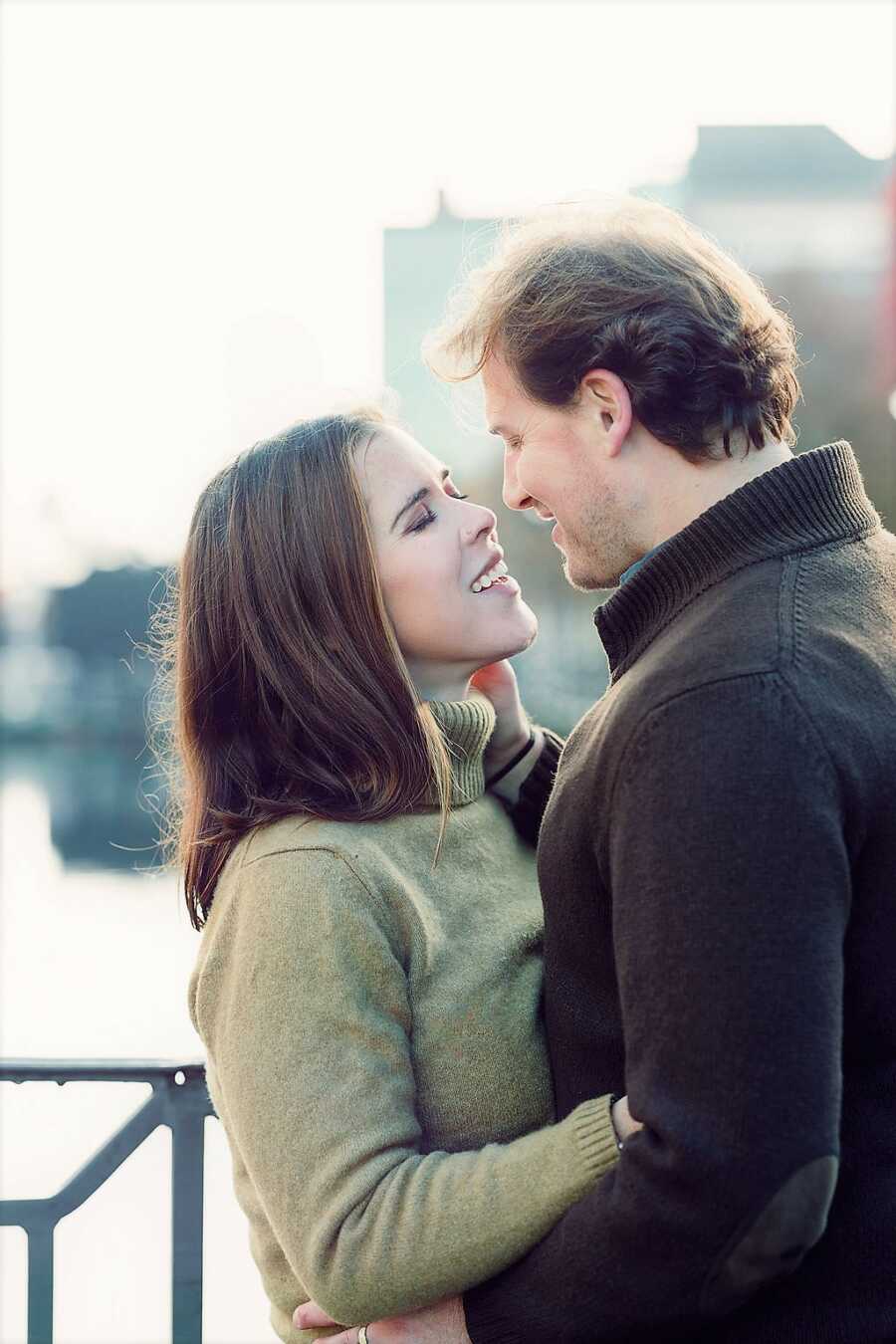 After returning to Los Angeles, I headed for 4 months to upstate New York, where I would care for my elderly grandma. I was in for quite a change from my fast-paced Cali lifestyle to the slow, country life of New York State. It was, however, a perfect setup for Kim and me to fall in love hard and fast. We talked for hours and never got bored. We would talk, read to each other, workout and go on dates over Facetime. It wasn't long before we knew this was a once-in-a-lifetime love.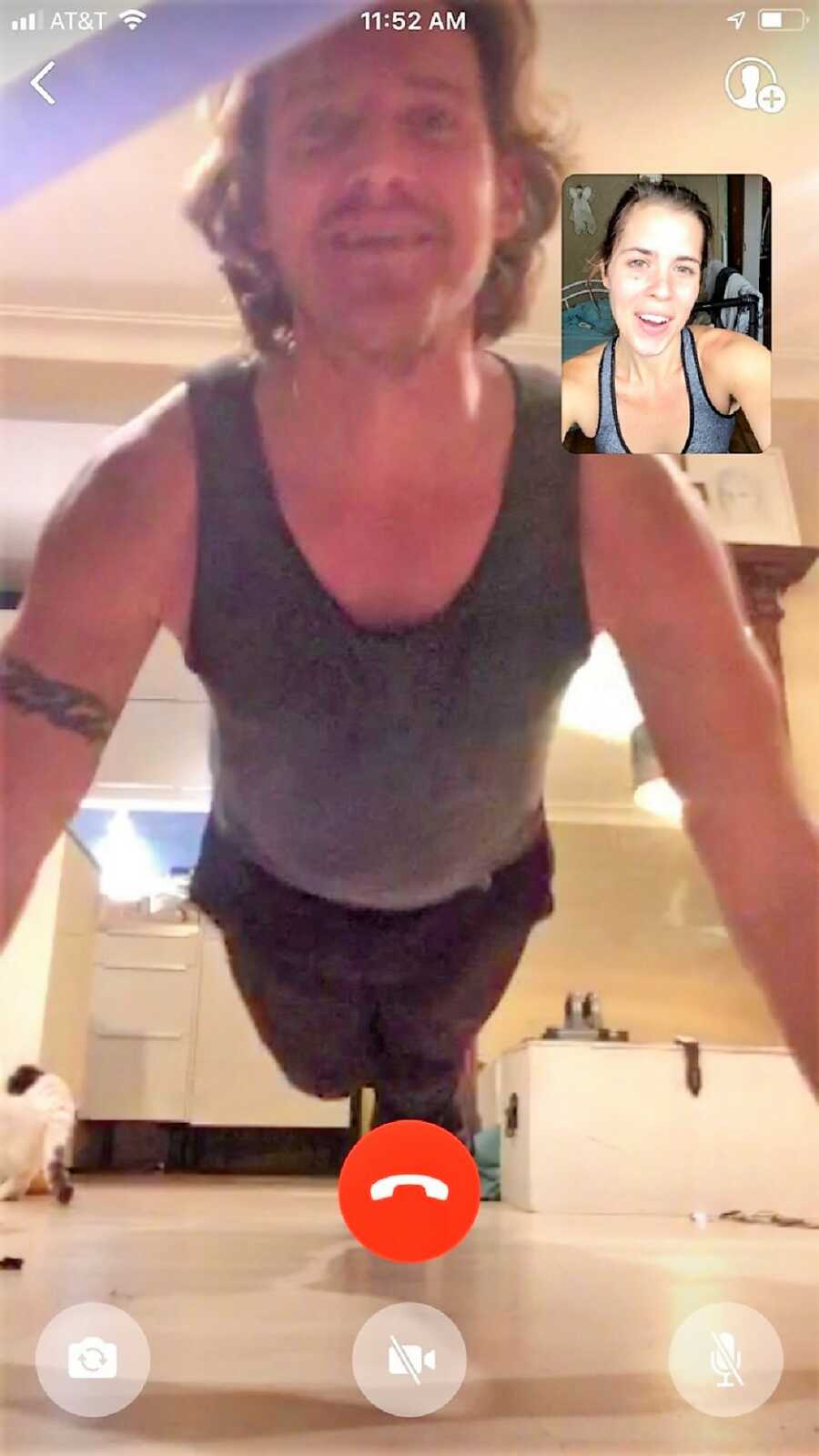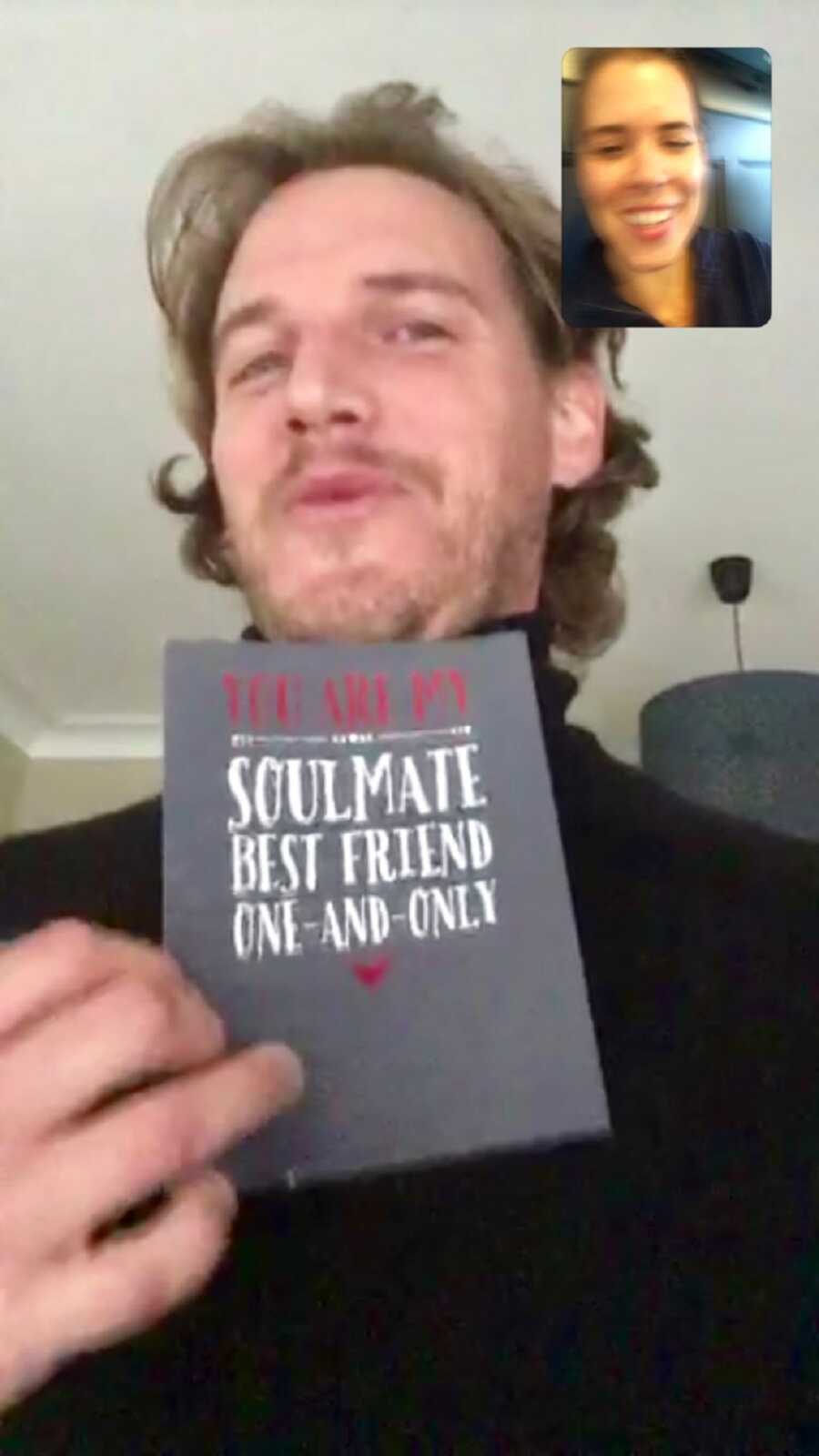 Never had I felt so at ease with anyone in my life. He gave me butterflies (and still does), but also made me feel so confident, loved, and cherished. He was the man I'd always been praying over. 6 weeks after we met, we began planning our wedding. We even did pre-marital counseling over the phone. 8 weeks after we met, I bought my wedding dress. And 3.5 months after we met, Kim flew into New York and we began our forever. He got to meet all my family and friends in New York, before we made the 50-plus-hour road trip to California, for him to meet my parents and…get married!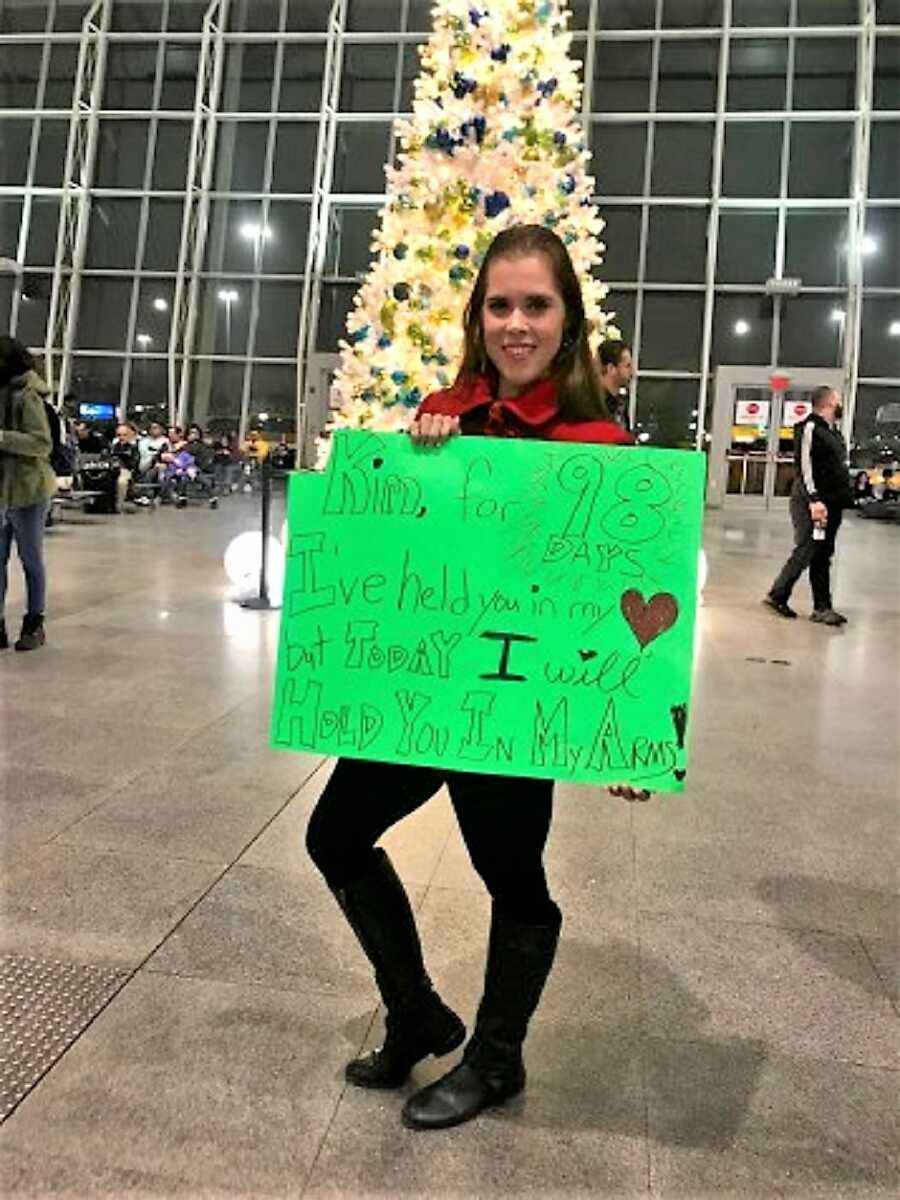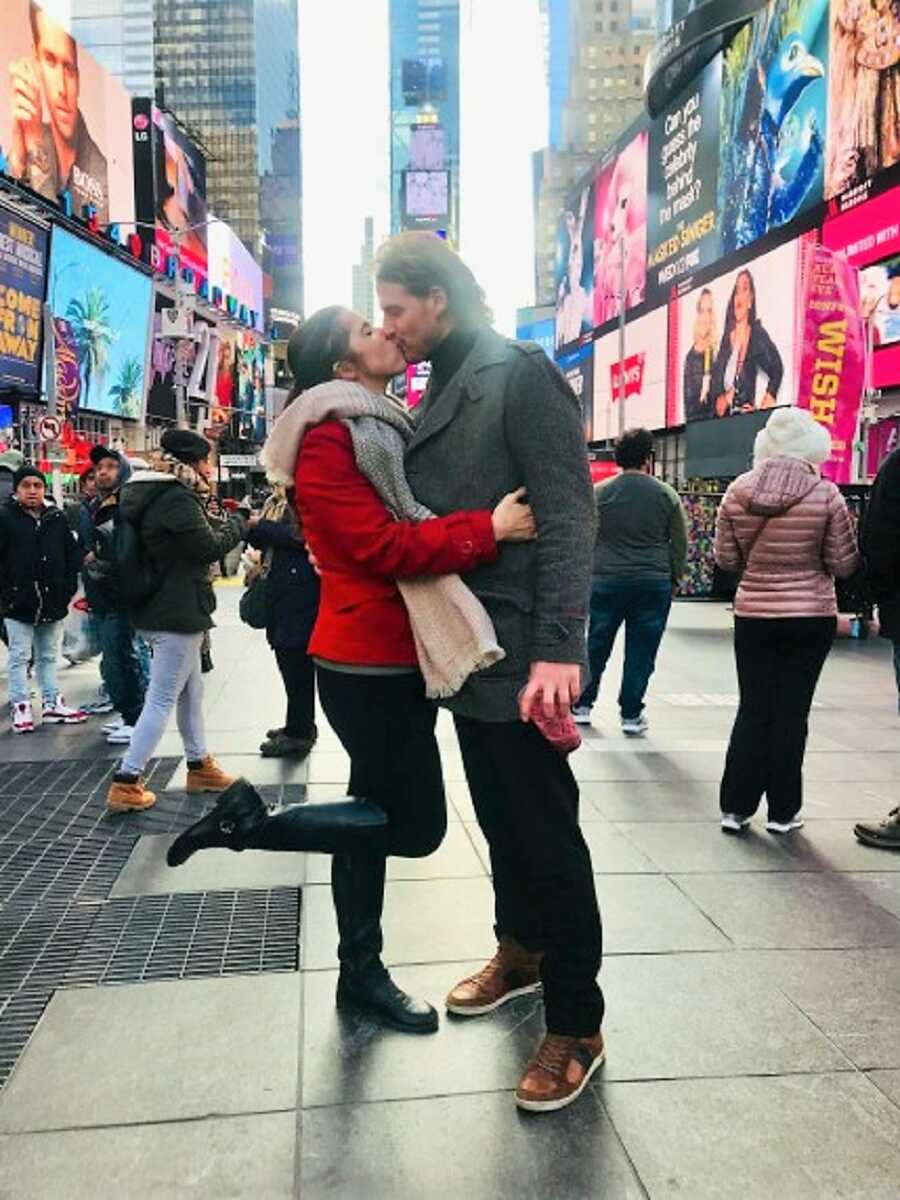 We got married in a small, beautiful ceremony on the top of a hotel roof on the beach overlooking the Pacific Ocean. It's where I, exactly a year earlier, had celebrated by 30th birthday–single, sad and confused about the future. Everything was absolutely perfect…including our wedding night. I had made a commitment when I was 12 years old to save my virginity and purity for my future husband. And on January 5, 2019, I was able to give this precious gift to my husband, Kim.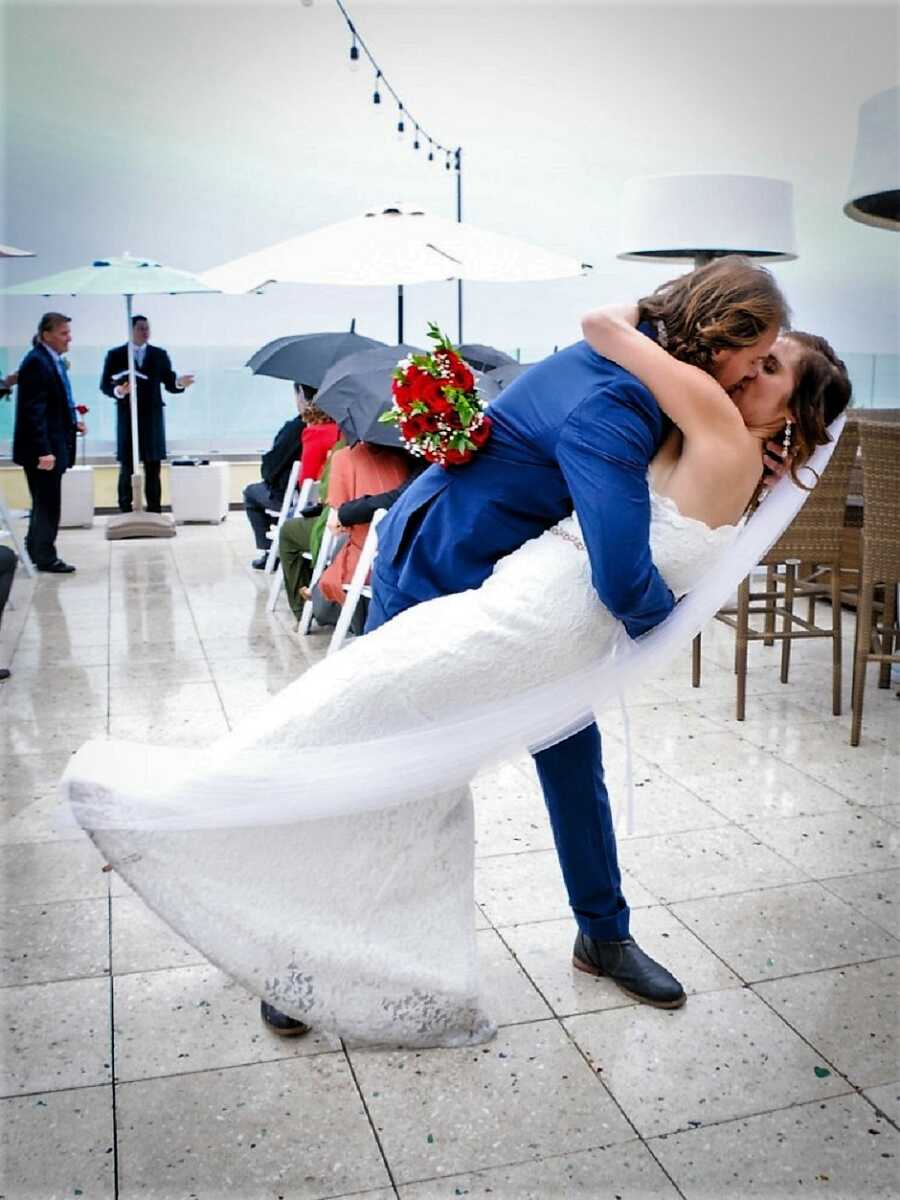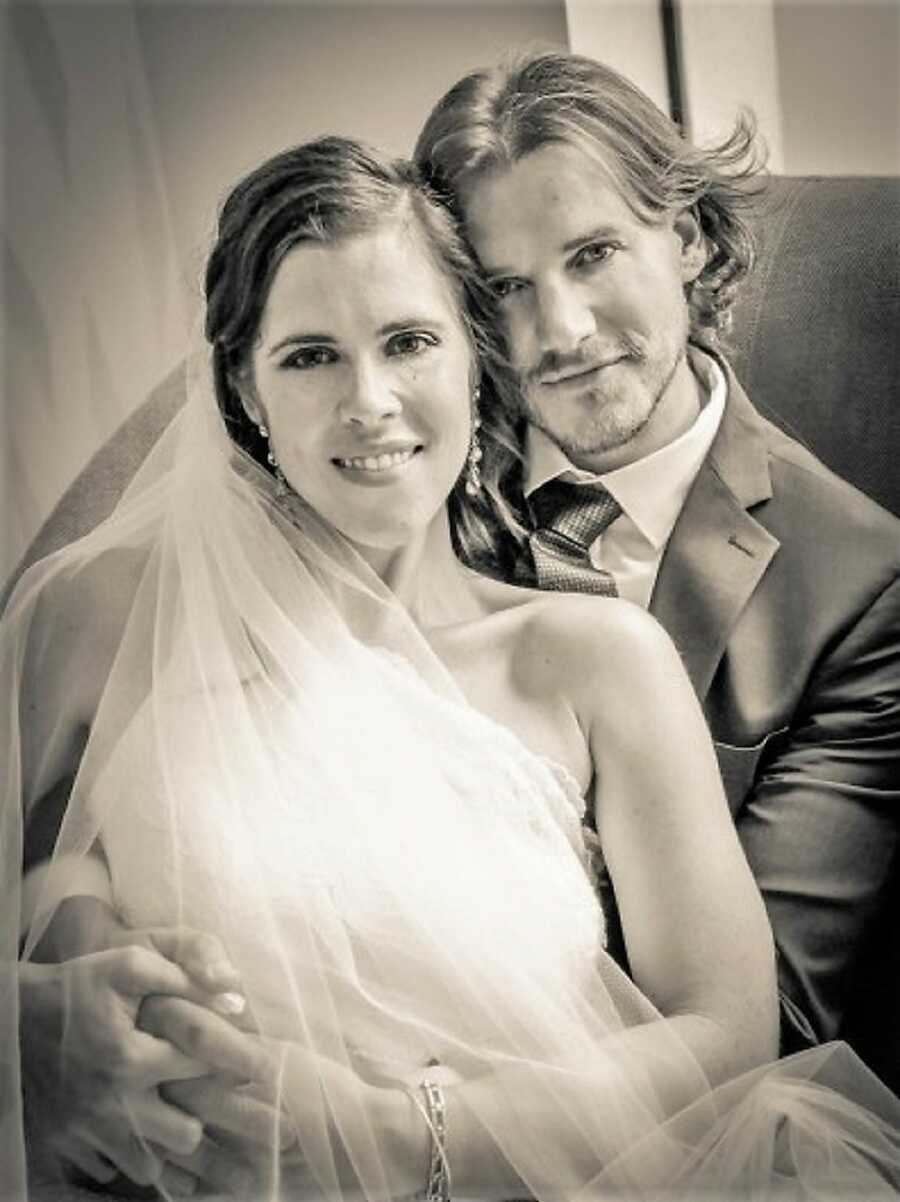 Flashforward to 7 weeks after we wed, and on February 25, 2019, I immigrated to Belgium to join him and his daughter, Billie. In a matter of 6 months, I had become a wife, stepmom, and immigrant to a country whose customs and even language were completely different than anything I'd ever known. And soon after I moved, we also found ourselves pregnant with our first child together. Talk about a lot of change all at once! However, with the love of God and the kind, strength of my husband at my side, I handled it all with stride.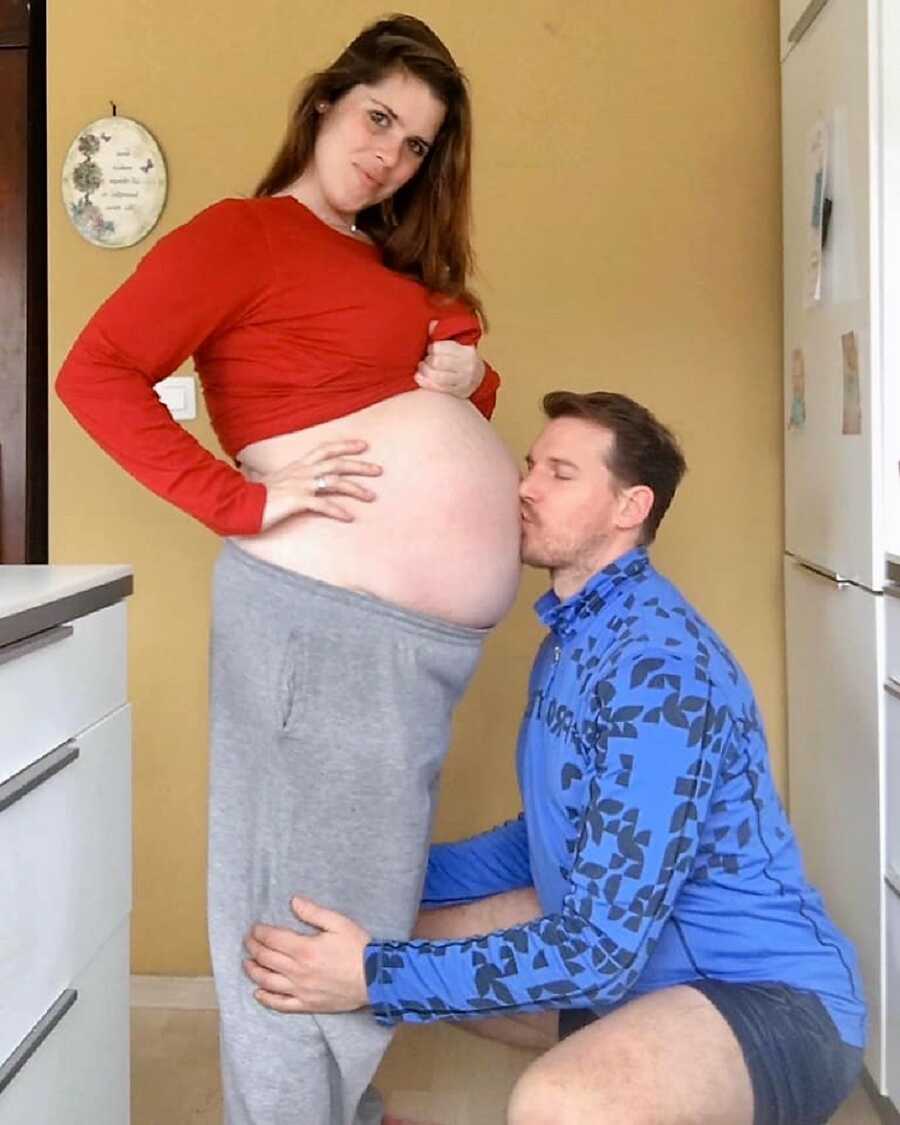 I suddenly became the first bilingual person in my family. I had never imagined learning another language fluently. And now I was in a home where I was regularly reading Dutch, speaking Dutch, and listening to others in Dutch. A huge instigation for this was to connect better with my beautiful bonus daughter, Billie. When I first married Kim, she didn't understand or speak English. Being a big talker myself, I was intimidated by this, but I was willing to take on the challenge.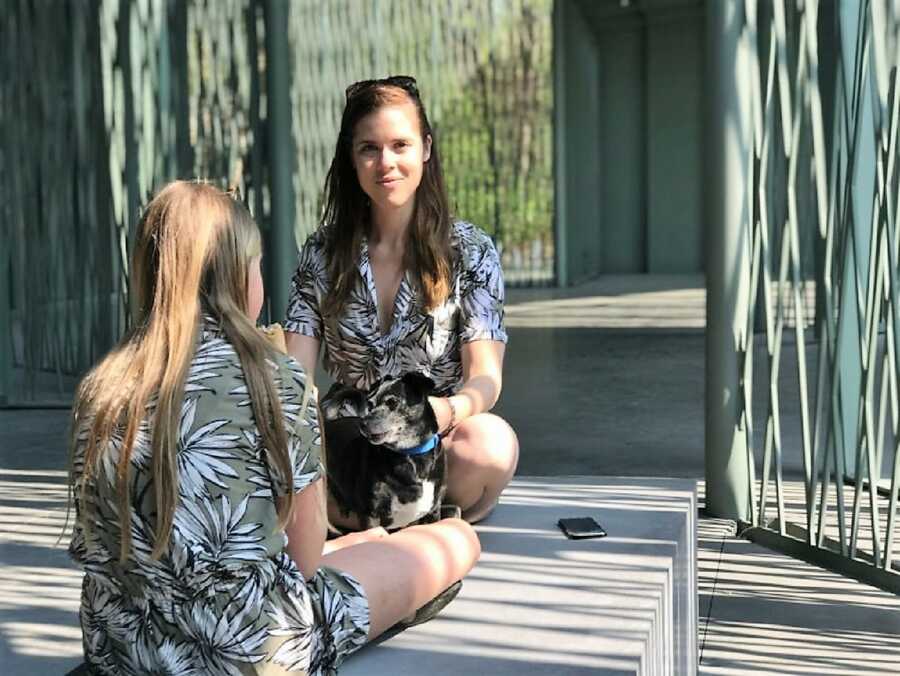 I put a lot of pressure on myself at first and would get constantly frustrated when I couldn't share with her what I was feeling and how much she meant to me. But over time, especially when she moved in with us full-time in 2020, I realized love doesn't take words. Love is communicated in so many other ways–especially through actions. Billie continually gets to see this through her own Dad. After discovering I was pregnant, even while in a foreign country, I asked Kim if he would support me in having a non-traditional birth at home. He supported me 100%.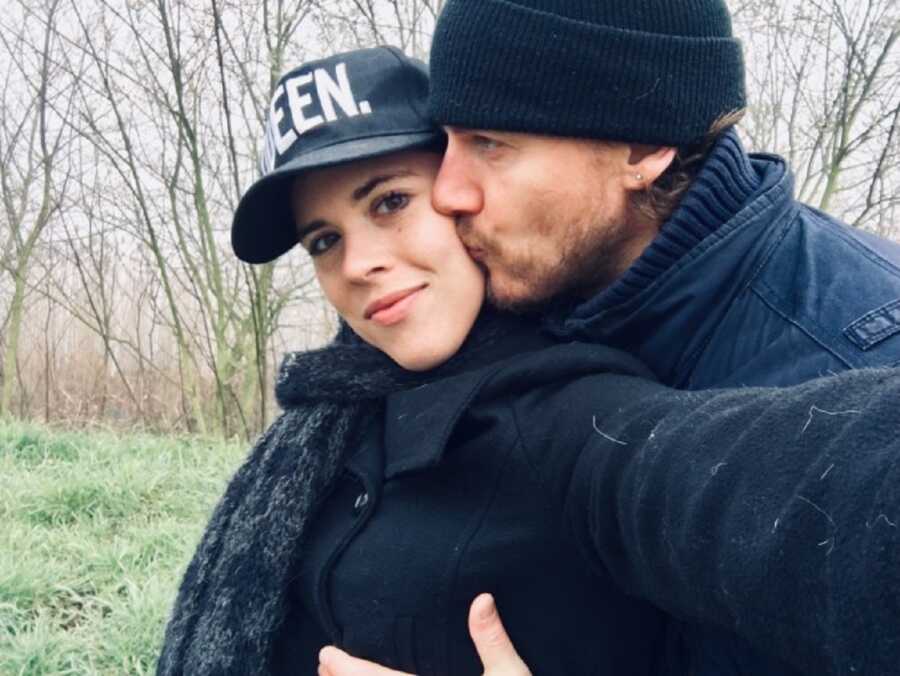 What we didn't know was coming was a pandemic, which would completely alter everyone's lives and shut the world down. However, as we've done in our entire relationship together, we embraced the challenge. We understood things don't happen to us, but for us. Two weeks after the first lockdown, I gave birth to our son Mason Brave, while in my husband's arms and the Backstreet Boys serenaded us in the background. Our midwives continued to say how impressed they were with how encouraging and calm Kim was. But I wasn't, that's the man I know and continue to fall in love with every single day.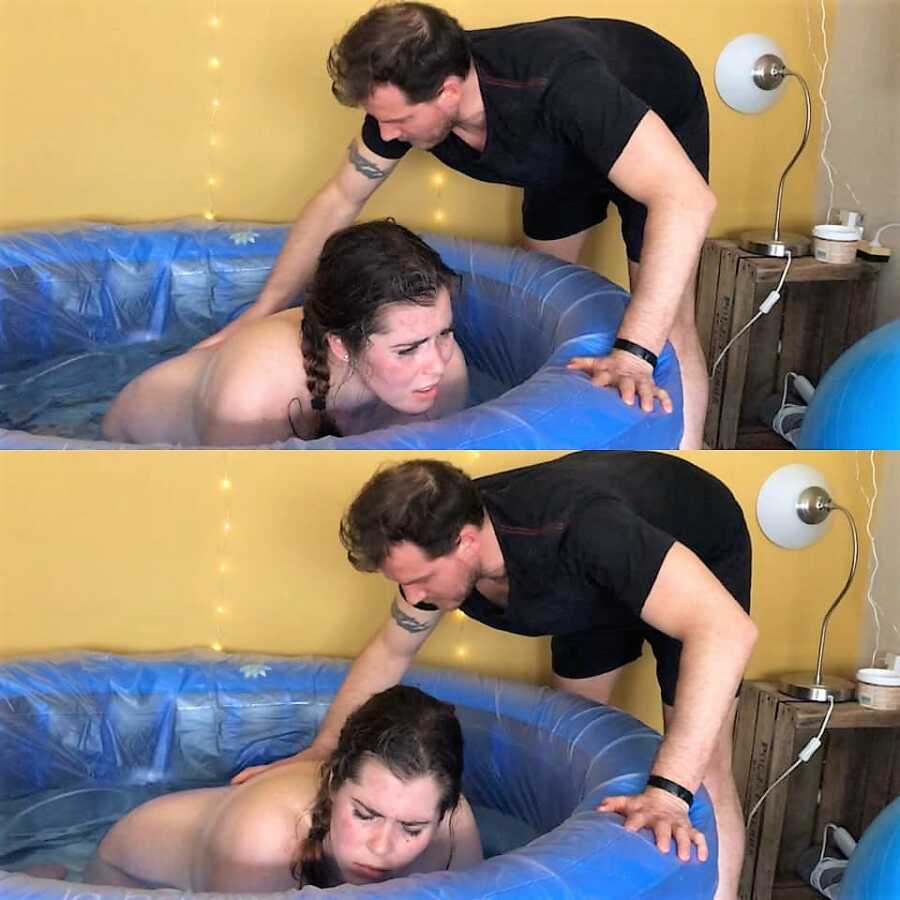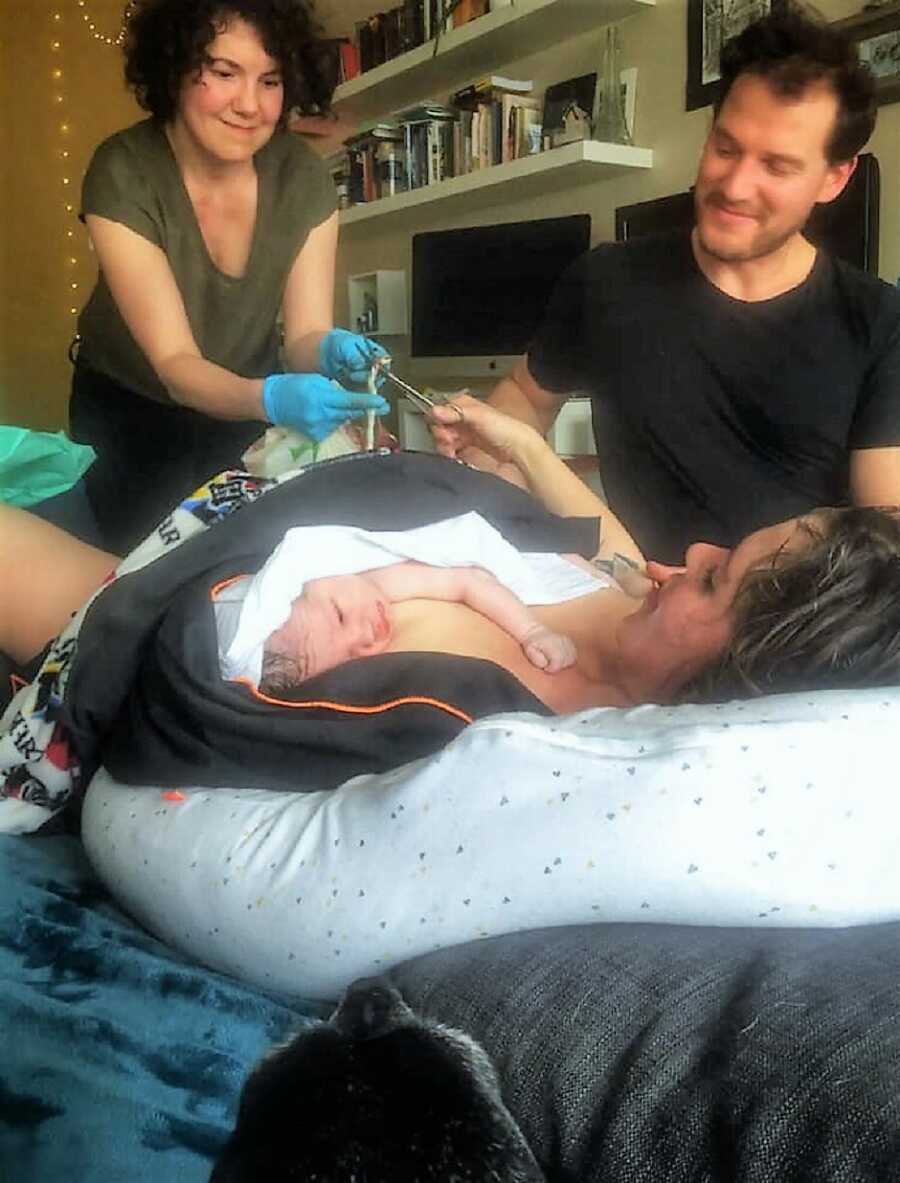 Unfortunately, because of the lockdown, my parents were unable to travel to Europe to come meet their grandson. In the middle of the pandemic, Kim and I celebrated our second wedding anniversary and also experienced so much change. We became full-time parents to his daughter (who was a preteen) AND a newborn. Life as we'd known it completely changed. Billie began virtual schooling and I began learning how to be a wife, and full-time mom to 2 kiddos, in completely different age groups, while in a different culture. There were times I felt so alone and isolated. Who could understand? Not even my husband, who remained so supportive through it all.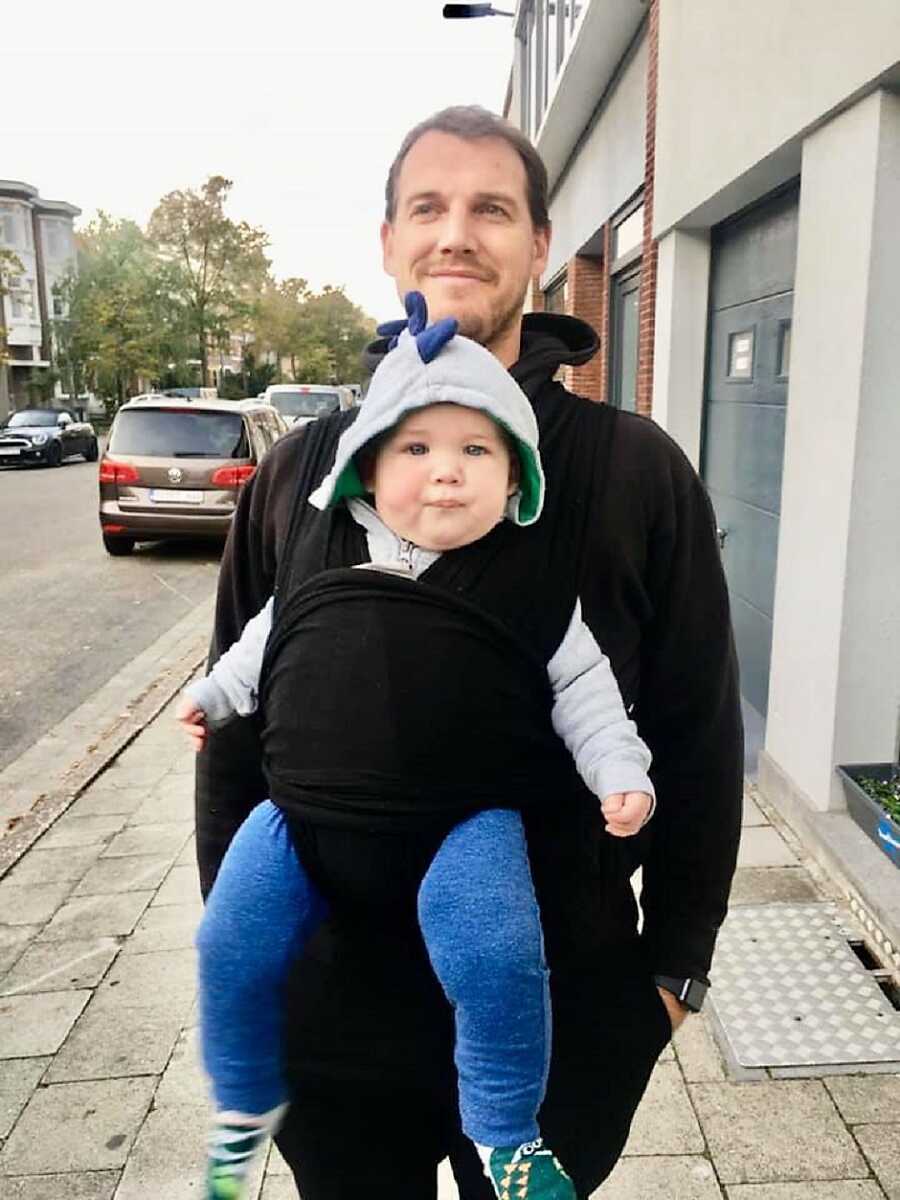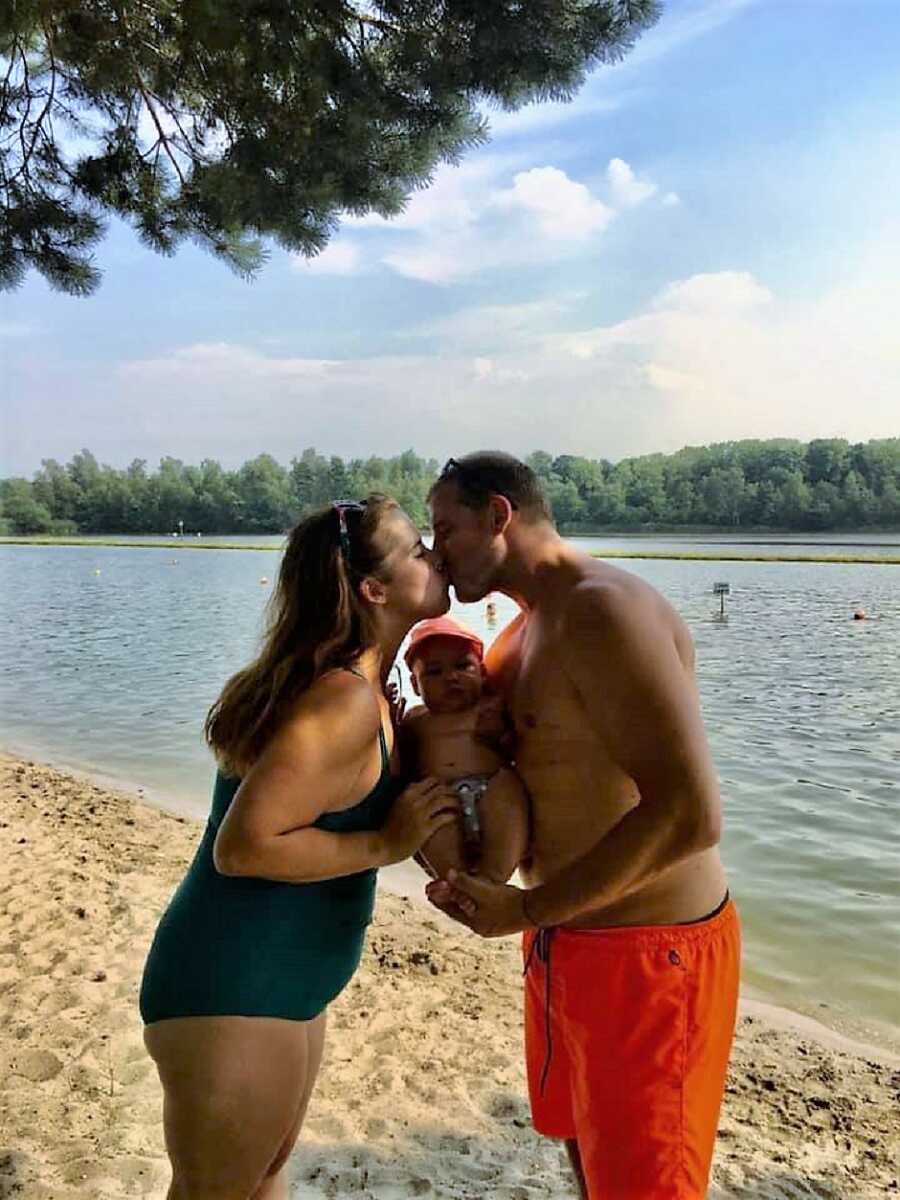 I didn't know my role and I began to feel like I was losing myself. However, what I didn't know at the time is I was gaining a whole new sense of self. I was becoming a new person. I was like a caterpillar inside a cocoon–having no idea the wings I was growing and the butterfly I would become. Through all the trials and storms of our second year together, it only made us stronger. We saw the key was building a strong foundation together, one where we were united and a strong team. This way, we knew we could face anything. And during our third year of marriage, more storms came.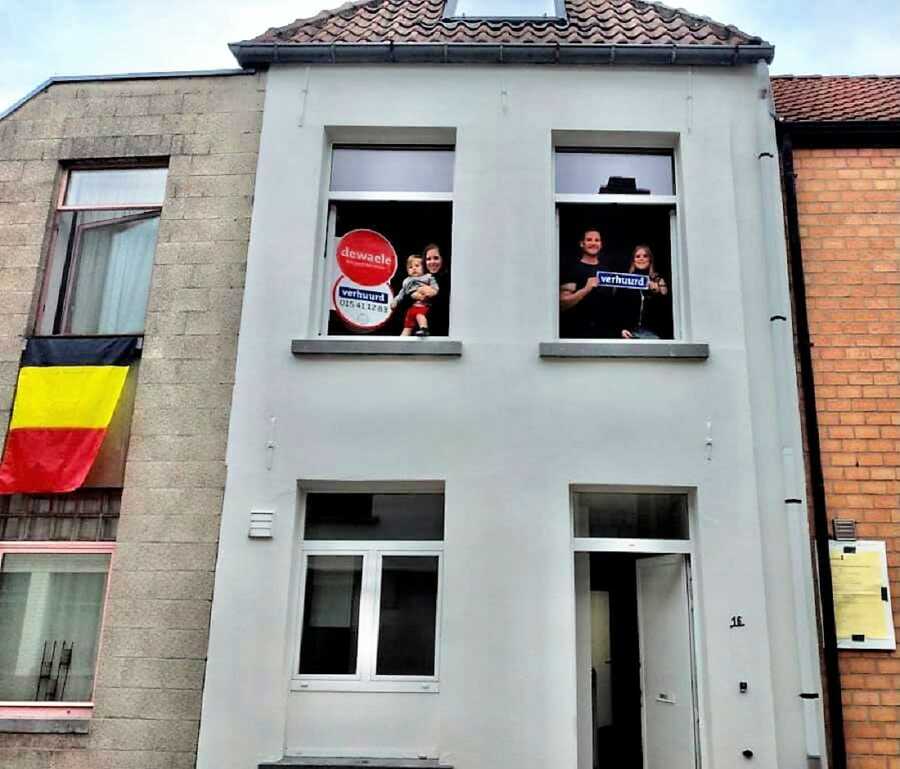 We fought a challenging custody battle with Billie's mom, and we now have her 50% of the time. We sold our home and started renting a bigger one in a totally new city…the furthest Kim has ever lived from home. We also became pregnant with our second child, only to lose them at 12 weeks. Later that month, we also both got COVID. What doesn't kill you, truly can make you stronger! All of these battles only fueled us to make another bold decision, which has become our mission and life's purpose; Kim left his teaching job, after 19 years, and we became full-time working-from-home entrepreneurs.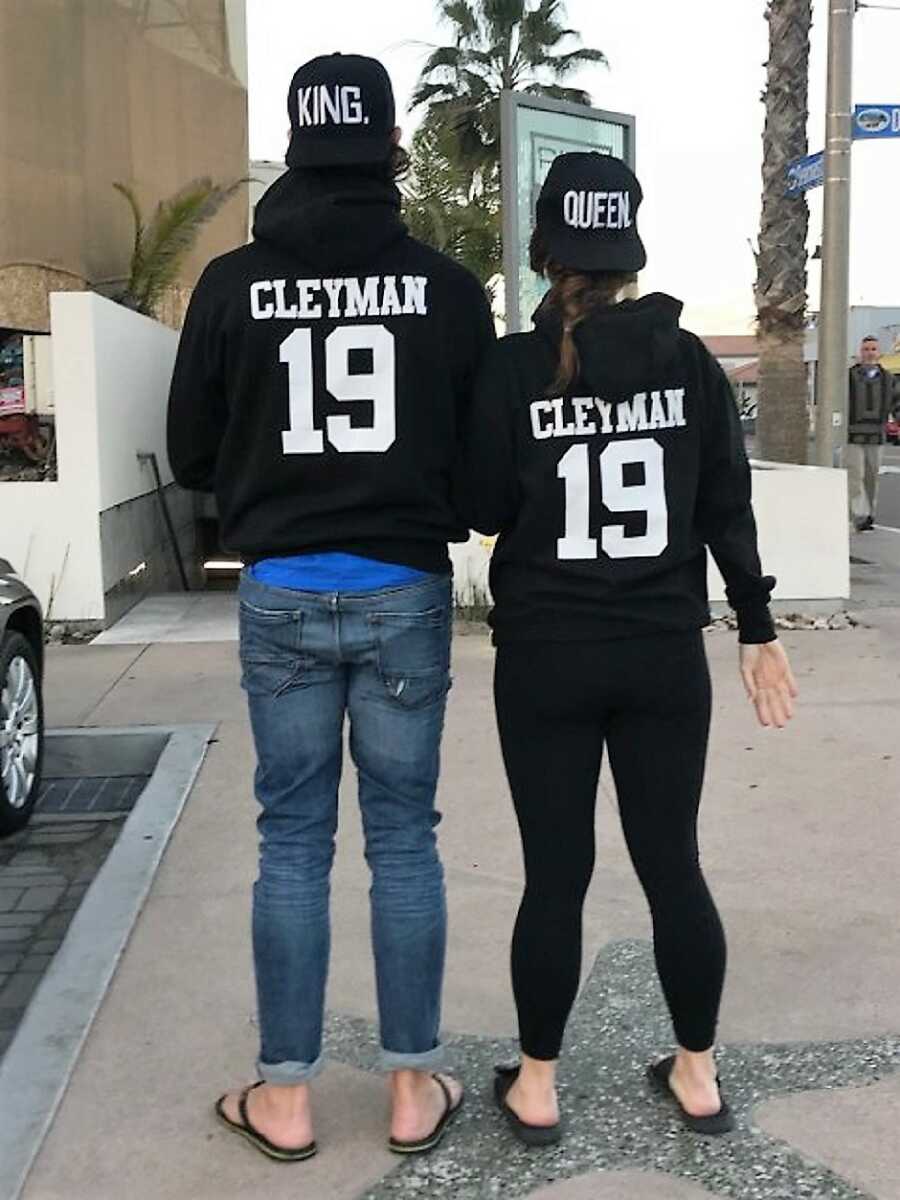 Kim and I now coach other couples, just like us, who are in stepfamilies. We want to pass on the baton of hope to other families facing obstacles and don't quite know how to get to the other side. We survived so many storms and have thrived. We know, as our fairytale continues to unfold, we were brought together for more than just our love story. We believe we are also together to help other people's love stories and to help their happily ever after last. What started as a big leap of faith, continues to prove and show that when you keep leaping, when you keep dreaming, and when you keep pushing off from the shore, is where you'll discover new shores. That is where your best life is, and we will meet any couple there who wants to join us."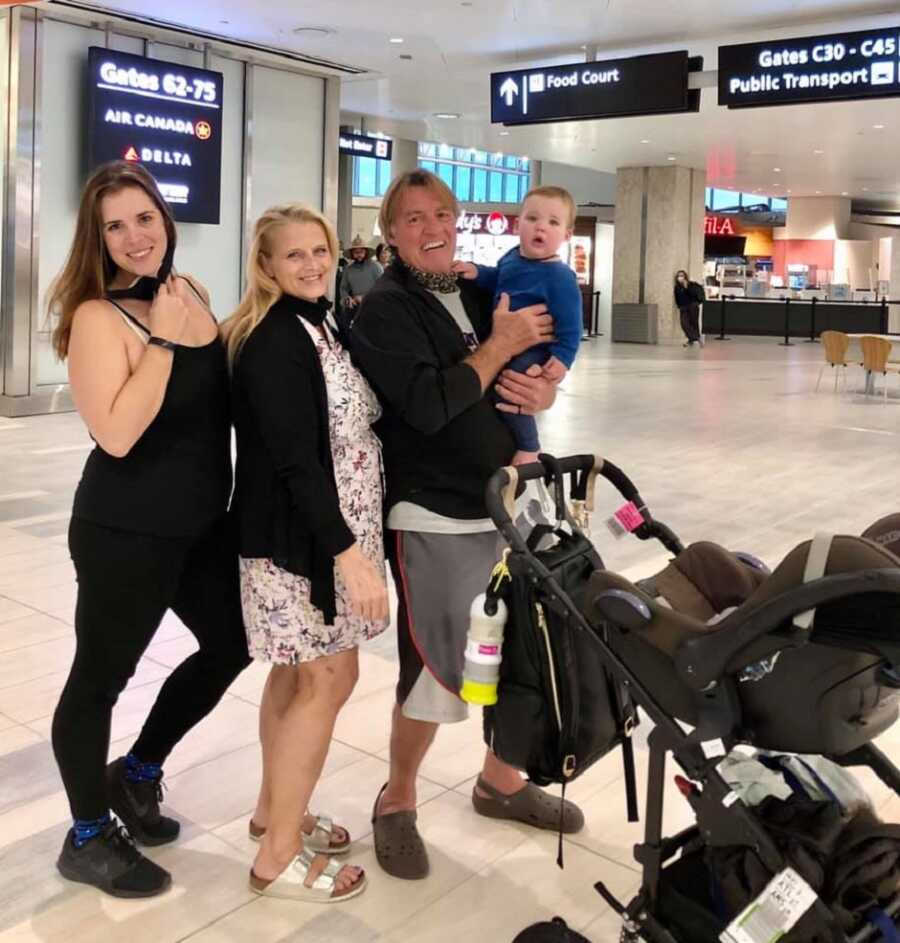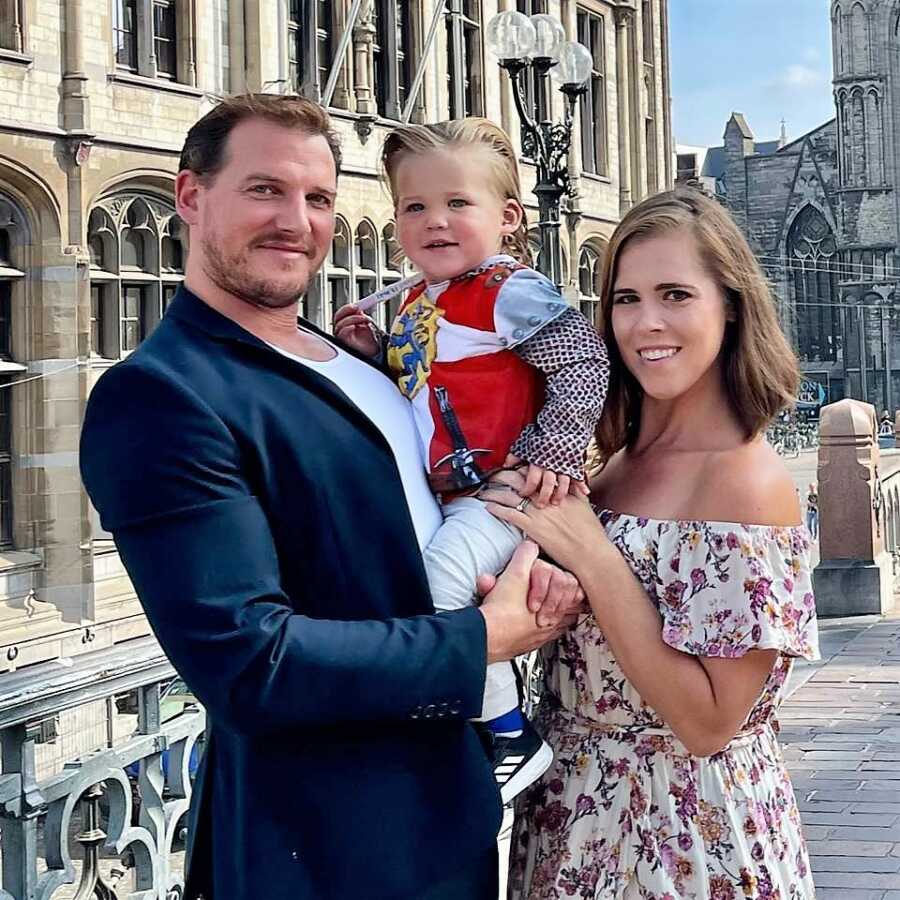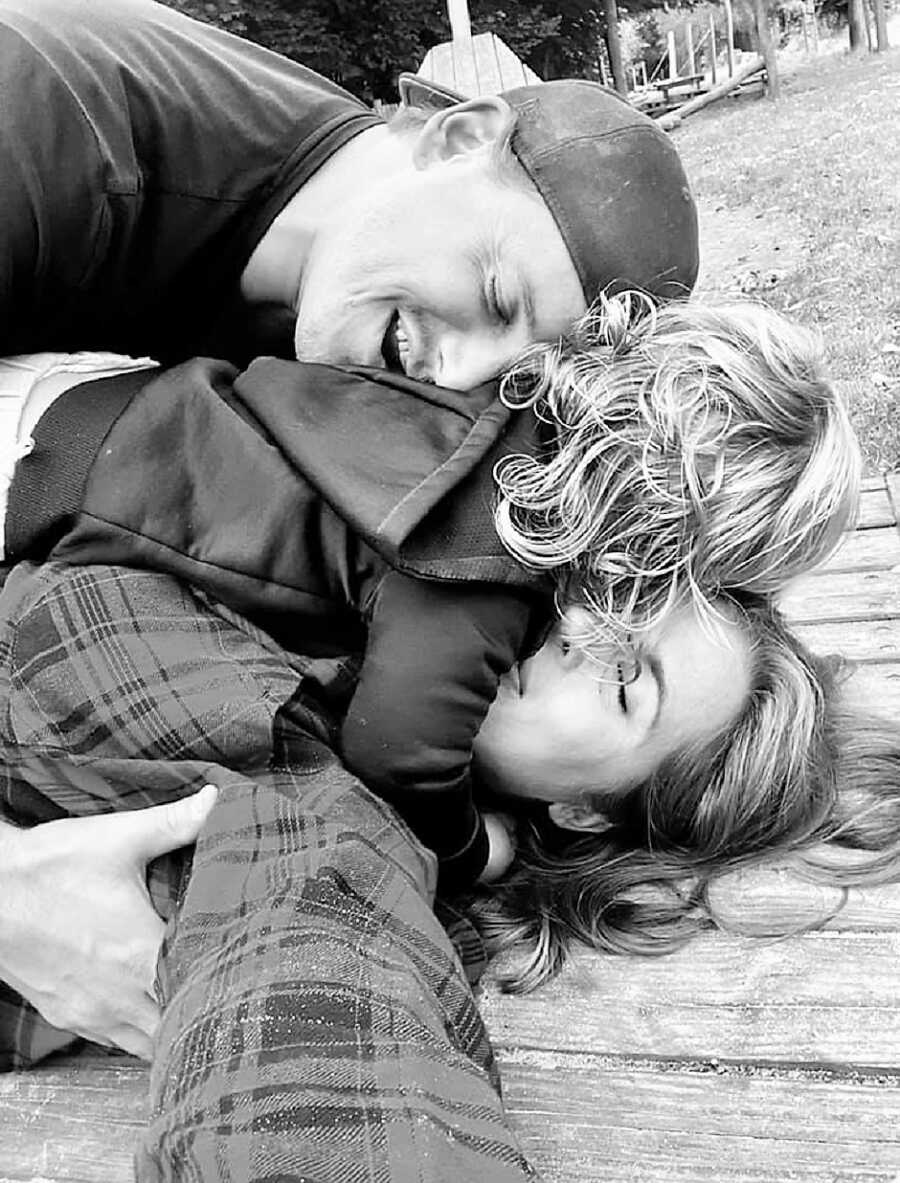 This story was submitted to Love What Matters  by Cheyanne Cleyman from Mechelen, Belgium. You can follow her journey on  Instagram, her website, and her blog. Submit your own story here, and be sure to subscribe to our free email newsletter for our best stories, and YouTube for our best videos.
Read more stories like this:
'You'll have to deal with a baby momma,' they warned.': Stepmom shares journey to beautiful blended family
'I invited my husband's ex-wife to my wedding. In our family, we're not 'half' or 'step.' We're just family.': Mom and stepmom come together to peacefully co-parent after feud, 'women should always support each other'
'When it comes to the size of our family, we're always laughed at. What they don't know is we love our chaos!': Mom of 6 shares journey as blended family, 'We were made for this'
Let's give this a go, shall we?' The first time we met, I can't even tell you how nervous I was. It's about giving up control.': Moms co-write blended family journey, 'Life is humbling and messy'
Provide beauty and strength for others. SHARE this story on Facebook with friends and family.