"Nicole: I want to preface by stating I am not a professional and a relationship where a child is involved will need constant attention and management. Also, our relationship is very new.
Co-parenting is tricky business and a dynamic I never thought about twice before. I have never had to share my children, so I can't even imagine how it feels to be on the other side of that. Sharing your child with someone you don't know well, who is in a relationship with someone you once were… It's a lot to digest.
It is weird meeting that person, the one your husband had a relationship with. At the point where I met Kelsey, Dustin was just my boyfriend, but it was no less intimidating. This is a woman he was once married to and has a child with. Their daughter, Elliott, is an absolute doll – a testament to their co-parenting relationship thus far for sure! Elliott's mental health is hugely dependent on all of our relationships, and we don't take this lightly.
The first time I met Elliott's mom, I can't even tell you how nervous I was. Nerves for the gravity of the relationship and history that would be walking through the front door. But it turns out, as with most situations, the fear of something is worse than the thing itself. She was kind. She was thoughtful, bringing a bottle of wine and a bundt cake. She got it. She understood what it meant to be introduced to me. Her gesture wasn't taken lightly. We didn't talk much at first, but it was pleasant.
As Dustin and my relationship progressed, I was careful not to overstep. I wanted to be available, but not pushy. I understand how complicated it might be to see your ex-husband with someone new, and I didn't want to cause any problems. She trusted me with her daughter. The least I could do is treat her with respect. She is her mom, after all. No matter my relationship with Dustin, her mom will always be her mom. I will never replace her.
At a pick-up one night when I first started watching her this summer, I introduced the conversation of pictures. I didn't want her to think she couldn't talk to me, but also didn't want to force it either. I asked her if she would like me to send her the pictures I took of her daughter during the day. She, of course, obliged and it was nice to open up dialogue and support communication. We hadn't exchanged numbers at this point, so it was a perfect opportunity to do this, and also gave her the choice.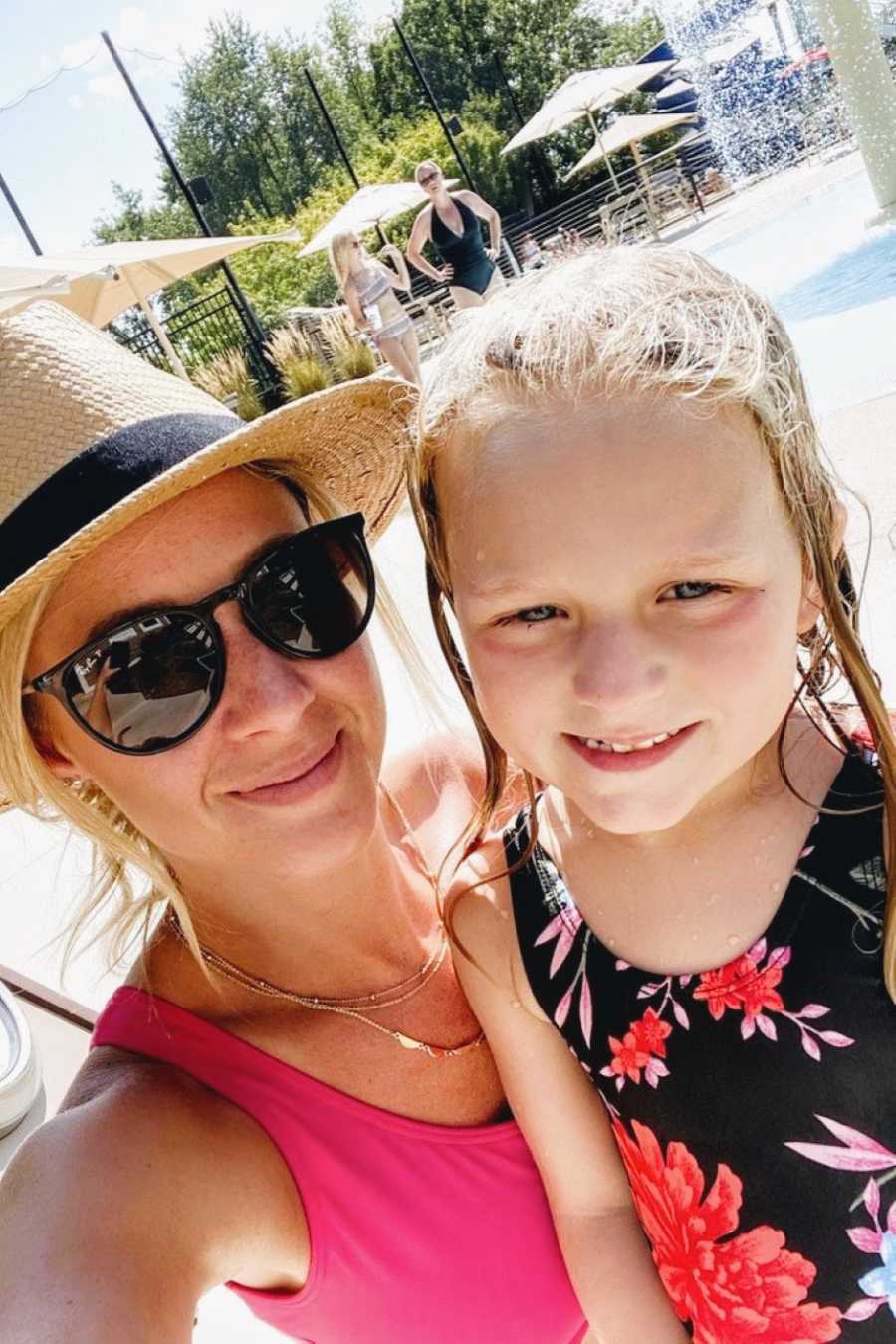 After a little time went by, we agreed it would be nice to get together over coffee to get to know each other a little more. Again, I was nervous. It was a super casual meeting for coffee and I had my youngest with us. We stumbled through pleasantries and awkward topical conversation but got deeper near the end. I wanted her to know I was here for her daughter, regardless of what social-relational norms are between the ex and the new woman. And she agreed. She was kind to ask if I had made friends yet, offered to invite me out on her next girls' night, and even offered to take a kid or two to her house for a sleepover.
This past weekend was her mom's weekend, but we asked if we could borrow her for a few hours. The house Dustin bought after their divorce was going to be sold the next week, and we wanted the kids to have the opportunity to say goodbye to it. She was kind to oblige and the kids had fun closing that chapter together.
Elliott's mom is an important person in her life, so she is important to the rest of us, too. It's the same way my children's dad is important to them and Elliott understands that.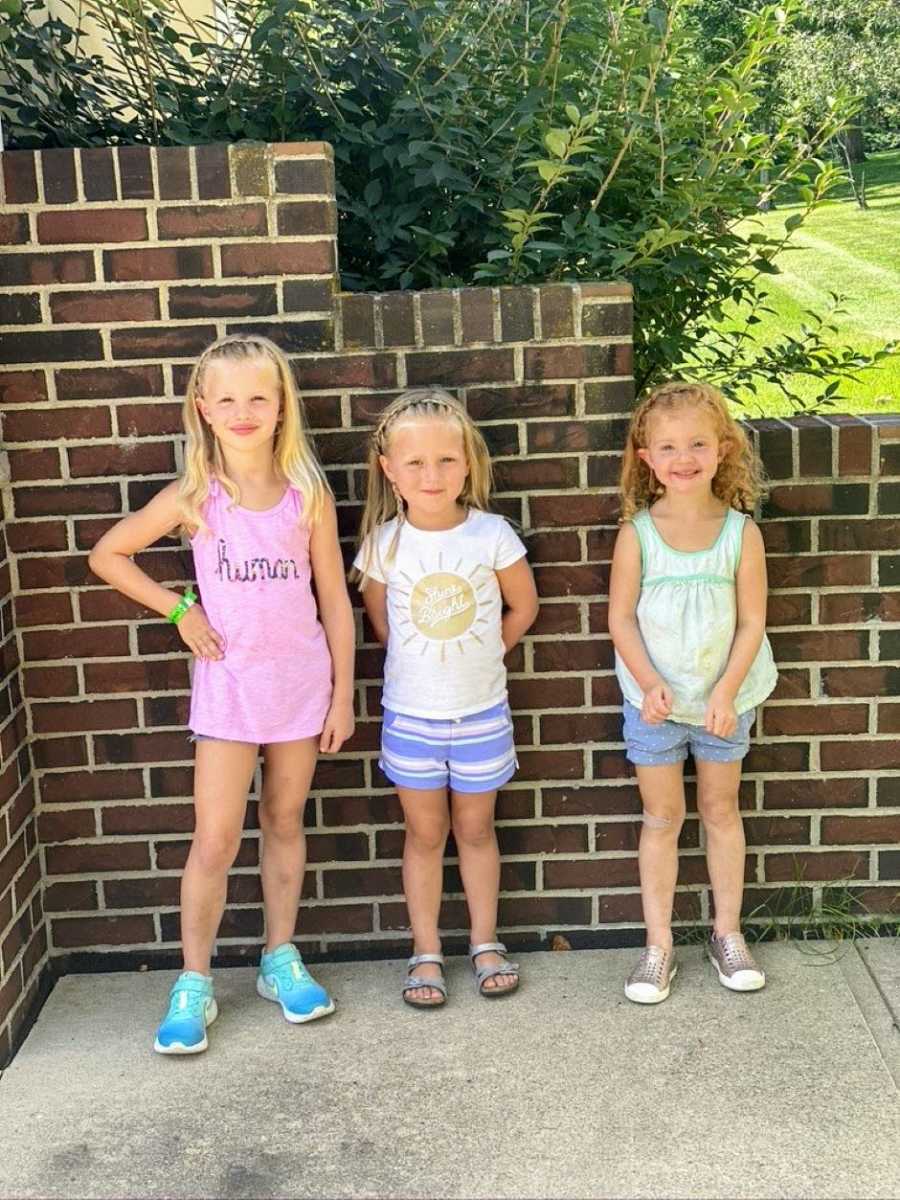 Kelsey:
For me, co-parenting is a lot of giving up control – a daily surrender saga, if you will. It's like being in a business partnership with someone where you have no idea how they run things and there is no plan of action or communication strategy. In fact, more often than not, I think most of the time people are usually opposites in their parenting style when co-parenting or divorced. But here you are with a mutual love to take care of and there you go – no map, no plan – figure it out! Not only figure it out but figure out major life decisions and somehow try not to screw up your child any more than you feel like you already have. Let's give this a go, shall we? Sounds fun!
I knew one day Elliott's dad would re-marry. I was prepared to have to share her with someone, and I guess that was always something I figured I'd deal with when the time came. I have heard this has been a hard transition for people and maybe that is true in some cases.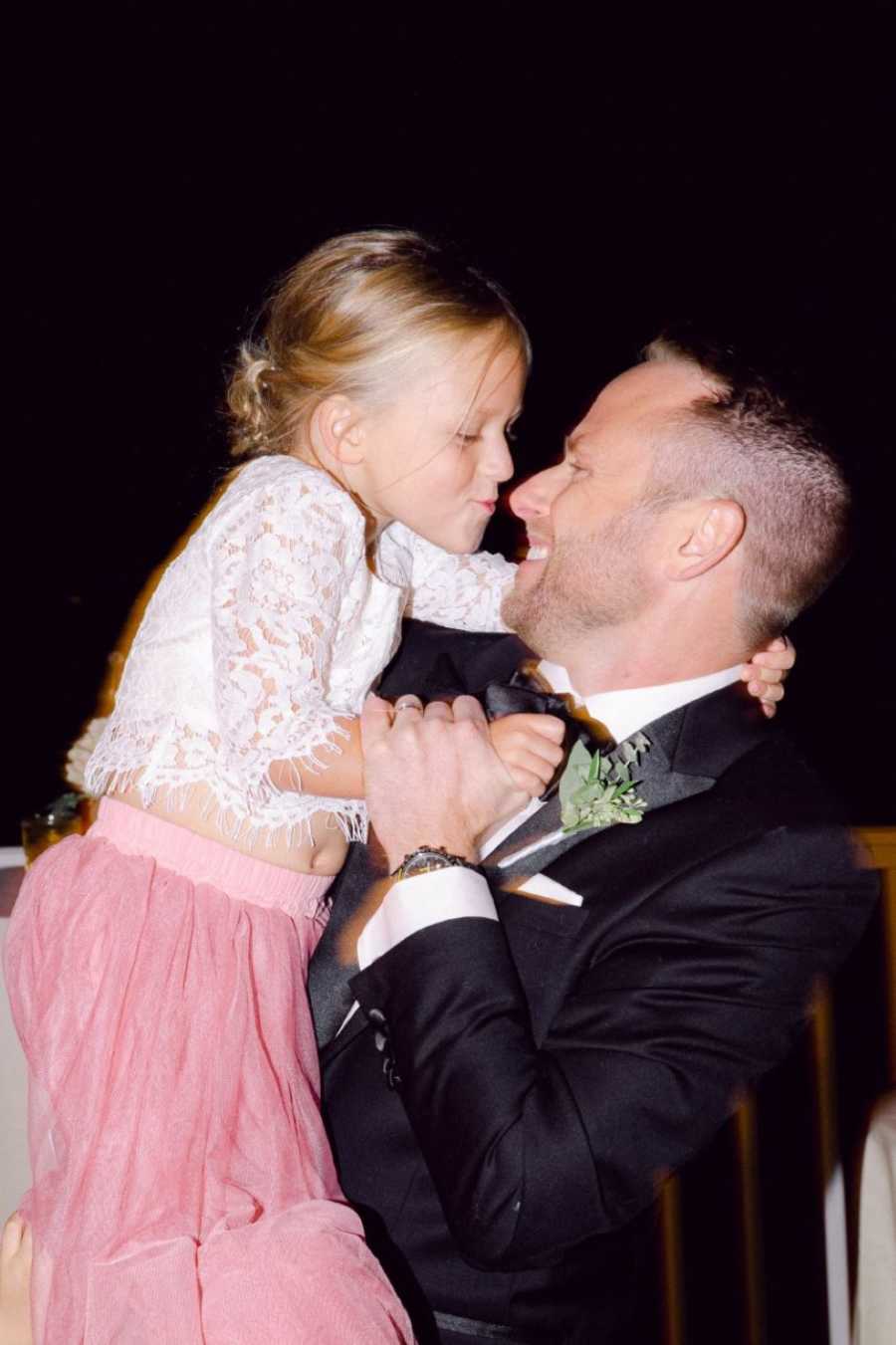 Truthfully, I have been crossing my fingers, hoping and praying for this! Don't get me wrong, I have always been thankful Elliott has a great dad and all, but us moms are just a tad better when it comes to the little things (i.e. making sure there's a side of vegetables at dinner, vitamins, bedtime routines, and you know, always having some sunscreen in our purse, just in case).
It wasn't too long ago Elliott would always tell me, as her mom, how much she wanted siblings. I would just look at her while I was probably putting away laundry or multi-tasking, as us moms do, and I would just say, 'Well, I don't know honey, just pray about it! God knows your heart and everything you want. You have to trust him to take care of you; only he can provide those things.' In other words…
'Don't be looking at me, girlfriend!'
The funny thing is in her mind, she could never have understood all the different ways in this life God could provide her siblings. I love thinking about that and how we are to God. We never know all the plans and ways He can provide. We are looking at a situation one way and wondering how in the heck this is ever going to work. It also just shows how quickly God can provide for your prayers because man, I've never seen a prayer be answered so quickly. In less than 6 months after that prayer, I kid you not, she had three siblings!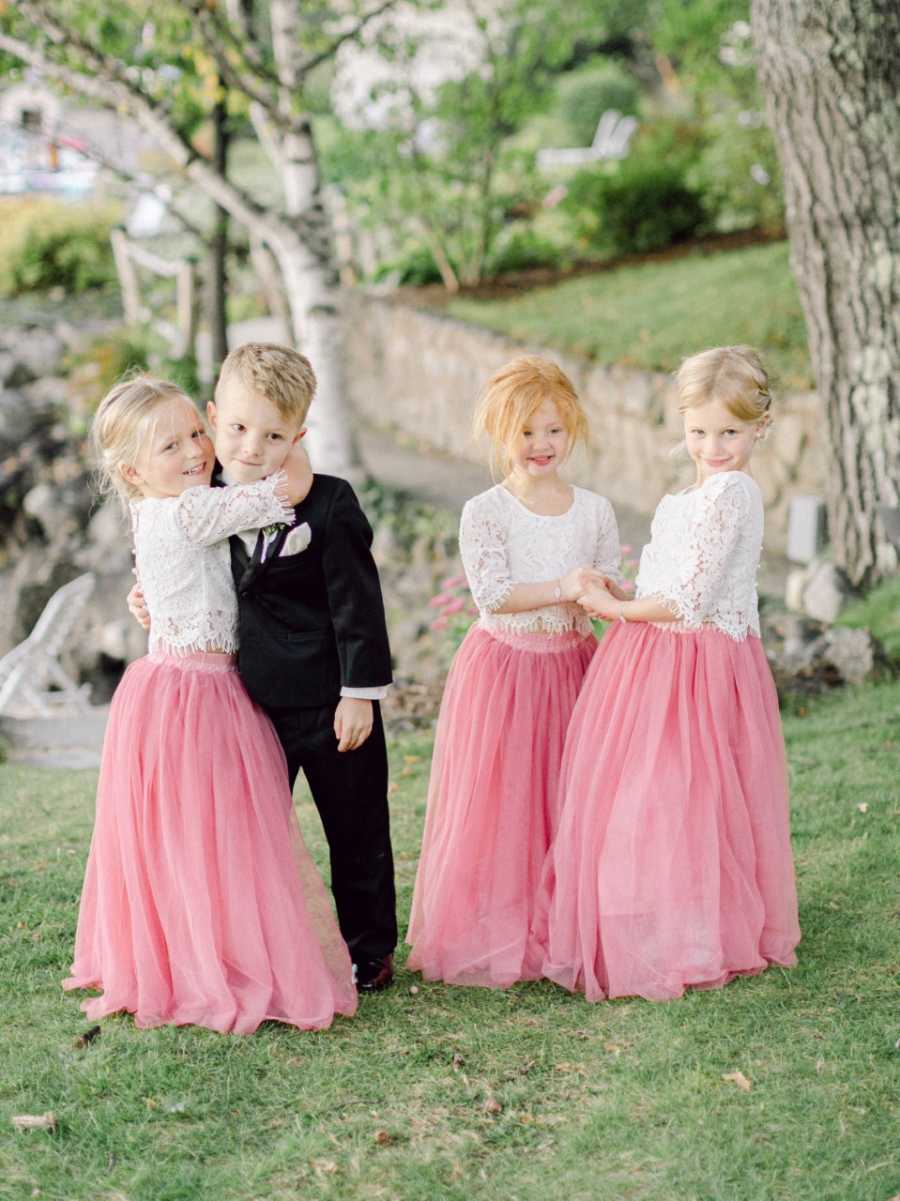 She now gets all my prayer requests…
From my perspective, it has and will always be hard to share your child. It's hard missing important moments and sharing half of their life. That is your baby you gave birth to and held in the middle of the night. I think any mother would have moments of heartache and grief.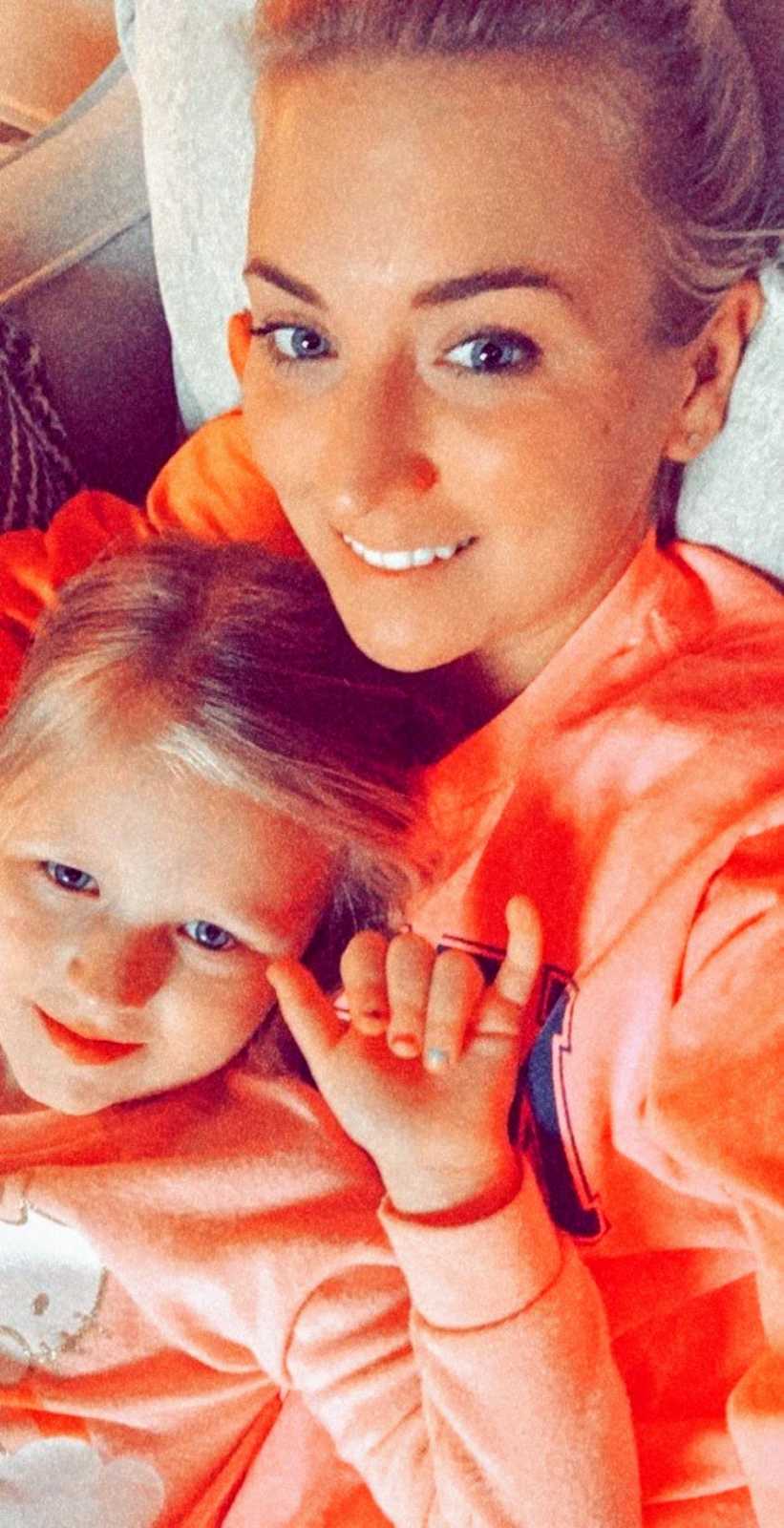 But as moms, don't we all feel this way a little bit? I think every mother at some point grieves their inability to protect their child from everything or to experience every single moment with them. And maybe I'm just a little worse than most here. I do remember having moments wanting to stay pregnant so I didn't have to share her with anyone yet. Again, the humor and irony of God. He's probably laughing right now as I'm writing my thoughts on co-parenting, saying, 'Oh, how you've grown up, Kelsey!'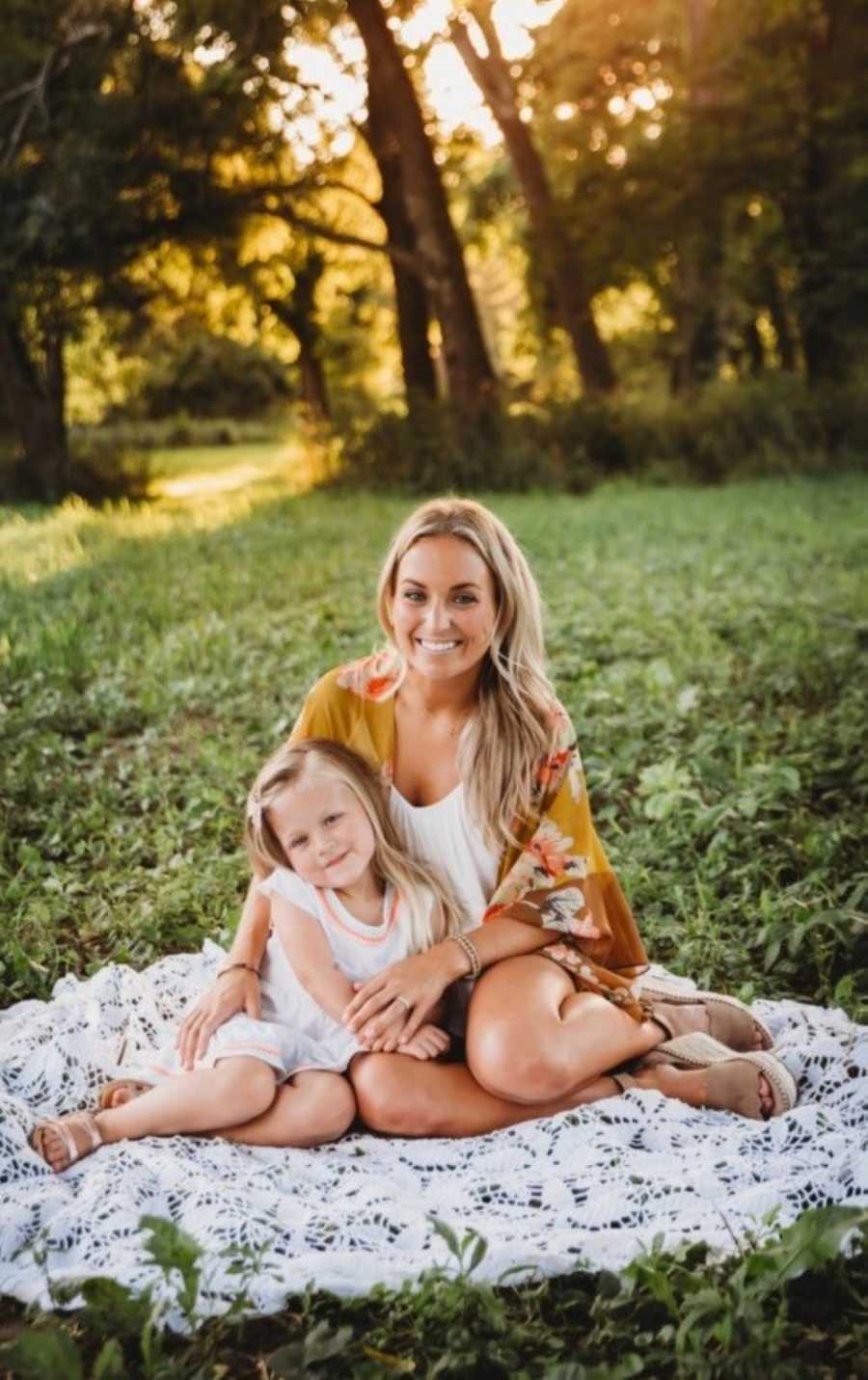 Of course, the co-parenting schedule gets more routine as days go on, but I still have difficult days and I think this is all completely normal. I am aware of the loss of a life that will never be and the loss of my desires as a mother. I am also very aware through that has come the birth of two healthy and vibrant homes. It's not ideal, and I don't think anyone would choose for life to be this messy and chaotic. However, I like having a life that is humbling and messy. It is a true reflection of God's grace and proof success is certainly not of my own doing, only through Him. That is at times painfully obvious!
When I met Nicole, I was excited and nervous. Of course, being a woman and a mom, I wanted her to know a million things and to feel welcome, but I really only had like 2 minutes and didn't want to overwhelm her. At our first meeting, I didn't say much, other than something stupid about Iowa I'm sure.
There is certainly no map or guide laid out for how to co-parent perfectly, but I think we are doing a good job of figuring it out as we go. I give a lot of props to the kids. They are actually the best at normalizing what we as adults complicate. They are good at showing us the way if we let them.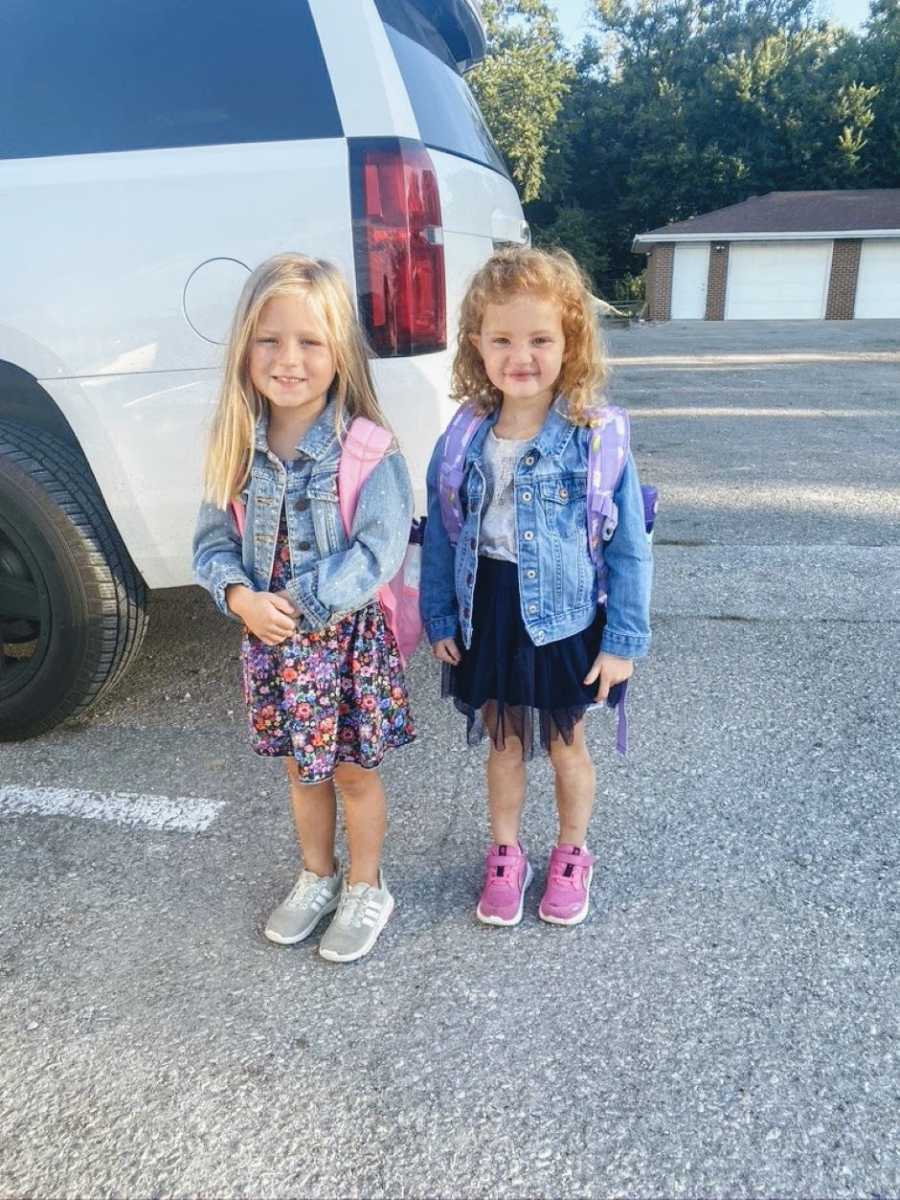 What we've learned:
The biggest thing I have learned so far is how important communication is. I am respectful of who Elliott's mom is and am as available as I can be for her. We might not always understand what each other has gone through, but we are in each other's lives for the long haul. Our kids are all 7 and under, so they are very impressionable for relationships, and we want them to see us having a successful one. Communicate more than not, be willing to be flexible, and put the child's needs first, always. Continually give the benefit of the doubt, and never stop trying to generate a relationship. Co-parenting is proof we have very little control in this life and need God's grace more than anything. By putting the children and God first in our lives, there will always be success, no matter how hard it gets."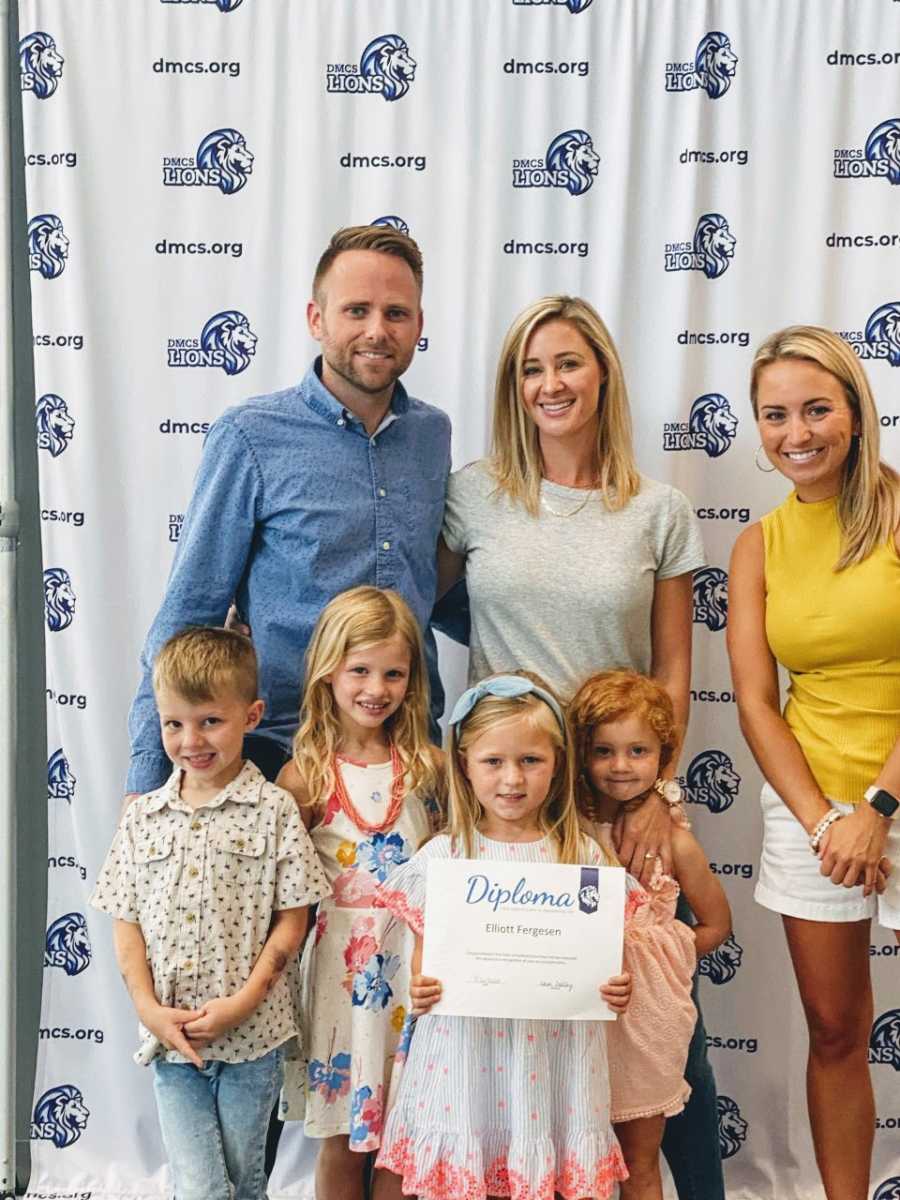 This story was submitted to Love What Matters by Nicole Fergesen of West Des Moines, IA. You can follow her journey on Instagram, Facebook, and her blog. Do you have a similar experience? We'd like to hear your important journey. Submit your own story here, and be sure to subscribe to our free email newsletter for our best stories.
Read more from Nicole here:
'At 20, people judged our choice to get married. 'You have to experience your single years and party it up.' I didn't want it. I wanted Marcus.': Widow remarries after loss, 'I love two incredible men'
'Your dad would be so proud of you.' He honors their father and tells them he loves them too.': Widow details helping kids adjust to bonus dad, 'It's okay to love both'
'Do you remember your dad?' She responded, 'Which one?' Our family dynamic changed completely.': Widow shares 'beautiful and complicated' journey after loss
Do you know someone who could benefit from this story? SHARE on Facebook to let them know a community of support is available.