"How can I do forever when I can't make it through today?
That question is one that has gone through my mind hundreds of times.
From the horrific moment we received the 'call' to even repeating it in my head today when my phone accidentally dialed her number.
Losing your loved one suddenly does not give you the chance to process a future life without them. Losing a child suddenly, as is my case with Dani, becomes a moment-by-moment, breath-by-breath chore that makes me wonder when I will wake up from this nightmare.
I had an entire future planned with her. Dani, my firstborn daughter, was the one who promised to pluck my eyebrows when I was too old to see. She was the one who was going to make me laugh at my stupidity until we both cried, and then remind me over and over again how we laughed at that moment. Dani was the one who would call me for a phone date just when I was missing her a bit more than usual. She was the one who became my very best friend after the tumultuous years we had in her youth. How would I ever do forever? The thought suffocated me.
If you have lost someone, perhaps to suicide, too young, tragically, violently, or at a time when your world was at the best place you thought it could be, I believe you have asked that question a million times yourself.
I lost my mother to a long battle with ovarian cancer 13 years ago. She fought long and hard and withered to 65 pounds, but I knew toward the end that there was not much that could be done to help her and we would be losing her soon. There is never a true preparedness for death on this side of eternity, but I had time to try to grasp what my forever would be without her.  And honestly, as so many of you know, losing your mom is not something we ever want to happen. It is truly something you deny your entire life, although deep in your mind, you know that is the circle of life and one day in the faraway future it would happen.
A forever without a mom is like losing a part of you. Your heartbeat was with hers from the moment you were conceived. When her heart stops, a huge piece of your heart goes with her and is broken forever. Mom was able to tell all of her family goodbye. She even proceeded to tell me that whenever I saw a penny, it was her spirit from heaven looking down on me. 'Pennies from Heaven' is another story for another time.
Circling back to the rhetorical question of 'How Can I Do Forever When I Can't Make It Through Today?', this was something I wrestled with in my mind daily. There is no handbook or guide to living a life without your child. Moment by moment and breath by breath is how I made it through the first year. The second year, however, reality set in so much more and I noticed all I had left were pictures and memories. And those are mine alone. The cards and calls had stopped. The 'checking in' texts had ceased. I rarely got 'the look,' and the world had seemingly moved on. The sun still rose in the morning and set in its glory each evening. And even now, more lives are tragically lost yet new babies arrive with a light and hope for their future. I continue to tell my story in hopes that no one else has ever asked that question because they lost a loved one to suicide.
And suddenly, it hits me. I am doing my 'forever.' I am doing it by making it through one today and another and another. I don't know how or when it happened. Looking in the mirror, I see how these few years have removed the sparkle from my eyes and the bounce in my step. My heart is still broken, the pain is still real, and my tears still flow. But, I am doing it.
And remember, if I can do this, so can you. "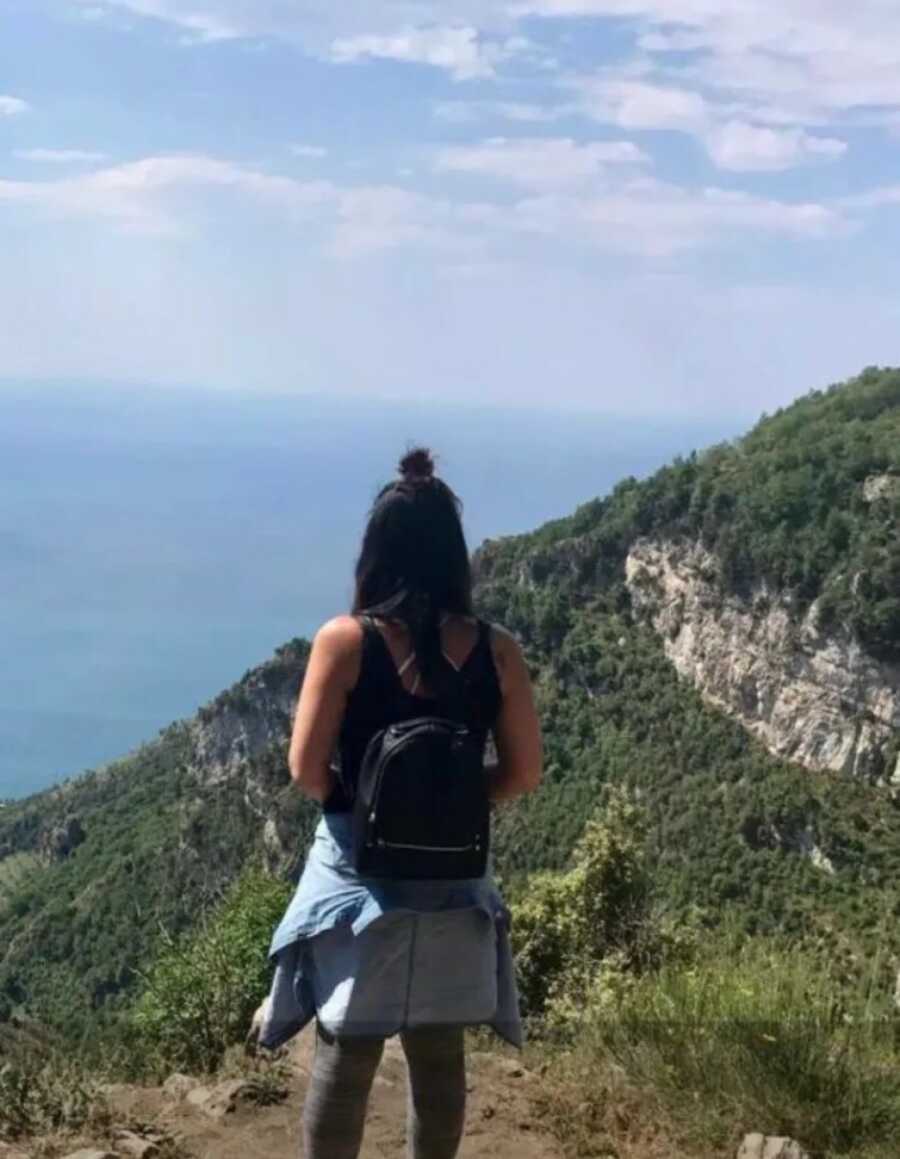 This story was submitted to Love What Matters by Donna Mencini Heck from Mansfield, Ohio. You can follow her journey on Instagram, Blog, Facebook, and Website. Submit your own story here. Be sure to subscribe to our free email newsletter for our best stories, and YouTube for our best videos.
Read more stories like this:
'He tried committing suicide by hanging. By the time he was found, he had no sign of life. 'No, no this can't be happening. This can't be real!': Mom shares 10-year-old son's suicide attempt to help raise awareness
'A guy passed me and asked, 'Are you okay?' I was preparing to jump into the cold lake and end everything once and for all.': Suicide attempt survivor urges 'the sun will shine again for you'
'Please, tell me where you are.' I'm adamant. 'I don't want help.' I hang up the phone. Tears were streaming down my face. It was time.': Woman's suicide attempt ends in miracle survival, 'You can choose to live'
'I regret this so much. I'll never see my daughter again.' My lips turned gray, my skin white. I faded out of consciousness.': Woman urges 'it will get better' after survived suicide attempt, 'Storms don't last forever'
Spread awareness for suicide prevention. SHARE this important story on Facebook and Twitter.