"A little over two years ago PTSD took over my life while my son was fighting for his. I remember that day so vividly and it never ceases to pain me. He tried committing suicide by hanging. By the time he was found, he had no sign of life left in him. He was the darkest of purple with blood seeping from his mouth. 'No, no this can't be happening. This can't be real!' I couldn't get into the room being that I was around 30 weeks pregnant with my youngest daughter. My mom and sister literally had to squeeze into the room to get him down. He had hung himself from the door. His body was weighted against the door so I wasn't able to squeeze through with my belly. My mom was able to breathe life back into him. He was stat flighted to a children's hospital and spent nearly a week on life support.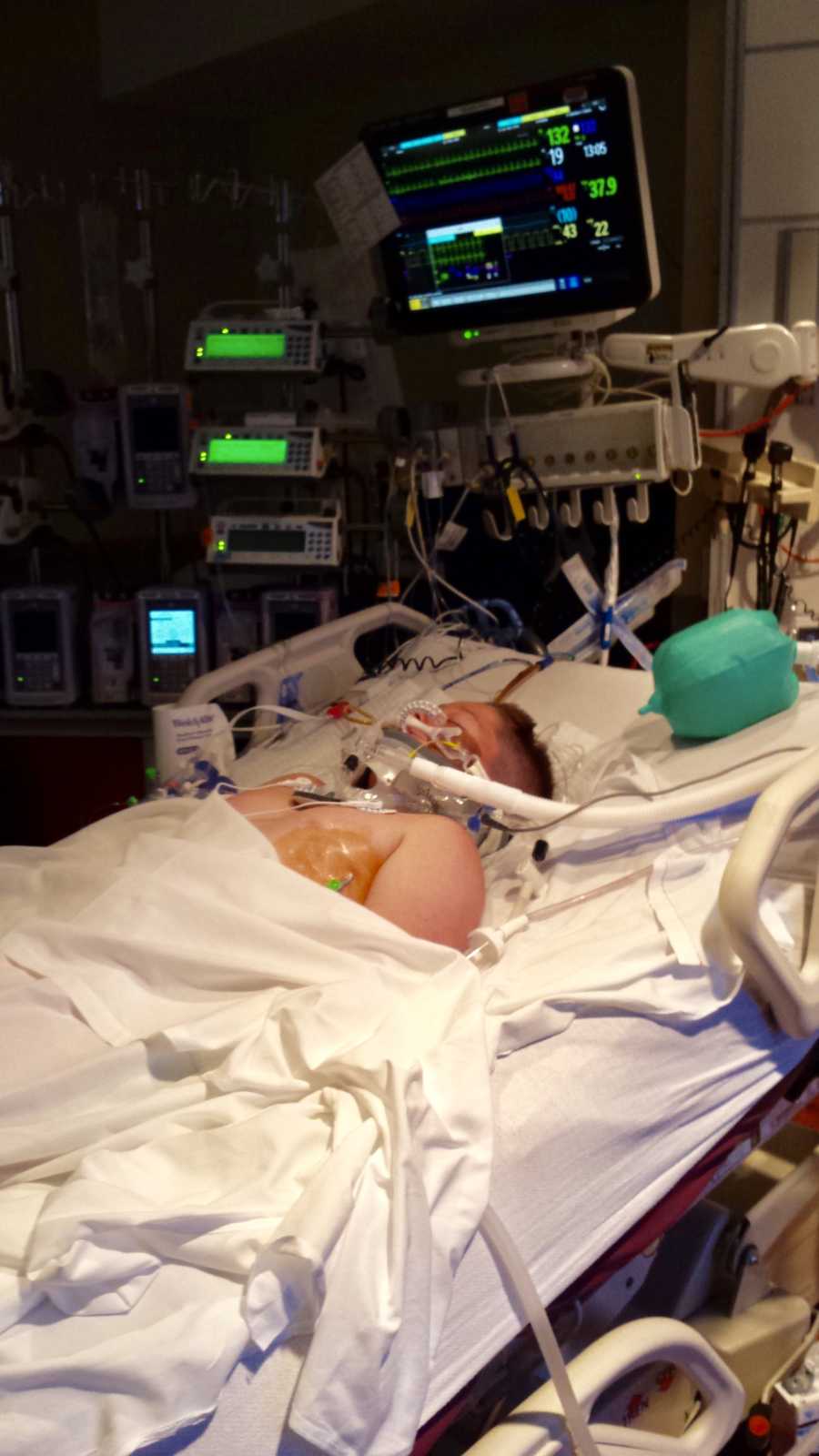 I had so many questions running through my head. A part of me believed he was just fooling around and it was accidental. What 10-year-old would think of suicide? They are just babies themselves. If it was intentional, then why? He has the best family and support system (on my side). I was put in a position that not only could I lose him, but also the child within me. I had to keep myself together, keep the stress level down and obviously that was hard. I don't guess I have ever reached my breaking point – I pray I never do. I keep everything bottled up and there's only a few people that I talk to about it and for them, I'm forever grateful. I find it easier written then said.
I never got much sleep that week. Maybe a few hours here and there. It brought back painful memories from my past. I lost my Papaw to suicide 16 years ago and had a step uncle who was near and dear to me who also committed suicide 16 years ago. It was something that was NEVER talked about. It had me in denial when my own child attempted.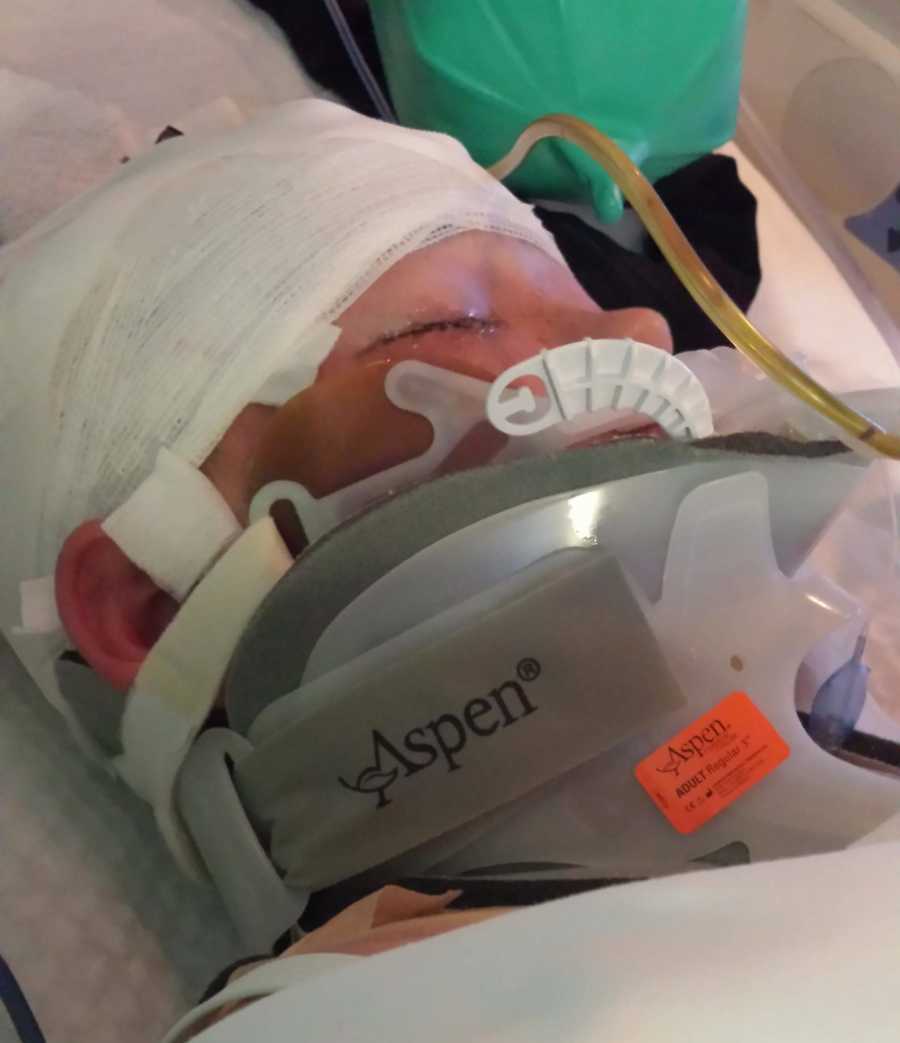 The night he got released from the children's hospital, he got admitted to a children's psychiatric straight away. The truth was, he did intentionally try to kill himself to go be with my stepdad who passed away a year before due to sleep apnea. Little did I know, not only was he struggling with the loss of his Papaw, but also the disappointment and constant let down from his dead-beat father leaving him with empty promises. His father even faked his own death 2-3 years prior, which was still weighing on his mind. He kept that to himself. I hate that I can't shield him from people like that. He still to this day randomly texts my son out of the blue just to get his hopes up. Promising to wire him money for his birthday, Christmas, etc., which he's never received in his 13 years, making my son feel like he's not good enough and making him feel like he's a fool for believing him. It breaks my heart!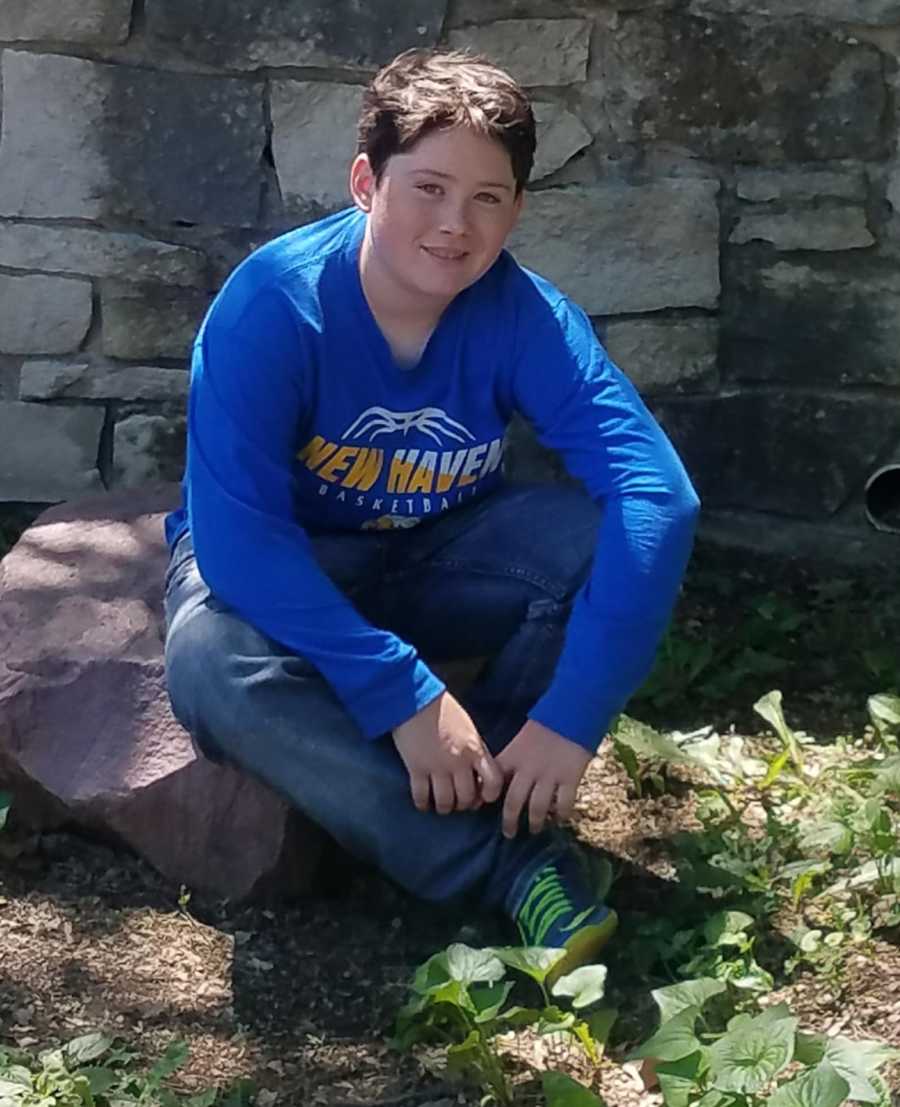 After he was admitted, I went home to an empty house that night and that's when the nightmares began. I had trouble falling asleep battling with restless legs, I tossed and turned half the night. Once I fell asleep the whole thing replayed in my head. I woke up to check on him, the room was pitch black and I started freaking out. Where's the lights? Where's the machines he's hooked up to?? Where's my son??? My heart is racing. I'm panicking and crying. It took me a few minutes to realize what was happening. Nightmares! Those nightmares come often. It's one of the worst feelings I've ever experienced. The flashbacks come often, even throughout the day. I tend to have a great way of hiding how I truly feel on a daily basis and I know it's not healthy, but I also never want for my son to think it's his fault that I suffer hard from PTSD. I keep everything in silence and some days I just can't smile.
My children know I love them with every fiber of my being. They are my whole life and I would be so lost without them. The thought of losing one of them is my constant worry. I make sure there aren't any kind of ropes, strings from a balloon, blinds and so on in this house. If I come across anything that could be a 'choking hazard' I cut it up right away and toss it in the garbage. My heart absolutely breaks for the mothers who have lost a child. I could never fathom their pain.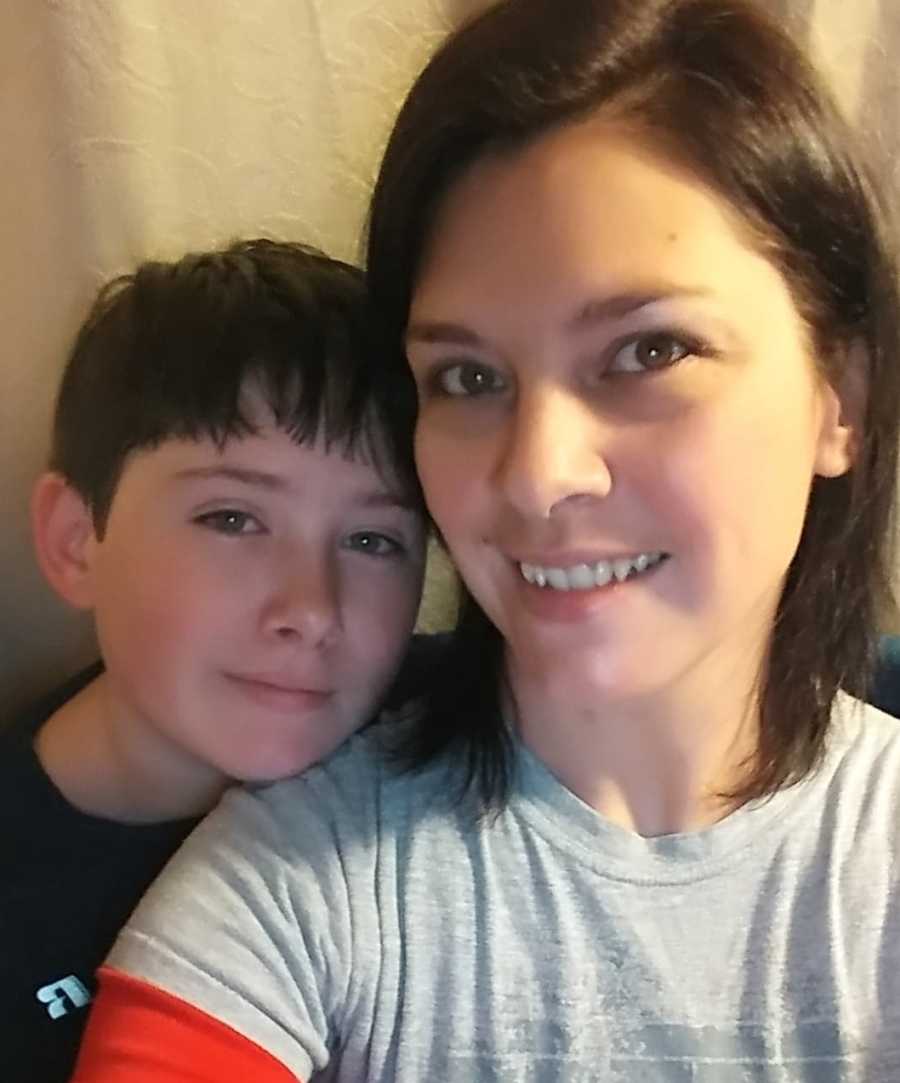 I used to be one of those moms that if my child is throwing a fit, they get sent straight to their rooms until they chill out. But not so much anymore. It changed my every perspective. The sound of a slamming door sends my heart into my throat and I immediately go talk to them. Our number one rule is to never go to bed angry, we hug it out!
It has now been two years since my son's suicide attempt, and we are out doing great things to help spread awareness and education around the topic. He goes to counseling often. We shared our story on Love What Matters which lead to us being on the local news to speak out on suicide awareness. I got certified in mental health first aid in August. My son, niece and I took a QPR Suicide Prevention Gatekeeper course in September. I plan on taking more classes as I go. Learning about mental health has helped me cope, and one day, I hope to make a difference in somebody else's life. It's important to learn all the strategies and to know what to look out for. To know that somebody will benefit from it. But no matter what, it will never change the thoughts that run through my head. I will carry that until the end of my time.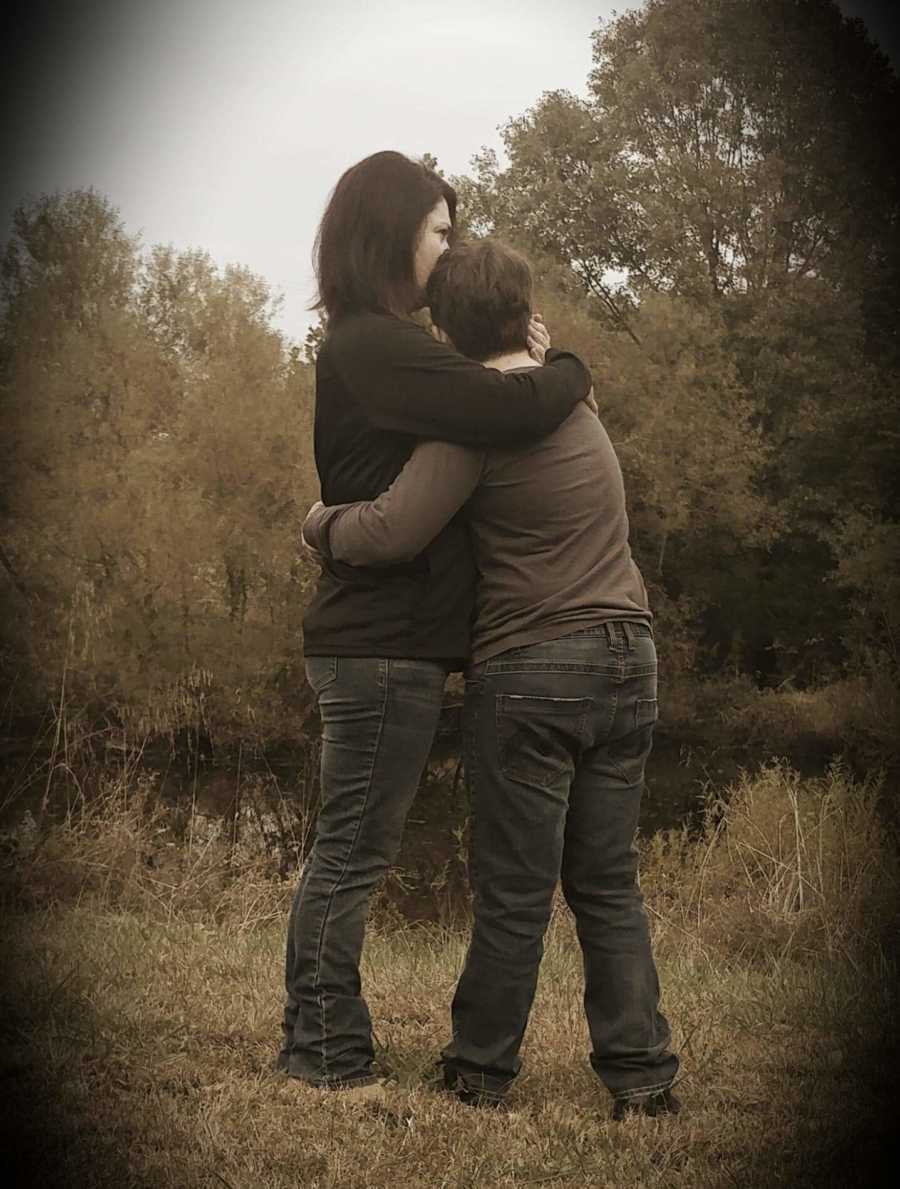 Here is a short poem I wrote to express how I truly feel:
It's been two years since I've lost a part of my soul
PTSD is real and I'm not aware of when it comes and goes
I often find myself weeping in the middle of the night
Awakening from a nightmare and such a horrible sight
The thoughts come random, Even throughout the day
It's burnt inside my head and it will never go away
Nobody will ever understand the cards I've been dealt
And I pray they will never experience the pain I felt
The fear of losing my child is destroying me
I'm supposed to be strong. I'm a mom, you see
My son once was the face of suicide, it almost robbed him of his youth
There's that, the ugly horrible truth!
Somebody once told him, 'Next time will be successful and you'll die'
That being said makes nothing easier as the days pass by
All I can do is be the best mom I can be and pray with all my heart
Pray my child knows his purpose in life and knows his part
I love you baby boy, more then you'll ever know
I'm always going to be here for you and I promise to never let go. 💙"
[If you're thinking about hurting yourself, please call the National Suicide Prevention Lifeline at 1-800-273-8255 or visit suicidepreventionhotline.org to live chat with someone. Help is out there. You are not alone.]
This story was submitted to Love What Matters by Amber Traxler of New Haven, Kentucky. Submit your own story here, and subscribe to our best stories in our free newsletter here.
Read more of Amber's son's story:
'My baby boy is gone! My son had hung himself. He had no heartbeat': Mom's plea after 10-year-old attempts suicide
Read more stories about suicide:
'The phone rang. 'Hello, Police Service. We're on the side of the Broadway Bridge. I'm sorry. We answered because it said 'Mom.': Mom loses 15-year-old to suicide; 'I choose to honor Ethan'
'How did I not see the signs? We made it to the children's psych ward. I wanted to kiss the boo boos away, but I couldn't.': In the wake of 12-year-old daughter's 'suicide plan,' mom says we can't be 'the perfect parent' no matter how hard we try
'Mom, I need you to know I love you. But I can't do this anymore. I'm at a bridge. I love you.': Mom recalls the 'unbearable' emotion learning of son's suicide attempt, 'I am NOT okay'
Spread awareness for suicide prevention. SHARE this important story on Facebook and Twitter.