"Nothing and no one can ever prepare you for those dreaded words, 'It's cancer.' I am on a mission to raise awareness of bladder cancer, particularly bladder cancer in young women. When you're sitting in a waiting room waiting for a bladder check surrounded by only men at least 40 years your senior, it's a pretty scary and lonely feeling. I am sharing my story with the hope to spread the message: 'Listen to your body!'
12 months ago, I was pretty much as happy and content with my life as I could ever be. I'd just married the love of my life, we'd rescued the most gorgeous, loving greyhound, and I was working in my dream job as a professional ballet dancer with West Australian Ballet in Perth, Australia.
Being a ballet dancer is what I always knew I would do. I told my mom when I was just 6 years old I was going to be a ballerina. I left my home and family in Brisbane at 14 years old to chase this dream, and now at 27, I'm living that dream, but sacrificing time with my amazing family, who live over 2,000 miles away.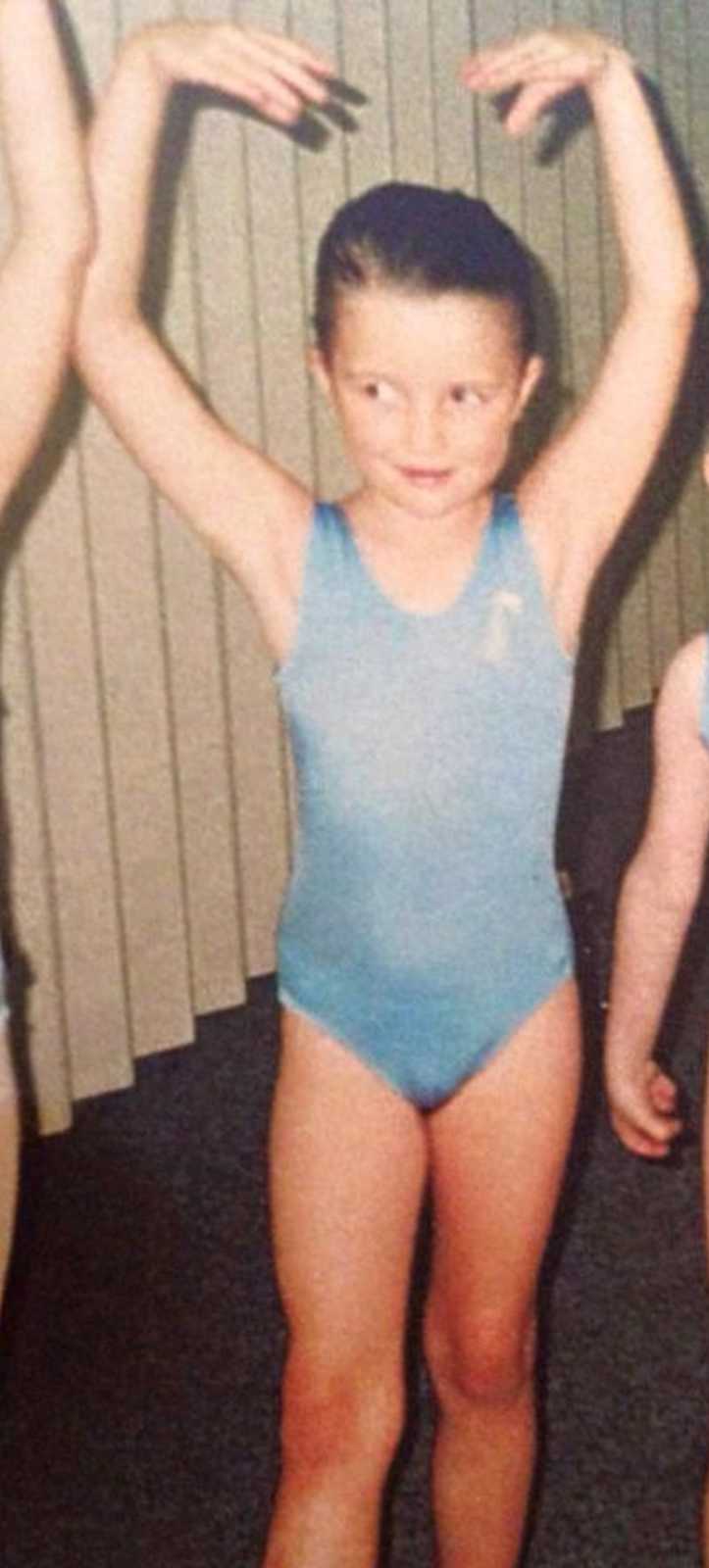 Working as a ballet dancer is a rewarding and remarkable career, but it can also be incredibly demanding and tough on your body. For this reason, I have always taken really good care of myself. I eat well, drink lots of water, sleep well, get plenty of exercise, I don't smoke, and I don't drink excessive amounts of alcohol. So, this made the shock of being diagnosed with cancer at 26 years old even worse.
It all started in April of last year when I thought I had a urinary tract infection (UTI). I had extreme pain in my lower abdominal, pain to urinate and blood in my urine. I booked a GP appointment but did consider canceling it after my symptoms had subsided within a few days. I remember thinking, 'I may as well go to the appointment,' fully expecting there to be nothing wrong with me. The GP agreed and diagnosed me with a UTI, but after doing a urine sample, she discovered there was no infection and the sample showed I had passed a small piece of bladder tissue.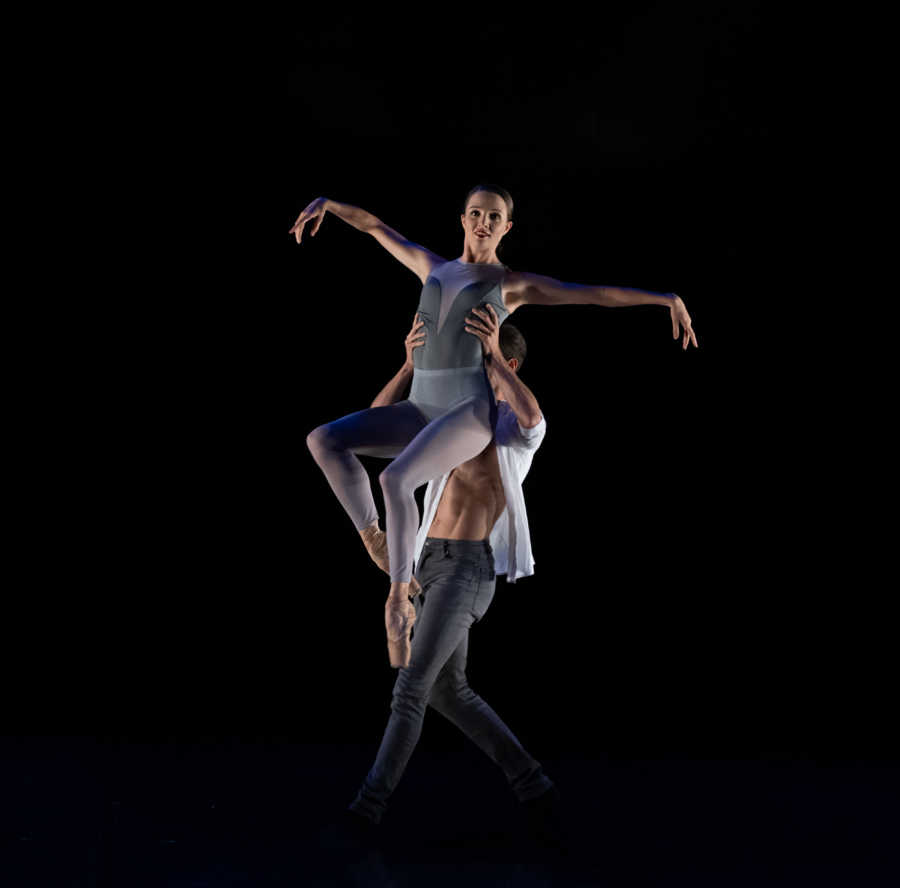 I am so grateful to this doctor, who immediately booked me in for an ultrasound and this revealed I had a tumor growing in the epithelial lining of my bladder. At this stage, I was completely unprepared for the possibility it could be cancer. The doctors don't really say the 'C word' at the beginning, but instead, 'It could be something nasty, but it's unlikely.'
From here, I was referred to a urologist who said all the same things my GP had. 'You're young, you're fit, you're healthy and the possibility of this being something nasty is highly unlikely, but we have to remove it just in case.' The surgery itself was fairly non-invasive, although waking up with a catheter in and a wash through my bladder for 24 hours wasn't much fun.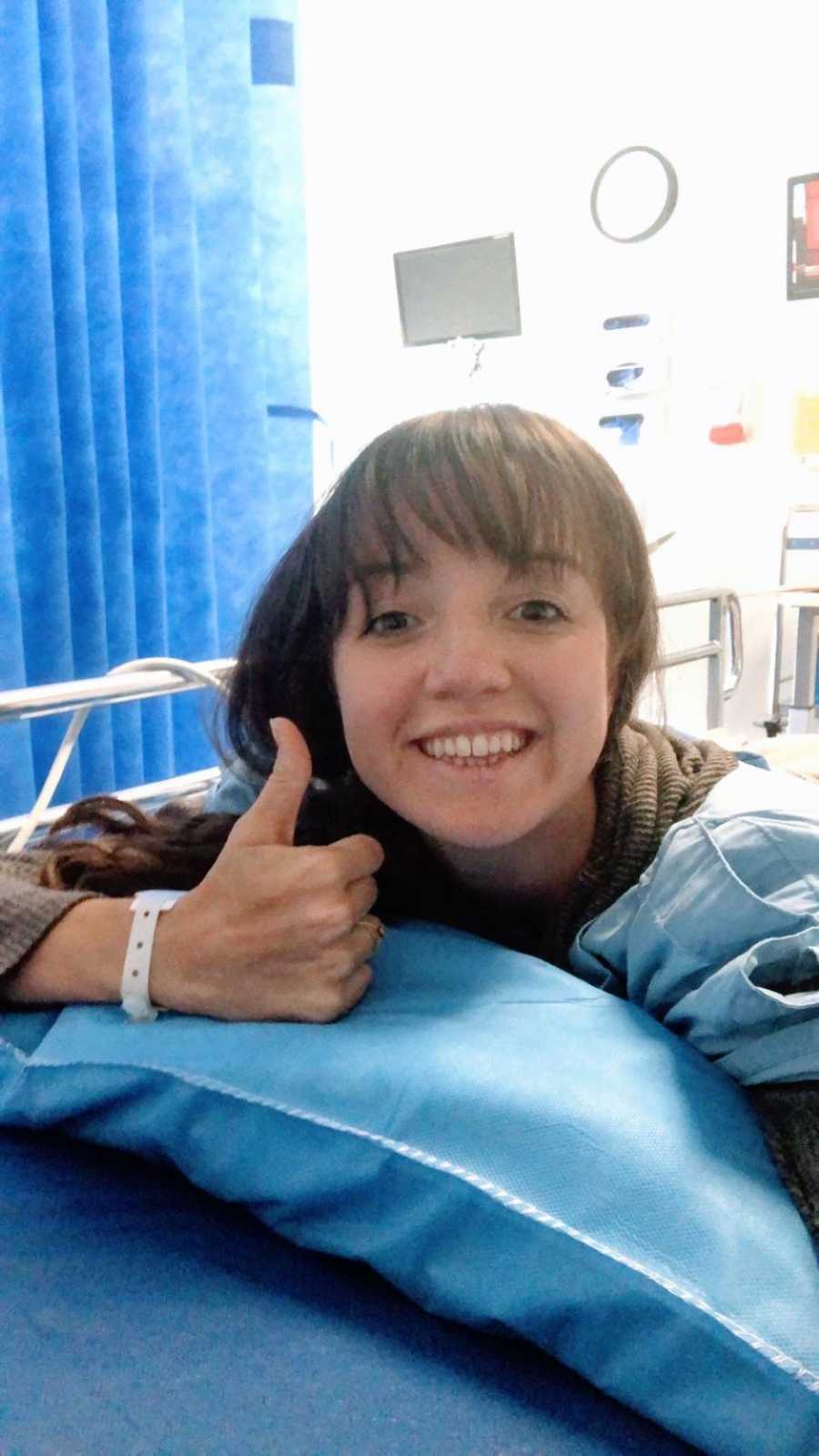 I recovered quickly from the operation, but couldn't be discharged until we had the results of the tumor testing. 2 days after surgery, the surgeon told me the tumor they removed turned out to be stage 1 cancer.
I was shocked and I was devastated. Nothing can prepare you for that, and I couldn't believe this horrible thing could have been growing in my body even though I'd taken such good care of myself all my life. I remember crying in my husband's arms for most of that day. I think no matter how big or small, having the diagnosis of cancer is a life-altering moment.
The next step in my journey was to begin with 6 weeks of chemotherapy. Luckily, the doctors had found it at an early enough stage and could remove the whole thing before it entered my bloodstream. This meant I didn't have to have the chemotherapy drug (mitomycin) through my veins but could have it delivered straight to my bladder through a catheter.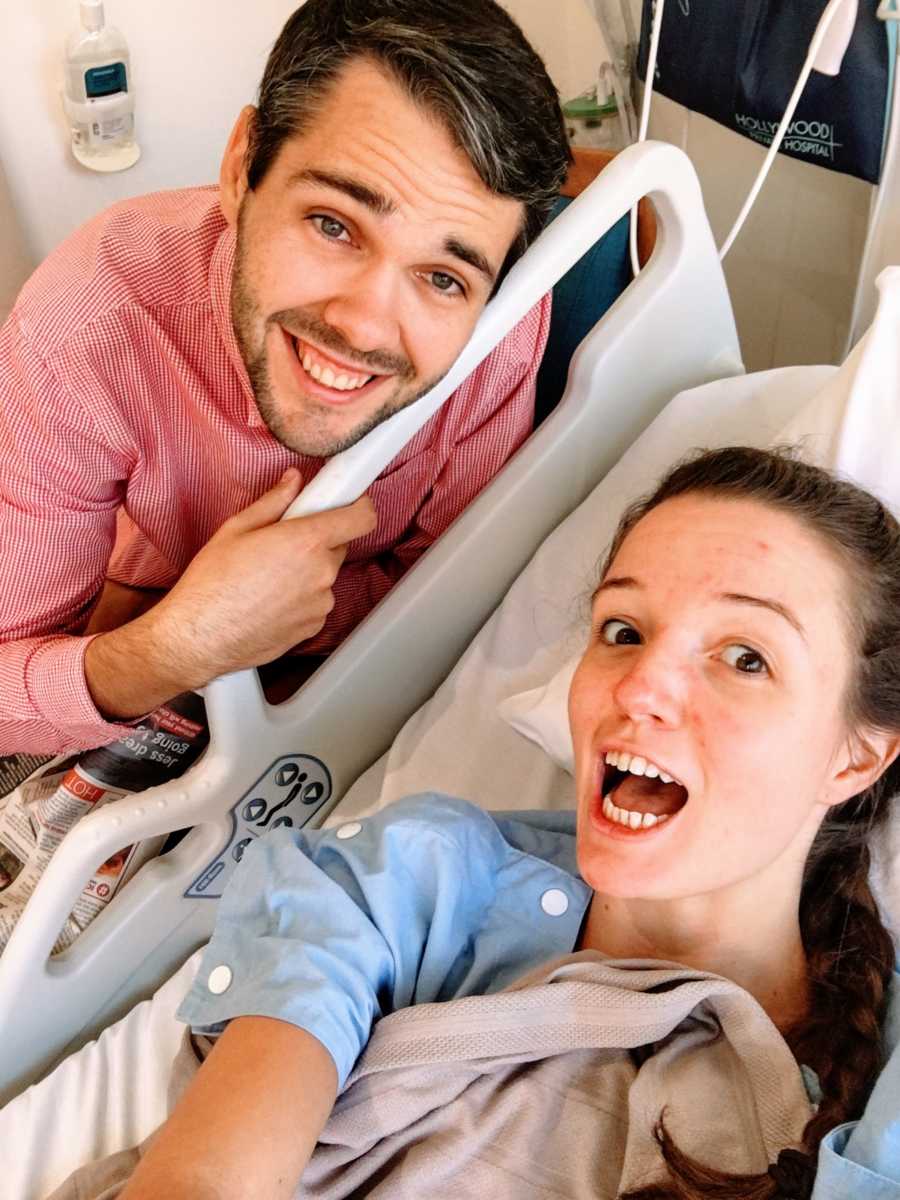 My initial thought of chemotherapy was I would lose all my hair, vomit all day, lose weight, etc., but I felt lucky that this wasn't my experience at all. I had so many questions in my mind in the lead up to my treatment like, 'Will this affect my fertility? Will I still be able to dance while having treatment? Can my husband and I expect to have any sort of sex life during the treatment?' I was that annoying patient who would send my doctor a list of 15 questions at midnight. Again I was lucky to have a doctor who on several occasions, rang me outside of working hours to reassure me everything was going to be okay…
On my first chemo session, I had to ask the nurse what I would do when I was on my period. Her response was, 'Oh good question, we've never had anyone young enough to still be getting a period have this treatment.' I must admit, at this point, I felt pretty alone. I couldn't be the only bladder cancer patient in my 20s in the world. I decided to try and find someone else, so I went on to Instagram and searched #bladdercancerawareness. I found a few pages of young women also fighting bladder cancer and even messaged a couple with questions and words of encouragement. This was enormously helpful and filled me with hope and a sense of community.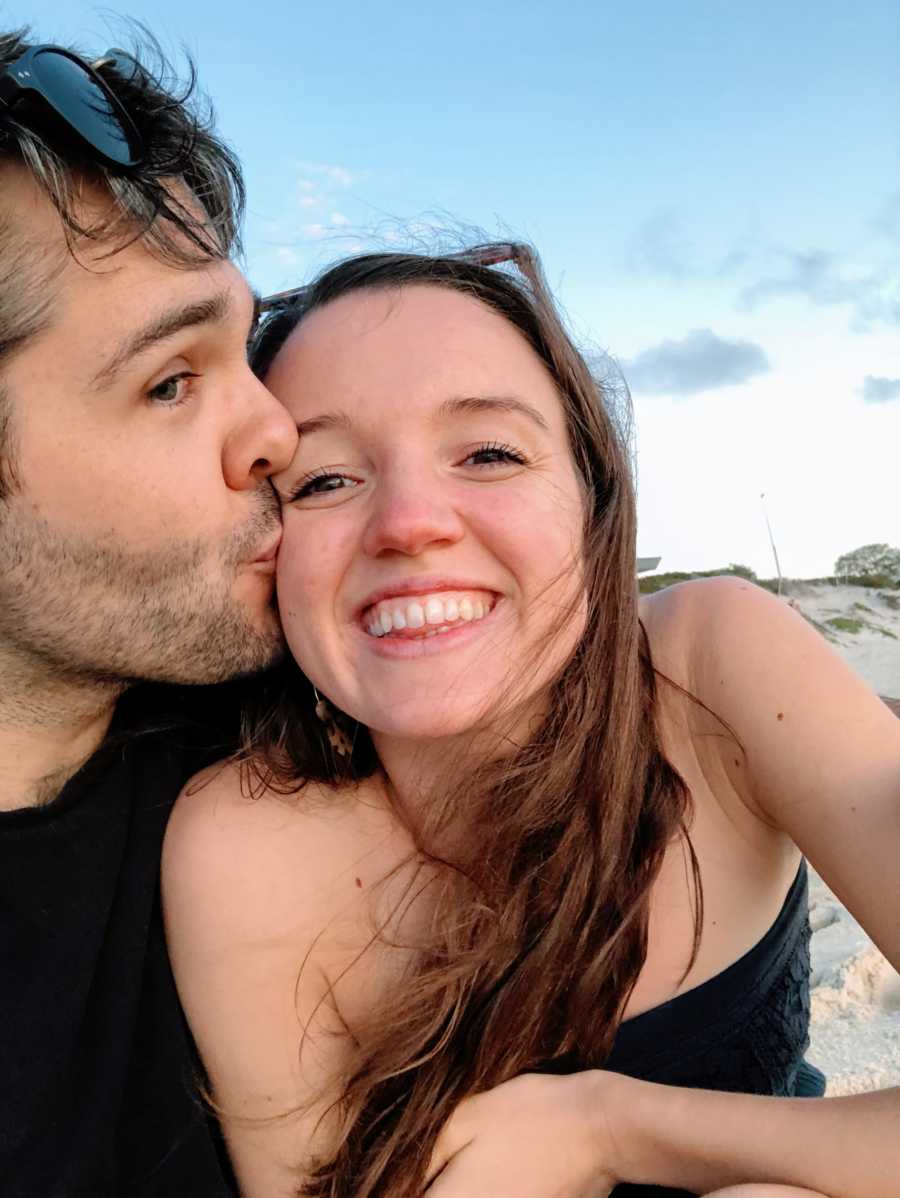 For those 6 weeks of chemo, I would spend every Friday morning at the hospital. The treatment itself wasn't too bad and I coped well with it apart from fatigue. I would take Friday, Saturday, and Sunday off work, but then be back in the ballet studio on Monday. I am sure some people thought I was crazy for continuing to train and push my body through such an intense time, but I realize now I needed it mentally.
My work colleagues gave me a gift, a ballerina doll, and I took it with me every Friday and put it beside my hospital bed for strength and for hope. We named the doll Faith and every Friday my beautiful nurse would say, 'Right, where's Faith? We can't start until she's watching over you.' I don't even have the words to thank the doctors and nurses who took care of me. They'll always hold a special place in my heart. On a few occasions, I cried during treatment and they always had the right thing to say.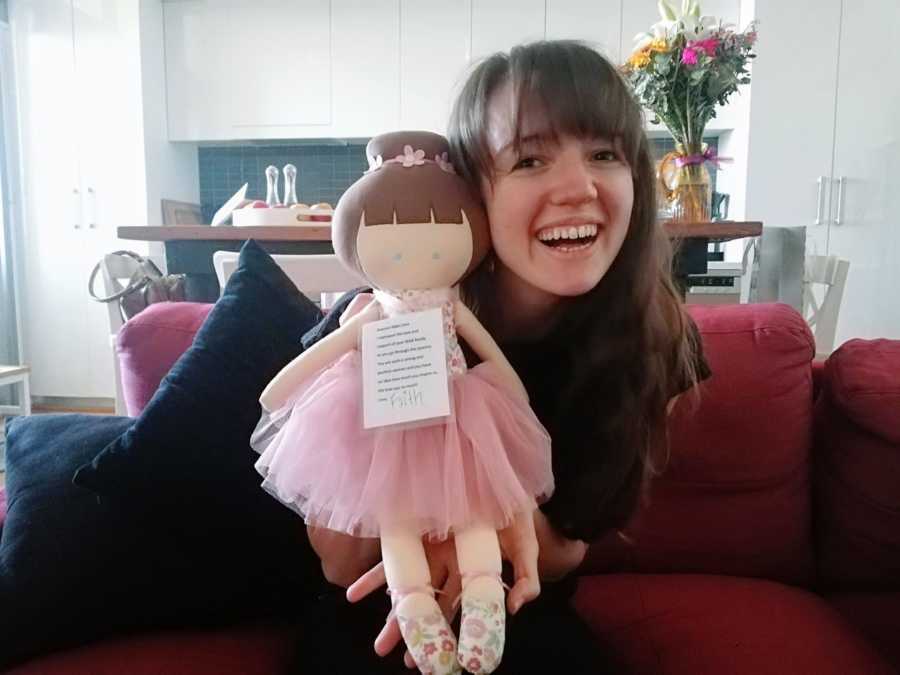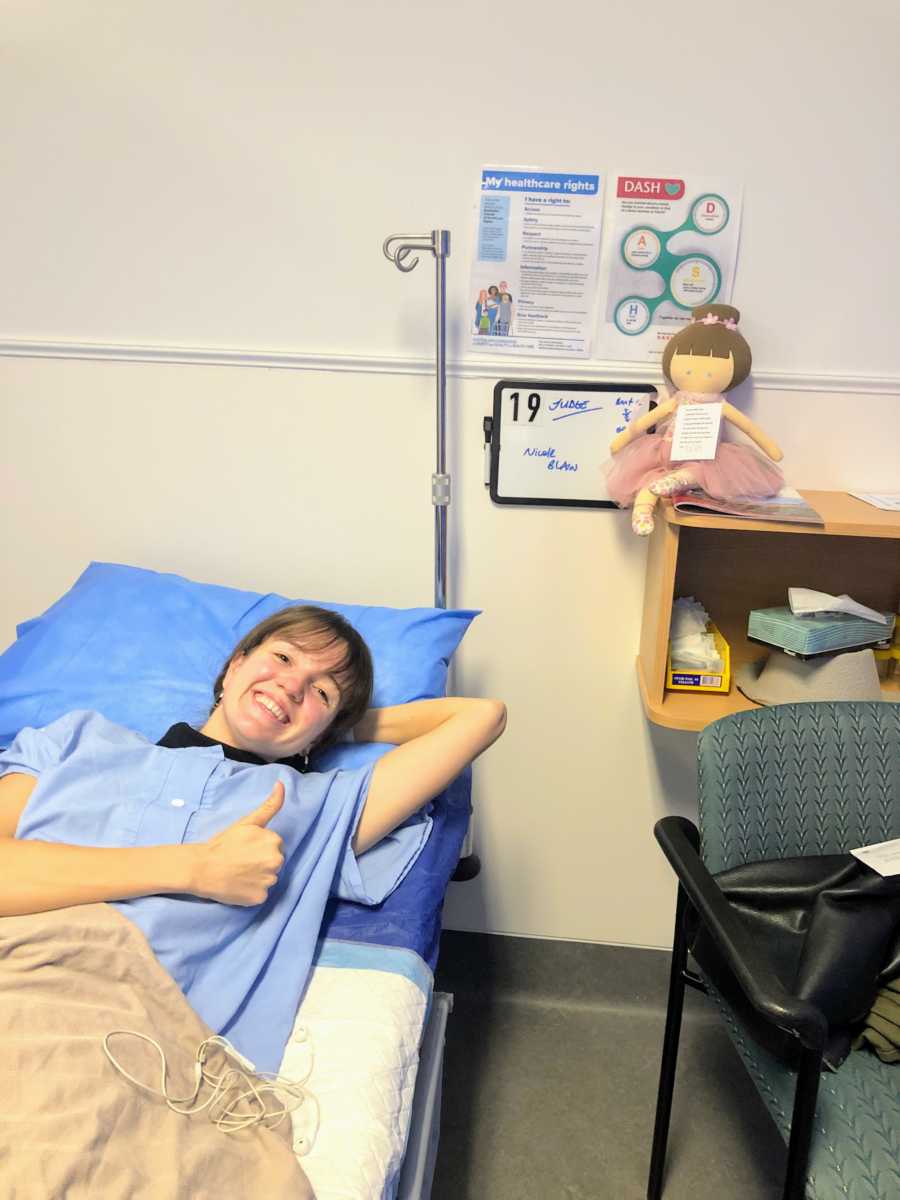 The final session of chemotherapy was a wonderful moment. I will never shake the image of my husband ready to pick me up, crying in the waiting room with a big bunch of flowers for the nurses. When we left the hospital and got to the car, he sobbed. I was so shocked because I hadn't seen him cry at all, not even when I was first diagnosed. I said, 'What's going on… you haven't cried this whole time!' He replied, 'No Nikki, I've just not cried in front of you.'
I don't know how I would have made it out the other side of this journey if it weren't for him. He's so calm in a crisis, and if I've learned anything in the last 12 months, it's nothing good ever comes from stress. In a challenging first year of marriage, if anything, this experience had brought us closer and made our marriage stronger. I highly recommend marrying someone who can still make you laugh when you're stuck in a hospital bed, unable to wee on your own.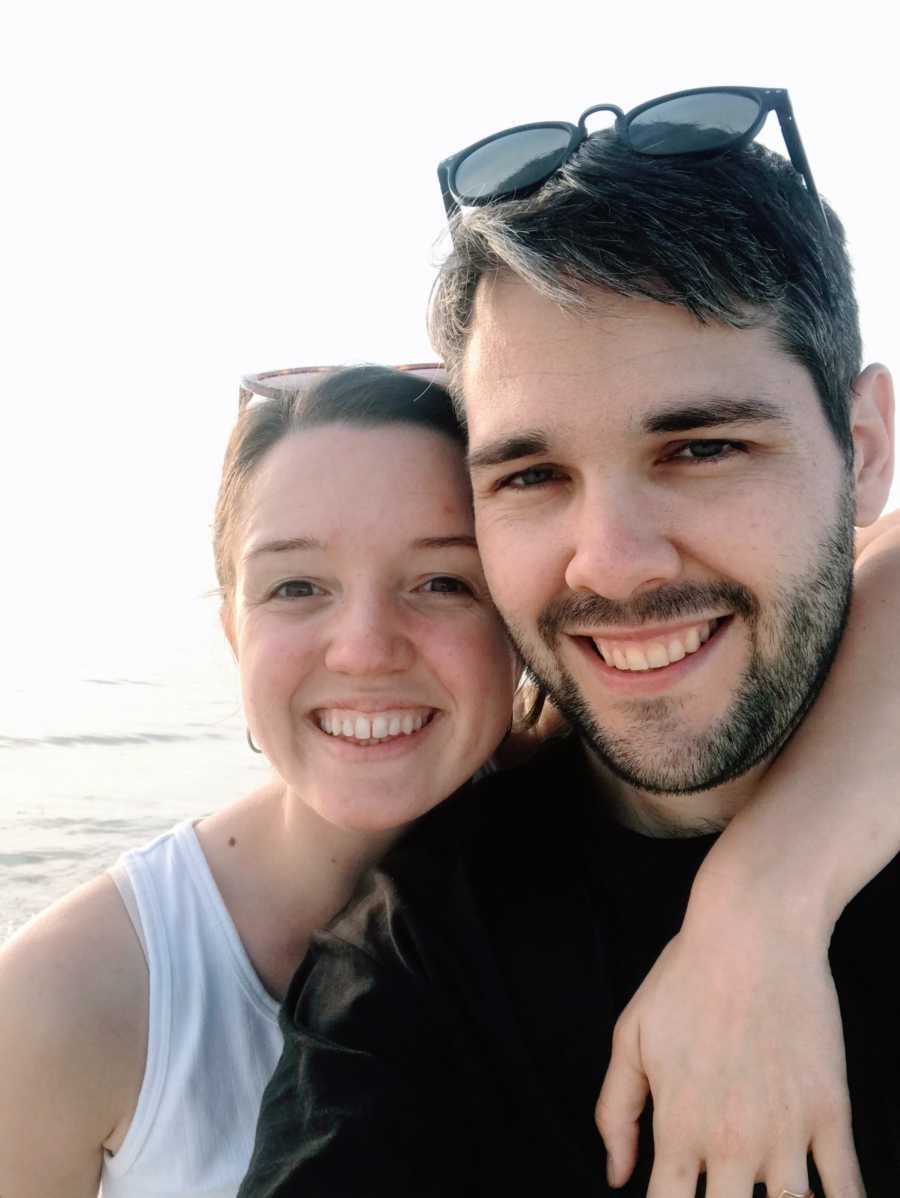 I am one of the lucky ones, I've recently just had my post-chemo 6-monthly biopsy and the results showed I have no cancer cells left. My mom was visiting when we got these results and this was a very special moment, particularly considering during my diagnosis and treatment I wasn't able to see her because of hard borders due to the pandemic.
My urologist has often said to me it's a miracle I even showed symptoms because some people with bladder cancer may never show symptoms, or when they do, it's too late. The big man upstairs is obviously looking out for me. I can't stress enough the importance of listening to your body and discussing things with your doctor, no matter how uncomfortable, awkward, or even silly they may seem.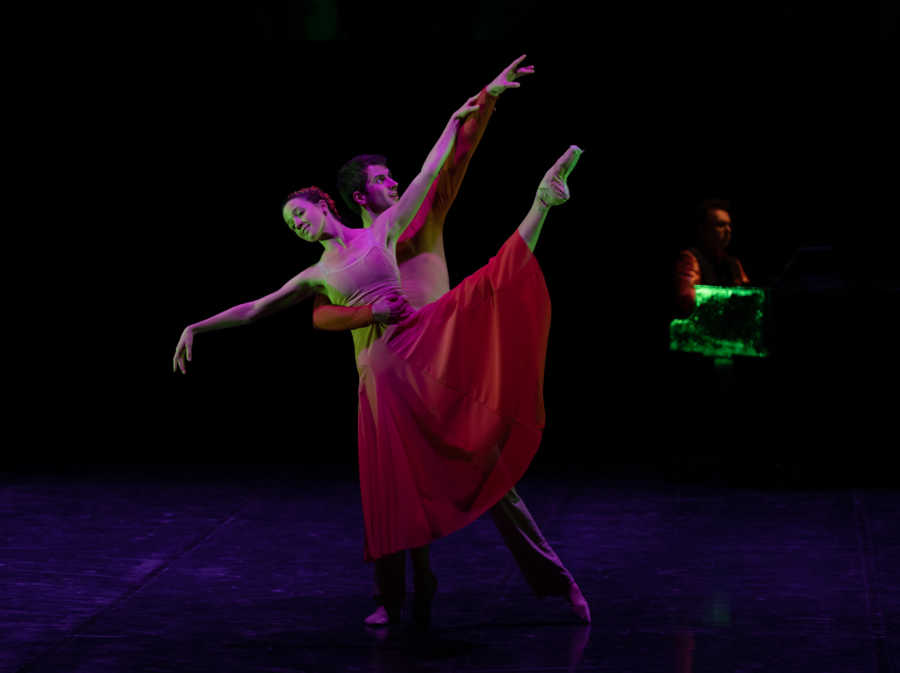 I may never know what caused this or why it happened. I am also aware cancer may come back, but I choose to trust God and enjoy each day as it comes. My bladder will be monitored very closely for the rest of my life, and for this I am grateful. If anything does arise in the future it will be taken care of straight away.
In a way, I'm grateful for this journey because it's taught me to really live life to the fullest without worrying about anyone else or comparing myself to anyone else. Sometimes the unspeakable hardships in life remind us to treat every day as a gift and somehow end up bringing us joy. I am on a mission to tell the world your bladder needs to be cared for and for bladder cancer fighters to realize they are not alone. Don't ignore your body, it's the only one you've got."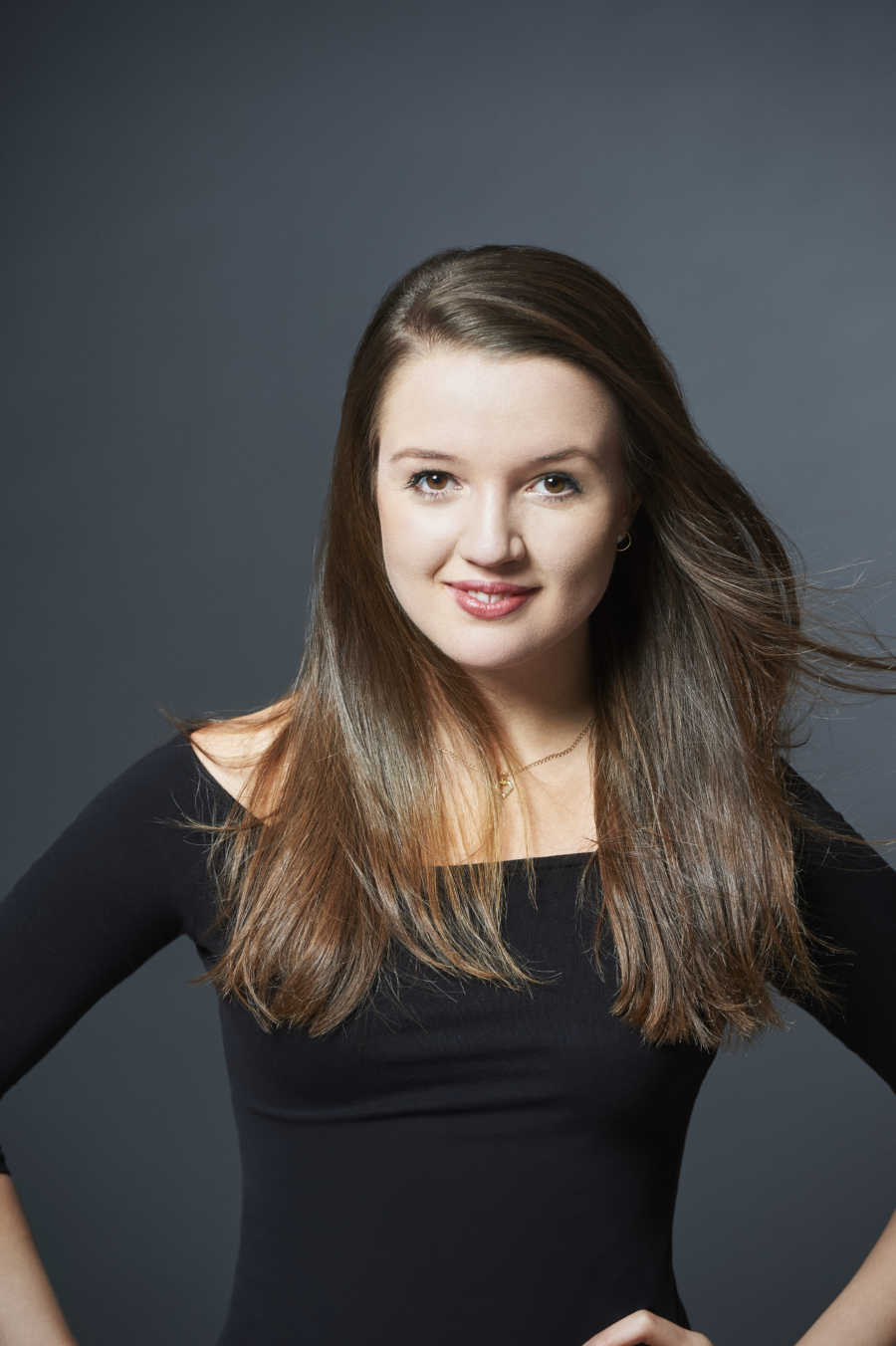 This story was submitted to Love What Matters by Nikki Blain of Perth, Australia. You can follow her journey on Instagram. Do you have a similar experience? We'd like to hear your important journey. Submit your own story here. Be sure to subscribe to our free email newsletter for our best stories, and YouTube for our best videos.
Read more stories like this here:
'I'm really sorry.' I had 2 babies at home! I soon wondered how staying alive could feel so much like dying.': Woman beats invasive breast cancer, 'All we have is today'
'If I don't survive this, I want you to know I lived more in my 36 years than most do in 80.' It was time to let go.': Woman shares love story after losing husband to pancreatic cancer
'We were celebrating 3 years of marriage. I thought life couldn't get any better. Then, I got news no one wants to hear.': Woman battling sarcoma cancer thanks husband for support, 'It's the most beautiful love I've ever known'
'I feel hideous and weak. I want it to end.' Chemo was killing me.': Stage 3 breast cancer survivor encourages others during pandemic, 'You can find beauty, laughter, and joy'
Do you know someone who could benefit from reading this? SHARE this story on Facebook with family and friends.