"My husband is Autistic and I love him more every day.
My name is Lily and my husband is Auggi. We're both French and living in France.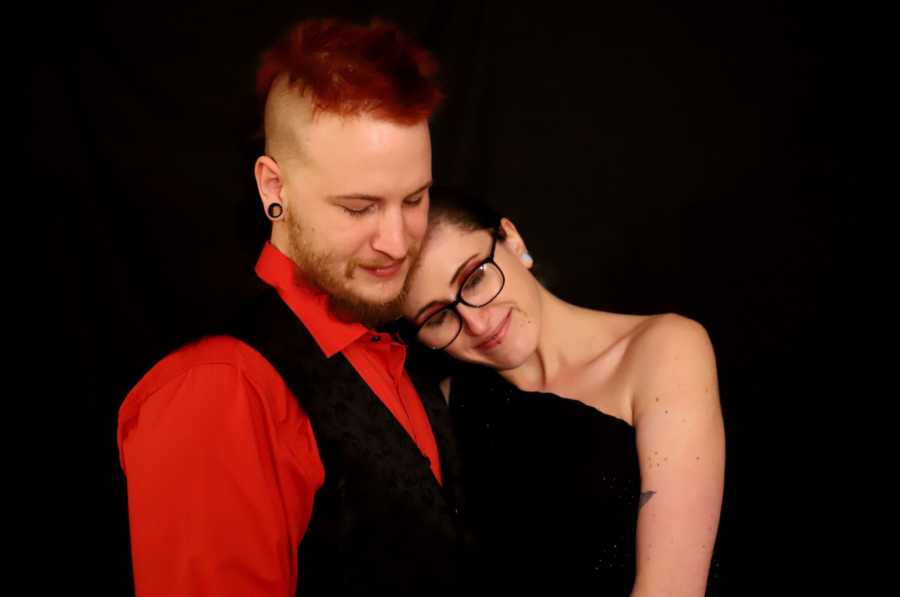 I want to share my story to show you Autistic doesn't mean sad and alone. Most Autistic people end up single or in a relationship with another Autistic person. We're the rare case of an Autistic and non-Autistic couple.
I met Auggi in high school. I was 15 and he was 18. I was very shy, and I struggled to talk to people, let alone boys. It was a common friend who introduced us. He came naturally to me and I immediately had a crush on him. He was gentle and kind. He offered to carry my bag, he came to talk to me when he saw that I was alone, he gave me his hand to help me get up.
He had a girlfriend at the time, so I never dared to try anything. When he graduated from high school he left and I stayed for two more years. We lost sight of each other (I didn't have his phone number and Facebook wasn't very popular yet), but he never left my mind.
In 2015, 3 years later, he stumbled across my Facebook page and sent me a friend request. I still remember that day. It was 11 p.m. and I was about to shut down my computer and go to bed when I saw the little friend request notification. I went to check and when I saw it was him, I accepted immediately. I was both surprised that he remembered me after 3 years without communicating, and excited to talk to him.
As soon as I accepted his friend request, he messaged  me and we started chatting. We talked about where we were in our lives, what have we been up to since high school, etc. We chatted until 4 a.m. During the conversation he confessed to me that he had a crush on me since high school, that he thought of me every day since he left and that he would like to see me again and spend time together. I confessed to him that I had the same feelings and he came to my house (well, technically my parents' house) a few days later. We both had our license but he was the only one with a car. I quickly started spending the weekend at his place. For several months, he would pick me up on Friday evening after work and bring me home on Sunday evening. Once, he had a free week so I spend the whole week with him and it was awesome. We were officially together, as a couple in February 2016 and I moved in his apartment not even one month later.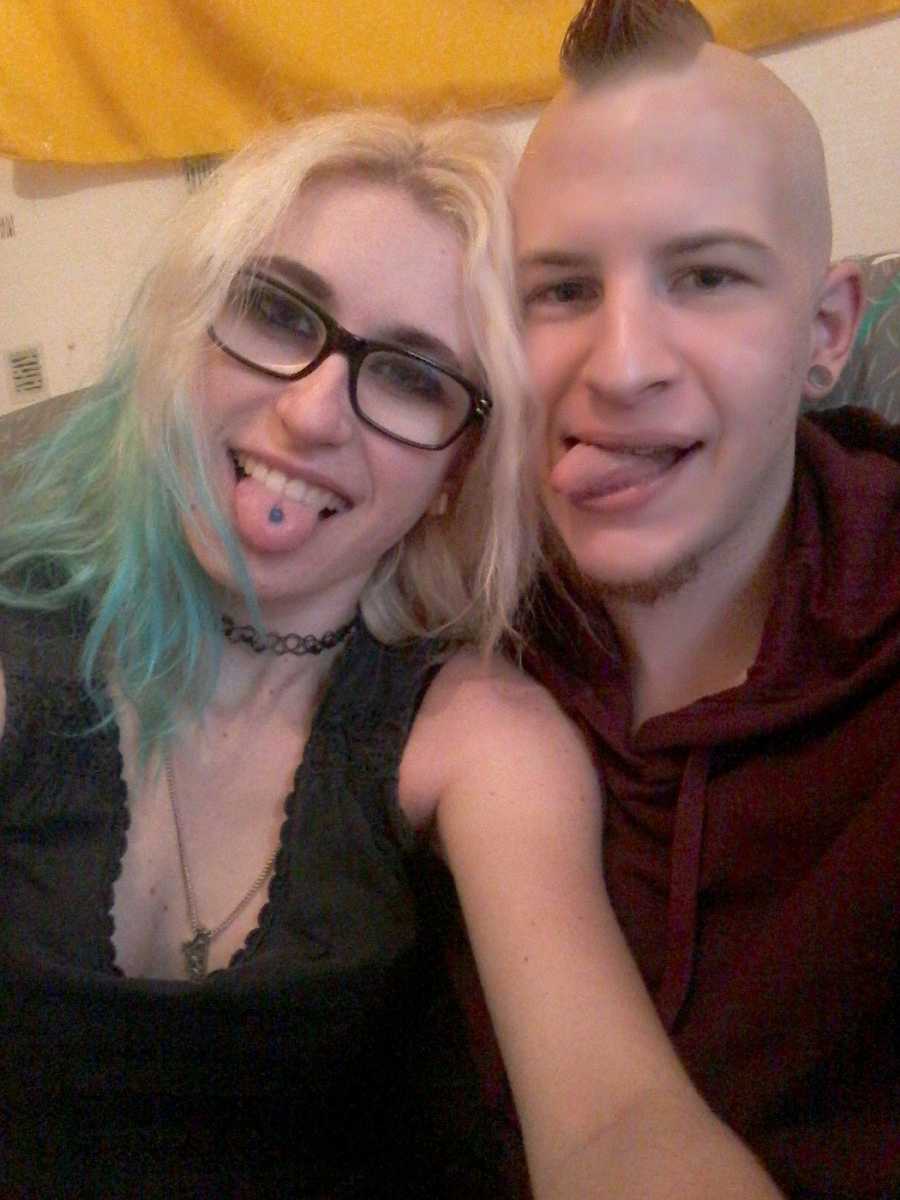 Auggi is my first serious and first long-term relationship, so I only had a vague idea of what a Couple™ was/should be like. I had no previous experience, so I had to learn how to be in a serious relationship, and I had to learn how to be in a relationship with him. I think it helped that it was my first relationship. He also had to learn how to be in a relationship with me.
We both have our own ways of thinking and functioning. It was a bit hard at first because I assumed he was neurotypical, so I though that he had the same logic and way of thinking as me, which generated a few arguments (mostly because we were both being frustrated that the other didn't understand). Of course, we still argue sometimes, for mostly the same reasons. It is frustrating when the other doesn't understand you but you are unable to explain. And we each have a strong character.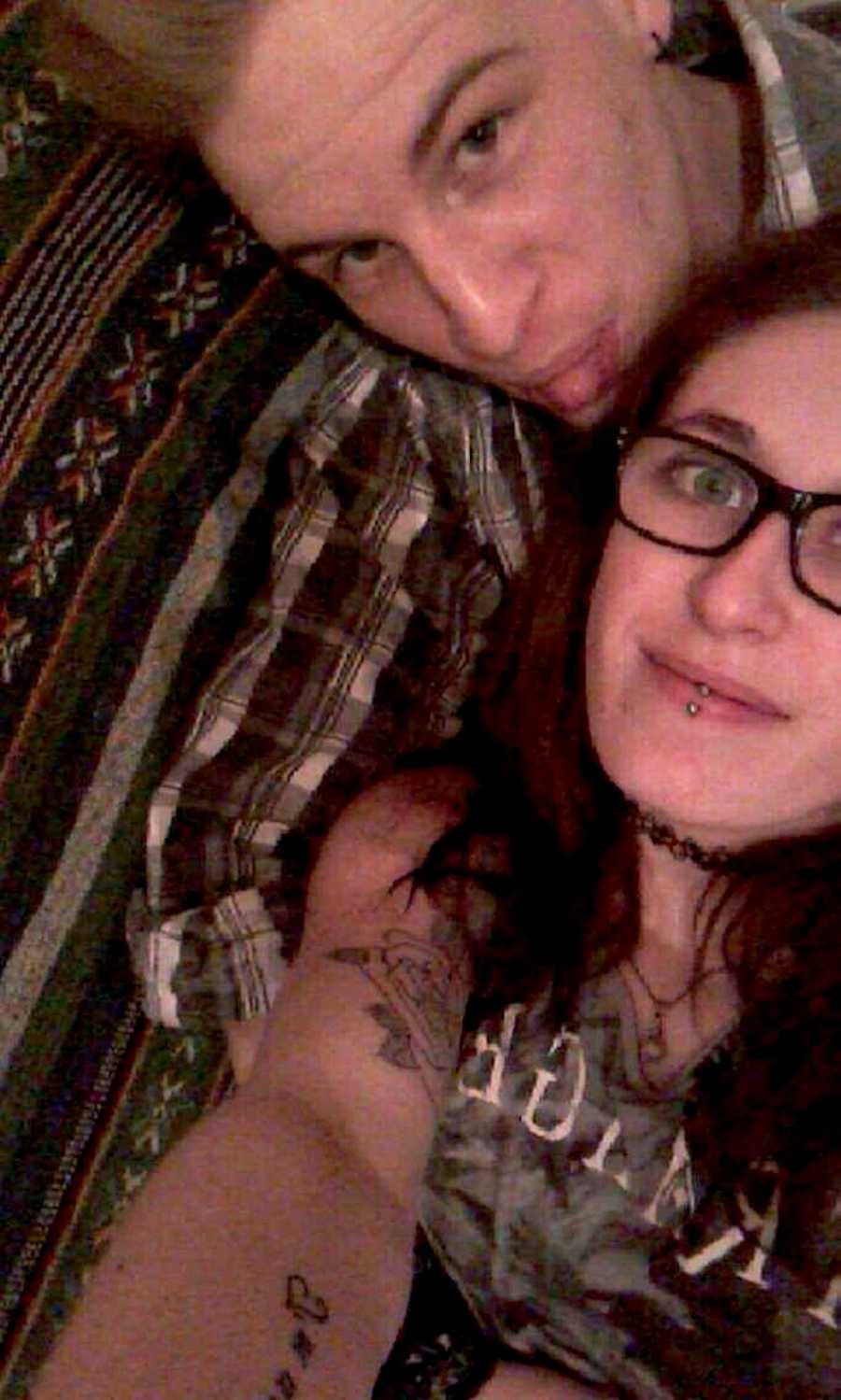 He was not diagnosed when we started dating (he actually got officially diagnosed quite recently). I'm the one who noticed that he was not neurotypical. He was always deemed as weird by people, including his family. But living 24/7 with him made it obvious that it was Autistic. I made a lot of research and I told him he might want to have a professional diagnosis because I recognized  him in all the research I had done. He checks almost all the boxes of the 'typical Autistic behaviors' (except he is verbal and he can do some stuff like talking to strangers, or get the groceries alone, even if it's really hard for him). It definitely could have been detected sooner, but that's another story.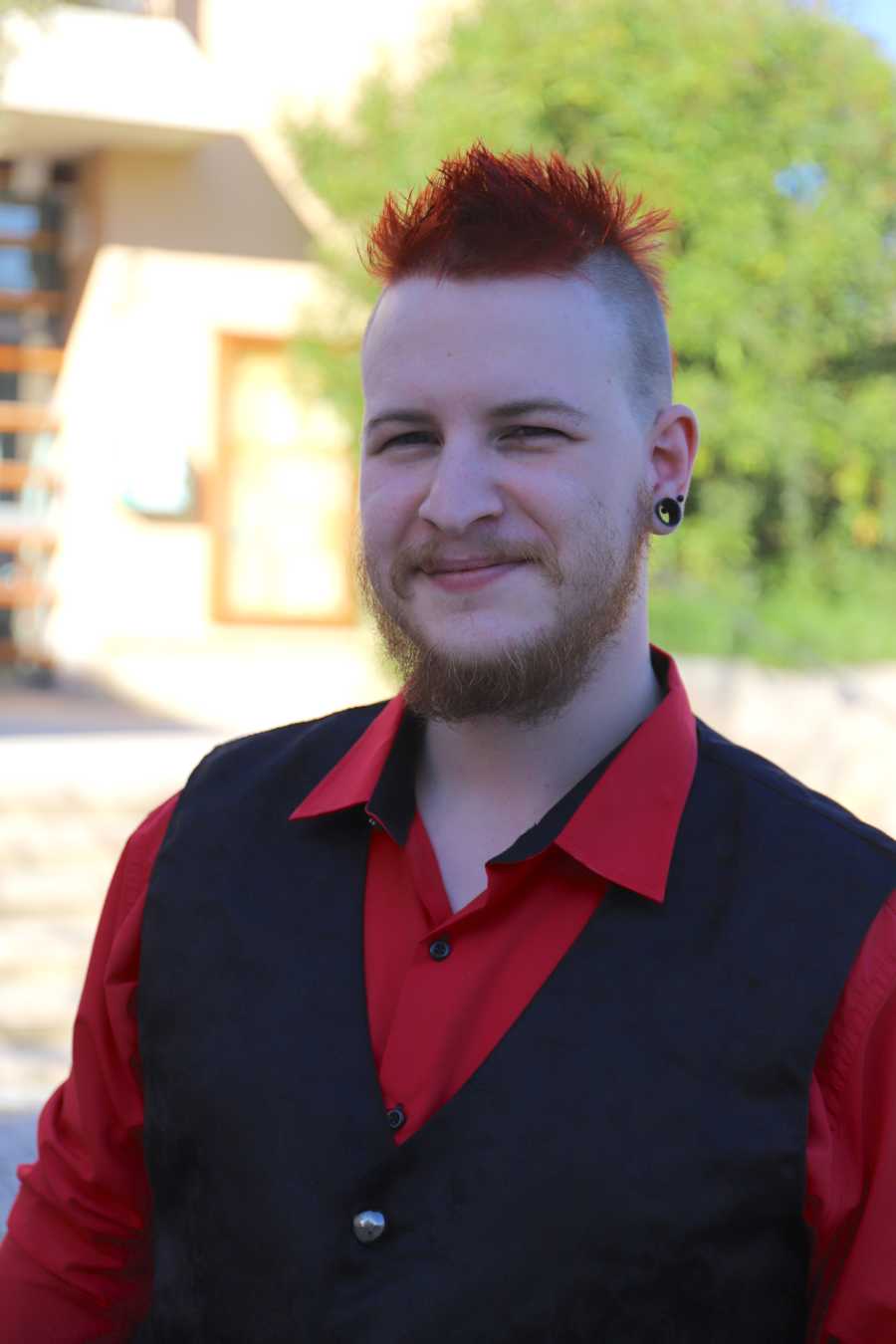 I am now able to properly communicate with him. It sounds cliché but a lot of girls will say, 'I'm fine,' but expect their partner to understand they are not fine. I can't tell him 'I'm fine' if I don't mean it. I can't use innuendo. If I want him to get the trash out, I must say, 'Hey, can you please take the trash out?' A lot of girls will make snarky remarks like, 'The trash needs to be taken out,' 'The trash is really bothering me,' or 'Don't you think the trash doesn't belong here?'
He's been seeing a psychiatrist since last year who made the official diagnosis and he's feeling way better now. Before, he tried to hide his Autistic behaviors as much as possible and he tried hard to look 'normal' (his words), but now he doesn't anymore. He's letting his autism 'out' and he's happier. He's free to be who he is. And he understand himself better. He's able to tell when he emotionally can't do something (mostly making calls, speak during appointments, doing administrative work).
Now I'm used to speaking when we're out, making calls, and taking care of the paperwork and administration stuff. I have to accompany him everywhere so I can speak, because he really struggles to talk to other people and he's very anxious. When he tries to talk, he stutters, he loses his words, he talks about something that has nothing to do with the conversation/why we're here, he can't communicate correctly and the people he's talking to don't always understand him. So, he lets me talk. I explain much better, I understand better (sometimes he doesn't understand what people are saying or he understands it wrong, so I have to explain to him what the person said/meant), I can easily answer any questions (if the person asks a question to my husband he didn't prepare in his head, he panics). It was hard to get out of my shell, but now I'm used to it, and I prefer talking 'for' him, and he prefers that I talk 'for' him too, because if he talks, there is a huge chance he will mess things up or the person won't understand him. It's easier for everyone if I'm the one who talks.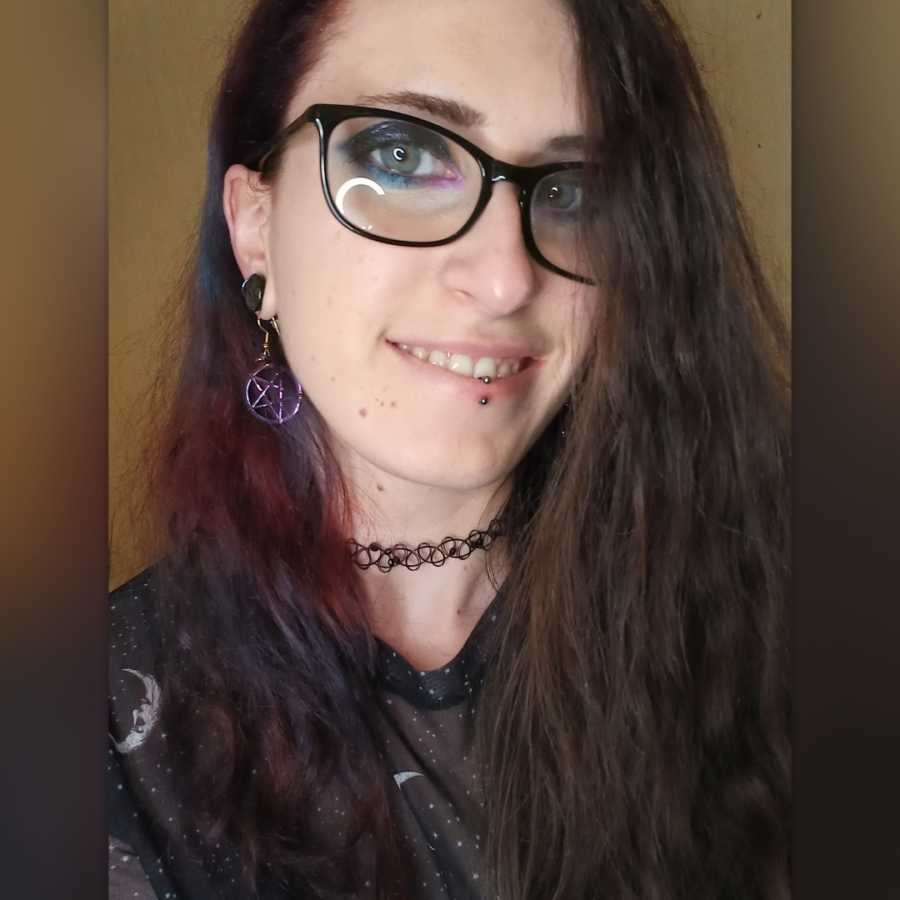 He struggles to notice and understand other people's emotions, but by living together, he now knows me by heart, and he can tell when I'm not feeling well. He just doesn't understand what the problem is unless I tell him exactly what's the matter, and I have to tell him exactly what I want (if I just want a huge hug, if I want to be left alone, if I want to talk about it etc.). He still sometimes doesn't comprehend how I'm feeling, but when it happens, he usually asks. The more recent example I have is from yesterday. We were talking in the living room and when the conversation was over, I got up and walked toward the bedroom. He asked me if I was mad because I got up and left quickly. I had to explain to him, no, I wasn't mad, I just got up and left quickly because I have other stuff to do and I thought the conversation was over.
That's how we communicate. I told him that he shouldn't be afraid to ask anything, even if the question sounds stupid, simple or weird. So he asks and I answer. His questions are often about feelings (mine or other people's) and if I think this or that is normal.
We've been married since October 2020 (yes, in the middle of the lockdown, we were extremely lucky that the deputy mayor agreed to marry us).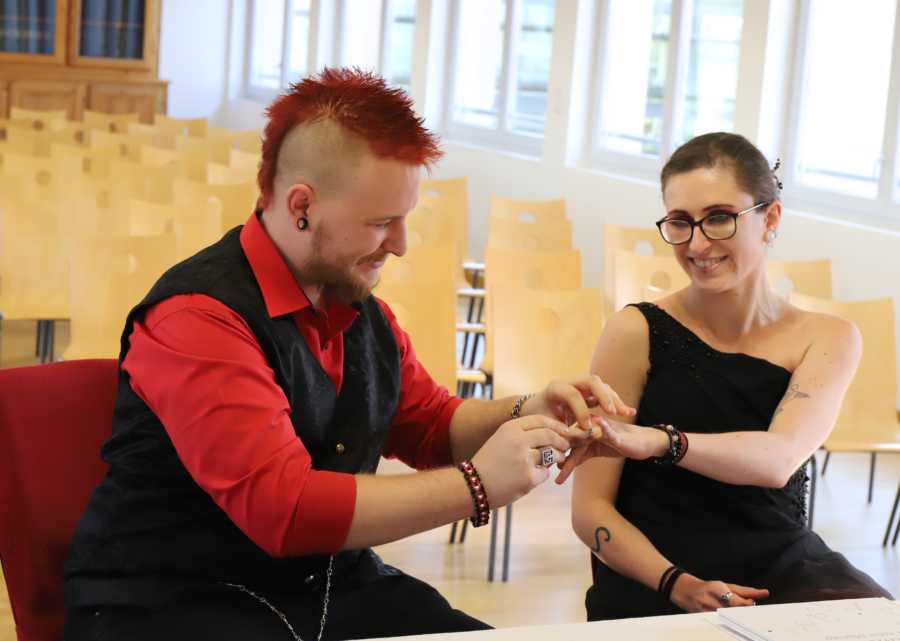 Our relationship is amazing. We love each other, we understand each other, we complement each other, we have the same goals and the same philosophy of life. I couldn't wish for a better person."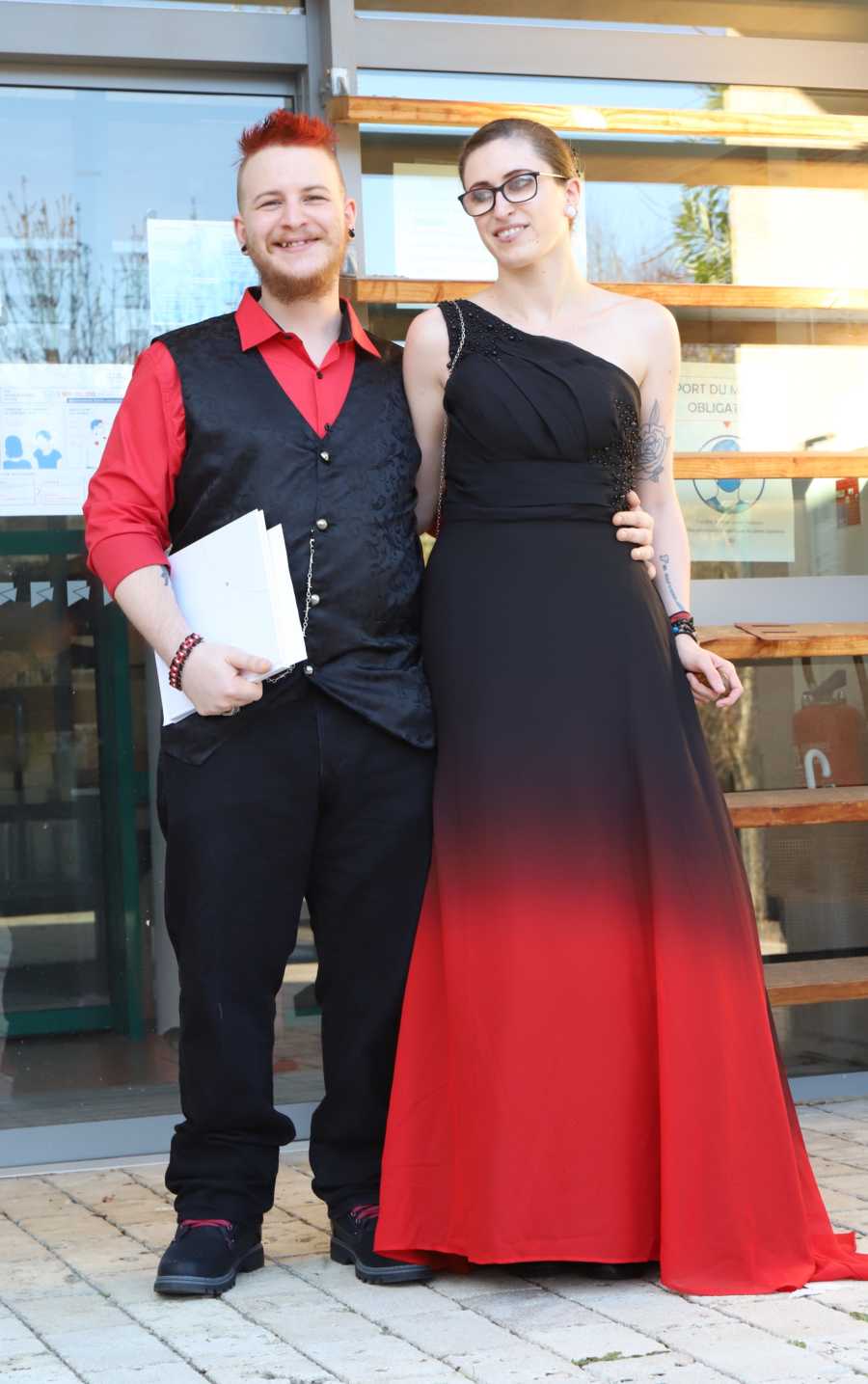 This story was submitted to Love What Matters by Auggi and Lily of France. You can follow their journey on Instagram here and here. Do you have a similar experience? We'd like to hear your important journey. Submit your own story here. Be sure to subscribe to our free email newsletter for our best stories, and YouTube for our best videos.
Read more stories like this:
'DON'T let it hurt him like it did your brother.' I can still smell the hospital and hear him cry. My son would be SUCCESSFUL.': Sister of brother with autism becomes single mom to special needs son
'You're just NOT trying hard enough.' I KNEW I was different, but I tried to brush it off. Then something magical happened.': Woman diagnosed with autism shares journey, 'I will live a BEAUTIFUL life'
'He'll grow out of it,' they'd say. I didn't. I spent YEARS masking myself to fit who I thought I needed to be. I learned to celebrate my differences.': LGBTQ man waiting for autism diagnosis, 'I was BORN this way'
I Didn't Know I Was Autistic Until Age 25, And It Was Terrifying
SHARE this story on Facebook and Instagram to help celebrate unique and beautiful differences!