The Garden
"In a little town called Churchville, Maryland, there is a garden unlike any other. It is home to a variety of stunning, vibrant plants, all with specific jobs to do; they attract butterflies to the vast array of flowers. However, there is one particular butterfly these plants are seeking: the beautiful Monarch. Amongst the pink and yellow zinnia, bright orange cone flowers, vibrant red verbena, purple phlox and salvia, false sunflowers, and so much more, the Monarch Butterfly will find a never-ending supply of her precious Milkweed plants.
Here, only on this unique plant, will the female monarch lay her eggs. As she lays her eggs from milkweed plant to milkweed plant, she knows that her babies will eat out of their shells and find the only food source they can consume. In this garden, whose proprietor holds a special place in her heart for all things helpless, the mother monarch knows her babies will eat and grow, create their chrysalides, and then emerge as monarchs themselves. Here, at Donna's Butterfly Sanctuary and Memorials, the monarch butterfly will find a haven.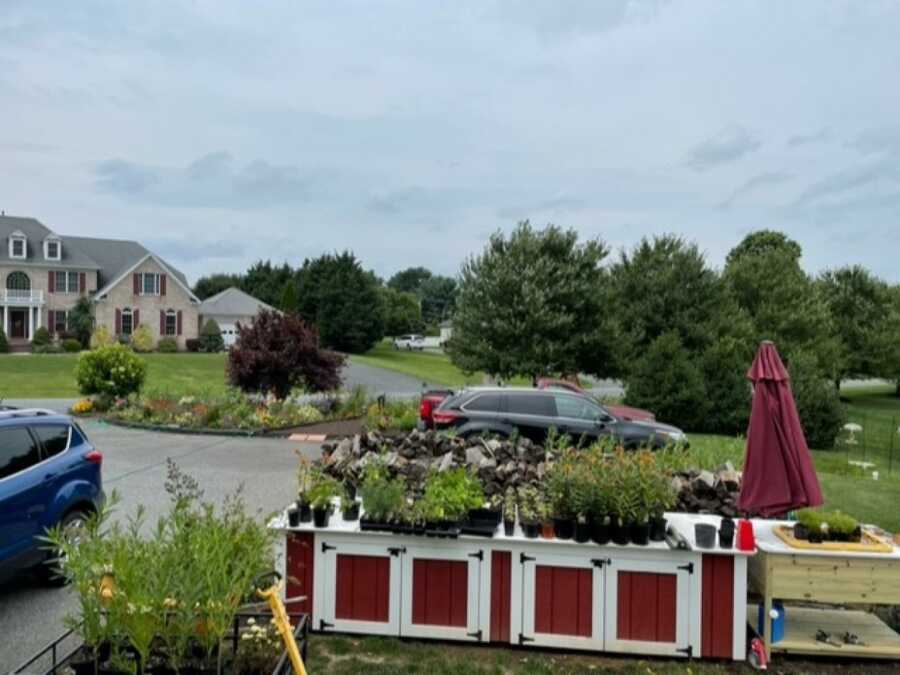 How It Started
Donna Scott Thompson, a registered nurse of twenty-four years, wife, mother of three, and grandmother of two, is on a mission. An avid animal lover and rescuer, she first learned of the plight of the monarch butterfly approximately seven to eight years ago. Heartbroken to learn the North American migratory path for the monarch butterfly is at risk of disappearing, she threw herself into research on the web, found groups on Facebook, and discussed what could be done with other butterfly lovers. Since then, Donna has set out to do what she can to help save the Monarchs. She has become not only quite the expert on the Monarch Butterfly but rather well-known in Harford County, Maryland as 'The Butterfly Lady.'
Creating her garden has been no small feat. When she learned that one of the main reasons Monarchs are facing extinction is the lack of available milkweed in the wild, she began planting it in her own gardens. Milkweed, though, isn't the prettiest plant, and it quickly took over her home's front gardens. Donna will always say, 'experience is expensive,' as she learned that the Common Milkweed plant will spread by rhizomes underground, popping up where it is least wanted. She then learned about other types of Milkweed plants: Swamp, Swan, Tropical, and—yes, this is no joke—Hairy Balls milkweed. Since her journey with the butterflies began, she has planted an innumerable amount of milkweed of all sorts of varieties. Donna has learned from experience that Hairy Balls Milkweed is the best to attract female monarchs, and she encourages it and Tropical Milkweed to be planted in abundance!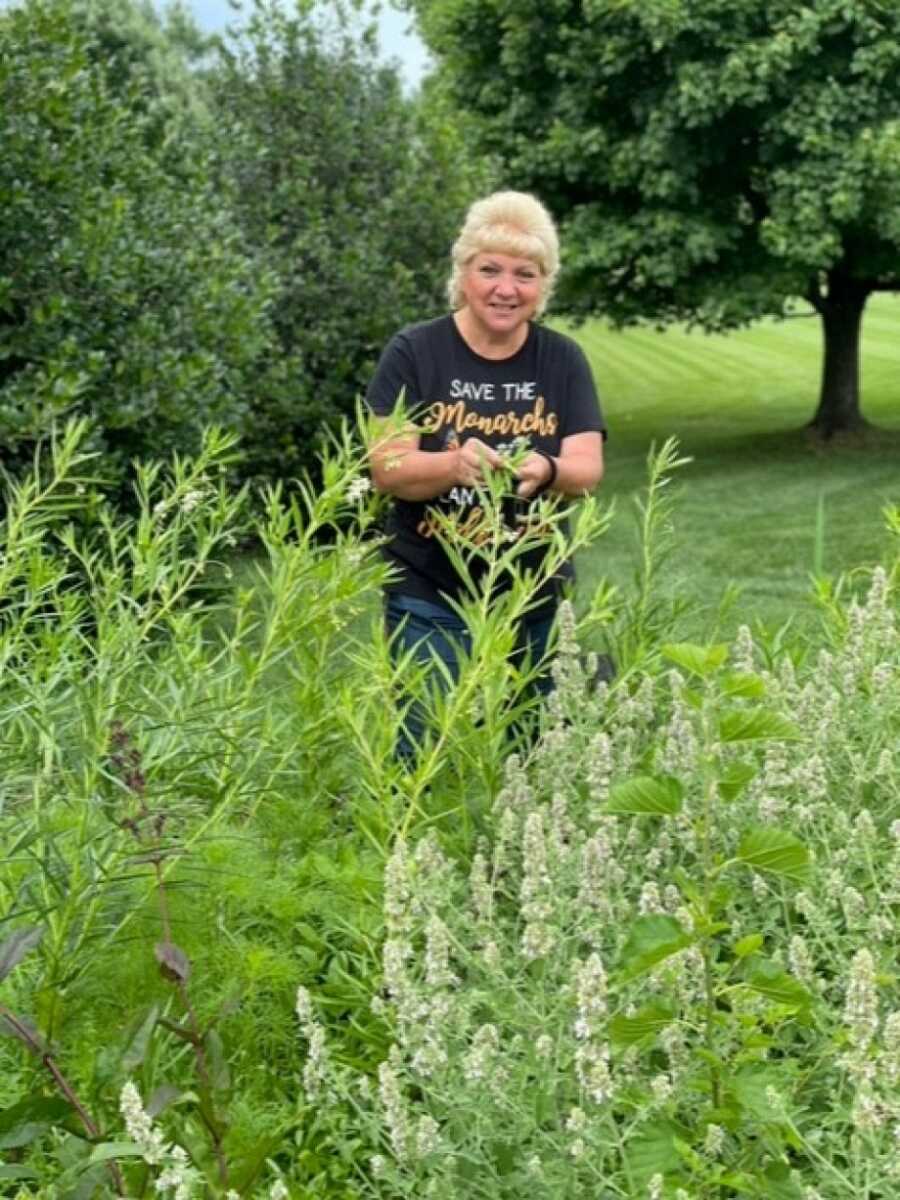 It doesn't just stop there, however. Simply planting milkweed, while it will allow nature to take its course, doesn't guarantee a monarch butterfly's survival. The ever-detrimental tachinid fly is the arch-nemesis of these stunning creatures. Parasitic in nature, the tachinid fly will lay its eggs inside a monarch caterpillar…thereby providing its own eggs a food source and slowly ending the life of the caterpillar. In fact, only 3-10% of monarch caterpillars will safely make it through to emerge as monarch butterflies due to the tachinid fly and lack of milkweed.
So…how does Donna and those who are a part of the Movement to Save the Monarchs…save the monarchs? They dedicate time, blood, sweat, and tears, to creating an individualized system to do so. If you are local to Churchville, Maryland, stop in and learn about the Monarchs. Sit in 'Donna's Peaceful Spot' on a glider beneath a lovely October Glory tree as butterflies flutter around. Donna will teach you everything she knows about raising monarchs from their tiny eggs all the way until they emerge as the spectacular monarch butterfly.
How She Does It
You see, Donna will check her milkweed plants every day during Monarch season. When she finds an egg, she'll bring it inside, provide it with a supply of milkweed leaves, and monitor it until it becomes a caterpillar big enough to be moved to a milkweed plant. Yet, when the caterpillars reach this size, they don't just go back into the butterfly garden. Instead, they're moved into pop-ups on Donna's front porch where there's a large milkweed plant ready and waiting. Inside this pop-up, the caterpillars are safe from the tachinid fly and any other creature that may harm them.
Each morning, and as needed throughout the day, Donna will check on the caterpillars and add more milkweed if needed. She'll clean out the pop-ups of the caterpillar's waste, make sure the milkweed plants have water (and that no caterpillar could fall into the water jug), and she'll continue this process through the end of the season. Once the caterpillars move into their chrysalis form and hang from the top of the mesh pop-ups, she moves them to a separate pop-up in preparation for their emergence. It takes ten days from the day they enter this form for the process to complete.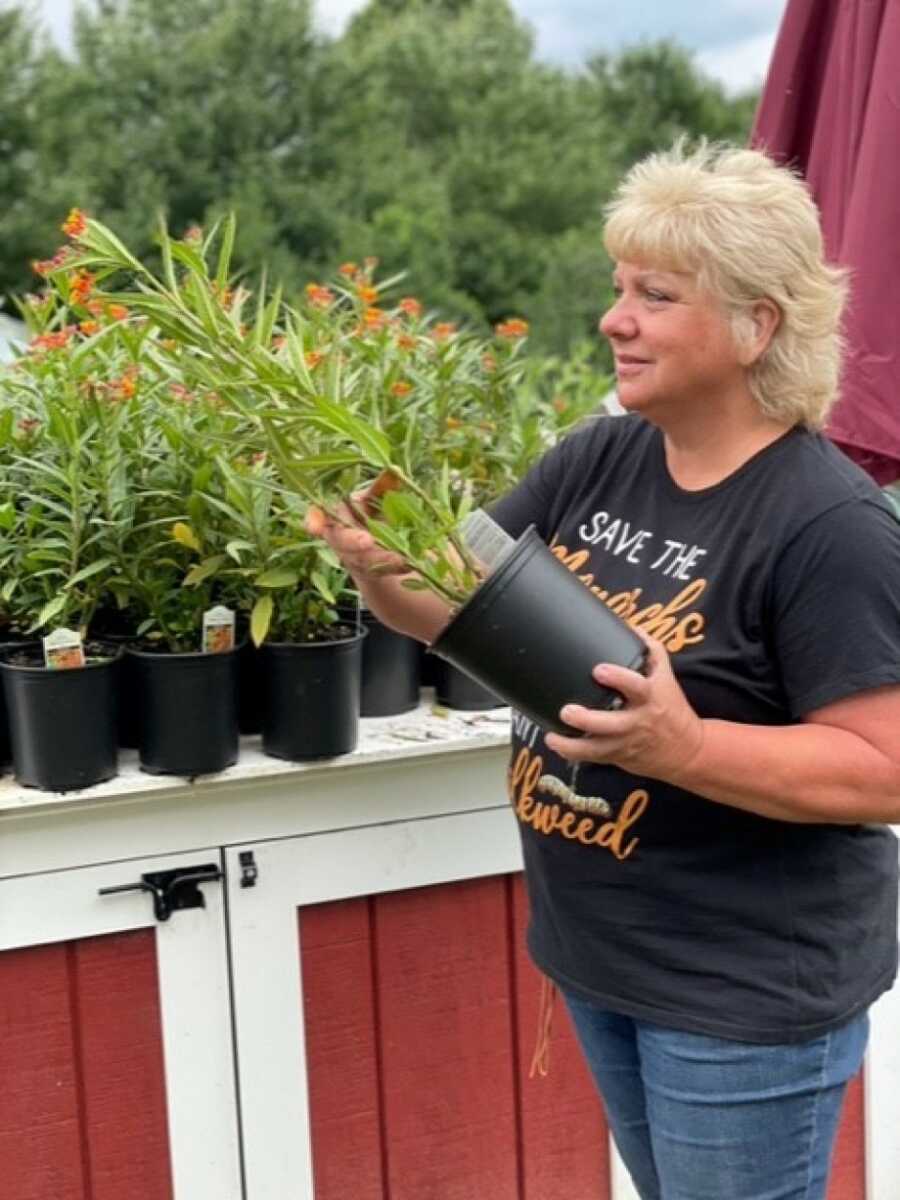 Sharing The Beauty
When Donna knows she has monarchs about to emerge, she often lets friends, family, and others who are interested, know. They can arrive in the morning of the 10th day, and when the butterflies are ready (their wings must dry after they emerge from the chrysalis), individuals can allow the monarch to crawl onto their finger and then fly away in honor of a loved one or simply for the experience. Donna has shared this moment with many people, and she's even been able to provide butterflies to be safely released into the world in honor of one couple's 50th wedding anniversary.
This adventure takes time. In January of 2022, Donna set out to start her milkweed plants from seeds. She sowed 2,000 milkweed plants—specifically Tropical and Hairy Balls, as she has learned these are the best for what she does. These plants grew in her sunroom under grow lights and in a small room she built in her basement to home them where the weather couldn't hurt them. Soon, she began to run out of room! The plants were getting too big and needed to be repotted so they didn't become root-bound. Once Mother's Day arrived and it was safe to move the plants outside, she had a handyman create large carts on wheels so that she could safely move the plants inside and outside of her garage and around her driveway should she need to. The system she has created is simply remarkable. She has gone above and beyond to help these beautiful creatures. In fact, as members of the movement—new and experienced—have left her home with milkweed plants, she's found she's started to run out. So she's sown yet another 1,000 milkweed plants so there is always some milkweed should it be needed elsewhere and in her own gardens.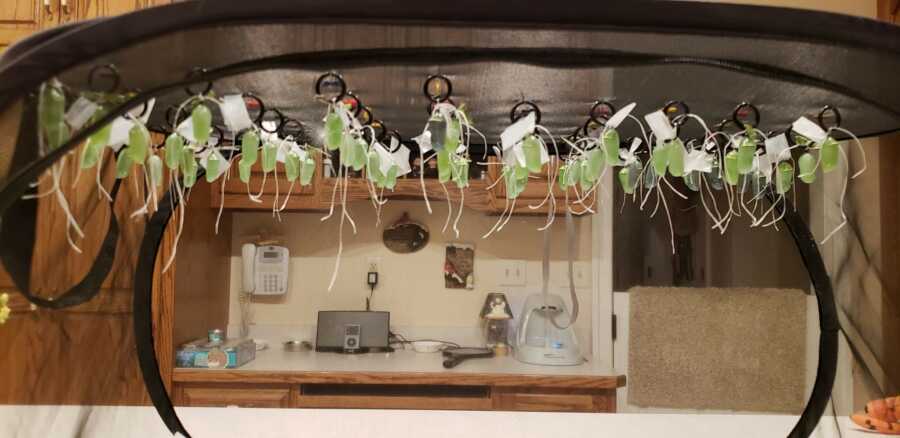 Expanding The Love
Donna created a Facebook group called 'Donna's Butterfly Sanctuary and Memorials Group' and it is open to all who are interested in saving the monarchs. Her group has grown to over 1,000 people, and many of these members will visit her in Churchville, purchase milkweed, and help the cause. She has even obtained an official USDA permit that will allow her to ship chrysalides safely and securely from Maryland to the border of Texas and Mexico should it be needed. The Monarch Butterflies are migratory, and they head for Mexico as the seasons begin to change. If there are any chrysalides left behind when the weather is cooling and milkweed and other nectar sourcing plants are harder to find, she'll mail them overnight to three Monarch Warriors she's partnered with. This way, the soon-to-be butterflies can arrive in Texas and make their way to Mexico. She'll do anything to give these innocent creatures a fighting chance! In fact, her whole process has led her to a 98% survival rate for monarchs she rears from eggs!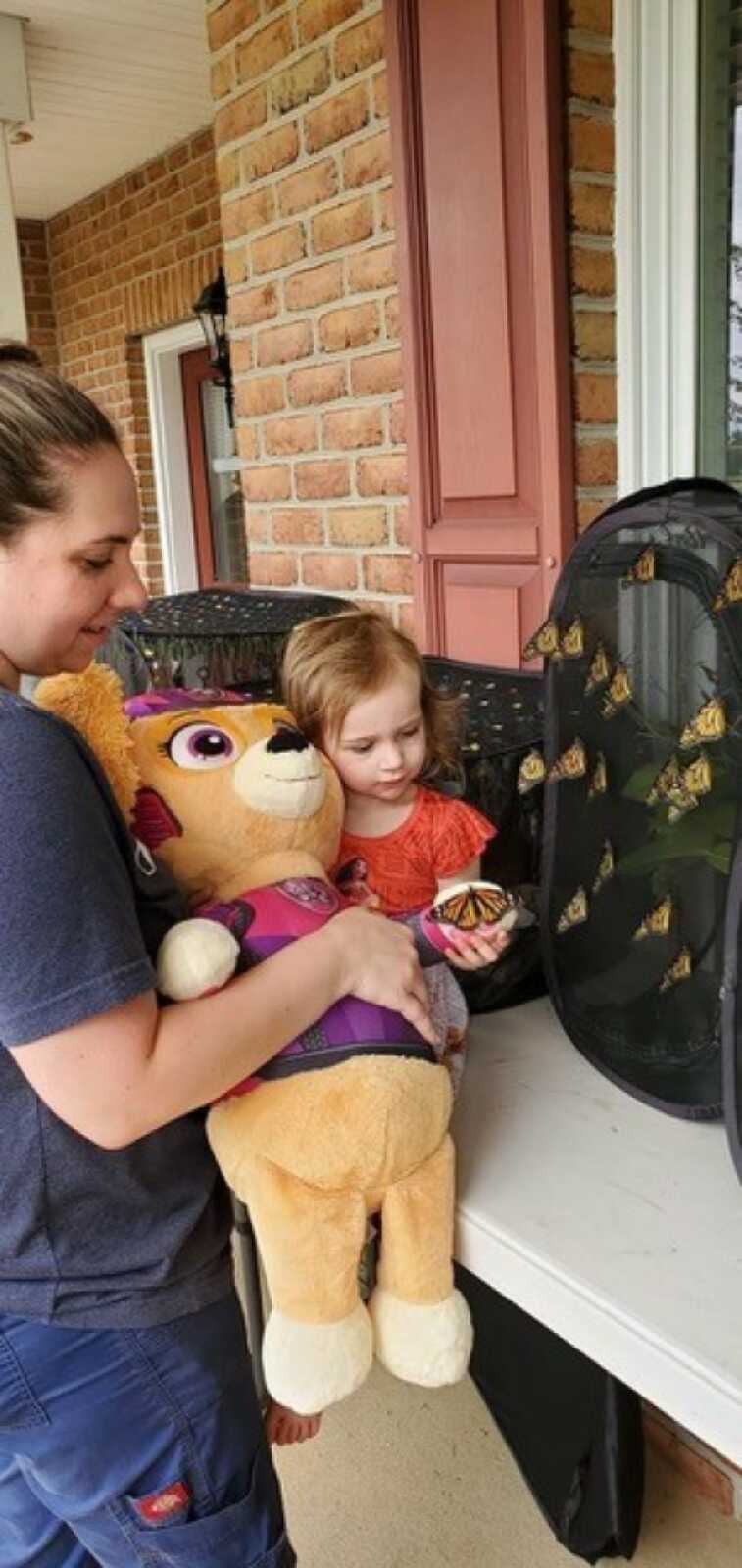 Donna's dedication to this cause has led her family to call her outreach 'The George Bailey Effect.' Her favorite movie, 'It's A Wonderful Life,' teaches the lesson that everyone's life touches another, and every life has meaning. Donna has shipped seeds she's obtained from plants she's grown to individuals joining the movement across the USA and even into Canada. She has sparked a fire in the hearts of many animal and butterfly lovers across the country, her life thereby touching another's.
So if you're local to Harford County, Maryland, or if you're just passing through, stop in and see Donna. Sit in Donna's Peaceful Spot, enjoy the beauty of her garden, and learn about the monarchs from the woman herself. Purchase some milkweed plants while you're there! It's the number one way we can help these butterflies! If you can't visit in person, join her Facebook group and learn what you can about saving the monarchs from so many people who have become dedicated to this cause.
I'm so grateful and proud to be able to write this story about Donna and her butterflies. While many people get to say they know her, love her, and have learned from her, I feel especially grateful that I can call her my Mother.
So, in the words of my mother, Donna, the Butterfly Lady: 'PLANT SOME MILKWEED!'"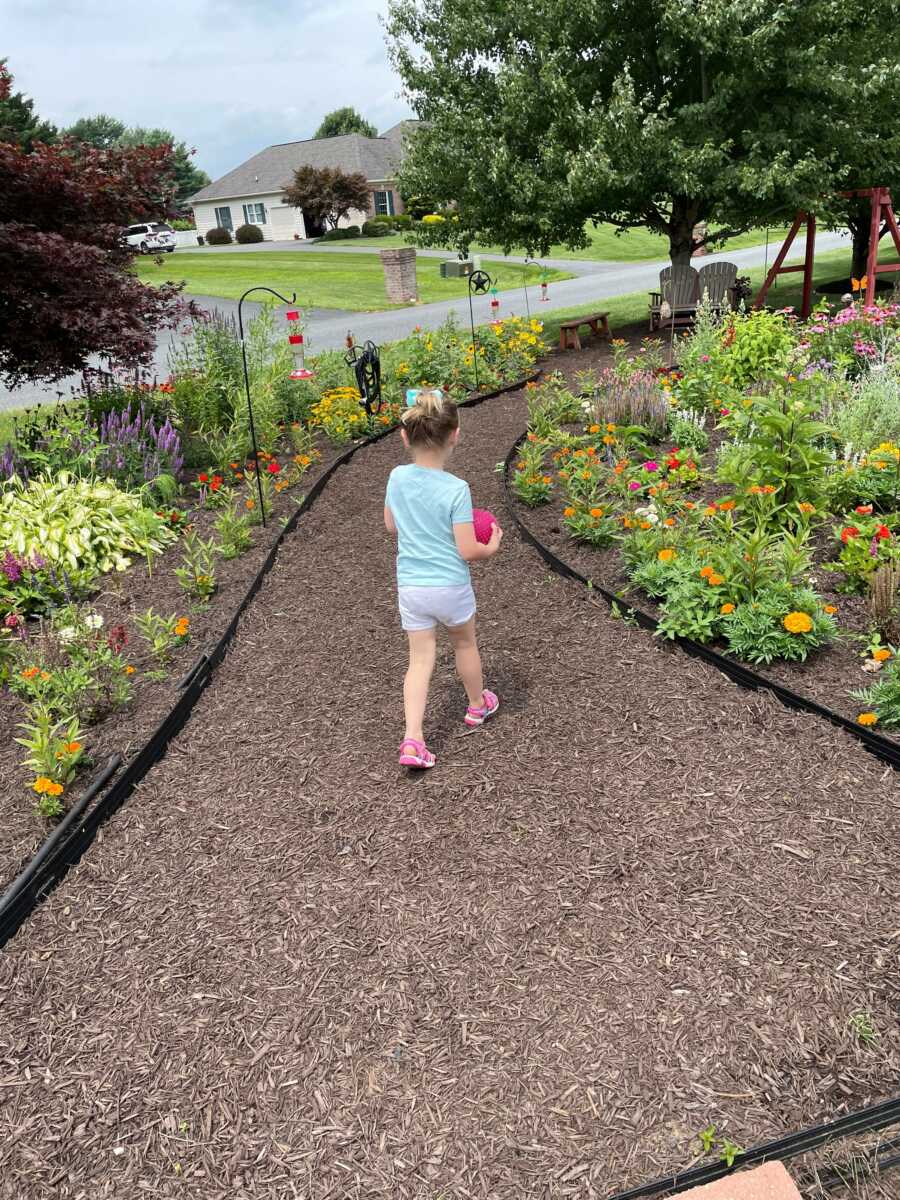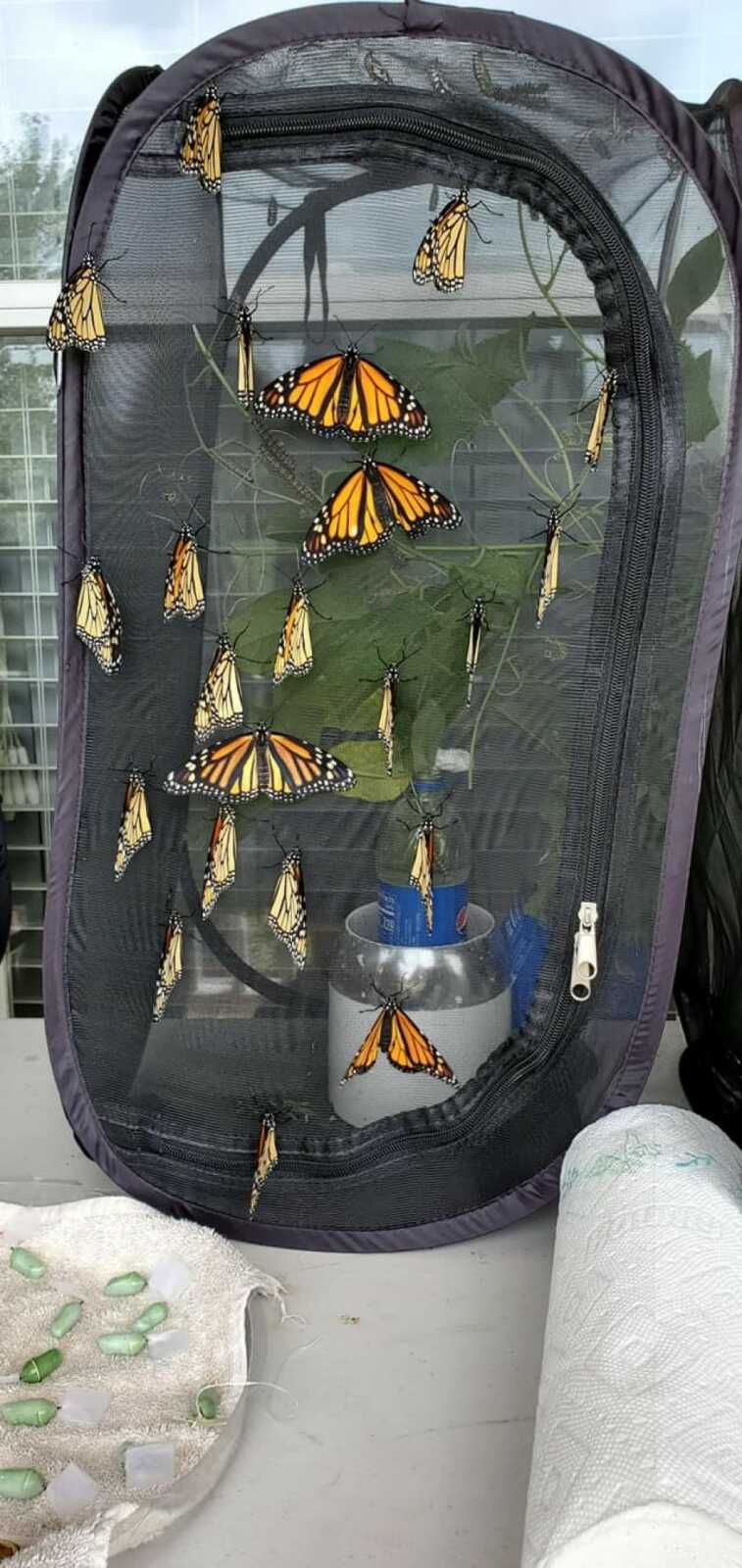 This story was submitted to Love What Mattersby Jamie-Lee Thompson Hammer from Harford County, MD. Submit your own story here and be sure to subscribe to our free email newsletter for our best stories, and YouTube for our best videos.
Read more stories here:
'Scarlett's 14th birthday came around and no one showed up. A friend told me, 'I don't want my daughter to witness a seizure.': Special needs mom touched by friend's act of kindness for daughter's Sweet 16
'I rushed over to apologize. 'He's fine,' she said in a quiet voice. I swallowed my tears. She showed me my son is not a nuisance, but a gift.': Special needs mom shares stranger's act of kindness
'He didn't know this boy lost his dad, has been on the waiting list for a 'big brother,' and lives with his mom and sister, yet he was still kind enough to say 'yes.': Special needs mom touched by employee's act of kindness
'To the man in 2D – I don't know you, but I imagine you saw us. I was pushing a stroller and was also lugging an oxygen machine for my daughter.': Special needs mom thanks stranger for act of kindness
Help us show compassion is contagious. SHARE this story on Facebook with your friends and family.