"Showers are not an act of self-care.
Sometimes we act like they're a luxury, but it's really basic hygiene – I smell, my hair needs to be washed,
so I need a shower.
Being the mom to a child with uncontrolled epilepsy means I typically try to plan my shower for when
someone else is here to watch him.
But, like a mom, that's not always possible.
A few weeks ago, I'd had a pretty active day and saved my shower until the end of the day.
My son's grandma had been watching him all day, and to put it bluntly, it was a terrible day for Wilson.
His only 'almost' nap was interrupted by a seizure, which set him up for a horrible afternoon – a day full
of arching, screaming, whining, puking… he was just an inconsolable child the rest of the day.
Wilson's grandma looked exhausted and it was pretty late, so I told her to head home.
My mom said, 'you sure you don't need me to stay while you shower?'
I replied, 'Nope I got it, go home! He'll be fine!'
Quick in and out shower, 5 minutes max!
I put Wilson on the floor outside my bathroom – in addition to his severe epilepsy, he also has a visual
impairment, so I set him up with one of our favorite CVI (cortical visual impairment) friendly videos to
keep him occupied.
I jumped in the shower.
While I hate listening to him cry, I almost prefer it when I'm in the shower.
It lets me know he's still breathing.
But when he's quiet, I feel the need to poke my head out every minute or so.
He's non-ambulatory, so he's not going to go anywhere, but I need to know one of two things haven't
happened:
That he's had a seizure and is struggling to breathe or he's vomited and is unable to clear his airway.
So I poke my head out and sure enough, he's had a seizure, I can tell by his contorted position.
His brief tonic seizures are usually fine – a big movement happens once, he continues breathing and it's over quickly.
I continue watching for a second from the shower, and see the twitching… it's a bigger seizure.
For the first time in almost 2 years, I had to jump out of the shower, soaking wet, and get to my child.
Everything was twitching and he was struggling to breathe.
I quickly got him in whatever position his rigid body would allow that made him able to breathe.
I held him as he came out of it, while water from the showerhead kept going.
Once it passed and he was safe, I got back in the shower.
And that's life with intractable epilepsy.
It doesn't matter if you want a 5-minute shower or a quick bite to eat or need to pop into a store.
Seizures happen whenever, wherever, and we're always on our toes to act.
It's exhausting for Wilson, absolutely no question, but it's absolutely exhausting to always be on watch. "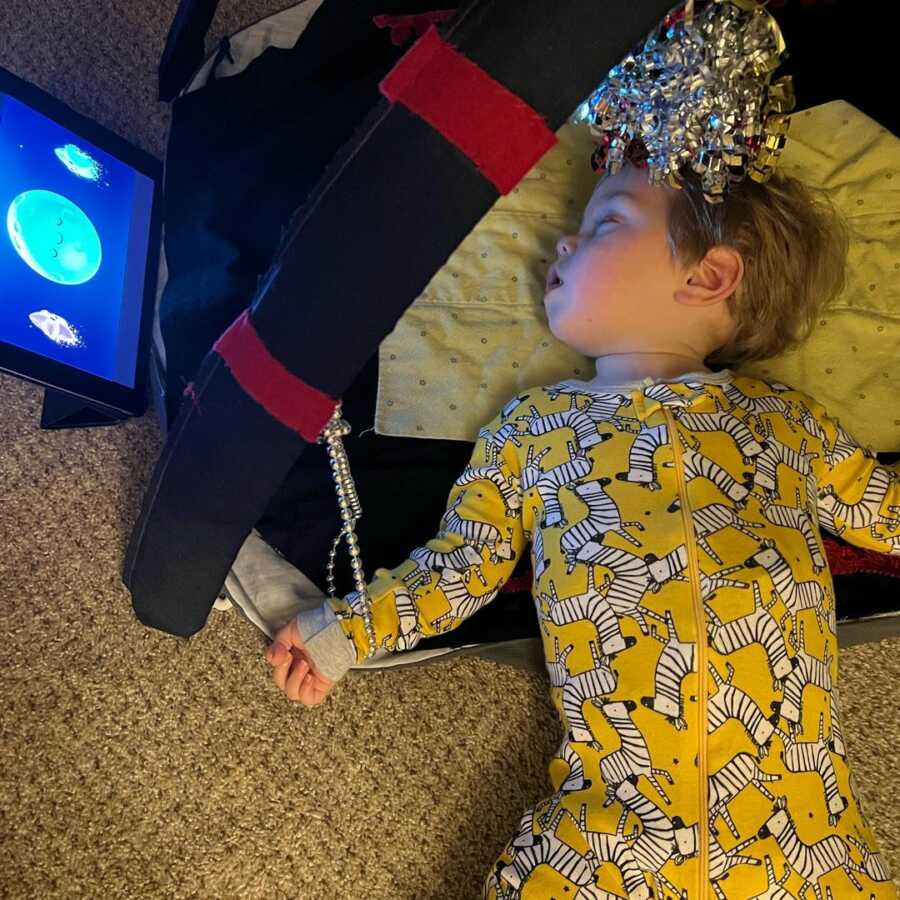 This story was submitted to Love What Matters by Heather. Follow her journey on Instagram. Submit your own story here. Be sure to subscribe to our free email newsletter for our best stories, and YouTube for our best videos.
Read more stories from Heather here:
All I Want For Christmas Is My Child To Smile In A Photo
Infantile Spasms Are Terrifying, But You Are Not Alone
Read more stories here:
'I see you crying as you're reminded during the entire season just how different your child's life is.': Special needs mom urges 'you're not alone' this Christmas
'What are your hands doing?' you asked, instead of inquiring about what she wants for Christmas.': Autism mama urges  'tis the season to spread awareness' after Santa makes fun of stimming
Spread beauty and strength for others. SHARE this story on Facebook with family and friends.