"I was 24 years old and had been a nurse for a few years already. I had seen suffering, pain, and death, but nothing could have prepared me for what I saw when I watched a documentary I found on YouTube in 2013. It was called 'Ukraine's Forgotten Children.' It told the stories of children and adults growing up in state care, people who were abandoned because they had a disability, locked away. Children as young as 4 years old were sent to adult mental institutions.
I saw adults with no rights or say in their own life and doctors calling a child a 'disaster.' Skeletal bodies. Empty eyes. Twisted limbs. Untreated medical conditions. One child had a sack of fluid coming from the back of her skull. It was her brain. A thin layer of skin was all that was holding it in, and it was leaking fluid. I couldn't believe my eyes. And I couldn't look away. I didn't know if I could help.
I was on the other side of the world, but I knew I had to try. I researched and found an American charity that supported the children who were shown in the documentary. The charity was called Maya's Hope. I contacted the founder, Maya, and asked her what I could do. She said, 'Whatever you can!' So, I fundraised $6,000 with the support of several others for caregivers, formula, medications, and more. Then in 2014, I traveled to Ukraine.
As much as I hate how they treat their most vulnerable, I still fell in love with the country. It made me see how hard life is for most of them and why raising a child with special needs is especially hard for families. There is minimal government support and nothing is accessible for those with limited mobility. There are houses in villages that have no running water. Life is very different. There are no words to fully express what it is like to walk into an orphanage. Hundreds of children were living there, but the halls were silent, expect the occasional wail or moan.
Tiny children were rocking back and forth. Restrained and tied to beds, unable to focus. Lost in their own world. Drugged. Covered in bruises from abuse and self-harm. Hands were red and raw from being constantly chewed. Children were covered in cigarette burns. Teenagers being fed from a bottle, choking and coughing as they tried to keep up. Doctors were shrugging and saying, 'They were born like this, there is nothing we can do.' I couldn't accept that answer.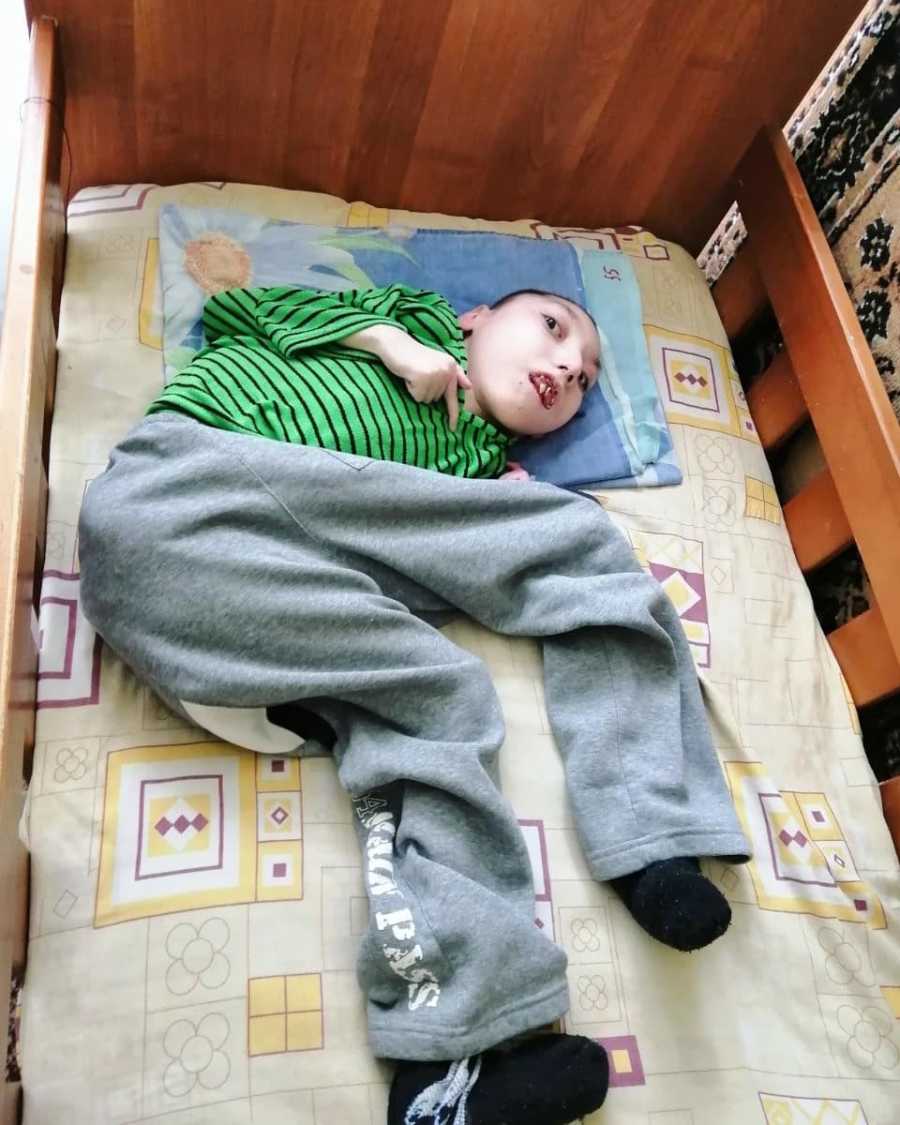 And the smell: decaying teeth, diapers that have been on for 12 hours or more, open and weeping wounds. The smell of despair. After I returned home, I knew I could do more, so I became more and more involved with Maya's Hope and their programs. I started running their social media accounts, answered emails, and brainstormed more ways to help. I started sharing the children and their stories on Facebook.
Since then, over 30 children have been adopted from the orphanages we support. Many were adopted because their parents saw a post about them on social media. The change you see when they finally receive love and medical care is amazing. They truly blossom. Overcoming the years of trauma they have endured is not easy for the children and their families, but they work through it together.
While continuing to support foster families and providing additional caregivers, formula, diapers, medications and more to orphanages around Ukraine, Maya and I decided that we needed to do something more about this situation. What if we could help stop the flow of children into orphanages? What if we could help families see they are not alone?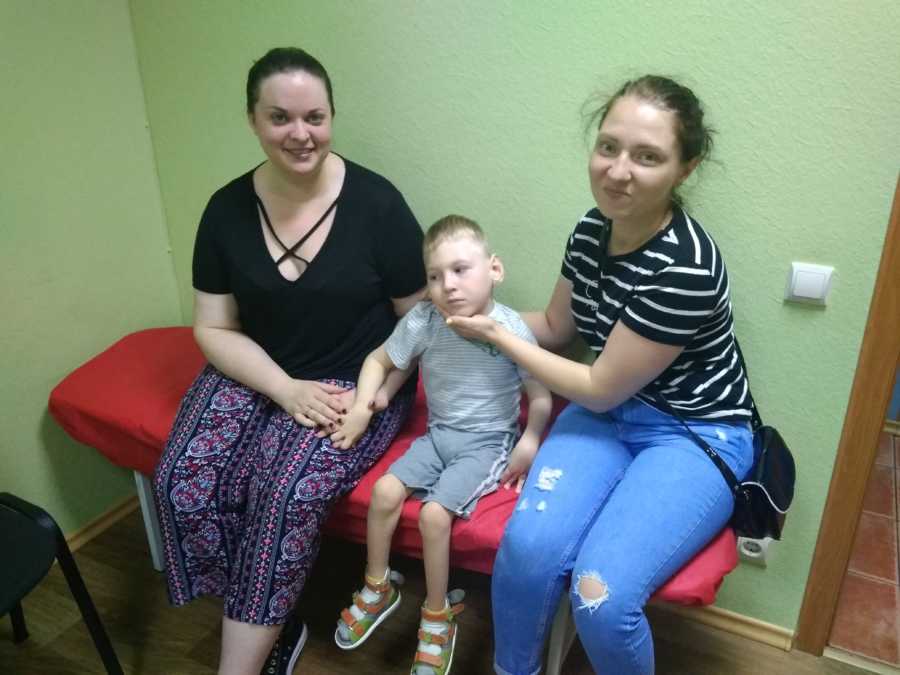 So in 2018, we started a new program supporting families who are raising their children with special needs. In Ukraine, parents of children with special needs are encouraged to hand their children over to state care. They are told their children are a burden on society. Children are sent to institutions where they are subjected to abuse and neglect. There is minimal support available to parents who fight to keep their children with them.
Maya's Hope wants to help relieve some of the burdens of these amazing parents and help keep children with their families, where they belong. We have provided therapies, surgeries, medications, formula, diapers, medical equipment, special strollers, and more to dozens of families. And the number is growing every week. In a recent case, a mother said 'no' when social workers tried to convince her to send her newborn twins to an orphanage. She knew she had our support and it made her brave. Today, her boys are still with her and thriving.
I made my fourth trip to Ukraine in 2019. I had the honor of meeting several of the families we support. I'm not exaggerating when I say these mothers and fathers are my heroes. They are amazing. The difference in a child being raised by their family and a child living in an orphanage is immense. You can see the love. It shines through. I cannot imagine the relief they feel knowing that others see the value in their children.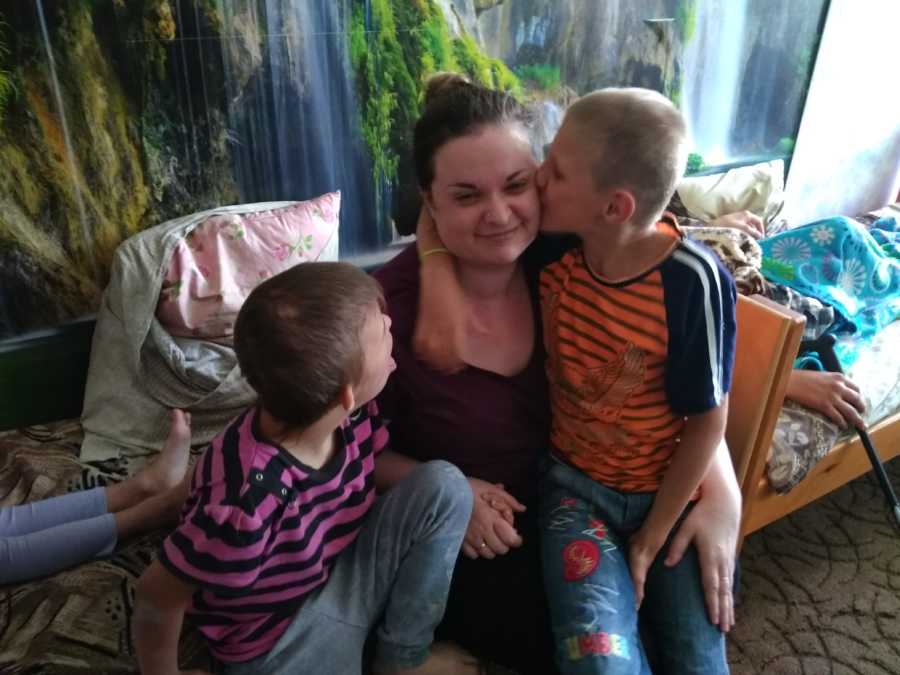 In the future, we hope to help more children and families. And one day, in the not-so-distant future, we hope to see orphanage doors being closed because they are empty. I have been asked many times, 'Why don't you help children in your own country?' And to me, a child is a child. It doesn't matter where they are born. It doesn't matter if they have a disability. If a child is suffering, we should all care. Every child has value!"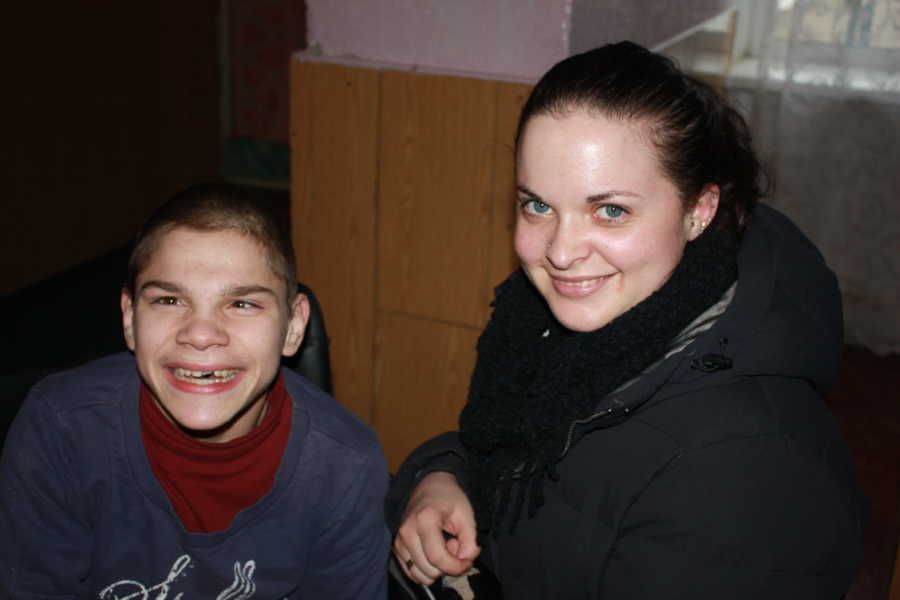 This story was submitted to Love What Matters by Keshia Melton. You can follow their journey on Instagram. Do you have a similar experience? We'd like to hear your important journey. Submit your own story here. Be sure to subscribe to our free email newsletter for our best stories, and YouTube for our best videos.
Read more inspiring stories about children battling genetic disorders here:
'Your daughter will never be more than 2 feet tall.' My husband and I broke down in tears. '…If she survives.': Mom births baby with rare Thanatophoric Dysplasia, 'I will never give up on her'
'His hands are connected at his chest.' We were in disbelief. He must have been making a mistake.': Mom says son born with limb difference is perfect' despite differences, 'We believe in miracles' for his future
Have you experienced the loss of a child? Please SHARE on Facebook and Twitter to make others aware there is a community of support available.