"January 27, 2019, I found out I was pregnant. The shock and thrill on my husband's face was just priceless when I told him. We both, honestly, were shocked, as we weren't necessarily trying. The first half of the pregnancy was wonderful as any pregnancy should be. I did have really bad morning sickness, so you can imagine the trips to the bathroom were quite a few. Oh, and don't forget how many times you have to pee in a day. The bathroom was my best friend.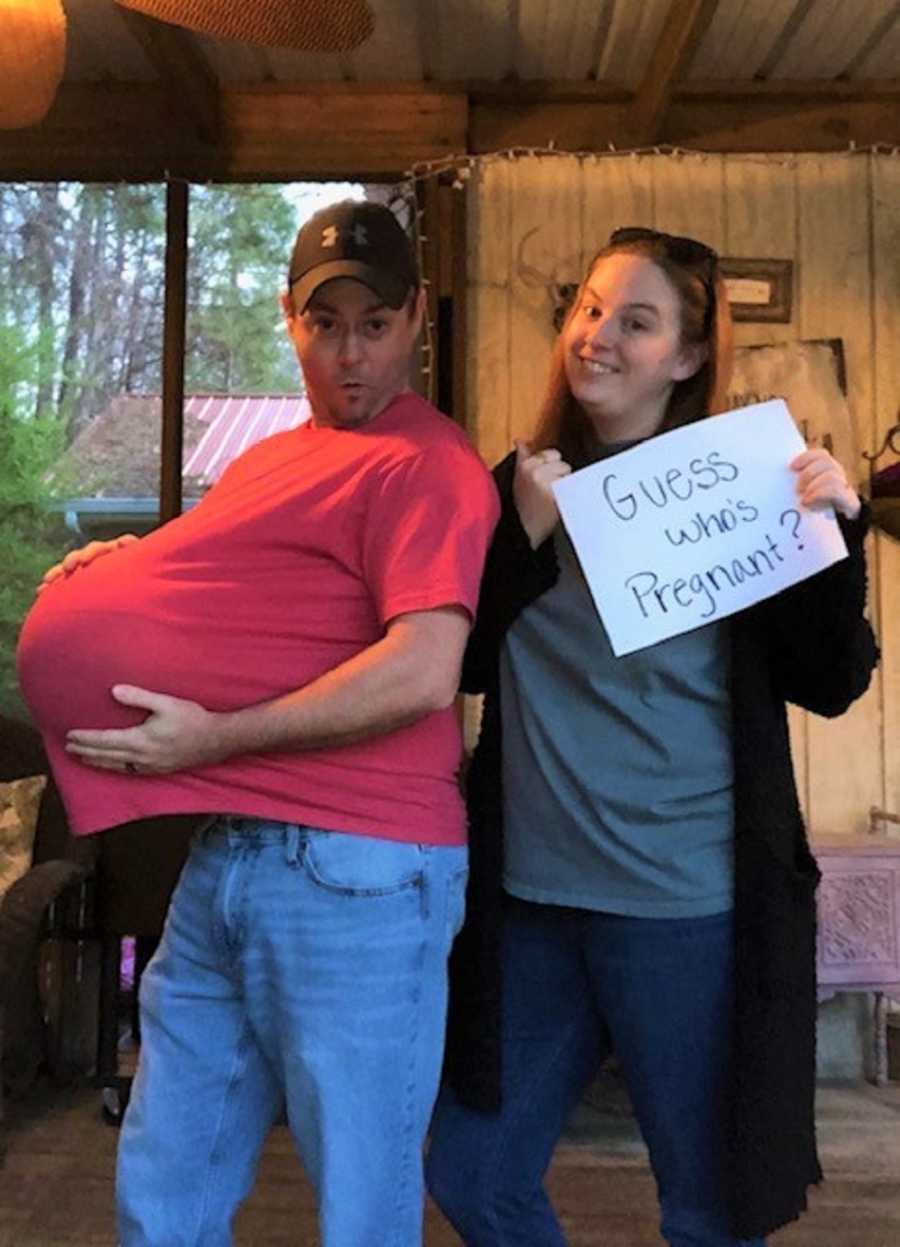 Doctor appointments were every four weeks to start off with. Everything looked normal and our baby was growing and healthy! Everyone in our family was thrilled to have another child in the family. We found out we were having a girl a few months in, after I took the blood test. We then were deciding on names, which took us a little while to pick the perfect one for our daughter. Paisley Renee was the name we chose, it just really stuck out to us and clicked with our family.
My 20-week appointment was upon us and this is when our world turned upside down. Normally you have an ultrasound and they measure the baby, tell you what gender, and do a few other things to make sure your baby is progressing properly. Well, they weren't able to get all the measurements as Paisley was being quite difficult to capture on the ultrasound. They did, however, tell us with what measurements they did get, and she was measuring short.
At first our response was, 'Okay, well we have short people in our family, so no biggie.' Then we rescheduled for another ultrasound to get more imaging done on Paisley. Again, they didn't get all they needed and they found she was still measuring really short. At this point, we were starting to worry a little more as they couldn't really tell us in detail what was going on with our daughter.
They told us the next step was to plan a specialist appointment so they could do an in depth ultrasound to measure all of the bones, organs, fluids, and anything else they could think of. They told us this appointment could be three to four hours long. Honestly, my heart sunk a little when they told us this was what we had to do next, because when I was pregnant with my son, I never had any issues.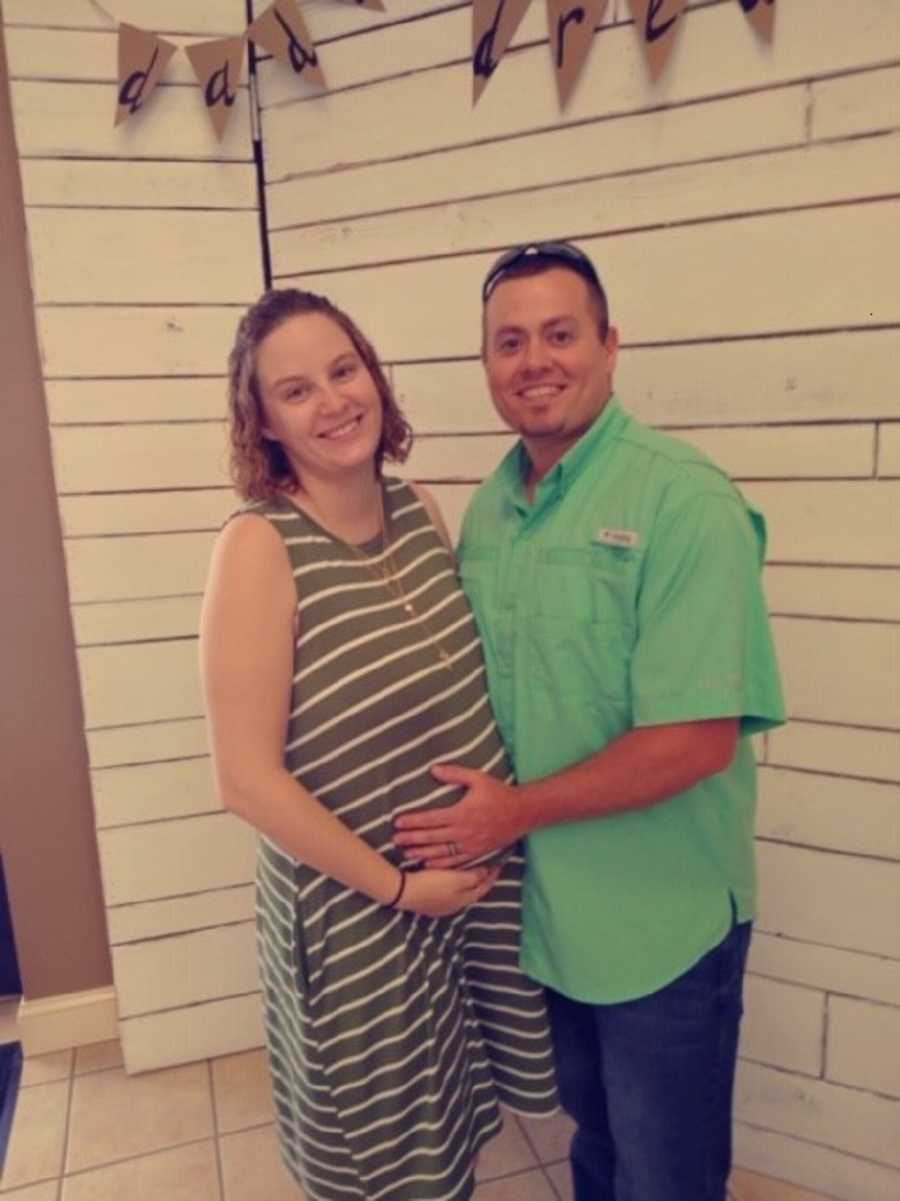 It was now the day of our specialist appointment and we were a nervous wreck. During the appointment, the ultrasound tech didn't say much because they really aren't allowed to tell us what's going on; so you can imagine we were both freaking out inside. I will say, we were blessed to be able to see our daughter again. She was as stubborn as can be, so we found it quite funny to watch them struggle to get pictures of her.
After they got done with the ultrasound, which took about an hour and a half, we were then directed to sit in a waiting area to see the doctor. The hour we sat there and waited was so tormenting and long because you have no idea what to expect the doctor to find or what is going on, period. We just sat there and embraced each other and prayed to God that everything would be okay with our daughter.
They finally called us back to see the doctor, and from the look on their faces, the news he was about to tell us wasn't good at all. His words were, 'Your daughter, Paisley, has a severe, rare form of skeletal dysplasia (dwarfism) called Thanatophoric Dysplasia or TD.' He couldn't even get that sentence out of his mouth before my husband and I broke down in tears.
I can remember him saying, 'There isn't a good chance your daughter will make it through birth.' My husband and I were shocked, angry, sad, and confused why this had to happen to our daughter. This appointment honestly ruined my pregnancy, as I now had to fear if my daughter was even going to live or not.
The doctors are so brutal and give kids no chance when they have a so called 'lethal condition.' He told us she might not live through birth or she might only live a few hours to days after she was born. Our world turned upside down that day, now we had to plan for a child that would be medically handicapped for the rest of her life.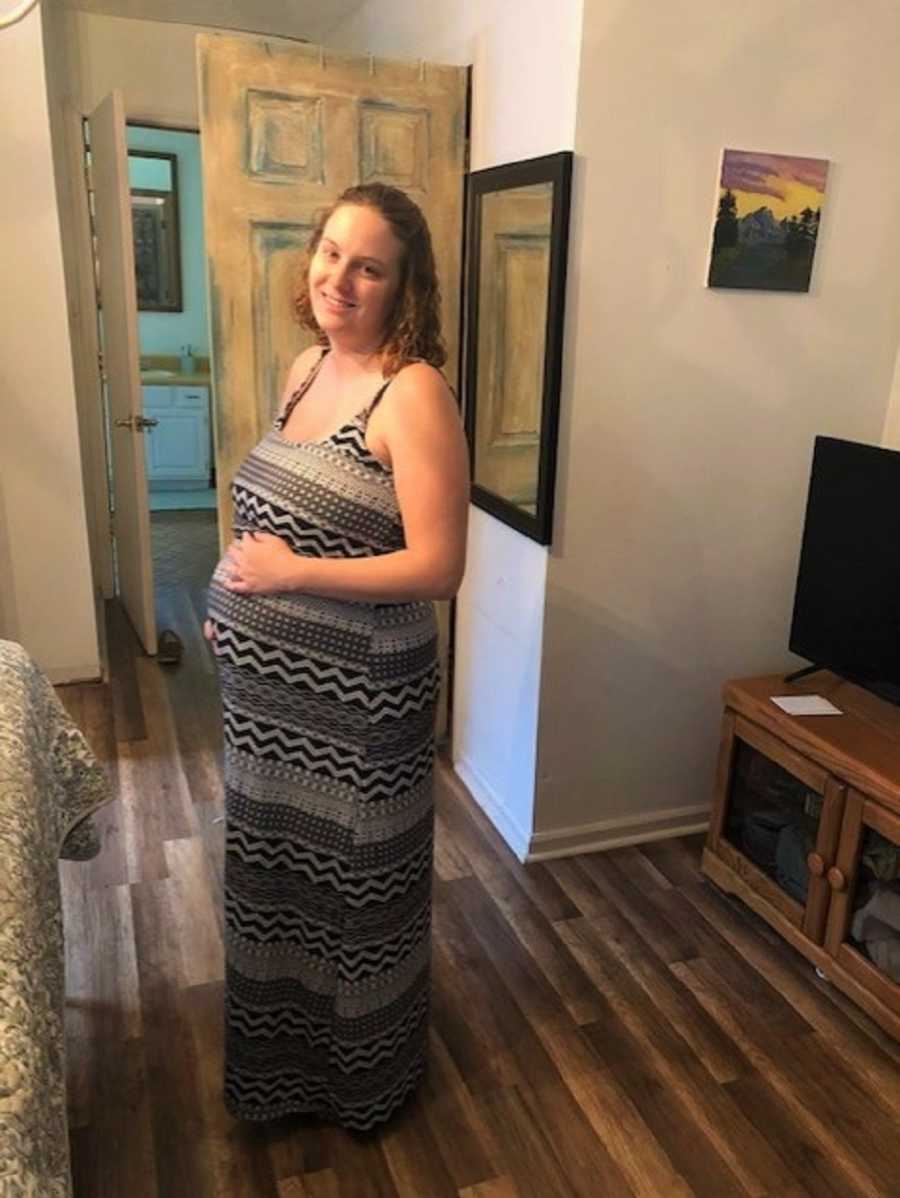 Thanatophoric Dysplasia is a severe skeletal disorder characterized by extremely short limbs and extra folds of skin on the arms and legs. The term Thanatophoric means 'death bringing' because this condition causes a narrow bell shaped chest, which doesn't allow the lungs to grow properly. We did our research and found out an estimated incidence is about 1/20,000-50,000 births.
The oldest living survivor was a 29 year old woman. There is a couple in Europe and a handful in the United States living with this condition. After researching and connecting with a few families with children living with this condition, we were on the fence about our feelings. Paisley would be no more than two feet tall and would have a lot of complications.
After that appointment, the rest of the pregnancy was extremely stressful and just a blur. I had two appointments every week from that point on, with the specialist and my regular doctor. I was considered a high-risk pregnancy and so I had to do a lot of blood work, an ultrasound every week, and stress tests. At each appointment, I prayed that God would let our baby girl grow, that her little chest would grow properly to let her survive this birth.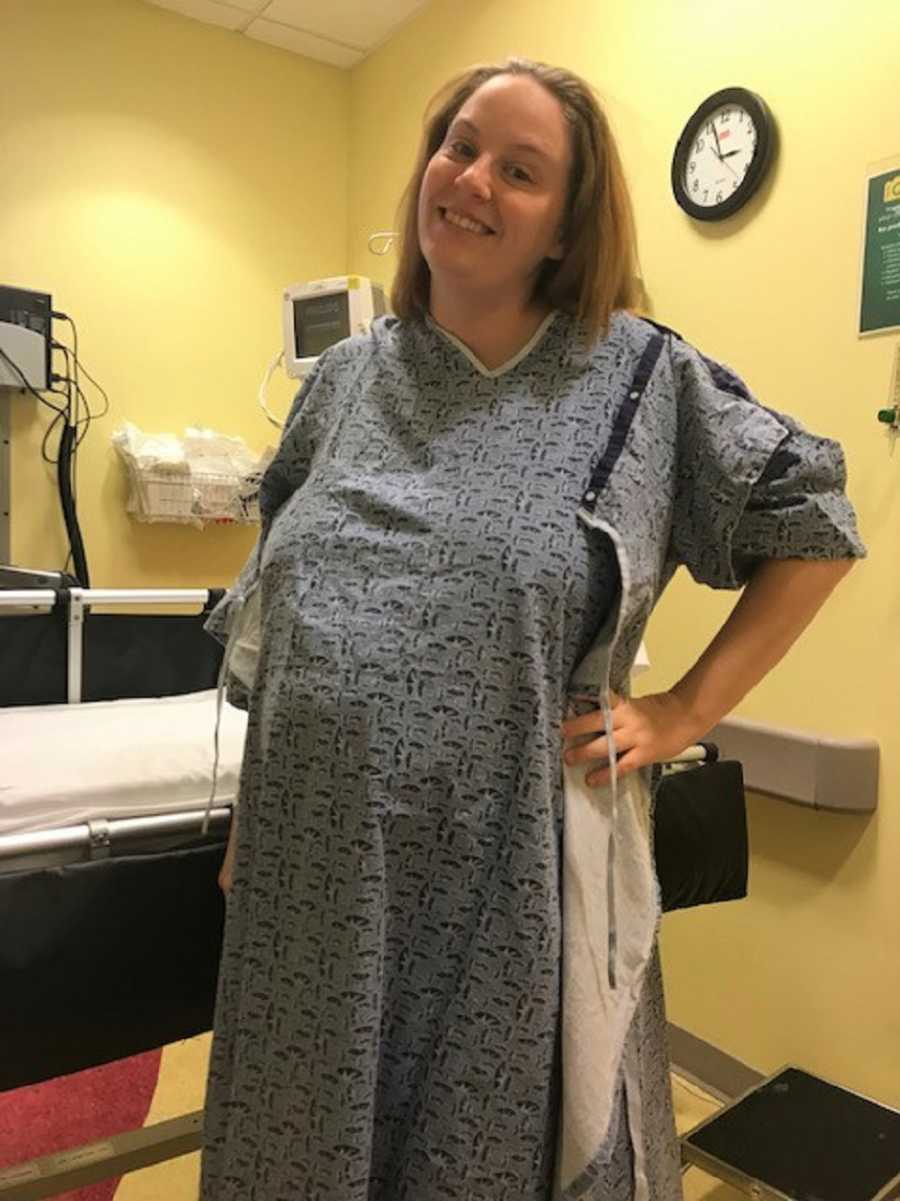 Her limbs ended up measuring around 17-weeks, her head was always on track (so she had about a 34-week size head), and her little chest only grew to about 20-weeks. So you can imagine how small Paisley was. I got an MRI done so we could see her organs and how her lungs were developing. We were surprised to find out she had 80% lung tissue, which was amazing considering her condition.
Again, every doctor was brutal and said she wouldn't make it; they had never seen a case survive TD and kept saying she had this condition. Luckily, they never mentioned terminating the pregnancy, because I would have went off on them. I wanted Paisley to have a life, no matter if it was only for a few seconds or years later. She deserved the world and I was determined to give it to her.
On August 28, 2019, I went to the hospital because I was having contractions constantly, due to the fact that my fluid was measuring over 40 weeks. Paisley's condition causes high fluid, which is a big risk in pregnancy. At this point, my doctors didn't want to stop the contractions because we didn't want to risk anything else with Paisley. And to be honest, I was so over being pregnant and I was ready to meet my baby girl. It was determined I was having her that day. So my husband rushed to call everyone to get to the hospital, so they could see me before I went back for surgery (I was having another c-section).
We both were scared because Paisley was here six weeks early and we had no idea what to expect. All we wanted to hear was her cry. And guess what? She let out several cries, letting us know she was here and doing okay at that point. She weighed 5 lbs. and 2 oz. when they thought she would only weigh 3. They rushed her to the NICU and got her set up on the ventilator. We were so happy she made it through birth, but we still had no idea what her life had in store.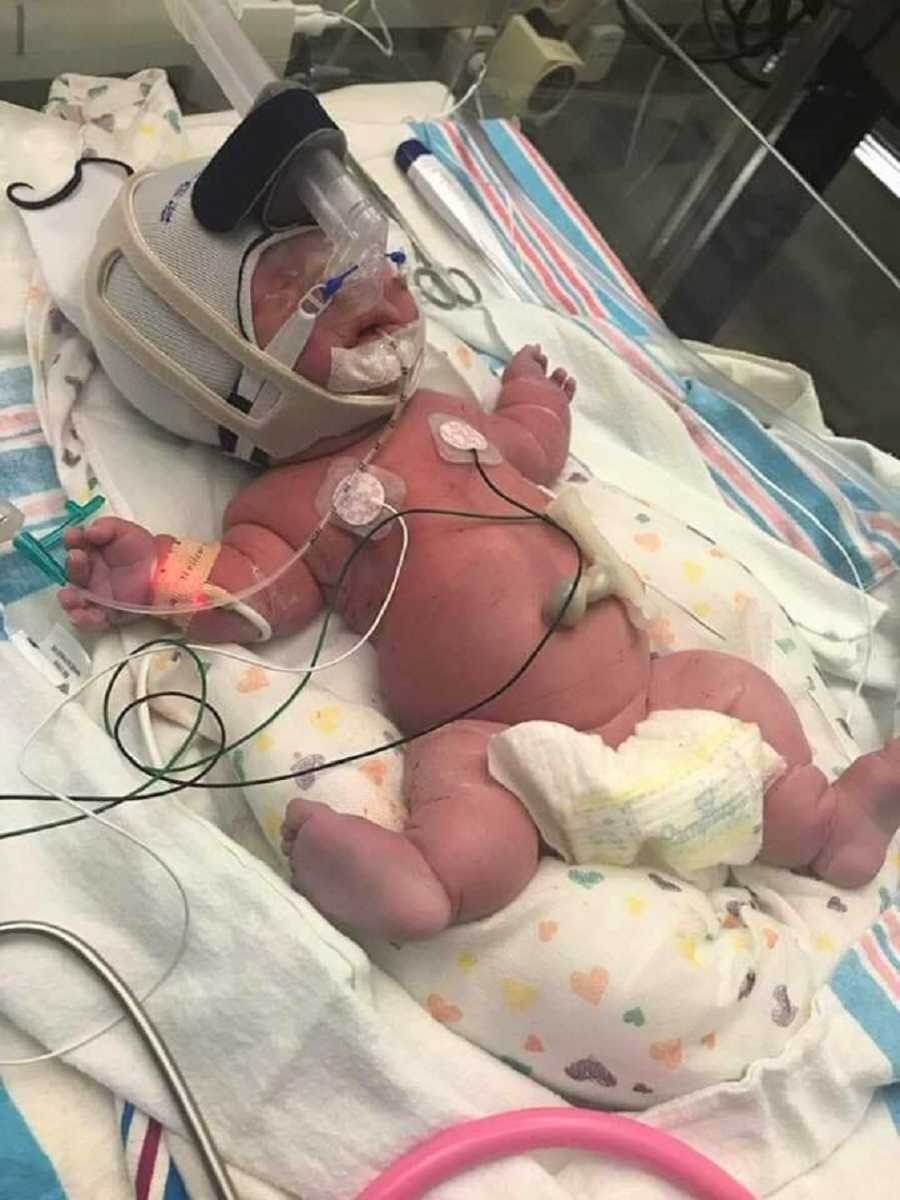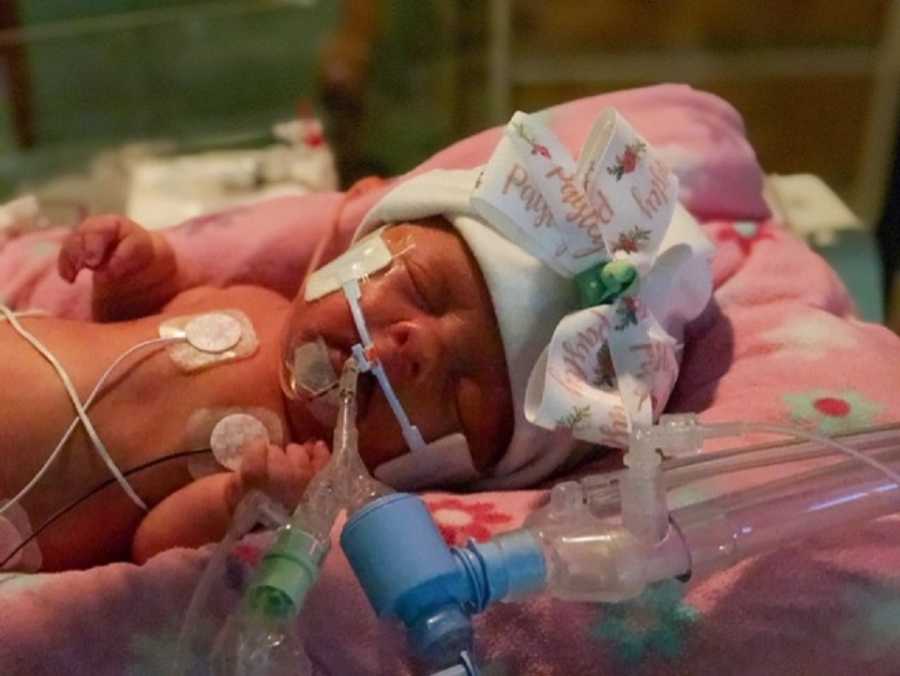 They sent off her blood work to later confirm it was TD. She scared us and almost passed a few days later, so she had to be put on the Oscillator vent, which is the last resort for any hospital. She also had to have nitric gas to help with her C02 readings. I didn't get to hold my baby girl until a week later. It was honestly, the hardest week of my life and an emotional roller coaster. You feel defeated as a mother when you can't hold your own child.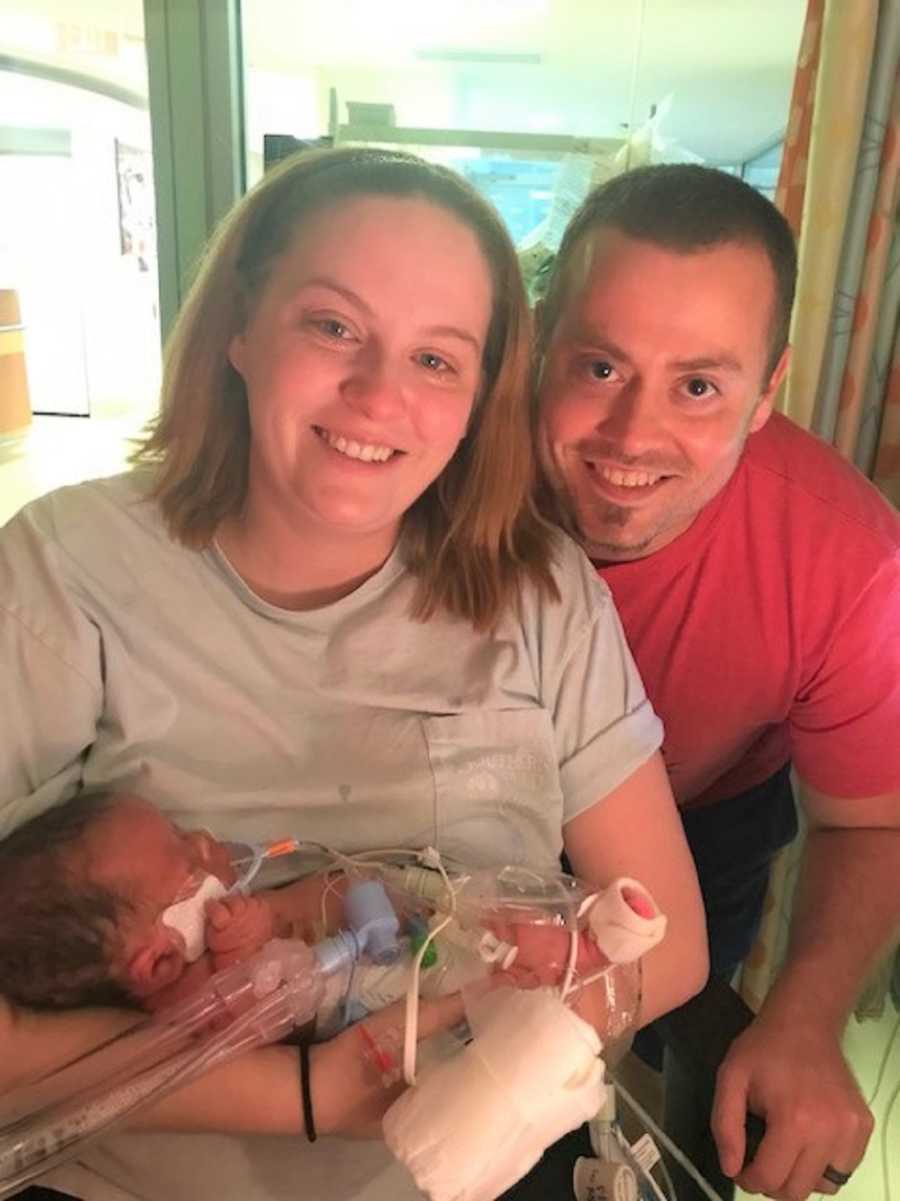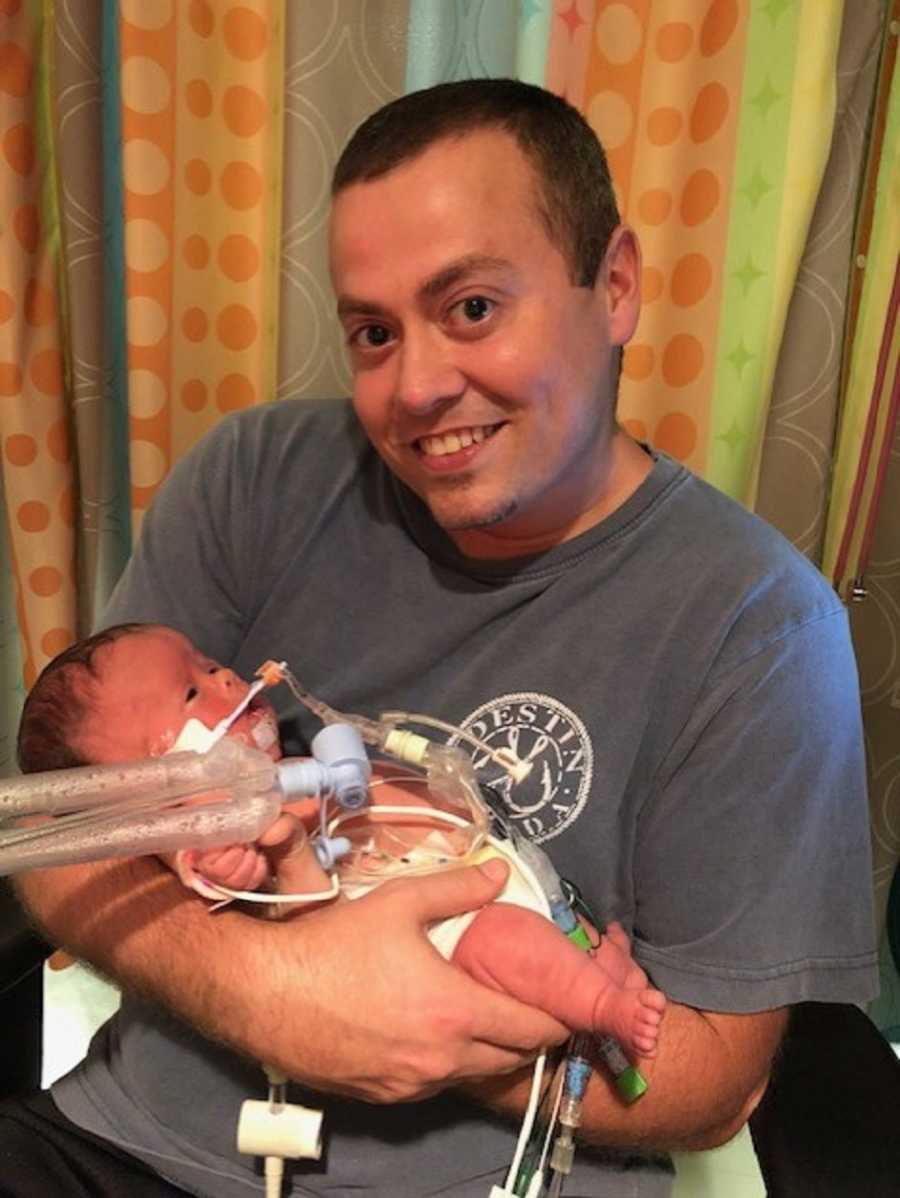 Eventually, she was able to come off the Oscillator and was on a regular hospital vent. We were excited for the switch because it meant she was doing better and getting stronger. Unfortunately, our hospital hit a stopping point and could not do the surgeries we needed for Paisley, so we had to transfer to Children's Healthcare of Atlanta.
Once we got there, Paisley had tracheotomy surgery, where they cut a little hole in her neck (at the air way) and place a trach for breathing. This was a necessary step as she still couldn't breathe on her own, and it's possible she could need it her whole life. A week later she had cranial decompression surgery, where they drill away some of the bone around her spine and skull to relieve the pressure and allow blood flow so she has more movement. Its supposed to help her growing process and help the brain send more signals to her organs so she can breathe better on her own.
This was so much on our little girl, but she is a fighter and got through it. We, on the other hand, were a hot mess because our baby girl was only two months old and she was already having these huge surgeries. Like I said, little did we know, our precious Paisley is a fighter.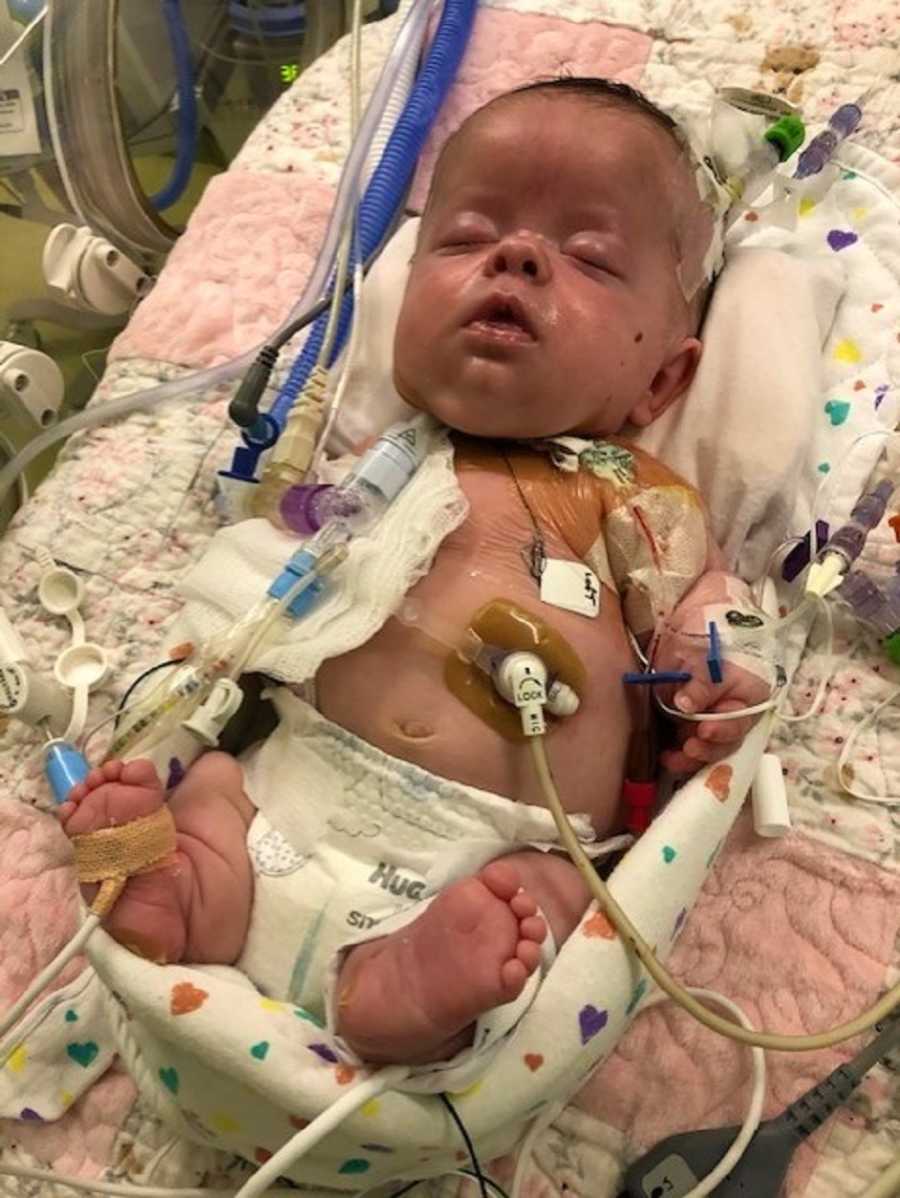 Now we are on day 113 in the NICU, and guess what? The doctors didn't even think Paisley would make it through birth. God, on the other hand, has a huge plan for our baby girl, and He is showing his power through her with all the miracles He has done in her life. She is on the road home by transitioning onto the home ventilator. She can then be moved to the TICU, where we start our training on taking care of her when we come home.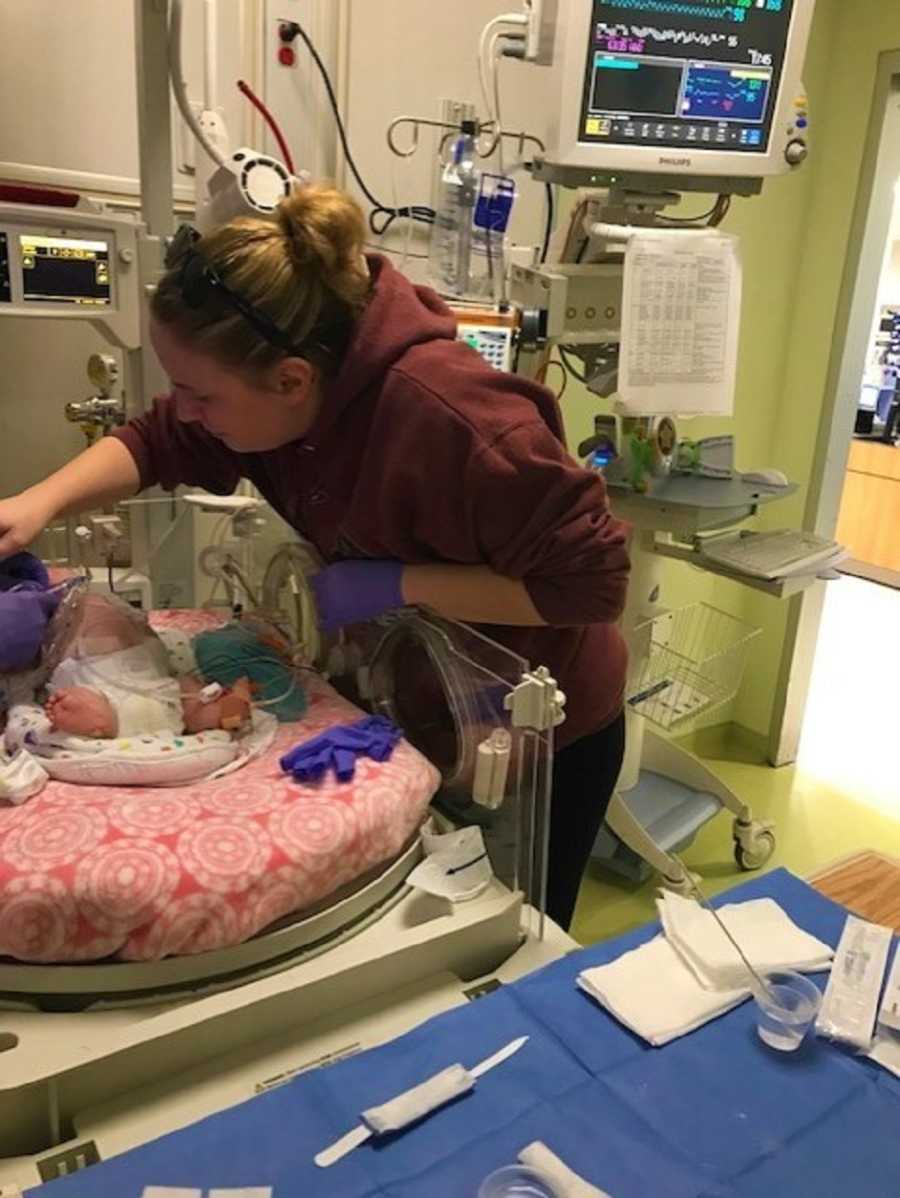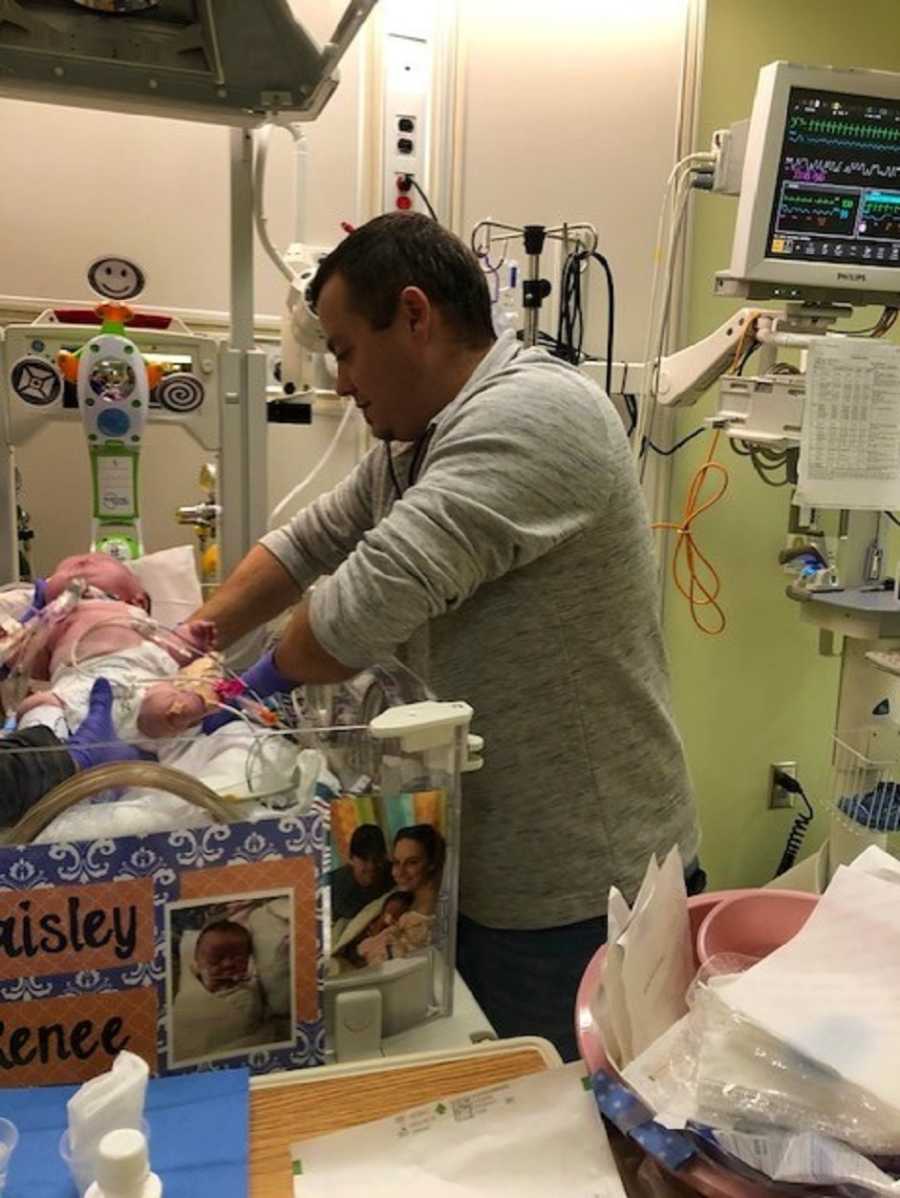 I will be her primary caregiver and I am a little intimidated as her life is in my hands, and I have so much to learn about trach care and how to take care of her medical needs. God chose my husband and I as her parents and we couldn't be more thankful for her and this opportunity to take care of her. It has humbled us beyond belief because everyone thinks they have hard times or hard days, but Paisley has been through more than I ever could imagine and she just smiles through it all. We pray to have her home soon, but we are taking things slow and steady because we do not want to push her. Our prayer is to have her home around the beginning of next year, so we shall see what God has in store for our little girl.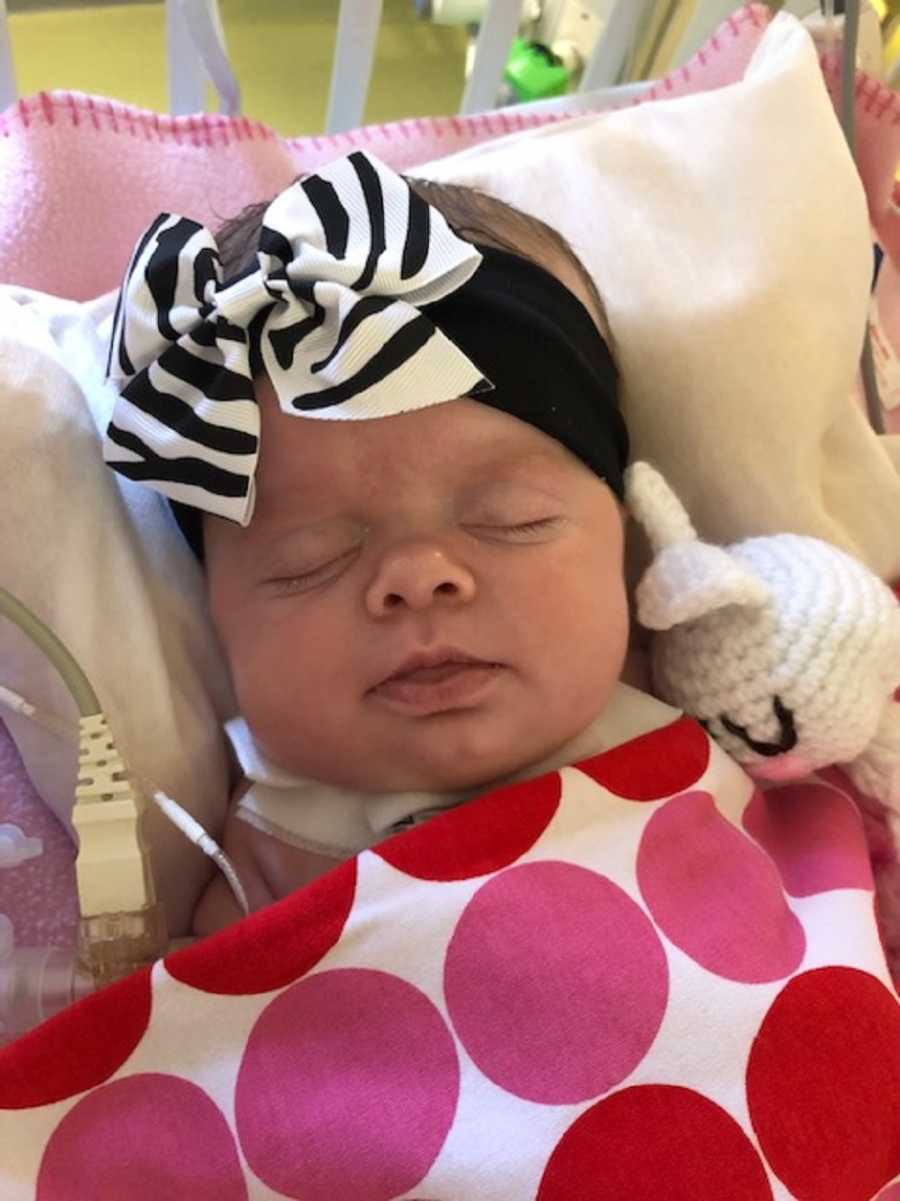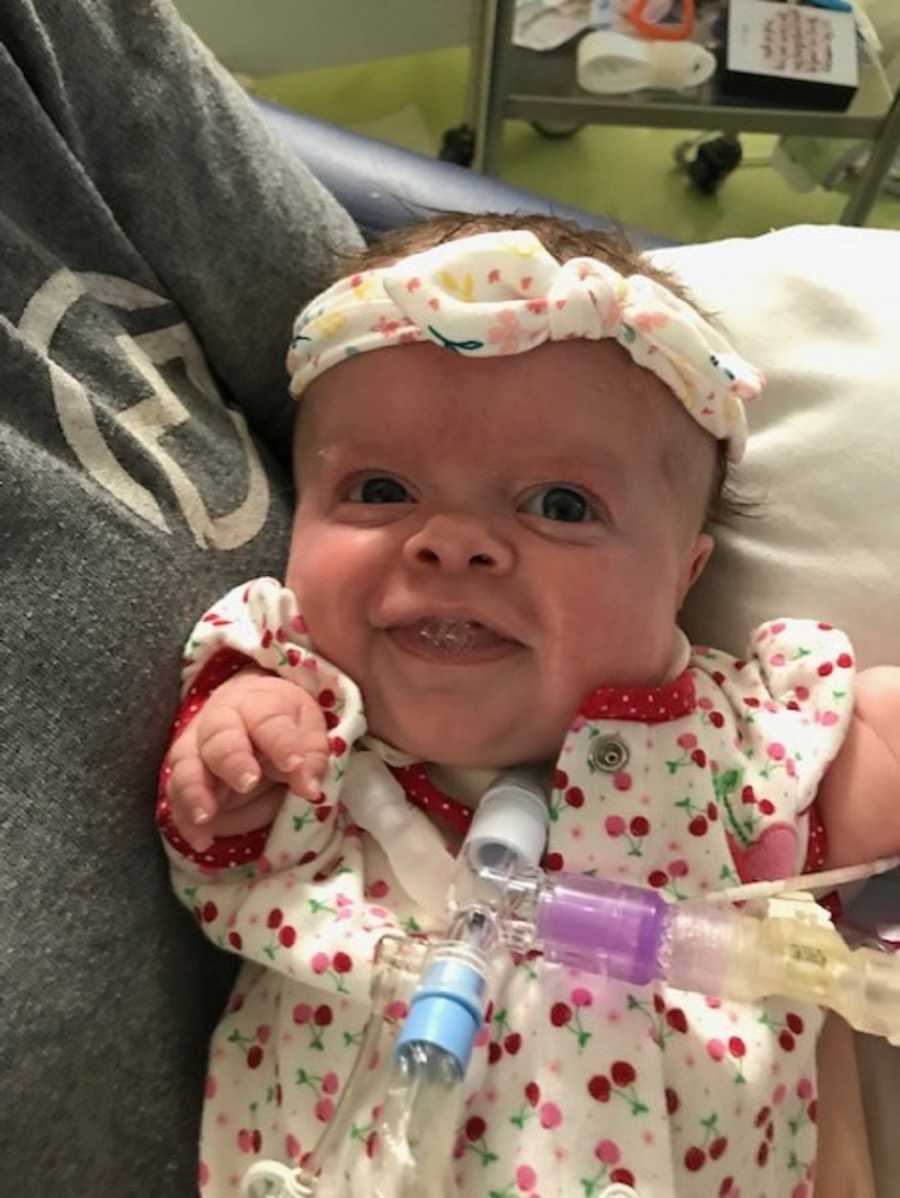 If I could give advice to any parents out there dealing with similar situations, I would say, 'Do not give up on your children.' Fight for them and be strong for them, they are dependent on us. Rely on family and friends for comfort; do not hold your emotions in because its not healthy and will drive you insane through this process. I found that journaling and updating everyday made me feel at ease and not get into a dark place of depression.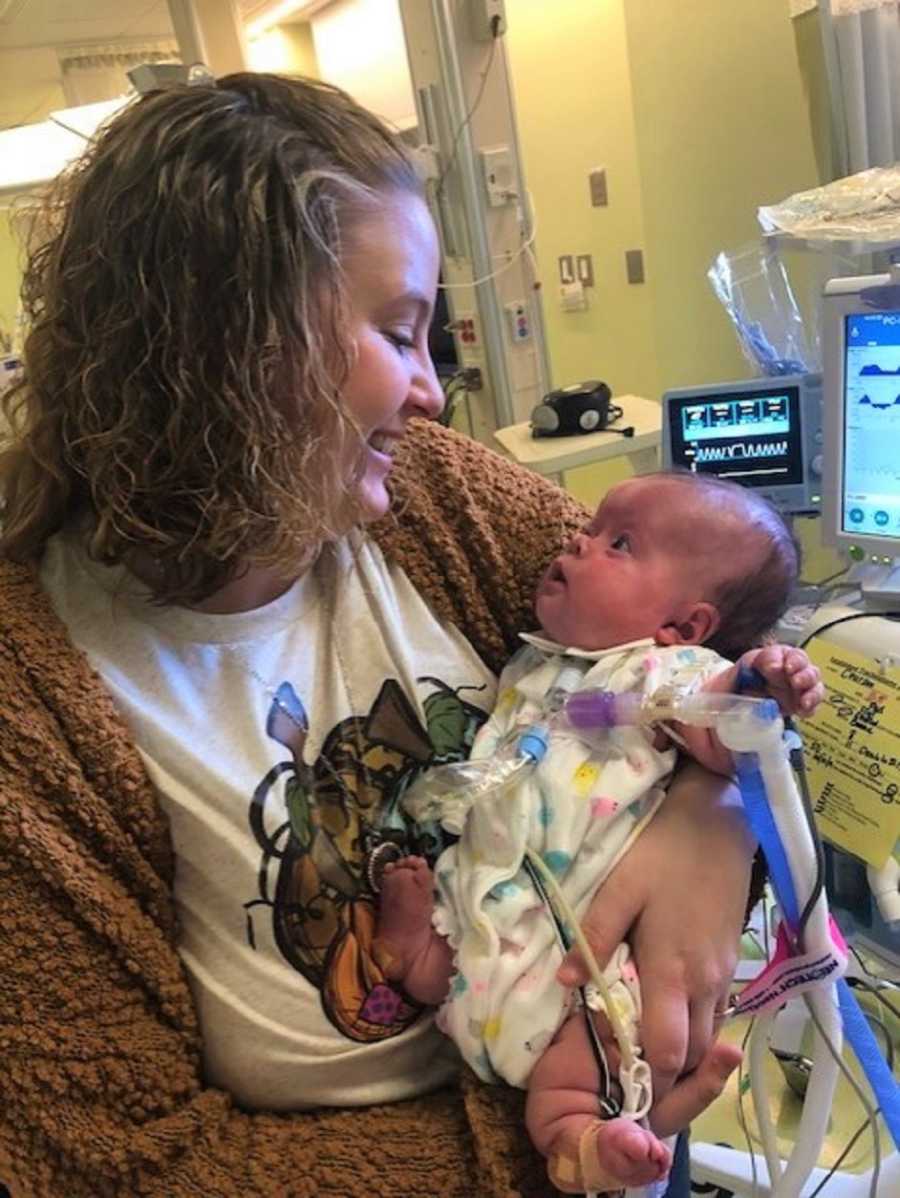 Don't blame yourself for this. It's not your fault. You are not alone and you can do this. Breathe, take every moment, and be thankful for it. Be thankful for the ultrasounds where you get to see your child. Be thankful you are pregnant. Be thankful you get to change that diaper. Be thankful you get to sit at the hospital with your child. Be thankful for every little thing, as you do not know what the next day holds.
This journey has taught me to be grateful, to thank God for my little miracle, and to hold everything close to my heart. It was God's plan for this to happen and we will praise His name through it all and be grateful for everything that comes our way."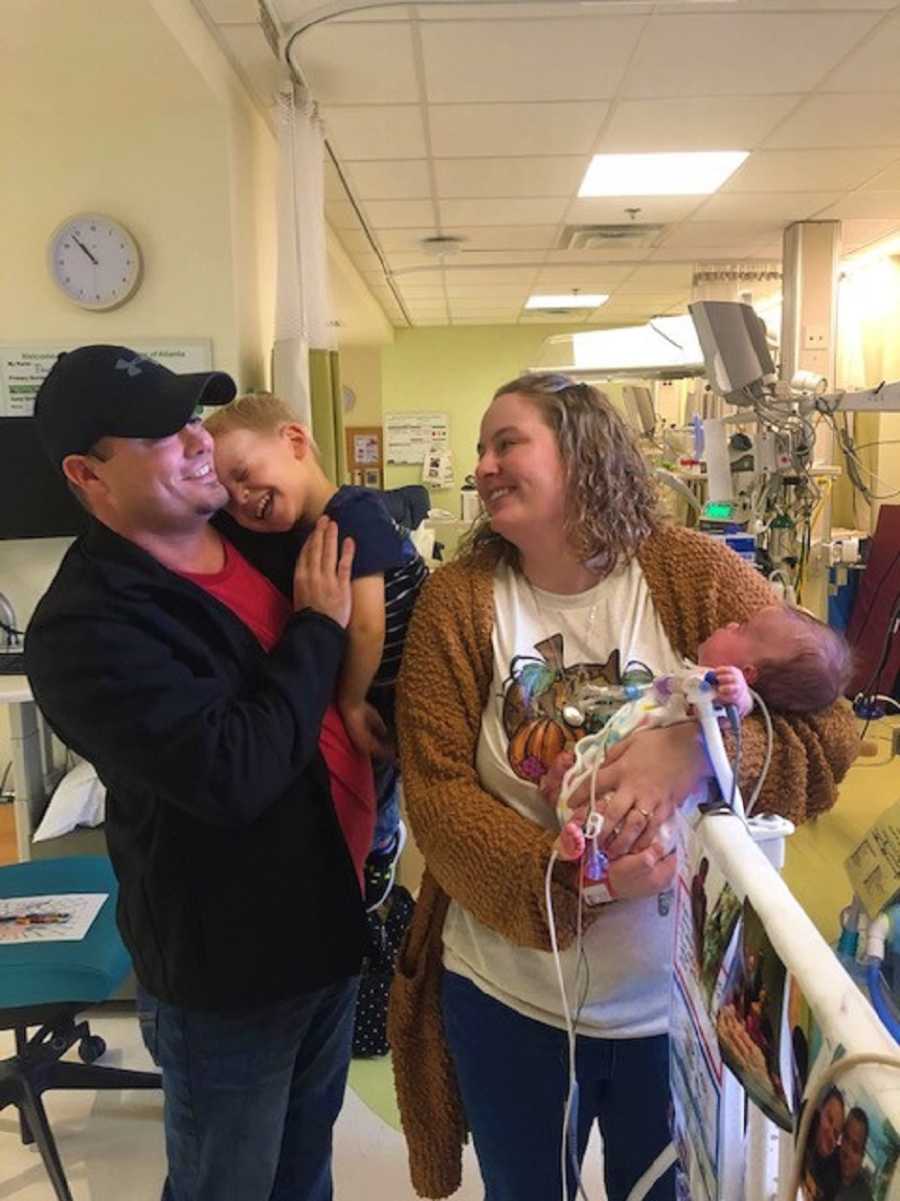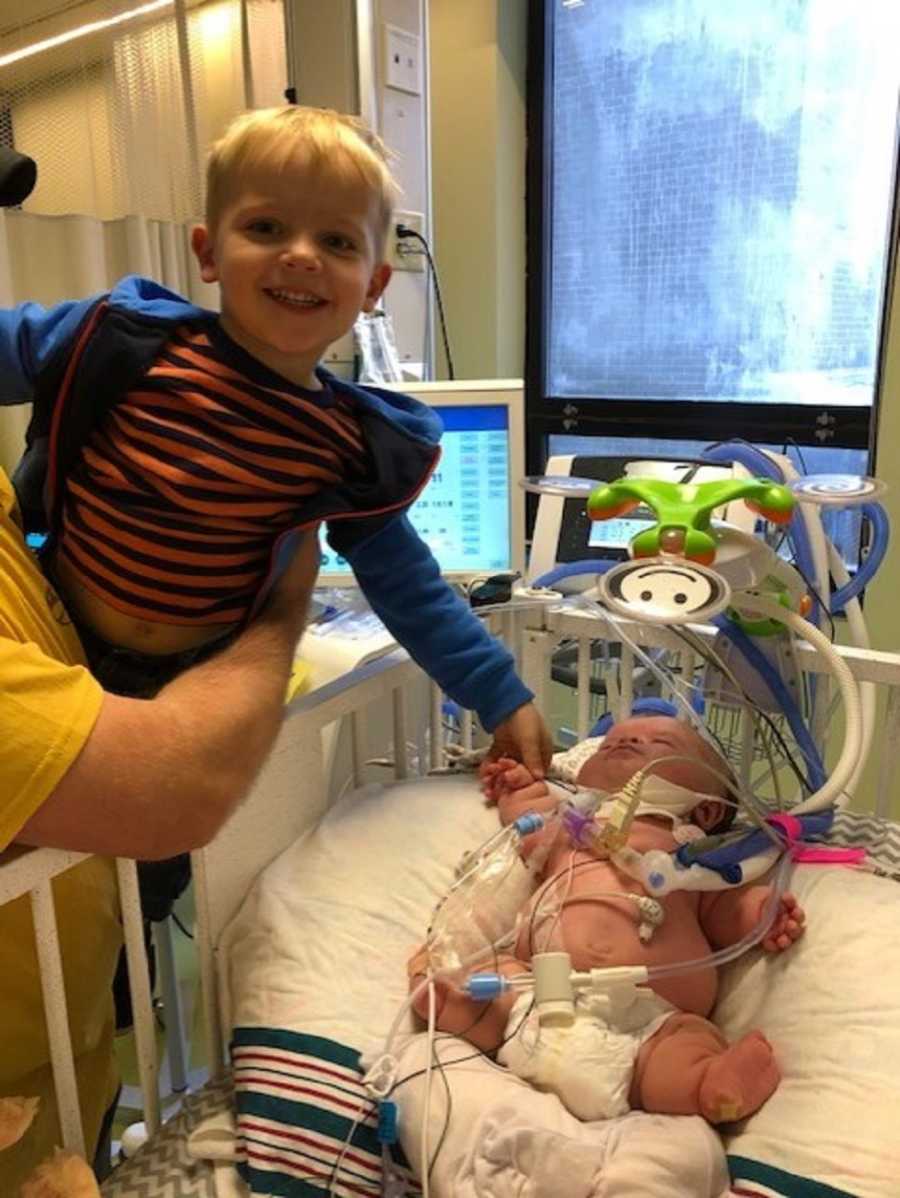 This story was submitted to Love What Matters by Melissa Courson of Atlanta, Georgia. You can this journey on Facebook and Instagram. Submit your own story here, and be sure to subscribe to our free email newsletter for our best stories, and YouTube for our best videos.
Read more stories of hope and love here:
'Something is wrong with her brain…' I was wailing, screaming. 'What does that mean?!': Mom births rainbow baby with Spina Bifida after 3 pregnancy losses, 'She is a twice-born miracle!'
'We were given a pamphlet. Everything said 'lethal'. My boy had other plans.': Baby with Osteogenesis Imperfecta 'makes his own rules,' defies all medical odds
'It's nothing. Don't worry.' She had abnormal, starry blue eyes. A checkup for a mild cough changed our lives forever.': Mom births baby with Williams Syndrome, 'genetic disorder or not, we will love her more each day'
Do you know someone who could benefit reading this? SHARE this story on Facebook with friends and family.