"I cried in the fast-food drive-thru today.
It totally caught me off guard.
My day had been fine, just an average day up to that point.
And yet something so simple flipped a switch.
A woman with her 3 kids crossed in front of my car.
A boy and a girl, walking and holding their cups, and her pushing a stroller with a baby.
That's what did it.
I obviously know nothing of this random woman's life.
She probably has her ups and downs, her challenges, her struggles.
But to me at that moment, she looked so carefree.
I let my emotions continue to feel what they were going to feel.
Why did this bring out so many emotions?
My mind drifted back to February 2020.
We had just publicly shared my pregnancy.
I was one of those people so excited to be pregnant.
I was excited to show off my pregnant belly, to hear my dance students excitedly ask me questions about how big he was each week, excited for the baby shower.
And then the world shut down.
The rest of my pregnancy wasn't typical; health-wise, I did just fine.
I took up extra walking and YouTube yoga.
But there was none of that excitement around the end of my pregnancy.
We celebrated over Zoom. I barely saw my parents.
I felt cheated during my last trimester with everything I missed but told myself, 'It will be fine when he gets here.'
But that doesn't look like what I pictured either.
I don't think any pregnant person dreams of the future and imagines countless therapy appointments, setting up g-tube feeds, and watching seizure after seizure.
Now don't get me wrong, as I write myself a pity party, I love my child to pieces.
Everything I do, I do for him.
He's Wilson, I accept him and his disabilities and love him as he is, but do I wish I could take his biggest challenges (like epilepsy and GI discomfort) away?
Absolutely.
Our life has become our new normal.
We navigate through and take our joys and push through our struggles.
But every once in a while, I forget about the rest of the world and what 'normal' looks like to everyone else.
And then I become shocked by seeing someone taking her 3 kids out to eat…with no feeding tubes or special equipment."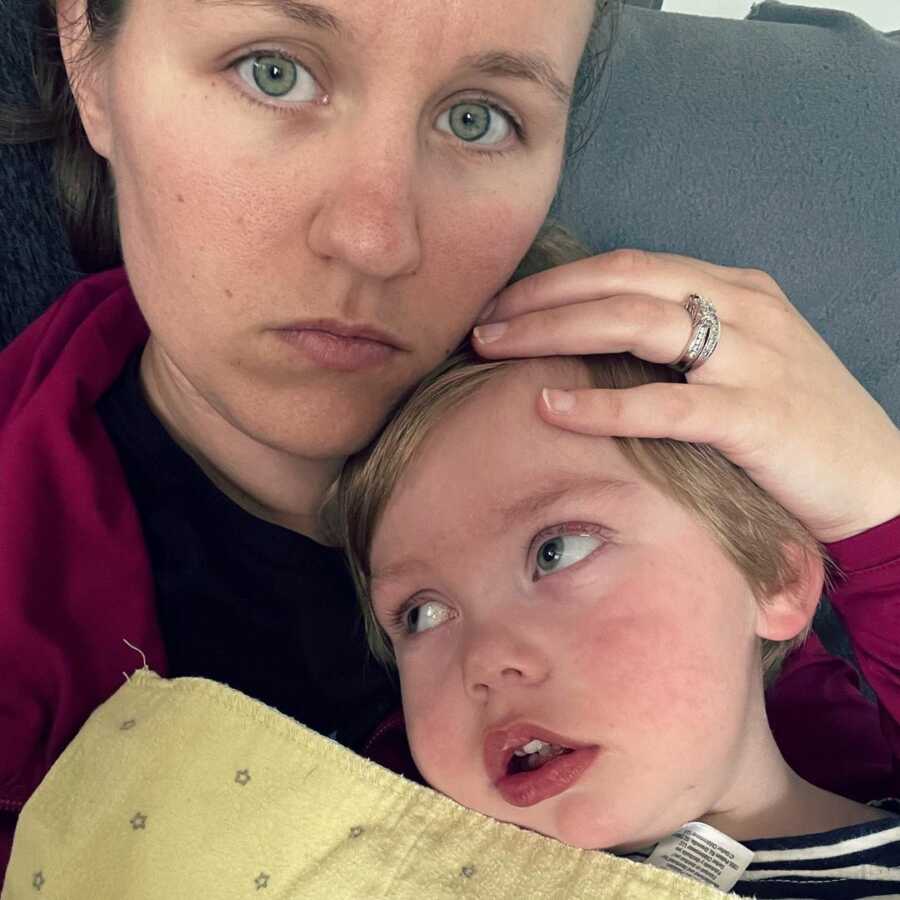 This story was submitted to Love What Matters by Heather. Follow her journey on Instagram. Submit your own story here. Be sure to subscribe to our free email newsletter for our best stories, and YouTube for our best videos.
Read more stories from Heather here:
All I Want For Christmas Is My Child To Smile In A Photo
Infantile Spasms Are Terrifying, But You Are Not Alone
Showers Are Not My Self-Care Time
Read more stories here:
'Sometimes I'm afraid to talk about the extra. The extra challenges, the extra hardships, the extra care a child with a disability needs.': Mom shares touching moment with special needs son, advocates for acceptance
Do you know someone who could benefit from reading this? SHARE this story on Facebook with family and friends.