"Boozhoo (hello), my name is Hannah Geauvreau-Turner and my Anishinaabe name is Waasaagonabiik. I am part of the Lynx clan. I am the daughter of an Indian day school survivor, my mother Yvonne, and the granddaughter of a residential school survivor, my Koko Lucille. In the Ojibway language from where I grow up, we say Kokum or Koko to our grandma. I am from Ojibway First Nations from Onigaming First Nation on Treaty 3 territory in Ontario but have roots growing up in Peru. Even though I am not that old, I have gone through a lot in a short period of time. I am currently 25 years old – turning 26 this August of this year.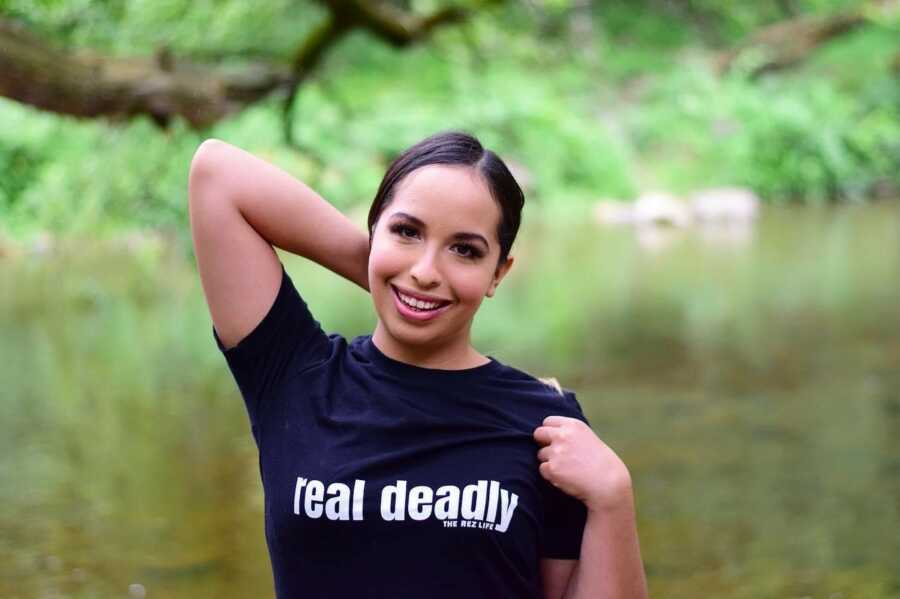 My story will start in Northern Western Ontario, on my First Nation reserve called Onigaming where I was born to a First Nations mother and a non-native father with a Ukrainian-French background. Growing up, I had a very happy life with my family and my mom was so loving and had the most beautiful smile and welcoming energy. I practiced ballet around 4 or 5 years old, very young. I remember my mom would always braid my hair younger and she would tell me stories. I remember going blueberry picking with my Koko and my Koko would always tell me traditional stories on walks too. I loved going swimming in Crow Lake. Crow Lake has the best water on my reserve. My Koko and mom would fry or bake the best Bannock with the best naboop (soup). My life changed drastically when my mother suddenly passed away.
I first learned about my culture growing up on the reserve I am from, as well by heritage connection, speaking with my mother and koko growing up.
My mother was a talented professional singer, she loved especially singing country music. My mother was also a pipe carrier. She had been off work with her health issues for a while and I remember her being constantly in bed. She had multiple health issues. She then took a turn for the worst and an ambulance was called. She passed away on the way to the Fort Frances Hospital in July 2004, when I was 7 years old. I remember when I was in the living room, I heard her call my dad's name and he went running upstairs and I heard him making phone calls. My brother and I were dropped off at my friend November's house who was my neighbor at the time.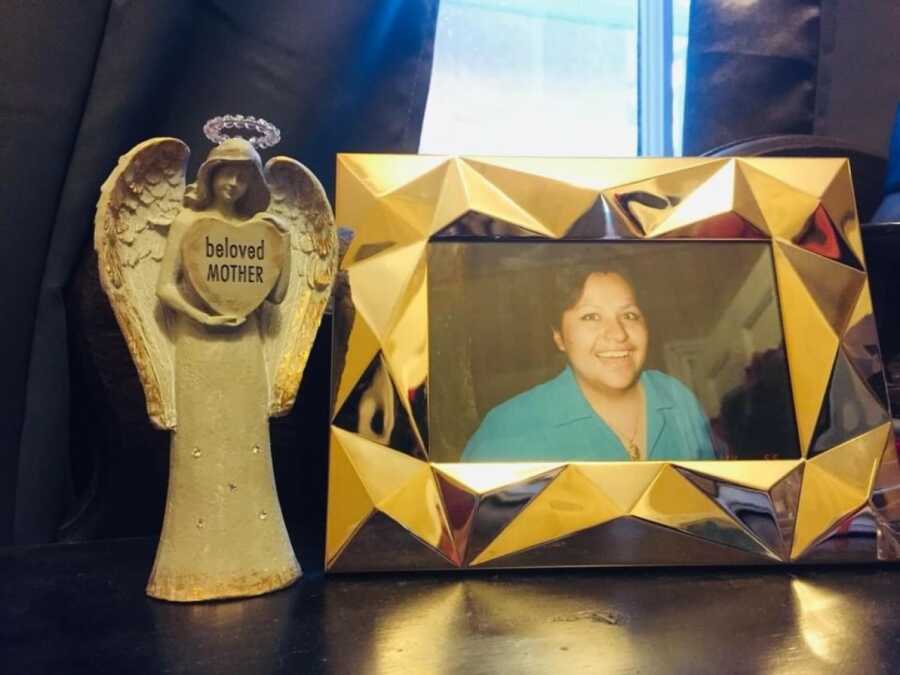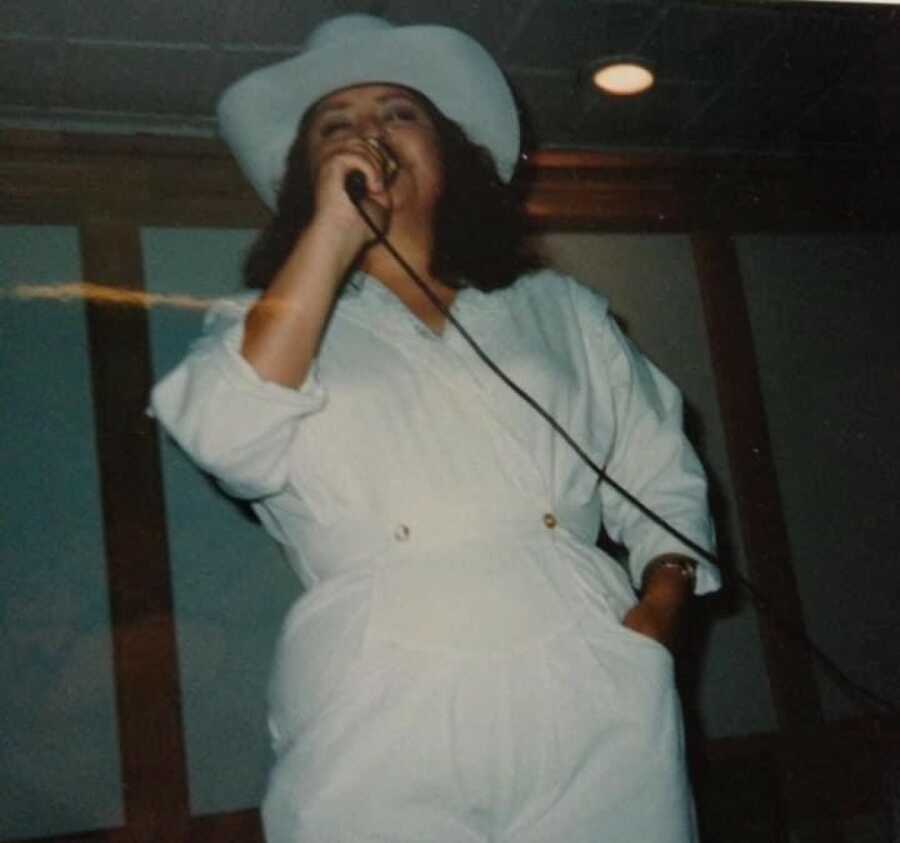 The next day I was told, 'Your mom is an angel now.' I ran to my bedroom upstairs to grab the sweater she had last gifted me to cry into. It was very shocking and sad to know my mom was gone. The time after my mom's passing was not nice or easy. There was tons of grief. It's okay though because she is with me in spirit. My mom passed away from Meniere's disease, which causes nausea and dizziness that complicated her medication intake, as well as having other health complications.
Less than a month after my mother's passing on August 11, 2004 is when I found my first eagle feather. It was on my path when I was walking towards my mom's grave one day. In my culture, they are sacred and given to us. I still have that eagle feather today and it's part of my medicine bundle.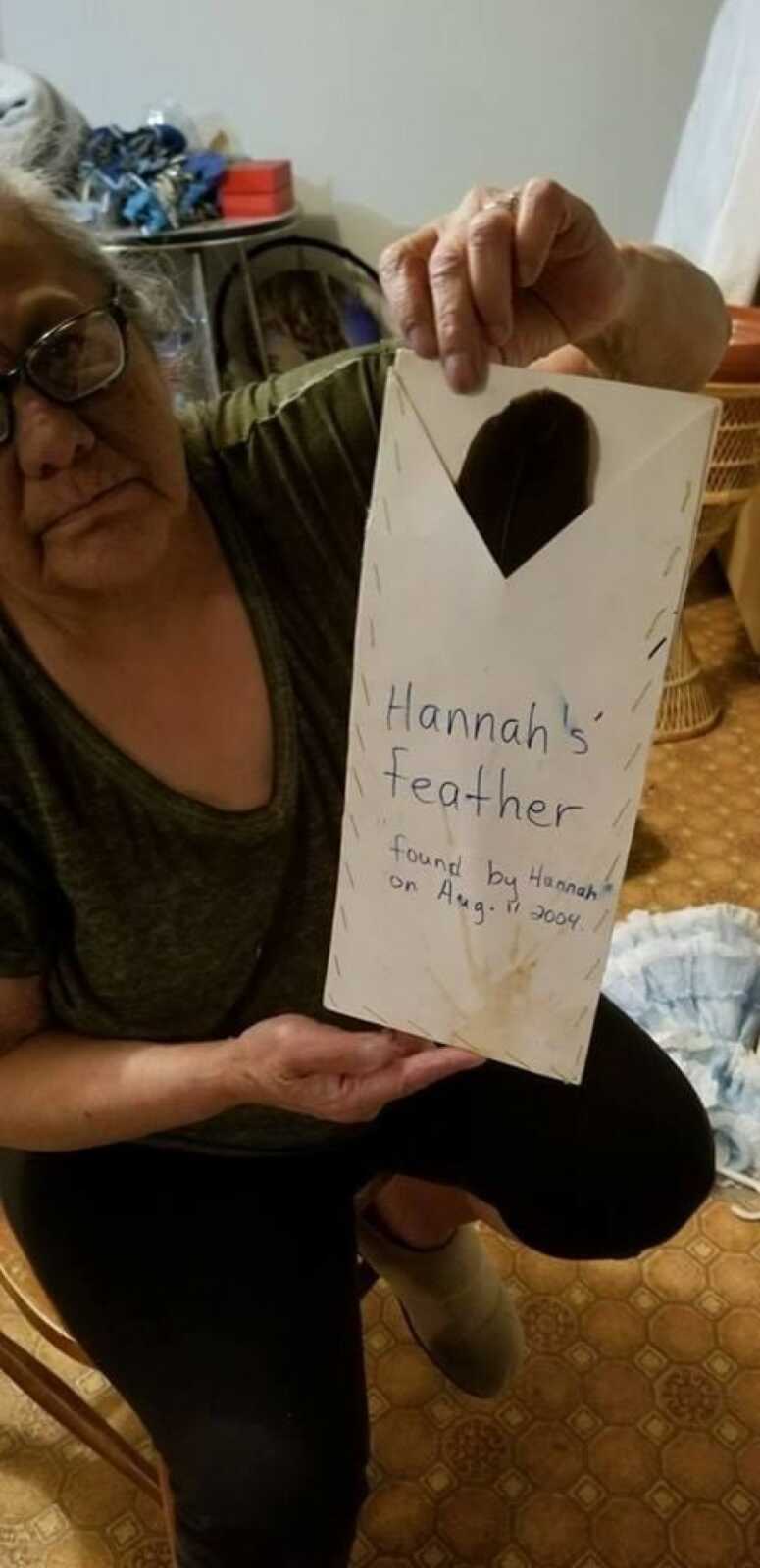 At the age of 12, I moved to Peru with my brother and Dad. Moving to Peru was a different experience for me, as the culture and food were so different. I really liked the food but couldn't understand the language of Spanish at first. I went to school for a while and later continued with home-schooling temporarily. Growing up from a young age between fourteen and fifteen years old, I wasn't aware of what intergenerational trauma was at all. I found out the hard way through experiencing hardships at a young age.
I started working at a very young age, as well due to stuff I experienced younger. I wanted to start a routine and start focusing on myself – on my own life. I started working less than a week after surgery at a restaurant when I was 15 years old that sold Peruvian 4 soles menu and ceviche. I was finally making money for myself on my own and the owner and their wife were supportive. One day, this band called Retromix started to play live music at the restaurant to entertain the people. They were very kind and ended up hiring me as their promo model. So, I would go with them to their radio interviews and other venues they played at. At this point, I was fluent in Spanish and could communicate well in the two languages. The music band treated me like family and made sure I ate well always.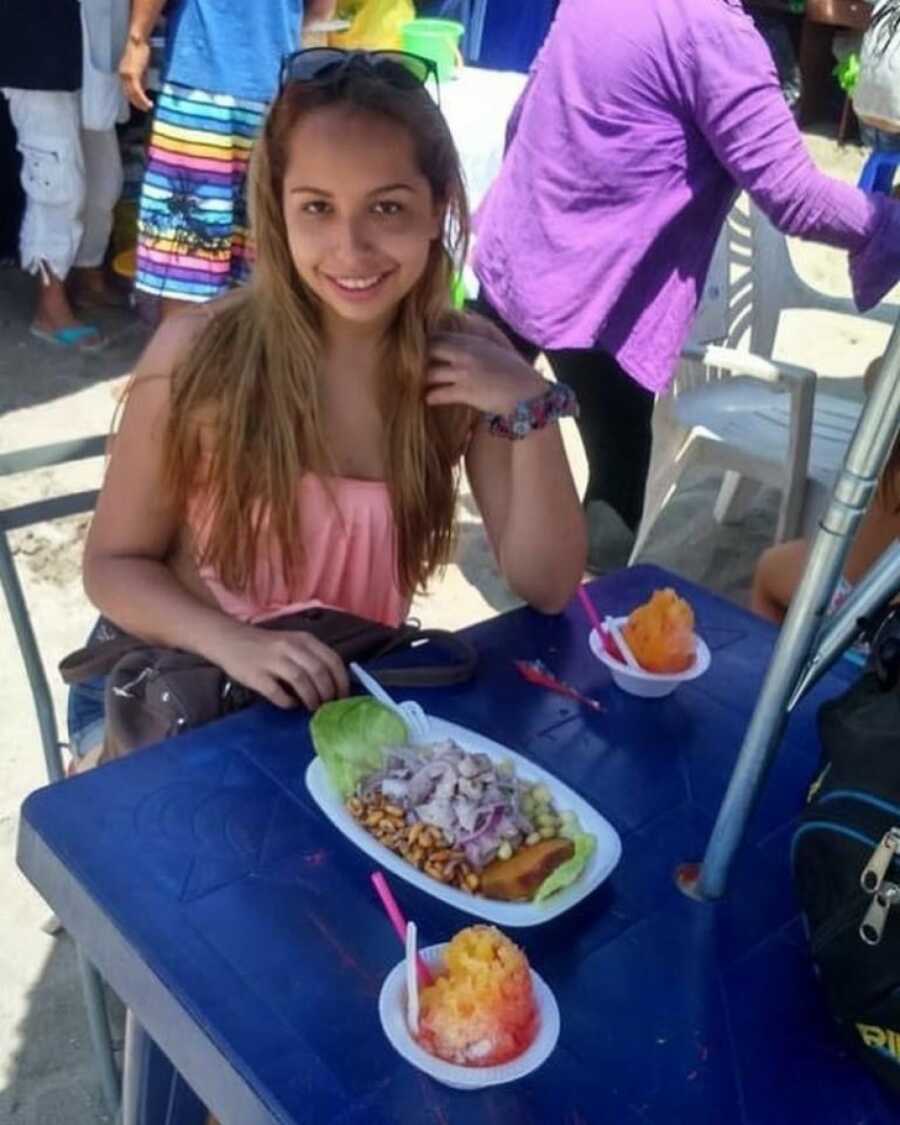 At age 17 I started to do more promo modeling for different companies and later moved to the capital city of Peru, Lima, with my dad and brother. I continued to pursue modeling full-time but started to go to runways and photoshoot castings. One of the first castings I went to was for a bridal company (Novia Real). They sold wedding dresses and wanted 4 models for a photoshoot for a magazine. I was selected as one of the models for this photoshoot casting. I was later featured in different photoshoots, TV appearances, and in the magazine Caretas.
Furthermore, within my modeling career, I decided to go into the pageant world. I met Marina Mora through the modeling school; she prepares Misses. I represented Canada in 2016 as Miss Teen Model Canada in Miss Teen Model Internacional 2016 in Ica, Peru which was televised. I was sponsored my dresses by Nina Lasak and they were able to provide me with a beautiful fully beaded dress in the representation of my Indigenous heritage that includes lots of beadwork. Later in 2017, I represented Canada for the second time, but within the Miss category in another pageant. My mother Yvonne was who inspired me to go into the pageant world. She represented my community Onigaming in 1985 in a pageant and was the second runner-up.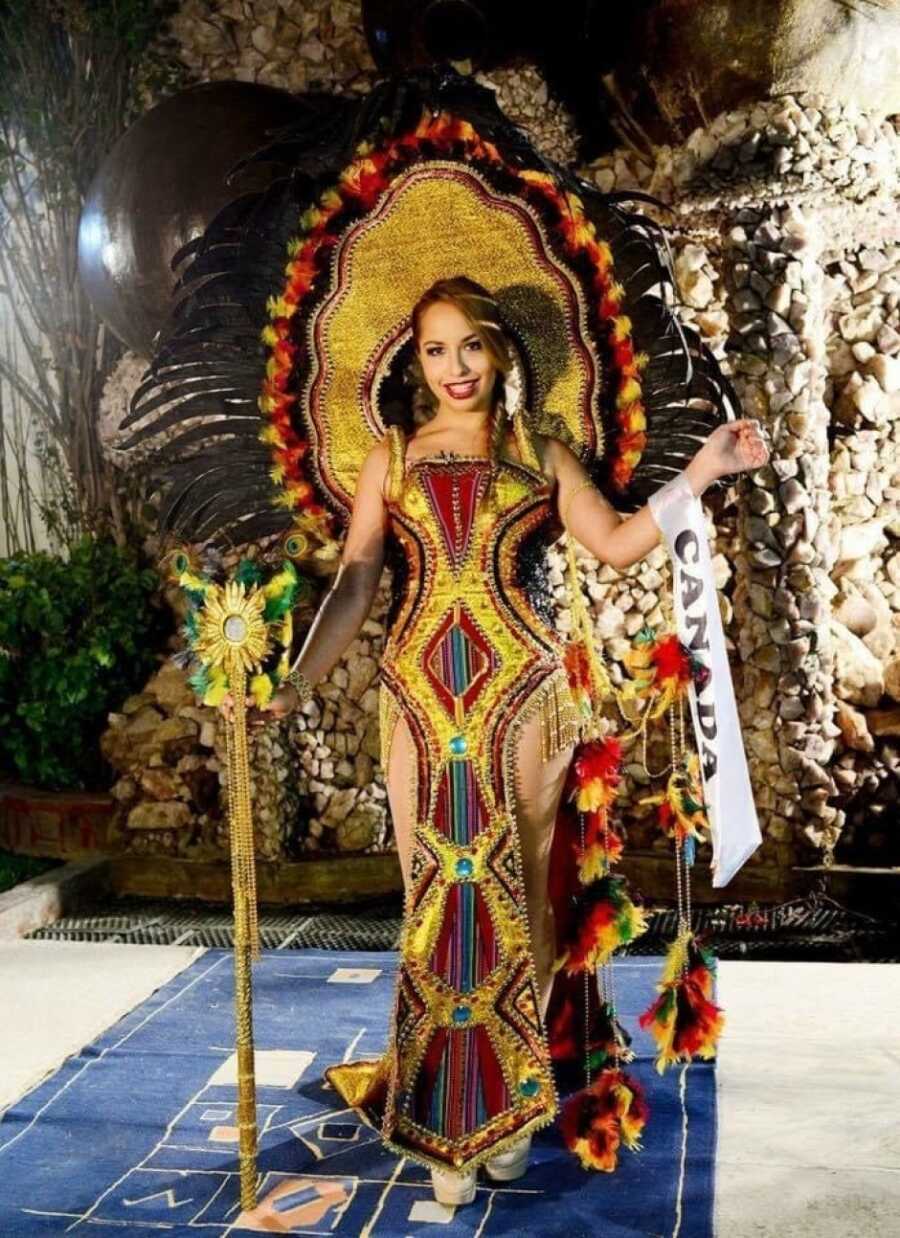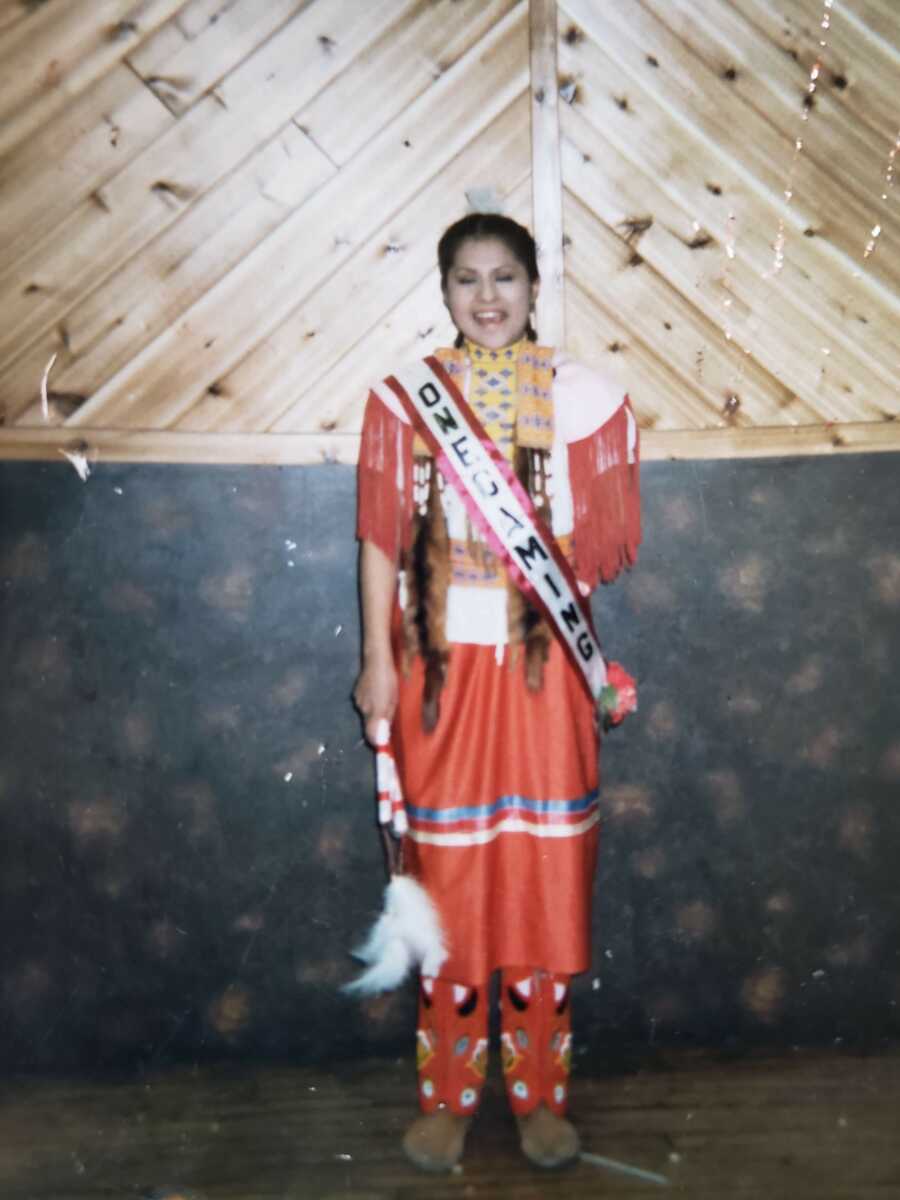 Later; I started teaching English to children full-time at different schools, as well as interpreting thanks to my bilingualism at some business events. When I went through some hardships prior to my return to Canada in December 2019 – my brother that year was dealing with life-threatening health concerns – I was the only person available to go with him home to Canada at the time. I thought of my brother before myself during that whole period. I remember my brother asking me to promise him I would get him home in time. I told him yes without knowing how I would make that happen. I only knew I had to and needed to.
After coming back to Canada in December 2019, I applied and became a National Ambassador of Hope for the We Matter Campaign that focuses on Indigenous youth life promotion and mental health. I dealt with depression and anxiety as well as grief. So, I had personal experience and wanted to be able to share my story with other indigenous youth or support/give back in some way. I feel sharing my story of hardships and being transparent about my journey is positive towards other Indigenous youth who are also going through intergenerational trauma.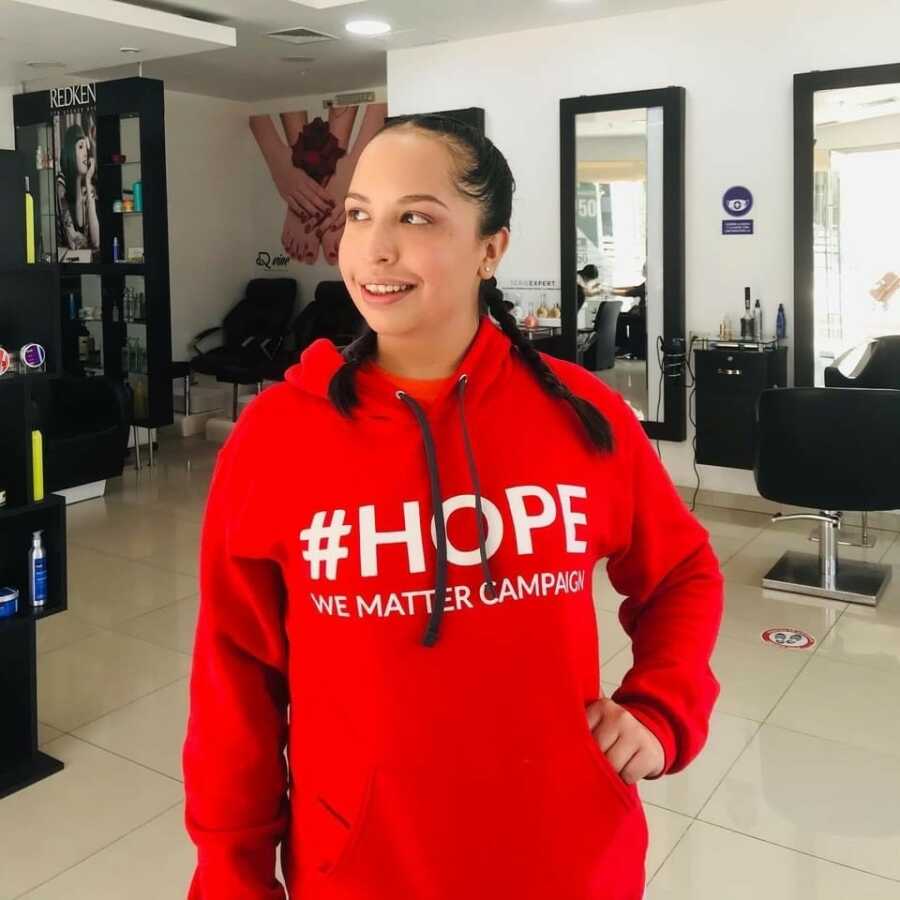 I also decided to further my education, despite having never gone to high school. I went through the upgrading's, applied as a mature student, and successfully entered my program of study at Conestoga College. While previously I only had a grade six level education. I received awards as well for my educational success and later decided to switch to part-time to finish, to be able to dedicate myself to my work and advocacy. I continue to model as well in my free time.
The hardest part of dealing with every day I guess is remembering to put time for myself. As someone very empathetic, sometimes I help others too much and forget about myself. I really didn't always have friends or family nearby for support – until I got back to Canada really. I appreciate and love my Canadian friends who are also like my family. As well as my Native Tiktok community family and friends. I also love and appreciate my friends and those who were like family from Peru.
My biggest support system during this time previously to returning to Canada was my ancestors, spirituality, and faith towards knowing my mom was still looking after me – that she was there in spirit. I didn't really look for advice until later in life at age 19-23 and even then, I would always keep to myself.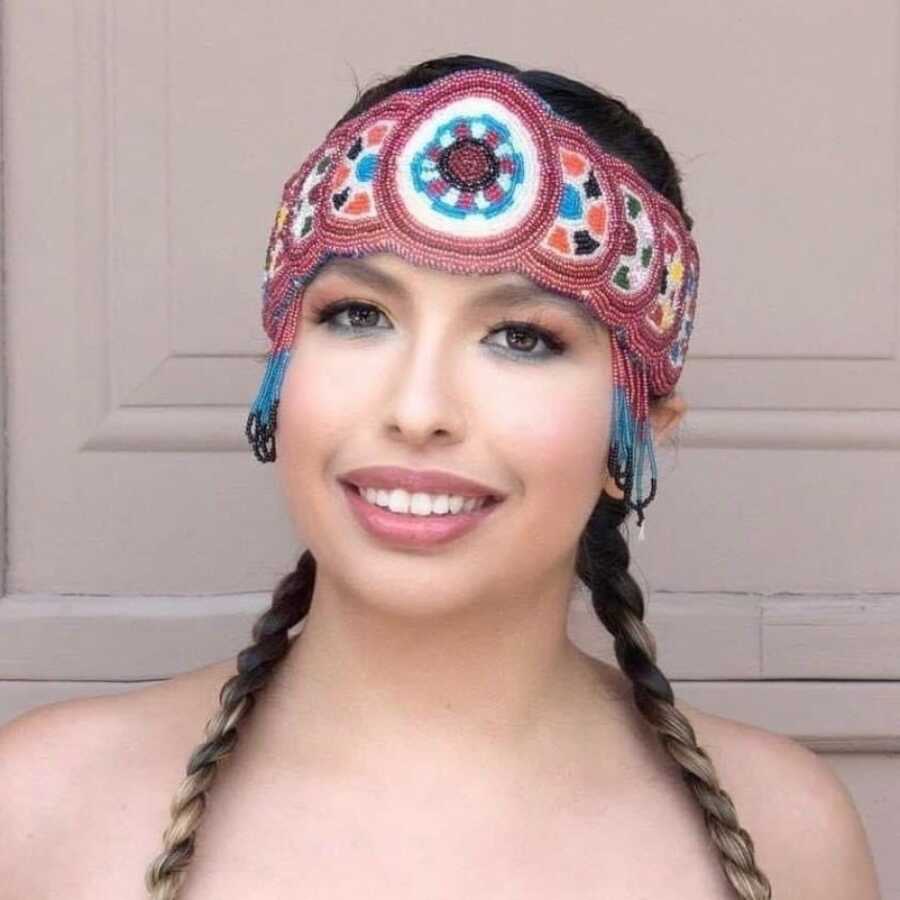 Things are going much better currently for me. 5 years ago, I didn't think I would be where I am currently. I want people to know that despite what you go through, always look forward.
I struggled a lot during this journey and now have a different perspective on life having lived half my life in Peru. I value life in Canada much more – that is for sure. Life in Peru is much tougher compared to Canada. That's why I have strong work morals and ethics as I am very dedicated and value what I do.
After returning to Canada, I decided for some reason I needed to turn 25 years old in Peru. So, I traveled there for my Birthday last year in 2021, and I ended up getting hospitalized for 11 days and had my gallbladder removed down there. It was a journey, a great experience overall, despite my health concern that resulted in the hands of very amazing health professionals. I had a speedy recovery and was able to enjoy my stay despite this and later returned to Canada a couple of months later.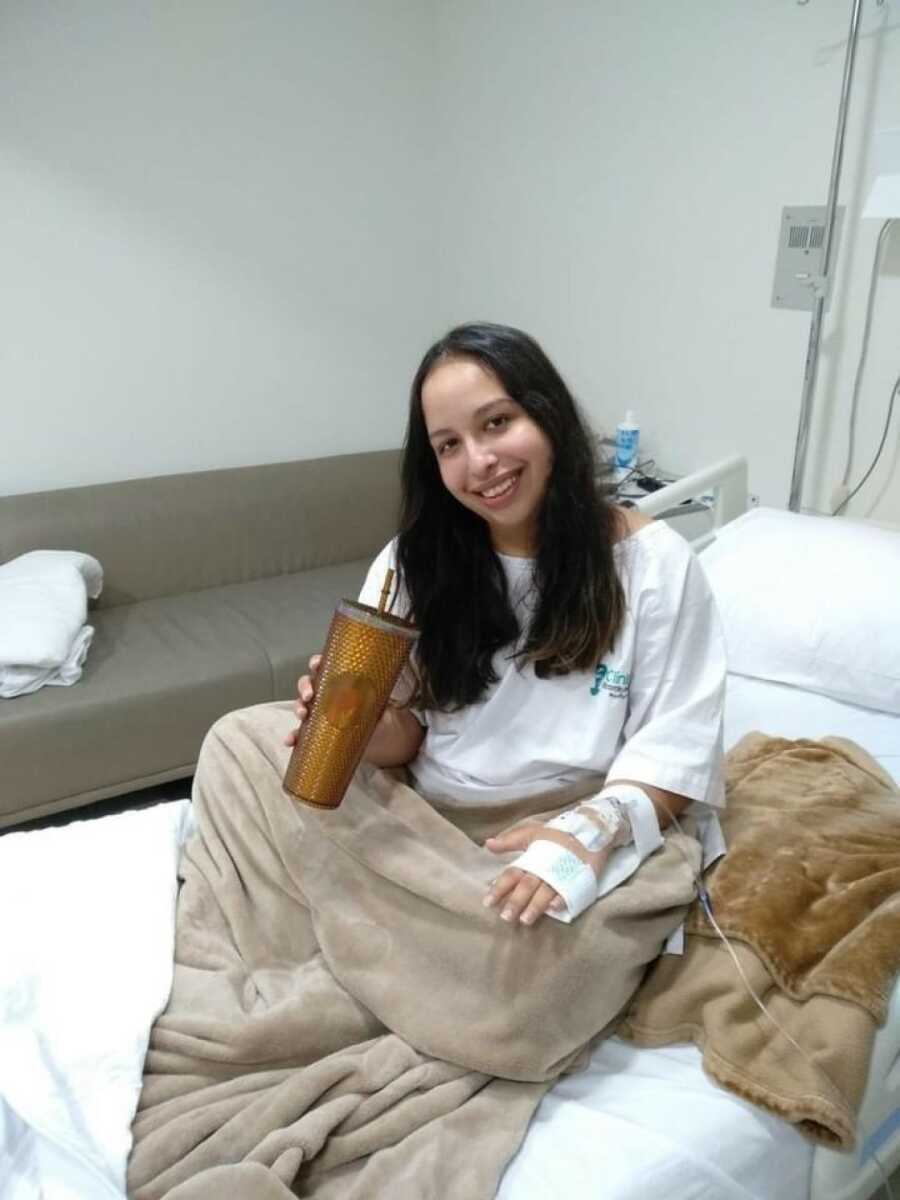 Now I am in Canada. Currently, as of 2022, I am an Indigenous Human Rights Advisor, Office Administration student, and Indigenous youth advocate for mental health and harm reduction. My day-to-day life currently is super busy.
The beaded crown I am wearing in the photos attached was my Mother Yvonne's. My Koko Lucille hand-made, beaded this beaded crown over 25 years ago. My mom wore the beaded crown when she represented Onigaming younger, and my Koko saved it for me all these years. It is our family heirloom and will be cherished always and be passed on to my daughter one day."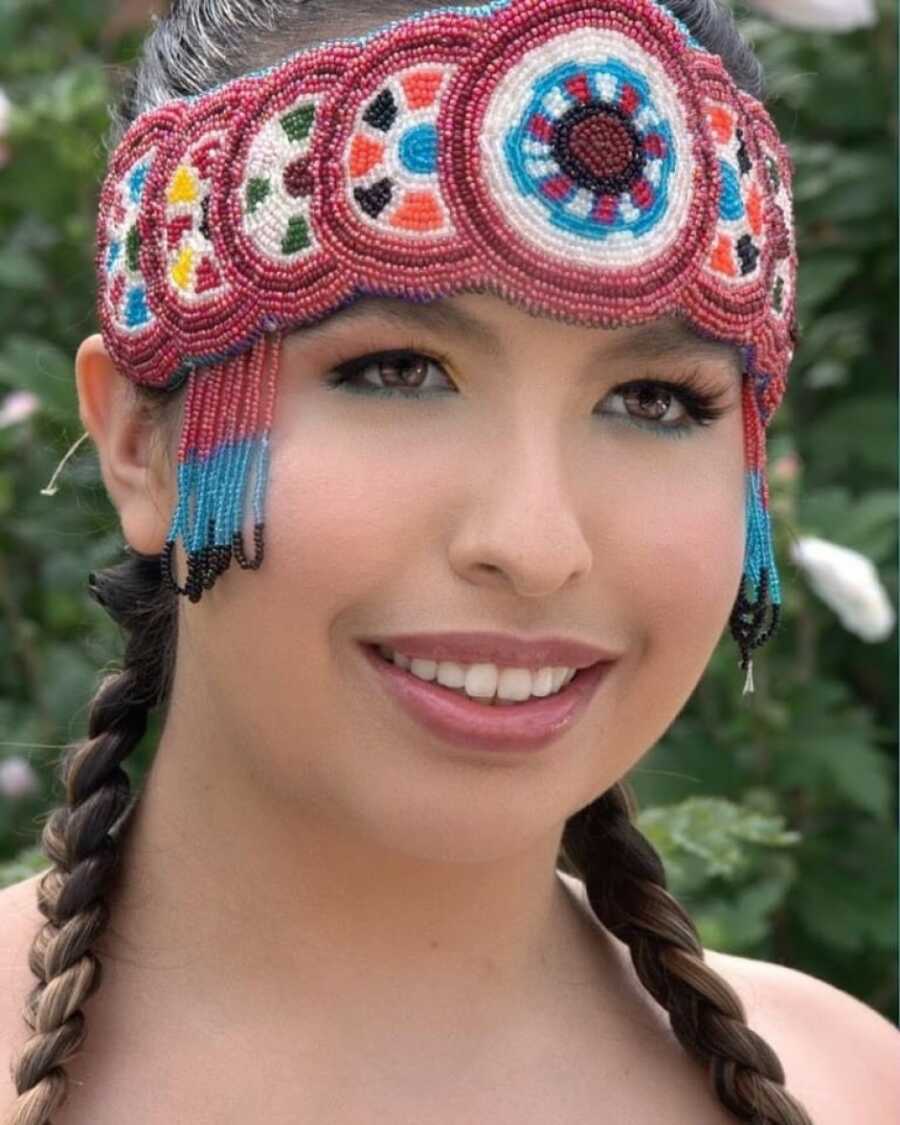 This story was submitted to Love What Matters by Hannah Geauvreau Turner. Follow her makeup artist and photographer on Instagram. Be sure to subscribe to our free email  newsletter for our best stories.
Read more stories like this:
'We could barely scrounge up enough change for a McDonald's hamburger for us and my 2 kids. 'This isn't who I am!' I screamed.': Mom overcomes mental abuse, addiction
'I was shackled to this infant while my fiancé escaped to his 9 to 5 job. Her arrival spun me into a fear I'd never known.': New mom copes with the reality of motherhood, 'Most days I could barely get past my mailbox'
Help us show compassion is contagious. SHARE this beautiful story on Facebook with your friends and family