Growing Up Best Friends
"We grew up as neighbors in a small Connecticut town. The apartment complex we lived in, behind 135 Shawn Drive, was tight knit. One lady was the neighborhood baby sitter, another the neighborhood cake baker. Any parent could discipline you and we would empty an entire box of popsicles to our friends on grocery day. We always got in trouble for it, but our parents never stopped buying the boxes either.
It was everything 80's. We played 7up, red rover, kickball, and tag until the streetlights came on. At night we would hang out in the 'breezeway' learning and singing songs like 'Puff the Magic Dragon' led by Al, one of the neighborhood dads. It was an imaginative childhood, and she was my best friend. Two grades apart and at different schools, but home is where the heart is, right?
I remember both of us collecting the 'vintage' strawberry shortcake dolls and comparing which one of us had which ones, smelling all the goodness that exuded from them and never fades. (What was that stuff anyway?) We played cabbage patch dolls and spent many sunny Saturday's with a plugged in boom box that barely made it out of the front door, making up amateur dances outside to Madonna's 'True Blue' and Cindy Lauper's 'She's So Unusual' cassette tapes. Then, teaching the younger kids in the neighborhood made-up recital routines that parents could come outside and watch before the sun went down. She taught me how to loop tie 'Eastlands' properly and how to fold the bottom of my jeans, you know…the 80's way.
She was the first person I knew who had a step-parent adopt them and, while it was sort of 'hush hush' back then, she shared that and other secrets with me. I remember wishing upon stars I would have a step dad who would adopt me someday too, or even my own father for that matter. From the swing sets and see-saws, we challenged each other on to the bikes we rode around the parking lot. I have so many great memories of her.
Reconnecting Before Her Passing
My last childhood memory with her was right before she moved. I got my 7th grade middle school schedule and she was heading into high school. I was nervous about public school, changing classes, and meeting new people since I had always gone to a small private school. Sitting on her back porch, I remember her explaining to me how the class schedule we called 'periods' back then would work. There were 8 periods a day, and grades were divided by color. I was on the '7th grade yellow team.' I remember her telling me that team had good teachers and reassuring me I'd be a pro at classroom changes before the first week ended…and I was.
Her parents bought a house, and she moved across town shortly after that. Life took us in different directions even in that same small town, and our paths didn't cross again until Facebook happened. I was so excited to 'find' her again. We caught up a few times, and I learned she had gotten married and had two beautiful girls. We exchanged memories and phone numbers. Soon after our few virtual reunions though, my mom called me and let me know she had passed away, unexpectedly. My mom had heard something about an undiagnosed heart condition. I never got any more details, but my heart was sure crushed. I felt like a piece of childhood left with her. Sure, I have the memories, but without her to reminisce about them with, they never quite feel the same.
A Special Visit
It's been years now since her passing and I think of her often. Taylor Swift's song '7,' a song about her own childhood friend, instantly takes me back to Shawn Drive and sharing fairytale dreams and adolescent secrets with my own dear friend. Then the other night, for the first time ever, I dreamt of her…Nicole. She was standing in front of me and said, stern but lovingly, with a pointed finger, 'You do so much for others it's time you stop waiting and do it for you!' I know exactly what she's talking about, it's been heavy on me for awhile. Too much responsibility really is the sum of it and I keep putting myself to the wayside, the back burner, at the end…just last.
Friendships aren't as numerous as they were when I was younger, and admittedly I keep a small circle. Hearing from a real, true, lifelong friend brought me to tears this morning. It didn't matter where she was 'calling' from. She was there when I needed her, with advice I needed too. I heard you Nicole, loud and clear. I'm on it, I promise. Thank you friend! Thank you for the wake up call, for reminding me I GET TO. Thank you for being the friend I remember you as many moons ago and thank you for colliding our worlds last night even if it was only for a short moment to show me there are times when heaven really is a place on earth, a place on earth just like our favorite Belinda Carlisle song told us.
'When I feel alone
I reach for you
And you bring me home
When I'm lost at sea
I hear your voice
And it carries me
In this world we're just beginning
To understand the miracle of living
Baby I was afraid before
But I'm not afraid anymore
Ooh, baby, do you know what that's worth?
Ooh heaven is a place on earth
They say in heaven love comes first
We'll make heaven a place on earth
Ooh heaven is a place on earth'
~Belinda Carlisle, 1987″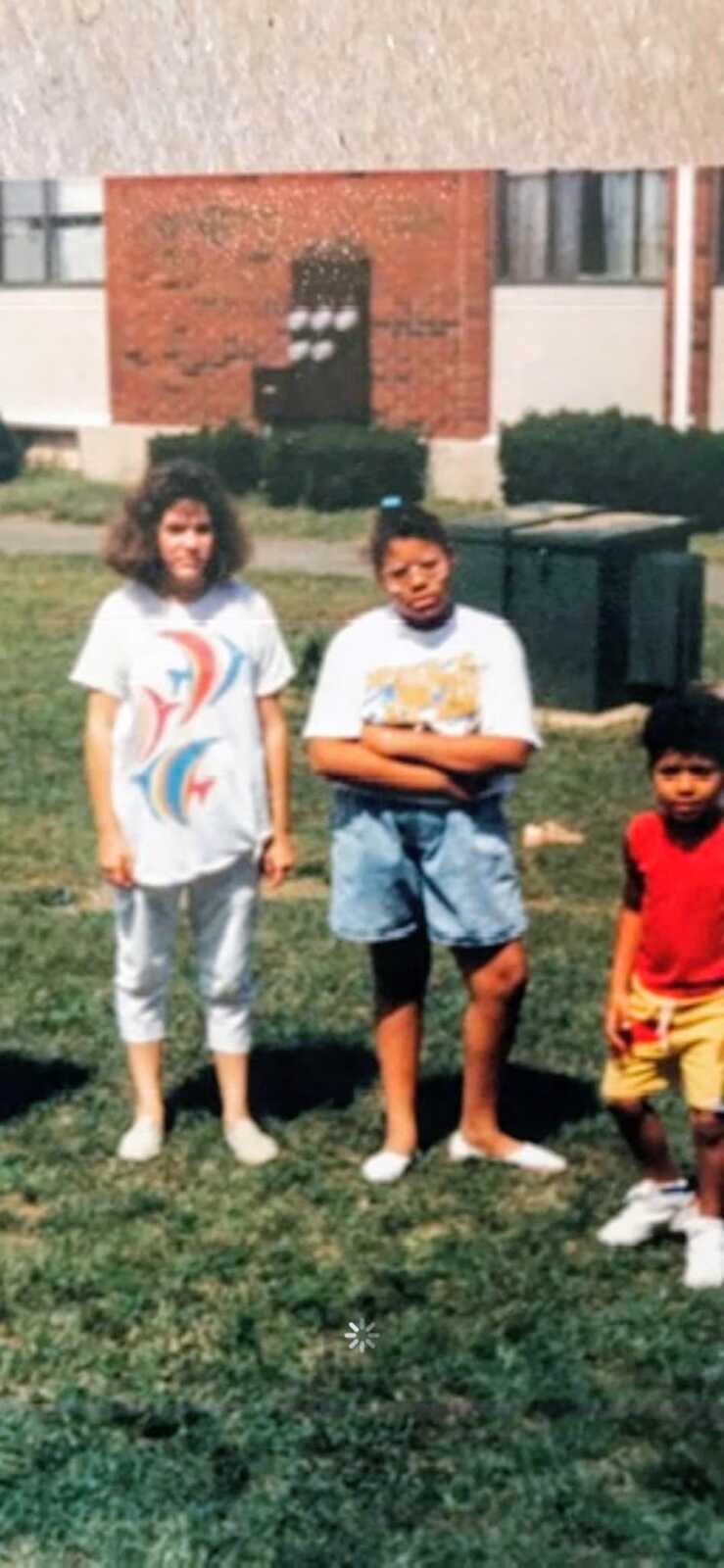 This story was submitted to Love What Matters  by Tia Hawkins from Virginia Beach, VA. You can follow her journey on Facebook and  Instagram. Be sure to subscribe to our free email newsletter for our best stories.
Read more from Tia here:
'This life is not for the faint of heart, but for those full of love.': Military wife shares whirlwind love story, motherhood journey through husband's 13 deployments
'I have a 13-year-old daughter most people only think about twice a year — the day she was born and the day she died.': Mom shares raw grief on anniversary of daughter's passing
Have you or someone you know experienced the loss of a loved one? Please SHARE on Facebook to let them know there is a community of support available.