Disclaimer: This story contains mentions of suicide loss which may be upsetting for some. 
"It's been three years since my beautiful 33-year-old daughter took her life. Three long years since my daughter, who became my very best friend, felt it was 'time' to stop being a burden.
There was a 'perfect storm' in the early morning hours of February 11, 2019, Dani just could not get past. Just one moment in time, that if somehow we could have gotten to her, everything would be different.
Dani was a professional, successful, beautiful, life-changing woman for so many people. She was a mentor, an incredible sister to her five siblings, a problem solver, an empath, a loyal friend, a faithful and supportive daughter, a spectacular aunt, a loving granddaughter, and her love language was 'gift giving.' Even in her death, three years later, she continues to give to so many of us!
Our family started a non-profit days after we lost her, to help other families that may be going through this or to help someone rethink taking their life. We educate, empower, share resources, advocate, and help break the stigma of mental health challenges, including suicidal thoughts.
Our organization, 33 Forever, Inc., is an extension of Dani's dream and I feel, because of all the positives and life saving results that have come from this, I should somehow be 'better' today than I am. My husband and I speak at schools, community clubs, and suicide groups. We both serve on mental health organization boards, suicide prevention organizations, etc. We have a wonderful endowment in her name at the Behavioral Health Immediate Care Clinic at Ohio State University that would never have happened if not for the incredible support and love of our family, friends, community, and beyond.
My husband and I host a local weekly tv show with so many diverse guests to bring awareness, hope, resources, and promise to our community, called 'Sparking the Conversation.' I have a blog that helps me process so much. I have the support and love of so many around me; too numerous to mention and so incredibly comforting.
Our family has worked so hard to keep Dani's legacy alive and not let 'suicide win.' Yet, my anxiety (especially when her wing day approaches), is overwhelming, painful, and an awful reminder of what it took for Dani to leave this world. What horrific pain she must have been in to make that final decision to end her life. It had been a decision which she had regretted after past attempts and, ironically, at the time of her death, she was working toward another career helping young high school kids realize there is hope for their future, the 'moment' will pass for them, and to keep fighting no matter what it takes.
Sadly, it didn't pass for her that night. The flashbacks can still take my breath away. Her two puppies, the absolute loves of her life, were right with her when she died. Their trauma must have been terrible, too. My heart breaks and I know I will never be the same.
So, how am I today, you ask? To borrow the words of one of my favorite podcasts, I am 'terrible, thanks for asking.' And for some reason, I just needed to share 'the other side' of my happy face where I can shout and scream that this is unfair, it plain sucks, and this isn't supposed to be how my life would turn out. To lose a child, in the beginning of her prime, when she had so many dreams to fulfill and so many lives yet to touch, is a journey no one should have to take.
I know so many of you feel the same. Life isn't fair. I have suffered from the 'Pollyanna Syndrome' my entire life… it always happens for a reason, etc. After listening to many professionals and seeking a reason deep in my heart, I have learned there may be no reason for this or any tragedy. Some things cannot be explained away. God didn't 'need' her more. He loved her on earth just as much as he does in heaven. Having other kids does not make it 'easier.' Which one of your kids would you sacrifice? All the 'words of comfort' people share with me to try and make sense of the insensible, to make me feel better for my loss, often are just background noises that get lost in the pain.
Without a doubt, so much good has resulted from our loss of Dani. Between speaking engagements, fundraising, meeting with others who are walking through this same unexplainable heartbreaking journey, and hearing the testimonials of hope and recovery from our story, I am forever grateful. Thankfully, my strong faith has never wavered. Faith may be one of the only constants that has kept me sane over these past three years – faith and my family.
As time moves forward, the pain, emptiness, numbness, and loneliness of this journey I walk is still unimaginable, unwanted, unwelcome, and heartbreaking. I pray, still, one day soon, I will wake up from this nightmare and my beautiful Danielle will be laughing her phenomenal, contagious laugh, texting me a kissy face and saying, 'I'm fabulous, Mom! You don't need to worry about me. Let's set a wine date for tonight so we can catch up on everything! I have so much to tell you….'
In another life… my love. Keep the wine chilled for me."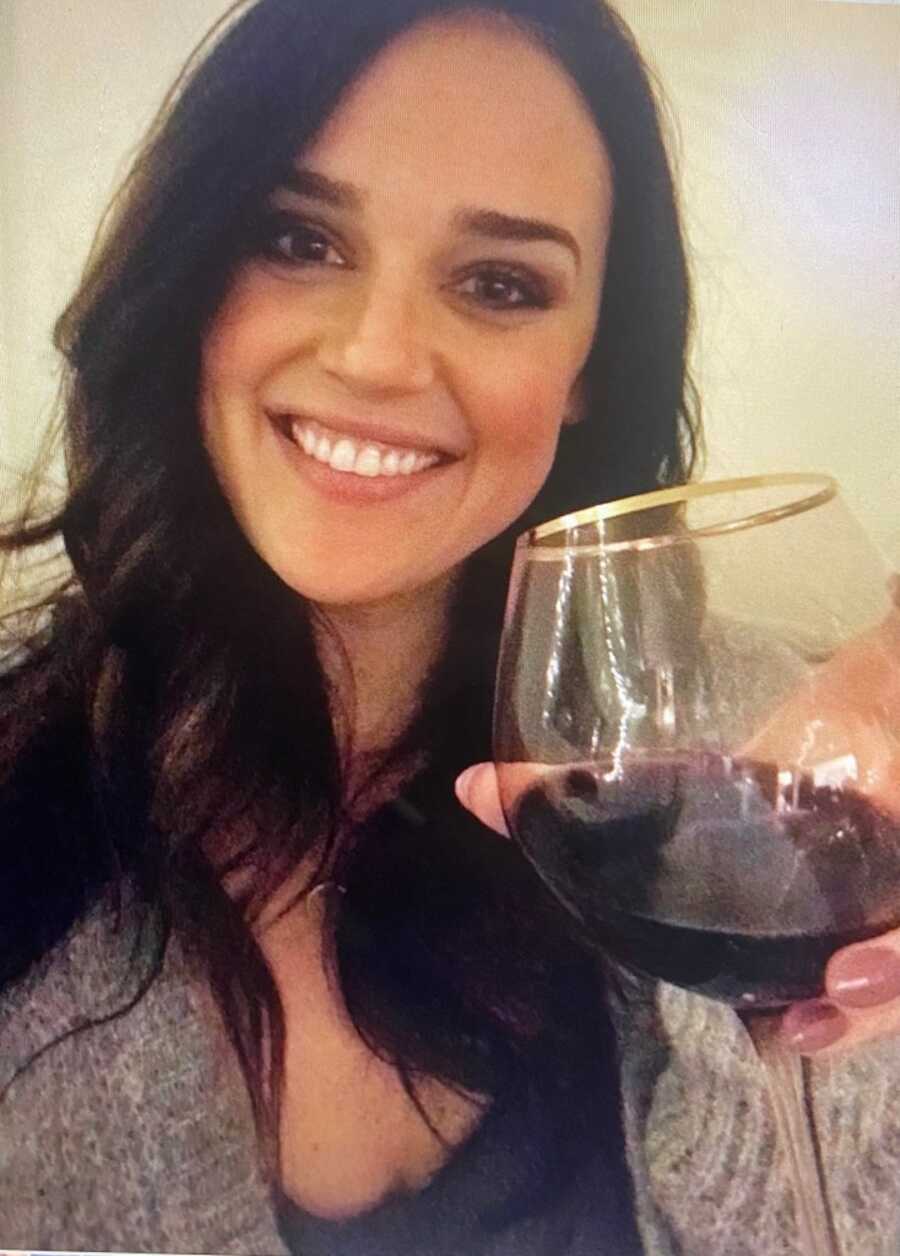 This story was submitted to Love What Matters by Donna Mencini Heck from Mansfield, Ohio. You can follow her journey on Instagram, her blog, Facebook, and her website. Submit your own story here. Be sure to subscribe to our free email newsletter for our best stories, and YouTube for our best videos.
Read more from Donna:
'Attending the funeral of a 24-year-old was so scary. Little did I know, 9 years later, it would be my turn.': Mom of daughter lost to suicide shares advice for others grieving
I Wondered How I Could Do Forever When I Couldn't Make It Through Today
'Your child's graduation or wedding day is a painful reminder our child's day will never happen.': Grieving mother pens letter to friends of bereaved parents
Spread awareness for suicide prevention. SHARE this important story on Facebook and Twitter.