"Here's a story about a homemade cake.
Have you ever wanted to give your kids the world, but you cannot afford to?
That's me.
Being a single mom is tough. Living in this world is tough. Everything is so expensive that I've contemplated selling a kidney.
I wish I were like those who can say things like they will 'never give their kids second-hand stuff,' or that their children get 'new bikes every six months.'
But I can't afford it, and neither can my ex.
So we are cool with hand-me-downs. We love hand-me-downs. We will ride our bikes until they don't work anymore, and then we will work towards buying another one, but it might take a while.
And when my (ex) father-in-law finds a bike on the side of the road and repairs it for my kids, it's like Christmas for our kids.
I used to look on social media and think that meant my kids were missing out. That it meant I was failing. I see other people proudly say that they'd never let their kids wear cheap clothes or second-hand stuff.
Because they missed out on things as a kid, I thought that made me think I needed to work three jobs, just to give them something with a price tag. I never got designer stuff as a kid. I actually don't even remember what I wore as a kid. Just some cute outfits that I have photos of.
And that's why this is a story of a cake for my James' 4th birthday. The boy who loves Spider-Man.
A cake that I wanted to buy, that I was going to buy, was going to be $180. I just got paid and I was ready to get it. But then the shop said there was a muck up and I'd have to wait 7 days.
So instead I used the money to buy balloons, decorations, some toys, and of course, some stuff from the supermarket so I could make the best Spider-Man cake I could.
I knew it would suck. I can't even pipe a cupcake. But I wanted it to be amazing. I wanted that for my son.
The guilt killed me.
But you know what my three kids said to me about the cake – as they watched me decorate it?
My oldest said, 'This is the most amazing cake ever.'
My middle said, 'Wow you are really good at this mommy.'
And the birthday boy said, 'Thank you for my Spiderman cake mommy. This is the best!'
See they don't care about designer s**t. They don't care about the cost of an expensive cake vs a cake I made.
They care about me. The memories I make.
I mean I don't remember having the best of everything as a kid, but I never missed out. But what I do remember is that my mom worked a lot, and I wished she'd be around more.
I remember the good times of childhood, not the 'stuff' and when my kids talk to me about things they remember, or fun times they had, it was never about what they wore, or if their shoes were designer.
It might change when they're older but for now, it's me. It's our memories. It's our time. And I hope they never care too much for superficial things.
And as I cleaned up all the stuff at the end of night I breathed a sigh of relief, and actually said to myself 'you did good mama.'
Because I tried, and I made a goddamn Spider-Man cake.
That looked like absolute s**t but that they thought was the best thing ever and that is the best thing ever to me.
Screw the designer life, our kids just want us. Just us. No need for the guilt."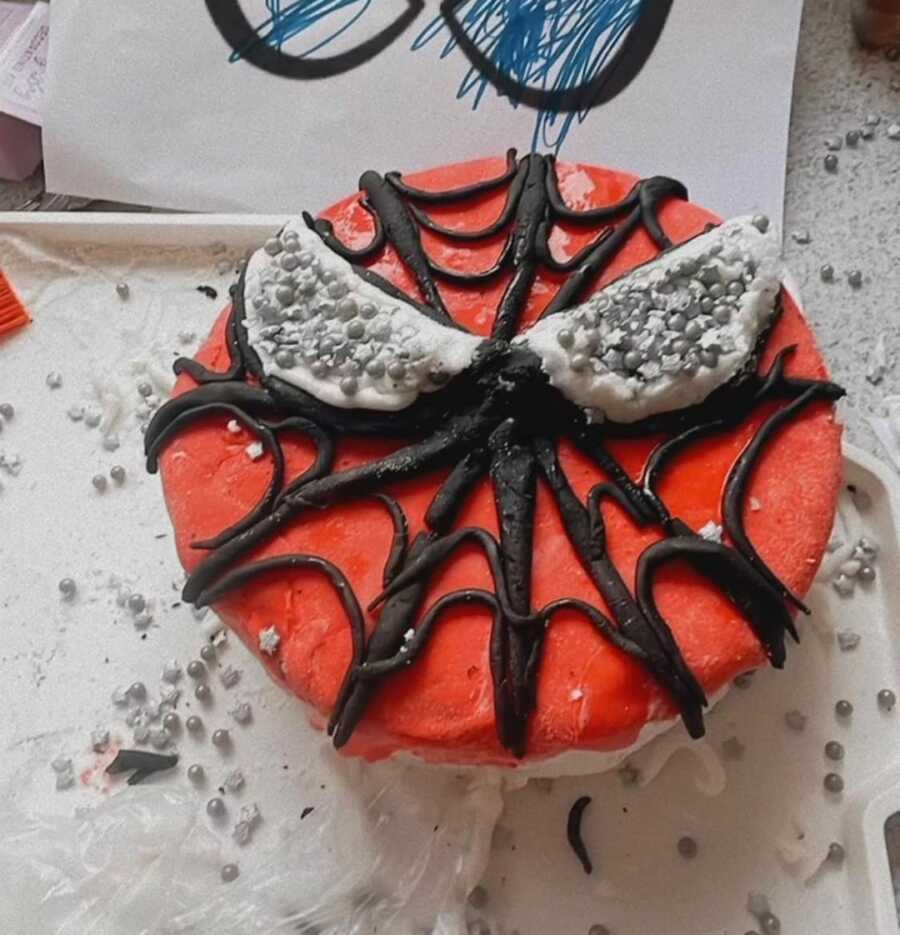 This story was submitted to Love What Matters by Laura Mazza. You can follow her journey on Instagram. Submit your own story here, and be sure to subscribe to our free email newsletter for our best stories, and YouTube for our best videos.