This should be a guide we give to anyone searching to support a loss parent…
Acknowledge They Lost A Child
Some people worry about upsetting a parent by bringing up or acknowledging their dead child. You won't be reminding or upsetting them of their loss. They know their child died, and think of their baby daily. Tell them how much this sucks. It's unfair. No one deserves to experience this pain.
Say Their Child's Name
This is SO powerful and SO important. It will mean a great deal to the parent(s). Not all babies are given names before they die, and if this is the case, it's okay to ask if there is a special name or phrase to use when referring to their baby.
Pro tip: when addressing the envelope and card, include the baby's name along with the bereaved parents.
Allow Them To Grieve
Affirm that it's okay to feel sad or mad. It's okay to fall apart and not be okay. You can also acknowledge that they will never be the same. They lost a child. This will change them. After sending the card, don't expect a response and try to remember that all people experience grief differently. 
Affirm They're A Good Parent
Regardless of the circumstances of their loss, losing a child was in no way their fault. They loved their baby, and would have done everything in their power to protect them. Remind them they are, and always will be, their baby's mother, father, or parent, and that will never change.
Listen To Their Story
When they're ready, tell them you would love to hear about their baby. Ask them to share details of their birth story, photos of their baby, memories, or experiences they had. It's important to treat them in a similar way to a parent who birthed a living child – ask how much their baby weighed or what time they gave birth. 
Things To Avoid
Don't offer platitudes like "everything happens for a reason" or "heaven needed another angel." These might seem like helpful sentiments, but they can be deeply hurtful in the aftermath of a loss. Try not to compare their loss to any situation you may have experienced. Don't put any expectations or a timeline on their grief. Avoid saying things like "Give it time; you'll feel better," or "You'll get through this; you're so strong."
When in doubt, send the card. Bereaved parents will always remember who acknowledged their child and their loss. And if you still don't have the words to support a bereaved parent, there's a card for that.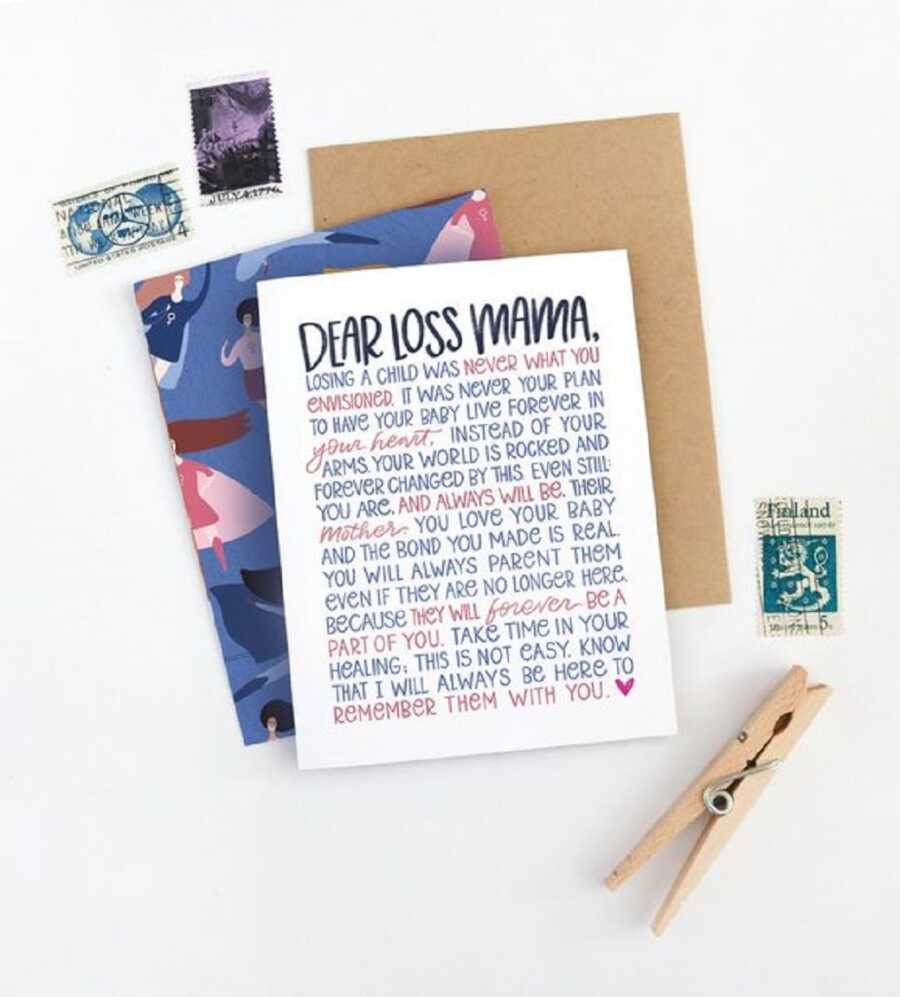 This article was submitted to Love What Matters by Kate of The Noble Paperie. You can follow her on Instagram and visit her website where she sells greeting cards and other paper products for the bereaved and everyone in between. Join the Love What Matters family and subscribe to our newsletter.
Read more stories like this: 
'This Thanksgiving, I refuse to share what I'm 'thankful' for. Grief and gratitude can sit at the same table.': Mom of child loss abstains from holiday traditions, 'I'm still grateful, but bereaved'
'Neither of us wanted to speak. Could today be the day our baby dies?': Bereaved mother shares surviving child loss
Do you know someone who could benefit from reading this? SHARE this story on Facebook with family and friends.