Thanksgiving is a time of gratitude, delicious food, and quality time with loved ones. Engaging in Thanksgiving traditions is the key to creating lasting memories during the holidays. When you're in a relationship, you have the opportunity to start new traditions and there's something really special about that. 
If you're looking to strengthen your bond and deepen your relationship this Thanksgiving, here are eight traditions you can start this year that will bring even more love and joy to your celebration.
1. Bake Dessert
Thanksgiving isn't complete without tasty desserts. Challenge yourself to bake a new dessert each year or choose something you both love to bake annually.
As you work side by side in the kitchen, the laughter and conversation will flow freely, deepening your bonds and creating a sense of togetherness and teamwork. Plus, the reward of enjoying a homemade dessert at the end of the meal is simply unbeatable. 
2. Watch the Thanksgiving Parade
One of the most iconic traditions of Thanksgiving is watching the Macy's Thanksgiving Day parade. With giant balloons, elaborate floats, marching bands, and dazzling performances, there's not only plenty to watch, but it could create an opening for conversation to learn more about each other and share stories. 
The parade is a great way to kick off the day, setting a festive and cheerful mood for the rest of your Thanksgiving celebrations. Grab a cup of coffee, cozy up under a blanket together, and enjoy the magic of the Thanksgiving parade.
3. Watch (or Play) Football
Football is another classic Thanksgiving tradition and you can choose how you want to engage in it. If you and your partner love some healthy competition, watch the Thanksgiving football game and root along for the teams.
Or, let your competitive sides come out with a light-hearted game of football outside. Whether you play just the two of you or with family and friends, it's a great opportunity to see each other in a new, playful way. 
4. Go Hiking
If you and your partner are the outdoorsy types, experience the beauty of nature and the crisp autumn air by starting a Thanksgiving tradition of going hiking. Whether you choose a nearby trail or venture out to a national park, hiking before or after Thanksgiving dinner offers a chance to reconnect with nature and each other. If you're surrounded by family members, it can be the perfect way to get some alone time on the holiday.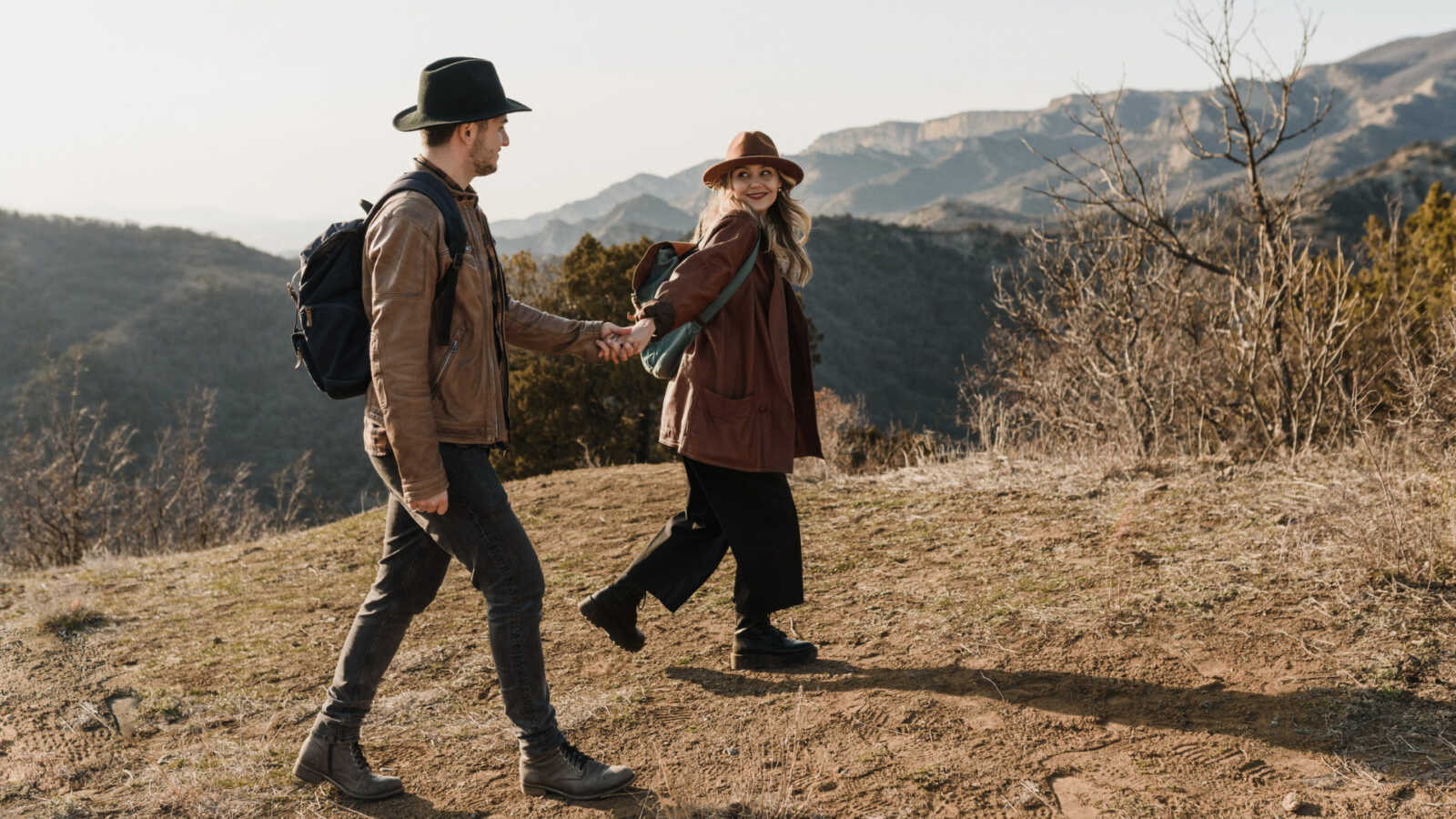 5. Volunteer Together
For couples who are passionate about service work, there's no better time to volunteer than on Thanksgiving. Working side by side to make a difference in the lives of others creates a sense of unity and purpose that is truly heartwarming. By volunteering together, you not only create lasting memories but also instill a sense of compassion and generosity in future generations.
Consider serving meals at a local soup kitchen, organizing a food drive, or participating in a charity run. You can choose to do the same volunteer work each year or find something new each time.
6. Host Friendsgiving
Hosting Friendsgiving allows you to put your own unique spin on the holiday, whether it's experimenting with new recipes, setting a themed table, or playing fun games. This tradition fosters a sense of friendship and community that's essential for a healthy romantic relationship. 
For couples with difficult family dynamics where stress is part of the holiday, choosing to engage in Friendsgiving instead can be just the thing you need to find true enjoyment in the holiday. Don't be afraid to break a few traditions to build new ones that make more sense for your lifestyle.
7. Start an Annual Gratitude Journal
Aside from enjoying delicious food, Thanksgiving is a time to remember what you're thankful for in life. While many families often discuss gratitude at the Thanksgiving table, consider a more lasting tradition by starting a gratitude journal. 
Sit together with your partner at the end of the day and discuss the things you're grateful for from that year and reflect on the day. Write it all down so the next year, you can read through years prior. It's a fun way to look back and see how far you've come in your relationship. 
8. Get in the Christmas Spirit
After a day filled with gratitude and togetherness, it's time to get in the Christmas spirit. Thanksgiving is the perfect time to start transitioning from one holiday to the next.
Many people choose Thanksgiving to pick out their Christmas tree. Or, take out those boxes of Christmas decorations, put on some festive music, and start decking the halls. This tradition not only brings holiday cheer into your home but also creates a sense of anticipation and excitement for the upcoming festivities.
Creating cherished memories is one of the greatest ways to deepen your bond with your partner. Starting Thanksgiving traditions can truly help you strengthen your relationship through shared experiences, so get together with your partner and figure out which traditions you want to engage in this season.
This article was written exclusively for Love What Matters by Kate Fann. Have a story of love, kindness, or healing to share? Visit our submissions portal to submit today.
Read more stories like this:
'Eat, drink, be merry, and avoid cousin Mary if she robs your joy.': 4 things to remember this Thanksgiving
I Gave My Kids $7 Each, And It Started A Christmas Kindness Tradition
Do you know someone who could benefit from reading this? SHARE this story on social media with family and friends.