The holiday season is often a time of joy, love, and togetherness with family. However, for those who are experiencing family estrangement, the festive season can bring about feelings of loss, sadness, and even guilt. Whether the estrangement is recent or has been ongoing, navigating the holiday season without close family can be difficult. Luckily, there are ways to create meaningful and memorable experiences during this time, even while maintaining boundaries.
Family Estrangement Challenges
You may feel perfectly content in your decision to estrange from family members. But, when the holidays roll around, you find yourself faced with surprising feelings. Reminders of what you're missing are everywhere from advertisements, social media posts, and conversations about family gatherings and traditions.
The culmination of emotions can make it difficult to escape the feeling of exclusion. Know that you're not alone and that you can take steps to find joy in the community. 
Create New Traditions
One of the best parts of the holiday season is experiencing fun gatherings, cozy traditions, and shared memories. But there's no reason you have to rely on blood relatives to make that happen. Start redefining what the holidays mean to you.
Instead of focusing on what you're missing, embrace the opportunity to do things differently. Consider volunteering at a local charity, organizing a potluck with friends, or taking a solo trip to a place you've always wanted to visit. By shifting your perspective, you can create new traditions that bring you joy and fulfillment.
You can use this time to indulge in activities that make you happy, whether it's baking, crafting, or spending time in nature. Use the holidays as a chance to discover new interests and explore new experiences. Bring along friends who enjoy the same experiences or be open to making new friends. You may even find that you create cherished memories and traditions that are uniquely your own.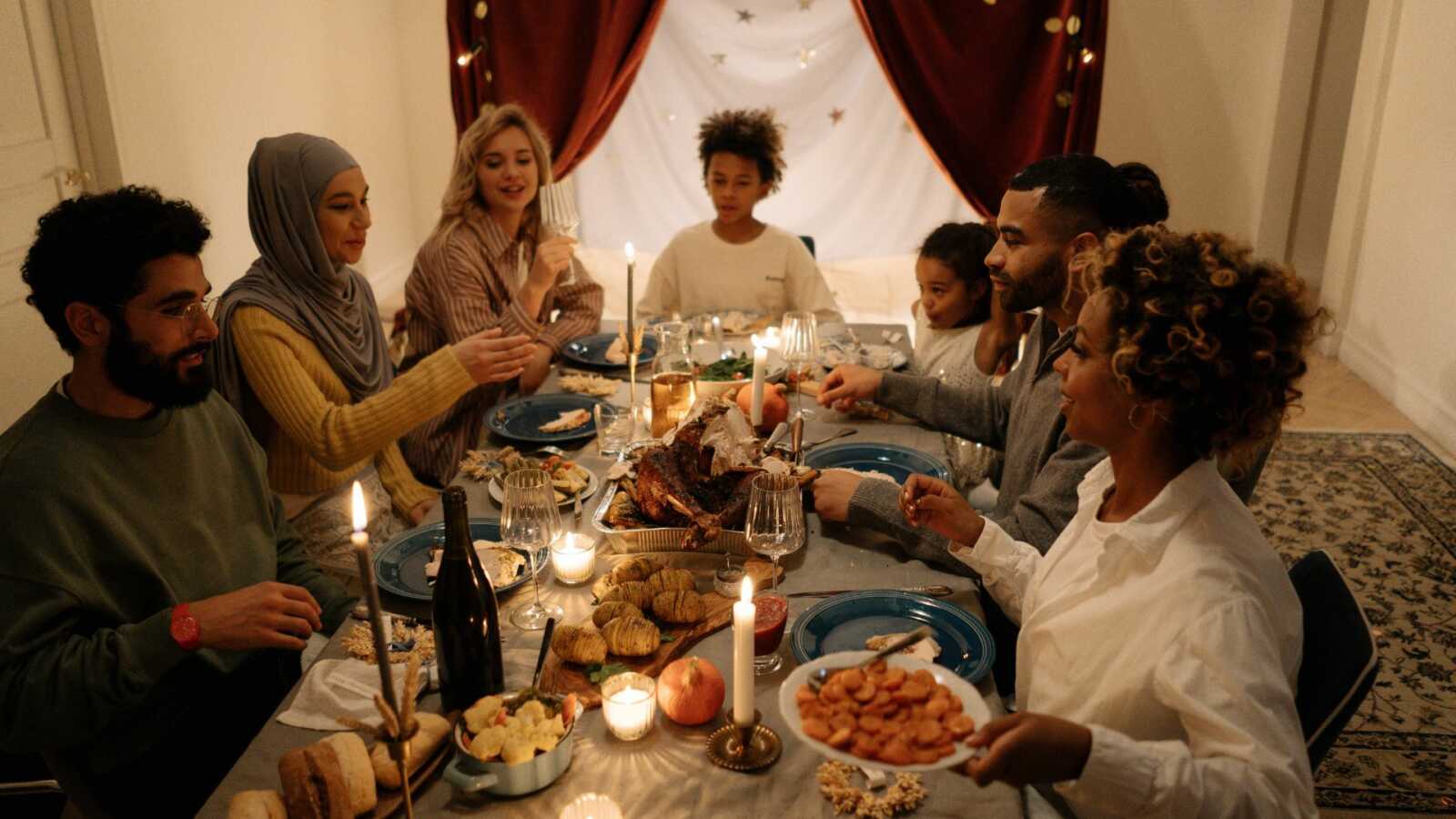 Find Community Support
For so many, the holidays are a time to not just make memories with family but create a sense of community. You may have people in your friend group or community who would be thrilled to have you and your partner or children join in the celebrations.
When reaching out to your extended network, be open and honest about your feelings and the challenges you're facing. Many people are understanding and compassionate, and they may be more than willing to offer a listening ear, words of encouragement, or invite you to join in their celebrations.
Don't be afraid to reach out to close friends, neighbors, colleagues, or even online communities who are going through similar experiences. Support groups are a great resource and can help you navigate feelings of grief or provide support that you're not alone in your family situation. It could be an opening to build your own extended family with others also cutting off contact with family.
Build Healthy Boundaries
How you handle family estrangement could vary from someone else. Depending on your family dynamics, you may have estranged parents or family members who will be around for gatherings you plan to participate in. This can be especially difficult to manage, so building healthy boundaries with family members can be crucial for your mental health.
Assess your own needs and priorities by deciding what you are comfortable with and what you need to feel safe and supported during the holidays. This may involve limiting contact with certain family members or establishing specific guidelines for interactions.
Communication is key for establishing healthy boundaries. Clearly and respectfully express your boundaries to your family members. Let your family know what you're comfortable with and what you need from them.
Be open and honest about your feelings, but prepare for potential resistance or pushback. Stand firm in your boundaries and don't let guilt or pressure sway your decisions. Keep in mind that you can't control how others will respond to your boundaries, but you can control how you handle it. Stay calm and assertive, and be prepared to reinforce your boundaries if necessary.
The holiday season should be a time of great joy. If you're struggling with what to do amid family estrangement, try to let go of any guilty feelings you have. Solely focus on what would bring you and your family happiness during this season and lean into that. At the end of the day, you deserve to create good memories, even if it means breaking some traditions.
This article was written exclusively for Love What Matters by Kate Fann. Subscribe to our free email newsletter, Living Better—your ultimate guide for actionable insights, evidence backed advice, and captivating personal stories, propelling you forward to living a more fulfilling life.
Read more stories like this:
How To Co-Parent Like A Pro During The Holidays 
'I have to say no during the holidays, to the office party, to the Secret Santa dinner ALL my mom friends are attending.': Mom reminds us you don't have to be 'constantly on' during holidays
Do you know someone who could benefit from reading this? SHARE this story on social media with family and friends.