"The only sin you can commit worse than murder is same-sex attraction.'
I was 14 years old, sitting in my Church of Jesus of Latter-Day Saints (commonly known as Mormon) Sunday school class when I heard those words. I remember what I was wearing, where I was sitting, the teacher's blue tie – every detail about that painful 60-minute class.
'Do they know about me?' I remember thinking. 'What will happen to me if they find out?'
This was the early 2000s, and reparative, or conversion therapy was common. The Church didn't refer to people as 'gay' or 'lesbian,'  you 'suffered from same-sex attraction' because it was a 'lifestyle' and a 'choice.'
I realized I was gay a few months before that class. Life was dark. At first, I prayed my feelings would go away. I threw myself into the religion. Then, when I didn't change, I'd just wish I wouldn't wake up the next morning. I lived in fear. I knew I had to leave Utah if I was going to survive and be happy. College was my ticket out. I dedicated myself to my school work and was later accepted to and attended Boston University (BU). I found forever friends. I blossomed.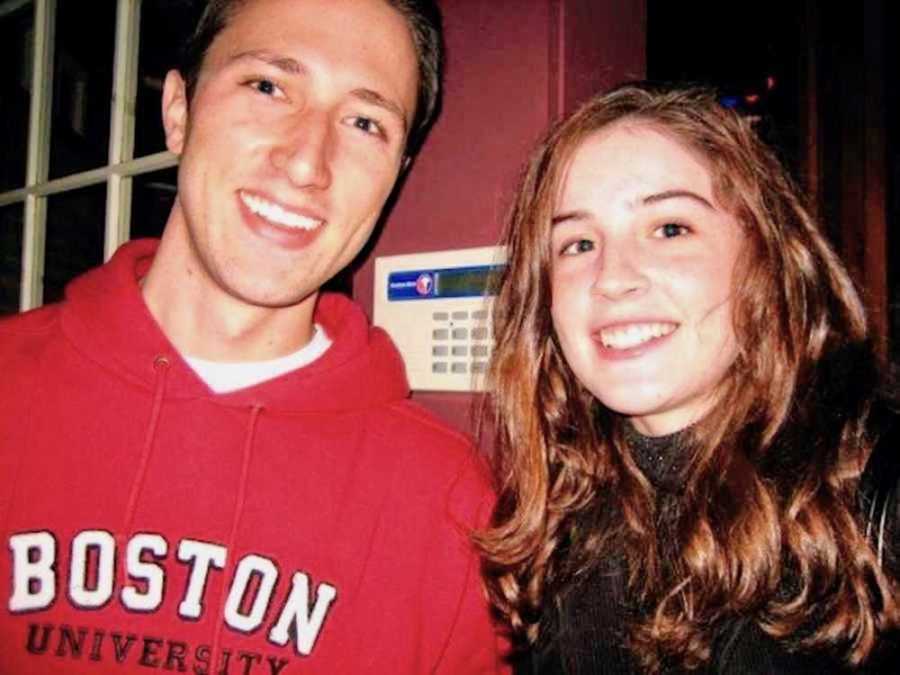 I came out when I arrived at BU, but not to my family. I struggled to reconcile how they could still love me (even though I knew they did) while their belief system rejected me.
I graduated and moved back to Utah in 2007. How could I end up back in the place I correlated with so much pain? I'd worked for years to free myself ,but here I was, living in my mom's basement, and without many friends. I felt like a failure.
Then in 2009 HE came along. When I met Brian he was the friend I desperately needed. In late 2010 neither one of us could tell you a date things progressed and we became more than friends. It's cliché, but I knew he was the person I'd be with forever. But that was it. Just partners. I'd never dreamed of a spouse and kids – because it wasn't possible. As I found happiness the unwarranted shame and guilt from my religious upbringing still stuck with me.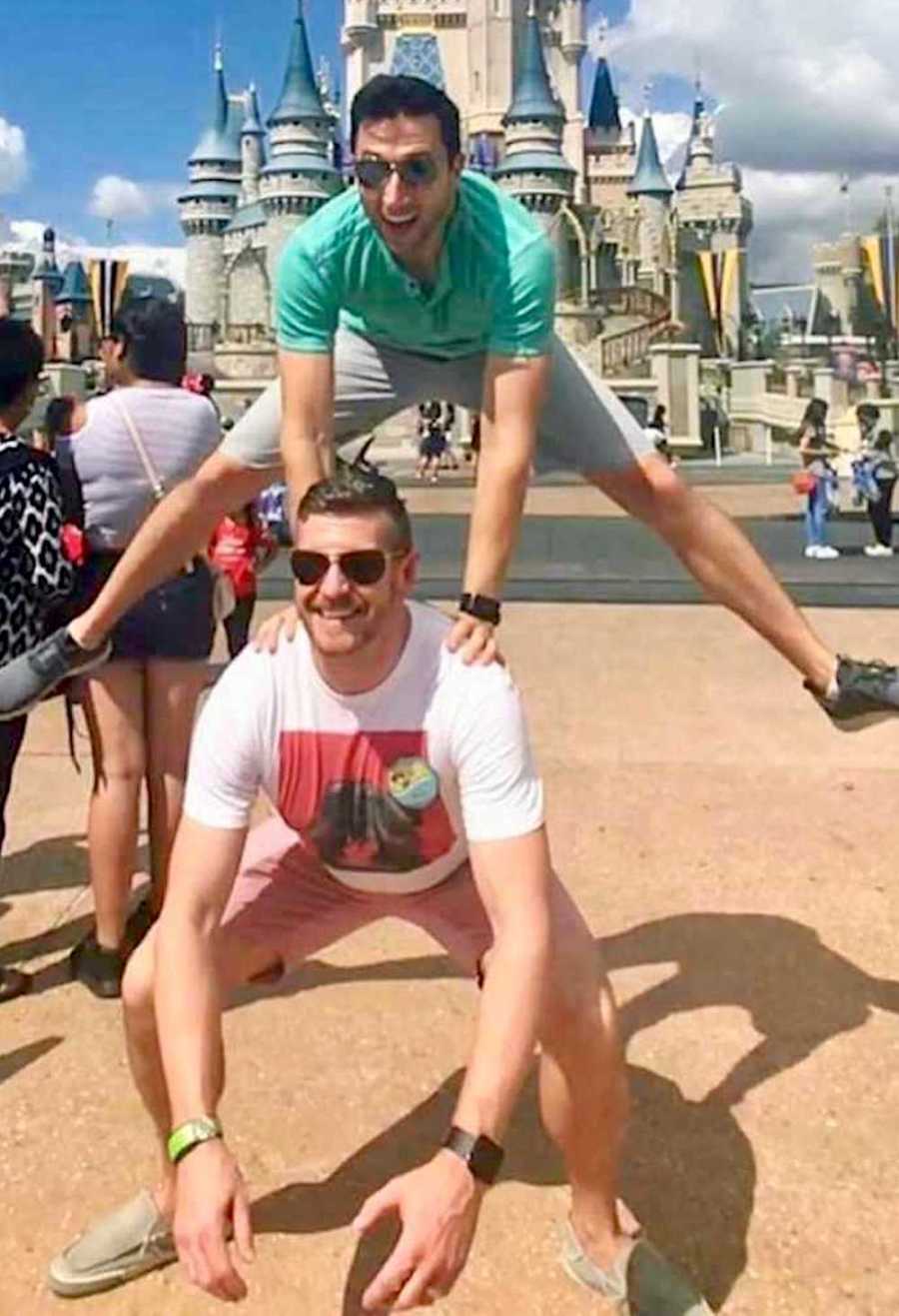 But the world evolved and I opened my heart to live my truth as best I could. No less than a year, later Brian was attending family functions and vacations. Then after six years together, and to my surprise, he proposed on the Tower of Terror at Disney World (but that's another story). We'd never talked about marriage before he asked. Again, this wasn't supposed to happen to me. We married a year later.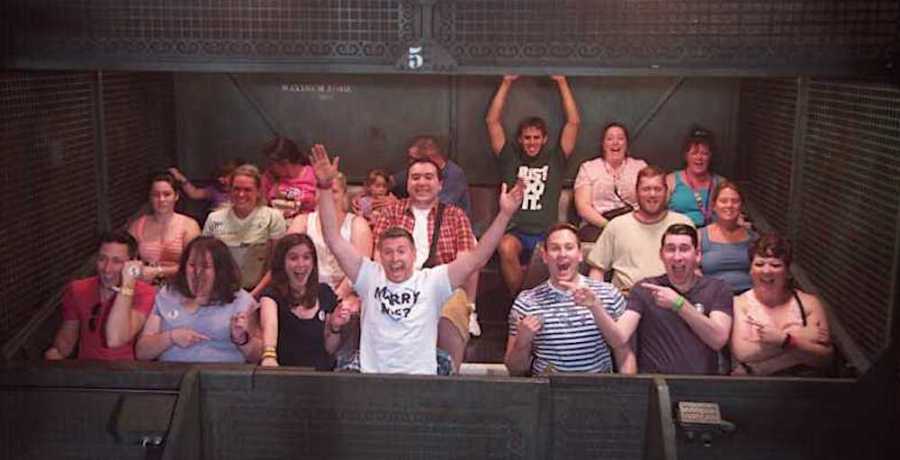 After we tied the knot, questions about when we were having kids immediately followed. Our answer was always the same, 'If we can afford it.' (Many adoptions are done affordably through foster care. We discussed this option at length, and it didn't feel like the right option for our family, though it's the right option for many!)
Then, the real surprise hit. December 21, 2017, we received a text message from a close friend. 'This is huge, but are you still thinking about adoption? I know a young woman who is pregnant and her ideal home for the baby is with a gay couple. Would you be interested in meeting her?' Our mouths dropped. It almost felt like a joke. Of course we were interested.
A week later we met with the prospective birth mother, we'll call her K. We had no expectations. It was like a first date. We told her about our families, how we met, our interests, and why we were interested in starting a family. She was quiet but engaged. We left three hours later, feeling content. Then we waited; with absolutely no expectations.
On Super Bowl Sunday, my phone rang. It was her. 'I've met with several families and I'd like to place my baby with you and Brian.' My eyes filled with tears. She told me she was having a girl. I was overwhelmed with gratitude that she would trust us with such an enormous decision.
At this point, she was about five months along. Because our adoption was private, rather than through an agency, we had an opportunity most birth and adoptive parents don't get – the chance to get to know each other. She even invited us to each of her doctor's appointments. Falling in love with the baby was easy – it happened the first time we heard her heartbeat.
K went into active labor on June 4, our second wedding anniversary. Brian and I were among the first people to see her. Brian wanted to meet her before we settled on her name. When we saw her he said, 'That's her. That's Sydney.' I'll never forget it.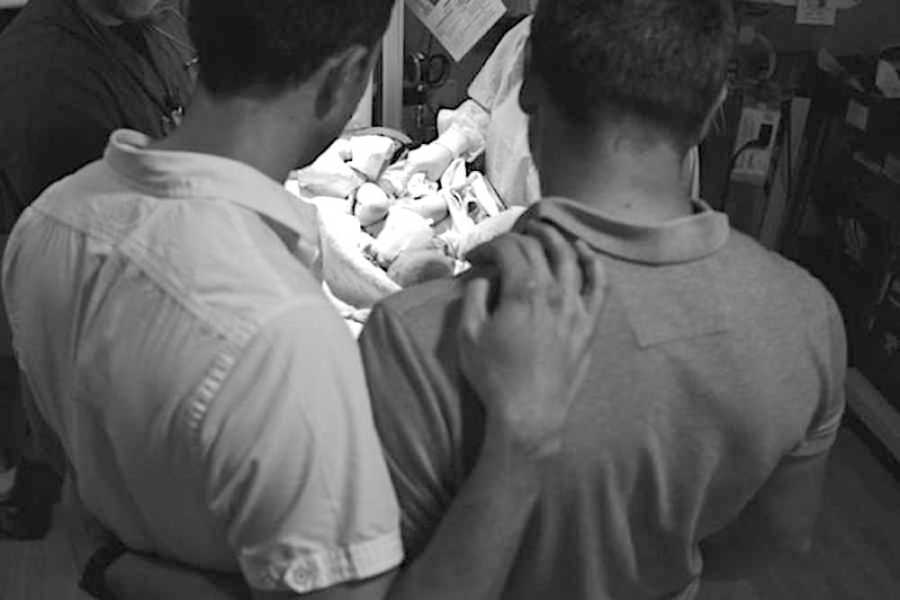 The following few days were life-changing. In Utah, a birth mother has a 24-hour waiting period before she can relinquish parental rights. Because our situation was so open, we spent most of our time together in the hospital room, talking and spending time with Sydney.
As two men in a conservative state adopting a child, you prepare for the worst. You expect a snide remark or cold shoulders, but everyone embraced us. The nurses were supportive of K and complimented us on what great parents we would be. One of the nurses had a brother who was adopted, another had a story similar to K's, and a third is Brian's friend's sister. These experiences ensured Sydney's life was full of love from the very beginning.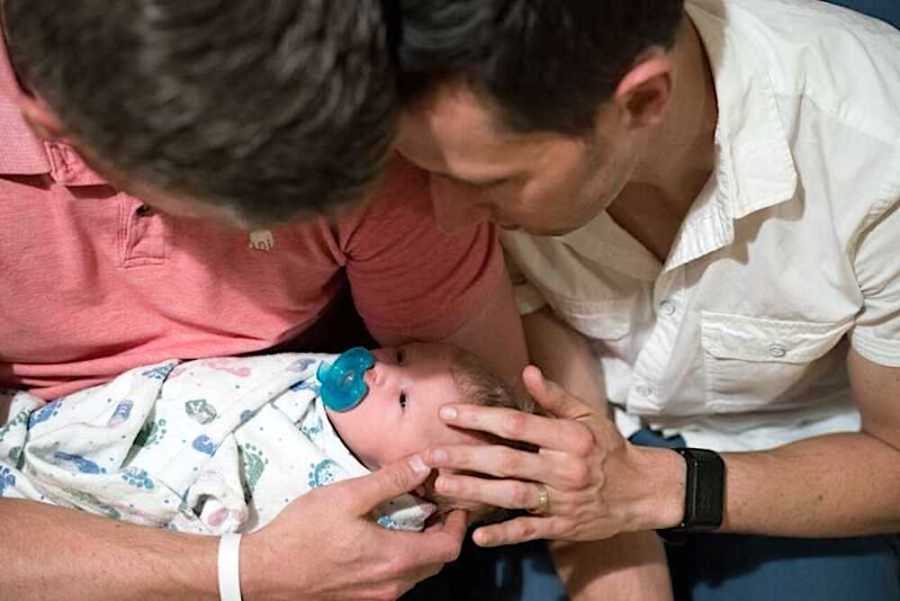 Sydney's adoption was finalized on December 20, 2018. Forever our 'Family Day.' We knew we had love to give, but didn't realize how much our hearts would explode with love for this little human. She's the best thing to happen to us.
'The only sin you can commit worse than murder is same-sex attraction.'
That phrase has faded now. Words matter, and those stuck with me for too many years. But as they say, love conquers all.
Fifteen years ago, if you would've offered me a 'straight pill,' I would have taken it; to appease a religion, to appease people who I presumed would judge me. Not today. I've found a life once unimaginable. In a way, I'm grateful for those years of darkness. They made me empathetic, taught me how to love (both myself and others), but most of all, they've made me grateful.
Grateful society has evolved (and continues to) in my lifetime. Grateful for a husband who's a partner, confidante, and best friend. Grateful for a family who defied my youthful expectations. Grateful for a daughter who gave me my most important job, Dad."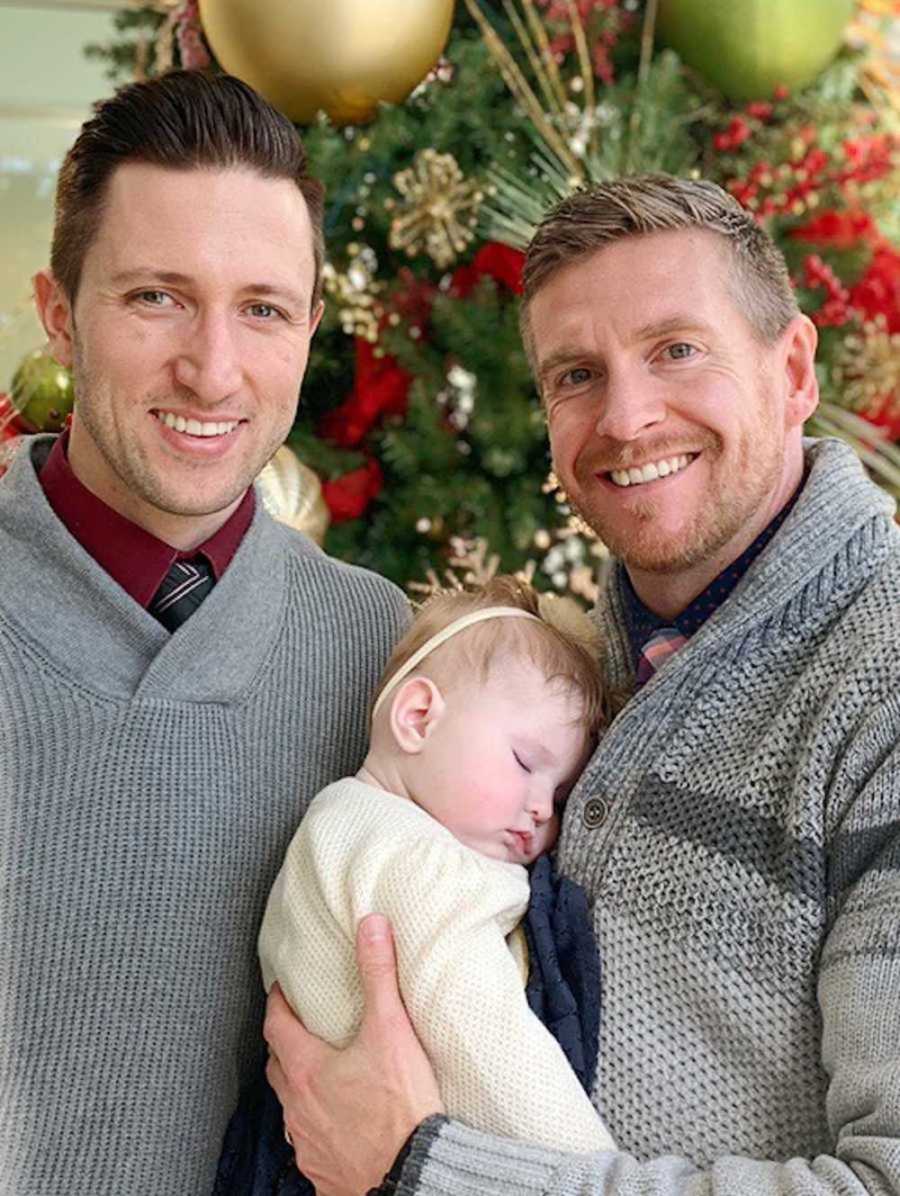 This story was submitted to Love What Matters by Jason Myers of  Salt Lake City, Utah. You can follow him on Instagram here. Submit your own story here, and be sure to subscribe to our free email newsletter for our best stories, and YouTube for our best videos.
Read more stories like this:
'I was caught kissing a boy. 'Come to the station. We'll have fun with you. Clearly that's what you like.': Man shares coming out story, 'I cared too much about fitting in'
'I was gay. I knew what would happen if I came out. Family, friends,  church – all gone. So I lived blindly, losing more of who I was by the day. ': Gay dad describes fear of coming out to family
'If I pray hard enough, I can fall out of love with her.' I lived in a society where people said you can't be Christian AND homosexual. I knew it'd make or break my family.': Woman details self-acceptance and coming out journey
'Can I ask you a question?' She called because her son 'came out' to her, and she was unsure how to react.': Gay woman claims 'loving your person' is the best way to respond to loved one 'coming out of the closet'
Please SHARE this story on Facebook to encourage others to cherish every moment and love what matters most.