"Can you imagine having to be 'on' from well before 7 a.m. every day to well past 7 p.m. many a night?
On point.
On topic.
On par with your counterparts.
On level with your rug sitters.
On zoom, phone calls. and emails with their guardians.
To have to be a
parent,
doctor,
coach,
friend,
mentor,
and
ANYTHING
and
EVERYTHING else you can think of to anywhere from 18 – 35
impressionable sponges who look up to you
— literally and figuratively —
and who need you, whether they or their parents are willing to acknowledge and admit it?
Can you imagine having more than multiple fragile heads and hearts in your tired, worn hands and having to be warden over ALL of them for 6+ hours a day?
Now can you imagine that but now those heads and hearts and the jittery bodies they are attached to are bouncing around all over the place and you've got to keep those safe too?
All while dealing with incessant noise—the kind created by others and the kind in your own head which you can't seem to escape?
Can you imagine a pandemic going on for two-plus years and others looking to you as 'the face of calm' when all you really wanna do is freak the fudge out like the rest of the world?
Can you imagine doing the hardest job in the world, and it being the most meaningful and influential one, only to be underappreciated and underpaid?
Teachers don't have to 'imagine' this.
It's their reality, and it shouldn't be.
Teachers are the most under-acknowledged and undervalued humans on this Earth, even though their whole life's work is about acknowledging and valuing other humans and educating them. Not just about science and math and language arts, but to do the same — to grow into smart, compassion, grown people who acknowledge and value others!
Listen, I'm a parent x3, and this is TEACHER APPRECIATION WEEK, and I'm just saying, I appreciate the h*ll out of my kids' teachers [and all teachers] and I'm fully clued in to and aligned with the notion that I need them and so do my kids and wholly cognizant of the fact that I'm lucky as h*ll to have them on my team as the real MVP."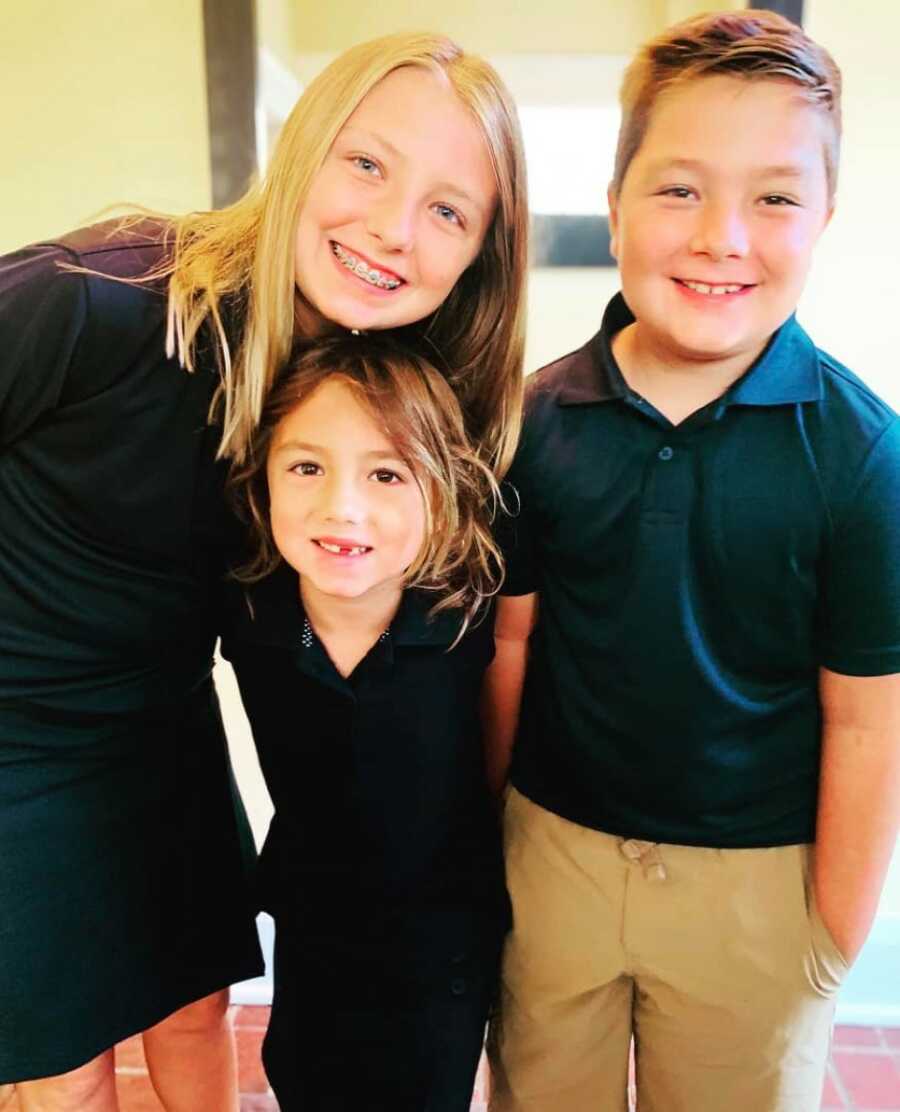 This story was submitted to Love What Matters by Nicole Merritt of Jthreenme. You can follow her on Facebook, her website, or podcast. Get her new book, Musings for Mom, here. Submit your own story here. Be sure to subscribe to our free email newsletter for our best stories, and YouTube for our best videos.
Read more from Nicole here:
The Book I Wrote Only Made Me $500, But It Taught Me The Most Valuable Lesson Of All
'Do I send my child to their brick and mortar campus and worry about their physical health EVERY SINGLE DAY?': Mom shares frustrations for fall school re-openings
'You'll never remember these nights. When I lie in bed, listening to you breathe, and question if someone, anyone, could do this better.': Mom says 'you'll never remember these nights, but I will'
'I send them to school with stains. We eat dinner in front of the TV. We make noise, a lot of it, and we like our pasta best slurped.': Mom urges 'dance to the beat of your own family's drum'
Do you know someone who could benefit from reading this? SHARE this story on Facebook with family and friends.