After years of ostracization and judgement, these South Asian women are stepping up to end the stigma associated with vitiligo and redefine what beauty truly means.
Lini David, a make-up artist advocating for her younger sister with vitiligo, and Amily Newman, who has vitiligo herself, organized the awareness campaign and enlisted the help of a talented photographer and the beautiful women pictured below. They share in hopes they can help future generations "not feel the need to hide their beautiful skin."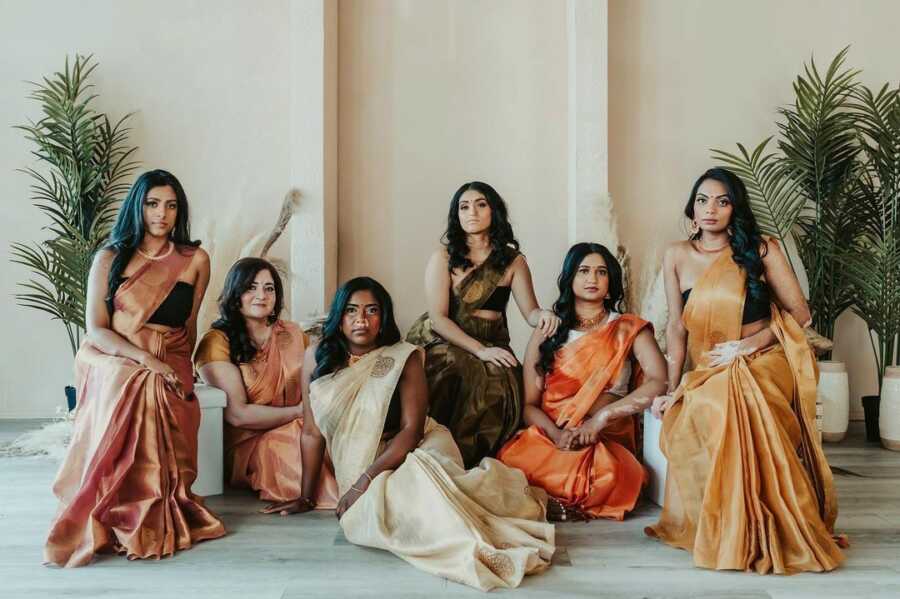 What Is Vitiligo?
Vitiligo is an autoimmune disease that occurs when the body attacks melanin producing cells. Melanin is the body's substance for producing pigmentation in the hair, eyes, and skin. Thus, the lack of melanin leads to patches of discolored skin, and these patches generally grow in size over time. While the condition can affect people of all colors, it is most noticeable in those with more darkly pigmented skin. It generally first appears in the young adult years.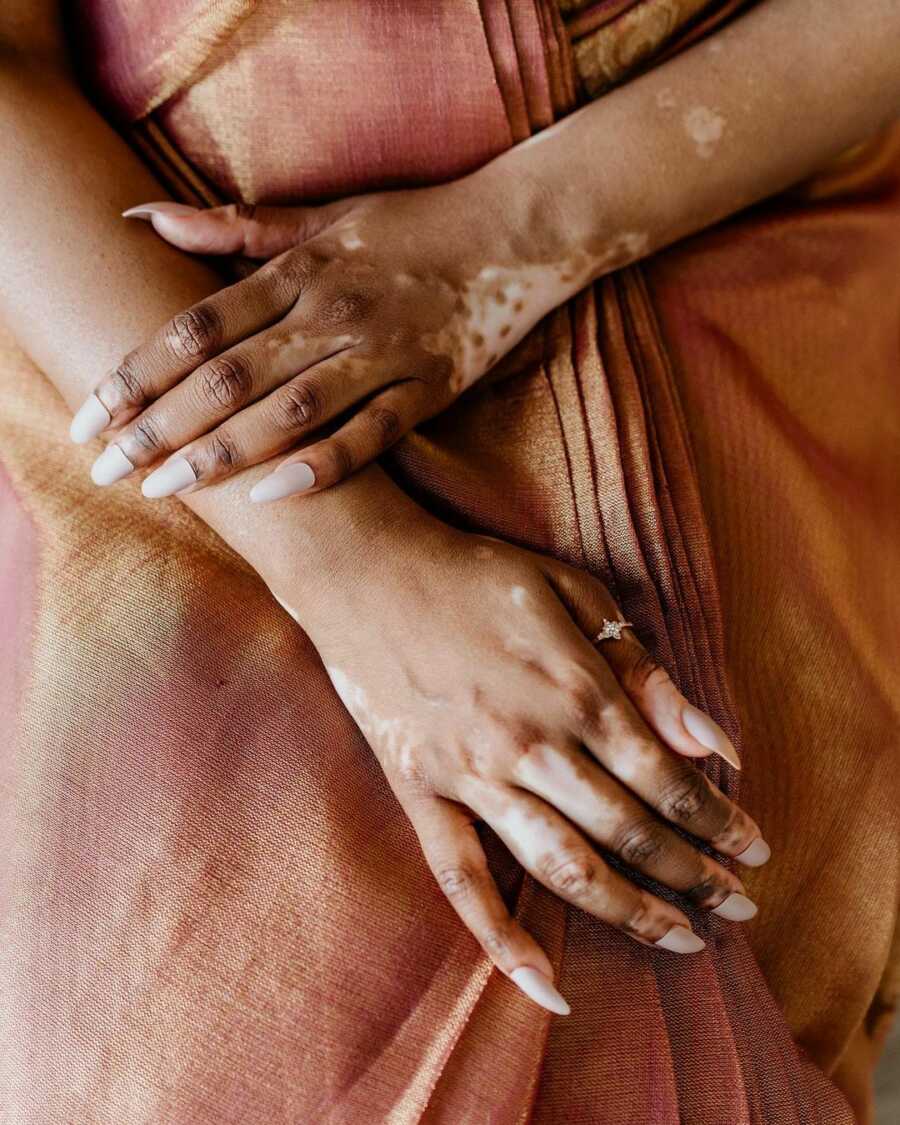 Vitiligo can affect the skin on any part of the body, including the inside of the mouth. But different types of vitiligo affect the body differently. The Mayo Clinic lists the following types on their website:
Universal Vitiligo affects nearly all skin surfaces.
With Generalized Vitiligo, discolored patches progress similarly on corresponding body parts.
Segmental Vitiligo occurs on only one side or part of the body. It tends to occur at a younger age and stop its progression after a year or two.
Localized (Focal) Vitiligo affects only one or two areas of the body.
With Acrofacial Vitiligo, the discoloration occurs on the face and hands, and around "body openings" such as the eyes, ears, and nose.
There is no cure for vitiligo — only treatments that can sometimes restore the skin's color, but not prevent recurrence or future color loss. The condition is not life-threatening or contagious, but it can be devastating for an individual's self-esteem when others are misinformed and choose to view them negatively because of their skin's appearance.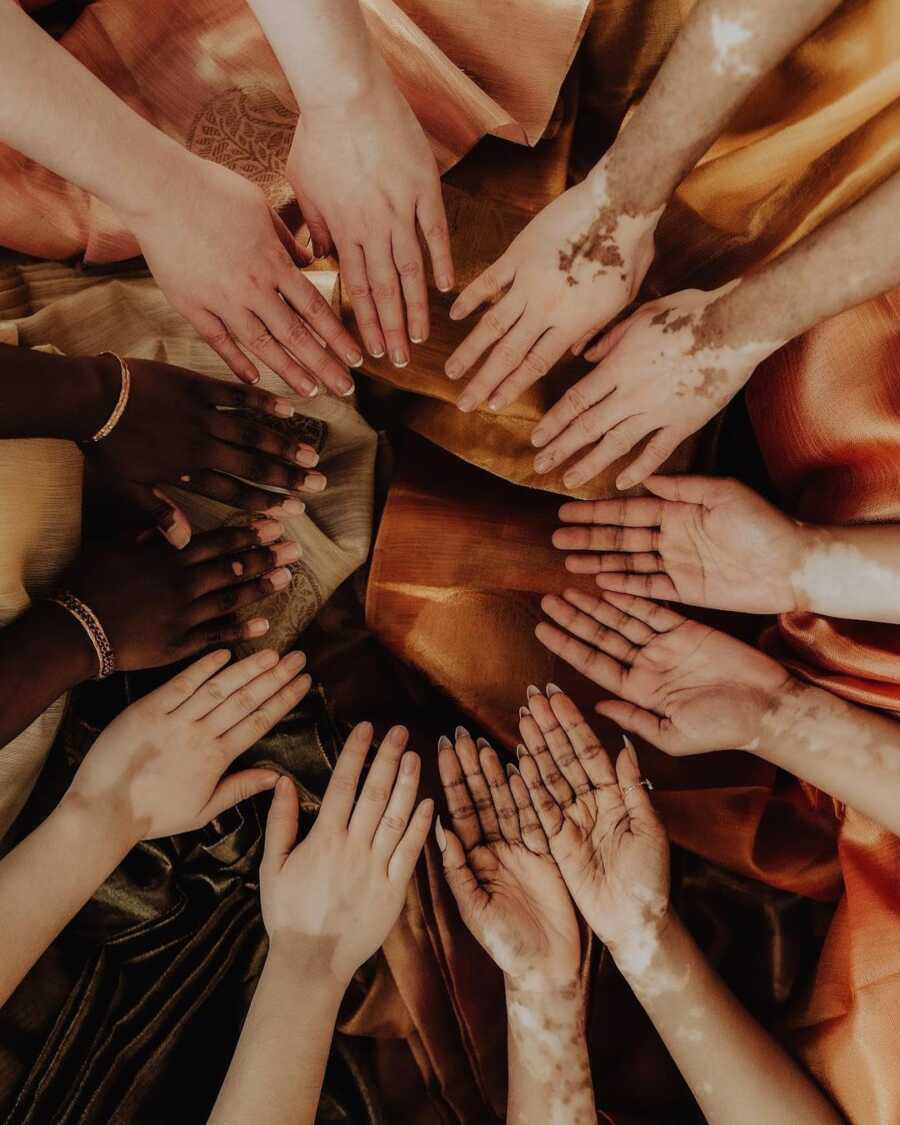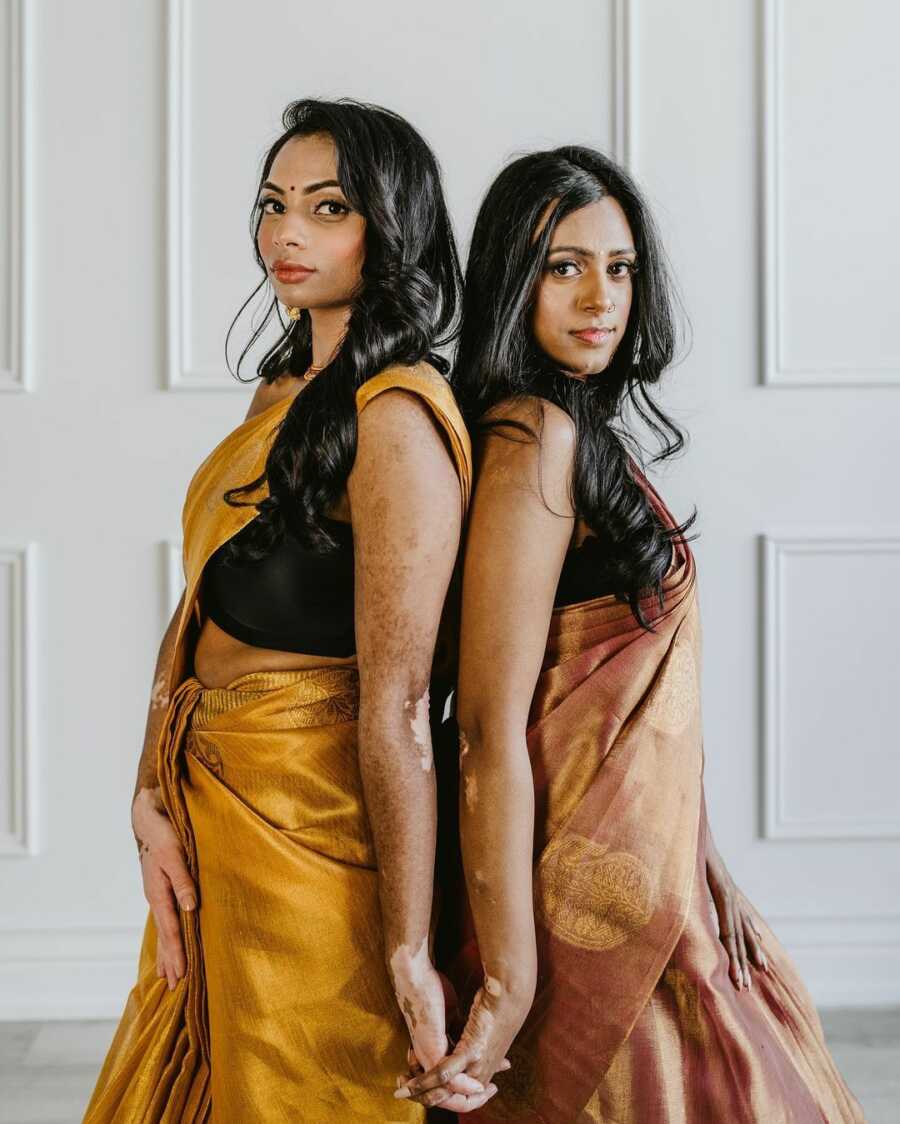 Vitiligo In South Asian Communities
In South Asian culture a lot of myths and misconceptions surrounding vitiligo still persist. According to BBC, some believe it occurs because the individual ate fish and drank milk together, consumed too much alcohol, or received the evil eye. Many older Asians still don't believe or understand that vitiligo is an actual disease.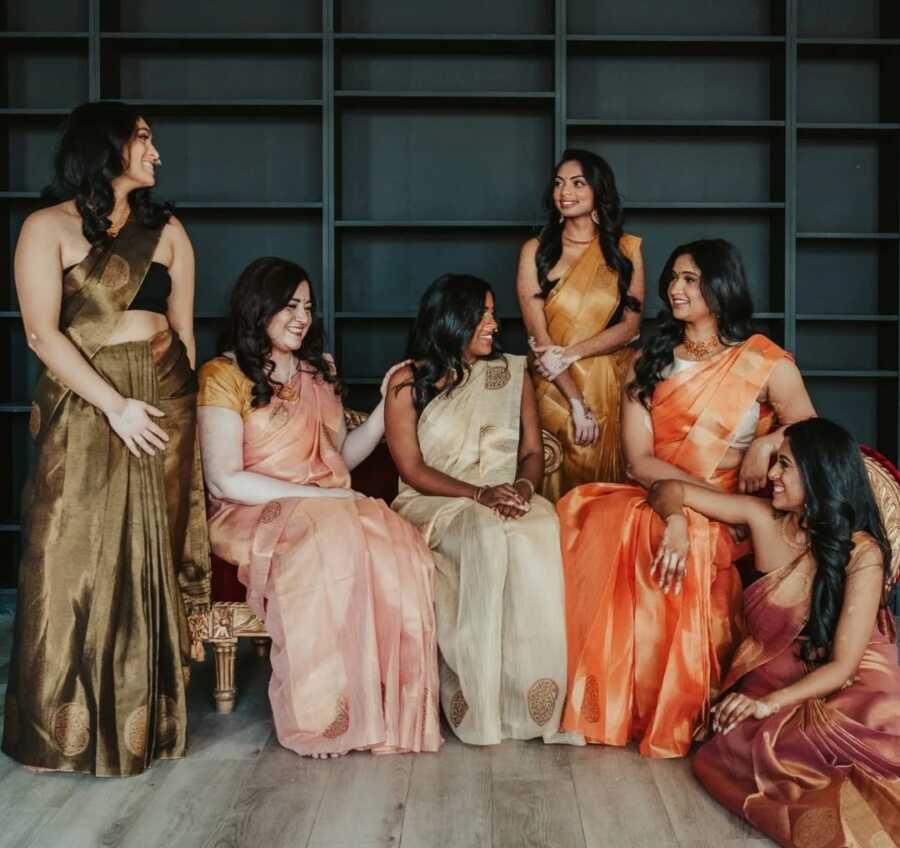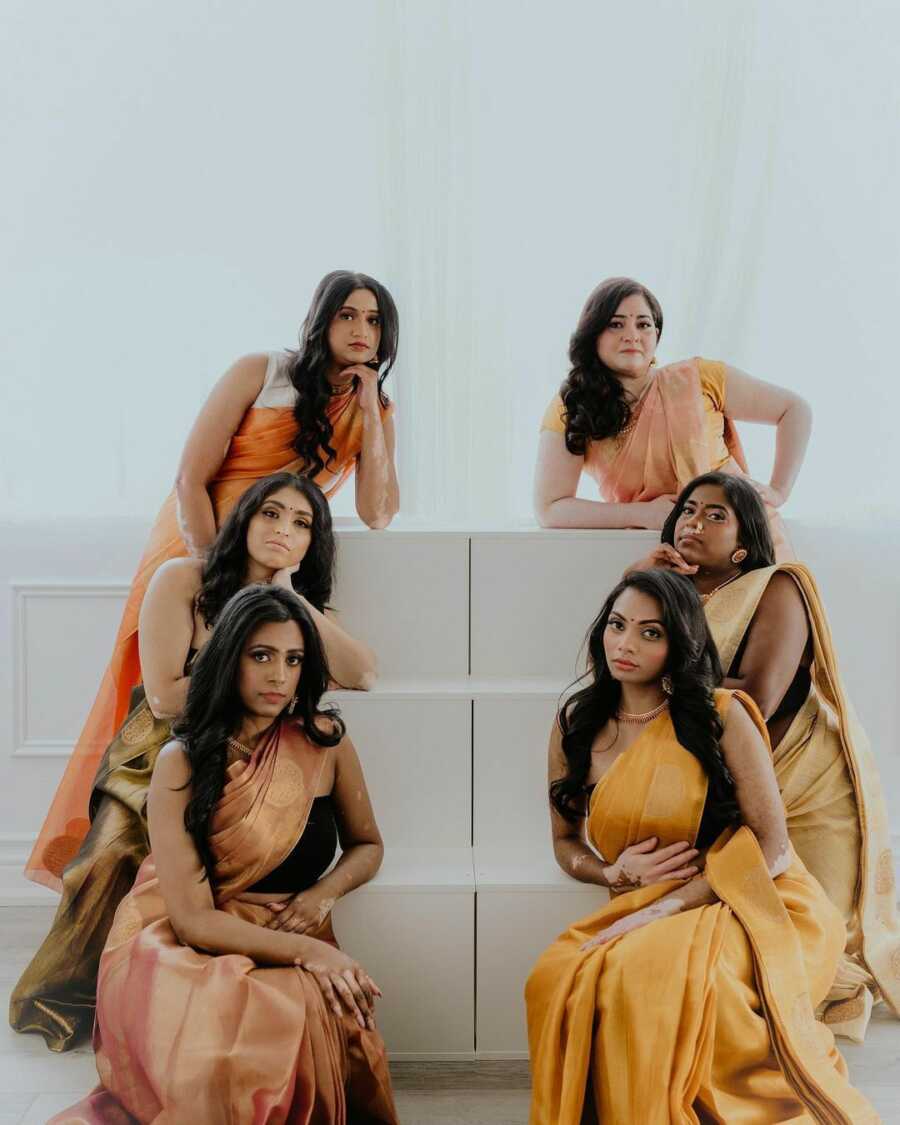 But just as damaging as the misinformation, is the belief that vitiligo can't be beautiful. The women modeling for this photoshoot describe the hurtful comments they've received…
"Isn't that what Micheal Jackson had?"
"Did you get burned?"
"Have you tried __ treatment from __ country?"
"You really need to get treated! Who would want to marry you without fair and lovely skin?
"I will pray for you! You surely need it."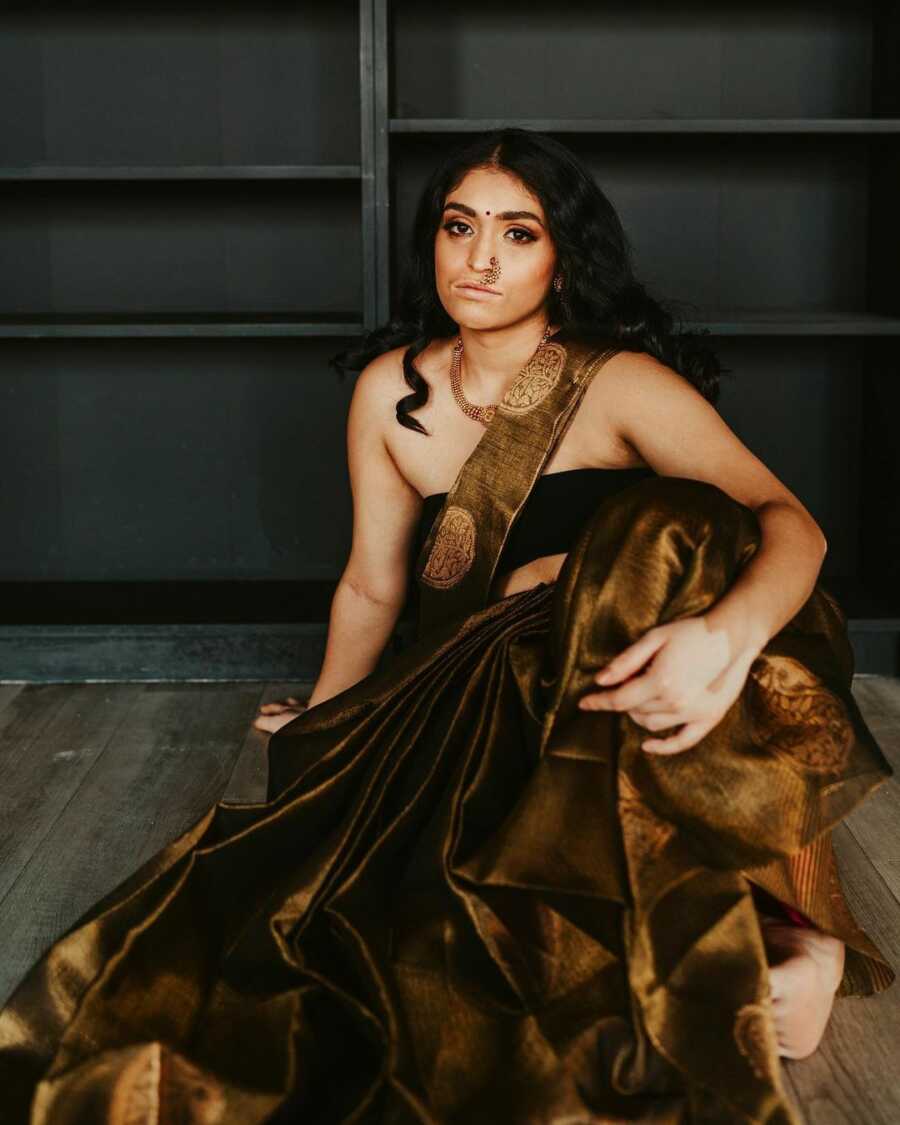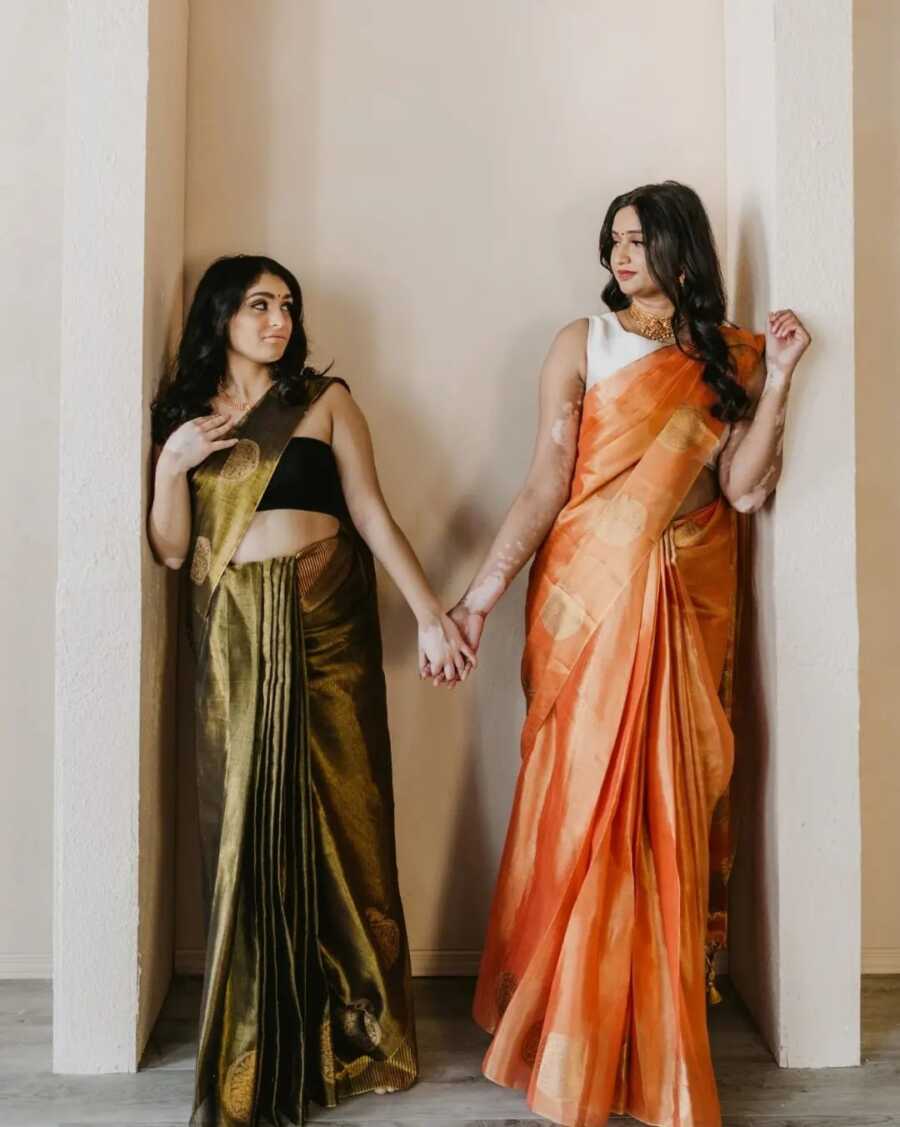 Personal Experiences
Sajeetha Siva shared her experience growing up with vitiligo on her Instagram, writing: "When I was first diagnosed, I was about 9 years old. I strongly felt like something was inherently wrong with me. When speaking to family members, doctors, or strangers, I could see the concern in their faces when they looked at my skin. I could feel their tone changing to be more sympathetic toward me. It's like people assumed I was the victim, that I needed to be fixed, I needed to be complimented in order to feel better about myself.
The social stigma associated can bring about heavy psychological stress. I used to feel ashamed, self-conscious, isolate myself, experience intense anxiety and depression, despise being in public settings or a part of large gatherings, and even had suicidal ideations.
I am so proud of how far I have come, but I am still not 100% comfortable in my own skin yet. There is still so much rewiring and unlearning I have to do. Because my vitiligo challenges society's definition of beauty, that's why it was important for me to get involved in this project."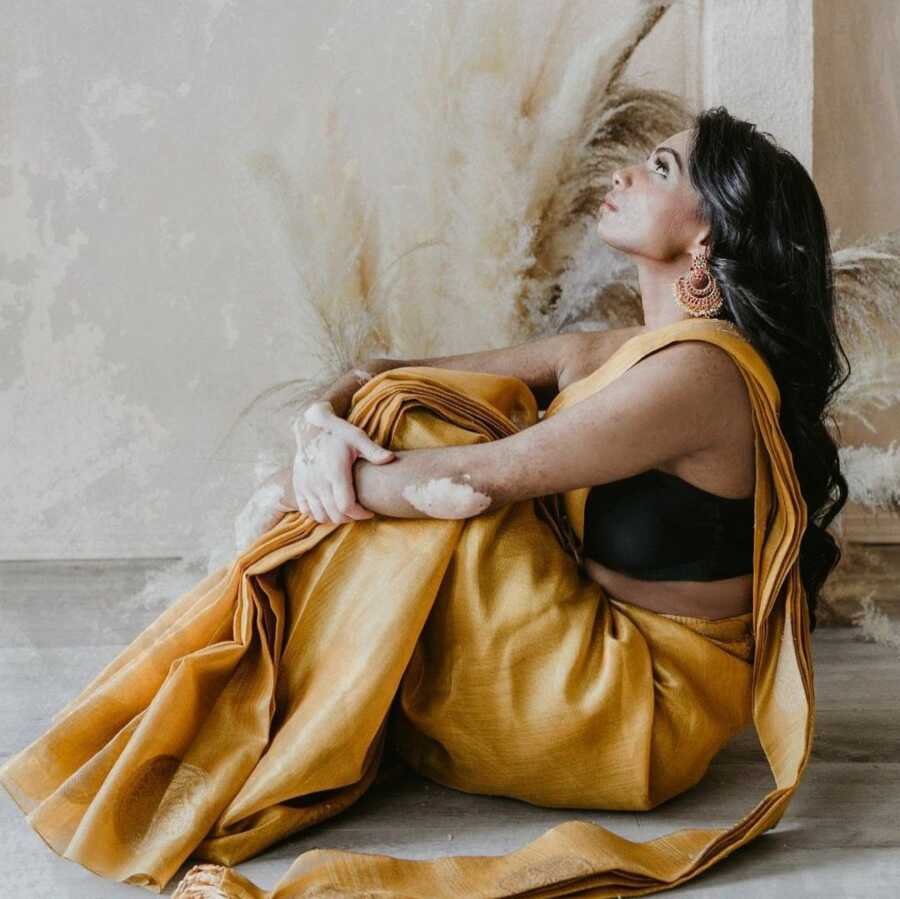 Amily Newman, one of the event organizers, writes, "Growing up, I had no one to look up to with vitiligo. There were absolutely no South Asian representatives of vitiligo which often felt isolating, depressing, and small. I know this to be the case for many of the women who struggle with vitiligo, including the ladies involved in this shoot. That's why this piece is so special to us!
We are so grateful for the ladies that came outside themselves to be vulnerable and brave for this event. The bond we created is so special and one that no one else can really understand but us… This is something I never in a million years thought I would/could do. I'm thankful for my support system today that encouraged me to live in my truth."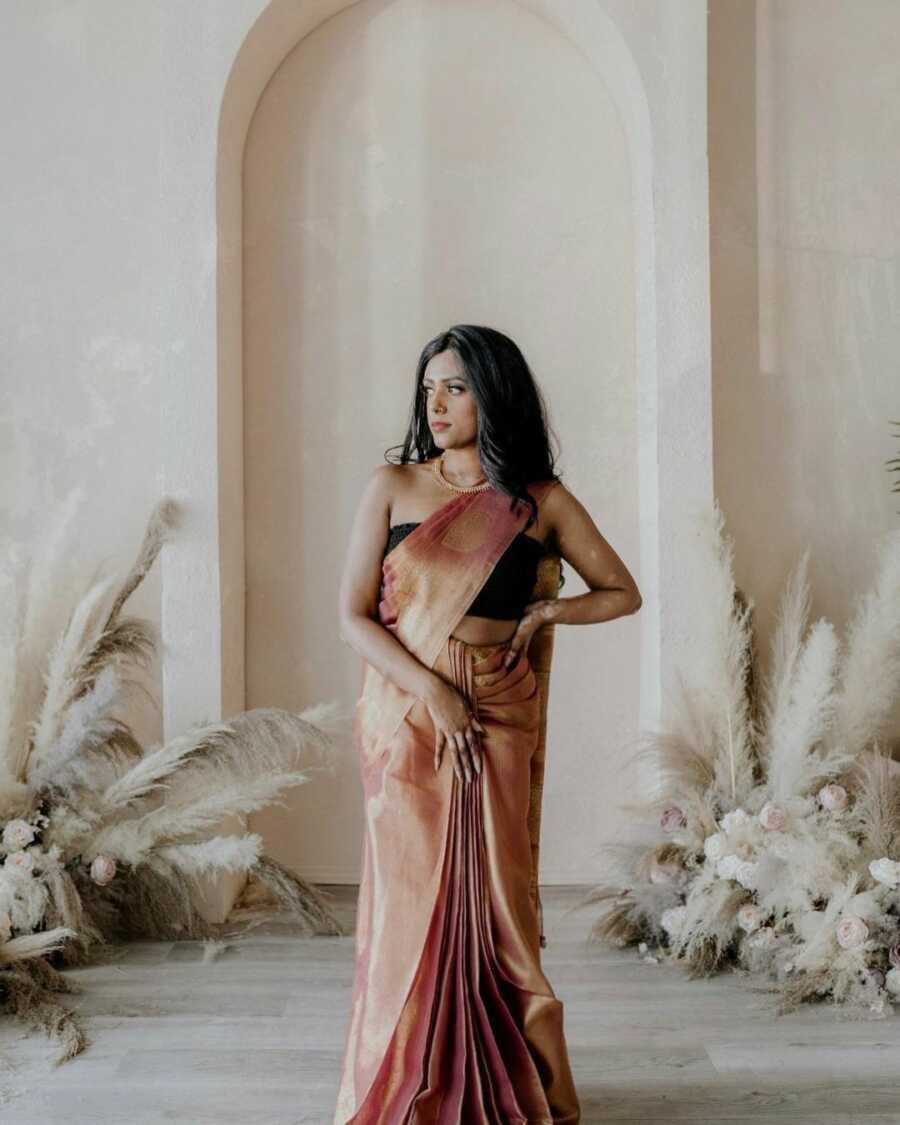 Of her vitiligo journey, Christina Abeynayake said, "Sudukelle is greater than vitiligo! Always said that but my skin is me, so my vitiligo made me who I am today! My vitiligo has taught me not to allow any judgment or rejections to stop anything… So many doctors with different kinds of treatment, too many regrets — but life is too short. Each of them reminds me how far life has brought me. So, I decided to love the way God made me now."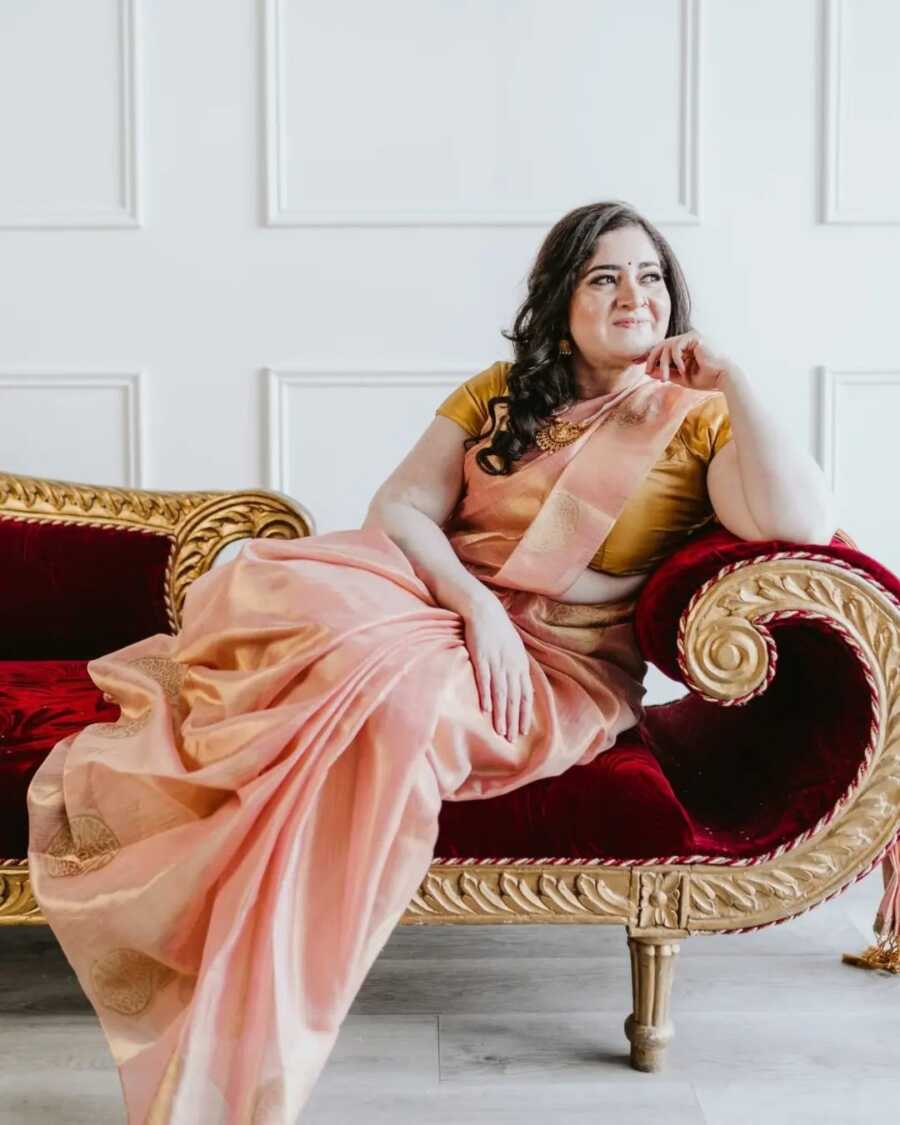 Theepika Uthayasandiran, a talented cake artist, posted, "About a year ago, I posted a cake video with myself in it for the first time. I shared that I had been insecure because of my vitiligo, especially since it had started spreading to over 50% of my body. It definitely hasn't been an easy journey and I would be lying if I said I have fully embraced it now, but I am getting there."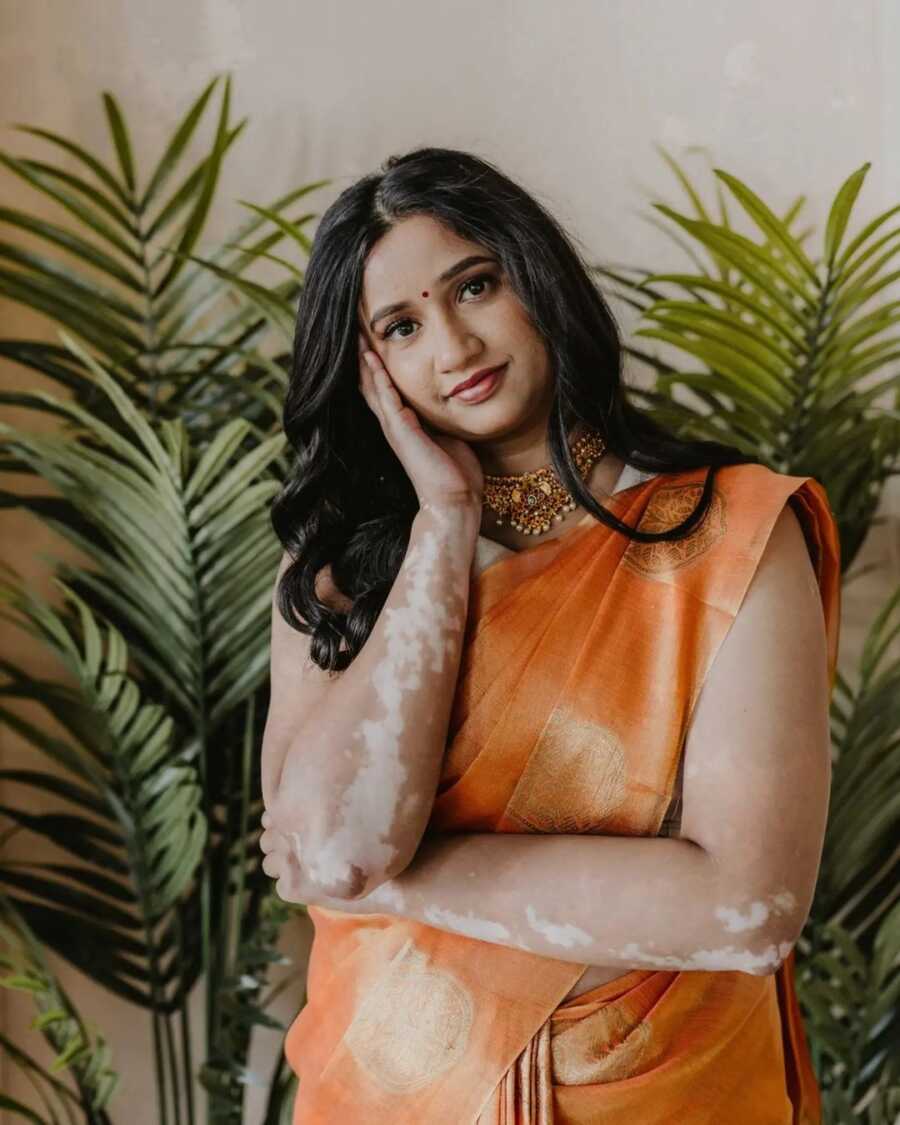 Erasing The Social Stigma
There is no doubt in our minds the women featured in this photoshoot are absolutely beautiful — inside and out! Wearing their sarees, these gorgeous ladies are sending a powerful message directly to the South Asian community, crushing the stigma with their confidence and empowering women everywhere to love their unique differences.
"You are all beautiful and your skin is God's work of art," writes Lini. "Let's redefine society's limited and narrow standards of beauty by being inclusive and embracing the skin we're in. Remember to always be kind!"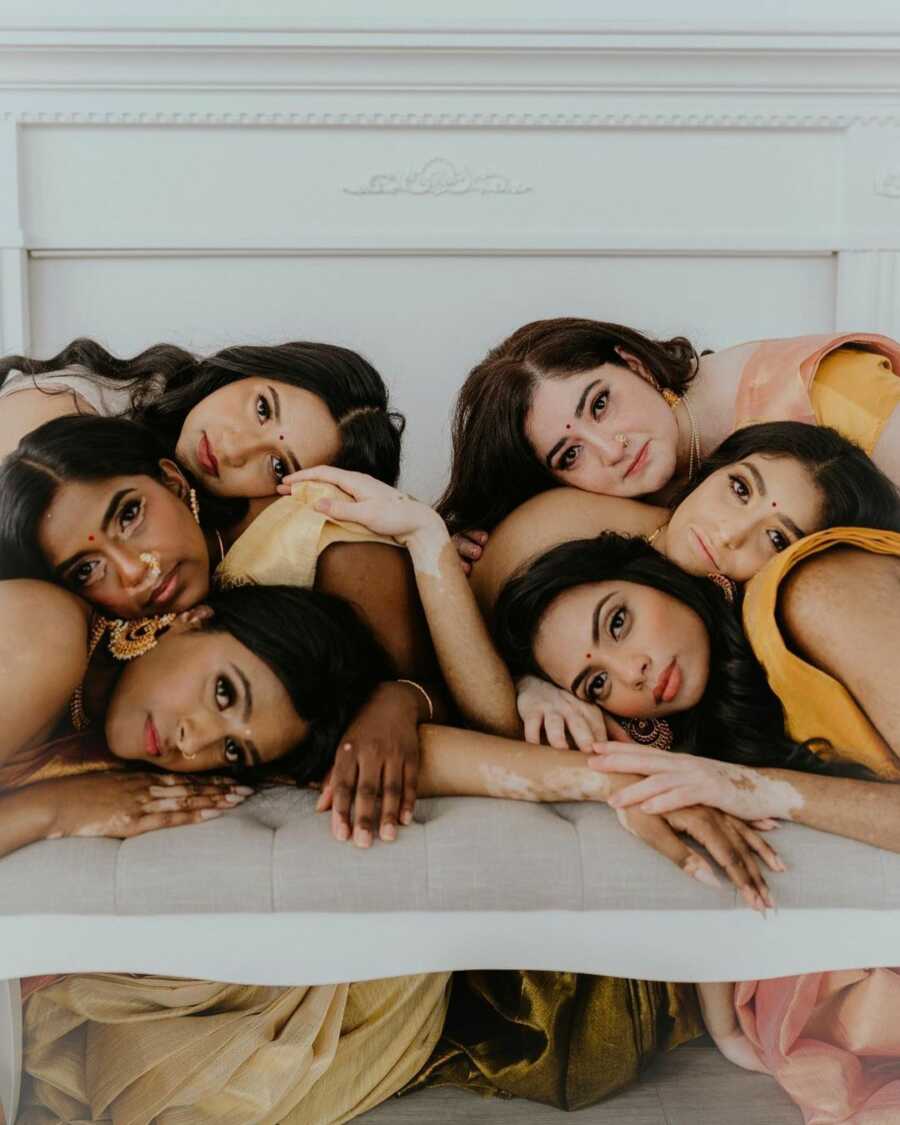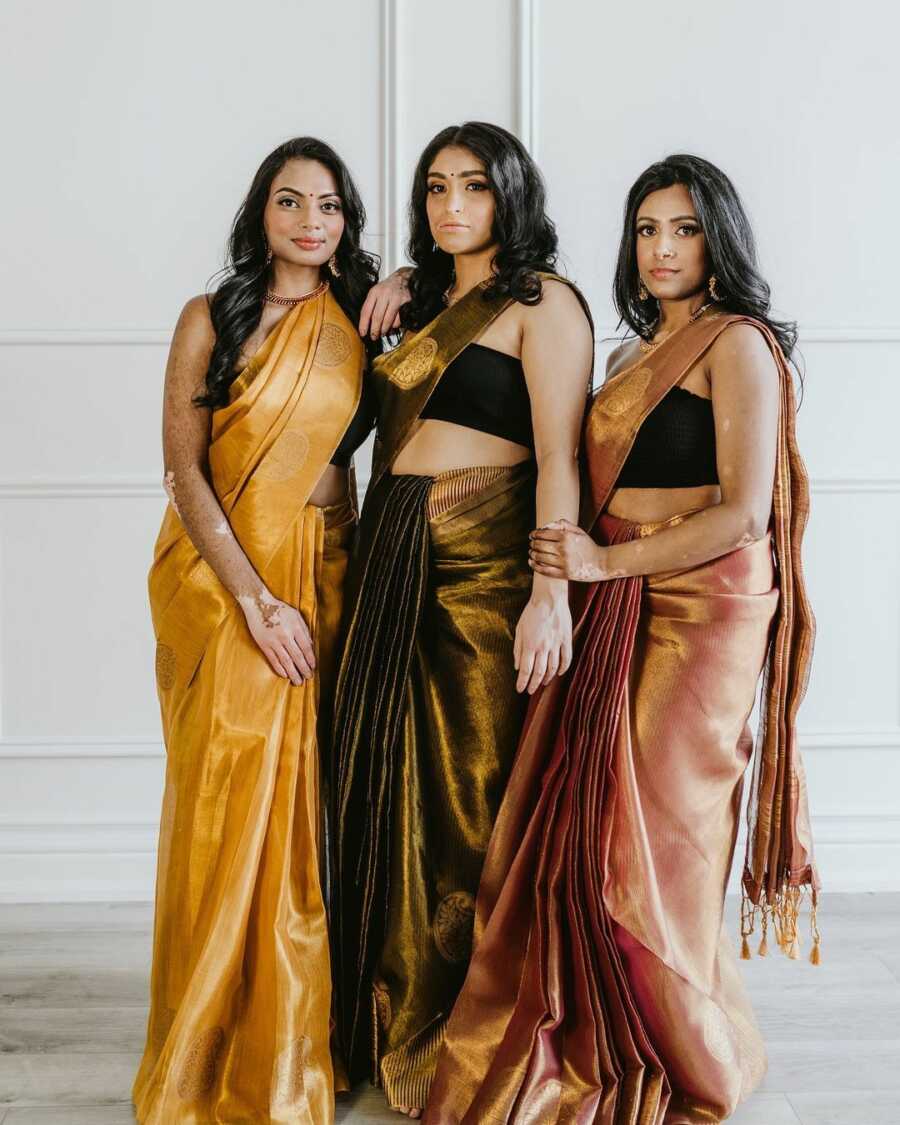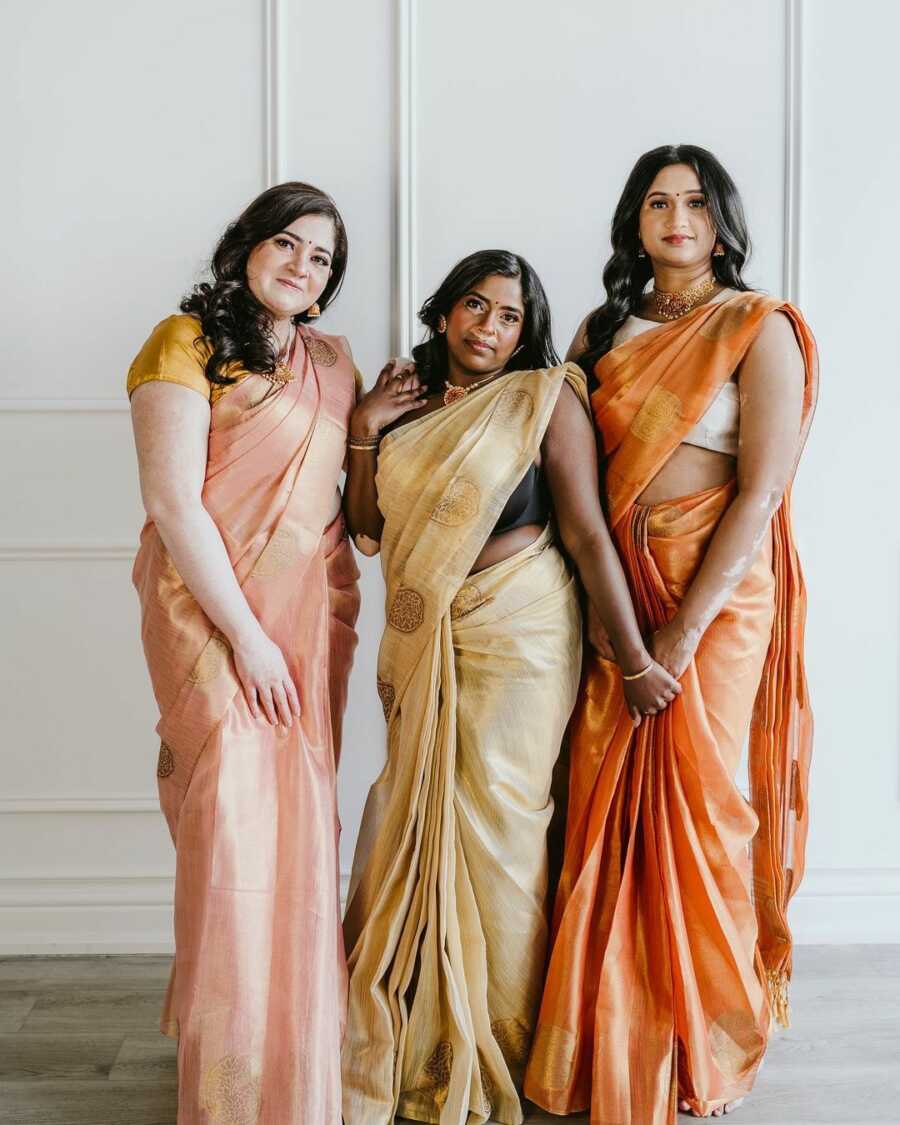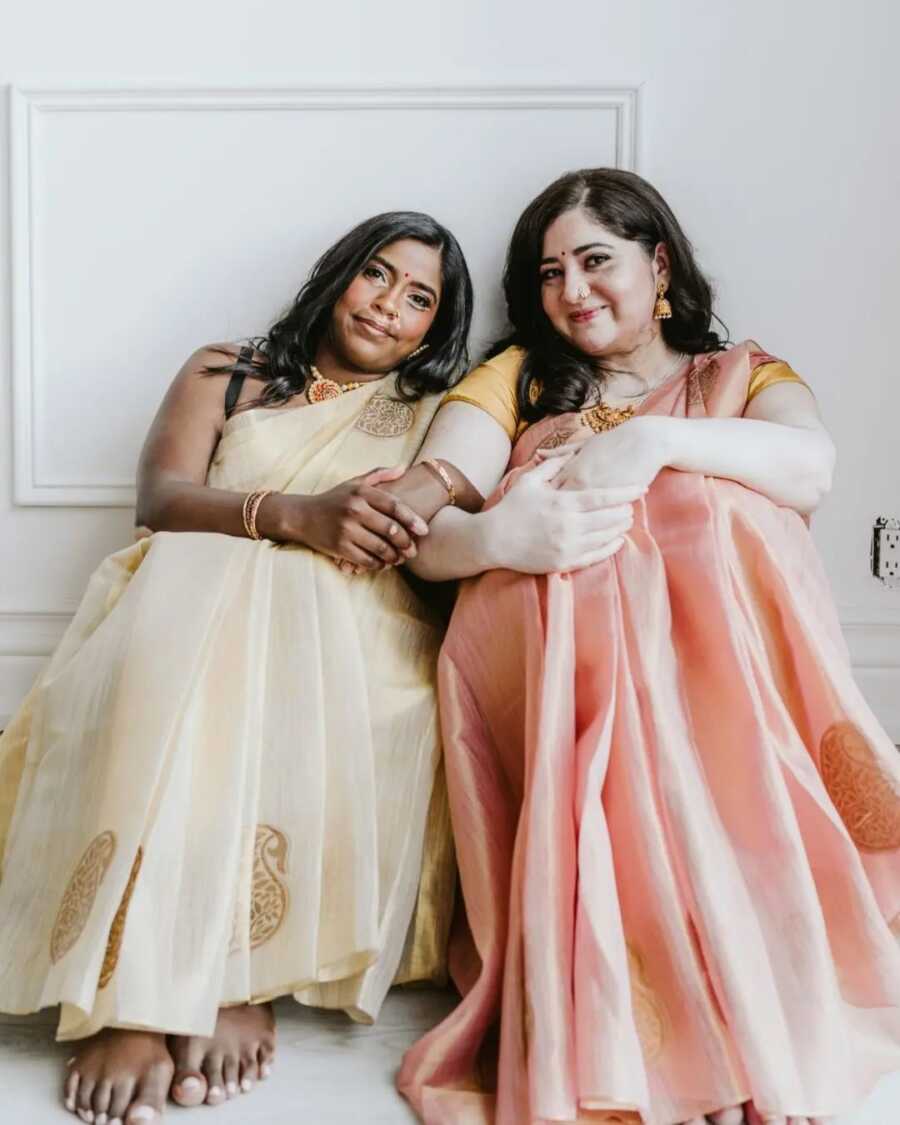 Submit your own story  here, and be sure to  subscribe to our free email newsletter for our best stories, and  YouTube for our best videos.
Read more stories about vitiligo:
'Why me?' The words echoed in my head, 'There is no cure…' I reached to get my makeup and it wasn't there. It was a nightmare that wouldn't end.': Man finally accepts vitiligo, 'What I have is a blessing'
'You're born with it. There's no way I have it.' It spread like wildfire, right on my face.' Woman with vitiligo learns to feel beautiful regardless, 'Love yourself through your struggles'
'Oh, it's just my skin.' I'd stare in the mirror, worrying how to look as pretty as the other girls.': Young woman born with vitiligo skin condition develops eating disorder to look as good as her peers, finally learns 'recovery is worth it'
'A boy screamed, 'Look at her feet!' Embarrassed, I quickly ran away. The only girl in 6th grade wearing makeup, I had to hide my secret.': Woman with vitiligo shows 'true beauty' after 32 years of hiding, 'I no longer live in the shadows'
SHARE this story on Facebook and Instagram to help celebrate unique and beautiful differences!