Disclaimer: There are mentions of suicidal thoughts in this story.
"It all started when I was 8; I was playing and fell on my knee. There was a circular wound building up, and all I could do was wait for it to heal. A week later, the wound had become a random white spot. I showed my friend during a computer lab class and all she said was "cool!" My first thought was, 'well, she thought it was cool, and it probably will not be on my skin for long– I will push it to the back of my mind for now.' I had just turned nine a couple of months into the following year, in February of 2006, when from that fall, more began to spread randomly on my arm and legs. My parents realized there was something more complicated about it than just the injury from the fall. 
We went to the dermatologist, and I was diagnosed with Vitiligo, which is the depigmentation of the skin due to a lack of melanocytes. It is also considered an autoimmune disorder in which the body believes something is wrong, so it fights itself to rid it of anything 'unwanted' but really nothing is wrong. Autoimmune disorders can be triggered by food, allergy, or the nervous system; and it can be hereditary. In my case, doctors believe that my vitiligo was triggered by my nervous system.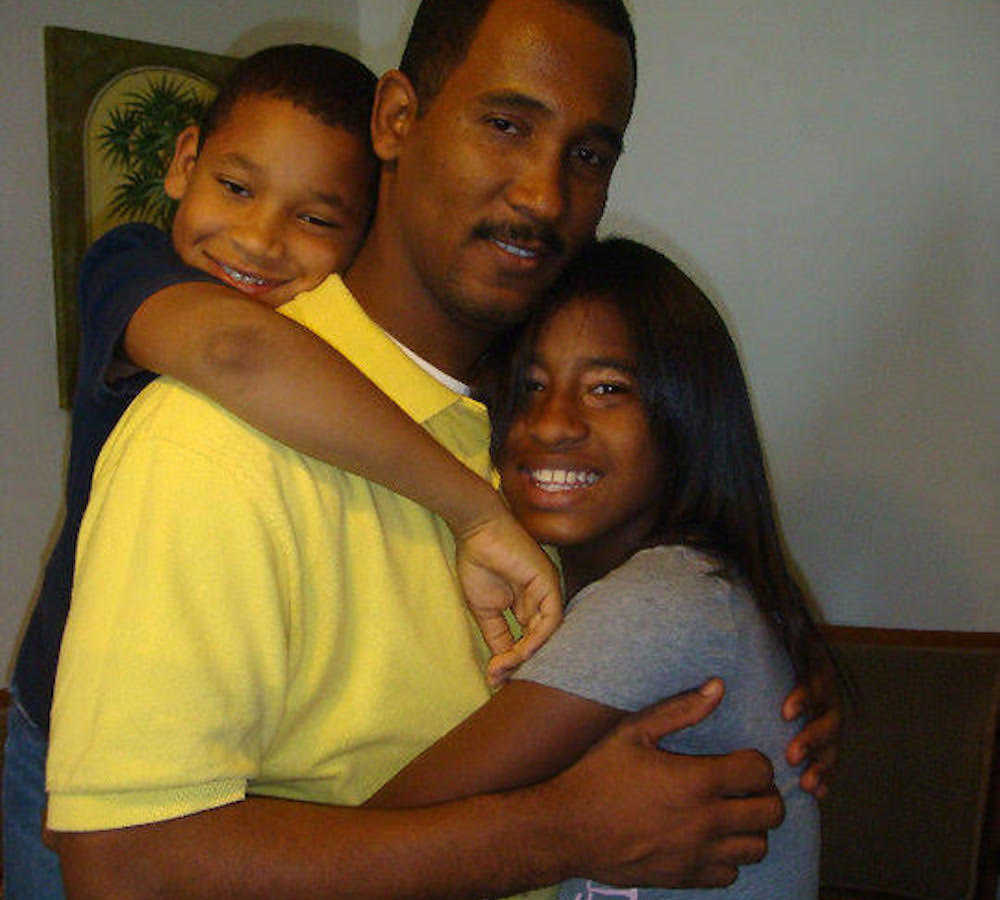 Fast forward to August of 2006, I began at a new private school, which was small compared to the public school I attended. My anxiety began to rise when the spots spread more across my body. My insecurities arose, and a small school meant that everyone would notice my 'ugly' skin. 5th grade was not nearly as bad as middle school–oh, how my self-esteem shot to the ground. Middle school is where peer-pressure begins; everyone looks up to the best, prettiest actresses and models. Back in 2007, there were no popular influencers, models, actresses, or actors with vitiligo. It was extremely hard for me to relate to anyone. I felt alone, I knew many people had it, but why had I not seen or met at least one person with vitiligo? Through the year, my spots continued to spread, and the more spots I saw the more stressed I became– and the more stressed I was, the more spots began to grow. So, that was how my autoimmune was triggered. I hated my skin because it was nowhere near the norm. I felt ugly. 
Seventh grade came and went but in December of 2009 the weather was cold for Miami, it was in the 60s– yes, barely cold, but Miami is usually hot all year round).  I decided to wear a sweater that day, and for the first time, my life became easier. I realized that by wearing long sleeves, leggings for PE class, and a sweater, my skin did not show. I didn't have to worry about people staring at school or at the mall, I didn't have to be asked what I have, or have to be made fun of. I used to go on the school bus, and I remember some rude high schooler called me an ugly Dalmatian. And he just was just laughing. It really hurt. Hiding my skin became my only way out.
It wasn't long until depression began to set in, and I hated everything about myself. I hated my skin and the way it spread, I just hid behind clothes and lost who I really was. Fortunately, my friends and classmates through middle school were top-tier; they did not care if I had vitiligo and accepted me no matter what. The problem was that I had begun to hate myself so much, no one else could change my mind. I also went to church and all my church friends were supportive and caring. I did not have a weak support system and I am forever grateful for them, but my own thoughts clouded my vision. 
Eighth grade was the pinnacle of my depression. I began to tell myself that because of my ugly skin, I will not find any guy who would like me– or even marry me in the future. I began to turn from an extrovert to an introvert. I did not want to go to the beach and if I did, I wore leggings and long sleeves. I hated everything about myself. I began to call myself a weak person because I didn't even try to change or think positively; it got so bad that I had constant thoughts of ending my life. I believed in God, but I did not understand: WHY? 'Why me? Why did He allow me to become this ugly?' My mom cried every time she heard me speak negatively about myself, so I began to hide my emotions. Building up the anger, it began to boil, and eventually, overflow. 
One Saturday afternoon, after church, I decided that I would either end my life or run away. Something told me to call a hotline for suicide prevention. They did not respond and I think they were on a lunch break, I was so surprised! Instead of taking it as a negative sign, I took it as a positive indication. I thought to myself that if I know not to end things then I should continue to live my life! Many people could have just taken that and thought 'well this is, in fact, the end'– but I decided to carry on. God helped me through that, and I thank Him. 
My high school years were filled with ups and downs. I discovered Microskin, a company that sold make-up that covered my vitiligo; through the banquets, the pool parties, class trips, and graduation I used Microskin. It provided all the 'airbrush' tools and the makeup that cost about 300$ per bottle. I covered my skin and felt a bit better about myself. The makeup could not be used every day because my skin tone would fluctuate. Also, their pop-up stores would only come down from NY to Miami one to two times a year, so I really had to make it last. Wearing that makeup was like covering behind the long sleeve shirts and long pants; I was still hiding.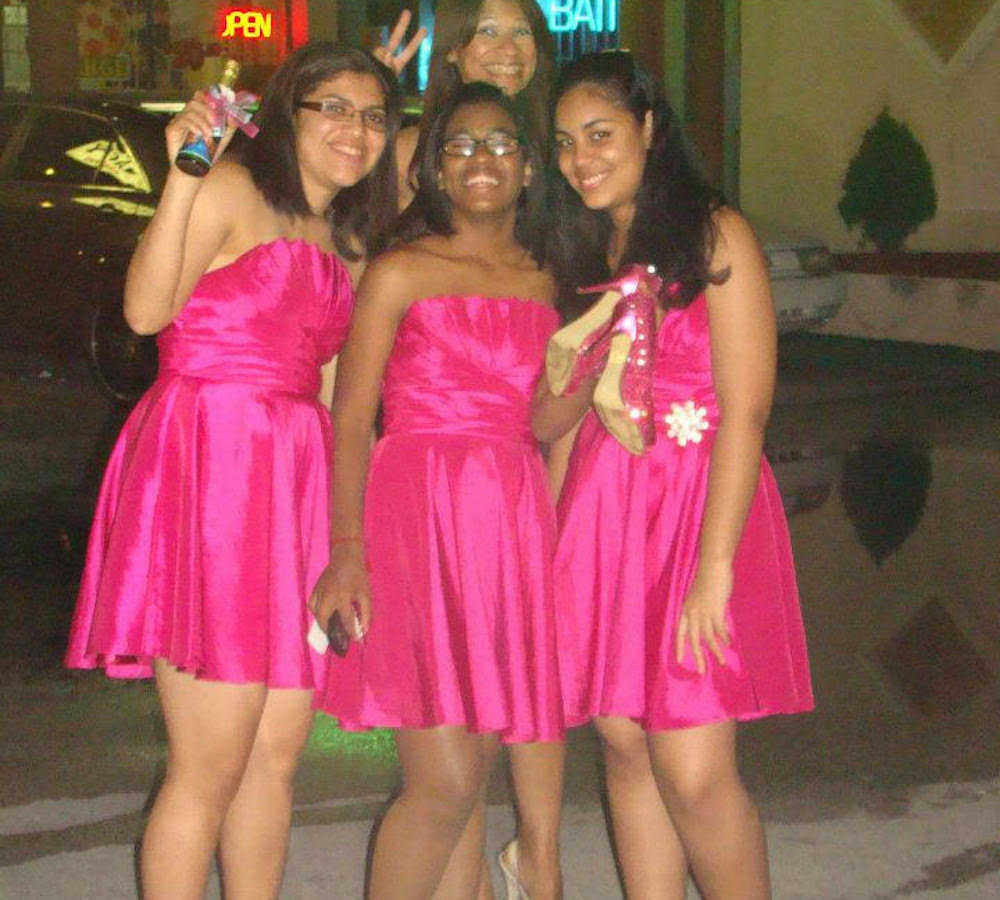 2014 was my last year in high school, and when things began to change. Winnie Harlow was the first model on America's Next Top Model to have vitiligo! I was taken by surprise and was intrigued at the comments of what other people had to say about her and her skin. I was shocked! Every year, I went through Instagram and YouTube, looking for other people with vitiligo. On YouTube, I mostly saw people who were trying to cure themselves, instead of finding ways to live with it. It was discouraging, but once Winnie became popular, I found a glimmer of hope. I began to realize that my skin was not a hindrance to anything; I was my own stumbling block. I decided to go to college in Tennessee, which meant a new environment and new people I had to meet. Anxiety rose off the roof. I began to go to therapy. However, the key to therapy is 'if you don't believe it yourself, no one else can change you.' This phrase hit hard, but I knew it was true. I had to start thinking of who I wanted myself to be, and less of who I hated being.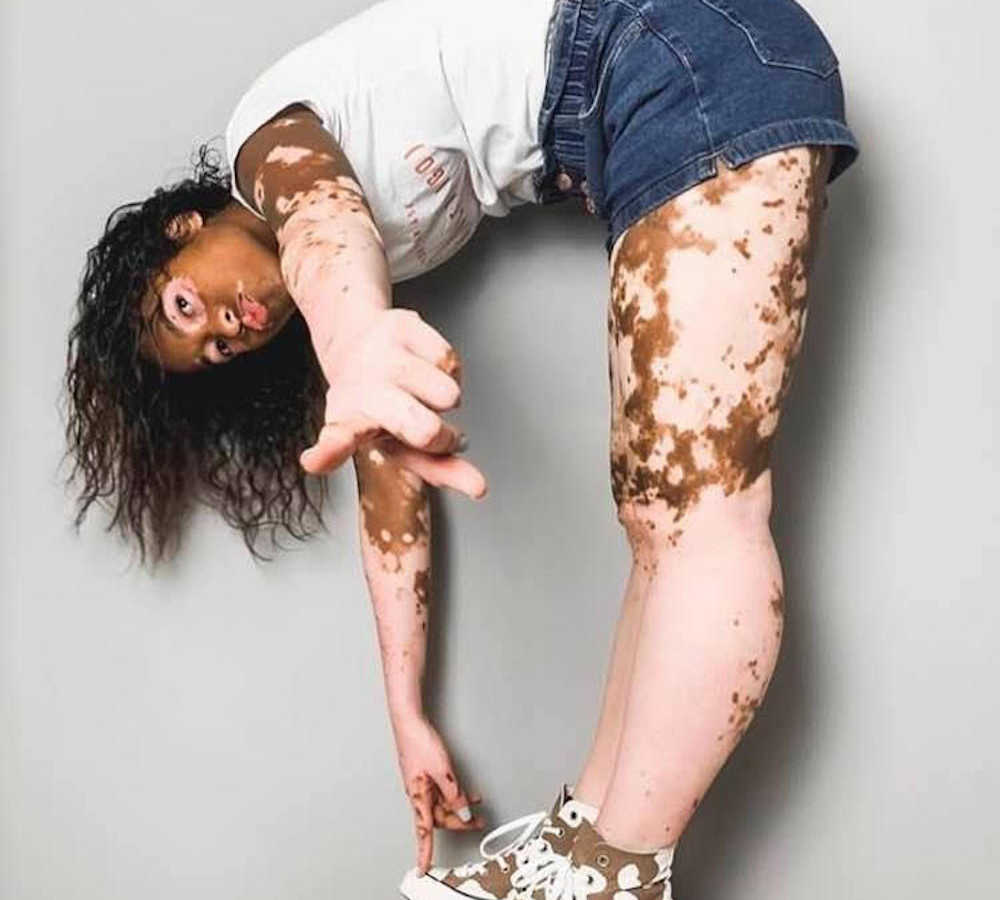 In my Junior year in college, I decided to study abroad in Italy. It was the biggest challenge of my life. A new country and new people, I was scared. How could I be confident when it took me this long to be even just a little confident in the U.S? I was freaking out. Of course, everything went well. During that year, my friend sent me a post on Instagram from the amazing photographer Brock Elbank (@MrElbank). He was working on a vitiligo project in London. I sent in my information and everything was set up! I had done a similar shoot with some friends in college, but this was extremely focused on my vitiligo. I learned a valuable lesson from Brock. He told me, 'everyone that comes in with vitiligo always talks about how the other models' skin and patterns is beautiful– even more beautiful than their own. When all of you praise each other, it is time to realize that you must praise yourself as well.' His words remind me that I am beautiful and appreciated. That beautiful experience opened many doors of opportunity to share my story. I was not fully accepting myself then, but that was a step towards my goal. I began to show my skin, wear sandals, and mid-length sleeves. I stopped covering my eyes with makeup, I began to go to the beach in actual beach attire–so many things began to change.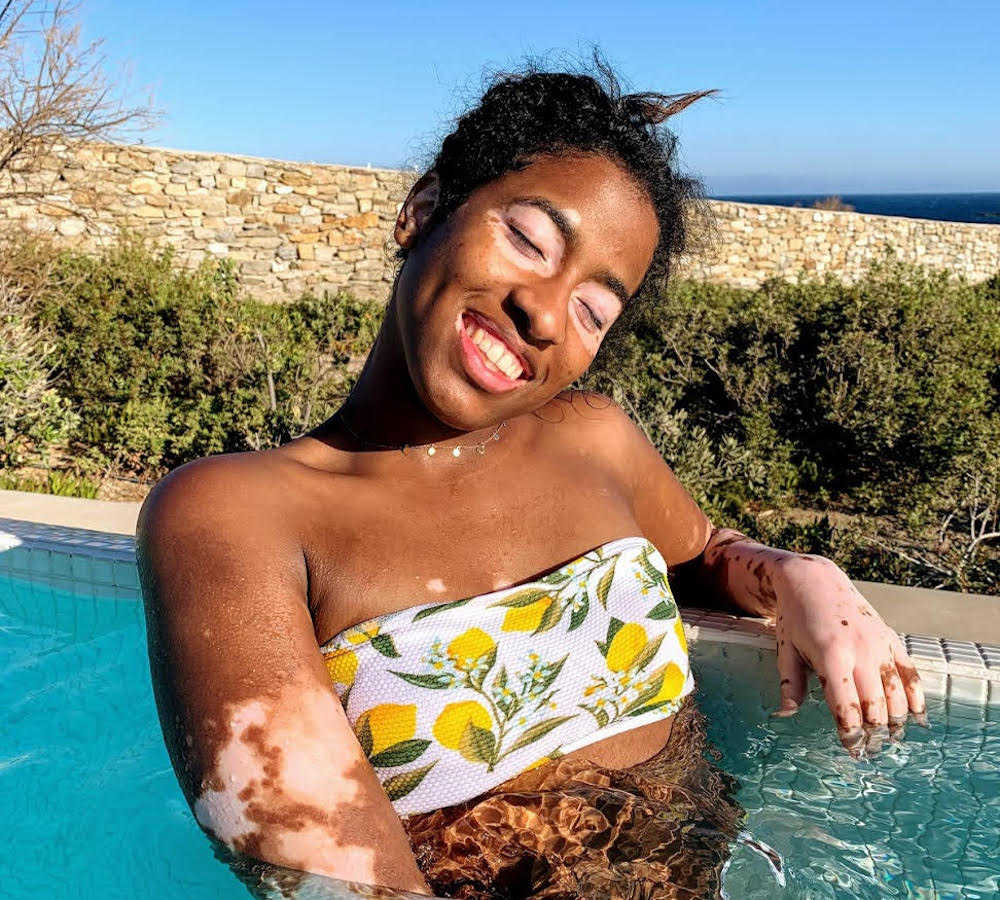 Many people reached out to me and gave me an opportunity to let my skin speak for itself. I have been able to be a part of the Aerie Christmas Campaign. I have been asked to be a part of magazines and different blogs. My most recent work was being a part of a Karol G music video that is on Facebook. Looking at all that I have done, I would have never imagined showing my skin to millions of people. There have been many who have reached out and said that I have inspired them or helped them through their insecurities. That is all I wanted growing up. I wanted to have influences and role models, I wanted to see having vitiligo was not a setback; I wanted to know I can live without a care in the world because no one else is living for me. I must enjoy my life before it is too late.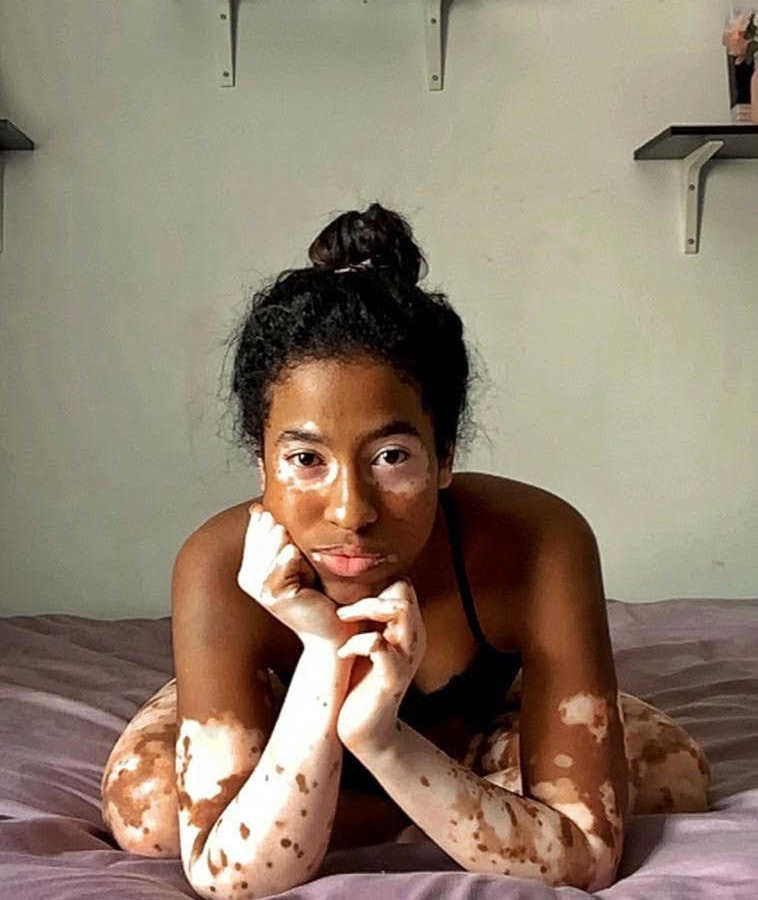 There was this one time my friends and I went out to the beach; mind you, I wore long boho skirts and crop tops with my bathing suit under, but never got in the water. I was still afraid of what people would think if I were to walk to the water with my vitiligo exposed, in Miami Beach. My friend brought a high school friend to join us, and she had vitiligo too. Her skin is tan, but her vitiligo is visible and distinguishable. She told me about the day she realized she did not care about the opinions of others. I was listening in awe because I wanted to be at that same stage, but of course, everyone's journey is different.
 When we got to the beach, she told me 'listen, I am going to walk to the beach first and then you see how everyone around us reacts; then you decide how you feel, and if you want to enjoy this beach day.' I watched and saw some people staring, but that was it. I was so nervous, but I decided well if she can do it, so can I. So, I gained the courage to do so. That day was the first beach day I officially enjoyed since I was 8. I felt free– afraid, but still free. I began to tell myself that everyone will stare no matter if I have vitiligo or not if I was a model or regular. Everyone will stare. This is a long and recurring journey I am on; and it never ends. Some days will be great, and on others, I may feel sad and ugly because of my skin. That is completely normal, no one is perfect. I tried to remind myself daily. I hope I can continue to inspire myself and others because, in the end, the struggle to acceptance is worth it."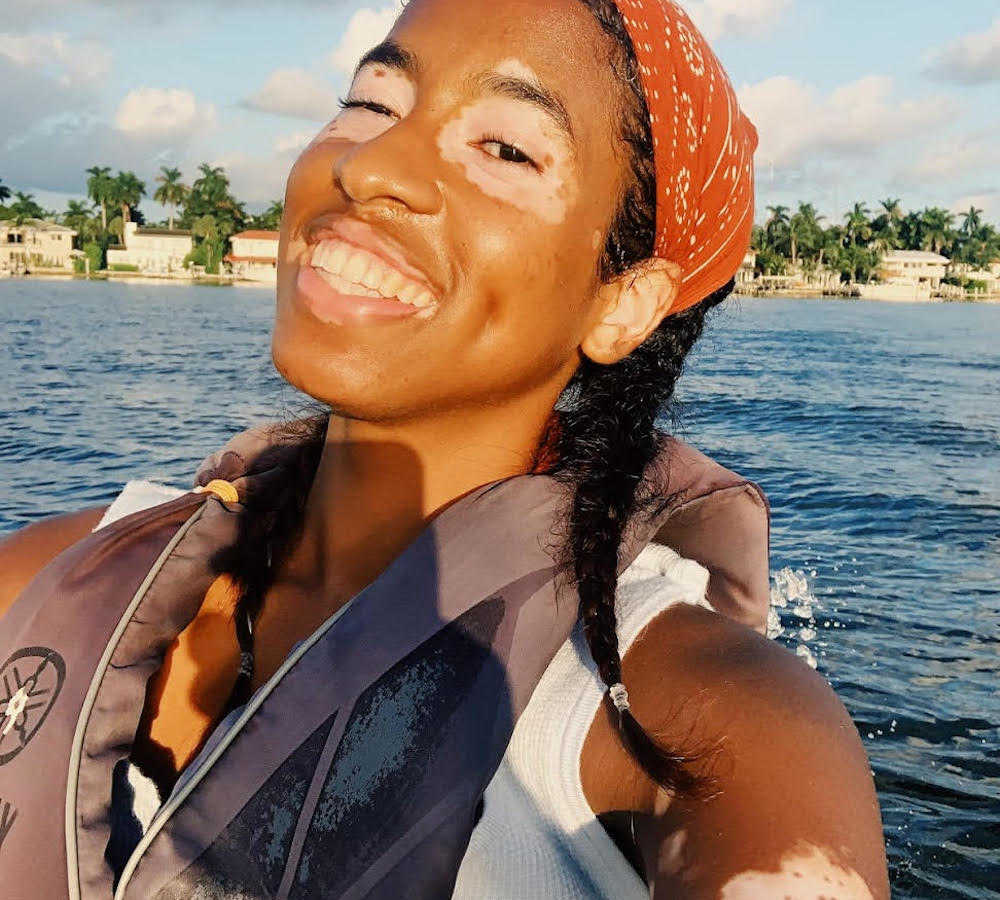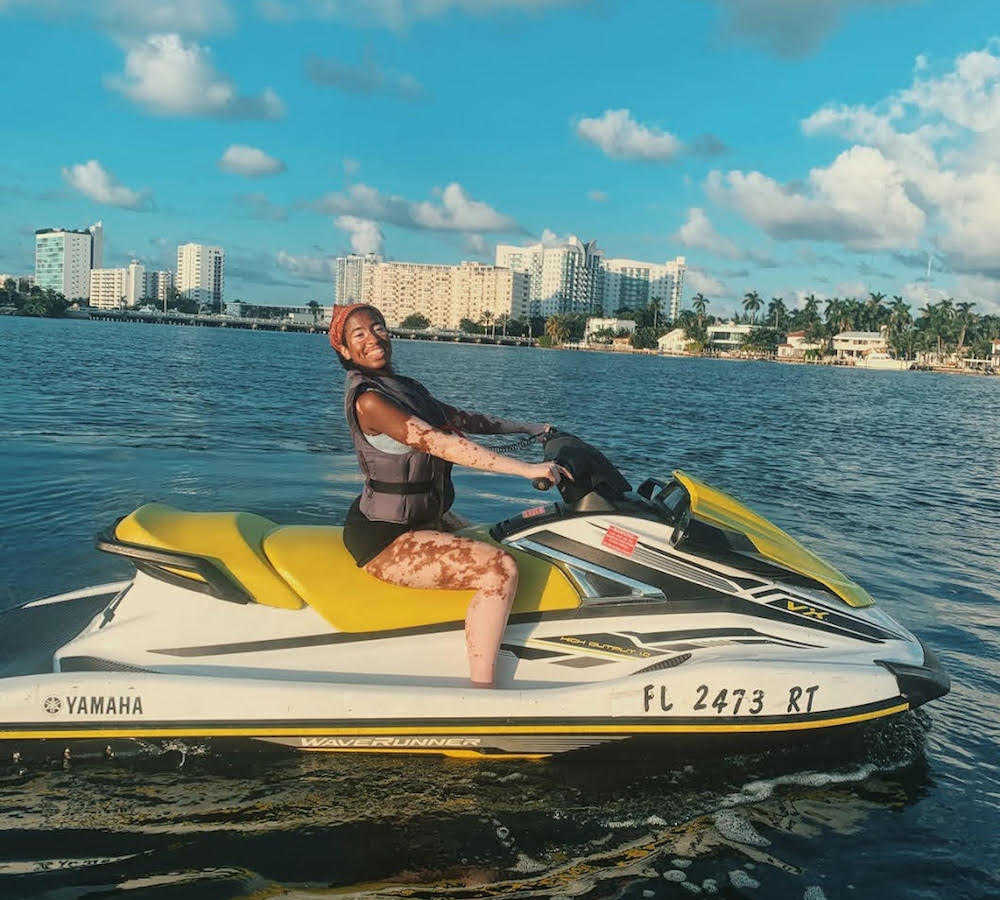 This story was submitted to  Love What Matters  by Mary Aquino of Miami, FL. You can follow her journey on  Instagram here.  Submit your own story  here, and be sure to  subscribe to our free email newsletter for our best stories, and  YouTube for our best videos.
Read more inspiring stories like this:
'Why me?' The words echoed in my head, 'There is no cure…' I reached to get my makeup and it wasn't there. It was a nightmare that wouldn't end.': Man finally accepts vitiligo, 'What I have is a blessing'
'You're born with it. There's no way I have it.' It spread like wildfire, right on my face.' Woman with vitiligo learns to feel beautiful regardless, 'Love yourself through your struggles'
'Oh, it's just my skin.' I'd stare in the mirror, worrying how to look as pretty as the other girls.': Young woman born with vitiligo skin condition develops eating disorder to look as good as her peers, finally learns 'recovery is worth it'
SHARE this story on Facebook and Instagram to help celebrate unique and beautiful differences!