"Our story began like most. We met, we fell in love, and we made our plans for the future. Those plans included marriage, a dog, and four children (or one if you talked to my husband, Emory). Given my past with an eating disorder, we knew we would grow our family through adoption when the time was right. While adoption was always part of our plan, God's plan looked much bigger.
2 months after the wedding, we found out we were pregnant with our first child. 2 months later, we lost that sweet baby in a miscarriage. We were shocked we were able to get pregnant and devastated by our loss. 10 short days later, I was pregnant again, much to everyone's surprise. Who knew you could even get pregnant that quickly after a miscarriage? We were cautiously excited. Our first child, a son, was born full-term and healthy in November of 2004.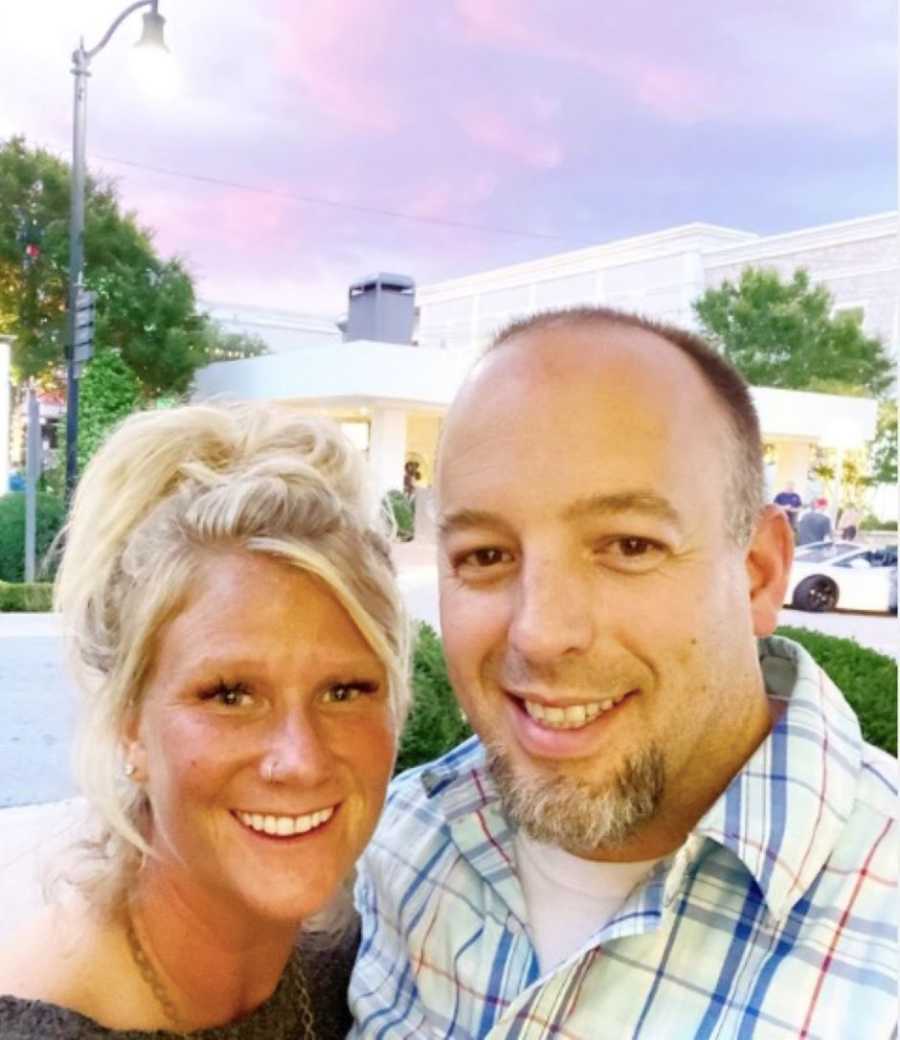 Now we knew we could get pregnant, our plans were changing a little. My husband still only wanted one, but I wanted four. Sadly, hopes were dashed as we suffered loss after loss. Although becoming pregnant came easily, carrying to term did not.
Ever-present in our hearts, adoption soon became an option for us. When our son, Aidan, was 18 months old, I received a call about a 3-and-a-half-year-old little girl who 'needed an immediate placement.' We didn't know all the circumstances, but we were told, 'Her first mom needs to place her for adoption.' We knew nothing about adoption at this point, just that this little girl needed a home, and we knew we had one.
In fact, we got the call while my husband was in class finishing his undergraduate degree, and I couldn't get in touch with him to make sure he was okay with me picking up this little girl. Based on our previous discussions, I made the decision to bring her home. I said, 'Yes.' I picked him up from class to surprise him with an extra kiddo. Although he thought he only wanted one child, his excitement at having a daughter was palpable. Our family grew by one as we began the mountain of paperwork for guardianship of sweet Mina.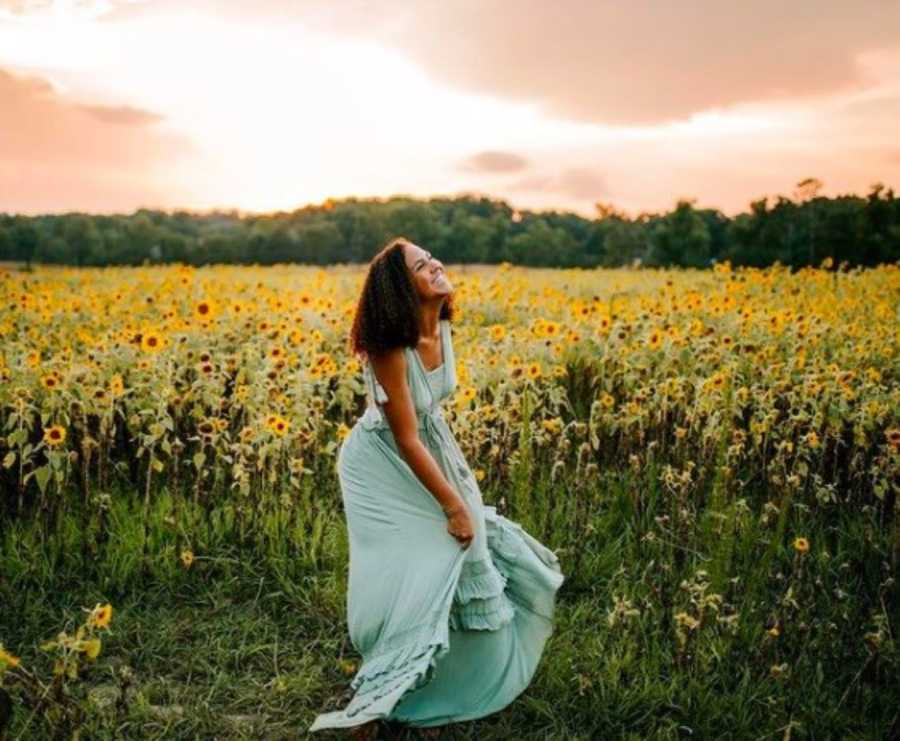 While having guardianship of Mina, we felt God leading us to foster care. We believed we were being called strictly to foster, not to adopt. But God. We started the process and less than 8 weeks later, we had two little boys – Michael and Carson – brothers. At only 3 years old and 6 months old when they came to us, our hearts and hands were full with four little ones under the age of 6. The process of fostering was long and hard, but worth every minute. We fostered the boys for over 2 years before they became available for adoption. Mina was also legally adopted during this time.
Through Mina's adoption, our company Faithful Adoption Consultants was born. We realized adoptive families needed more support and advocacy and we wanted to be the ones to offer that to them. We felt alone and lost much of the process and wanted someone to hold our hands and prepare us for each next step. This is what our company does – walk hopeful adoptive parents through the adoption process step-by-step.
It was through our company we were blessed with our next child. Emmy Faith was placed in our home at 3 weeks old through contacts from our company. She was born with sickle cell disease and the agency was having a hard time finding a family that felt prepared. In our naivety, we gave an overwhelming yes and knew God would equip us with whatever came our way. Desiring to be the best advocate possible for our newest addition, I immediately began research and calls to physicians to learn all I could.
Shortly after Emmy came home, we found ourselves pregnant again. At only 5 weeks old, she had two hospitalizations and I felt overwhelmed about caring for this pregnancy and a sick child. Given our 12 previous miscarriages, I held this pregnancy with open hands – unsure of carrying to term. Much to our surprise, this pregnancy was different from the others. This baby's heartbeat grew stronger by the day. Yes, there were moments of sheer terror as I realized I would soon be a mom to six kids under the age of 8.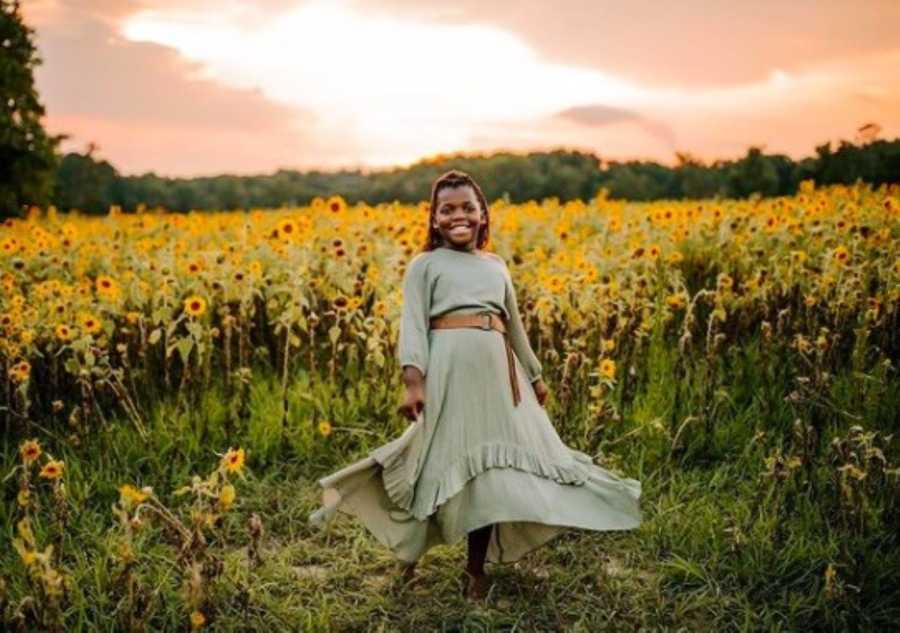 Our son, Collier, born healthy and happy, became our sixth child. While not perfect by any stretch of the imagination, God did equip me, and I handled it all fine. As a mom of six children, our family was complete. Remember, my husband originally wanted one. We felt complete and a tiny bit overwhelmed. We were done.
This is when we met our future daughter, Aniya. In only a story God could write, we met her through a friend while inpatient with Emmy. Our friend also had a child inpatient and knew our heart for adoption and my deep desire to adopt a child with Down Syndrome. She came to me with information about a 5-year-old little girl that was potentially being placed for adoption but needed immediate respite care. I called Emory immediately. Again, we were currently inpatient with Emmy, so he was instantly overwhelmed by this request. He asked, 'How can we take on another child with special needs while in the midst of so many trials with the daughter we already have?' It was a good question, but one I knew God would work out for us. I knew He intended for us to meet this child.
Days later, we said, 'Yes' to respite care, and met Aniya for the first time. She was precious – joyful, spunky, a little rotten, and cute as could be. The agreement was we would give her respite care for 3 weeks and then she would make some decisions about her permanent plans. At this point, Aniya's mom was ready for her to go home. While we knew the likely outcome, it didn't make saying goodbye any easier. Only 2 weeks later, we got a call. Her mom was feeling overwhelmed and needed more permanent respite – not ready for adoption, but in need of long-term respite if we agreed. We said, 'Yes.'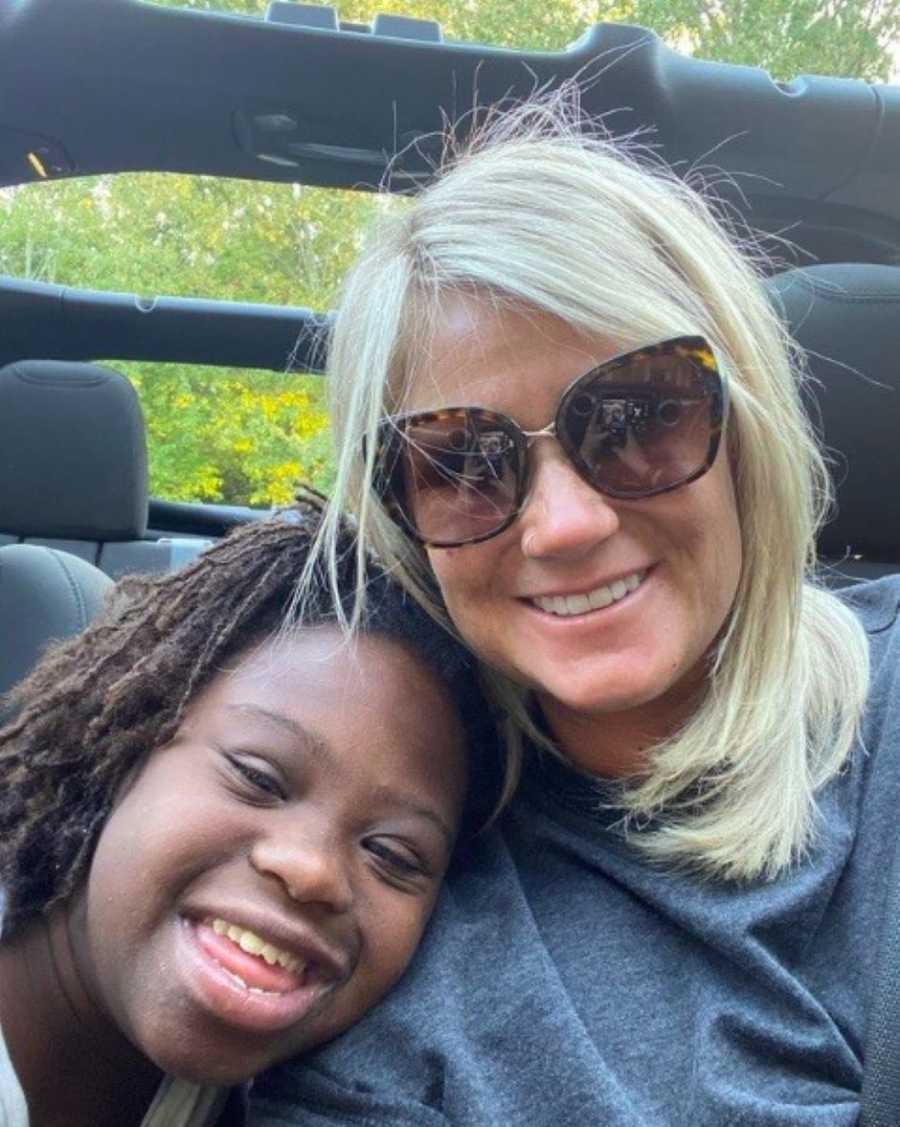 We had her for almost a year when her mom asked for her back once again. March 16, 2014, was one of the hardest days of my life, delivering a child we so desperately loved back to her mom. Even though I knew it was her right, it didn't lessen the heartache. Saying, 'Goodbye' was the hardest thing our family had ever had to do. We moved forward, despite the hole in our hearts.
A little over a year later, we once again found ourselves in a unique situation. We received a call from our attorney about a baby boy who needed a home quickly. It would be guardianship again, while his mom worked a program to be able to parent him. We said, 'Yes.' At 9 months old, little Zeke had the prettiest little eyes you have ever seen. We could not believe we had a baby again, we thought we were long finished with that stage. But just like that, we were a family of nine. We legally adopted Zeke when he was 5 years old.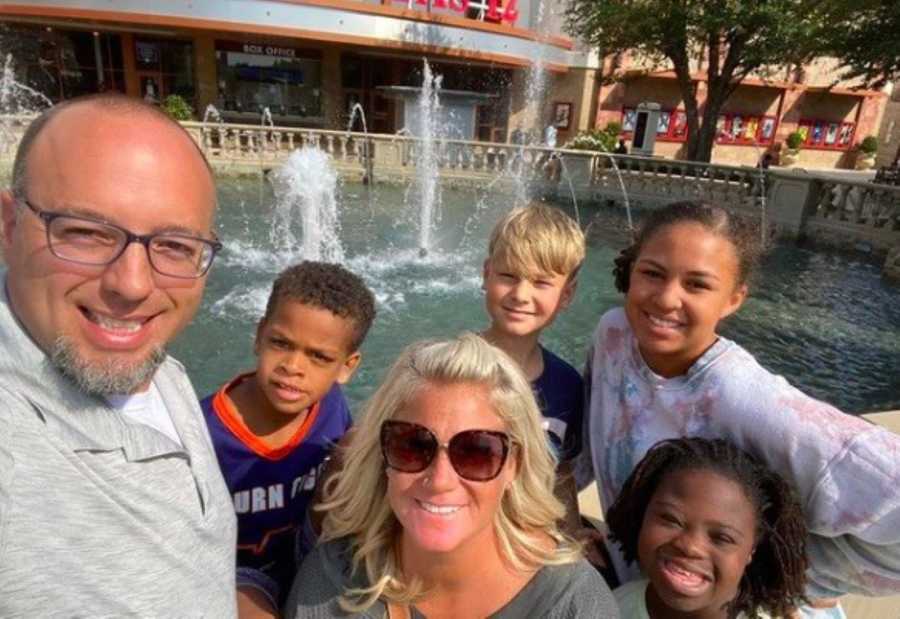 Still, there was a nagging hole in our hearts. Missing Aniya and praying one day we would get to see her again. Our prayers were answered in May 2016. The day after we brought Zeke home, we brought Aniya home forever! Through much prayer and heartache, Aniya's first mom placed her in our home, ready for adoption.
At this point, she was 8 years old and we were unsure if she remembered us – she did! It was like she was never gone. She was the missing puzzle piece, the hole in our hearts.
So, if you're keeping track, we now have eight children. Six through adoption and two naturally. We had 15 miscarriages and a long road to each of our kids, but it has been worth all the hardship and the pain. Our kids are now ages 18, 16, 15, 12, 12, 10, 10, and 6.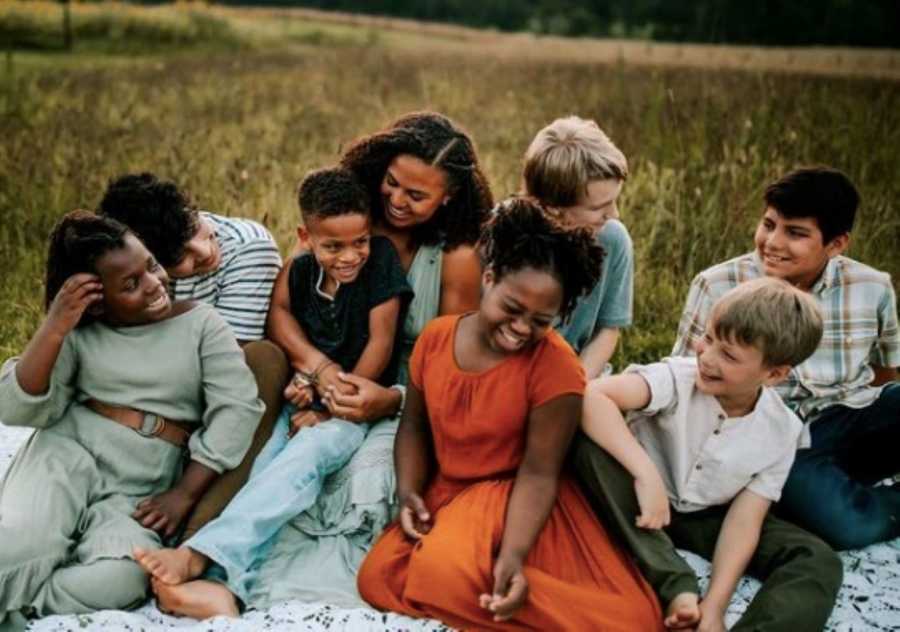 Adoption is not without its hardships—and our life is far from perfect —but our story is one I love to tell. It is a story only God could write. All we did was put our 'YES' on the table, and He ran away with it."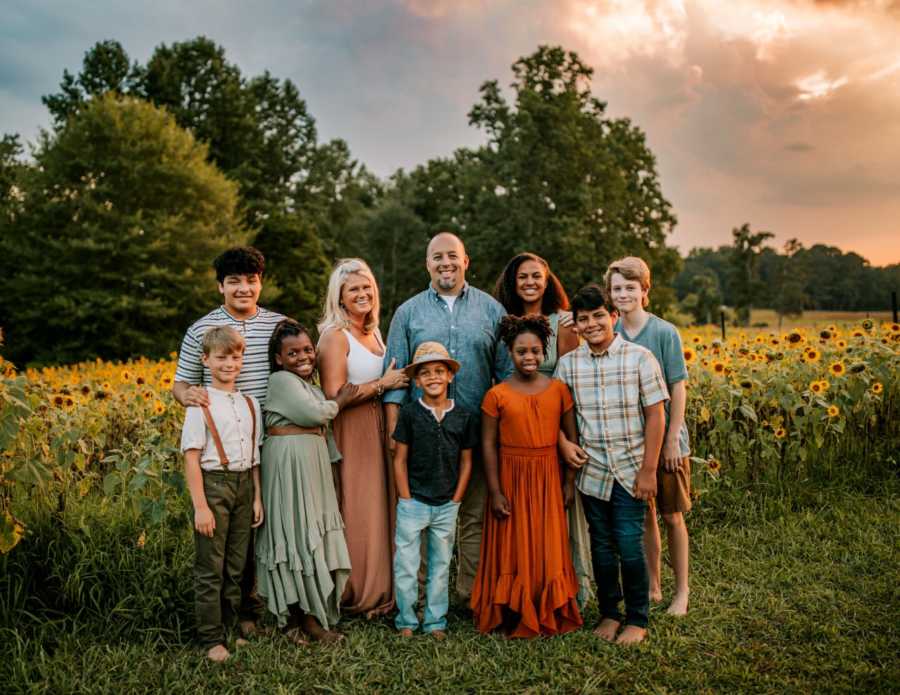 This story was submitted to Love What Matters by Courtney Lott. You can follow their journey on Instagram and Facebook.  Submit your own story here, and be sure to subscribe to our free email newsletter for our best stories, and YouTube for our best videos.
Read more stories like this here:
'My mom is sick and can't look after me.' When someone asks, 'What does adoption mean?' he says, 'It means I stay with my mama and dad forever.': Couple foster 15 kids, adopt, 'No child should go without love'
'She scanned my stomach. 'Congratulations, Mom and Dad! Oh, wait…' My heart sank. 'I see three here!': Couple has triplets, twins through embryo adoption, 'We're the lucky ones'
'Any chance you're interested in adopting a redhead?' We went from 0 to 3 kids. Two weeks later, we were pregnant.': Couple battling infertility become parents to 10 after miracle pregnancies, adoption
'She's white. Is that okay?' Without hesitating, my husband said, 'She needs a home. Her race isn't relevant.': Foster parents adopt 3 children in 7 months, 'Families don't have to match'
Help us show compassion is contagious. SHARE this beautiful story on Facebook with friends and family.