As the weather cools down and the leaves turn shades of red and orange, it's the perfect time to engage in fall activities for families. Whether you're exploring in your yard or venturing outside of town, there are plenty of fun activities for families with kids of all ages. Get ready to start planning for the season with these fall adventures. 
1. Fall Foliage Hike
Even though the changing of colors happens annually in most places, it doesn't make it any less magical.  Immerse your family in the beauty by grabbing your hiking boots and heading to your nearest nature trail or forest. A state park or national park offers excellent trails.
The vibrant reds, oranges, and golds of the changing leaves will surround you, creating a breathtaking backdrop for your family adventure. Point out different types of trees and leaves in the great outdoors, making it both an educational and enjoyable experience. Don't forget to pack some snacks, bring a camera, and let the fall foliage guide you on a memorable outdoor journey.
2. Pumpkin Patch
Visiting a pumpkin patch is a quintessential fall activity and many locations offer more than simply picking out a voluptuous gourd. Whether you're looking for the perfect pumpkin to carve into a jack-o'-lantern or searching for the biggest one to display on your front porch, pumpkin patches offer a wide selection for every preference.
Take your time strolling through the patch, enjoying the crisp autumn air and the sight of children eagerly picking their favorite pumpkins. Many patches also offer super fun activities like hayrides, corn mazes, and petting zoos, making it a memorable day out for the whole family. And don't forget to pick up some fresh apple cider and delicious pumpkin treats to enjoy on the ride home.
3. Apple Picking
Apple picking is another one of those must-do fall activities for families. After all, fall wouldn't be complete without a trip to the apple orchard for some good old-fashioned apple picking! Grab your baskets and head out to a local orchard to spend a day among the apple trees. The sweet aroma of apples will fill the fresh air as you walk through the orchard searching for apples.
Let your kids get their hands dirty as they reach up to pluck ripe, juicy apples straight from the branches. Not only is apple picking a fun outdoor activity, but it also allows your family to connect with nature and experience the satisfaction of harvesting your own fruit. Plus, you'll have a bounty of apples to enjoy when you return home – apple pies, apple crisps, or simply a crisp apple eaten fresh from the tree.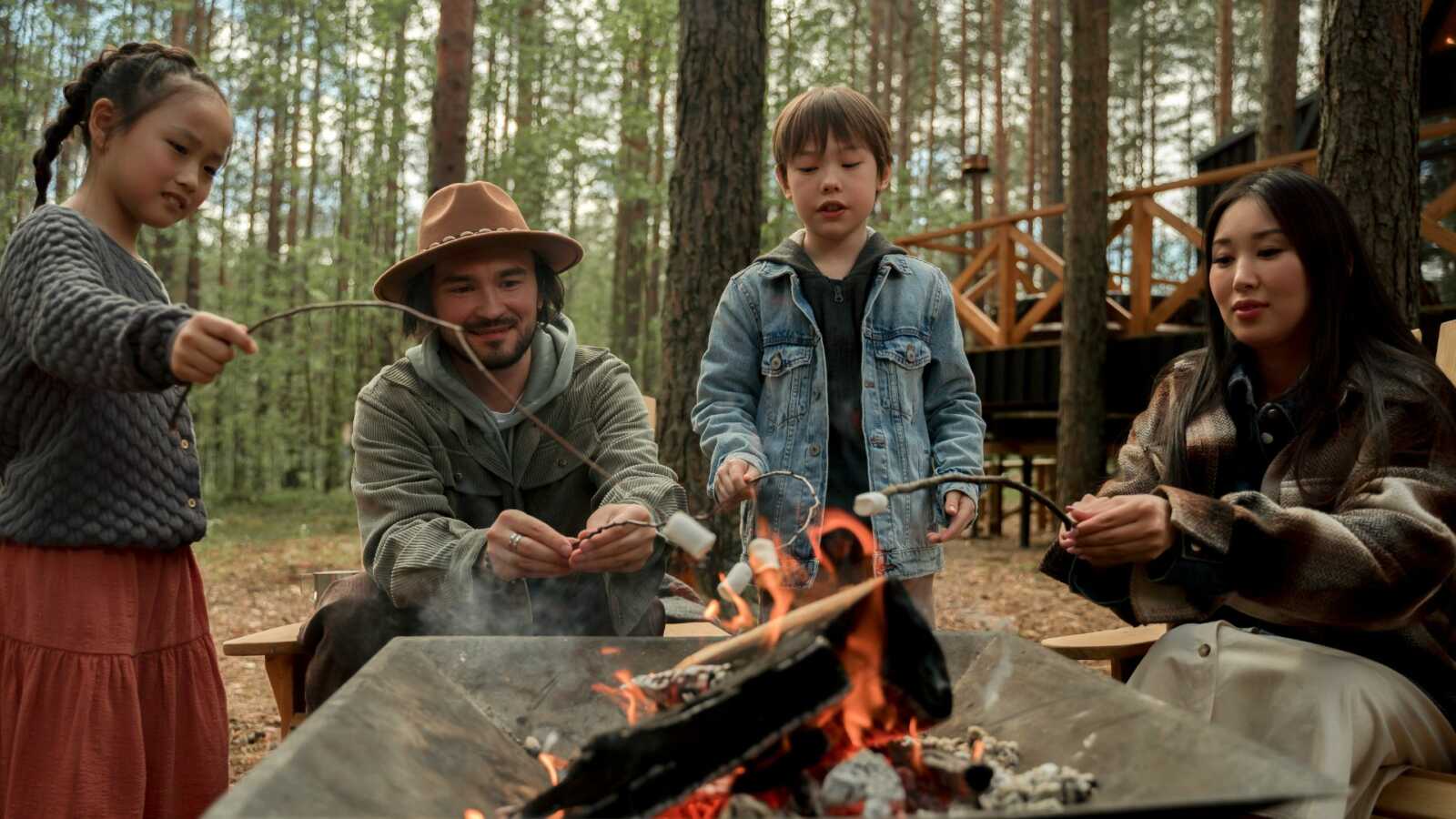 4. Bonfire and S'mores Night
There's no reason you have to leave home or spend money to have a fall adventure. Gather around a crackling fire, roasting marshmallows on sticks until they turn golden brown and gooey. As the flames dance and the sweet smell of toasted marshmallows fills the air, share stories, sing songs, or simply enjoy spending time together under the starry night sky.
The combination of the warmth from the fire, the delicious taste of melted chocolate and marshmallow sandwiched between two graham crackers, and the laughter and conversations shared around the bonfire create a truly memorable experience. So grab some blankets, find a safe spot, and get ready for a night filled with warmth, laughter, and the delectable taste of s'mores.
5. Harvest Festival
A great community event to explore – that may be free in your area – is a harvest festival, so see if there's anything planned in your local area this season. These festive events bring together communities to celebrate the abundance of the season and all things autumn. From hayrides and corn mazes to live music and delicious food, there is something for everyone at a harvest festival.
Take a stroll through the vendor booths filled with handmade crafts and local produce, or challenge your family to a friendly apple pie-eating contest. The lively atmosphere, vibrant colors, and sense of community make attending a harvest festival an unforgettable experience. Wear your favorite fall sweater (weather permitting), grab a warm cup of apple cider, and join in the festivities at a local harvest festival.
6. Corn Maze
If you're looking for a thrilling outdoor activity that will challenge your family's sense of direction, then exploring a corn maze is the perfect choice. Step into a labyrinth of towering corn stalks, twisting paths, and dead-ends, as you navigate your way through this unique fall adventure.
This is a fun activity that will keep everyone on their toes as you work together to find your way out. The corn maze offers a great opportunity to bond as a family, while also enjoying the beautiful fall scenery surrounding you. 
Are you up for the challenge? Add some (or all) of these fall activities for families to your schedule this year to create a truly unforgettable season.
This article was written exclusively for Love What Matters by Kate Fann. Subscribe to our free email newsletter, Living Better—your ultimate guide for actionable insights, evidence backed advice, and captivating personal stories, propelling you forward to living a more fulfilling life.
Read more stories like this:
11 Outdoor Learning Activities For Parents And Kids To Enjoy This Spring
'We became friends on Facebook and never saw each other again. Until last fall, when they joined us for Thanksgiving.': Mom shares story of 'friends who feel like family'
Do you know someone who could benefit from reading this? SHARE this story on social media with family and friends.