Finding Love
"In 2013, I was 18 years old and had just moved halfway across the country to Fayetteville, Arkansas to live with my nana and go to college. I had a scholarship to the University of Arkansas and wanted the freedom we all try to find after turning 18.
Just a week into being in town, I met a boy. His name is Jason Taylor, and he's my husband. We met online (don't ask me which site, it's too embarrassing) and went on our first date on March 19, 2013.
It was a Tuesday and the same day I started my new job. He picked me up in his truck, I made him let my nana take a picture of his license just in case, and we went to Chili's.
He asked me questions about myself, my siblings, and my story. I hate that I don't have a better way to describe the feeling other than it was just a bone-deep knowledge that this person was going to be important.
We both lived with our grandparent(s) at the time. I didn't have a car or even my license yet. He helped me feel more confident driving and even let me drive his 1985 Chevrolet to/from work after I passed my test.
We spent every minute we could together. We moved into our first apartment together on May 1, 2013. We were engaged by the end of August and planned our wedding for October 18, 2014.
Two weeks before our wedding, we packed our entire duplex and moved to Athens, Georgia, where I'm from. We postponed our wedding 'indefinitely' as we wrote in a Facebook post. We needed a change, and we got it.
We eloped in Gatlinburg, TN on December 20, 2014. We couldn't imagine saying personal and important vows in front of 100+ wedding guests. We needed privacy and needed the ceremony to be representative of us.
I wore a black, above-the-knee dress, and he wore his blue jeans and boots. The joy I still feel from seeing our wedding photos is worth every moment of stress calling the big wedding off gave me.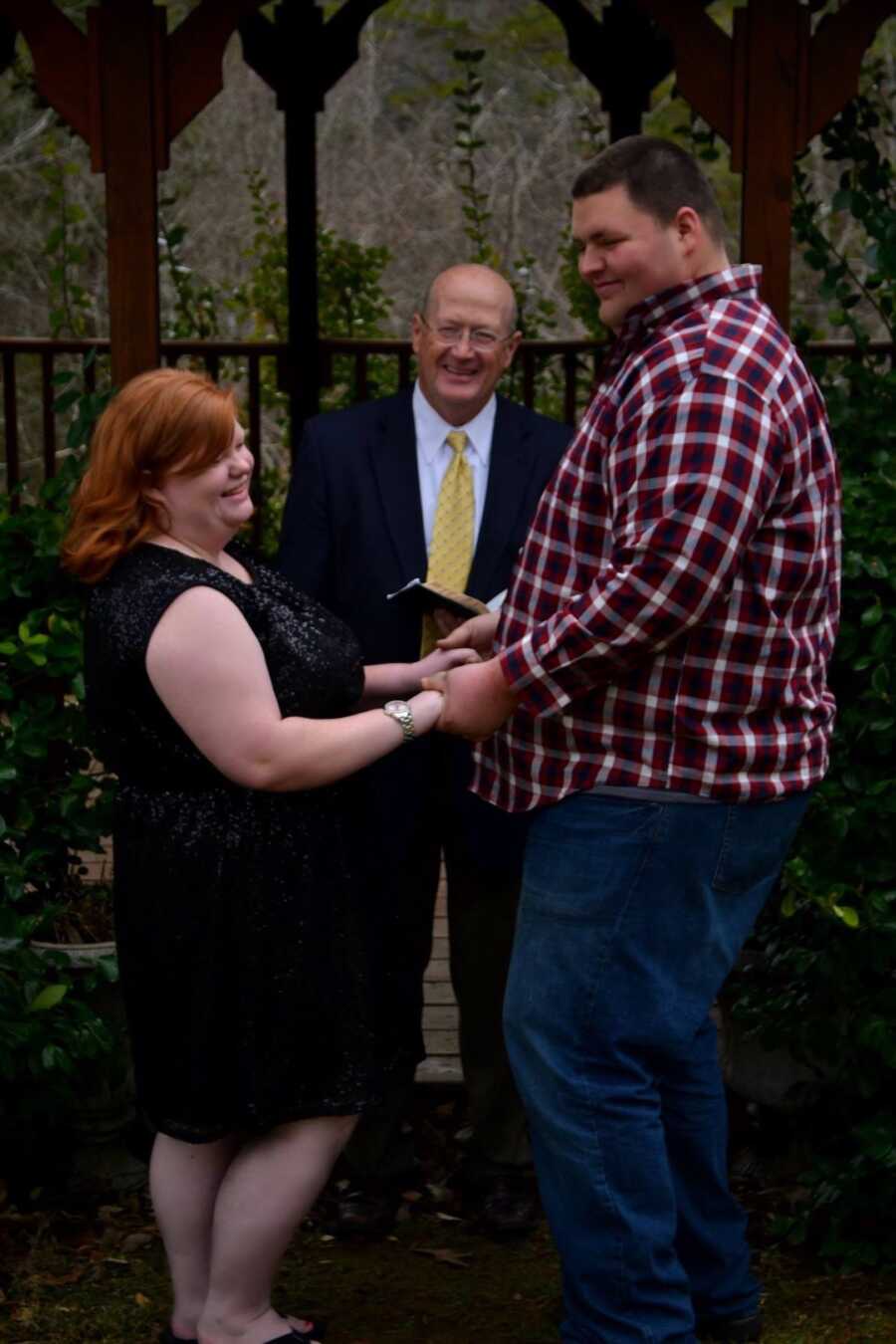 We spent a few years learning how to be married adults. Jason and I have always been best friends, so we genuinely just enjoy spending time together. It's something that even now has carried us through much darker years.
The first year married was hard because Jason was learning to live away from his family for the first time, and was incredibly homesick. He was also getting to know my family and building those relationships. That was our life for the first 2-3 years of married life.
We loved it and mostly lived in this blissful place inside of our marriage. People would ask 'How's married life?' and our answer was always 'Marriage is easy, but life can be hard.'
Desire To Start A Family
In October 2016, we decided we were ready to try to get pregnant. We experienced a miscarriage in January 2015, 3 weeks after our wedding. I was on birth control though, and we were barely making rent.
To be honest, we wrote it off as God protecting us and mostly, the child we lost. I wanted babies with Jason desperately. I wanted those moments of hearing the heartbeat for the first time and him glowing at me while I was carrying his child.
I was never one of the girls that grew up hoping for a love story, but I bought into the magic of starting a family. I wanted that magic with Jason.
A year into trying, we had the testing done. Nothing was wrong. The bloodwork looked good, and they had no answers as to why we weren't pregnant yet.
We trusted God's timing, so we just kept trying and had faith our time would come. It's almost painful to look back on that time and remember how certain we were we would have biological children someday and know the gut-wrenching heartbreak that would later come.
In February of 2018, a conviction that we needed to move back to Arkansas to raise our kids came and broke my heart for the first time. I had to leave my family, but it was so similar to the feeling I had in the booth at Chili's.
I just knew and couldn't explain it to anyone, except for Jason, because he had it too. We packed up our 2 bedroom apartment and J's friend helped us move to Arkansas. It was right after this move that I started feeling the urge to discuss adoption.
Relationship With Adoption
When I was 4, my biological parents split, and my mom met Danny. Their initial timeline looked very similar to mine and Jason's, but my mom had two kids, my sister and I.
Pretty seamlessly, we adjusted to this new life with Danny, and he was so good to us. He loved us as if we had always belonged to him. Really, even deeper than that, he loved us as God had always planned for us to be his.
I was 4, but my sister was 3, and that year made a world of difference in how we processed this change. I was stuck on the fact our biological dad just left. He quit showing up for holidays, and our birthdays, we just didn't see him anymore.
I internalized that, like the enneagram 9 I now am, and decided it meant I wasn't enough. This message is something I internally fight every day still as a 28-year-old woman.
I have never once felt like I was enough. In school, for my parents, for my grandparents, at work, every aspect of my life, except for with Jason.
Some of the magic of my relationship with Jason is that I don't feel lacking. I feel like I am enough for him, and I think that played a huge role in my instantaneous connection with him.
In 6th grade, when I was 11 years old, Danny adopted us. However, for him to be able to do that, my biological dad had to sign his rights to us away. He had been out of our lives completely for 6 or more years.
He requested meeting us as his one condition of signing his rights away. He brought his long-term girlfriend, we had lunch, and he came to one of the games we were cheering at. His girlfriend gave us a note with their phone numbers on it, including her kids.
The coolest thing that came out of this was that I got to meet my half-siblings again. My older sister has always wanted a relationship with us. She was 18 at this time, and we got to build a relationship with her.
After this meeting, I remember talking to my bio dad once or twice on the phone. Once again, I felt abandoned by him and not enough. I had a few years of getting in trouble around this time and now realize I had no way or method to express how I was feeling.
I didn't even have the words back then, and I was in deep denial because I had a father in my life who did want me and adopted me, I wasn't allowed to feel like I had lost someone. I always knew I was better off adopted than not, but it never erased the pain of not being wanted.
Called To Adoption
Jason and I moved to Arkansas, and I started talking about adoption and doing research, and so did he. God was working on both of us at this time, separately.
In May 2019, we submitted our paperwork to begin the process of adoption with The Call in NWA. The Call is a non-profit, Christian organization that trains, equips, and supports foster and adoptive families across Arkansas.
Jason found a podcast, The Adoptive Mom, that was hosted by a local adoptive mom. He didn't even know that when he found the podcast. I was able to join a support group the podcast hosted too and am now friends with Alex, the host.
We prepared in every way we could. I don't even remember one specific conversation between Jason and me except the one where we decided it was time to do the paperwork.
We just both knew adoption was the next step. It had always been something we talked about but had assumed we would have biological children first and adopt later.
I don't think either of us realized adopting from foster care would be so inexpensive financially. It was important to us to adopt kids who had been removed but couldn't safely return to their biological homes.
We started PRIDE training in June 2019. We were so excited to get started!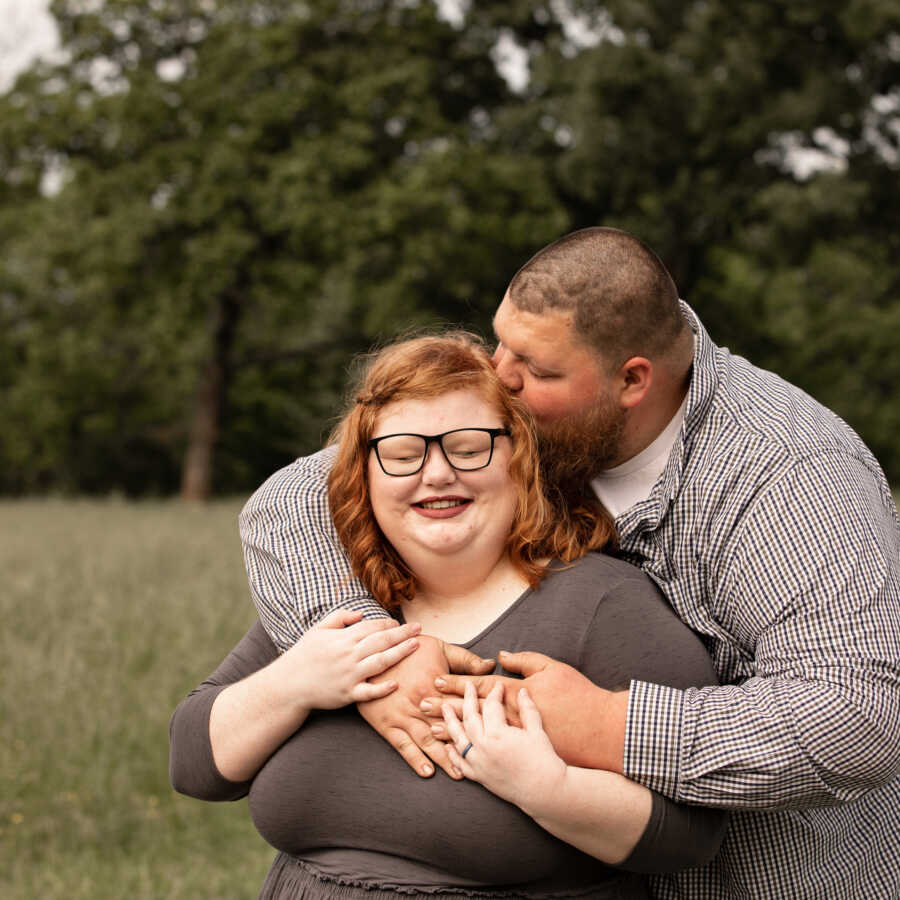 One of the topics in training was about how important sibling relationships are in foster care, and that upwards of 70% of siblings are separated in foster care. Jason and I each have a younger sister less than 2 years apart from us. We also had both experienced periods separated from our siblings in our childhood.
I got to see firsthand how being separated greatly affected the building of a relationship with my half-sister versus the sister I lived with full-time. I didn't want that for kids who had already lost their biological parents, home, and family. Jason felt the same, and another conviction hit us.
We needed to adopt a sibling group from foster care. This meant we needed to move out of our 2 bedroom duplex and into a bigger home. We found a 3-bedroom home for rent on the same dirt roads we drove on our first date together. It was meant to be.
On September 5, 2019, I went to the doctor. I was pregnant, and I was having a miscarriage. This miscarriage leveled my world.
I couldn't understand why and was beyond angry at God. Why, when I was following HIS plan for our life, did he have to take even more away from me?
Why did I have to experience another loss? Why wasn't I enough to carry a baby? The thing about infertility is it strips you of your value as a female person because the function of your body, as you have been taught, is to carry and birth children.
So when you can't do that, but you desperately want to, it can be devastating to your self-worth. Add that to my adoption trauma, and I was in a tailspin.
However, at the same time, my sister was getting married, and I was her Matron of Honor. I needed to show up completely and be present for those moments. I was unwilling to let my trauma take moments away from her.
I cried in Jason's arms in our bed the entire weekend of our miscarriage and then I buried it. I tried to process it on my own when I could.
I eventually processed with my therapist at the time and have been processing on and off in therapy since. I'm now in a place where I understand that had we gotten pregnant and been able to sustain the pregnancy, we would have called off our adoption process, but God already had two little boys in foster care at this time that needed us.
Sibling Adoption
We threw ourselves into opening our home after my sister's wedding and officially opened it on February 4, 2020. We scoured the Heart Gallery, which is a website in Arkansas that shows pictures, videos, and bios of kids waiting to be adopted, and we sent inquiries in on sibling groups.
We got a call for a sibling group of 5 pretty quickly, but we couldn't make that work and said no. I have their names in the back cover of my bible and they were adopted by another local family.
That same month, my sister was going through a divorce. Yes, just a few months after her wedding, and that's her story to tell.
I flew to Atlanta to spend a weekend with her. As soon as I landed at the Atlanta airport, I got the call. I was still on the plane train and didn't have a good signal.
I called the adoption specialist back as soon as I got to baggage claim. She said 'You matched with two boys named N and Z. I have to send your home study to their lawyer to review but don't see any issues.'
This was on February 21, 2020. COVID-19 closed the world on March 19, 2020. This made meeting our boys extremely difficult.
We didn't want the first time meeting to be on Zoom. We had to wait for permission and their current foster family to approve our meeting in person, but it finally happened on May 6, 2020.
It was another moment in my life where conviction hit. These boys were meant to be ours.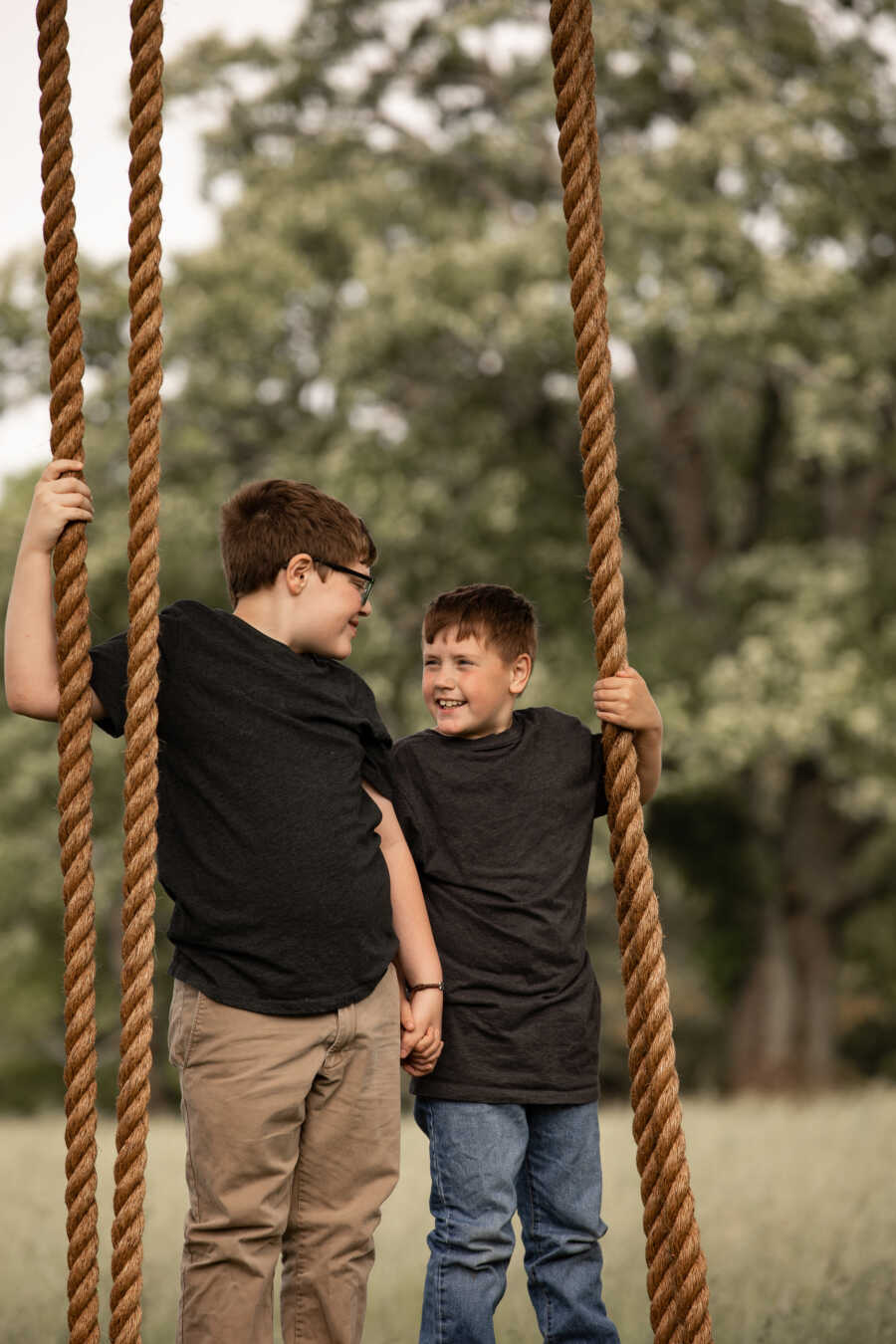 We did a summer of day, then weekend visits. I pushed to get them moved in before another school year started so they wouldn't have to switch schools again.
They moved in with us on July 24, 2020. They didn't start school for another month, and that first month was rough.
I was working from home full time, J was working long hours as a sanitation driver, and the boys were struggling. They had to learn who we were, how to trust us, and that we were in it for the long haul.
N used to just straight up tell us 'None of this matters until you sign the papers in court.' He held to not calling us mom or dad until the papers were signed too.
They both consented to their adoption in court. The best compliment we've received has been from their case worker and adoption specialist on their adoption day.
We walked in and sat down, and I heard them whispering to the side about how calm and relaxed the boys both looked compared to every other time they had seen them. Our boys had spent nearly 4 years in foster care before we adopted them on January 28, 2021.
Unexpected Open Adoption
On January 15, 2021, a 5-and-a-half-month-old baby girl was dropped off in a car seat on our doorstep. She was my cousin's biological baby who had been in foster care since she was a month old. Adopting siblings was always the plan, but fostering a baby still working towards reunification with their mom was not.
We had gotten the call on January 5th, asking if we would take placement. We talked to the boys' therapist, workers, and everyone we could to see if it was even something we should consider. Ultimately, the team consensus was we should ask the boys how they felt, so we did.
They both said we had a safe home for her and therefore should. We explained it was a massive change in our attention, home environment, and that having a baby was a whole different world. They still said yes.
Looking back, this is one of my proudest moments as their parent. We were perpetually exhausted raccoons.
Our sweet baby Rae didn't sleep. She brought sleepless nights and the brightest light we had ever seen. On the boy's adoption day, we left her out of pictures just in case it would one day be painful for the boys to look back on if she reunified.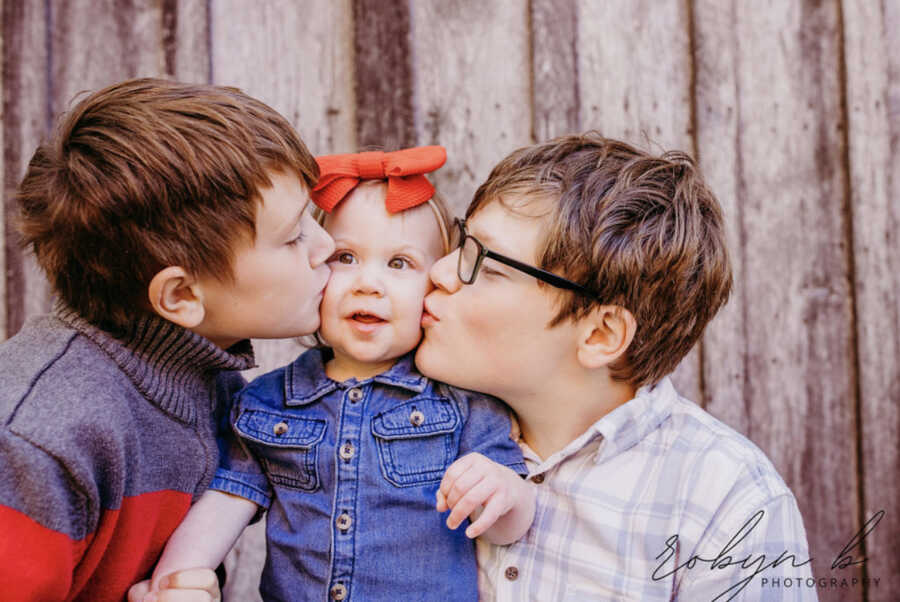 The baby girl's mom ultimately chose adoption for her. The boys are the greatest big brothers and adore Rae. She completed our family.
We have an open adoption with her today. We are in communication and share pictures and updates. We have had one in-person visit so far and will have more in the future.
We adopted Rae on March 10, 2022, and closed our home on March 11, 2022. We bought our forever home on November 14, 2022, and the boys were most excited because we would live in a house that had never been visited by DCFS.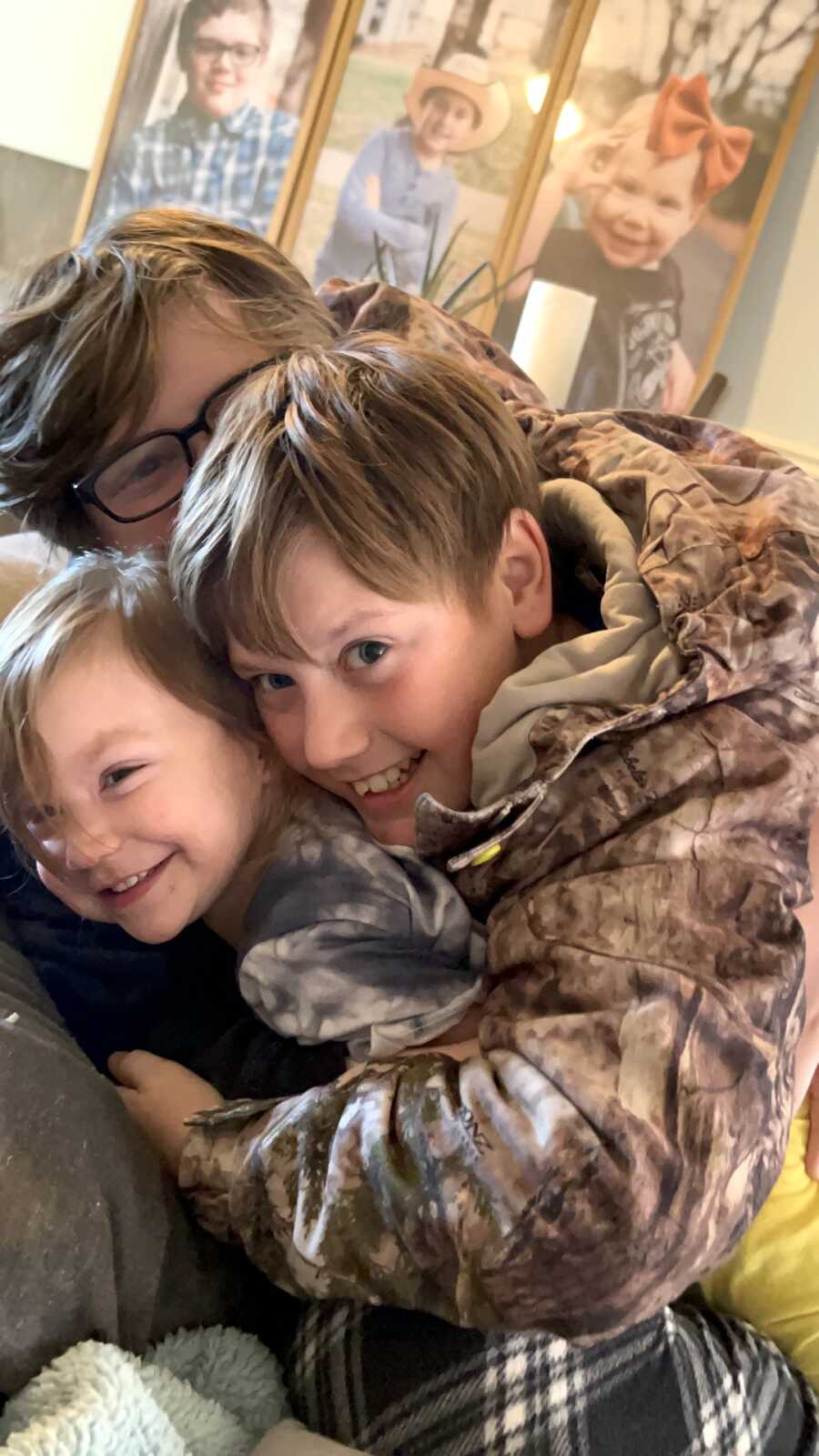 Being an adoptive mom and an adoptee has given me a very unique perspective in that I both deeply and personally understand that adoption is a loss at the core. There is no adoption without trauma.
I advocate daily and endlessly to help my kids heal as much as I can. And yet, I often still experience soul-deep sadness for their biological parents who are missing out on these memories. I give extra trying to make up for the fact I am the one who holds their precious memories and children.
I grieve that I lost my biological children in a completely different way, but another woman lost her biological children to me. It is a paradox I think I'll likely walk forever.
This innate joy of being a mother and seeing their highs mixed with the sadness and grief of their parents' loss mixed with the anger and sometimes resentment that come from experiencing my childrens' loss due to choices of the adults meant to protect them. It's messy, beautiful, and heartbreaking on all levels, and it is the identity I am proudest of. Everyone can do something, and this is our something."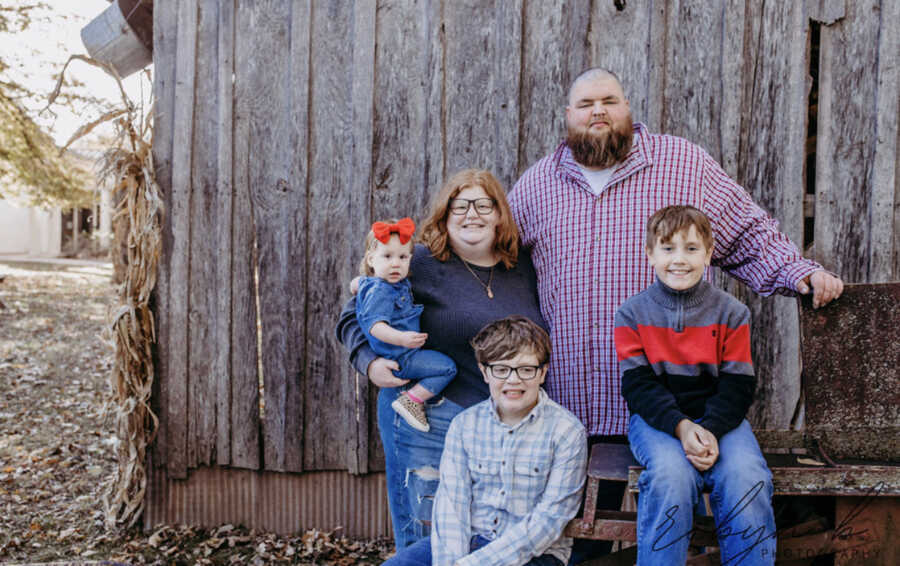 This article was submitted to Love What Matters by Brittany Taylor. You can follow her on Instagram and Tik Tok. Join the Love What Matters family and subscribe to our newsletter.
Read more stories like this:
'They chose us. They're coming in two hours!': Couple shares unexpected sibling adoption from foster care
'The shouts of relief were magic. It was finally time to bring them home.': Couple share beautiful international sibling adoption
Do you know someone who could benefit from reading this? SHARE this story on Facebook with family and friends.