"As a healthy 28-year-old, I never thought I would fall victim to cardiac arrest. I mean, heart problems are for older people– primarily men, who are super unhealthy, right?
Wrong.
My name is Heather. I am a school administrator, and other than chronic migraines, I am a healthy person. However, on February 1st, 2018, I fell victim to Sudden Cardiac Arrest at work and my life was saved by colleagues/heroes.
February 1st, 2018 started out like any other day. I had a migraine, but that was normal for me. I woke up early for a meeting at school, and made my 40 minute commute to work through the cornfields of Northern Illinois. After leading my first meeting of the day, I made another long drive out to the Regional Office of Education for a meeting that lasted a few hours. I had one more meeting to attend that day, but unfortunately, I didn't get to participate in that one.
Upon arriving at the school district, I put my things down. Suddenly, a wave of dizziness hit me, and I felt terribly sick. I tried to speak, but within seconds, I hit the ground.
I have no recollection of the events that followed, and woke up a few days later in the hospital with a terrible concussion and confusion about what had taken place. My family, friends, and coworkers repeatedly filled me in about what had happened.
When I hit the ground, the district superintendent, a former Marine, was by my side in seconds. He shook my hand and called my name, but I did not respond. I gasped for air, and my head fell to the side. I stopped breathing.
Immediately, he began administering hands only CPR, as my other colleagues called 911, and went to get the school's AED.
As this took place, my colleague, the middle school principal, walked in for the scheduled meeting. Not only was he a middle school principal, but an experienced part-time firefighter. How amazing is that?
He took control of the scene, and aided local EMS in continuing CPR and ultimately saving my life by administering the AED three times. My heart had to be shocked THREE times before I was brought back to life with a somewhat normal heart rhythm. My heart had been in ventricular fibrillation, which means it was not beating, but quivering, and not pumping blood through my body.
When someone is experiencing Sudden Cardiac Arrest, time is of the essence. Due to the lack of blood and oxygen to the brain, a person has only 4-6 minutes to administer life saving CPR and the AED before severe brain damage takes place. By 10 minutes, the victim is typically dead.
4-6 minutes…..that's less than a commercial break! My colleagues saved my life within this incredible window of time.
Paramedics were able to transfer me to a local hospital, where I was intubated, in the ICU, and in a medically induced coma. However, by the end of the night, I was not responsive, and was not waking up. Doctors informed my family they were unsure if I would regain normal functioning, as I had possibly lost too much oxygen to the brain.
Miraculously, I woke up the next morning, and began responding to commands. I was transferred to another hospital, where I had surgery to receive an implantable cardioverter defibrillator (ICD), a device that is under my skin, under my left armpit, that will shock my heart if it experiences another cardiac emergency.
Only two weeks after my incident, I was able to return to work, and start sharing my story of survival with others.
I had a lot of luck and guardian angels on my side, but I would not be here today sharing my story with you without the heroic actions of my coworkers.
Aside from their military and EMS backgrounds, my colleagues were CPR trained by the American Heart Association one month prior to my cardiac arrest. I am extremely grateful for the heroes who saved my life, and will never be able to repay them for what they did.
350,000 people experience out-of-hospital cardiac arrest each year. Only 10% survive.
No matter what age you are, please talk to your doctor about your heart health. Learn and know the signs of cardiac arrest and heart attack, and get CPR trained so that you will know how to save a life."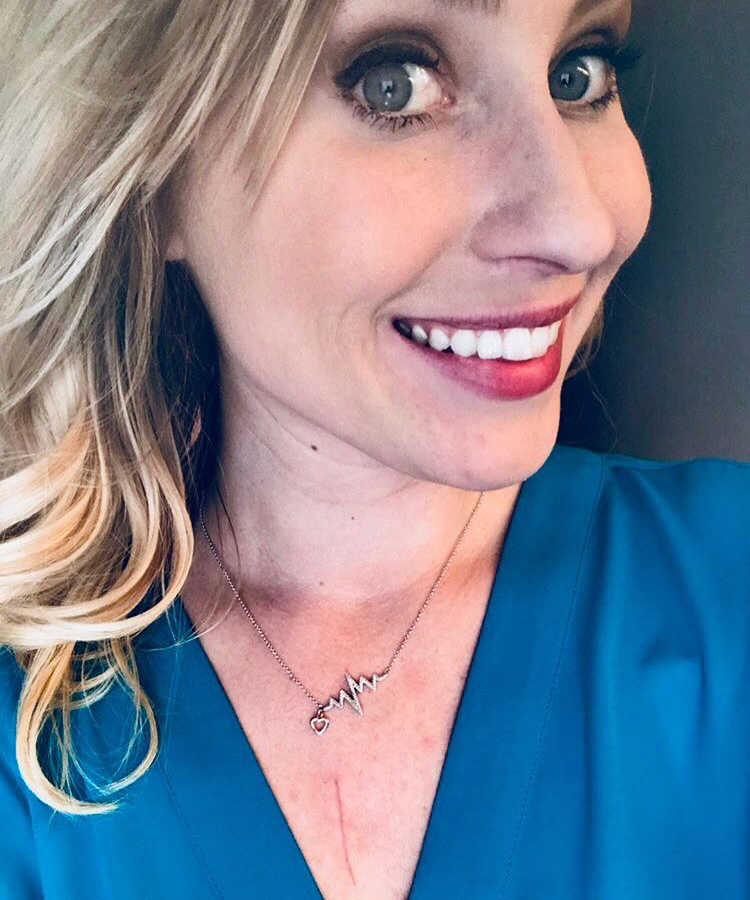 This story was submitted to Love What Matters by Heather Baker. Be sure to subscribe to our free email newsletter for our best stories.
SHARE this story on Facebook or Twitter to encourage others to take heart health seriously and learn CPR.
SaveSave