First Milestones
"When we're little, we dream of a fairytale happily ever after with our Prince Charming. I never dreamed my story would lead to choosing to be a single mother, yet here I am. When I was younger, my friends and I played a game called MASH. Many of you likely played this game as well, but in case you aren't familiar, the letters in MASH stand for mansion, apartment, shack, and house. In addition to these four housing possibilities, you also put down four options for a spouse, number of children, dream car, occupation, etc. You then have a friend draw a spiral until you tell them to stop, count the rings, and then start eliminating options based on the number of rings. At the end, you're left with one selection in each category. 
We never realized that no matter how our fortunes turned out, we were still left with some version of our dream life. No matter which guy ended up being my husband in the game, whether it be one of the boyband heartthrobs from the posters on my walls (Backstreet Boys, NSYNC, or 98 degrees, of course) or even the cute boy from down the street, there was always someone. All of the fairytales and even the game of MASH knew the guy was always supposed to be part of the equation. Somehow, that's just not where my road has taken me yet.
One of my favorite internet memes says, 'One day your prince will come. Mine just took a wrong turn and is too stubborn to ask for directions.' My prince is supremely lost and very late. (For anyone who may be wondering, my other favorite meme says, 'I'm not a night owl or an early bird, I'm a permanently exhausted pigeon.' This has become truer than ever since my son was born!) I'm not writing this to complain about being single, only to illustrate how difficult it was to come to the realization my life wasn't going to be exactly how I expected. I'm totally a type A person and I love planning, so life should get on board with those plans, right?
I graduated high school with good grades, finished my bachelor's degree, got into a career I love, and bought my first house. Buying my first home was the first time I really struggled with my life not being the way I had planned. I mean, you're supposed to buy your first home with your partner around the time you fall madly in love and get married. That's how I always thought it would happen anyway, but there I was, closing on my home, alone, and 28 years old. These feelings certainly didn't go away. Even as I got my dog, Archer, I wondered if I should wait and hold out hope I would meet the man of my dreams, and we could rescue our dog together.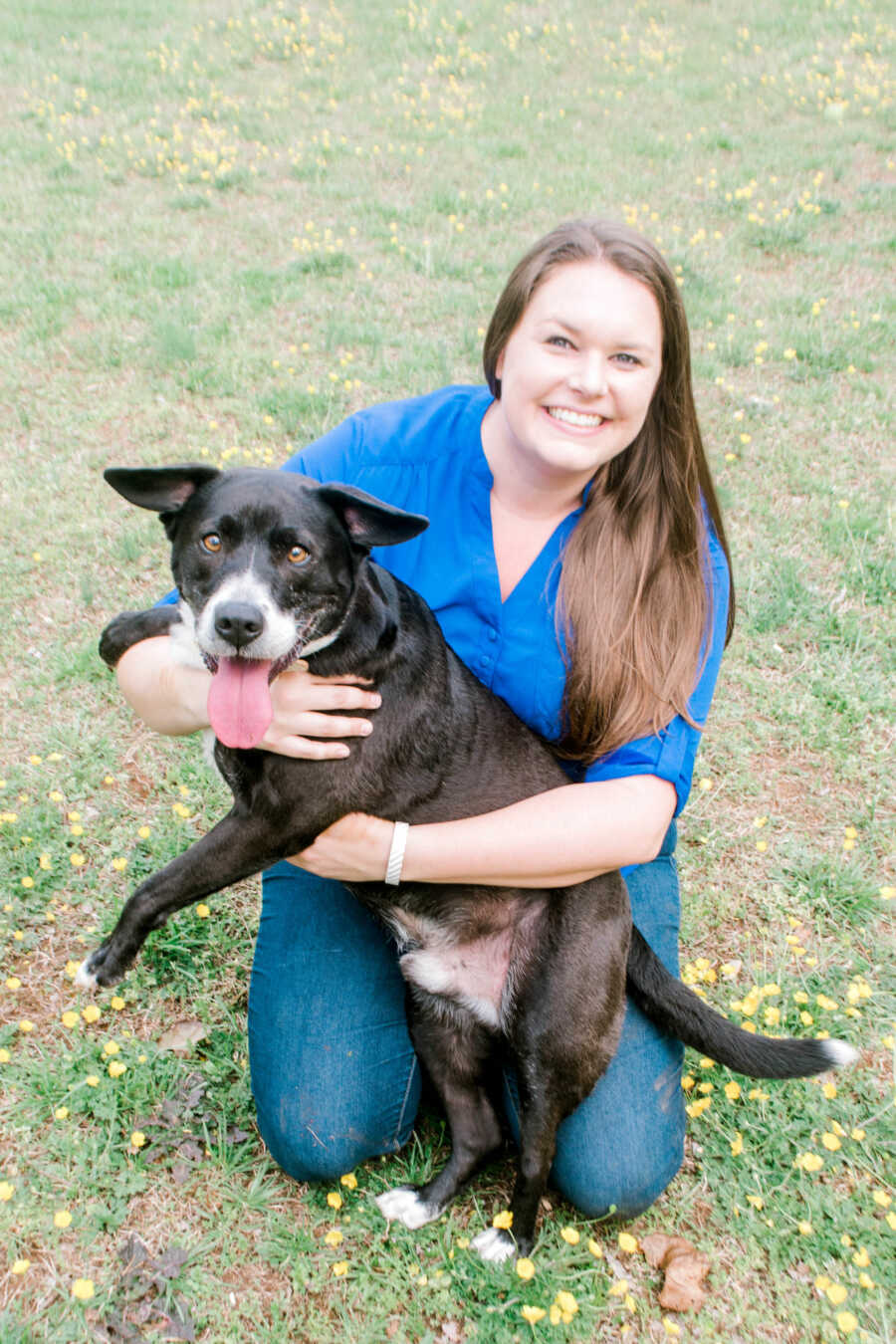 Next, I bought myself a king-sized bed. (Let's not kid ourselves, we both know I bought it for my dog.) I had the same struggle as before; should I really be buying myself a king-sized bed just for myself, or should I hold out until I have a husband, and we actually need that much room? Then I upgraded my Honda Civic to an SUV. (Okay, this was also totally and completely for my dog.) How dare I get a family car when I didn't even have someone in my life to build a family with! I've continued to take steps in my life, all while struggling with the fact I feel like someone else should be part of it with me.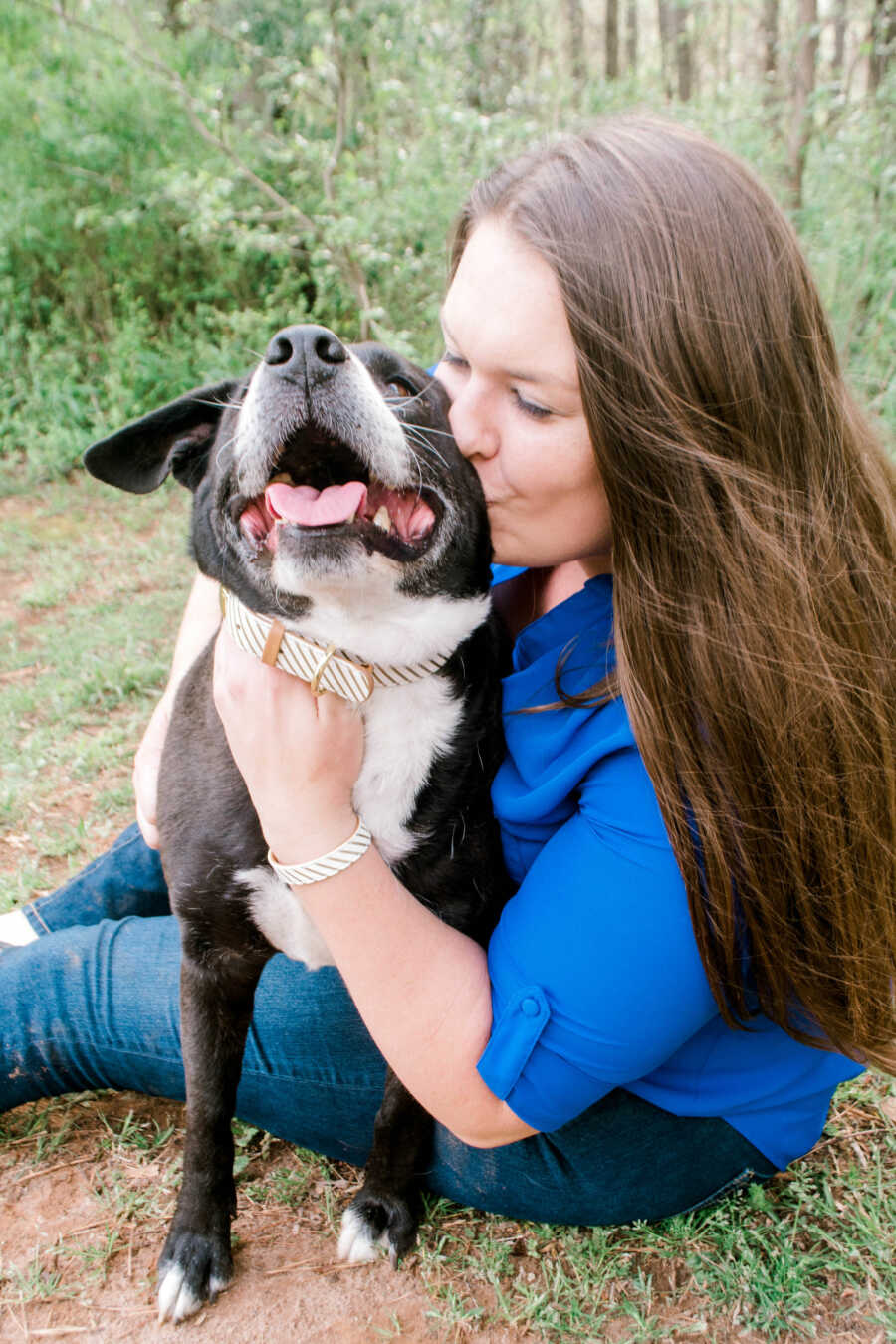 The Big Decision
Now I've made the biggest decision of all; I want to have children. I never thought I'd be here making this decision to do it on my own. I actually never imagined I'd even be making a conscious decision to have children in the first place; I always just assumed it would happen one day. For the next few years, I didn't take any real steps forward on my journey to become a solo mom. I only joked about 'just getting knocked up' to my gynecologist since I couldn't find a man to marry. I realize now you don't just get pregnant because you stop preventing it (though I'm sure my high school would be happy to know they did their job to scare us with that false information).
It wasn't until a friend of mine got married, started trying to get pregnant, and couldn't conceive that it really hit home—there is a clock on this whole process. We were still in our early 30s, and it hadn't even occurred to me I could be nearing the end of my reproductive window or even possibly be at the end of it. She encouraged me to have a consultation with the doctor and be evaluated so I could make a more educated decision on when to pull the trigger. I'd been on the pill since I was 17 years old, so who knew if I could actually get pregnant since I'd never actively tried?
February 28, 2020, was my first consultation with my fertility doctor to learn about my options and how I might go about becoming pregnant on my own. Though she was still not 100% on board with my decision, my mom accompanied me to this appointment. I can't fault her for feeling this way. Like we all do, she still holds out hope I'll meet the right guy and can have a family the 'normal' way. Regardless, mom went into this appointment in full metaphorical battle gear, armed to the teeth with a million questions. We had no idea the amount we would learn about fertility that day or just how many methods these doctors have for getting someone pregnant.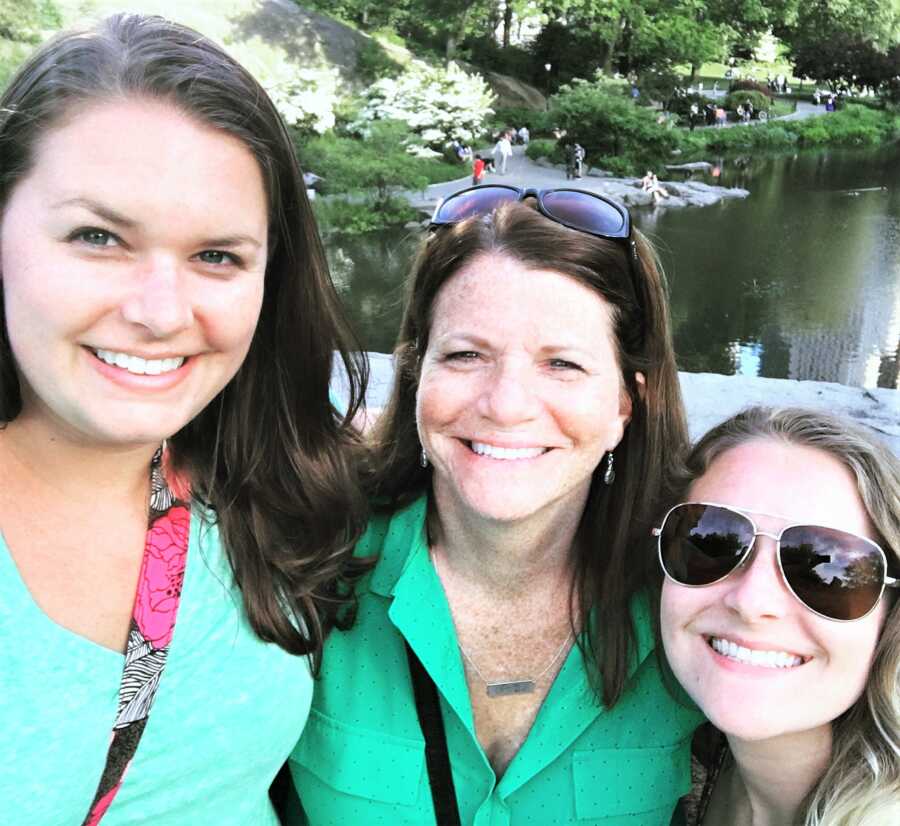 The doctor drew me a couple of graphs on a piece of paper: one, a line showing me the exponential decline of my fertility and average age brackets for particular milestones, and the other, a graph of ways to achieve pregnancy and the increase in the amount of intervention these methods required. The first step would be to get a battery of tests to establish where I stood with my fertility in terms of hormone levels and anatomy. All of my bloodwork came back in the normal range, but the Sonohysterogram (SHG) revealed a small uterine polyp. (A warning to anyone who has to get one of these tests – the SHG hurts!)
Single Mom Community
A polyp can potentially prevent an embryo from implanting in the uterine lining, so most doctors advise getting these removed before attempting pregnancy for optimal results. However, if you recall the events of March 2020, you'll remember many people's lives and all elective medical procedures were put on hold, so my fertility journey was in a holding pattern as well. Over the next few months, I took the opportunity to educate myself on becoming a solo mom and all of the different fertility procedures the doctor had listed out to me. I found a couple of podcasts to be the most helpful to provide both information and perspective. My favorites were The Single Greatest Choice and As a Woman. 
The As a Woman podcast is hosted by Dr. Natalie Crawford, double board-certified OBGYN and Reproductive Endocrinologist (RE). I cannot even begin to tell you the wealth of knowledge I learned from listening to her show. Her goal is to educate and empower women, and boy, does she deliver! She also has a YouTube channel if you prefer video over audio, but I highly recommend her content to learn more about fertility and fertility procedures. I never knew there was so much I didn't know about my own body. 
The Single Greatest Choice podcast is hosted by a single mother by choice named Katie. What I really valued from her podcast was her perspective and the ability to put into words the things I was feeling. It was awesome to hear from so many amazing women out there who were single and choosing to become solo moms like me, and it made the entire decision-making process feel a lot less lonely. I really appreciated how she explained making this decision was also about grieving the life and story you had originally planned for yourself. 
In July, my mom and I took a road trip from Georgia to Virginia to visit my sister, and along the way, we listened to many episodes of these two podcasts. My mom was a single mom by circumstance—she and my dad divorced when my sister and I were very young, so we also had a long conversation about her experience being a single mother raising two children on her own. My mom said she feels remorse for our upbringing. Her father was a wonderful man; she regrets we grew up without that same kind of father-child relationship as she had, and she worries about my children not having this type of relationship in their lives either. I'm still not sure I convinced her, but I told her she was the best mother I could have ever asked for.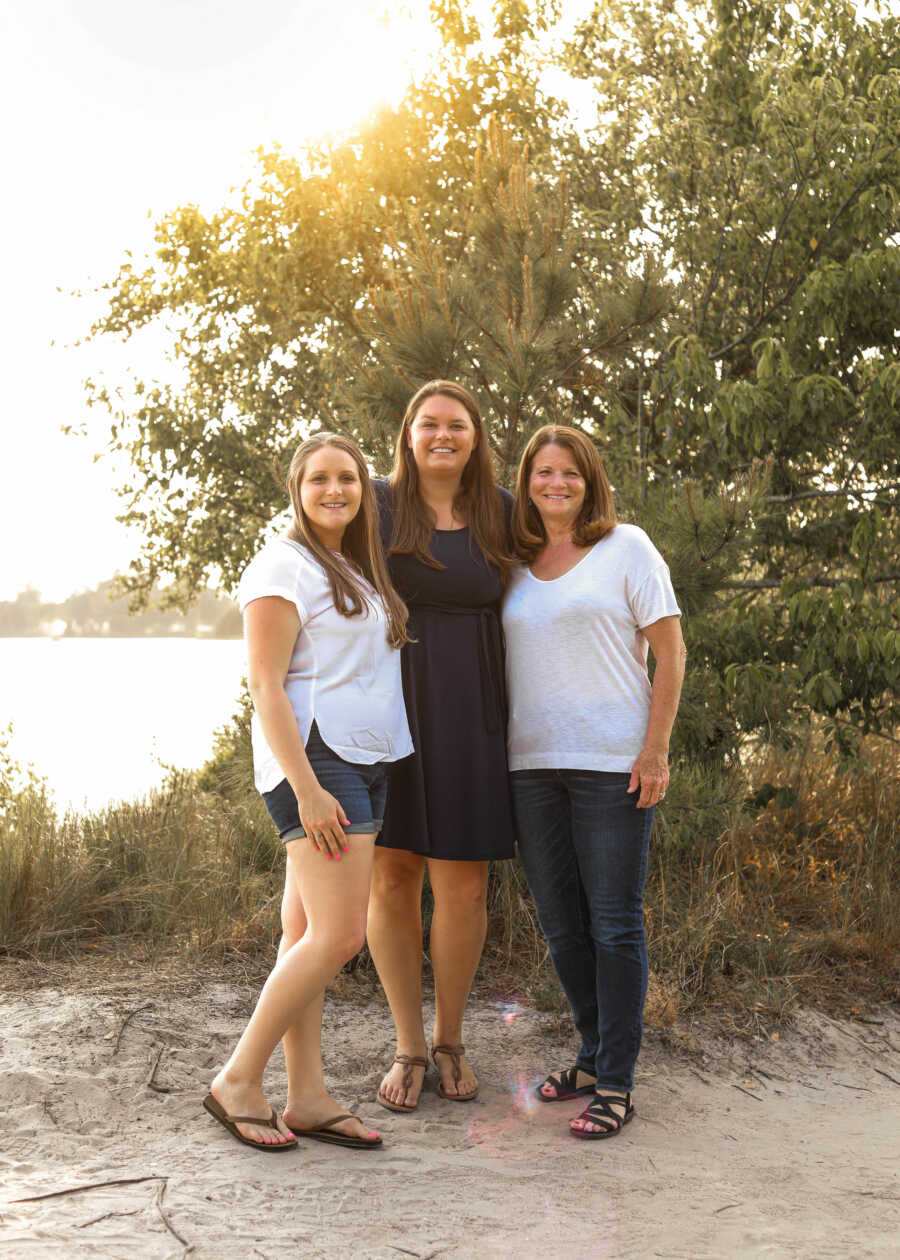 She is a huge part of the woman I am today and I'm proud to be her daughter. For me, being raised by a single mother taught me the confidence and independence to dream big, go after those dreams, and know I will be successful at whatever I put my mind to. I'm curious about the percentage of solo moms who were raised by single mothers. Most of the women I have gotten to know had single moms too, and it makes a ton of sense how we all became such independent, badass women. I did a lot of thinking after this conversation with my mother and listened to the experiences of all of these women who shared their stories on the podcasts. I came to the conclusion that the most important thing for a child is love.
My children will grow up knowing they are loved, I wanted them, and I put a lot of effort into creating our family. They will have a dedicated mother who loves them fiercely, adoring grandparents who spoil them, an amazing aunt who loves them like her own, and many bonus aunts and uncles who are part of our village too. Additionally, after hearing about so many women who made becoming a solo mom their first choice and not a backup plan, I was inspired and realized this is something I wanted as well. Finally, in August, I was able to get my polyp removed and have blood work drawn for genetic screening. This information is recommended to choose a donor who will give you the best possible chance at making healthy babies.
Choosing A Donor
Choosing a donor was a very interesting process. My fertility clinic provided a list of a dozen sperm banks that had been vetted, so I used their websites to compile information about their policies including health screenings, anonymity, and family limits. I then used the results from my blood work to compile lists of medically compatible donors. Throughout this process, I was also regularly meeting with a therapist. Anyone who has endured fertility treatments, or knows someone who has, can appreciate the toll it takes on your mental health, and I wanted to ensure I was setting myself up for success from the start. Through these conversations, I decided to choose a donor who looked similar to myself and shared common ancestry. I have blue eyes, so adding this to my search criteria brought me down to only a total of 44 potential donors.
Over the month of October, I read their profiles and family medical histories, consulted with friends and family, and ultimately chose my donor (funny enough, not one that any of my friends had picked, oh well). I had another huge milestone during October; I found a new family home to buy! There certainly wasn't anything wrong with my townhouse, but I always envisioned my kids growing up in a house with a yard. I had a lot of mixed feelings about taking yet another big step in life alone, but this one felt less sad and more like I was manifesting my dreams and making them a reality. Because I found the house I wanted to buy to raise my kids in, I had to hold off on buying my sperm. (Apparently, the banks don't like it when you make large purchases at the same time you're getting a new mortgage.)
I don't know how many of you have purchased sperm or looked up the cost of it, but holy cow! And to think there are all those guys in college right now who are giving it all away for free! My ex-boyfriend even joked about how much money I should owe him from our extracurriculars in college, ha! (sorry, mom!) When December came around, I closed on my new house, bought my sperm, and then it was go time! My doctor and I decided to try a few rounds naturally/unmedicated, so I tracked my ovulation at home. After a positive ovulation test, I had my first Intrauterine Insemination (IUI) procedure on December 11, 2020. Then began the dreaded two-week wait.
It was Christmas Day when I took my first pregnancy test. Surely the fact it was Christmas means it was meant to be positive, right? Unfortunately, the universe didn't get the memo, and Santa did not bring me a baby. The test was negative, and my period came later that day. I didn't give up hope though; 2021 was going to be my year! I tried again naturally two more times without success. I decided to try a medicated cycle for the 4th attempt, so I ordered a few more vials of sperm, and tried an IUI for the fourth and final time with Clomid and a trigger shot. Still no luck. By this time, it had been a full year since my initial diagnostic tests, so I had my blood work drawn again to make sure that everything was still within normal range.
This time, I was surprised to learn my AMH (Anti-Müllerian hormone, used to estimate your ovarian reserve) was now considered low for my age. I was still just 34 at the time, so I was a little panicked time was running out sooner than I expected. After speaking with my doctor, we decided moving onto IVF (In vitro fertilization) and creating embryos would give me the best chance of having more than one child. I won't get into the cost of IVF, but it's no joke! I ended up taking out a personal loan to cover it. One thing I recommend looking into, regardless of whether or not you need financing, is whether your clinic offers a package with a money-back guarantee. It costs a little bit extra and may not be right for everyone, but I felt that guarantee really offered me some security. It was also very helpful for my mental health to know I would get my money back if IVF didn't work out.
Beginning IVF
On April 9, 2021, I began injections for IVF—a total of 36 injections over 13 days. At my baseline appointment a few days before beginning injections, they counted 16 follicles, and though my body was slow and steady to respond to the medications, 12 had grown to a big enough size to target during my retrieval surgery. My egg retrieval took place on April 23rd, and during the procedure, they were able to extract 8 eggs, 7 of which were mature. They called me the next day to let me know that 6 had fertilized, so we were off to a great start! The following Thursday, they called with amazing news: 3 of my fertilized eggs had made it to the blastocyst stage! (Many people see much lower attrition rates with their eggs, especially with a lower AMH.) The lab biopsied and froze my embryos and sent the samples for genetic screening to determine if they were normal and healthy.
I had to wait about a week for the next update on my embryos. On May 5th, I received the call that ALL THREE were healthy and normal. This was completely unexpected, wonderful news! The lab also provided the sex of each of the embryos, but I passed this information onto my best friend without looking. (I swear I didn't peek.) We decided since IVF took a lot of the surprise out of pregnancy, we would celebrate my IVF success so far with an embryo gender reveal party with my family during our vacation. She set up an awesome, Harry Potter-themed party, complete with cauldrons full of potions, a magic wand, and a spell that would reveal the sex of the embryos. It was a blast, and we were so excited to discover I had one female and two male 'ice, ice babies.' (Vanilla Ice, ice baby, too cold, too cold—Be honest, who all started singing the song in their head?)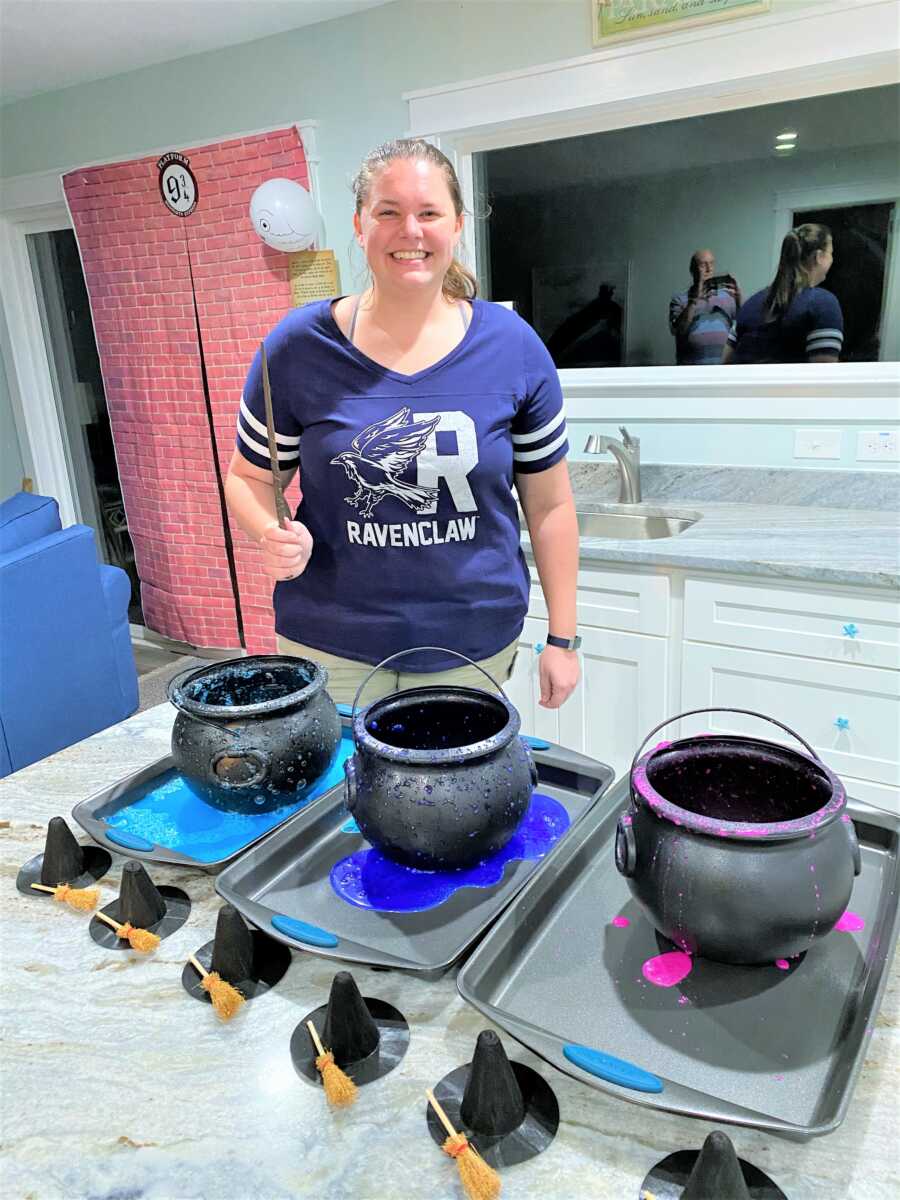 About a week later, I started prepping for my frozen embryo transfer (FET). This prep included intramuscular injections and they were the first ones I had to inject into my butt instead of my stomach – OUCH! I'll admit though, they weren't as bad as what I was imagining, but it would have been easier to not have to give them to myself. I hear good things about using an auto-injector, so I think I'll try one of those next time. My embryo transfer was done on June 22, 2021. My mom was allowed to accompany me for this appointment too! It was really special to be able to do it together and have her support. After the embryo transfer, I had a 10-day wait to get my blood work drawn to confirm whether it was successful.
Ten days fell on my birthday, since Christmas didn't work out, this time had to be meant to be! IT WORKED! The day 5, male embryo they transferred stuck!! (I'll admit I cheated and took some at-home tests before going to the doctor. I wanted to mentally prepare myself either way). Baby boy was due to arrive on March 10, 2022. I was elated! Initially, my pregnancy progressed uneventfully. I had mild morning sickness (all day, every day) from about week 8 through week 13, but otherwise, the next couple of months went by with very few symptoms. I went for my anatomy scan at 21 weeks, and they told me he was measuring a little larger than average, but everything looked good.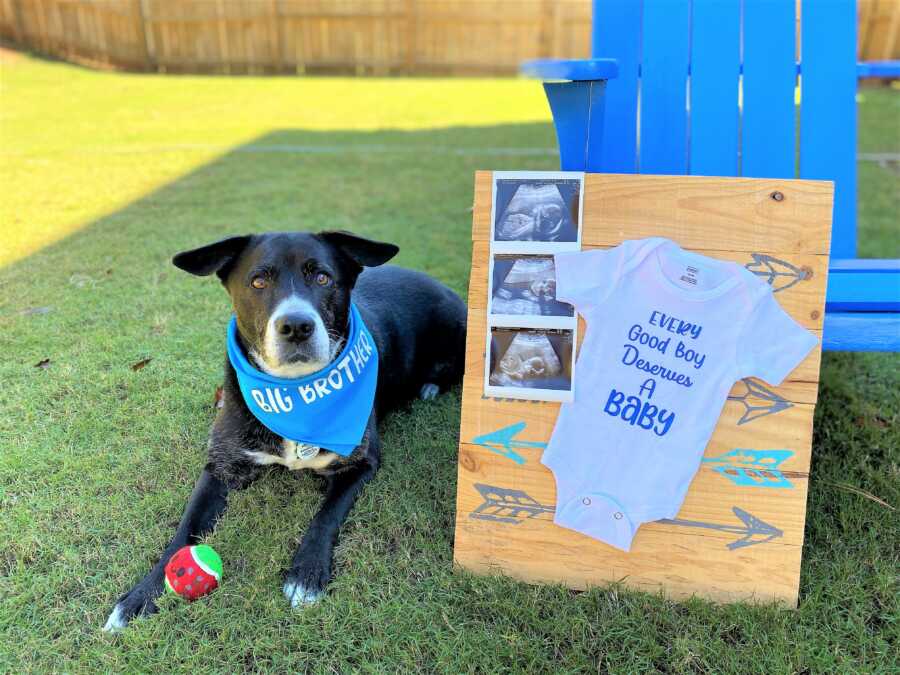 Pregnancy Complications
I had to have a second scan at 25 weeks to try and get some additional angles as I was told he wasn't participating during the first one. Apparently, this was only partially true. After the second scan, I was referred to a perinatal specialist for even more imaging. It seems they saw a shadow on his heart during the first scan and it hadn't resolved by the second scan. It was really scary news to receive, but surprisingly, the internet revealed this news usually ends up being nothing noteworthy. My ultrasound at the specialist took two full hours to complete, but they confirmed the shadow was no longer there. A fetal echocardiogram showed there were no visible issues with his heart. What a relief!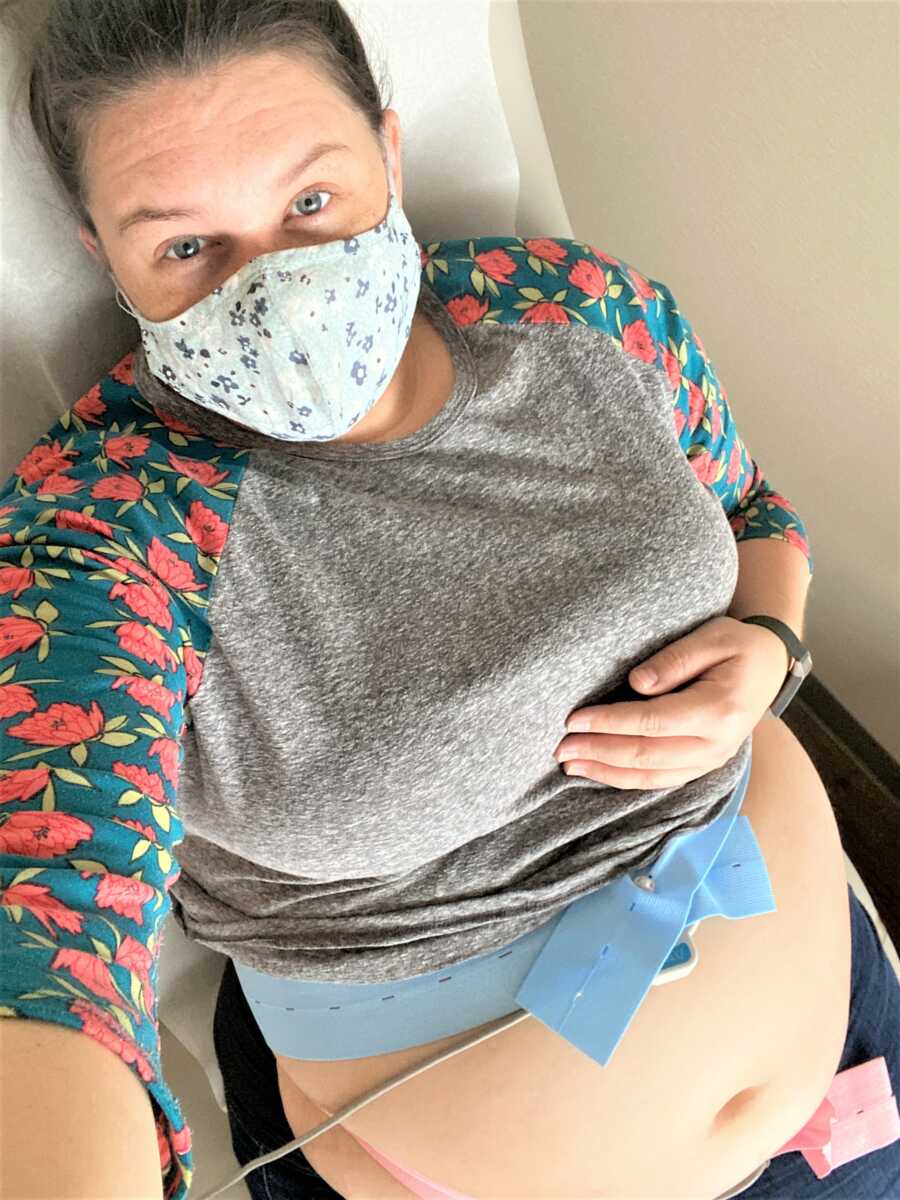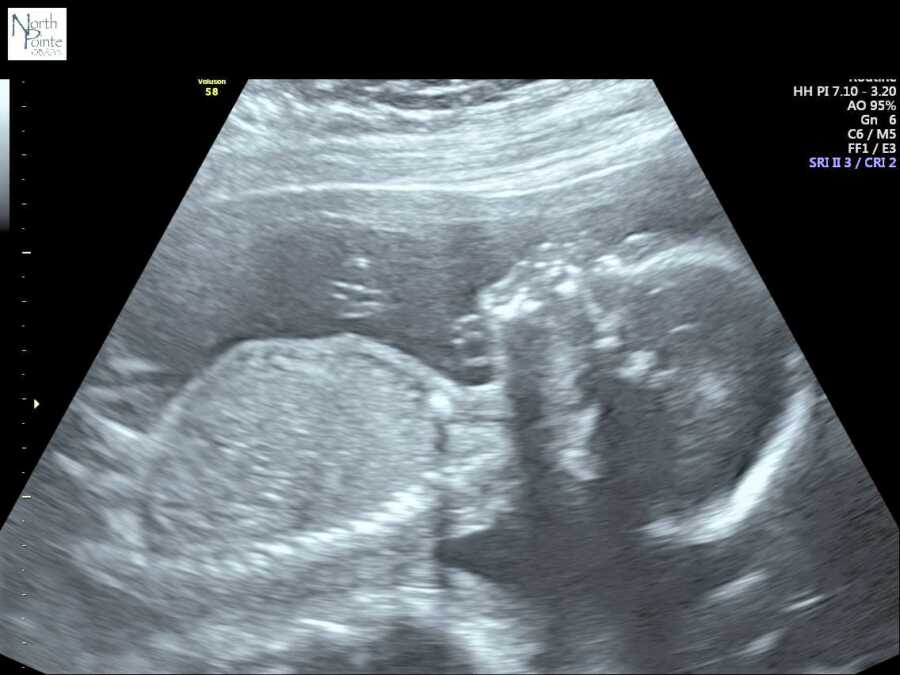 Then the word 'however' came out, and I felt like the ground dropped out beneath me. I was diagnosed with a velamentous cord insertion, which meant the umbilical cord was not properly attached to the placenta. Though the doctor told me the complication usually did not cause problems, there was the possibility of growth restrictions for my baby boy. This would mean he may need to come early, and there was also a higher risk of hemorrhage. Luckily, each of my follow-ups with the specialist went well. I had my baby shower at 33 weeks, maternity photos taken at 34 weeks, and at my 35-week appointment with the OB, we started making my birth plan! I've heard far too many stories about births not going according to plan, so I had no expectations. My only plan was to say 'yes!' to pain medications. I had no intention or desire of trying to be Wonder Woman and do it all naturally.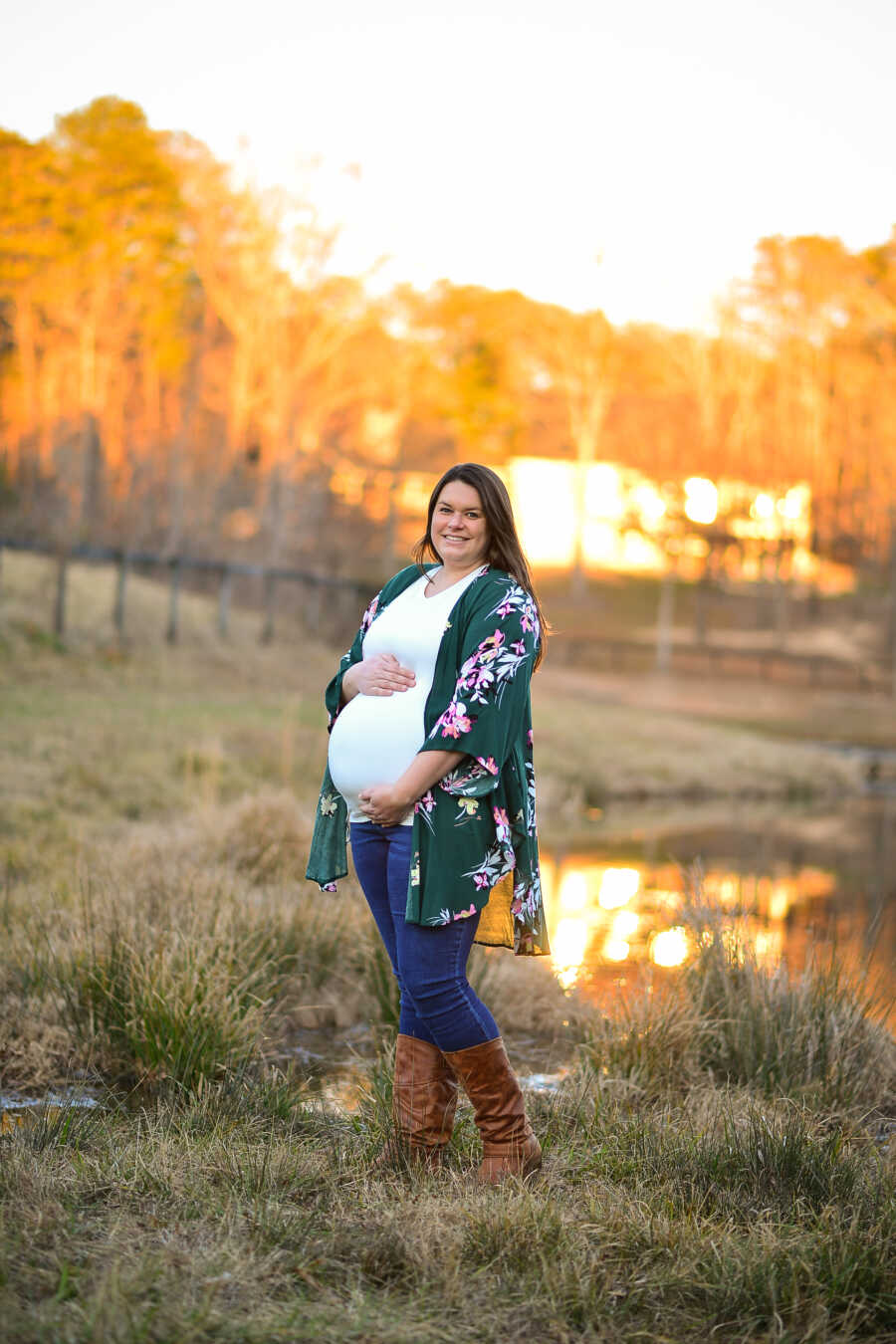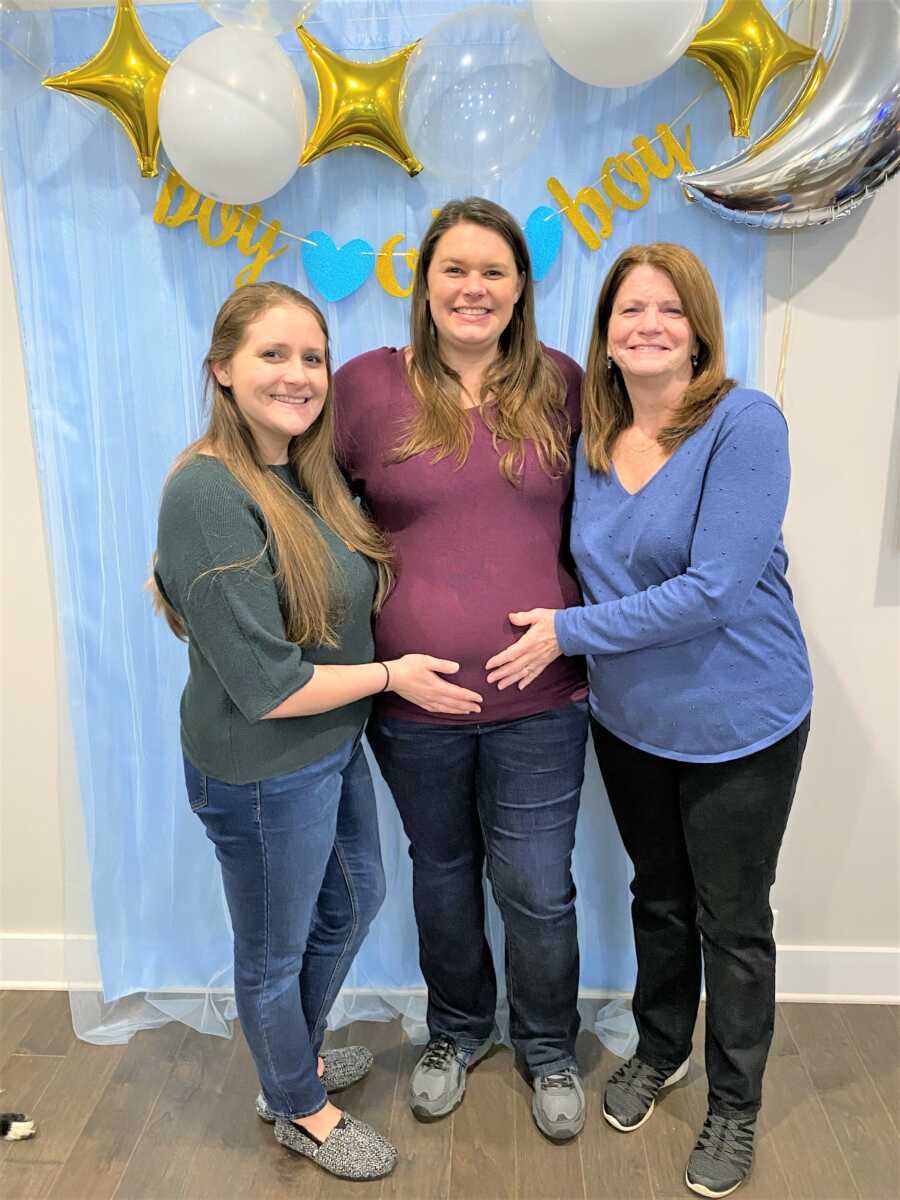 Baby's Arrival
My doctor recommended I be induced at 39 weeks due to my risk factors including the cord insertion, 'advanced' age, and IVF. So, at the start of March, I'd be getting an official induction date! Baby boy had other plans. Early morning on February 19th, I started getting contractions and my water broke. After I got to the hospital, they had to give me Pitocin to help my labor along, and then I was able to get my epidural, just like I wanted. My hope for anyone reading this is you get that nice warm tingly sensation telling you the epidural is working! Mine, however, did not work…WTF! I was in labor for about 20 hours and pushed for about two and a half of those hours. Things got a little hairy towards the end, but thankfully, when he finally arrived, all 6lbs 14oz of him was absolutely perfect.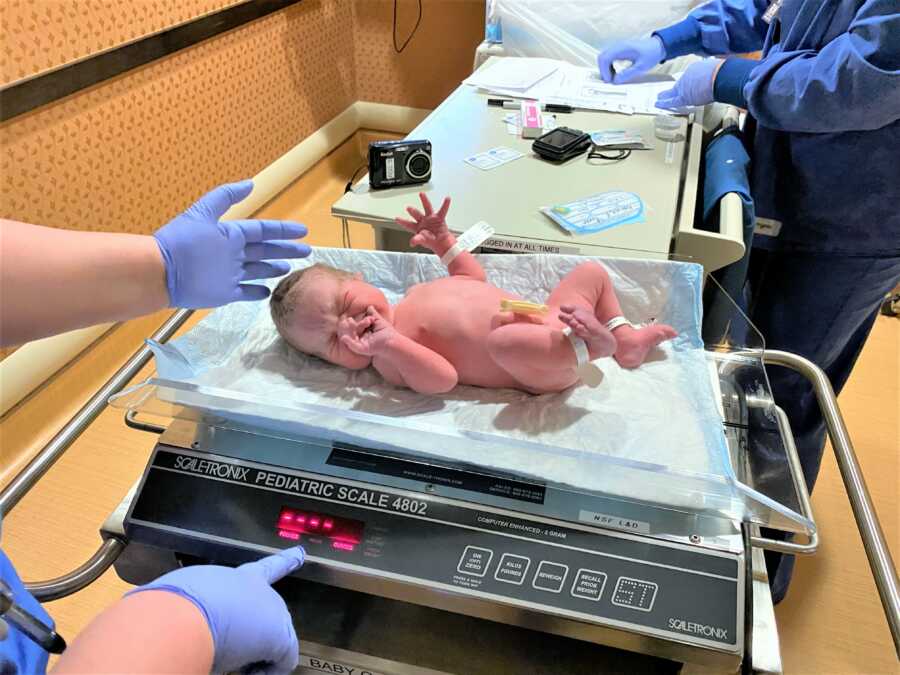 I named him Rowan. 1 year, 11 months, and 22 days, 1,796 miles driven, 125 shots, 54 appointments, 27 sticks for blood work, 22 ultrasounds, 9 different medications, 7 vials of sperm, 1 SHG, 1 hysteroscopy and D&C (to remove the uterine polyp), 4 failed IUIs, 1 round of IVF, 13 days of stims, 1 egg retrieval, 8 eggs retrieved, 7 eggs matured, 6 eggs fertilized, 3 normal embryos, and 1 embryo transfer…all for 1 beautiful baby boy.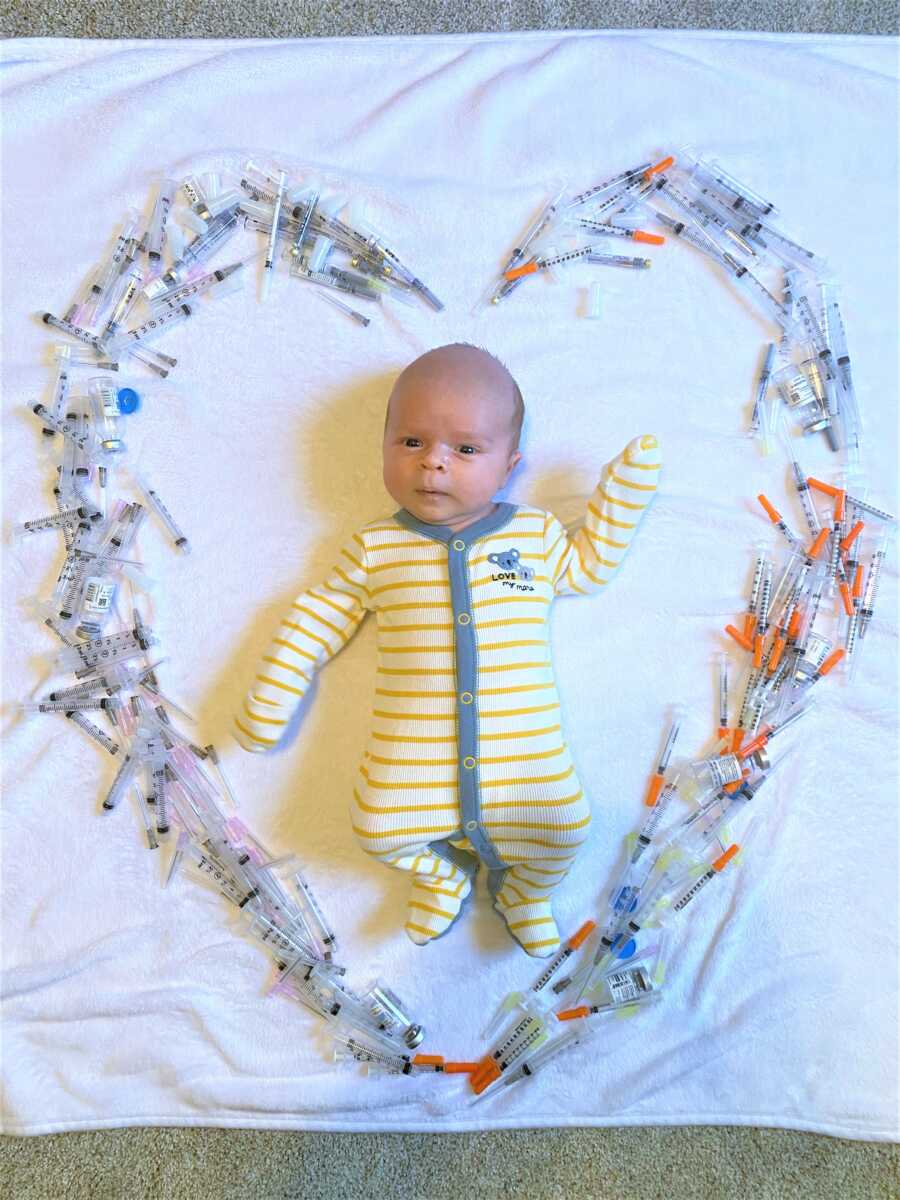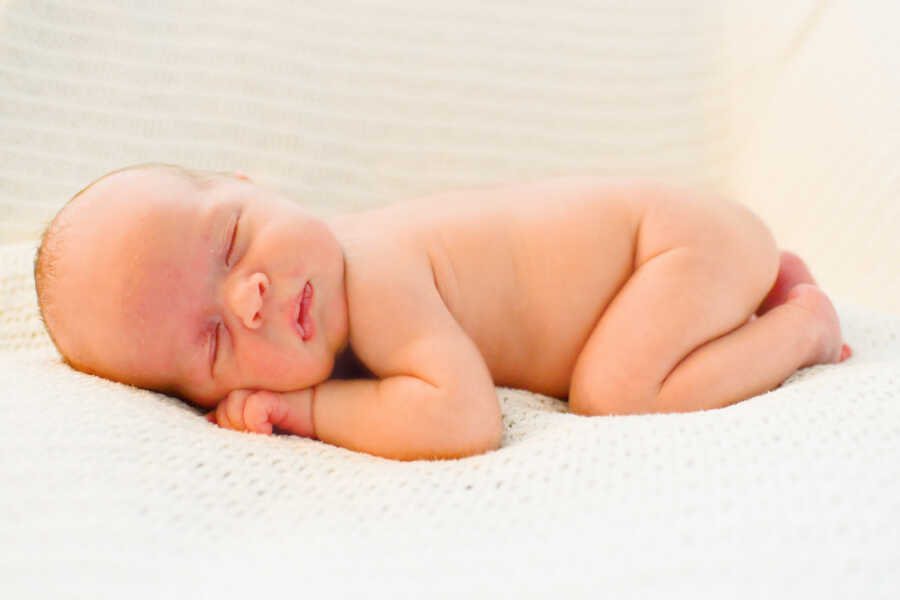 I'm almost 3 months postpartum now, and I'm loving (almost) every minute of it. I'm constantly tired, of course, but his smile gets me every time and makes it all worthwhile. I am completely sure I made the right choice, and I can't wait to see the person my baby grows into and the family we create. I'm even planning to have a second on my own in a couple of years when the time is right."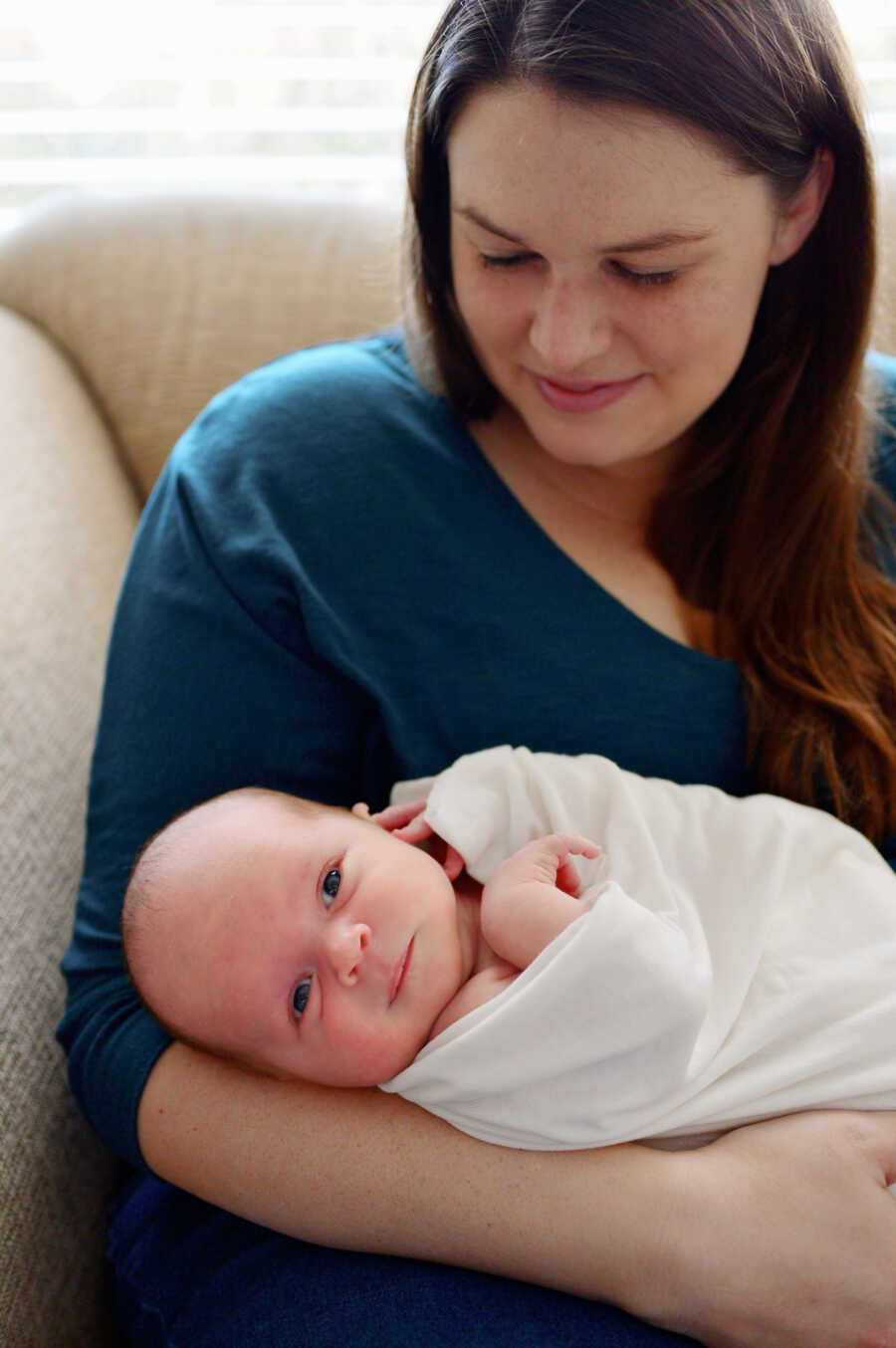 This story was submitted to Love What Matters by Elizabeth Kostilnik from Atlanta, GA.. You can follow her on Instagram. Do you have a similar experience? We'd like to hear your important journey. Submit your own story here. Be sure to subscribe to our free email newsletter for our best stories, and YouTube for our best videos.
Read more stories like this here:
'If I'm not in a relationship when I'm 30, I'm using a sperm donor!' I never took it seriously.': Single mom by choice pens journey, 'I hope she's proud to be my daughter'
'I want to be a single mom by choice.' I hadn't planned to tell anyone. 'Will you wait until we can be together?': After 10-year infertility battle, woman becomes mom, finds love
'Here…AND HERE!' The reality of having TWINS hit me. I cried alone at night, thinking I wasn't doing enough.': Single mom by choice delivers twins, shares parenting journey
'I said if I wasn't married by 30, I was going to have a baby on my own. They laughed, told me I was crazy.': Single mom by choice shares journey with infertility
SHARE this story on Facebook to encourage other women to forge their own paths and love what matters most!