"My story is really not one of an amazing achievement or divine intervention. It did not come about by chance, nor in the midst of some bizarre incident. Rather it was a gradual happening, one that began with an idea that honestly, I thought I would never embrace.
As a child, I was taught that girls grow up and go to college. You then get married and have kids. Better yet, I believed all of this would happen simultaneously as I got a job and joined the 'big girl' world after graduating. In fact, at the age of 10 I had my future perfectly mapped out; I would meet the love of my life in high school, like Zach and Kelly in Saved by the Bell. We would attend college together where I would earn a teaching degree. We'd get married the summer after graduation at 22, and then start our family at 23. And then live happily ever after in our hometown, of course. Oh, the sweet innocence of a child. That 10-year-old girl really had so much to learn about the world.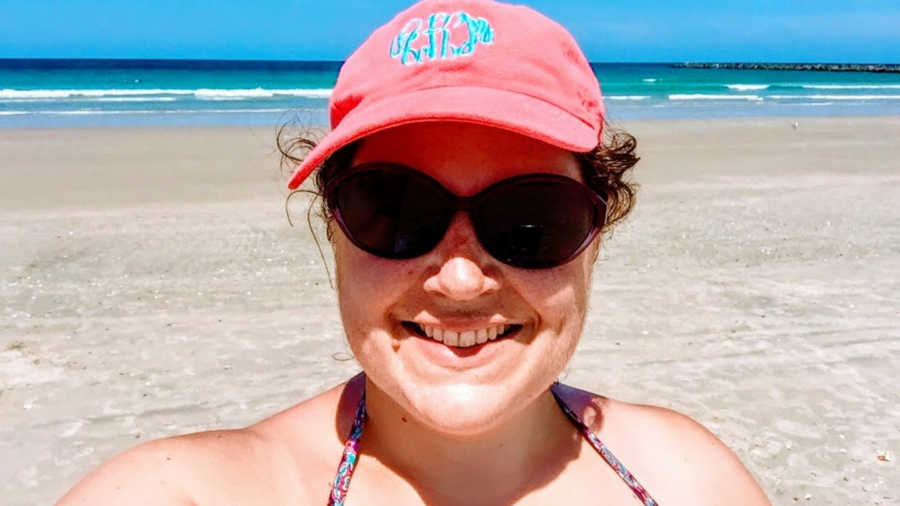 After high-school I attended a local college where I earned a degree in elementary education. Those 4 years were a blur of taking 18 credit hours a semester, working 2 part-time jobs, and babysitting and nannying on the side. In the midst of that all, I battled anxiety and a severe bout of depression from a sexual assault. Dating was far from my mind as I fought an inner battle to just stay alive. My degree kept me going, but I was in survival mode. The hope that I'd be ok if I could just make it to graduation was the only thing that got me up each morning.
With a sigh of relief, I finally graduated in May of 2011 and took a job in southern Florida. I moved, literally on a whim, a week before school started to teach high school intensive reading. I didn't even go to college to teach high school! Looking back now I realize 'starting over' wasn't my cure, but those 3 years away did help me grow up, per se. I learned that the world won't end if you don't go to church every Sunday and that sand can get in places it really never should be. In that time, I also learned that it's ok to say no to things. It's OK to not attend every family function and to lose touch with friends who don't really matter. Family isn't always blood and some lessons can't be taught from a book. I also learned just how important it is to put myself first. That time away taught me independence and it strengthened my courage to stand up for myself. It showed me just how strong I really was; I didn't need a man to pick up the pieces for me. I was doing a pretty darn good job of that myself!
But after three years, all good things must come to an end and I found myself moving back home to Southern Indiana. The epitome of the Midwest, my little town has about 2.5 stoplights and 5 pizza restaurants. Everyone might know everyone, but after a while, you just sort of embrace that. Coming home made me realize just how much I had changed. I saw everything with new eyes and I found that I could love my little town for reasons I never saw before. And when I started to think about having kids… I started to think that I wanted to raise them there.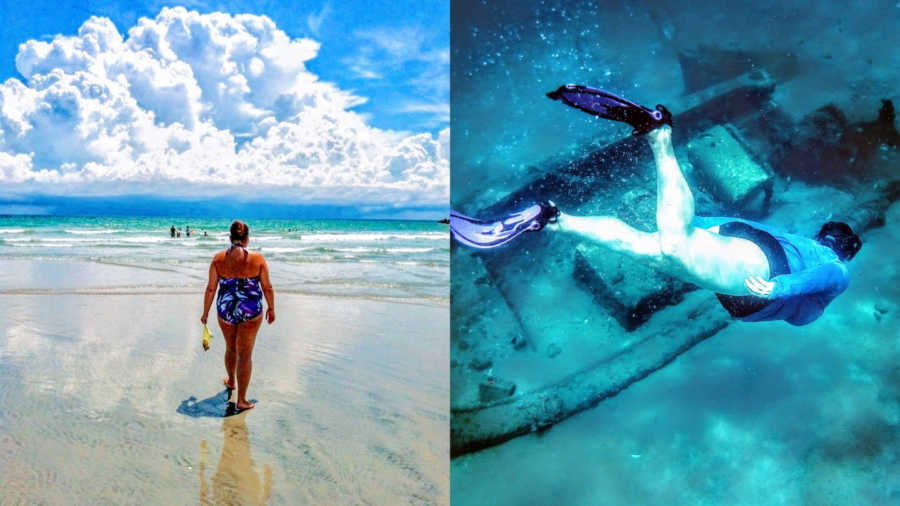 I've always joked that if I weren't in a significant relationship when I turned 30, I was going to have a baby through a sperm donor. I really never took myself seriously then, I honestly thought I would be married long before now! Well, January 2019 rolled around and my birthday was quickly approaching… I started to think that I could have a baby on my own. It took me a while to come to terms with the idea in the first place; I had to mourn a little the life I thought I might have had, the conventional way to start a family. Next, I had a lengthy conversation with my therapist to reassure myself that I wasn't crazy! Moving home had triggered some things that I really thought I'd put behind me. Another bout of depression taught me you cannot erase your past but you can learn to overcome it. And while I would never wish to experience those dark and disheveled days again, it is that very time that has made me into the person I am today. I had been working tirelessly with my therapist to come to terms with my anxiety and some PTSD, and I wanted to make sure none of that overflowed into the stress of trying to conceive in the future. Then I pitched the idea to some close family and friends and found I was met with a ton of support. So, the decision was made. I was going to be a mom! It's hard to believe that was nearly 2 years ago.
My next step was to start researching the process of having a baby through a sperm donor. A 'Single Mom by Choice' (SMBC) is a woman who knows that she wants to have a child but hasn't found the perfect partner to start a family with. When I started researching 'being a single mom' and 'using a sperm donor' I came across this terminology quite often. The more I read, the more I realized, 'They're talking about me. I am a hopeful Single Mom by Choice!' It seemed so natural I would fit in this new category. I am educated, I am financially stable, and have accomplished most of my goals for the past 30 years. What I couldn't seem to achieve from my bucket list, though, was having a baby. SMBC do not make the decision to have a baby lightly. Neither have I. They also then go about the process in many different ways. As I did my research I started to wonder how I should even begin this process. So I started at the place all girls hate; the gyno. Super fun, right?
My OBGYN was surprisingly exuberant to hear that I was seeking motherhood. I'm not sure what I really expected, I guess maybe I thought she would meet me with a little more resistance! From there, she eagerly referred me to a fertility specialist and I waited (im)patiently for a consult with them. My initial meeting with the specialist took place in April of 2019. It really just consisted of a lot of medical history, some preliminary bloodwork, a basic plan put in place, and a discussion about sperm donors and my next steps.
I have a known donor, meaning I decided not to use a frozen sample from a sperm bank. I, instead, have a friend who has donated. While it sounds like it should have been easier, it definitely drew out the process. Still, when I thought of the idea of my child having multiple half-siblings in the world, 35 or more to be exact, I was more than willing to wait for everything to pan out. (Sperm banks often cut off a donor at 35 reported offspring). I'd hoped to start IVF in the spring of that year, but God apparently had a lesson in patience for me, too! Before I could go any farther into trying to conceive, I had to get permission to even be allowed to use my known donor through my clinic. My donor lives in a different state so this meant finding a clinic that would accept him as a donor, not a patient, and thus proceed with the necessary tests to see if he was eligible. After what seemed like years (really only about 8 months) of medical tests, psych evaluations, counseling sessions, insurance snafus, a surgery to remove uterine polyps for me, and a legal agreement signed through my attorney – I finally got the green light to begin a round of IVF. Because of my surgery I missed the start of October IVF cycles by just a few days so it was a very long wait to November 1st!
I can honestly say that patience is a virtue and things really do work out when you just give them time. There were days that I wondered if God was trying to tell me to turn back, to give up. Maybe I was making the wrong decision, maybe I wasn't meant to be a mom? But suddenly I'd receive just the smallest sign to keep going, to just be patient, and my frustrations and stress would seem to melt away. IVF is a grueling process. The medication routine alone is enough to drive you crazy. But the hopes and dreams that ride on each and every injection, those are what really make it such a taxing few weeks. 3 full weeks of daily injections, monitoring at the clinic, followed by an egg retrieval and then an embryo transfer… I got lucky, really lucky. Sometimes I'm almost embarrassed to tell people that it only took one try, one embryo, one giant leap of faith. Just before Thanksgiving of 2019, I got a positive pregnancy test. I've never been more thankful for anything else in my life!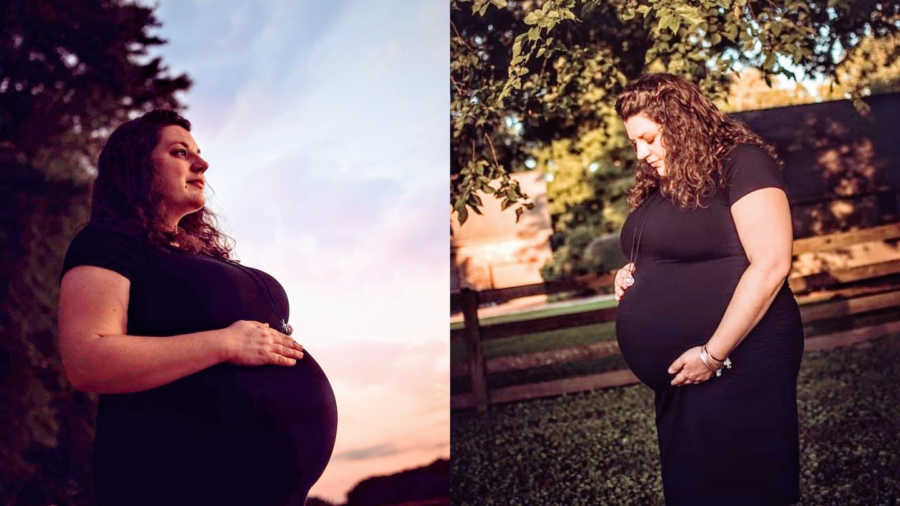 My pregnancy was far from smooth but totally worth the exhaustion, endless vomiting, profuse sweating, and multiple appointments every week. I even had a freak surgery at 13 weeks pregnant! I'd been sick my ENTIRE first trimester, eventually ending up in the emergency room for dehydration. Just a day later, I began having severe pain in my upper abdomen and ended up back at the hospital. I still remember my OB coming to see me in the ER; she told my mom, 'It took me one look at her to know something is very wrong.' I found that funny because at that point, I'd only seen her twice during my pregnancy and she definitely wasn't looking at my face during both of those visits!
After a plethora of tests to rule out any issues with my heart or lungs, the doctors noticed a 'significant portion' of my gallbladder, complete with several stones, still present. Did I mention that I'd already had my gallbladder removed 2 years ago? Suddenly my pregnancy became 'high risk,' and a Perinatologist took over my care and planning the next steps. The next few days are a blur as I was put on anti-nausea meds, pain killers, fluids, and a liquid diet until a specific surgeon highly recommended by my Perinatologist could get me into her schedule. What should have been a very short and simple surgery turned into a three hour operation as she corrected what my prior surgeon should have done 2 years ago! I look back on those days and am so grateful to my team of medical professionals that not only took care of me, but also monitored my pregnancy so carefully. While the risk of surgery was high, I was told the risk to continue being so sick was much greater, therefore the surgery had to happen. Talk about stressful and crazy times! Then add in the Coronavirus, quarantine, masks, and endless hand sanitizer… basically my maternity leave began in March of 2020, instead of June. And with it came endless anxiety about Covid and having a child in the middle of it all. What a weird time to be pregnant and give birth. My therapist made a lot of money off me for sure during all that time!
But, oh, what came next! A beautiful baby girl arrived at 12:21am on August 5, 2020. 8lbs, 1.7oz and 19in of pure heaven. The peak of my adventure. Laurel Grace, my Sunshine Girl. Those 28 hours before her arrival are a story in themselves. And while far from easy, I'd like to say they were the toughest part of this journey but I'd be lying. The most treacherous, in all honesty, has been the journey since her birth. The constant worrying about her well-being. The anxiety that comes with having a child. And the postpartum hormones that make me want to protect her in every way, literally forgetting about myself to preserve her existence.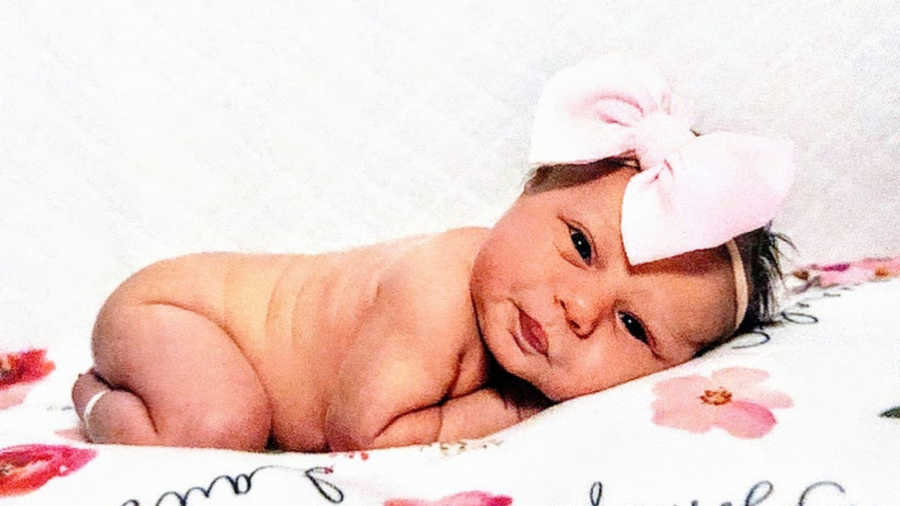 Raising her all alone, honestly, hasn't been as tough as I'd expected. I guess I thought I'd miss the extra set of hands/eyes/ears to assist in the day-to-day tasks of having a baby. In reality, I know no different so it's actually a relief to not have to share her with anyone else. The only times I even wished I had a partner during this journey was when I had to assemble the pack-n-play and install car seat bases at 8 months pregnant, in July! Since Laurel's birth, several people have told me that I seem so natural as a mother. Others have commented on what an easy-going baby she seems to be. Either way, I am blessed! She is the hardest thing I have ever done, and yet the most rewarding in the same breath. I have been walking around with a piece of my heart missing for so many years and she just fits so perfectly into the bend of my arm, the crook of my neck, the beat of my heart.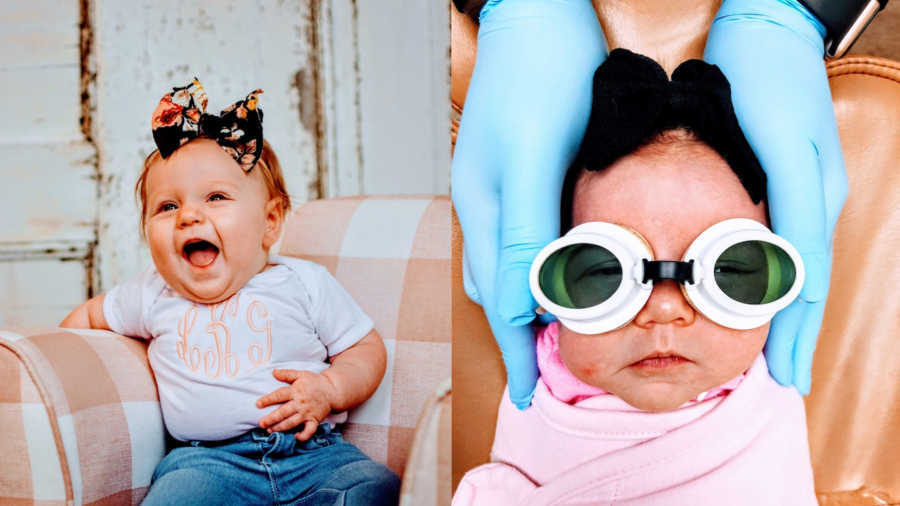 As I look back on these last two years, I am so grateful for my family as they've supported me through the darkest days and brightest nights. I'm thankful for the friends that have stuck by me all these years, sharing in the gore and the glory along the way. And most of all, I am thankful for my daughter, the light to a once dull and dreary world. She has shown me exactly how precious life is; precisely why it is worth living. She amazes me every day with her wonder for the world or a new skill she has learned. I often find myself wondering who she will grow to be, what she will look like, what she will come to think. As Laurel gets older, I hope she is proud to be my daughter. I want her to have seen a mother who wasn't afraid to swim against the current. I hope she recognizes the struggle of anxiety and the triumph so often forgotten by others. I hope she sees a woman who knew what she wanted in life, someone who didn't wait for another to deliver happiness.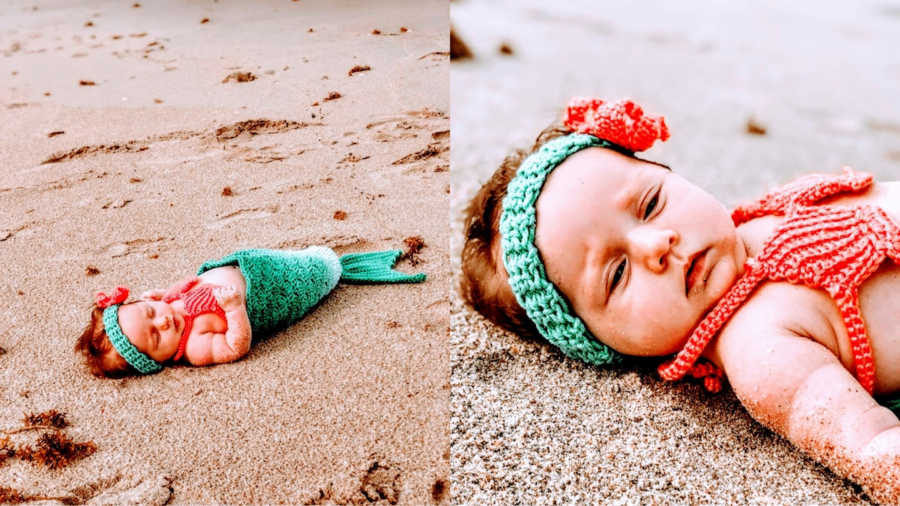 I chose the name Laurel to honor my late Aunt Jane. Her first name was Laurel, though she didn't care for it growing up. I, however, found it beautiful and timeless, much like my aunt. The name Grace was chosen to match my mother's middle initial G. Ironically, it fit well with an Anne Lamott quote I have always loved: 'I do not at all understand the mystery of grace – only that it meets us where we are but does not leave us where it found us.' How very fitting for my girl, for she has forever changed me for the better."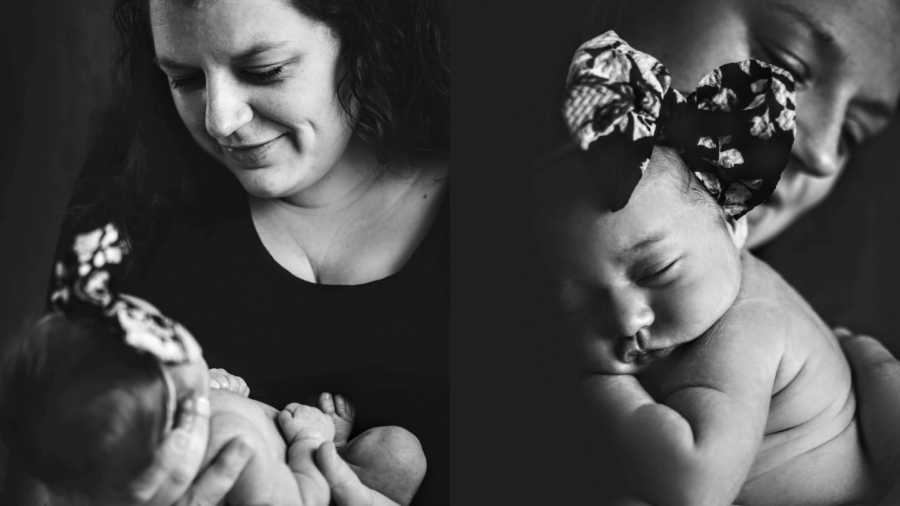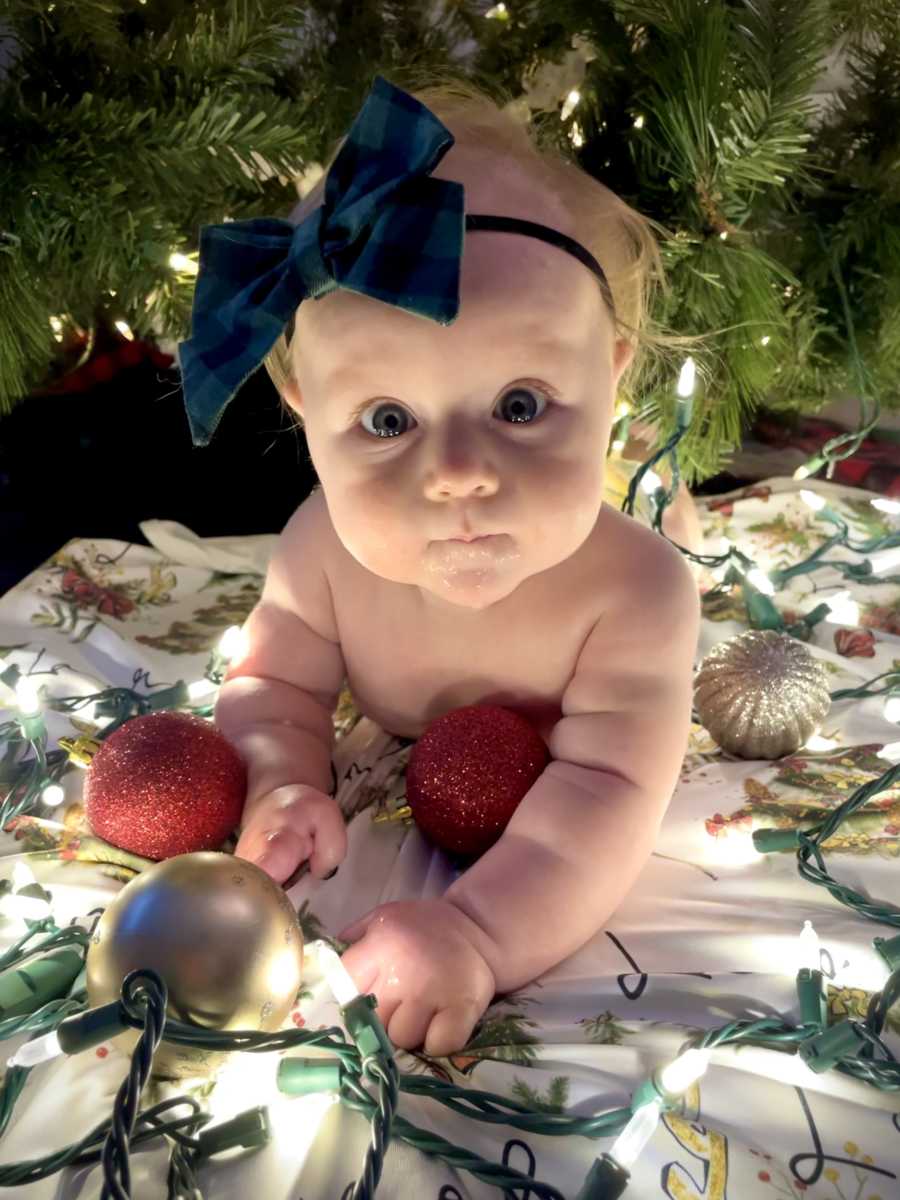 This story was submitted to Love What Matters by Allison King. You can follow her on Instagram. Do you have a similar experience? We'd like to hear your important journey. Submit your own story here. Be sure to subscribe to our free email newsletter for our best stories, and YouTube for our best videos.
Read more stories like this:
'Where's their mom?' She assumed I was kidnapping my son. She didn't believe me when I said, 'I'm Dad.' The suffering of kids in foster care knows no color.': Single foster, adoptive dad says 'matching hearts make a family'
'We don't have a dad here.' I scrambled how to respond. I was by myself, thrown head first into parenting.': Single mom fosters 18 children, adopts son, 'Our heartbreak is worth it' 
'She was abandoned with nothing, not even a name. 'There's a 10-day old baby girl,' he told us. 'She has a disease.' She only had 3% of a brain.': Adoptive mom now family of 5, 'We get to be the lucky ones who love them forever'
'Can we take him home with us?' My little patient had fought more in 6 months than most adults. He was in custody of the state.': Nurse adopts special needs patient, 'He is our little boy forever and ever!'
Please SHARE this story on Facebook to encourage others to cherish every moment and love what matters most.