"This is Lucy.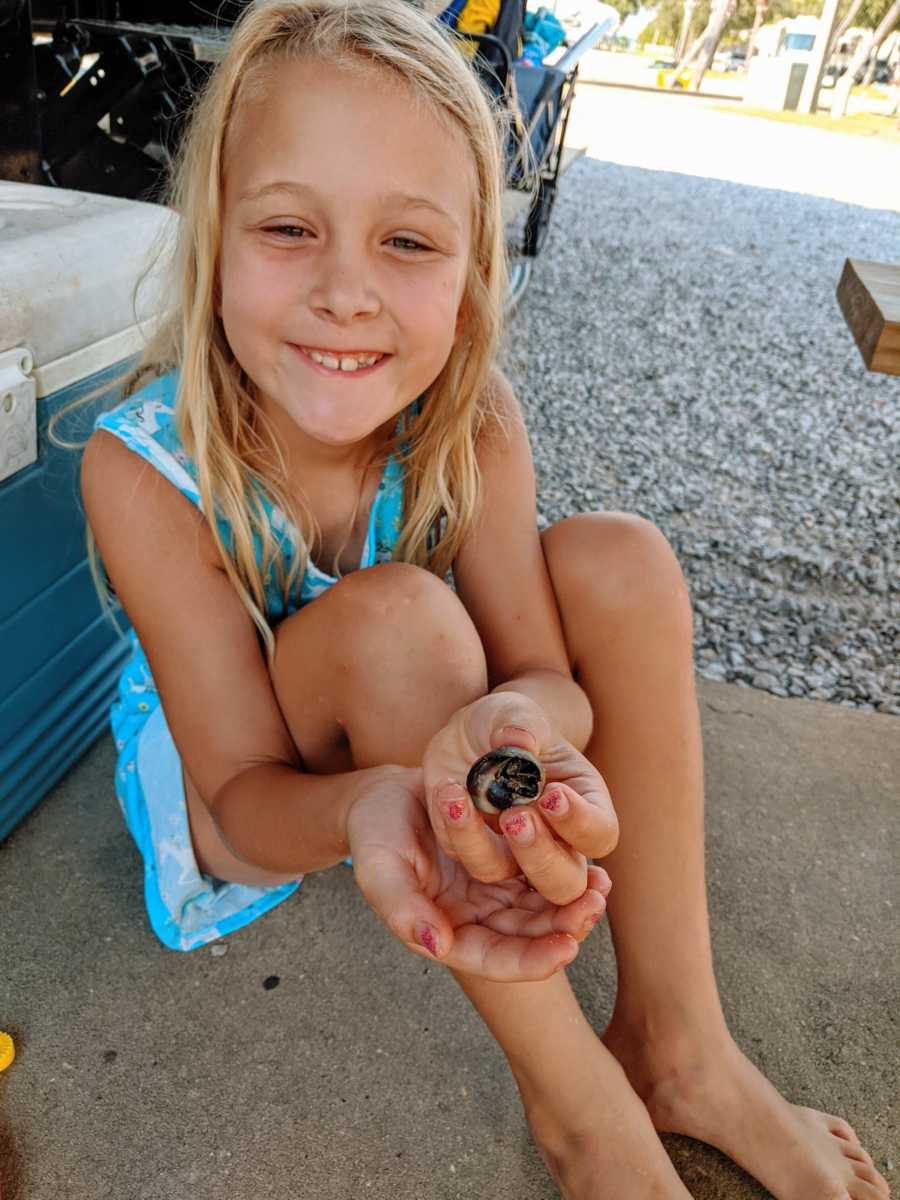 And this is Lucy's 1st-grade school picture.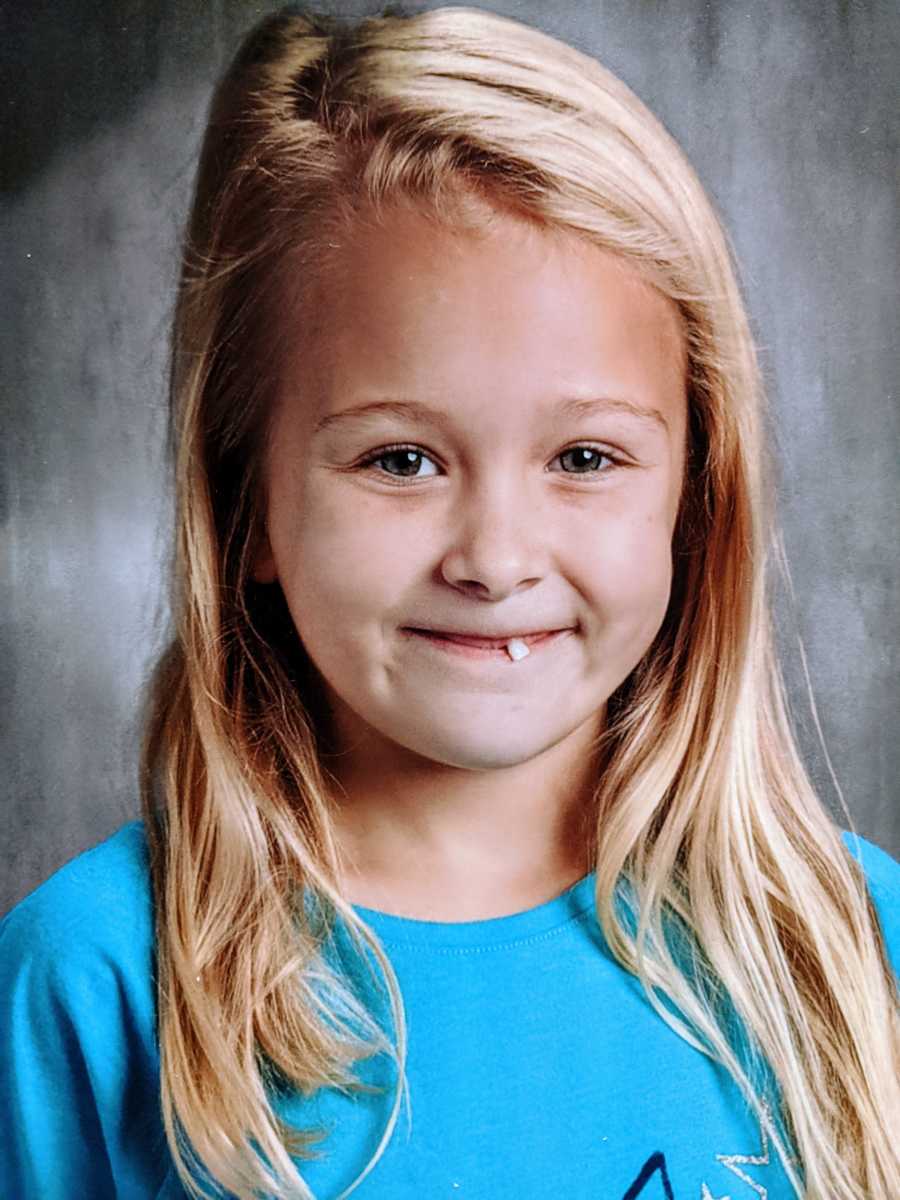 Yes, that is a tooth. This tooth had been hanging on by a string for weeks. We could have pulled it, but she liked the way it looked and enjoyed playing with it at all hours of the day. 
Typical Lucy. My messy-haired, ferocious, critter-loving Lucy, who would rather spend her time searching ditches for frogs and bugs than playing dress up or dolls. The one that's stripping off her shoes and socks the moment she walks in the door, leaving them in a trail throughout the house as she goes because they're just too confining. She'd go around in just her underpants all day if we'd let her. She hates dressing up (actually getting dressed at all), gets irritated when I try to fix her hair and doesn't have time to worry about whether her clothes match or not. 
Before she left for school on picture day, I told her to keep her rogue tooth in line for her pictures. As she skipped off to the bus stop, she gave me that wry smile of hers and said, 'Okay, mom.' This is what she did instead. 
My free spirited, independent, self-assured 7-year-old stuck that baby out for the world to see. Look at how proud she is! This is the look of a girl who knows exactly what she's doing. This is a girl who knows that this picture will forever be displayed at all future milestones of her life. Sweet-Sixteen birthday. Graduation. Wedding. Her dad already had this picture turned into a travel coffee mug for me. He definitely won best the gift ever award!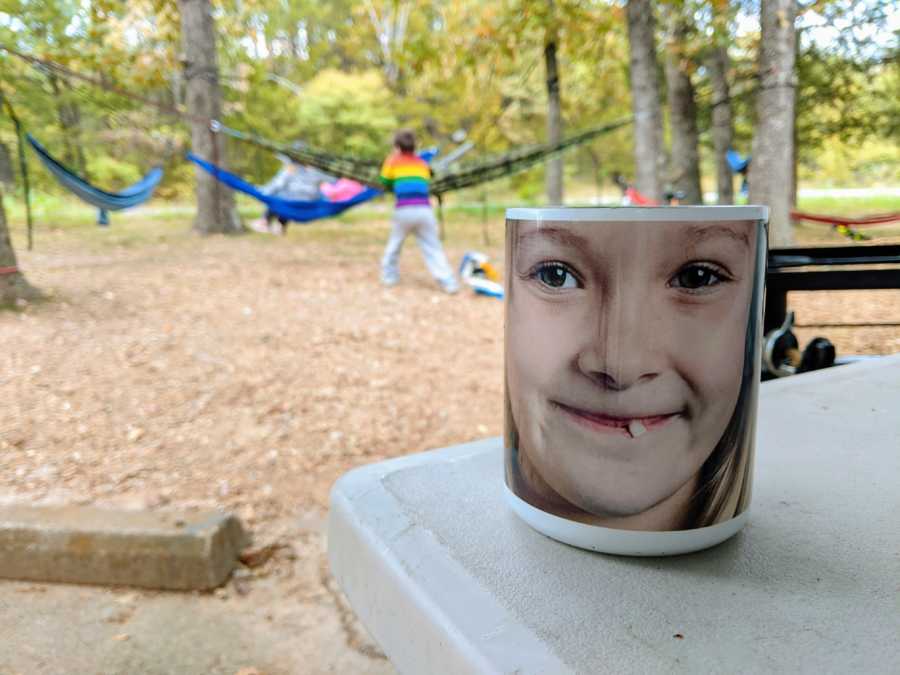 When the photographer asked if she wanted to retake the picture without the tooth sticking out, she replied, 'Nope, I'm good!' 
She doesn't conform to societal standards. She's unique and she embraces it. I often have to stop myself from squashing her individuality, afraid of what others might think of her (or me, as a mother, if I'm being totally honest.). I wish I had her attitude, her spunk, her feistiness. I rarely voice my concerns or speak up when something bothers me in fear that I might disappoint someone, or even worse, make someone mad at me. I'm passive when it comes to confrontation. I work hard every day to make sure she's not. 
Growing up, I was all about what others thought of me. I wanted so desperately to be liked, to be popular. I strived to fit in and belong instead of embracing the fact that I could have been just like Lucy when I was young: imaginative, quirky, wild, and very much a rough and tumble kind of girl. And my mother worried too. 
My beloved Memaw told her I marched to the beat of my own drum, but the lure of popularity got to me and I lost myself trying to be something I was not. I desperately wish I could go back and tell my younger self all that doesn't matter! I'd tell myself that, in the long run, being true to yourself is the most important life lesson I could give. There are many aspects of my youth and early adulthood that I would change; however, there are far many others that I am proud of. 
I eventually found my way. I just wish I had the confidence and belief in myself along the journey. 
My greatest wish is that Lucy's emboldened attitude stays with her. She needs to know that she's allowed to be heard. She's allowed to speak up for what she wants. She's allowed to let others know when she feels slighted or dismissed or is unhappy with the way she's being treated. It's okay to be brave, bold, and strong willed. And when my husband and I get frustrated at her strong will, we often have to remind ourselves it will help her navigate the world better as she gets older. For now, we just hunker down and try to guide her to be the best human being she can possibly be. 
She's young now, but I know the older she gets, the more she's going to feel the pull of what society expects from her. 
And every time she feels that pull, I hope she sticks that tooth out and tells the world, 'Nope, I'm good!'"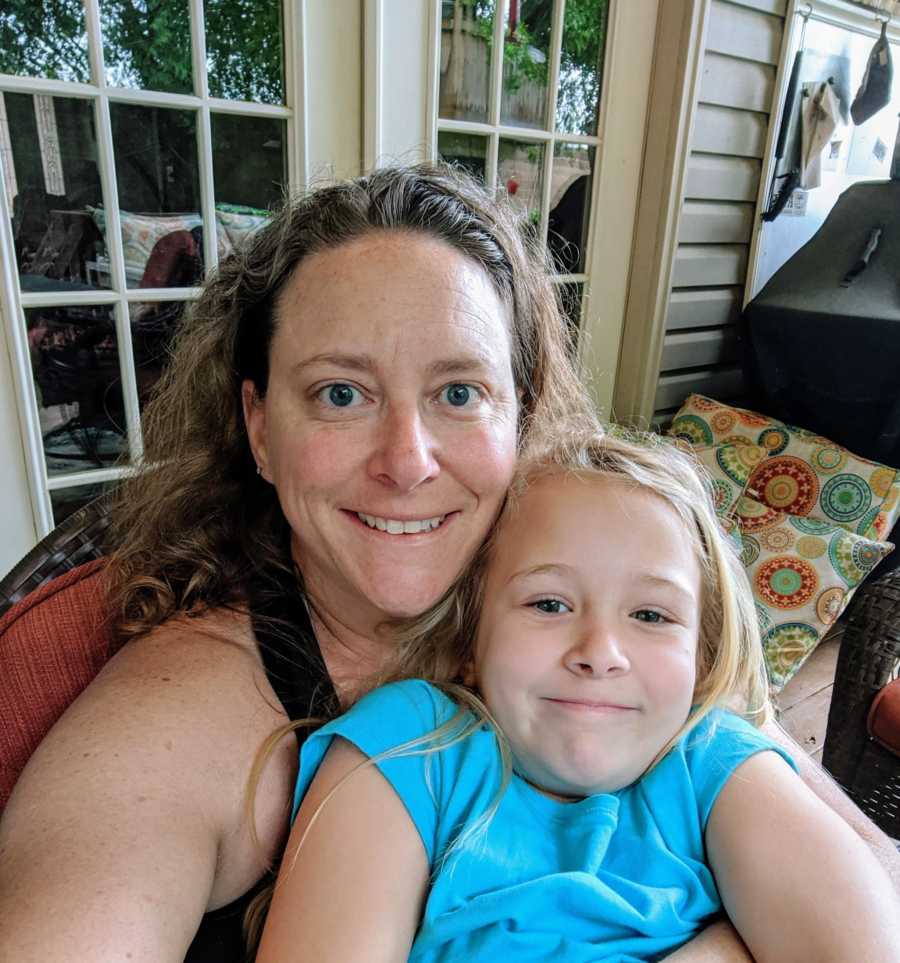 This story was submitted to Love What Matters by Amy Brennfoerder of Rogers, Arkansas. Submit your own story here and be sure sure to subscribe to our free email newsletter for our best stories, and YouTube for our best videos.
Read more stories like this:
'I have the 'wild child.' The one that's loud. That NEVER listens to 'no.' I feel guilty. 'Was I too hard on him today?': Woman claims 'wild child' moms are 'trying harder than you know'
'I'm not everyone's cup of tea. I'm too loud, too quiet. We try so hard to bend 50 different ways to fit a mold, but why? For what?': Woman learns to accept herself as is
Provide beauty and strength for other women. SHARE this story on Facebook with YOUR person.