Instant Connection
"My husband and I have a honeymoon baby, but not in the traditional way one might think.
Scott and I were married on October 24th, 2015, on a beautifully crisp morning. Little did we know, starting our family together would happen so quickly. Shortly after our wedding, I started a new job as a registered nurse at a pediatric rehabilitation hospital. This hospital cares for a wide array of infants and children; some patients are there for months and others for years at a time. Not surprisingly, the staff here develops close relationships with the patients and their families. Something I learned quickly was that even the smallest of patients can sometimes have the biggest of personalities!
Although we weren't technically supposed to have 'favorites,' sometimes there would be a particular patient who would pull a little harder on your heartstrings. For me, that patient was Gabriel. He was only 6 months old when he arrived at our hospital and had already fought harder than some adults I knew. He had been born 4 months prematurely and needed the aid of a tracheostomy and a ventilator to breathe, as well as a feeding tube for nutrition. Gabriel also had a lack of oxygen during, and shortly after, his birth resulting in severe injury to his brain. Despite all of this, he had an infectious smile. You could get lost in his gummy grin and forget for a moment what a sick little boy he was and the unimaginable fight he had lived through.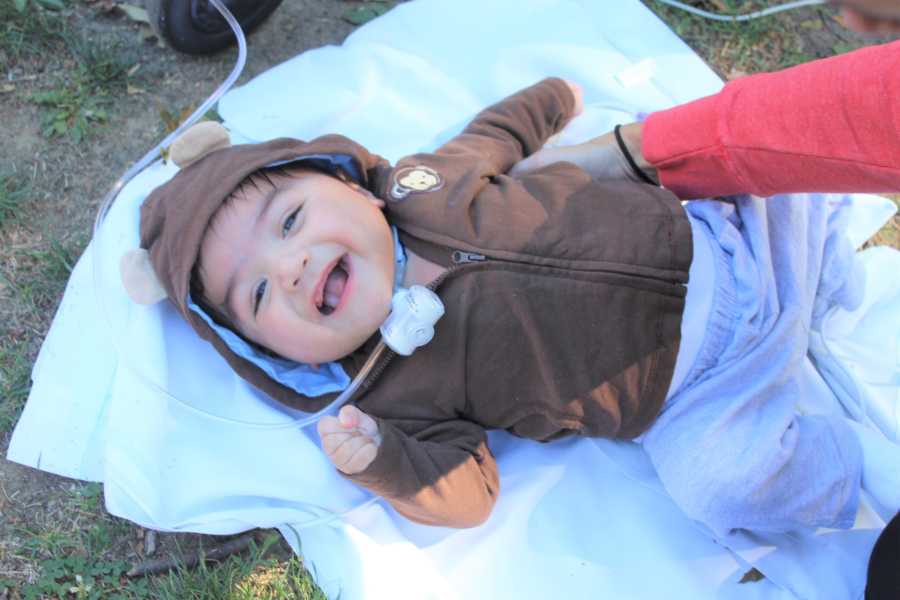 I felt such a strong connection to the boy with the infectious smile! I bought him outfits, toys, and blankets whenever I could. For Christmas, I brought him in Christmas pajamas and made sure a good nursing friend of mine dressed him up in his new festive 'jammies' when I didn't have the Christmas shift. This was December of 2016, and while he was in the hospital, I was spending the holiday with my husband and extended family. But I could not stop thinking about that little baby in his hospital bed, wishing more than anything that he could have spent Christmas day with us. By this point, I had started talking to my husband about my favorite little patient. I was sure to leave out any identifiable information, but he knew the most important things like how big his brown eyes were, how strong he was, how he had the largest smile for such a little boy, and how much I loved caring for him.
On February 4th of 2017, I was at a work holiday party talking with co-workers when someone told me the state had taken legal custody of Gabriel. It was a bittersweet moment. I knew in my heart this was the safest plan for him, but could not deny the immensity of that decision. This was the same evening I decided to tell my husband I was seriously considering taking him into our home.
Preparing To Foster
At this point, we had been married for a little over a year and had no other children. Foster care and adoption were options we had talked about early on in our relationship, and we had planned to explore them more in the future, perhaps after we had biological children. My husband, who works in finance, had no medical background but is a caring and wonderful man, and he knew how much I cared for Gabriel. He agreed we could look into the process of fostering him.
Within the next few weeks, I had conversations with one of Gabriel's medical providers at work and was given the contact number of his state social worker. There was a mountain of paperwork to be filled out, home inspections, and background checks. However, at this point, the court had yet to decide if Gabriel would be discharged home from the rehab facility with his biological parents or into foster care. We remained optimistic and prepared our homes and our hearts to take on this little life, all the while waiting on those in power to make their final decision.
Then came the happiest moment that changed our lives forever. On the day of the court case, I was at work anxiously waiting to hear if I could take home the boy with the infectious smile. When my work phone rang, a shock of adrenaline hit me. I answered without hesitation, and the voice of Gabriel's Nurse Practitioner came across and said, 'Congratulations, it's a boy!'
With that phrase, the real fun had started! The rehabilitation hospital had specific guidelines for discharging a patient with such extensive medical needs. This included all necessary teaching and an in-hospital stay for the parents to demonstrate all care. Since I had been working there for years, I was exempt from the training, but my husband had a lot of work to do before we could take him home. My husband, Scott, finally met Gabriel for the first time on the evening of March 19th, 2017. He was understandably nervous about all of the medical equipment and alarms, but I believed in him and his caring nature, and he proved to be a fast learner.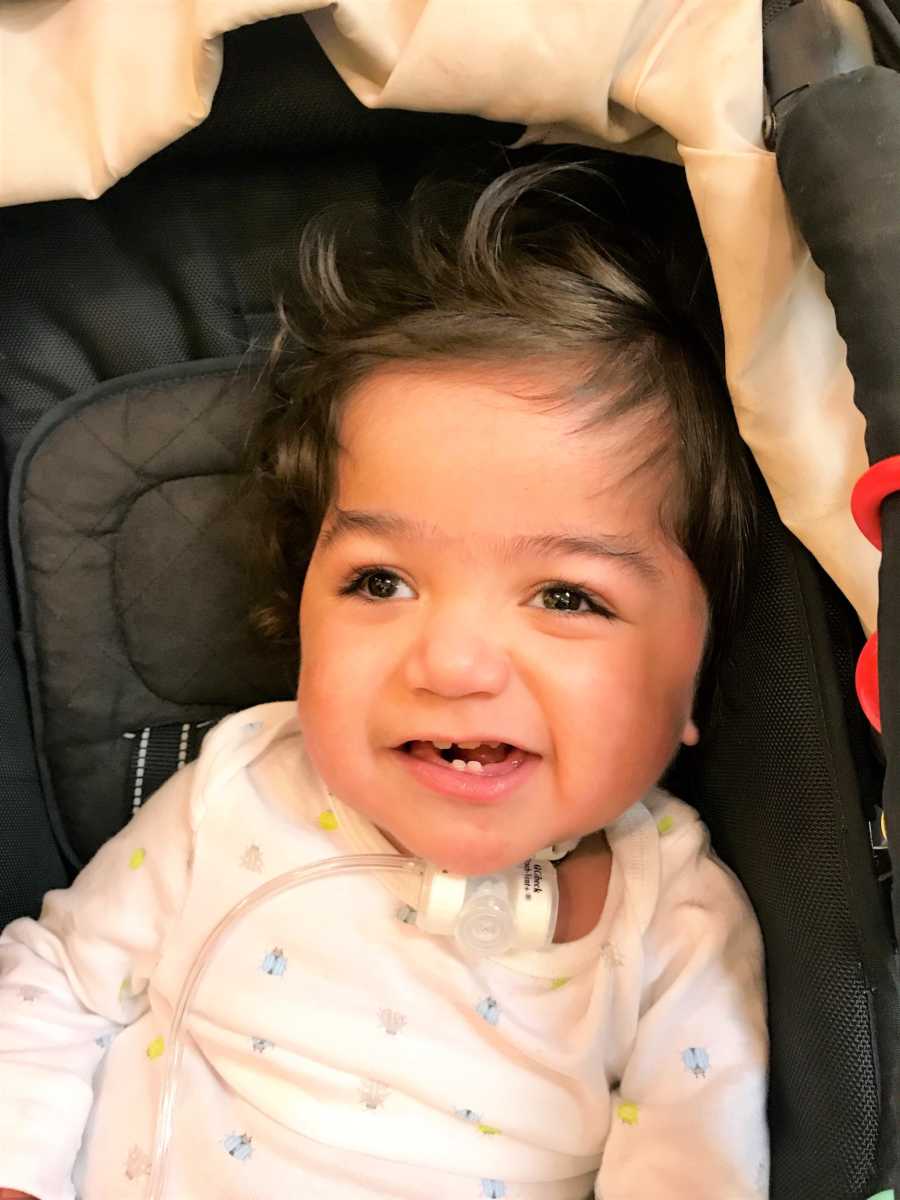 Each time we drove to the hospital for teaching sessions, I would quiz Scott on Gabriel's medication dosages and what each was for. We took sterile gloves home to practice taking them on and off to prepare him for suctioning his trach. He learned what all of the emergency equipment was for, did several trach changes, and practiced what steps to take in the event of an actual emergency. After he completed his in house stay, we were able to set up a date for discharge!
But our preparation didn't stop there. During this time, we were also interviewing with home nursing companies, setting up home medical supplies for oxygen and feeding tube supplies, and enrolling him in therapy services. We were ready for our little boy to arrive and to give him all the care he deserved. During this preparation time, it was my husband who pointed out that Gabriel was born just 6 days after we were married; our little family was coming together before we even knew it was happening. However, we couldn't stop thinking about the fact that while our brown-eyed boy was in the hospital fighting to survive, we were on our honeymoon in Jamaica. This thought left us unsettled and led us to the realization that we always wanted to be there for Gabriel from this point forward to ensure his health and well-being.
Welcoming A Foster Child
On April 11th, 2017, we welcomed this sweet, strong boy into our home. I was able to take a leave from work for several weeks while we all got adjusted to our new normal. Gabriel had many medical appointments with all his new doctors, and it felt as if every moment of every day was filled with caring for his needs. During this time, he was officially diagnosed with Cerebral Palsy, and although no formal expectations were given, it was clear by his delays that he would have lifelong physical limitations. He received a medical stroller for transporting him, a stander to help build strength in his legs, ankle braces, and an arm brace to help stretch his tight muscles. He also received glasses for his vision loss and required hours of therapy each week.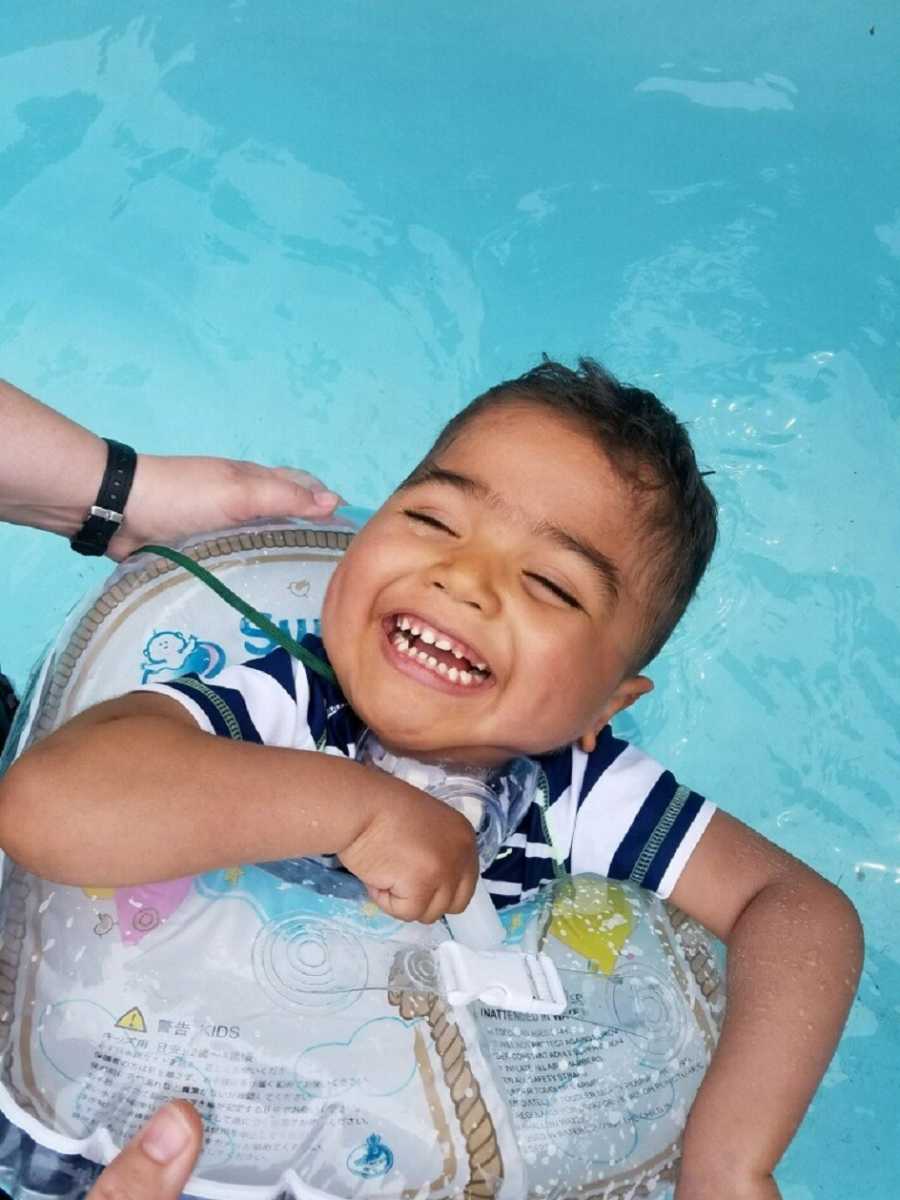 During our first year with him, he was also hospitalized in the intensive care unit several times for respiratory illnesses that could not be managed at home. Our adjustment to being a newly married couple with no children to being parents of a medically fragile child was a difficult one. We were questioned by family and friends who didn't understand why we would take on the responsibility of caring for a child with such significant medical needs, and often. My best response has always been a form of the quote by author Zero Dean: 'Not everyone will understand your journey. That's fine. It's not their journey to make sense of. It's yours.' Luckily, the majority of our family and friends supported us wholeheartedly and loved Gabriel as fiercely as we did.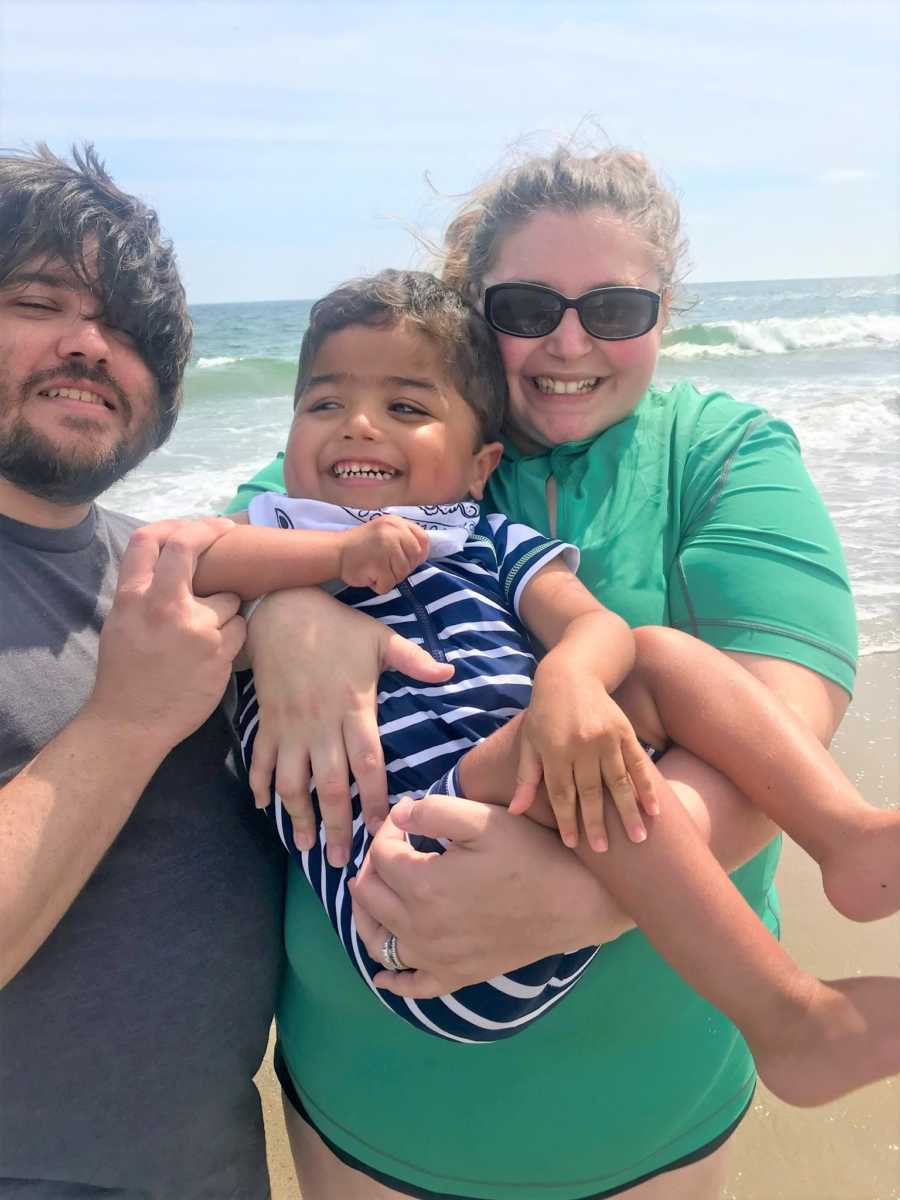 Parenting Journey
Over the next several years, we continued to support this sweet boy every step of the way. As he grew from a baby to a toddler, he got stronger by the day. He started rolling and walking with the help of a walker. He began using switches and his iPad to communicate his wants and needs–which are almost always to watch Sesame Street.
As time went on, we continued to fight for the best medical care for him. We switched him to a diet full of real, blended foods—instead of the sugar-filled formula he had been on. We researched a fantastic surgeon at a local hospital, and Gabriel has had several airway surgeries in the hopes of one day being able to breathe without the help of his tracheostomy. Most importantly though, we continued to love him fiercely and advocated hard for him at every turn.
When Gabriel turned 3 years old, he started at an integrated preschool alongside both typical peers and other children with different and special needs. While he continued to make tremendous progress and grow into a preschooler, he was still in the custody of the state.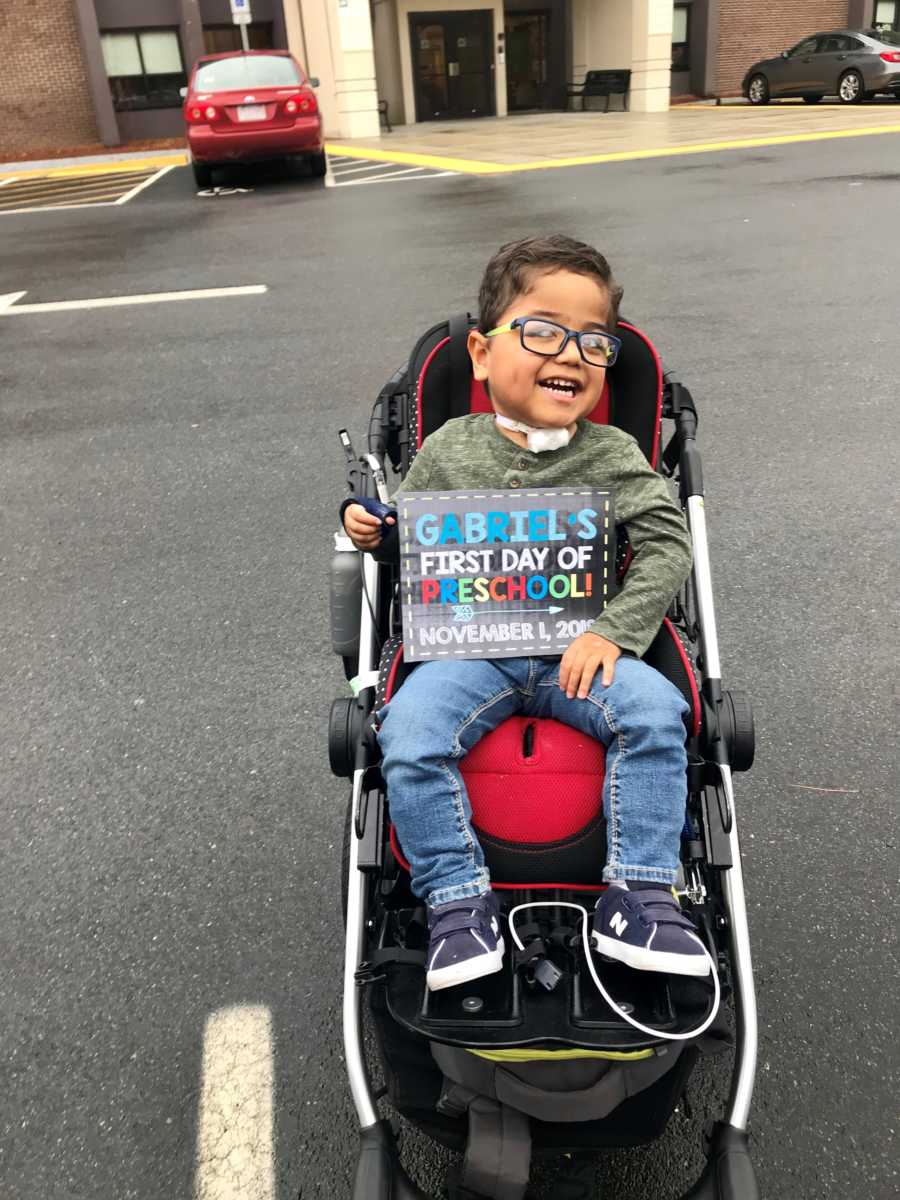 The Department of Children and Families remained his guardian. Therefore, we had visits monthly from social workers, visits with his biological parents, and needed informed consent for all medical procedures. We wanted to keep planning for a future with this sweet boy, including buying a home that would accommodate his needs for long term care and an accessible vehicle for his wheelchair, but we didn't want to make any big purchases without solidifying his future with us.
Gabriel started to develop seizures around his 3rd birthday. I began to research CBD and other alternative treatments that were legal for medical purposes in our state, but his legal guardians and lawyers said no. Although we were making the day-to-day decisions and caring for him, we had no legal rights to make decisions in his best interest. Those struggles, combined with the fact that he could be removed from our home at any moment, was never far from the front of our minds. I would often sit and cry when I thought about packing up his favorite toys and wonder how anyone but us would know that he only likes his drum on the 'Spanish colors' setting, or that you have to sing a specific song when you brush his teeth to get him to open his mouth. I was worried down to my core that his medical needs wouldn't be met if he went to live anywhere else, or if an emergency happened and he would die without our care. These are the scary realities you face when you love a child with complex medical needs and even more so when you are a 'temporary' home for them.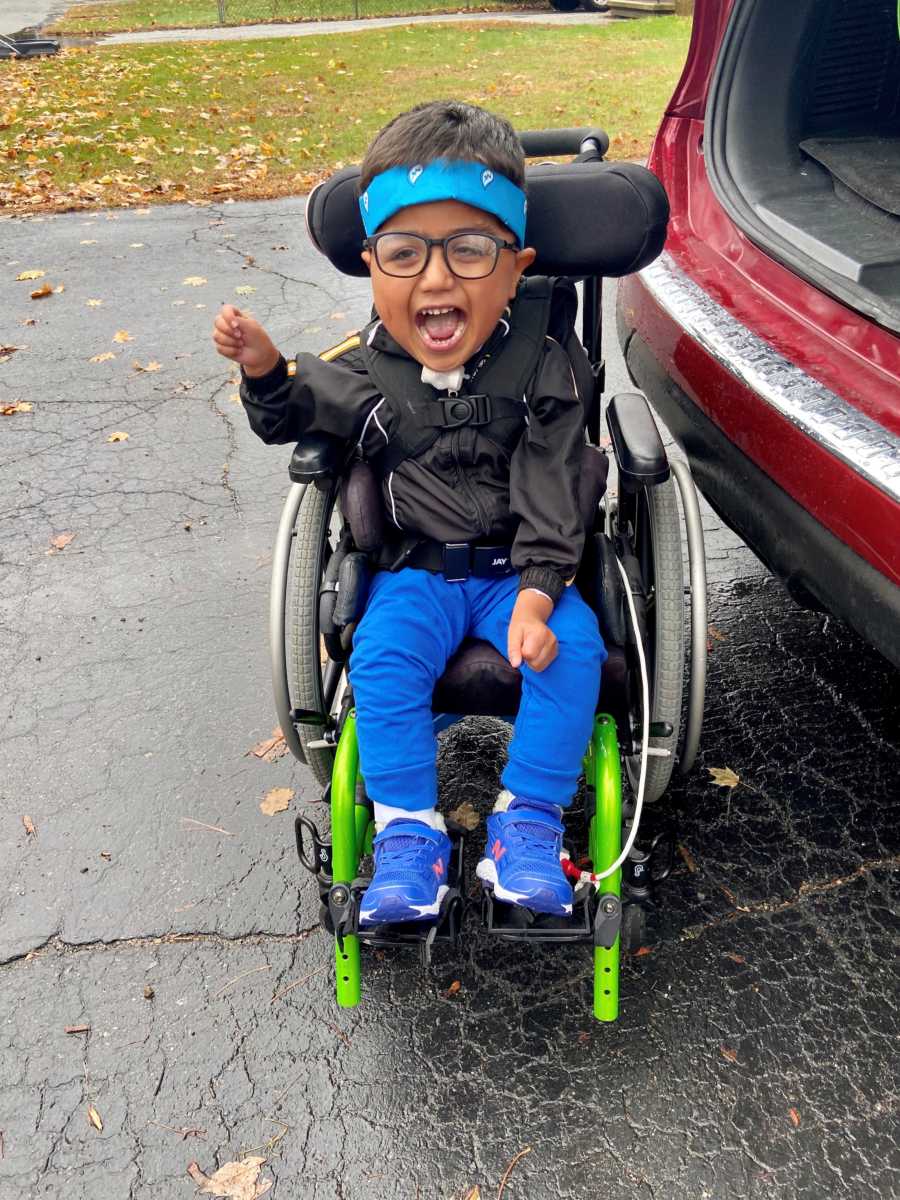 A Permanent Decision
Finally, on February 6th, 2020, 1031 days after we brought him home, Scott and I officially adopted Gabriel, our adorable honeymoon baby. He is our little boy forever and ever! Loving on him for the past two and a half years has been the greatest adventure. He has made us a family that is more than we could have ever hoped and dreamed for. We had moments that tested us as a family and as his parents. There were countless doctor's appointments, surgeries, therapy, days of worry, days where we thought his time in our home might be brief, and days when we thought there must be parents better equipped to care for him. However, our love for Gabriel was always stronger than any test.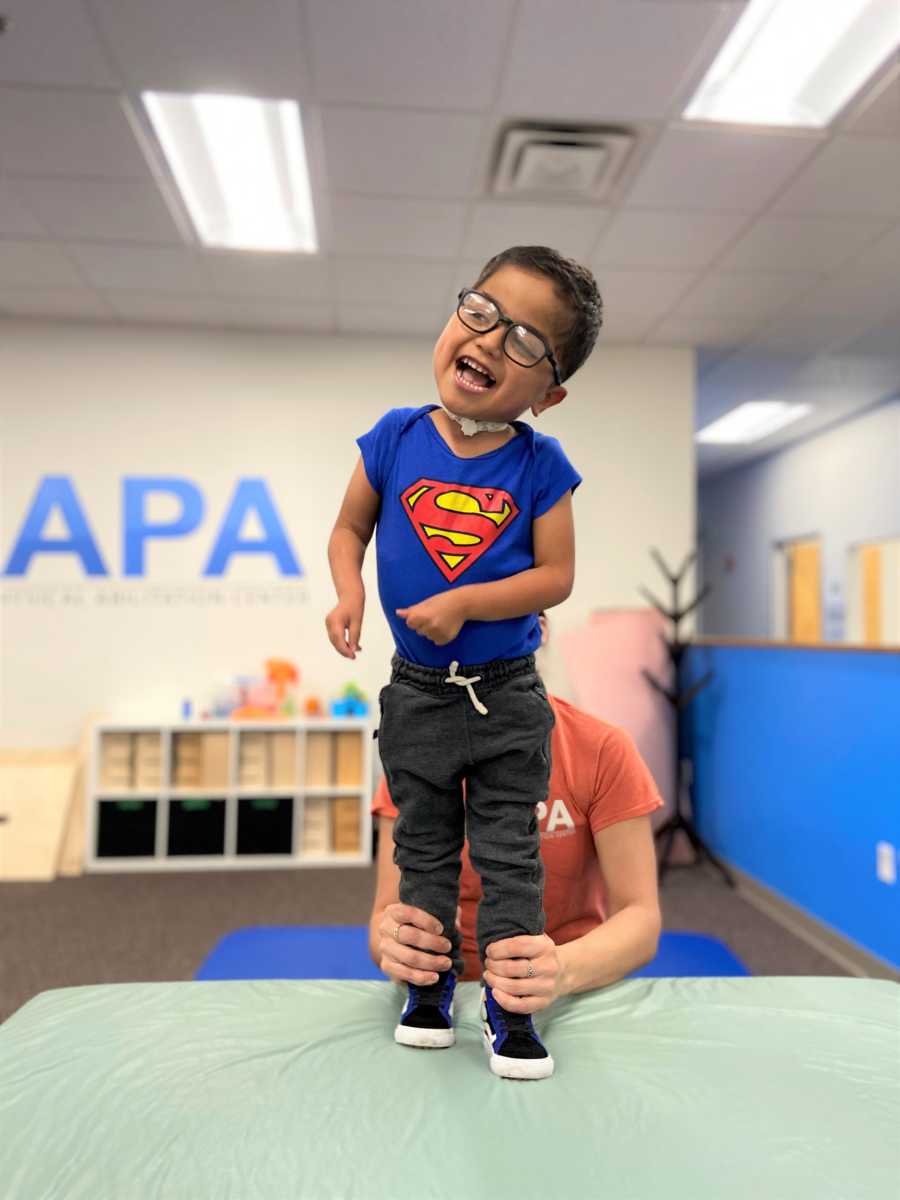 To our son Gabriel, we say thank you for making us parents and for putting up with us as we all grew together. Thank you for teaching us what pure love is, for your big brown eyes and infections smile, and for always working so hard. It will never get easier watching you struggle for what comes easily to some, but you are the strongest and bravest boy. Together as a family of 3, along with the best supporters, we have made it! Finally, thank you to everyone who loves our sweet boy—we couldn't have done this without you."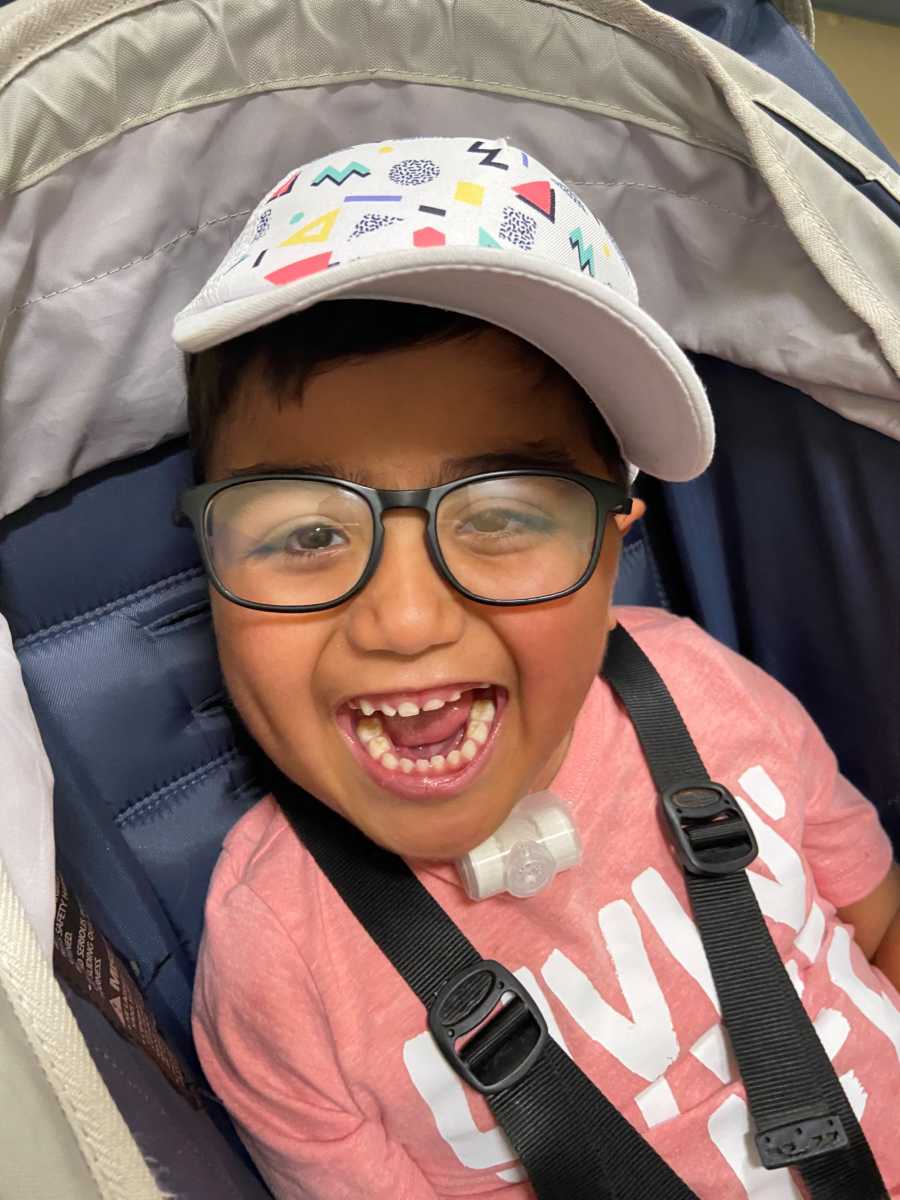 This story was submitted to Love What Matters by Stephanie DeGennaro. You can follow their journey on Instagram. Submit your own story here and be sure to subscribe to our free email newsletter for our best stories, and YouTube for our best videos.
Read more amazing adoption stories:
'At 11, his adoptive parents abandoned him at a hospital, never to return. 'Mr. Peter, can I call you my Dad?' I began to cry uncontrollably.': Single dad adopts 11-year-old boy from foster care after biological, adoptive family abandon him
'Your sister's been in an accident.' He broke the news. 'Where are the kids?!' CPS had no idea they ever existed.': Woman adopts long-lost nieces and nephews, 'Our hearts are so full'
'We have a 3-year-old boy. His mother is homeless. No one will take him.' Our jaws fell open. 'We'll be at your house in 30 minutes!': Couple adopt 4 children from foster care, co-parent with birth mom
Do you know someone who could benefit from reading this? SHARE this story on Facebook with family and friends.