"Have you every loved someone with everything you know and have? To be so in tune with them, you knew them more than you knew yourself? I do…His name was Raymond Rotolo, and he was my strong warrior of a husband.
Ray and I met in the summer of 2003 when I was 17 years old. Ray was 20 and it was pure fate… You see, we met at a wedding I wasn't even supposed to be at. Ray was the best friend of the groom's brother and my older sister was the bride's co-worker and she needed a last-minute date to the wedding. Ray and I spent the whole time laughing and, at the end of the night, he asked for my number. Three days later, he asked me on our first date; to see the Glendale Heights fireworks. We were inseparable after that.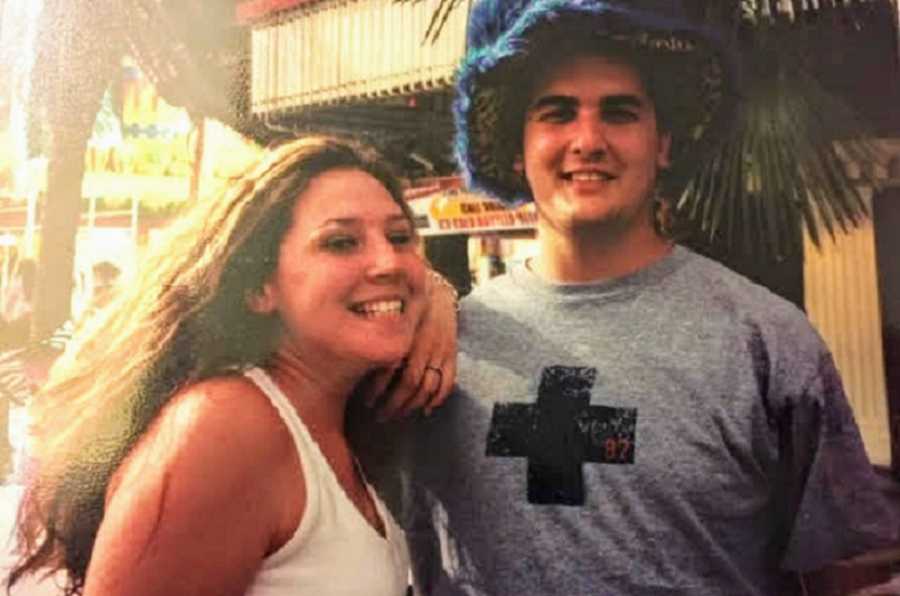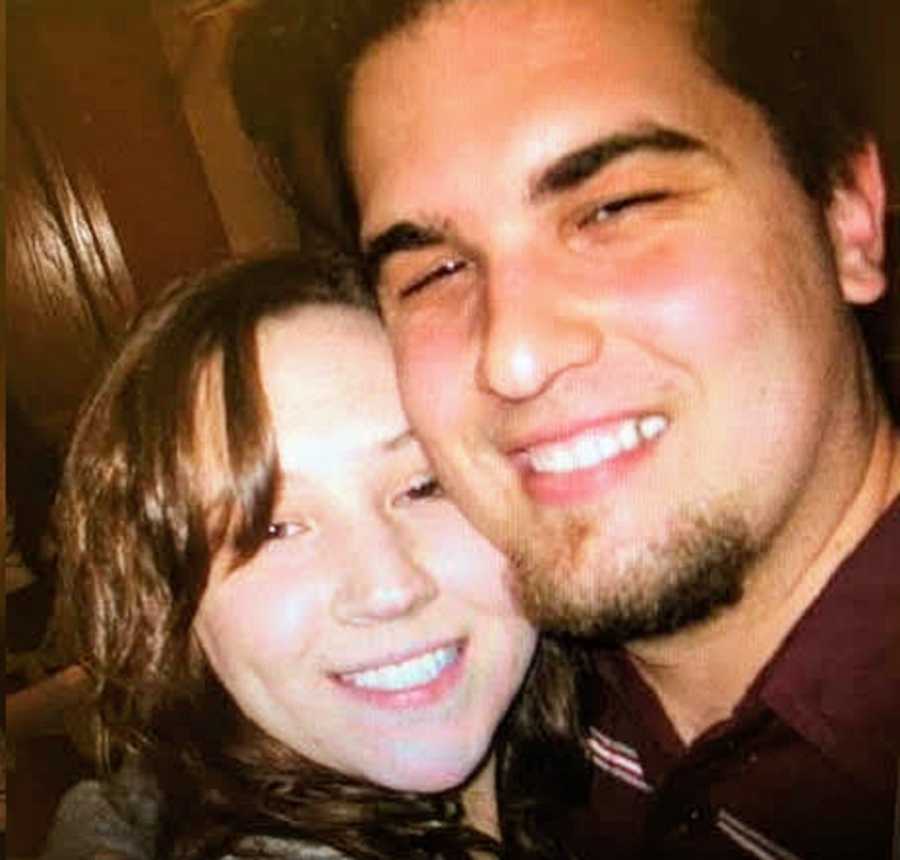 Ray and I married on October 10th, 2008. Life had its ups and downs. We had communication problems, money problems, typical growing pains for a young couple trying to navigate adult life together, but we had each other and our beautiful dogs, Maya and Kody. They were our children through the years as I struggled with infertility. We always knew that no matter how difficult life was, and all the obstacles, we were meant to be together.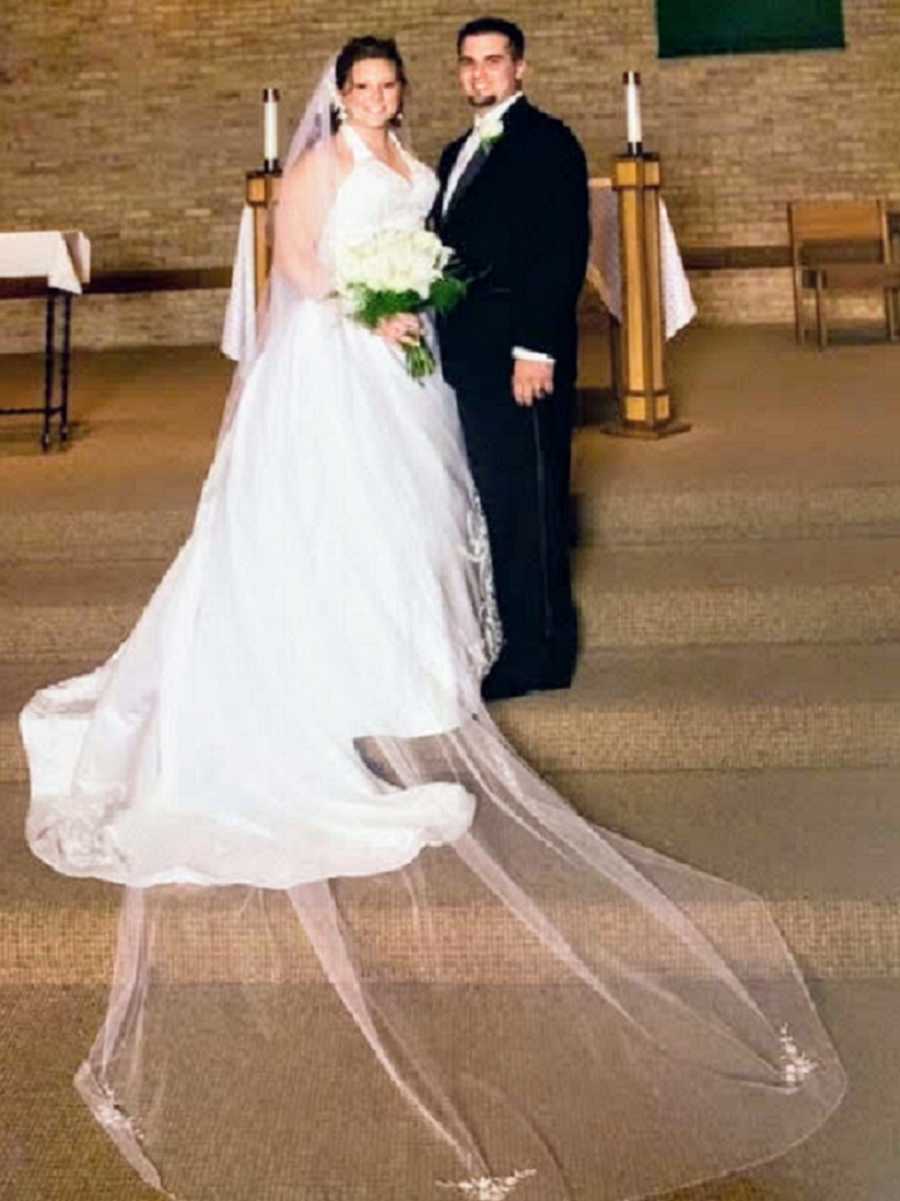 Time stood still on a cool Sunday morning on October 7th 2012. Ray had awoken with a terrible migraine. Ray never got sick. He was the epitome of a healthy, 29 years old. He was 5-foot-11, 225 pounds, played softball several days a week, and was a union electrician who busted his ass on that construction site 5-6 days a week. I knew in my gut something was not right.
We waited 3 hours in the ER to be taken back and told he was experiencing a sinus infection. Of course, after pain medications he felt fine, but I knew in the depths of my soul something was not right with him… I asked the doctor to order a CT Scan. He told me, 'It's not needed. See, he's fine.' This is when I learned doctors are not always right and you are your only and best advocate in the medical world.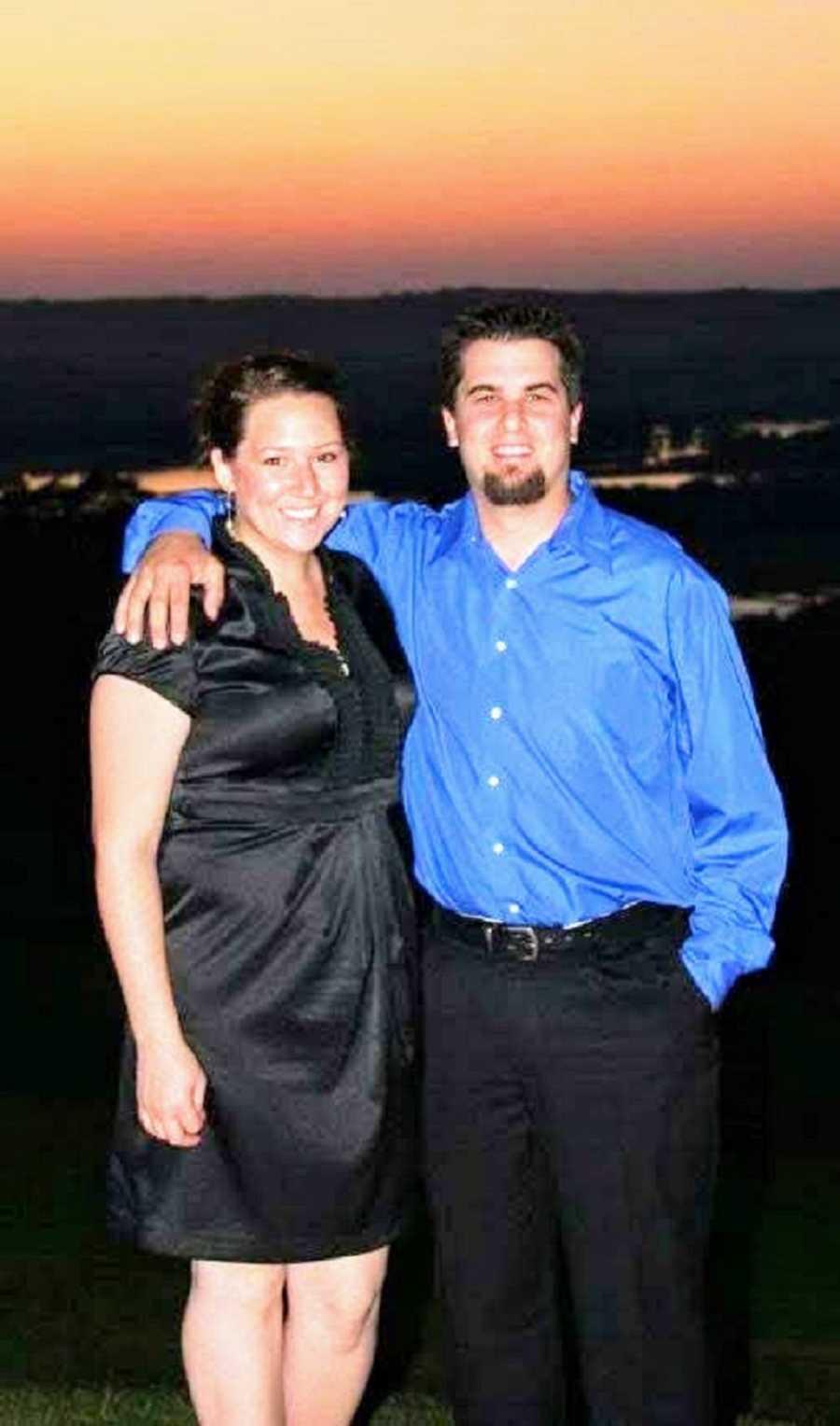 I demanded he order a CT scan and this is when a full-blown yelling match ensued. The doctor finally said, 'OK, OK, I will order the CT scan! You will see his sinuses are inflamed and IF there's something on the brain, which I know there isn't, we will see it.' He was taken to CT and 15 minutes later, he was back and annoyed he was missing kickoff of his beloved Chicago Bears. I was a nervous wreck but surprisingly peaceful. I asked, 'How long till we get the results?' as transport wheeled him in. '30 minutes.'
No. 3 minutes later, the same doctor and 3 nurses came rushing in the room, the door flew open so hard that it bounced off the wall! The nurses were ripping cords from the walls and tossing his belongs on the stretcher, practically running around the room. Ray, obviously concerned, said, 'Whoa, what is going on?' The doctor, without even looking at him or I, only at the bed, said, 'We found a mass.' Ray asks, 'How bad?' The doctor says, 'It's the largest I've ever seen.' He turned and left the room and was never seen again.
That's when our journey began. I shifted from a normal 26-year-old house wife to wife and caregiver. The next 3 years and 3 months were nothing less of a roller coaster of emotions, wondering if he would wake up the next morning.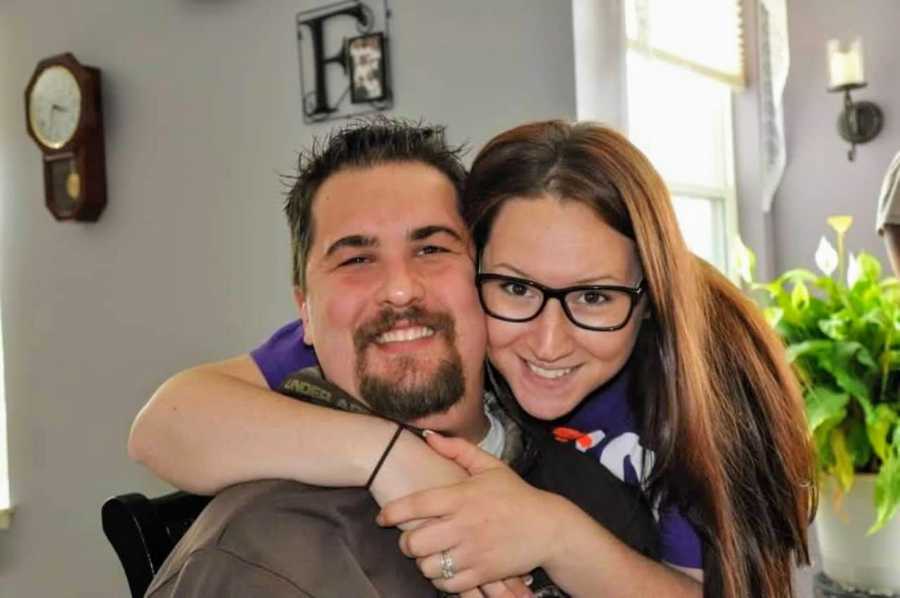 On October 9th, Ray underwent a 14-hour surgery to remove the tumor. Time stood still. Flooded with emotions, I didn't leave that room. I couldn't. I couldn't tell you what I was thinking or feeling or doing for that matter, but I could tell you what his vitals were. On our 4th wedding anniversary, I spent the day caring for the man I loved more than life itself, not knowing if he would ever wake up, and if he did, would he be my same Raymond? I learned really quick what all the machines were and why they were needed, and what medications he was receiving and why. Ray woke up to his normal self the morning of October 14th, my 27th birthday. A few days later, we were given the final diagnosis. Anaplastic Ependymoma grade 3, Brain Cancer, and very rare in adults.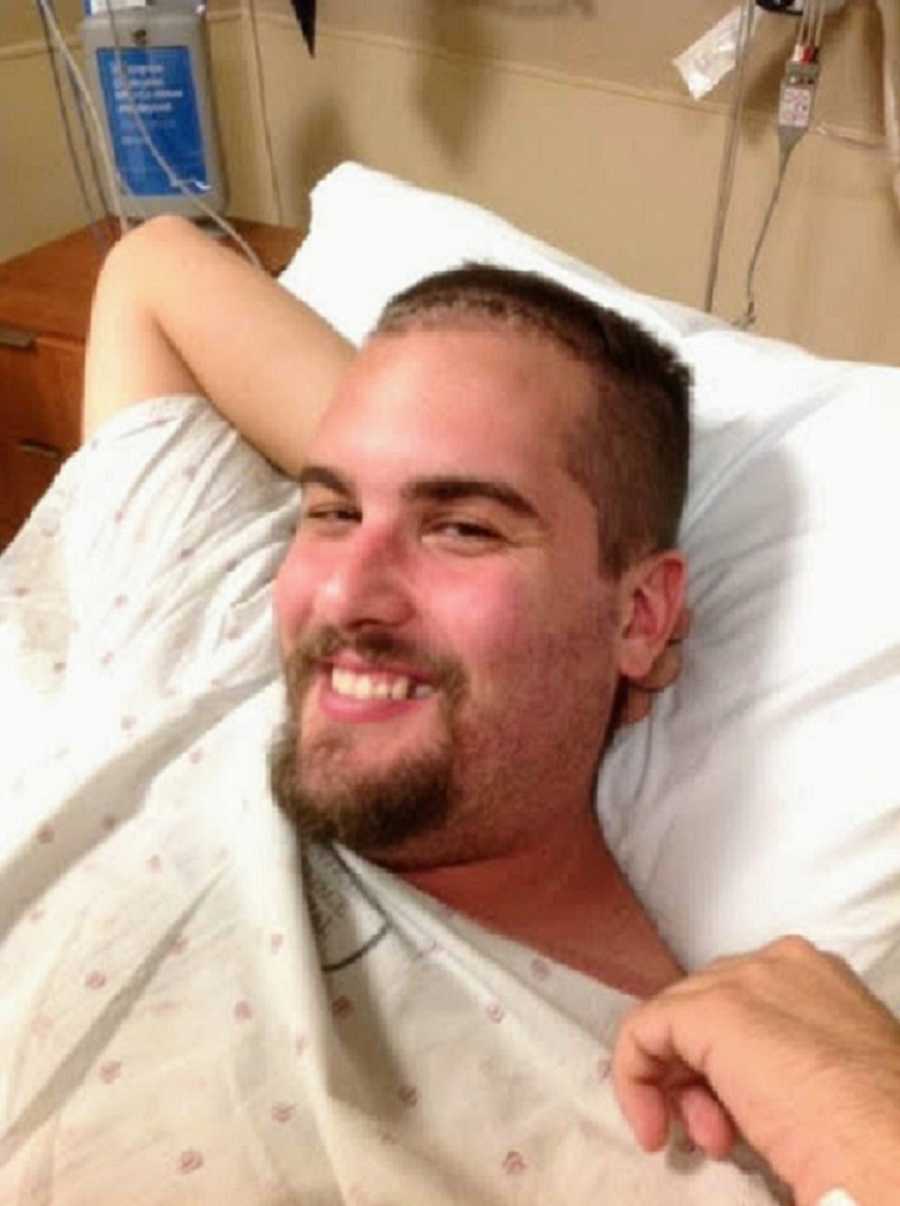 Ray was released home on October 15th and he followed up with 10 weeks of Proton Therapy at a center that less than 2 years prior, Ray had helped build as an electrician. We continued to live life as normal as possible. We both went back to work, traveled and loved each other more and deeper. Ray never got upset, he never got mad. He always said, 'It is what it is and I can't change anything. I'm just going to keep living my life. Now, what's for dinner?' Ha, you see this man was driven by food and a good time. He was the king of dirty jokes and had a sarcastic wit about him that would leave you either confused or laughing hysterically.
Then, right after Christmas, we received the news no one wants to hear: 'It's back.' So, on January 9th, 2013, Ray underwent his 2nd tumor resection surgery. The next several months were filled with doctor appointments, scans, a trip to Houston to see a specialist in his type of brain cancer, 4 different types of chemotherapy because none of them worked…his tumor just kept growing, and then a second tumor right on the brain stem.
On June 26th, 2014, he went into surgery for his third and final tumor resection. Once again, he came out strong, but on Monday, June 29th, Ray experienced a debilitating migraine. For the next week, his mother and I did not leave his side. His overall health drastically declined and it started with him severely hallucinating. He became very restless, the only way he would sleep is if I had to lay with him and forcibly rub his entire body to make him calm down to only fall asleep for 20 minutes. I've never been so afraid in my life. I pleaded to know what was happening to my husband.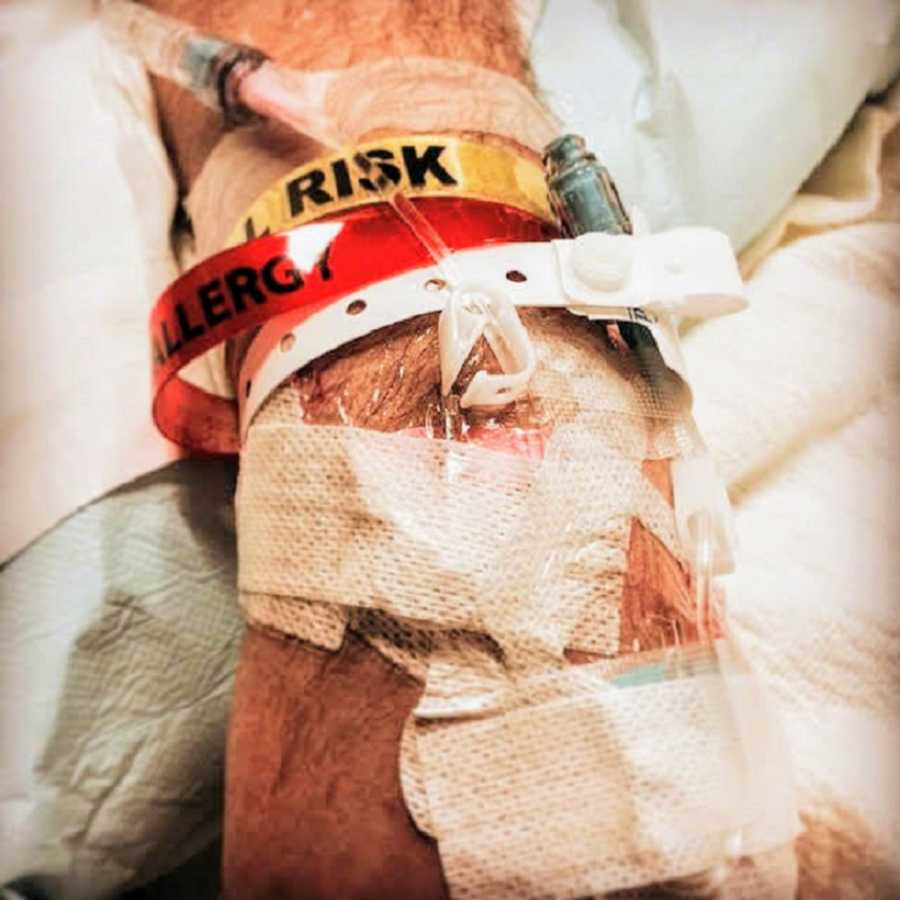 Finally, they rushed him to surgery to clean out what was meningitis in the ventricles of the brain. I was told, 'No one survives this type of infection' by many top physicians. He slept for 7 weeks, only woke up for about an hour a day. Till one day he woke up, and with help, walked 50 feet. It was his pure strength and will to live that kept him going. During the next 4 months we had many highs and lows.
Then, 4 months to the day, Ray was released home from the hospital. I was so overjoyed I cried and then fear set in. How was I going to care for my husband? He now needed 24-hour care, had a wheel chair and walker for assistance, his vision was compromised, he had lost his short-term memory, suffered with debilitating seizures which caused Todd's paralysis. It took a village.
My mother-in-law and I had a schedule. She came and stayed with him on the days I went to work. I maintained working full-time and caring for my husband full-time. Ray slowly declined over 19 months, during which he lost all of his vision. He spent a year of that time in ICU, or rehabilitation hospitals. We never left his side. Ray was never left more than 10 minutes alone. All while trying to accept the fact that my husband, who I love, adore and couldn't picture my life without, was not going to survive this.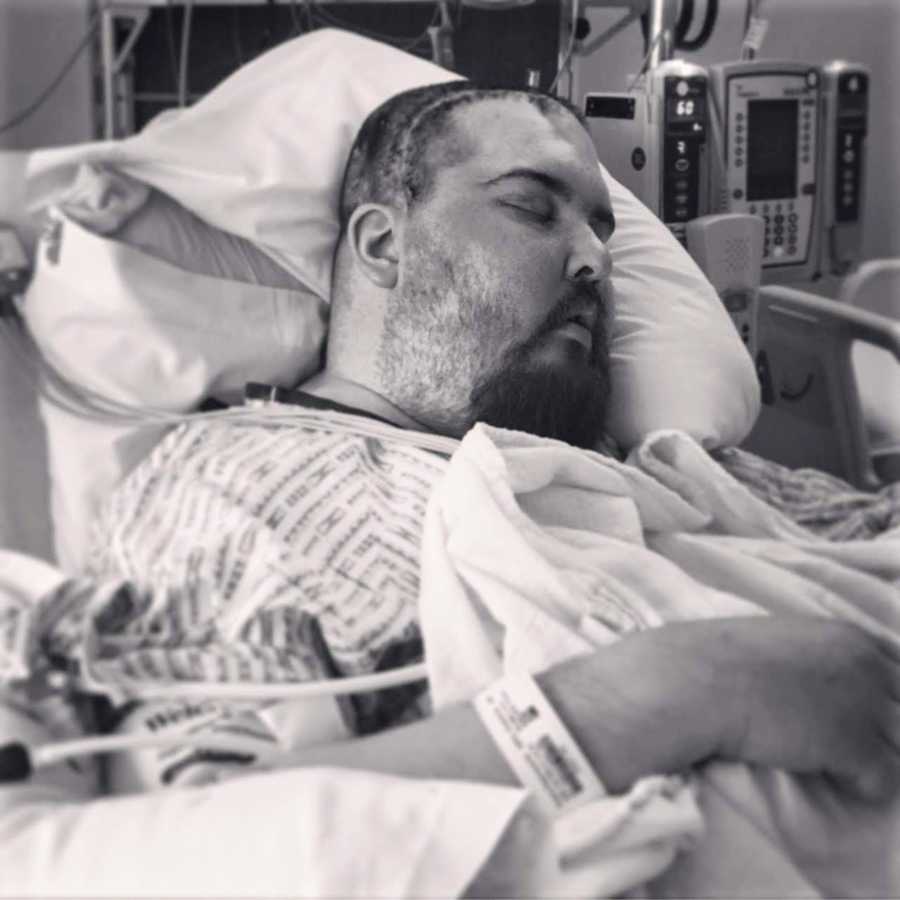 In that time, Ray's short-term memory loss was a blessing, because he lived in the moment, confused most of the time but I just rolled with it. During one of our stays in a rehabilitation hospital from one his debilitating seizures, we had a very real and present conversation and one I will never forget. I asked him, 'Ray, why are you holding on so tight?' His response was, 'How could I leave you? I don't want to miss you or my family.' Ray spent his last several months at his parent's house so he could be with his young nieces, siblings, parents, and family every day.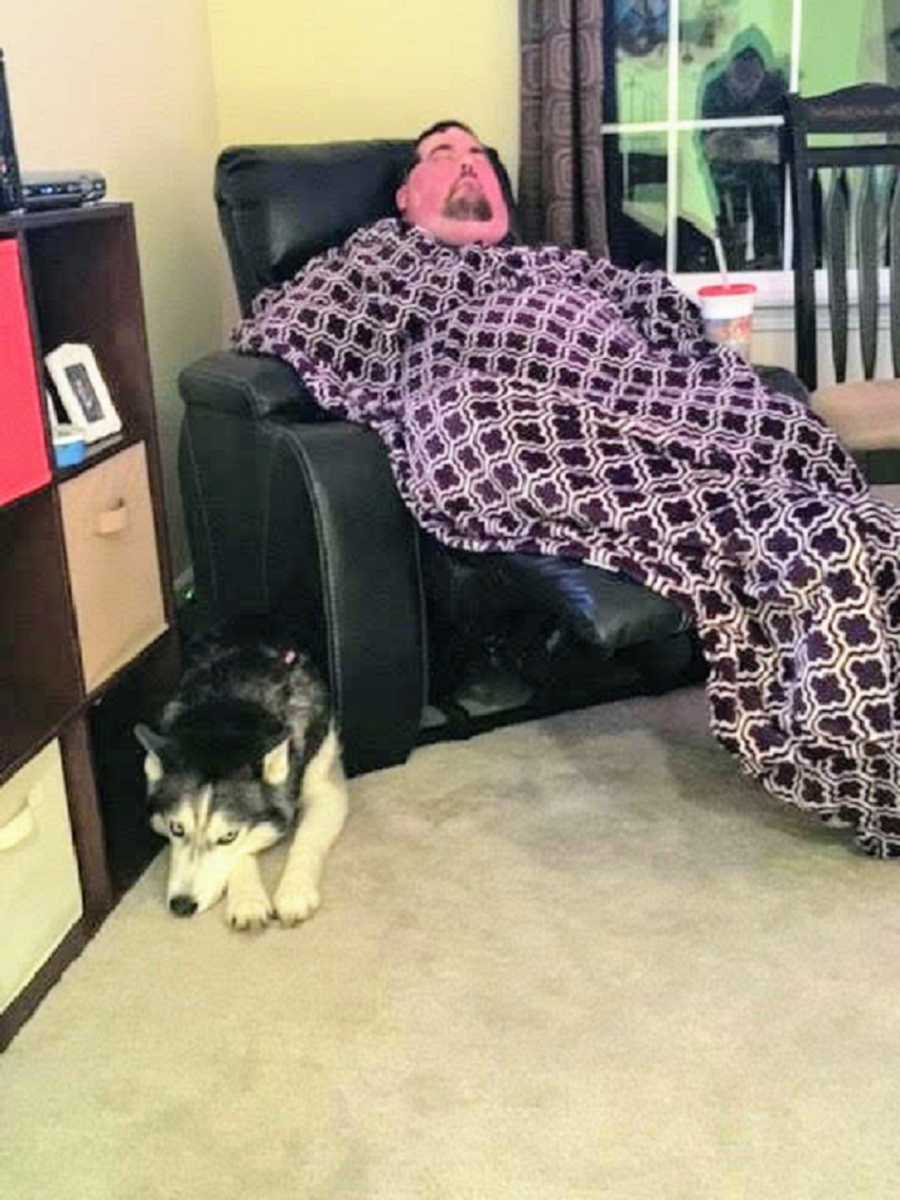 Ray was rushed to the ER with severe stomach pains, the entire time making the paramedics laugh hysterically, because by now we knew most by name. While running tests, Ray declined rapidly. So fast I didn't even have time to wrap my head around what was actually happening. Ray's blood came back positive for Sepsis and he needed to be put on life support. Before leaving the room, I had to, like I always did, explain to him what was happening. I told him, 'Like last time honey. They are going to intubate you and make you sleep for the next 24 hours to help you heal. You'll be just fine. Everything is going to be ok. I love you Raymond.' He nodded his head okay and through his mask manged, 'I love you more.'
Those where the last words he ever spoke. Ray passed away on a very cold Sunday morning on January 17th, 2016, surrounded by those who loved him most.
After Ray passed away, I was lost. I didn't know who I was… I was told legally I wasn't married anymore and was now 'single.' What is 'single' when I've been in a serious relationship since 17? That was 12 years of my life! My entire adult life. I knew nothing else, only that I was now a 30-year-old widow. I did a 10-week grievance course but found myself 20 years or more younger than everyone in the group. I felt very alone. I got a text from an old friend asking me to come hang out, so I did, and this is what saved me. I didn't have a good family support behind me and most of these people became my family. They helped me get up and get dressed on Saturday mornings and I learned how to enjoy life again. I also traveled to Ireland with my brother to spend time with my sister and did some much needed soul searching.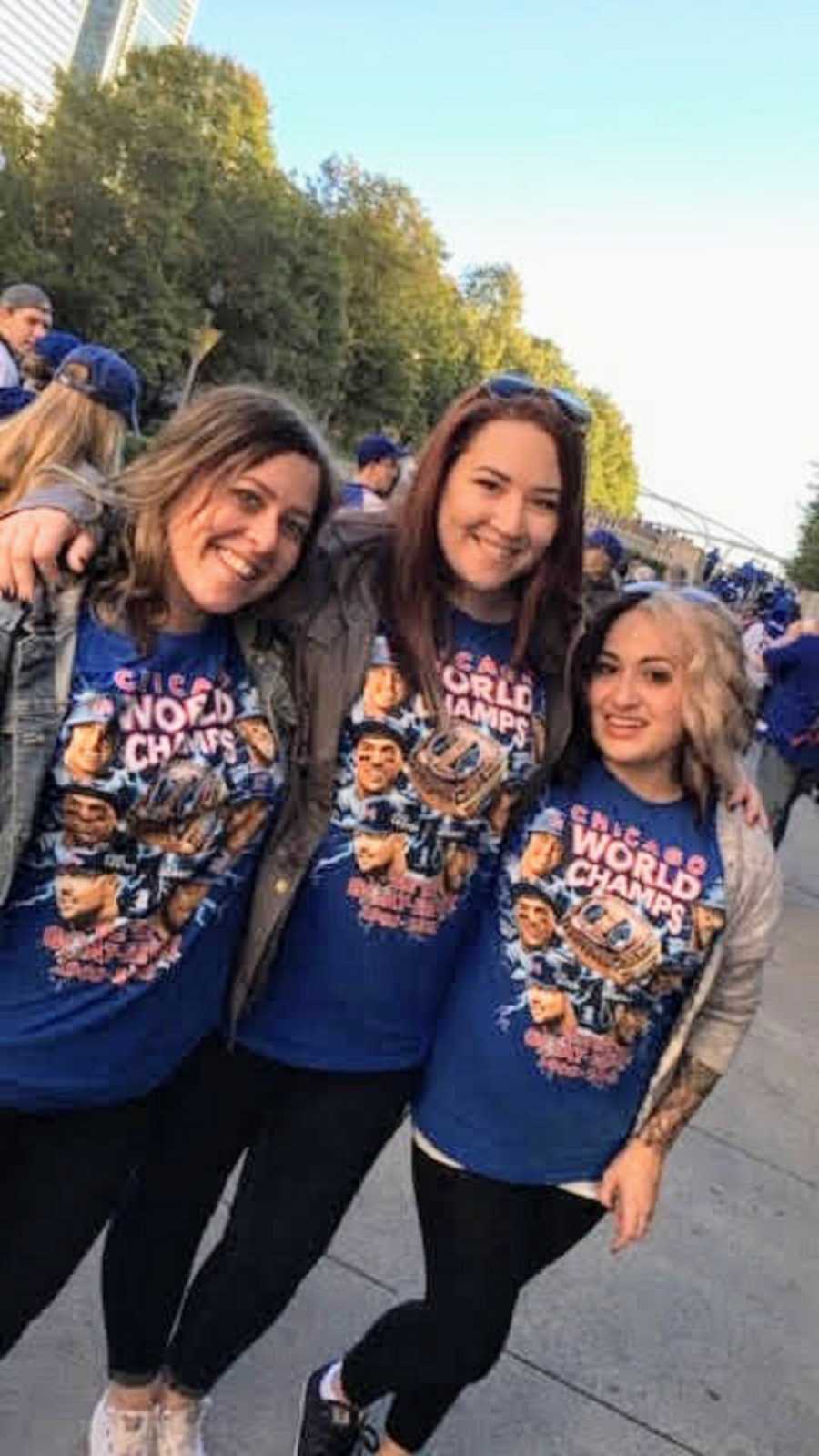 Then, when I least expected it, I found myself falling in love again. He knew me before Ray, while I was with Ray and now was getting to know me after Ray. He has held me while I cried and he has helped me preserve Ray's memory in our home. He became an amazing step-dad to my fur babies and he has supported and loved me endlessly. Thank you, Nicholas.
On some of my hard days, I visit Ray's bench and tree we have dedicated to him; it's now located in the middle of Camera park where he took me on our first date. It's placed right where they set off the fireworks and now where I can enjoy them every year, with his bench in direct site. I walk and raise money every year for The American Brain Tumor Association 5k in Chicago, Team Gray for Ray, and his mother has created what is called Ray Jay's Blankets. They are support bags with hand-made blankets that are given to newly diagnosed Brain Cancer patients at the same hospital Ray received his care at.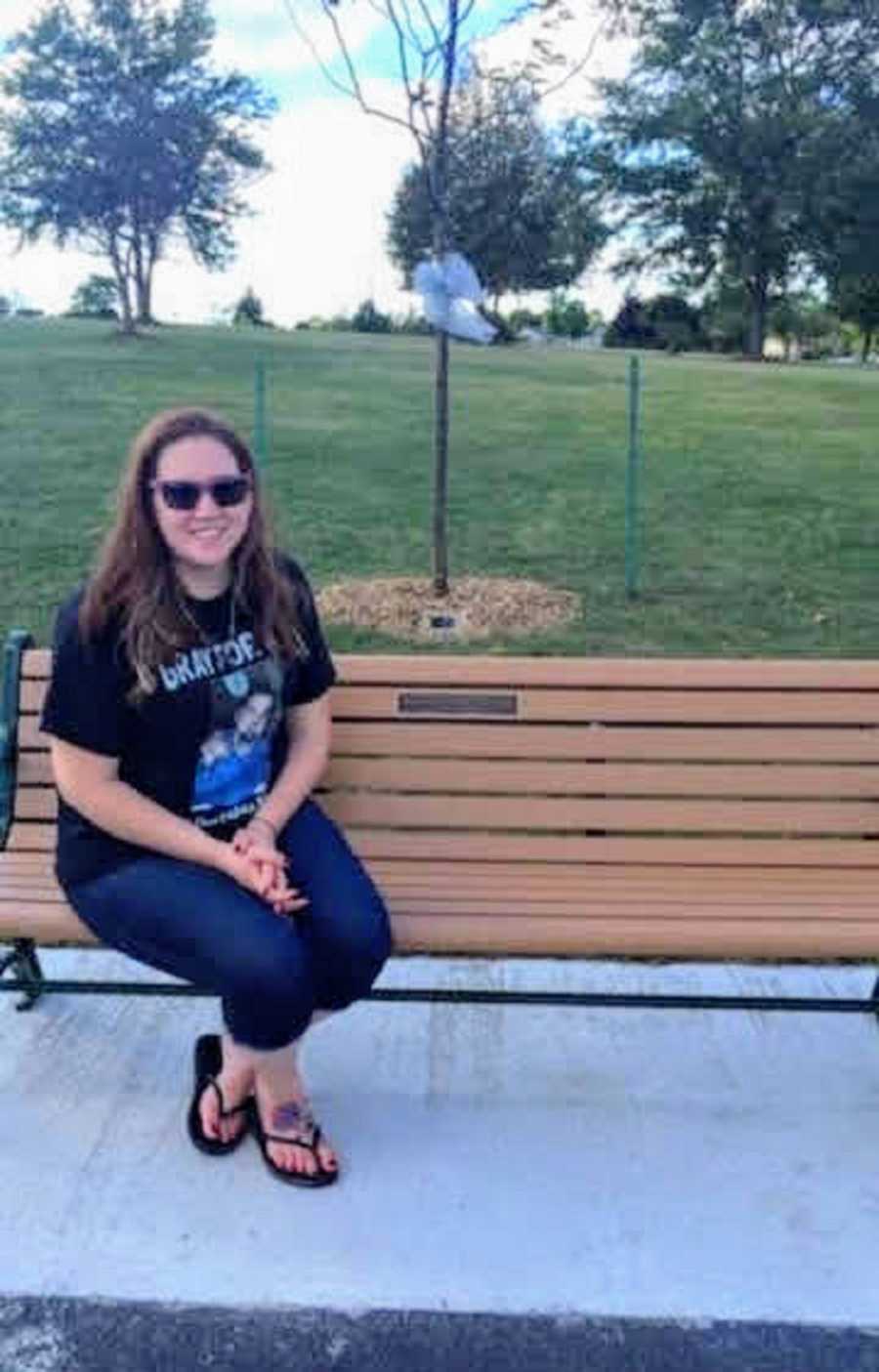 I have since lost both of my fur babies, but it brings me solace and peace knowing now Ray has his babies with him every day. I now live my life not only for me, but for Ray. This is a never-ending healing journey, one that I'll be on until the day I die. Loss changes you, after such a loss you have no other choice other than to change and I choose to make every moment count and to live my life every single day happy.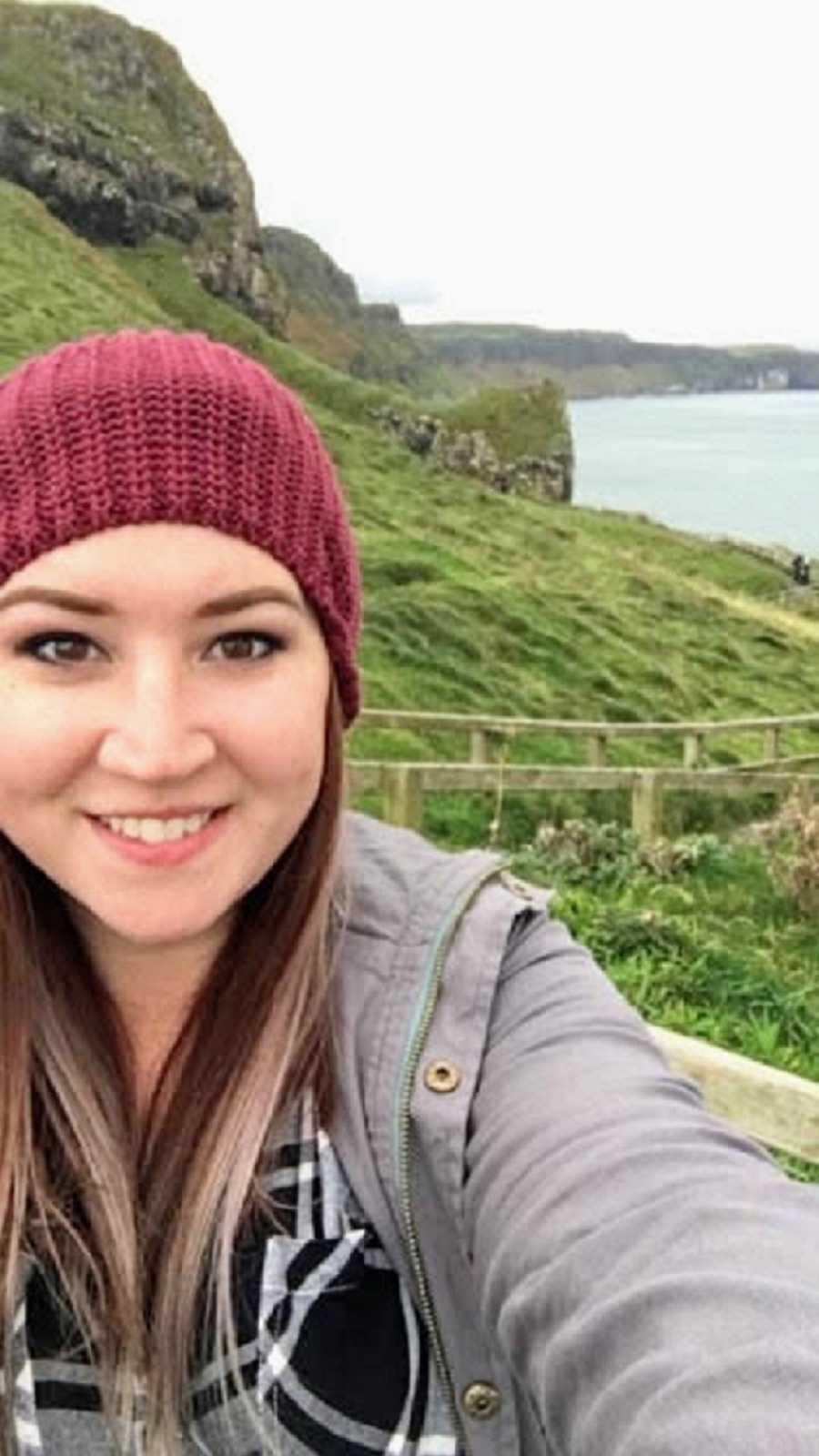 Don't sweat the small stuff, and just LOVE! We can't control what life brings us but we can learn and grow from it. I still talk about Ray every day and I feel it in the depths of my soul that I was meant to be at that wedding not only so I could be Ray's only love and wife but so Ray could make me into the woman I am today. If it wasn't for him, I don't know who I would be, and for that I will be forever grateful for the most amazing man to ever live. I will miss and love him more for the rest of my life."
From podcasts to video shows, parenting resources to happy tears – join the Love What Matters community and subscribe on YouTube.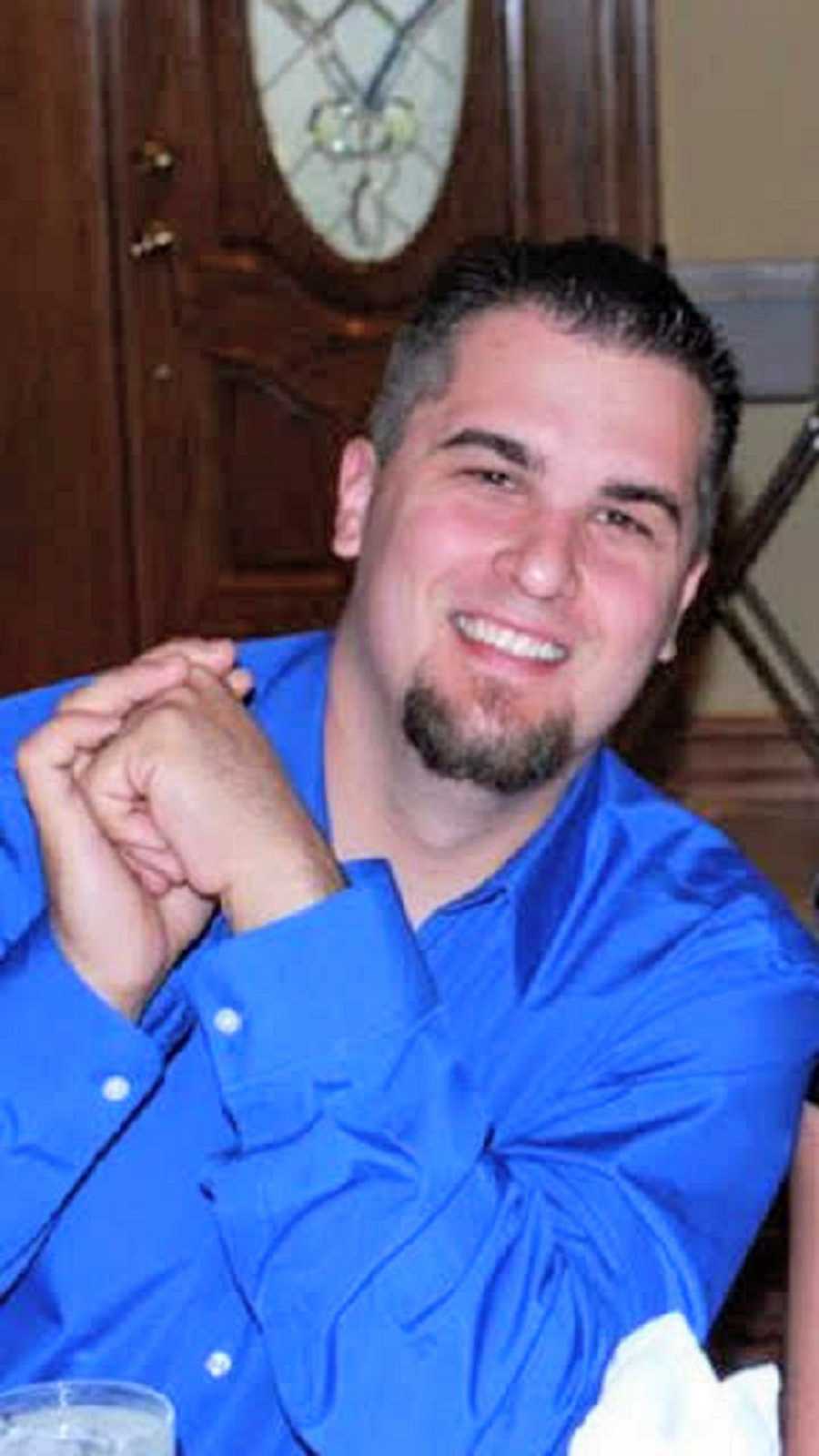 This story was submitted to Love What Matters by Krystal Rotolo of Carol Stream, Illinois. Submit your own story here and be sure to subscribe to our free email newsletter for our best stories.
Read more stories like this:
'They found something. I don't want to ruin your Christmas Eve.' I sat with my head against the closet, ruined.': Woman loses husband to Stage 4 Stomach Cancer after multiple misdiagnoses, claims his death 'saved 3 family members, daughters'
'You're trying to kill my husband!' He was 'cleared' to go home, then life-flighted. All eyes were on me.': Veteran husband passes due to 'malpractice, aneurysms,' 'our love didn't end in death, it goes on forever'
Provide hope for someone struggling. SHARE this story on Facebook to let others know a community of support is available.