"I knew I wanted to become a mom when I started babysitting in middle school. My sister and I grew up with some wild imaginations and created so many pretend games of our own. I was still playing pretend all the way into middle school. Yes, middle school! We made up some amazing games. And we had a blast.
That playful manner carried over into babysitting. I loved watching the joy on a child's face while playing a game they enjoyed, seeing them learn something new for the first time, watching them experience a new movie or cartoon and fall in love with it and how excited they got when I came over to babysit. It was, and still is, an amazing feeling knowing I was the cause of some of that joy.
I am also very close with my parents and my relationship with them was a huge deciding factor in becoming a parent myself. My mom is and always will be one of my best friends. I spoke with her a lot about the possibility of becoming a single mother and she was always supportive of me. I never spoke with my dad specifically about someday deciding to become a single mom, however, he has always been supportive in everything I do and I had no doubt in my mind he would approve.
After college and watching the majority of my friends have their own kids, I decided I did not want my having kids to depend on finding a significant other. I have always been a very independent (and impatient!) person and was never really afraid of becoming a single parent. Due to my shy personality, I kind of always pictured myself as a single parent anyways. It was always easier to picture myself raising kids alone than with someone else. By the time I was 29, I decided I did not want to wait any longer.
I did my research and looked into all of my options, and I found a company that ships donor specimens directly to your home. My mom knew I was looking into finding a donor, however, she never knew when I finally became serious and decided to go through with it. At that point, my parents did not have any grandkids, and I wanted to surprise them. I wanted it to be special. My sister was the only person who knew. If there is anyone who wanted to become a mom more than me, it was my sister. Due to some health conditions of her own, she is unable to get pregnant, and I wanted to be completely honest with her from the get-go.
I spent months looking through the available donors, and once I found one I loved, I didn't hesitate and made the order! I then ordered my own at-home insemination kits and started the process! It was brutal. I knew it was a long shot doing the at-home insemination kits with no outside help from any doctors or medications, however, I was determined. Every negative pregnancy test and every cycle, I learned something new about my body.
After a year of inseminating just about every other month, I got a positive pregnancy test in my bathroom at home on a Sunday night. I cried…and I am not a crier! I tend to keep my emotions in check, but I was so unbelievably happy and, honestly, in disbelief it had finally happened. Throughout the entire process, I had thought, in the back of my mind, it was never going to happen. But it did! I probably took about 10 tests altogether that night.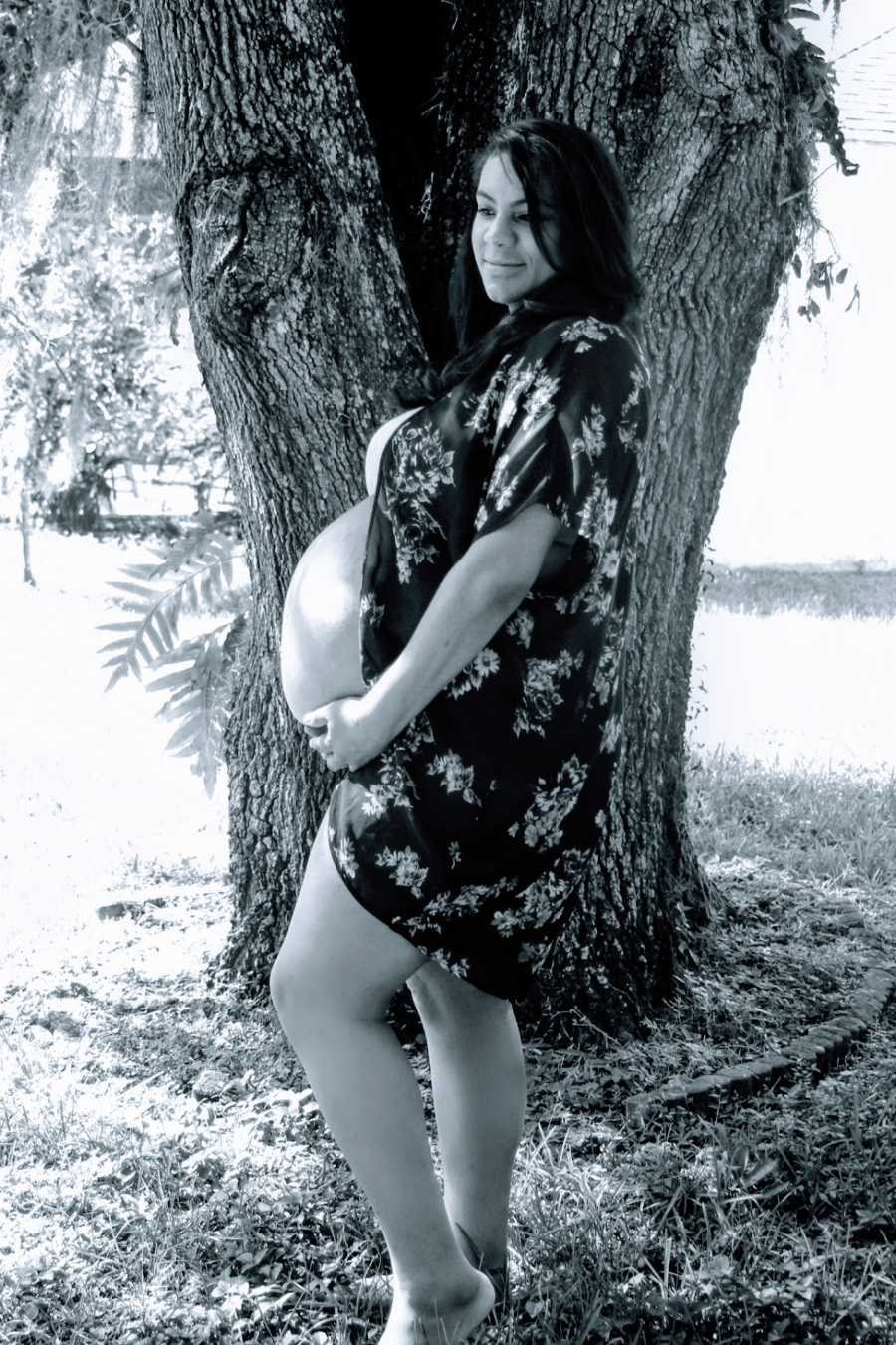 It took me 3 days before I broke down and told my mom and dad. I really wanted to wait until after my first doctor's appointment (which wouldn't be for another 2 months), but I am not a patient person! They were ecstatic. It was the first and only time I have ever seen my dad cry.
I went to my first ultrasound alone thinking they would just be confirming the pregnancy and I'd get to see my little bean on the screen. I got to see two little beans on the screen. When the ultrasound tech said it was twins, my eyes teared up. This was the first time I was upset I was alone and didn't have anyone with me to share the news with. It was so totally unexpected; I didn't know what to feel!
I left the office in a daze. I got home and showed my dad the ultrasound pictures and remember asking if he could make out where the baby was. He said he couldn't, so I said, 'Here…AND HERE!'  It took him a couple minutes of staring and being in complete shock before he shouted out, 'TWINS!?!?!?' My mom is an RN and was still at work, but of course, being impatient as I am, I texted her the ultrasound pictures. She said she was showing all of the other nurses to make sure she was seeing two!
My pregnancy was very uneventful. Besides swollen feet and some sciatica towards the third trimester, I had no morning sickness and craved potatoes all the time. My mom went with me to every appointment, and both she and my dad were there for me every step of the way. My dad was over the moon when I found out I was having two boys. I already had the name Jackson picked out for a boy, and my mom picked out the name Parker.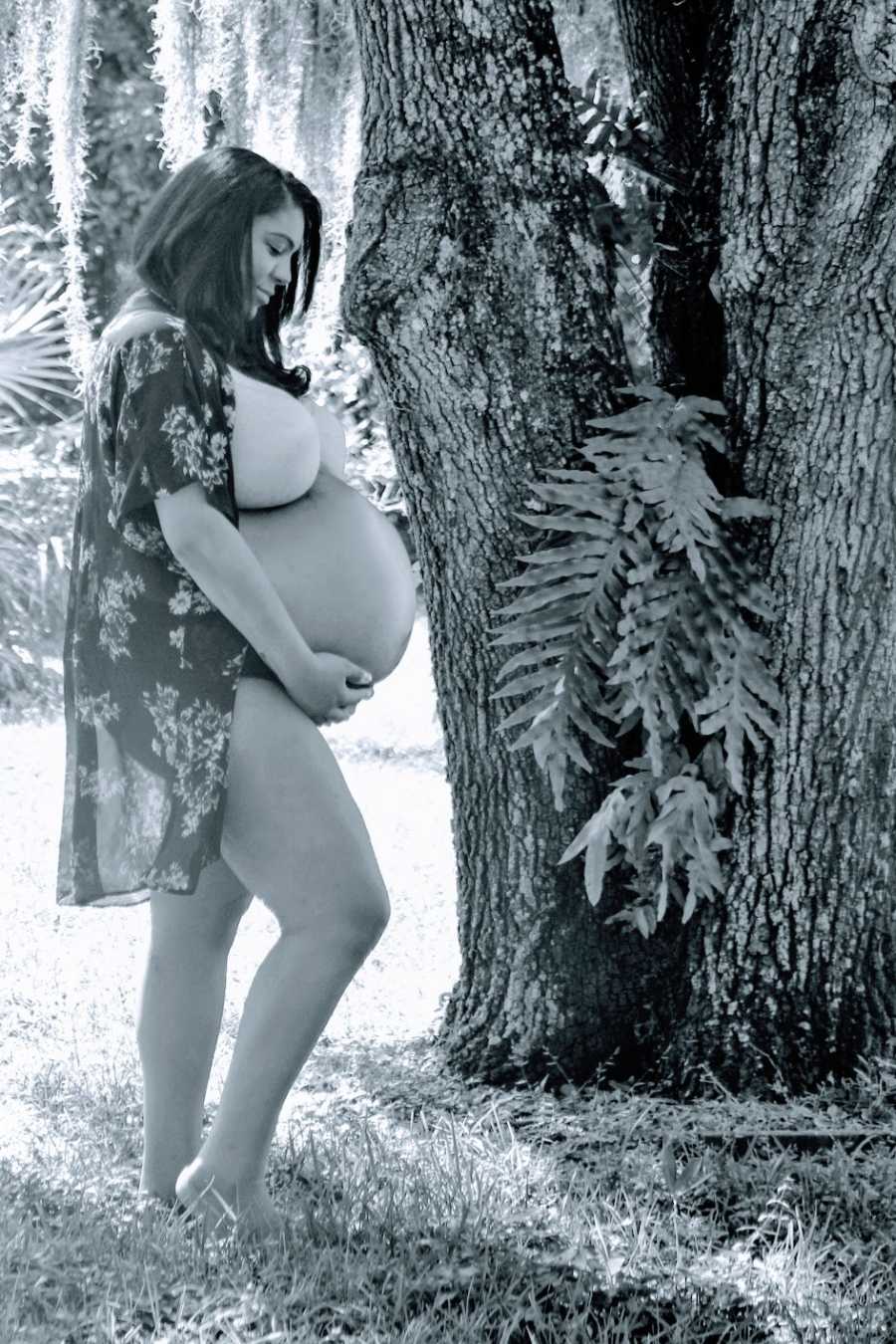 My due date was set for October, and I was scheduled for a C-section, which I was perfectly fine with. I had some thoughts I was missing out on the full pregnancy experience by not being able to have a natural birth, but I just wanted what was safest for my boys. The C-Section went perfectly with no complications. My mom was in the room with me. I didn't have that instant bond or connection a lot of women talk about. But the second Jackson was put on my chest was the first moment it all became real. I didn't cry. I was in shock. It was all so surreal…and then Parker was laid on my chest and the reality of having TWINS hit me. The reality of actually being a mom—of TWINS—hit me. I was finally a mother.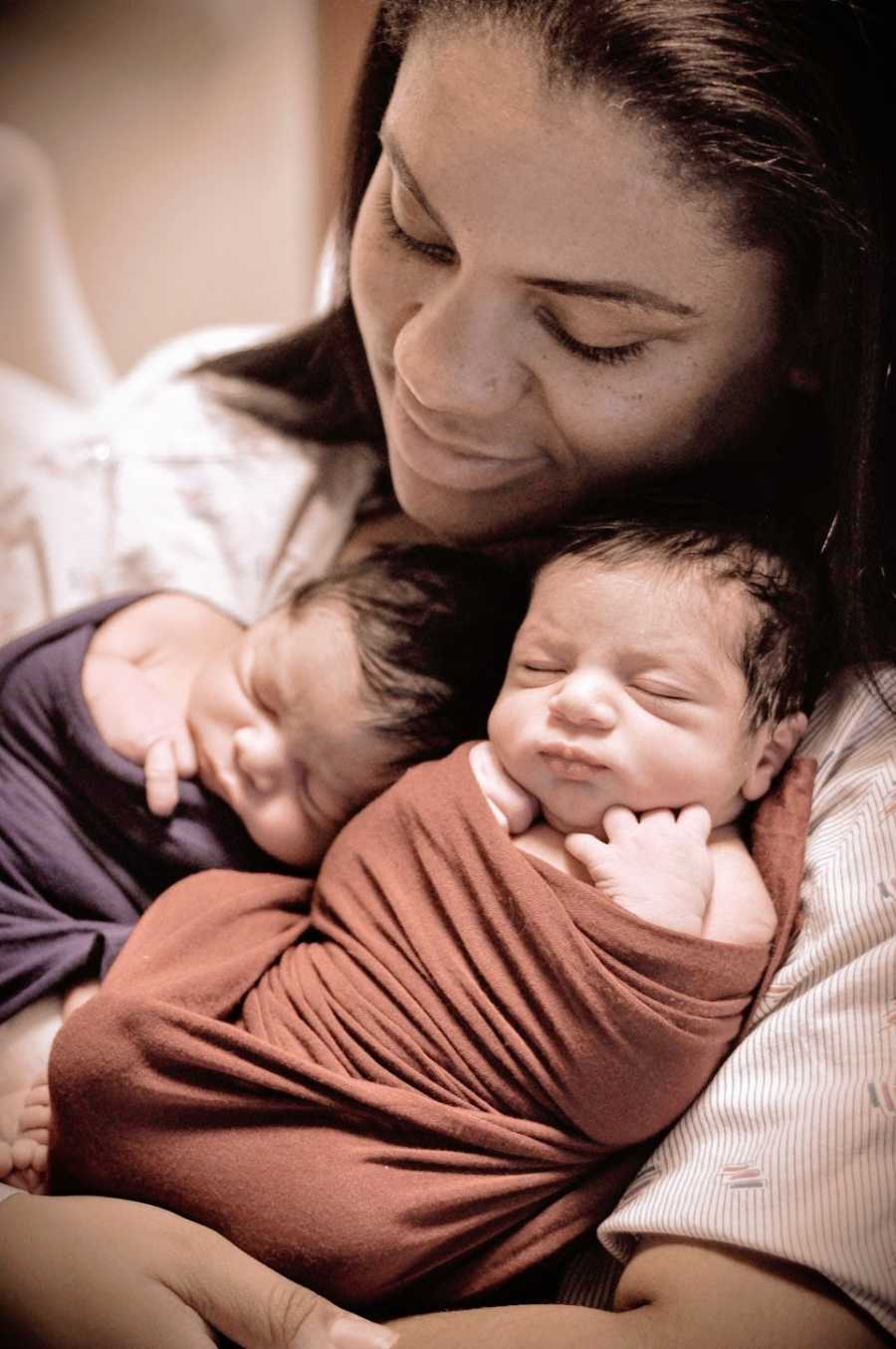 I stayed in the hospital for two days and two nights before being discharged home. I had moved in with my parents for the extra help, and I will never regret that decision. I had A LOT of help. But even with constant help, the first few months are a blur. My parents helped me every day when not working themselves. They really allowed me to recoup and heal during those first few months.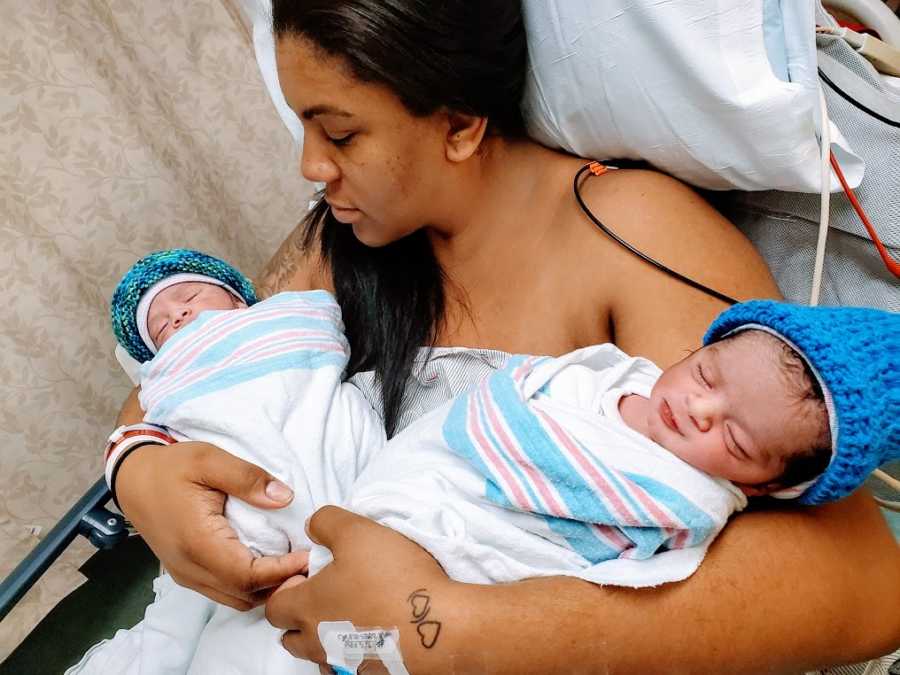 I still cried a lot, alone at night, thinking I wasn't doing enough. That I should be able to do it all on my own. I didn't pick up on different cries or know exactly what to do to soothe them. I didn't have them on a sleep schedule. My milk never came in, so I wasn't able to breastfeed, but I was okay with that. I got extreme anxiety every day before night time because I dreaded the start of the time I would be by myself with the boys. I was already thinking of ways I would try to handle both of them awake and crying at once.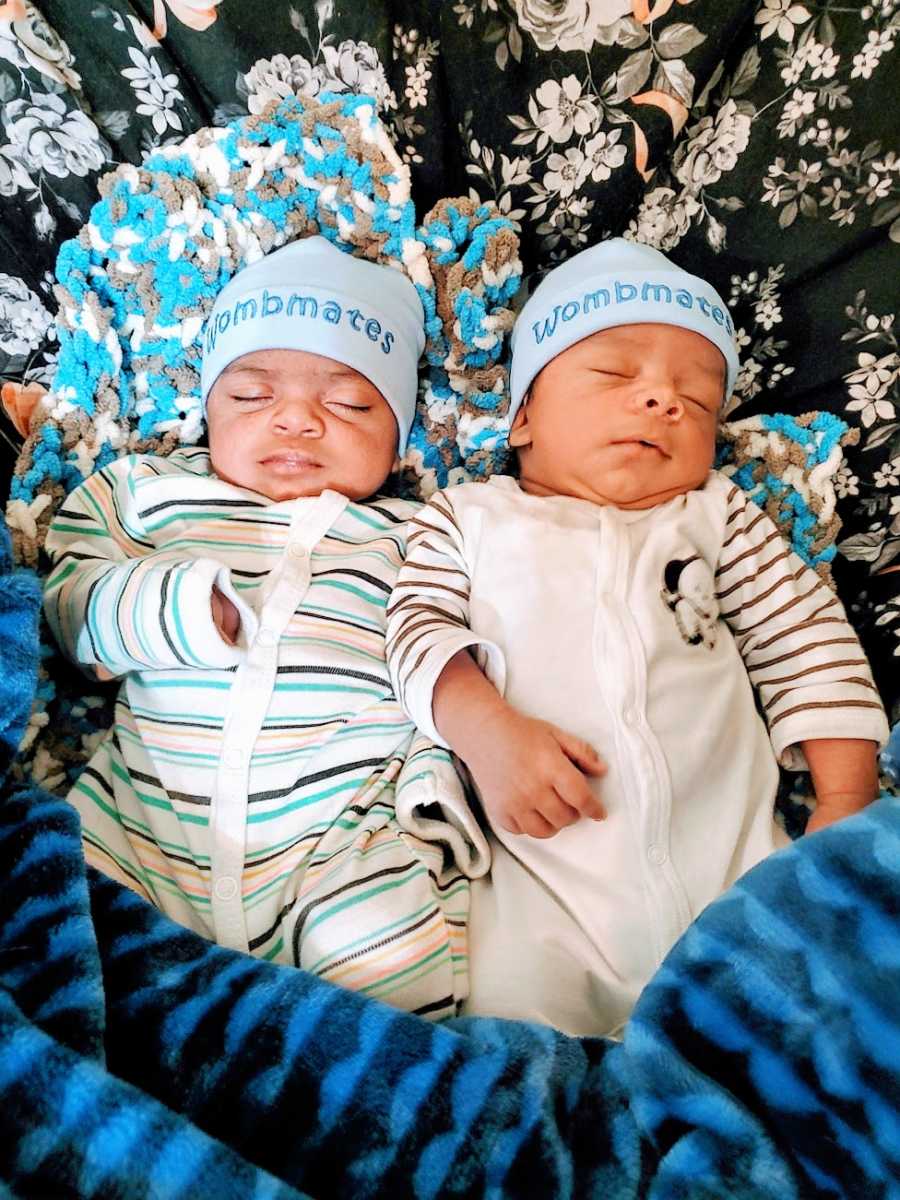 I didn't ask for help every second I needed it, and honestly, I didn't have to. My parents were there helping before I knew I needed it. It was my dad who would talk to me late at night after I'd had a breakdown, telling me it was perfectly normal to feel the way I was feeling. I learned I have a lot more patience than I thought. I learned to ask for help when I needed it and accept it when offered.
Outside of my family, I had my friends offering help left and right. My two best friends were there at the hospital the day the boys were born. They always had encouraging words and advice during the moments I was feeling low. Talking to them kept me sane during those long sleepless nights.
After my maternity leave was over, due to COVID, I was able to work from home. I did not have a sitter at that time, and the boys weren't on a very good sleep schedule at home. I actually found it more manageable to be out and about with the boys rather than at home, so I would go to Panera Bread and use their internet to get some work hours in.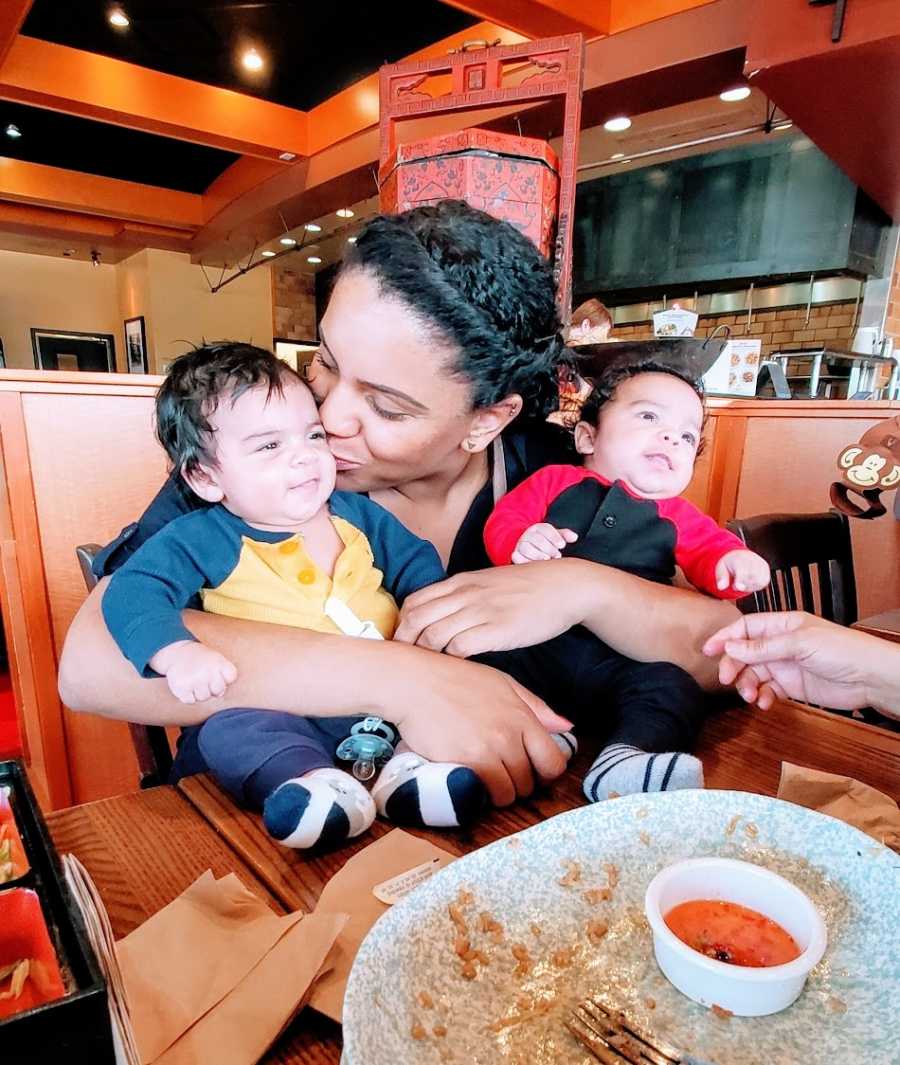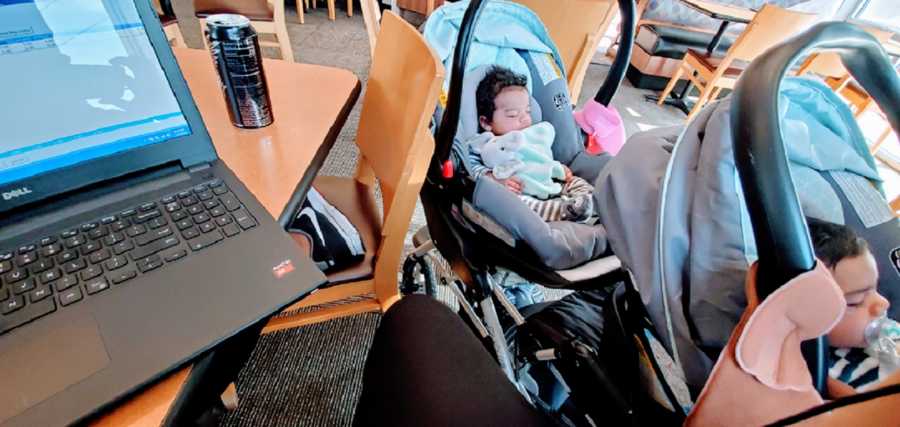 Eventually, I was let go due to COVID. The additional funds allowed for unemployment were the only reason I managed to survive financially for the next 3 months until I found another job working from home. I lived with my parents, yes, but I still had my own bills and part of the rent to pay.
Working from home eased my anxiety about leaving my boys home with babysitters. My mom would watch the boys (for free!) on her days off work and a sitter would watch them the days she did work. I went through a lot of sitters due to most not being able to handle twins and others just not being the right fit. Eventually, I was able to find sitters who lasted longer than a day or two and rotate between 2-3 of them for the next several months.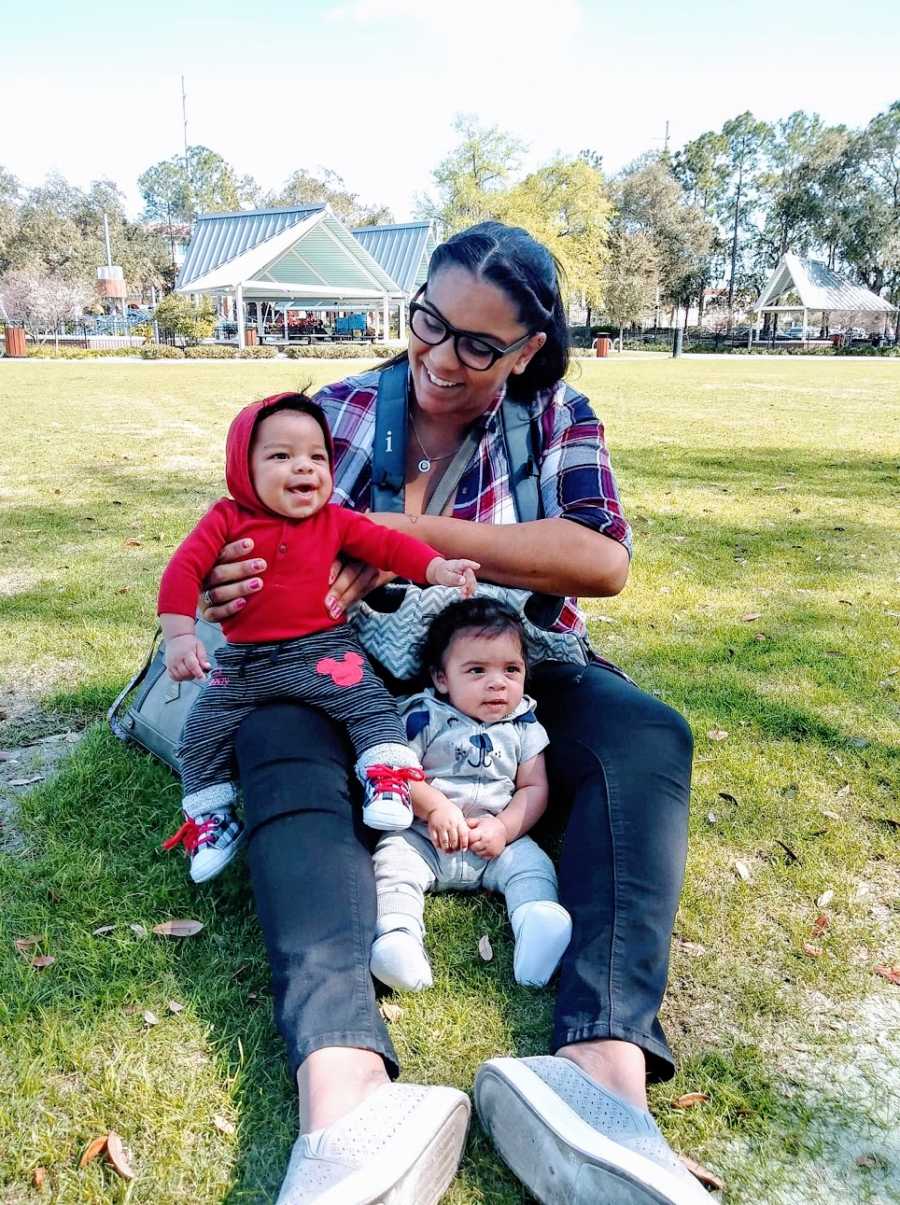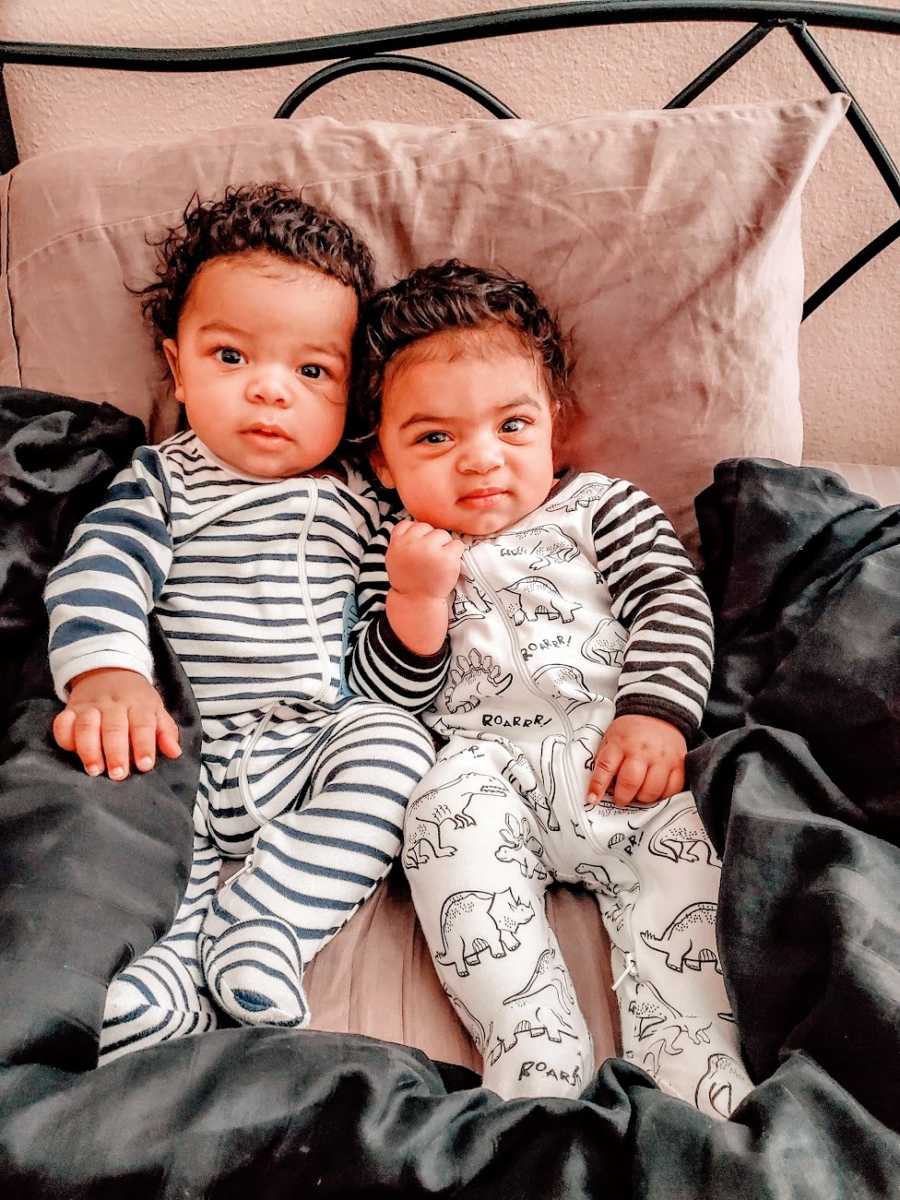 My boys are almost two, and I can't imagine life without either one of them. They have brought my family closer together, and while they bring a lot of stress and frustration each day, they are also the cause of a lot of laughter and smiles! I love that my family is there every day to help out.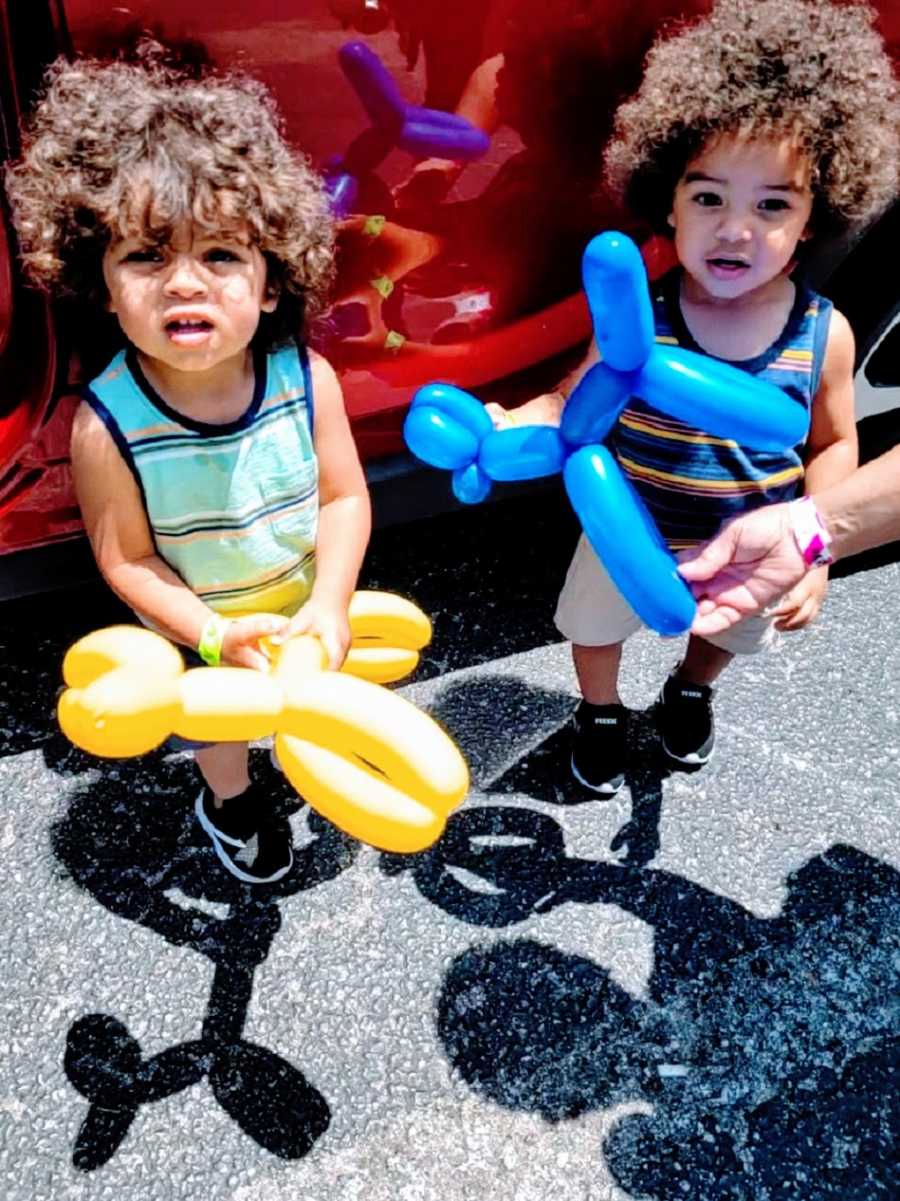 And sometimes, to be honest, I feel like the boys and I are missing out on the excitement of GOING to Grandma and Grandpa's house. I also feel I am robbing my parents of the true grandparent experience since they are basically co-parenting with me and struggle with the same stress and frustrations of raising kids (AGAIN!).
Every day is still a struggle and some days I have to force myself to take a step back, take a deep breath, and just relax! The days are hectic, and it seems lately there are more bad than good days. But if the night doesn't end on a good note, the morning starts with one."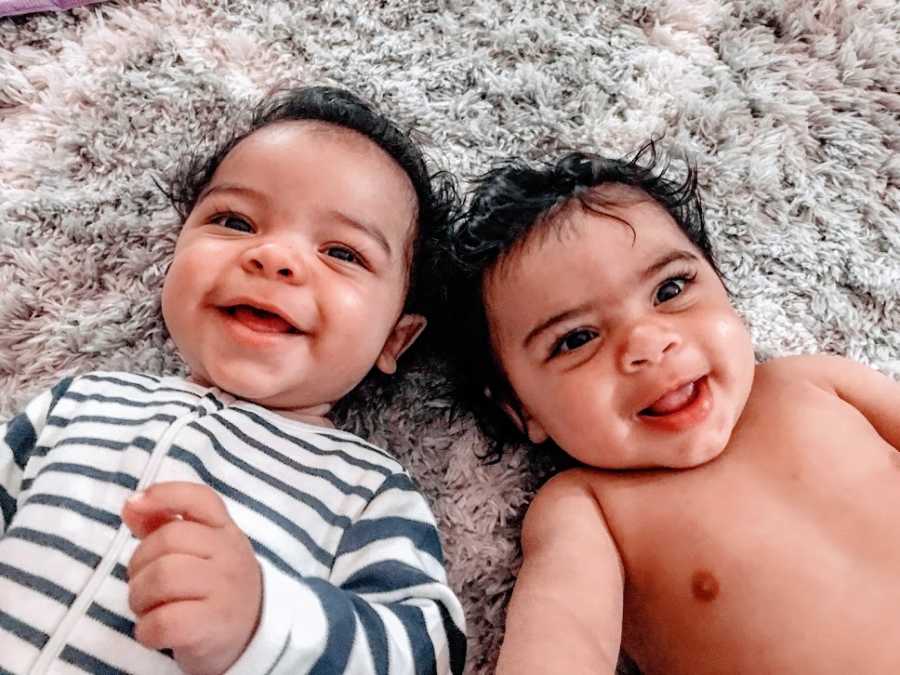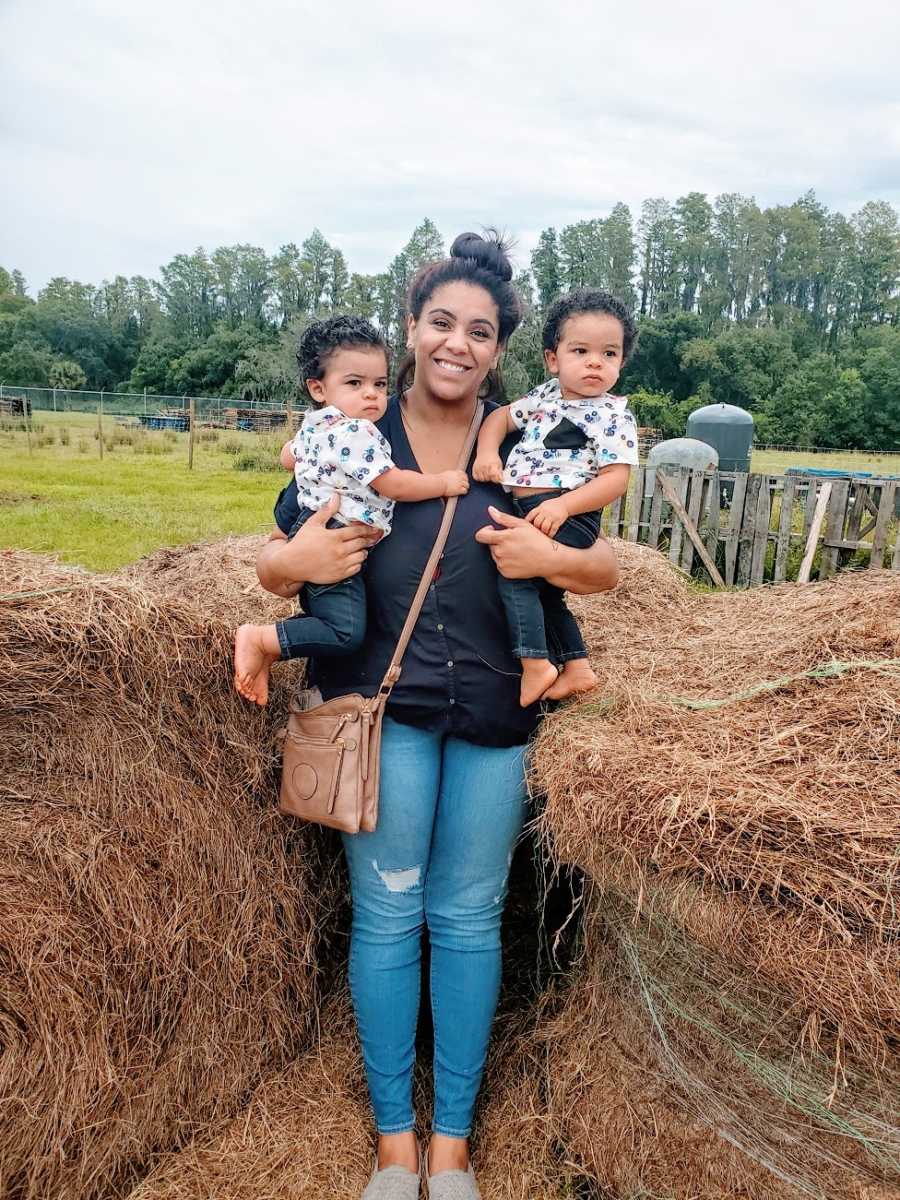 This story was submitted to Love What Matters by Jasmine Chriss of Tampa, Florida. You can follow her journey on Instagram. Do you have a similar experience? We'd like to hear your important journey. Submit your own story here. Be sure to subscribe to our free email newsletter for our best stories, and YouTube for our best videos.
Read more stories like this:
'Everything would change between us,' he said. I didn't want to wait to be in a relationship.': Single mom by choice shares high-risk pregnancy journey
'Our family doesn't have a 'Dad,' but we do have a Timothy. And that's pretty darn amazing to me.': Single mom by choice shares emotional insemination journey
'Girl, are you crazy?' I told the midwife I was having a baby on my own. 'A child needs a mother AND father in their life.': Single mom by choice births baby solo, 'Every time I look at him, I see infinite love looking back'
'I'm single, and I haven't had sex with anyone, but I'm pregnant.': Single-by-choice mom births son with Down syndrome, 'I thought I chose Matthew, but he chose me'
SHARE this story on Facebook to encourage other women to forge their own paths and love what matters most!