Trigger Warning: This story contains mention of miscarriage and baby loss that may be triggering to some.
"I always knew I wanted a large family someday. I grew up in a small family with only one sibling who didn't always want me around, since I was the little sister. It was a lonely childhood. I was so envious of families at church that had a large number of kids. They always seemed to have someone to play and laugh with each day.
When I met my husband, I found he had come from a large family. The possibility of growing a large family with him and our kids actually having cousins to play with one day was so exciting to both of us and we began dreaming and planning our future family together.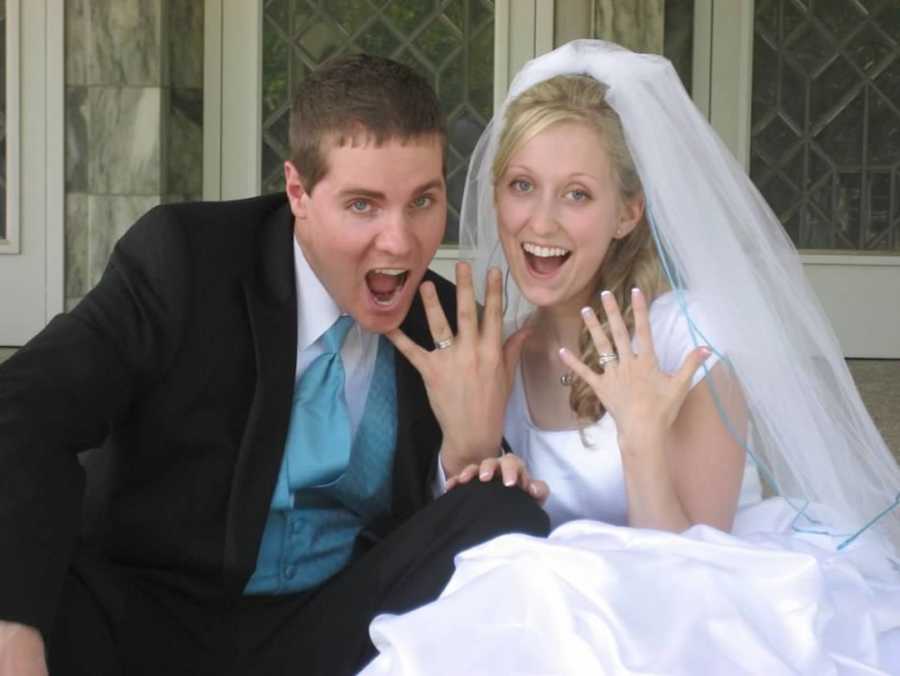 We married in 2007 and focused on finishing school all while being ready to begin our family at any time, but no surprise pregnancies ever seemed to happen for us. Finally, in 2009, my husband received a call from one of his brothers informing him he had been to the doctor and found out he had major male factor infertility issues that seemed to be hereditary. He said my husband should go and get checked right away to see if he too was passed on this problem. We immediately made an appointment with a male fertility specialist who ran several tests and confirmed my husband had this same issue and having kids naturally would not come easily. The diagnosis was an epididymal obstruction—this meant little to no sperm could exit his body and if it did, the quality was too poor to result in a successful pregnancy.
Despite the bad news, we remained hopeful and scheduled a surgery to try and fix the issue immediately. Unfortunately, the surgery did not fix the issue. My husband's sperm count remained practically nonexistent and after doing monthly tests for over a year, we were faced with some hard truth. To have a family, I would need to take the burden of medical treatments on myself.
This was a hard thing for me to cope with at first. After all, my body was healthy and fertile. I ate a vegan diet, I exercised, I didn't drink a sip of caffeine, I didn't even take pain killers for my Rheumatoid Arthritis, and now I was going to have to plunge needle after needle into my body to have a baby. I was terrified and sad. I felt my dream of a big family was over.
I spent my days scouring the internet and eventually found a fertility specialist I felt was trustworthy and made my first appointment. I went in with a list of questions and the doctor sat at his desk answering them one by one. He was absolutely amazing, and I felt comfortable to begin the process of preparing for our first round of IVF in 2010, and with ICSI (intracytoplasmic sperm injection), it was a success on the very first try. Beginner's luck. We found ourselves pregnant with our first set of twins and were over the moon we would at least have two kids to grow up together.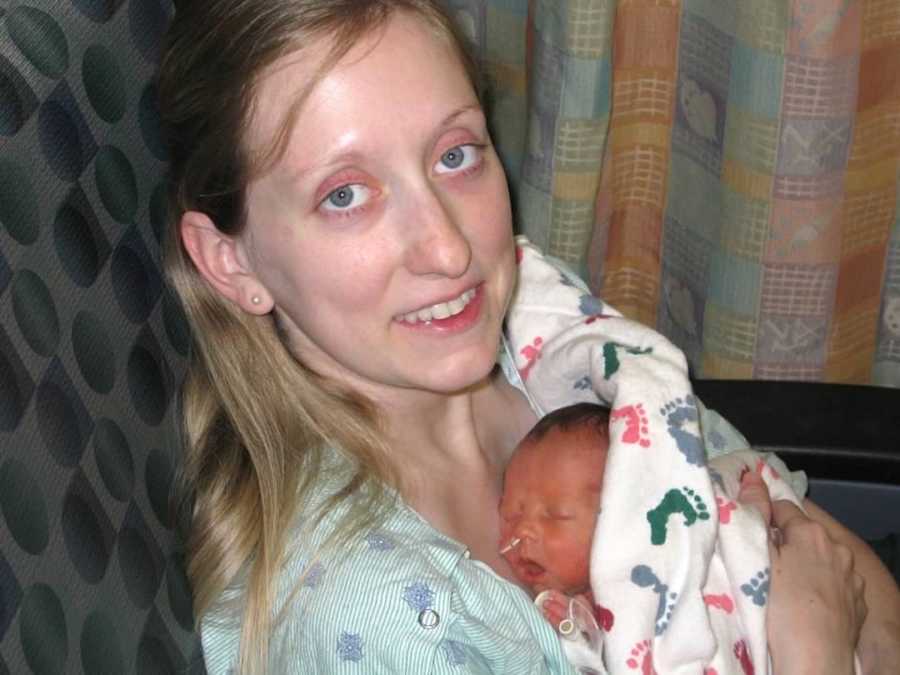 The next several years we continued trying naturally for our next child. We tracked my cycles, we took my temperature each day, we even put my husband on special diets and prescriptions to help with his fertility issues, but 4 years passed and in that time, we only had one pregnancy, which did not last more than 6 weeks. We knew it was time to start saving our money again and go back for another round of IVF.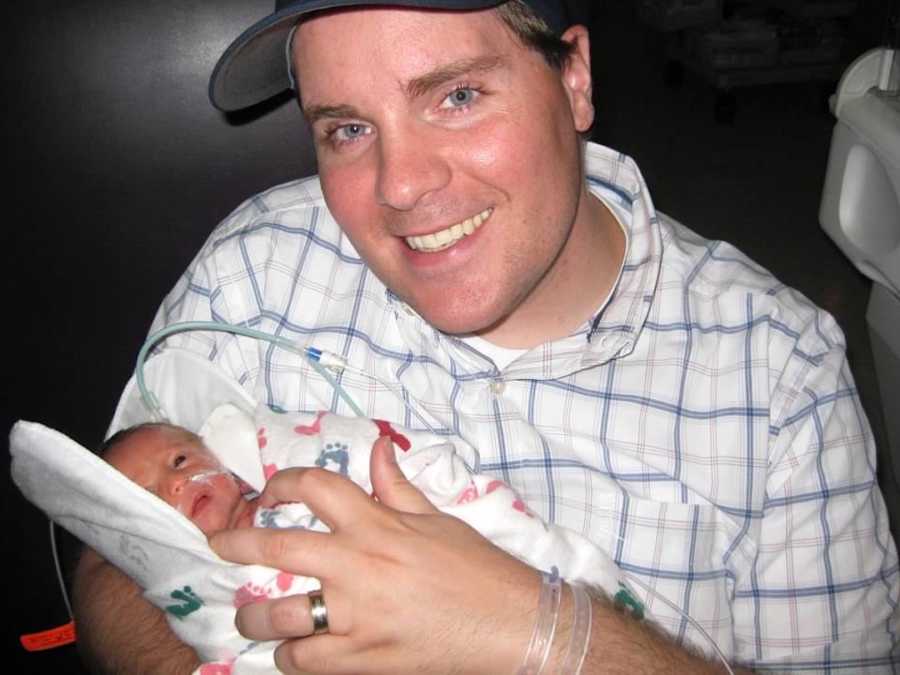 In 2015, we completed our second round of IVF and once again found ourselves pregnant. This time, I allowed myself to get a little more excited earlier. I purchased a few things and even got the twins big brother and sister shirts. As we were beginning our second trimester, I started to feel like something had changed though. Something wasn't right any longer, and my pregnancy symptoms were disappearing. I went to my OBGYN who ran some tests and came back telling me that my son I was carrying was diagnosed with Trisomy 13.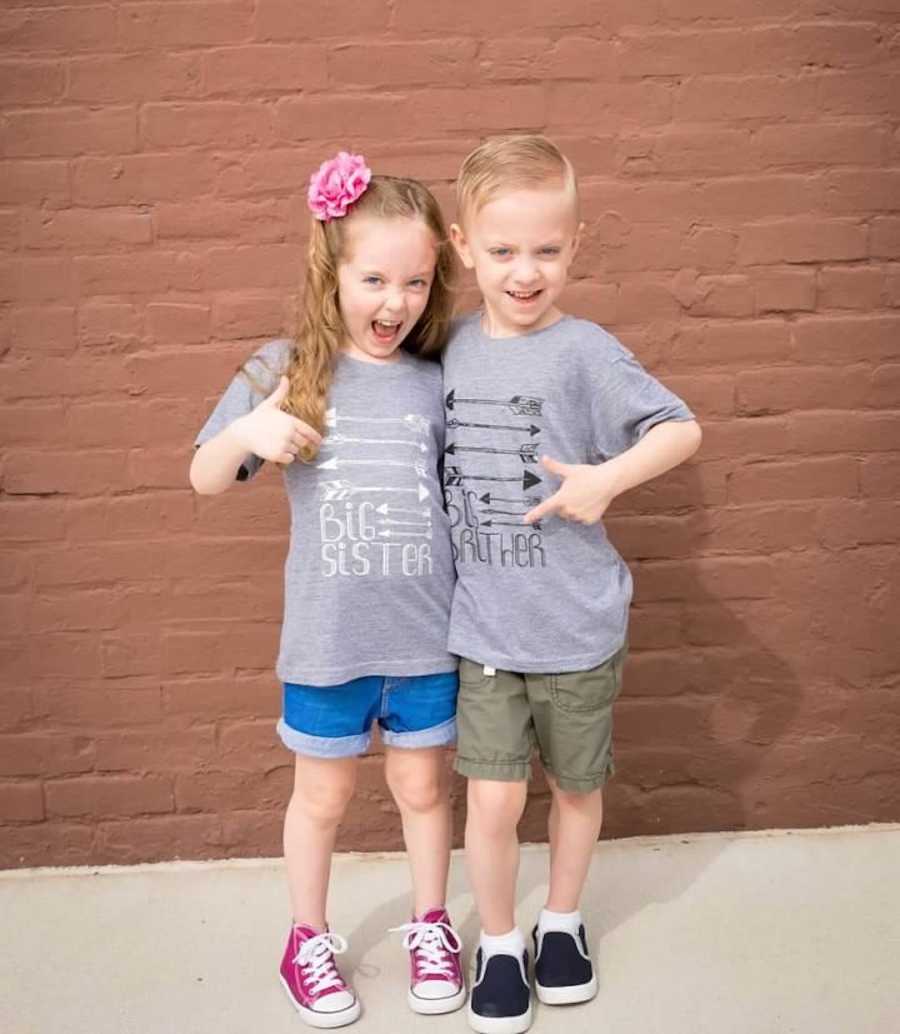 I told him I needed to check on the baby and he sent me for an emergency ultrasound to perform an amniocentesis, but by the time we arrived, our baby had passed away. My husband and I sobbed as the technician told us she could no longer find his heartbeat. She left the room as we stared at his lifeless body frozen in a still frame on the ultrasound screen for what felt like forever. When she returned with the doctor, they began making preparations for my baby to be removed from me. My OBGYN at the time tried to comfort me by telling me it was for the best and my baby would have looked like a 'mutant.' My precious baby I had grown to love was called a mutant right after I had been informed of his death.
This experience was one that would change me for the rest of my life. It was this experience that weeded out the unsupportive people in my life and fueled me to never give up on my dream to grow our family.
Over the next year, I endured two more rounds of IVF with multiple frozen embryo transfers that all seemed to fail. Pregnancy loss seemed to be a regular occurrence for me now. I had long-time friends tell me I should stop trying and be grateful for the kids I do have. I had friends tell me God must be punishing me. I had a close family member tell me God didn't want me to have more kids and I need to listen. I had family cut me out of their lives because my life was depressing for them to watch and my pregnancies gave them anxiety. I had so many people telling me to give up on my dream and to instead spend my money on something fun that was guaranteed.
By the time I found myself pregnant again in 2016, I was down to only having a few special people left in my life. It was a sad and hard realization when we made it to 24 weeks and finally felt comfortable sharing the news with people and not having many people to tell, but we didn't let it dampen our excitement. Our first set of twins were beyond ready to have a little brother and sister after asking for another baby for 5 years.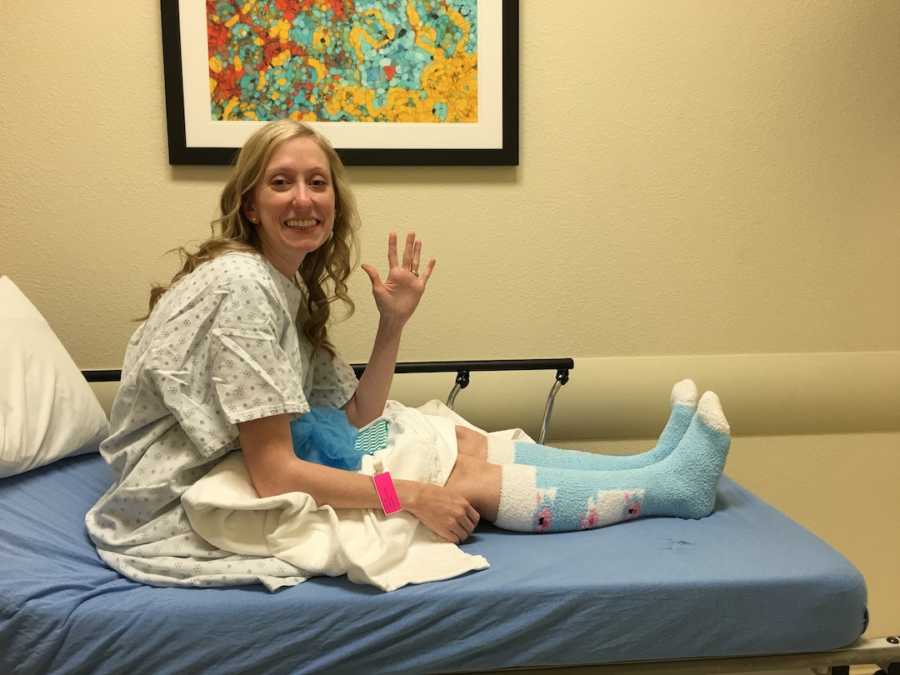 In 2017, our second set of twins joined our family. We felt our family was going to be complete with this set, but as soon as they were born and I held them on my chest, but my husband and I suddenly knew and were overwhelmed with the feeling this was not the last time I would do this.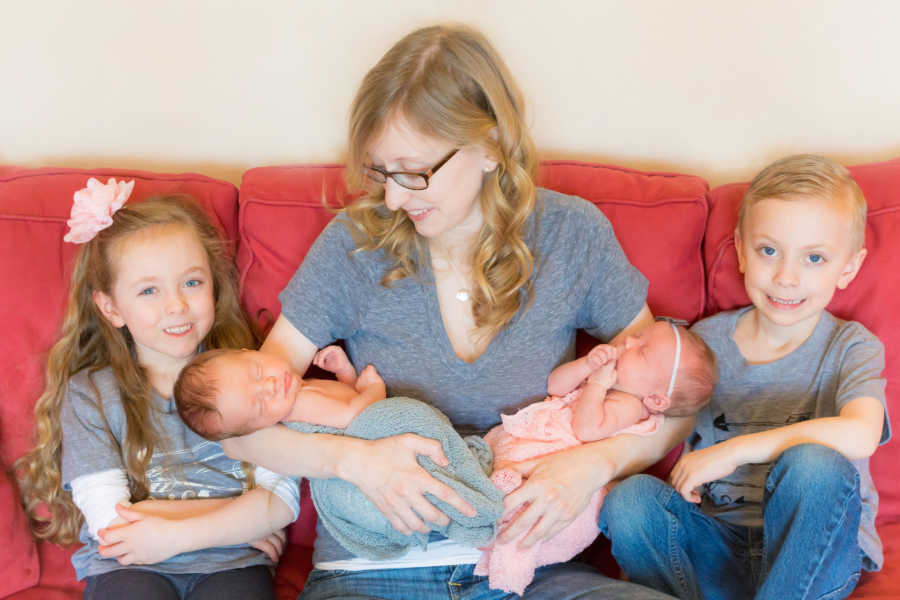 Time passed and our second set of twins began growing older and soon they too began asking on their own when I would give them a baby to love. Our older set joined in and also began asking. My husband and I began once again saving and figuring out how to pay for more fertility treatments to bring one more baby into our family and complete it. In time, we were ready to try again and we returned to our fertility clinic to try transferring one of our frozen embryos and again we were met with failure. We tried again and once again, the pregnancy failed, I lost our baby girl, and I required another D&C. I was so broken and defeated. I was now out of frozen embryos.
I felt like giving up and moving on until one day I woke up and felt the strongest urge to try a fifth egg retrieval and transfer not one, but two embryos… again. I went to my fertility doctor and as soon as I sat down at his desk with him, he looked at me and said, 'I know it sounds crazy, but I feel like you are only meant to carry two babies at a time. What do you think about transferring two embryos this time?' I couldn't believe he was thinking the exact same thing as me. After meeting with him, I took quite a while to make the final decision on choosing to transfer two more embryos but the day before the transfer, I gave them the go ahead to thaw and transfer two embryos and those two embryos stuck and gave us our final set of twins in 2020.
The third set of twins were born during the pandemic. I found myself now out of a career that had supported our family and funded all our fertility treatments that were not covered at all by insurance over the past decade and in a new role of stay-at-home mom of six and homeschool mom due to schools being temporarily closed. It was a culture shock, but the best blessing in disguise. It allowed all the kids to bond and feel like they got to take part in caring for the new babies.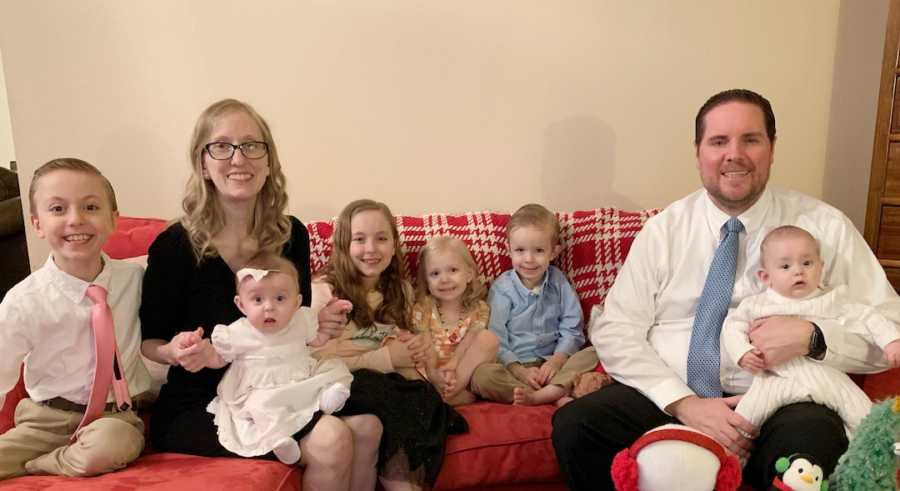 It strengthened their love for one another. They have the exact relationships my husband and I dreamed of having with a sibling, but never had. Every day the house is a complete wreck with toys, blanket forts, and more. The days of having a perfect tidy home are gone, but the mess is daily proof that every needle plunged into my skin, every surgery, every hateful comment, and every disappointment we had to endure to achieve our dream of having a large family was completely worth it.
If anyone reading this feels their dream of starting a family is over with a diagnosis of infertility, it's not. Find yourself a good fertility doctor that listens to your feelings and will let you call him at all hours with questions. I wouldn't have had the success I had without mine. Surround yourself with positive people and hold tight to those true friends. It's those friends that can help carry you when you feel you can't go on. And never, ever give up."