"I never thought I really wanted to be a mom. I mean, I like kids, but I didn't love them. But I also couldn't picture my life not being a mom. My husband and I are planners, to say the least. We like to have a plan and try to stick to it. Then the pandemic hit, and you know what it did with plans. During this time, my husband and I began to realize our life was kinda slow, and, dare I say, stable for once. We seemed to thrive amongst the uncertainty in the world. We rediscovered each other. We realized there was probably room in our family for one more.
So, in the summer of 2020, we began trying for a family. Thankfully, it didn't take long for two pink lines to appear on my dollar store pregnancy test. (My husband likes to make it known I am frugal. But also, why are pregnancy test $10 a pop? If you are as anxious as I am, you want to take a couple pregnancy tests.) The weeks before the first ultrasound appointment dragged on. Thankfully, I never experienced much sickness, mostly just some food aversions and general fatigue. We constantly worried about miscarriage. We both were healthy adults, but we know miscarriages don't discriminate.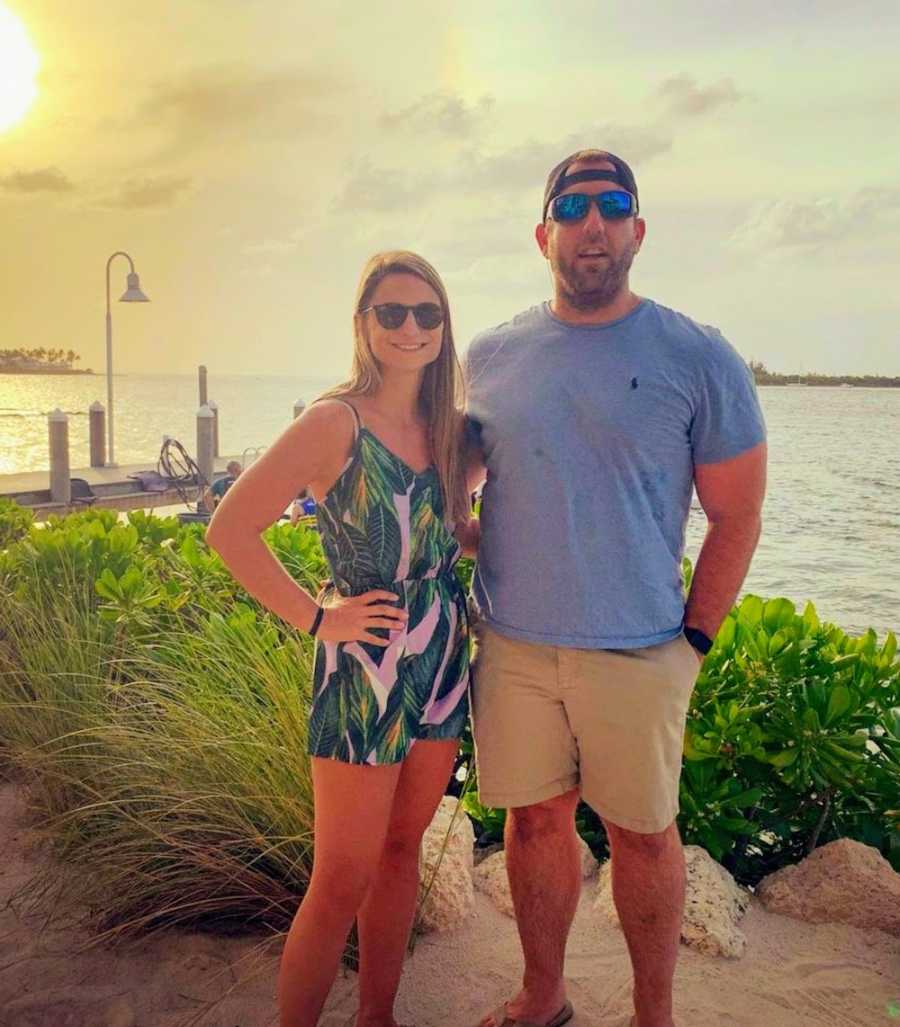 Finally, the day arrived for our first ultrasound. I remember not sleeping a wink the night before. All I wanted was to see one healthy heartbeat on the screen. In my mind, though, I prepared myself for the worst. I'll remember this appointment for the rest of my life. I lay down on the table. She inserted the wand. She scoped around. She found one baby. I vividly remember saying, 'Oh just one?' and she replied with, 'Just the one.' During my weeks-long wait for the ultrasound, I Googled literally everything, including twins. I looked at the precursors for twins: over 35, tall, obese, and family history. Out of all of those, I only had family history—twin cousins via my mom's sister.
After confirming just the one, my husband and I breathed a sigh of relief. The doctor then decided to 'scope out my ovaries,' as she said it. As she moved the wand to the left, she uttered the words, 'I lied.' At this moment, my whole world changed. My husband gripped the table and almost passed out. Prenatal advice was given, but I remember nothing. I blacked out. She stated I would be following up with a high-risk doctor, since all multiples were considered high risk. We left with our ultrasound pictures and big news to share with our family. During the two weeks before my next high-risk appointment, my blood work came back. 'Congrats, you are having identical twin boys.'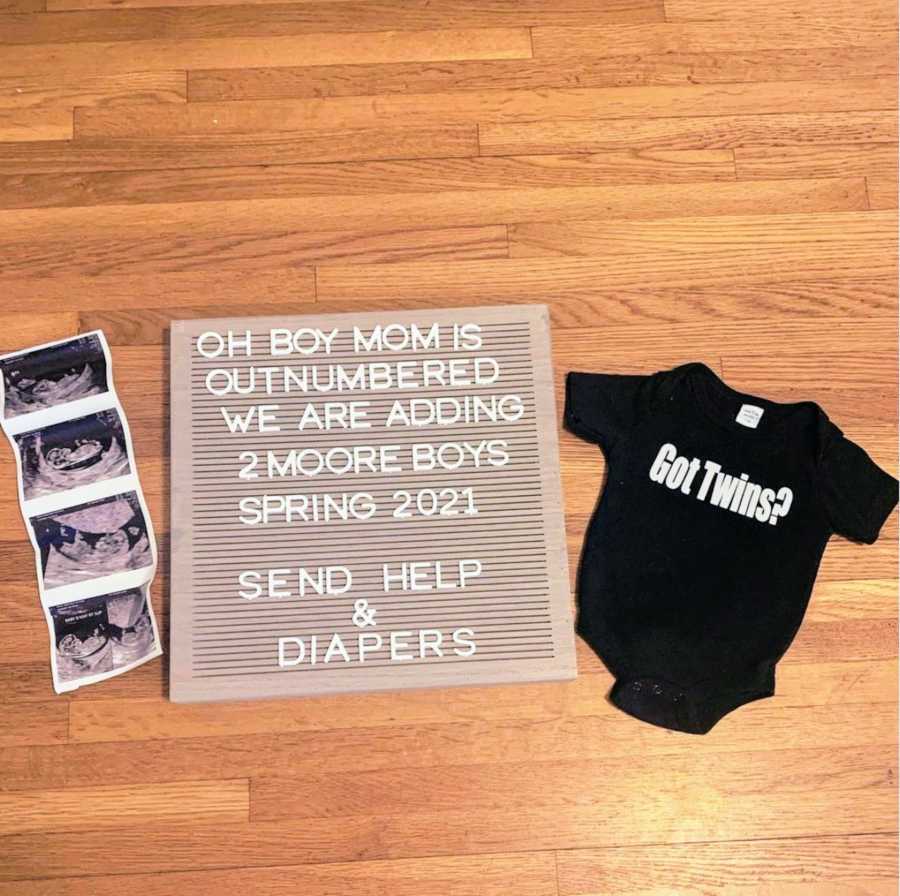 We were elated. Dr. C (the high-risk doctor) confirmed this at my next appointment. He also went over all the risks associated with mo/di twins, specifically the risk of sharing a placenta. I would be seeing a high-risk doctor every 2 weeks for the first two trimesters, then every week to ensure I didn't develop twin-to-twin transfusion syndrome (TTTS). I would deliver no later than 37 weeks to ensure the most favorable outcome for my babies. We celebrated Christmas with friends and family. Other than some reflux, I felt pretty good. All the excitement centered around our new additions. The new year hit and I was finally at 24 weeks of pregnancy, or viability.
The first week of the year, I had my next high-risk appointment. Normally at these appointments, there is a sonographer who does the ultrasound, then a doctor comes in and goes over the results with you. This wasn't the case for this ultrasound. The doctor ended up doing the ultrasound due to all the sonographers being on leave. The date was January 6, a day for many Americans that will live in infamy due to the storming of the Capitol, which happened during our 2-hour ultrasound. As the doctor was doing the ultrasound, he noticed Baby A was a bit growth-restricted. He saw some abnormal blood flow but said it wasn't hugely concerning. It just meant I might deliver a week or two earlier than planned.
That Saturday, my husband got up and went to the gym. I decided a nice long walk would help my aching back. I plugged in my podcast, and off I went on a brisk morning walk. During and after my walk, I noticed I hadn't felt the boys move. Normally, they would be pretty active after my morning coffee. This time, nothing. Not a huge deal. This happened a few weeks before. We went to the ER only to find everything was good. I decided to keep going about my day. My husband's plan was to put together both cribs. He started on the first one. I ran some more errands. Still no movement from the babies. I came home and told my husband I hadn't felt the boys move, but I wasn't really worried.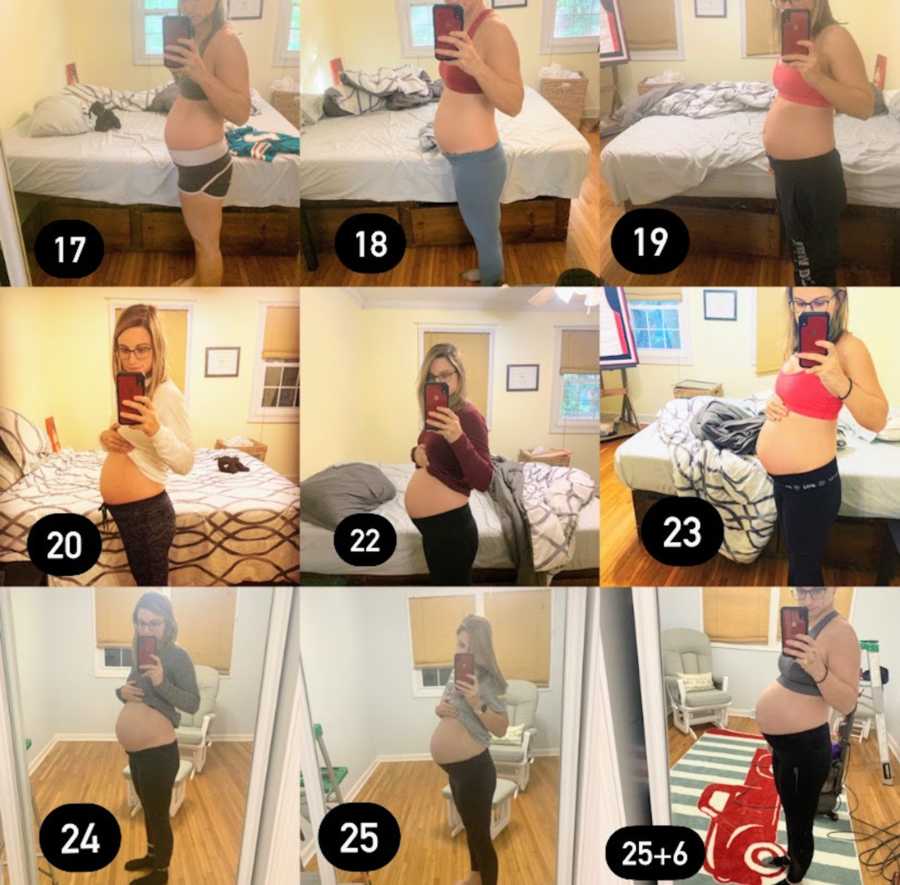 My husband can be a bit anxious. Especially during my pregnancy. We joked he wouldn't even let me put on seat warmers in the car. His first response to me telling him I didn't feel the boys move was to go straight to the hospital. I decided I wasn't quite ready. I should at least call the doctor first. So, I called and they said come in. I went to the L&D ER and was immediately seen. I was hooked up to monitors and everything seemed okay. Or so we thought. The doctor came in and said the boys' heart rates were tracking fine, but after a quick ultrasound, she noticed not a lot of movement. She decided to admit me to do some further testing.
Three hours later, around 6 p.m., I was admitted. They performed a BPP (biophysical profile) of both boys. Baby B passed, but Baby A failed. Since the hospital doesn't deliver babies under 32 weeks gestation, I was taken by ambulance to a larger hospital down the road. I was told everything was being done out of sheer precaution and 'nine out of ten times nothing ends up being wrong.' By 9 p.m., I arrived at L&D at the larger hospital downtown. I was again strapped to monitors and told very little. The hours ticked by with me having to pee every hour and beg for permission to get up and unplug my monitors. I started to feel some movement. I figured all was well. I thought the monitors would be taken off and I would go home in the morning.
Midnight hit, then 2 a.m., 5 a.m., and so on. I was still strapped to these godforsaken monitors. Not only this, but I was in a lot of pain at this point. Both sides of my pelvis were cramping. I couldn't get comfortable. I slept maybe ten minutes out of every hour. By 9 a.m. the next morning, I was ready to go home. I was frustrated and in a lot of pain. I was told there was nothing we could do for the pain and everything was all right. The pain worsened to the point I threw up and was crying uncontrollably. I wanted to be home, now. I unstrapped myself and was ready to walk out the door when the nurse came in and, in a not-so-friendly tone, told me to sit down and buckle up.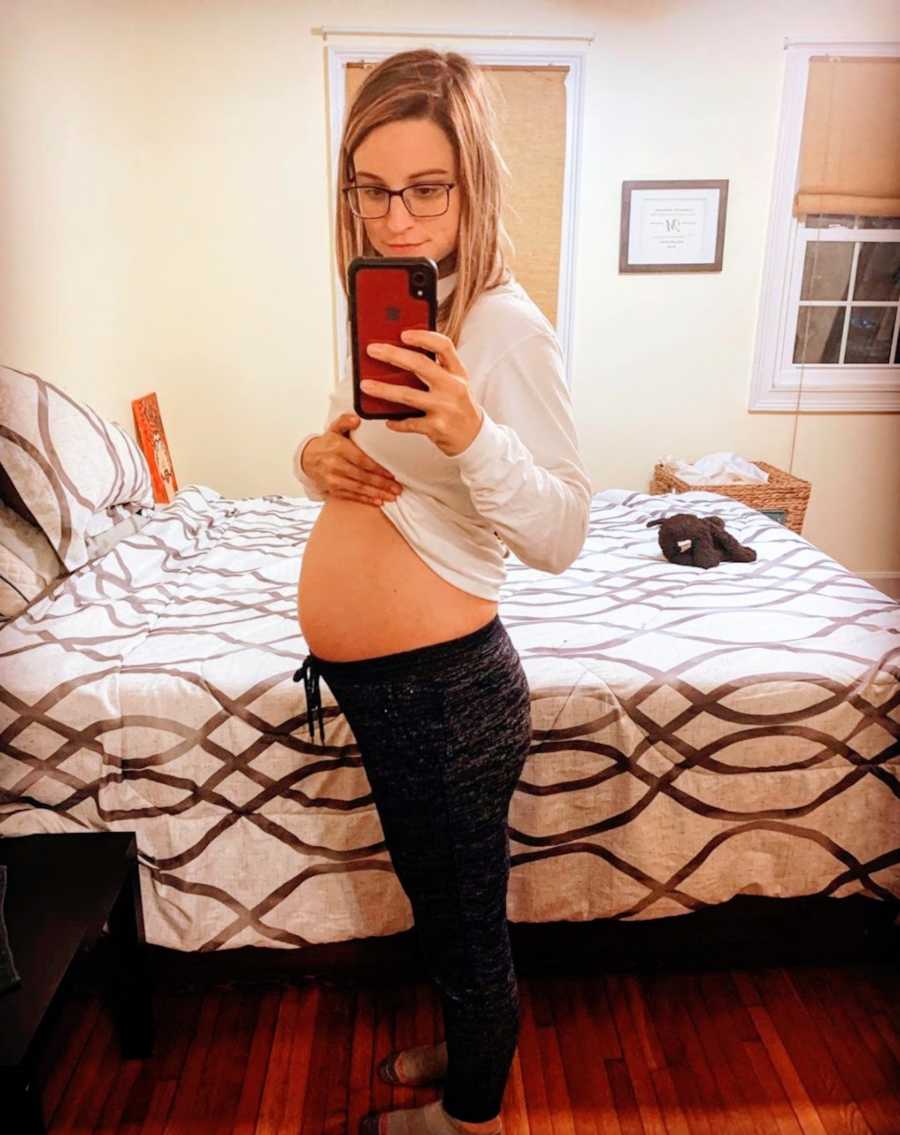 Things weren't as good as I thought. She said a high-risk doctor would be rounding soon and would fill me in. And sure enough, at 10 a.m., the high-risk doctor walked in, and lo and behold, it was Dr. C. What were the odds he was the doctor on the floor this day? I trusted him with all my heart and knew whatever news he was going to give me, I would go with. After this initial ultrasound, he stated there was a good chance today was birth day. He stated Baby A was 'stuck' and Baby B had taken all the fluid and blood supply for Baby A. I had acute, onset twin-to-twin transfusion syndrome. Dr. C stated had this not been so onset, I could have flown to Houston where I would have laser ablation surgery to correct the blood flow.
At 10:30 a.m., after more monitoring, Dr. C confirmed these babies were coming today. At 25 weeks and 6 days gestation. They soon started a magnesium drip to help with the babies' brain development. The mag made me foggy. The NICU nurse practitioner came in and briefed us on what to expect right after birth. She said our boys had a 'good chance' of survival. My head was spinning. What was about to happen? Are my kids going to be okay? Am I going to be okay? What is going on? I was wheeled back to the OR and given a spinal block. My husband came in and held me while I shook uncontrollably. The OR was HOT. A huge misconception about all C-sections is you deliver in a freezing cold OR. Nope. Ours was boiling hot. They had to keep it hot because our babies were so little and needed the heat to maintain their temperature.
I could feel Dr. C break my water and then after it was a blur. I heard no cries. I saw no babies. I sat there with a sheet in my face, shaking like a leaf being told what is going on. I faded in and out of full consciousness. Begged for a cold rag so I wouldn't pass out. My husband went to the adjoining room to see the babies. He later told me he walked in and all he saw were dozens of people, so he got scared and left. After I was sewn shut, I was wheeled to recovery. I still hadn't seen my babies. I knew they were alive, and that was it. With legs that felt like stones, I sat there waiting for what was next, to which I had no clue.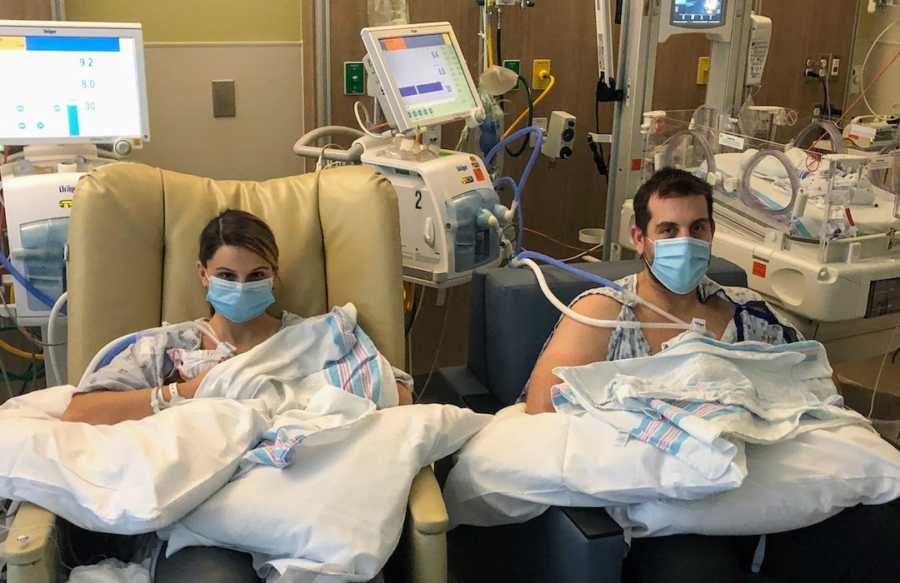 What felt like a lifetime later, I finally saw my babies. Their tiny bodies were wheeled past me. They were wrapped in what looked like sandwich bags and enclosed in an incubator. These tiny, 1-pound, 10-ounce babies were mine. They didn't seem like mine though, because of all the machines keeping them alive. I was able to briefly touch them before they were wheeled up to the NICU, where they would call home for the next 100 plus days. Our NICU stay was full of ups and downs. We nearly lost each boy. Baby A required resuscitation and emergency intubation at three weeks of life. Baby B developed necrotizing enterocolitis (NEC) at 5 weeks of life. He required three life-saving surgeries.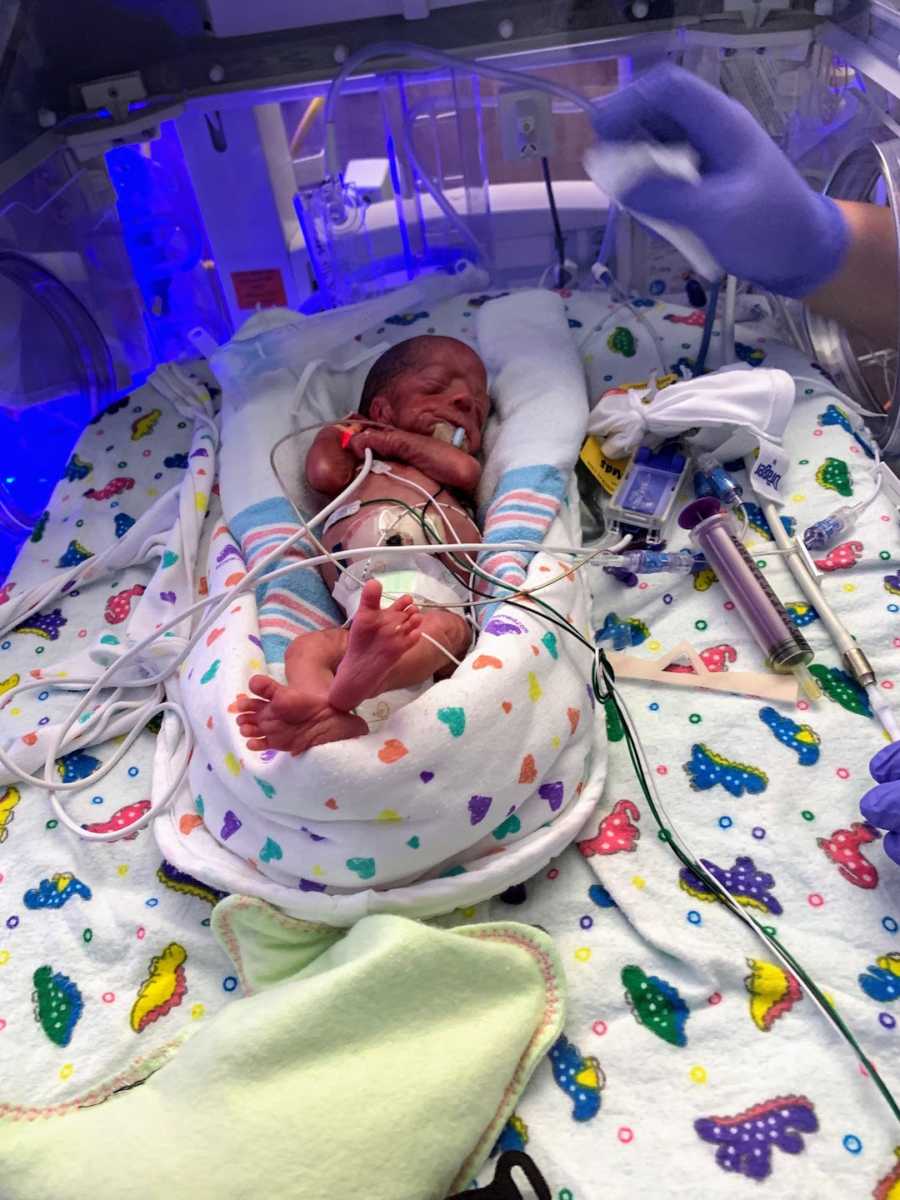 Our journey to parenthood was unconventional. We still wonder often what is like to experience a near full-term pregnancy, go to the hospital, and leave with your baby. I'll never know what a third trimester is like. I'll never know what it is like to immediately have your baby put on your chest. I would be lying if I said I wouldn't change our journey for anything in the world. While it has taught us tremendously about our own strength, I would never wish any baby to have to suffer, be poked and prodded, and live in an incubator for over 100 days. I am extremely grateful for the team at MUSC Shawn Jenkin's Children's Hospital. I am forever grateful to live 10 minutes down the road from this incredible facility.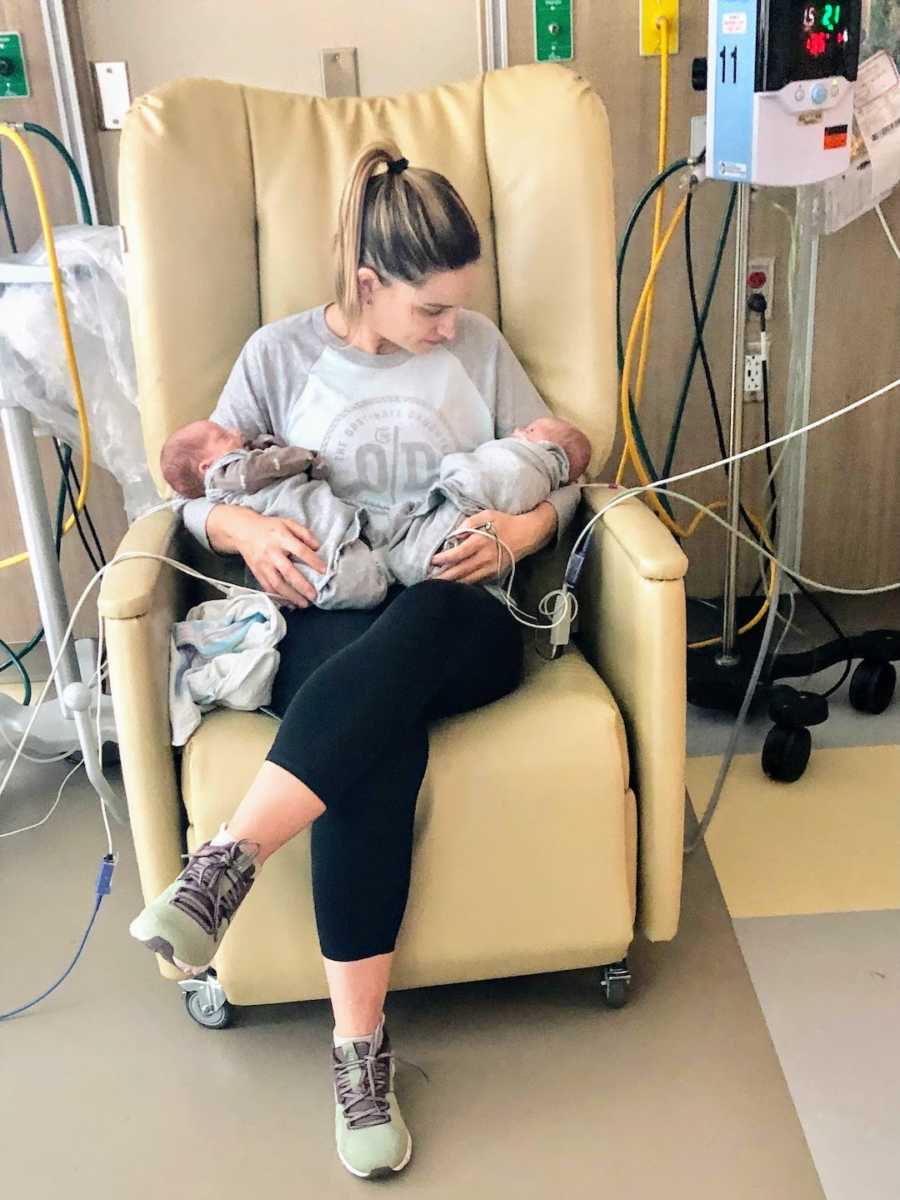 Many parents struggle with commuting to the NICU or are forced to live in the Ronald McDonald House or a hotel for months on end. I'm grateful for Dr. C and his incredible knowledge for delivering our boys and giving them a fighting chance. I'm grateful to Dr. H and her team of skilled surgeons for trusting their instincts and saving my child's life. I'm grateful for the countless neonatologists who treated us with respect and treated our children as if they were their own. I'm grateful for the nurse practitioners who would answer our millions of questions and never looked us like we were idiots (even if we asked if our kid would explode if he didn't poop).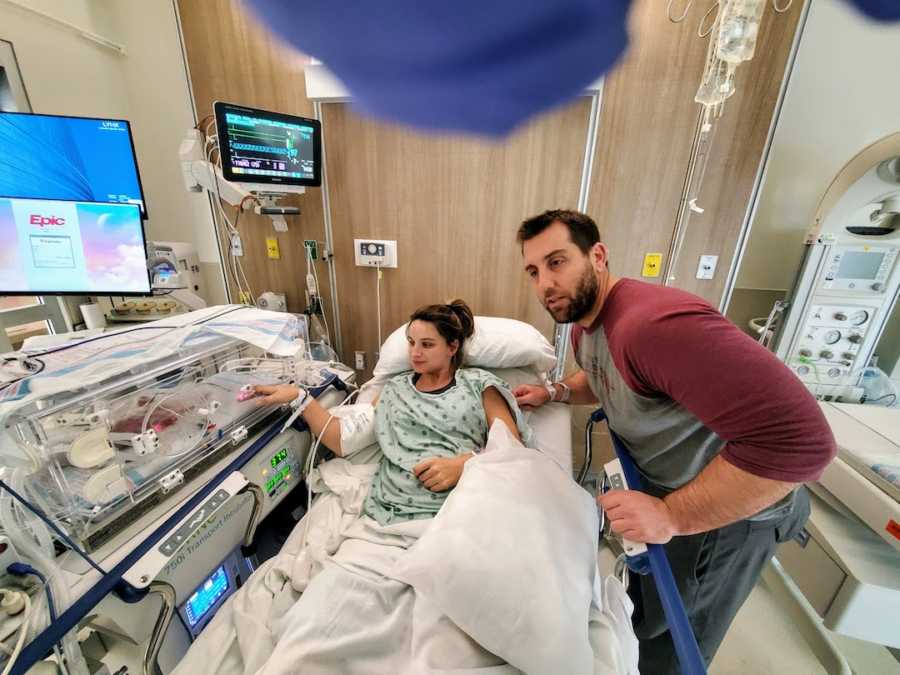 I'm grateful for the nurses and respiratory therapists who would not only care for our children but care for us. Who would listen to our bad jokes or just our general complaints. Who would force us to step out of our comfort zones and really taught us how to take care of our children. Most of all, I am grateful for my two boys. My precious Murph (Baby A) and Fitz (Baby B). They have taught me not only how to be a mom but taught me what true strength is. I know this is just the prologue to their amazing story. They have a full book of adventures waiting on them."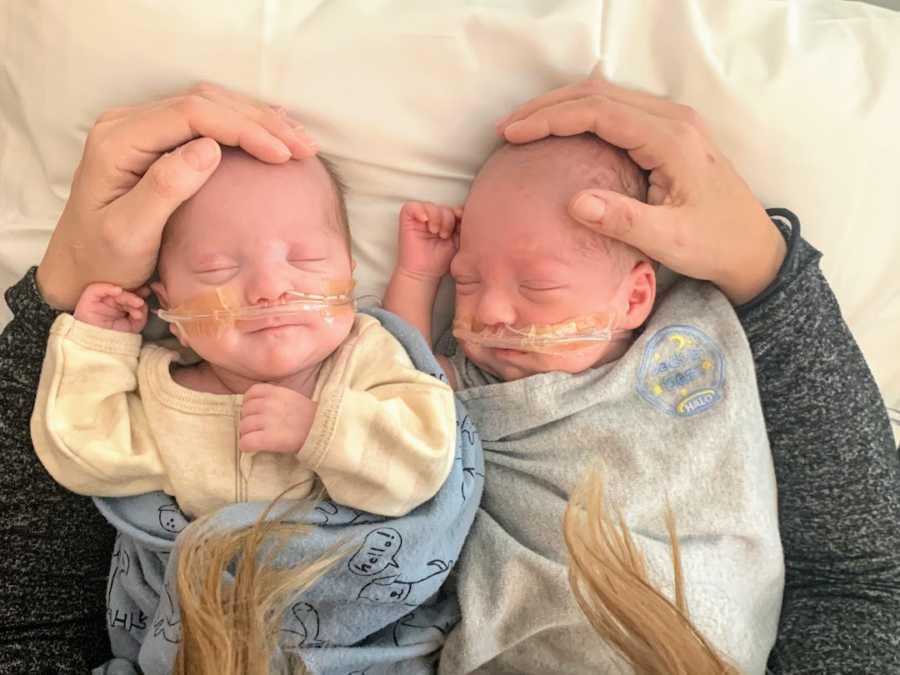 This story was submitted to Love What Matters by Haley Moore of Charleston, South Carolina. You can follow their journey on Instagram. Submit your own story here, and be sure to subscribe to our free email newsletter for our best stories, and YouTube for our best videos.
Read more stories about multiples:
'What have you done to yourself?!' I was pushing my 10-month-old twins through the mall when she caught a glimpse of my heavily pregnant belly.': Twin mom to 3 hilariously responds to 'odd questions'
'She scanned my stomach. 'Congratulations, Mom and Dad! Oh, wait…' My heart sank. 'I see three here!': Couple has triplets, twins through embryo adoption, 'We're the lucky ones'
'Maybe this isn't going to happen for us.' We prepared for bad news. Then the doctor yelled, 'There's two!': Couple welcomes rainbow twins after infertility journey, 'I'm still in awe'
'We'll need swings for two babies.' I told my daughter, 'Not this time.' Then my doctor whispered, 'You won't believe this.': Woman gives birth to preemie rainbow twins
Provide beauty and strength for others. SHARE this story on Facebook with friends and family.