"I never imagined hearing, at the age of 25, my husband and I would never conceive a biological child naturally. I never imagined after spending over half of my life dreaming about being a mom, daydreaming about experiencing pregnancy, and wondering if I would one day have a daughter who looked just as much like me as I do my mom—in a split second, all of those things would feel like they were being ripped away from me. The voices of people telling me to 'just relax' and reminding me how young we were played over and over in my head. This wasn't how it was supposed to be.
We had waited to start trying to have a baby until we had been married a couple of years and felt we were in a relatively stable place financially to bring a child into the world, only to endure heartbreak every month on our journey to conceive and be told we had a less than 1% chance of ever conceiving a baby naturally. It felt like I was watching a movie of someone else's life as they experienced this heartbreak I now know is more common than many think. What I didn't know then was all of the ways in which the valley we had entered would prepare us for some of the highest, most beautiful mountain tops we have ever been fortunate enough to reach.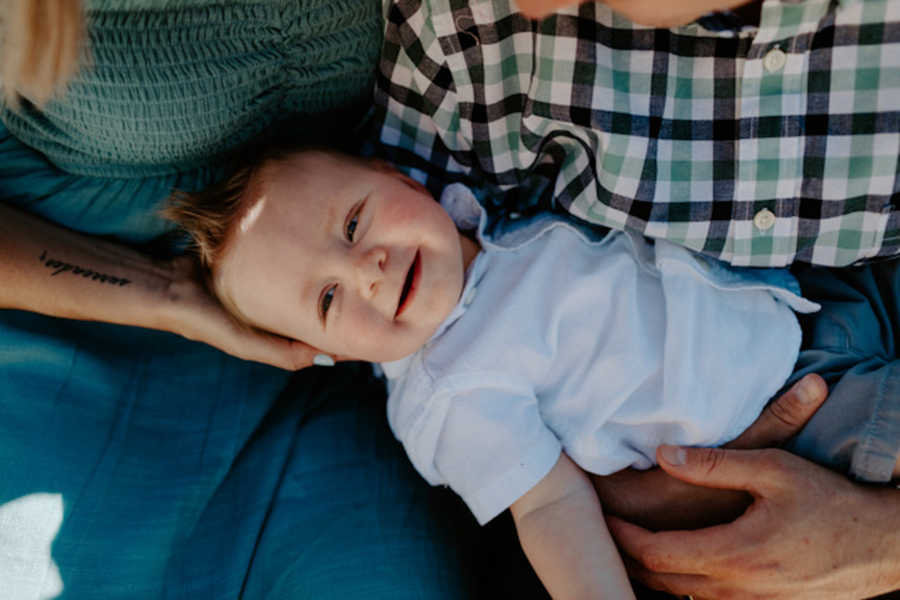 My husband and I met in April of 2015, and after a whirlwind romance, were married by October of the same year. We spent our first couple of years moving almost every year for my husband's job in the military. In 2016, we agreed it was time to stop my birth control, as we anticipated starting trying to get pregnant within the next year. We had plans to move to another base for another year in the summer of 2017, but after that, we would be at our first base where we would get at least 2 years at. We felt we were ready, and my heart rejoiced at the fact any month after that, we could be finding out we were going to be having a baby. My heart aches for the girl I was then, remembering my naive excitement as to how 'easy' I thought our journey to parenthood would be. After all, it seemed in adolescence and early adulthood, you are told about what happens if you aren't careful, so no doubt we would fall pregnant quickly, right? How wrong that was.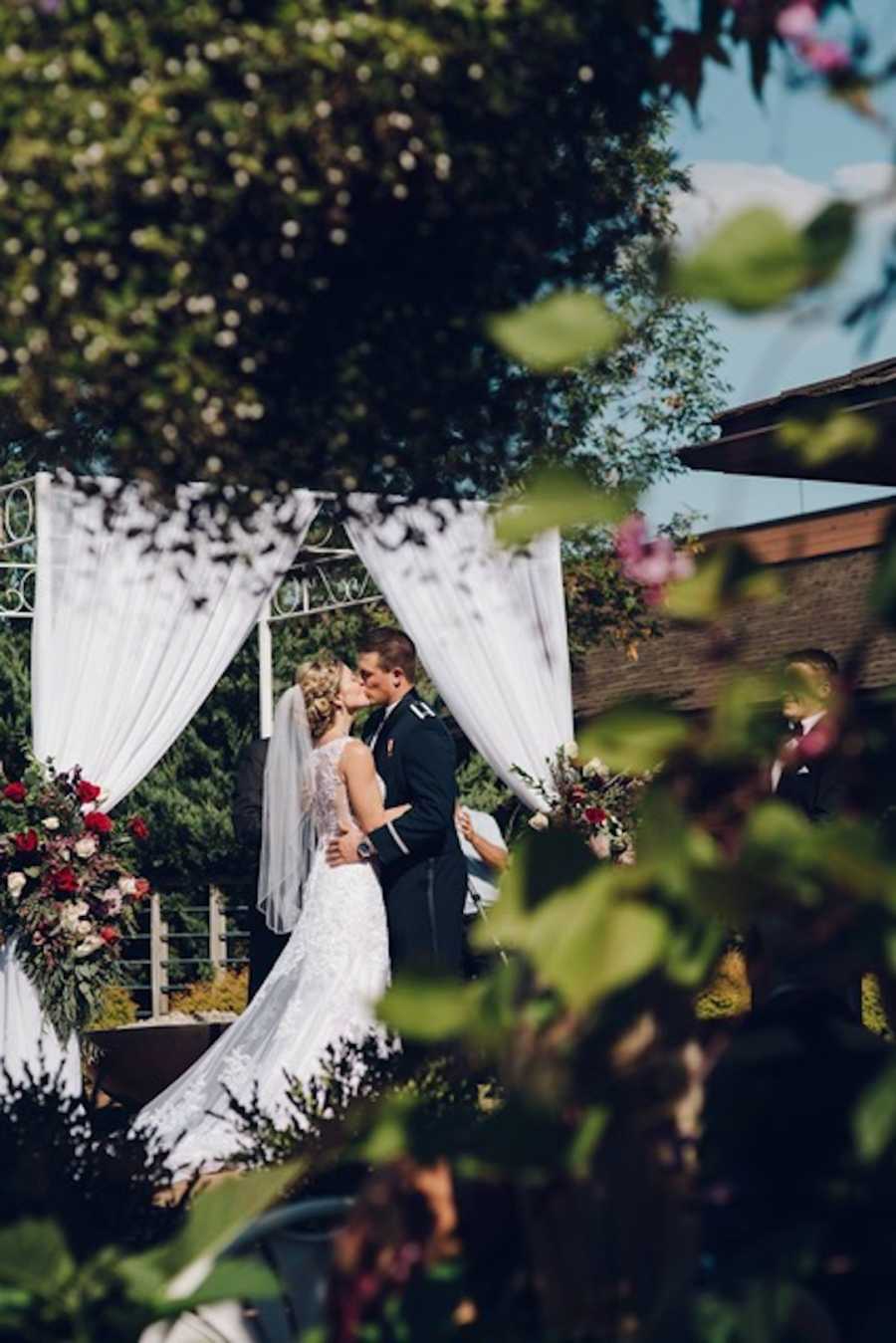 Every month, I would get excited and end up taking a home pregnancy test 2 to 3 days before my period would be due to arrive. I hoped, because the box said it could tell if you were pregnant 5 days before your missed period, we would get the best surprise of two pink lines, even if I wasn't necessarily 'late' yet. Yet, every month was the same: negative test results followed by a day of sadness, confusion, and being straight honest, having a bit of a pity party before picking myself back up and telling myself 'next month.' I heard the phrase often from anyone I would confide in about what was going on: 'It will happen when it's supposed to happen' or 'Stop stressing about it so much and it will happen.' But deep down, I had a feeling very early on something wasn't right.
In December of 2017, I got a referral for a reproductive endocrinologist and made an appointment for just after the New Year in 2018. I met with the doctor for my first appointment and we discussed all of the methods of diagnostic testing we would undergo in order to get an idea as to why we weren't conceiving. I never expected at the very first follow-up visit I would have the conversation I did with my doctor. It was at this visit, in February of 2018, my doctor looked at me and said, 'The chances of you and your husband ever naturally conceiving are less than 1%. If you desire to have biological children, you will need to go through IVF with ICSI.' No cycles assisted with medication. No IUI. Nothing I had told myself was the 'best-case scenario.' With the diagnoses we had been given, we were left with many questions, felt very confused, and the heartache I had hoped would diminish with getting some answers only intensified. We still had no idea how or when we would start our family.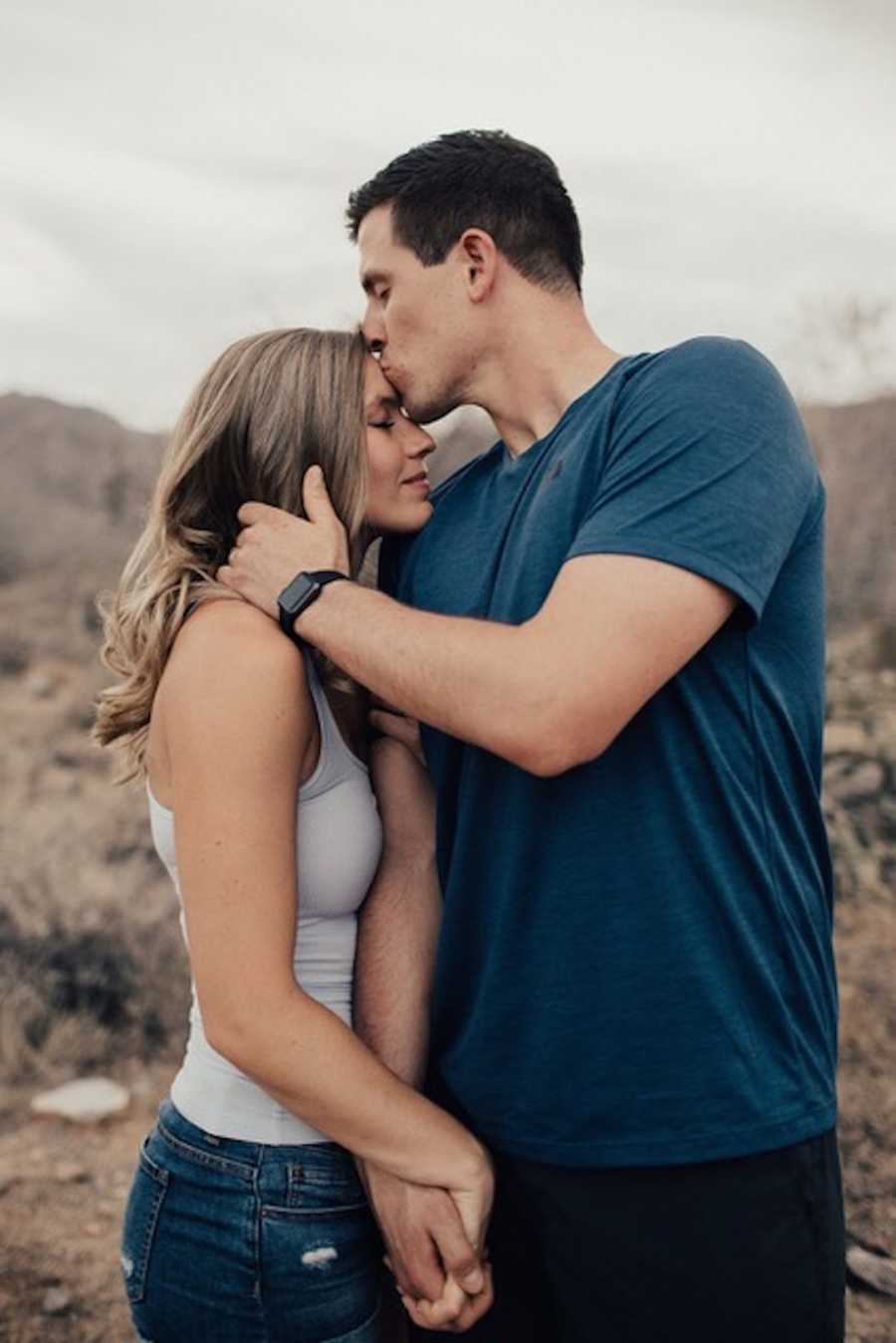 From March until June, we had a few more tests run before we decided it was time for a break. My husband would be graduating from training in July and then we would be moving again. Come September of 2018, we were in a new state and home, so I established care with a new reproductive endocrinologist. During my first consultation, my new doctor brought up another factor that impacted my fertility my previous doctor had never mentioned. My AMH (ovarian reserve) level from February of earlier that year was on the lower side. Before discussing the next steps we would be taking, she asked me to repeat the lab. She made it clear to me if my results came back any lower, I would want to move forward with an egg retrieval within the next month or two to have the best chance of getting as many quality eggs as possible if we should ever want to do IVF at any point in the future.
My husband and I spent some time discussing what my doctor had told me while we waited for the results of my labs. I knew deep in my heart if my AMH level was any lower, an egg retrieval would not be in the cards for us. With our other fertility factors in mind, it just didn't make sense. It was then and there I began my struggle with God and the very apparent threat I felt to my dream of becoming a mom. If my AMH had gone down, I would not do egg retrieval. If I didn't do an egg retrieval, we would not have biological children. If we did not have biological children, I would never get to experience pregnancy. That last part is what took me to my knees, as there was nothing I wanted more in this world than to experience pregnancy. I had seen so many women I knew who had already been pregnant, or currently were pregnant, raving about a woman's purpose with the female body and its ability to create new life. Reading things like this often left me feeling both angry and sad, as I thought about what that meant for me as a woman if I never would get the chance to experience pregnancy.
Then the day came I got my test result and saw my AMH level had indeed dropped even more. There wouldn't be an egg retrieval. There wouldn't be any biological children. There wouldn't be a pregnancy for my body to experience. I was shattered. We closed the door on having biological children, but only for a short 2 weeks before another door we never even knew existed would be placed in front of us.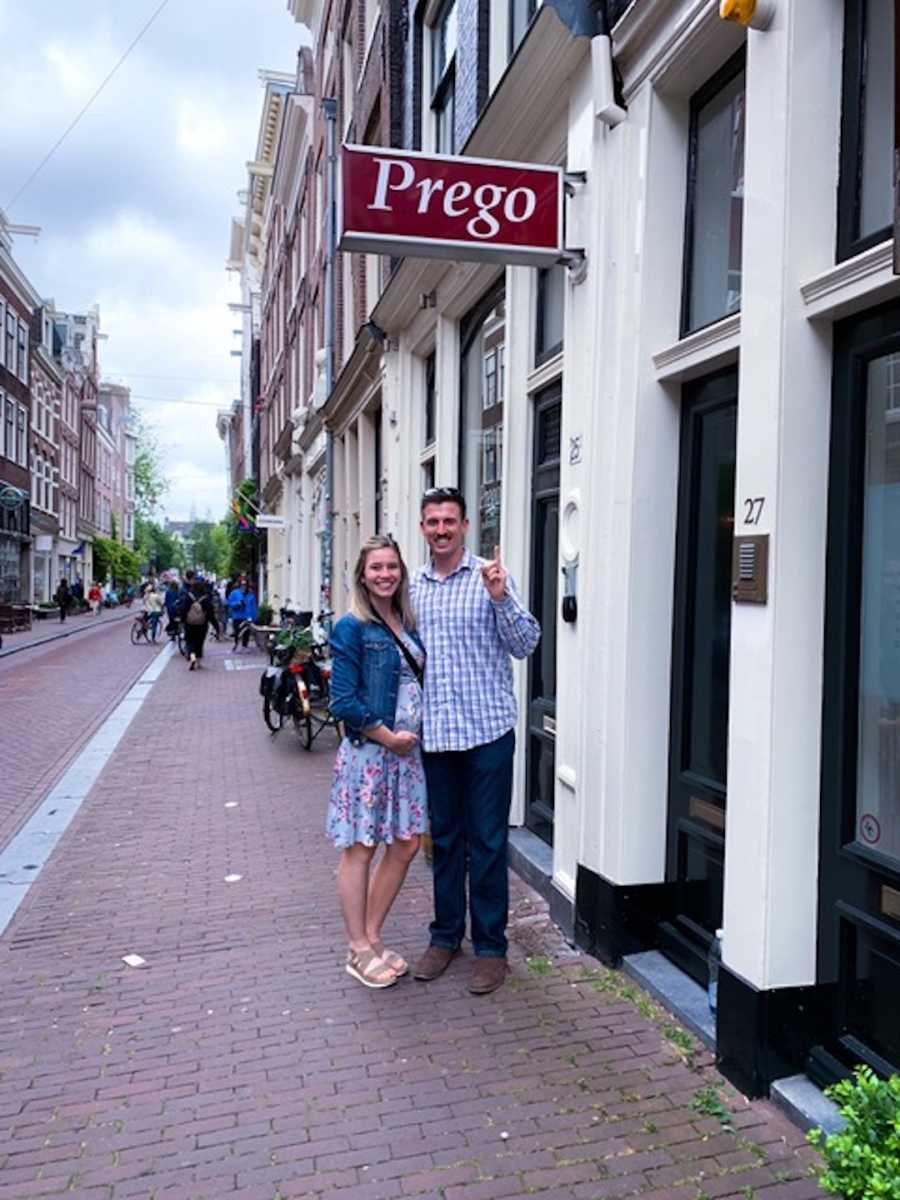 My husband was away at the beginning of November in 2018 when I woke up one morning with no less than 10 missed phone calls from him and multiple texts telling me how he had found how we were going to grow our family. As I began getting ready for work I called him and he proceeded to tell me about something called embryo adoption. Embryo adoption would allow us to adopt frozen embryos another couple had made during their own IVF cycle, and then complete a frozen embryo transfer to me in hopes of getting pregnant. I couldn't believe what I was hearing. We could adopt, something we were both open to, but we could also still experience going through pregnancy together. I could still carry our baby/babies and have that special bond with them and give birth to them. We knew this was how we would grow our family. My husband had just found our greatest gift and blessing, and we were eager to dive into the process.
Before the next week was over, we had had a conference call with the director of an embryo adoption agency and had completed all of our 'adoptee' paperwork. The week before Thanksgiving, I opened my email to see the words, 'I think we have found a match.' Just a mere 2 or 3 weeks after we had begun the process we had been matched with a wonderful family and four frozen embryos. We were elated! There was no stopping the tears as I read the email over and over and over. A couple had seen us and decided to entrust us with their embryos… while not the same as traditional adoption, the sacrifice this couple was making and the emotions they too were probably experiencing were not lost on me for a single moment.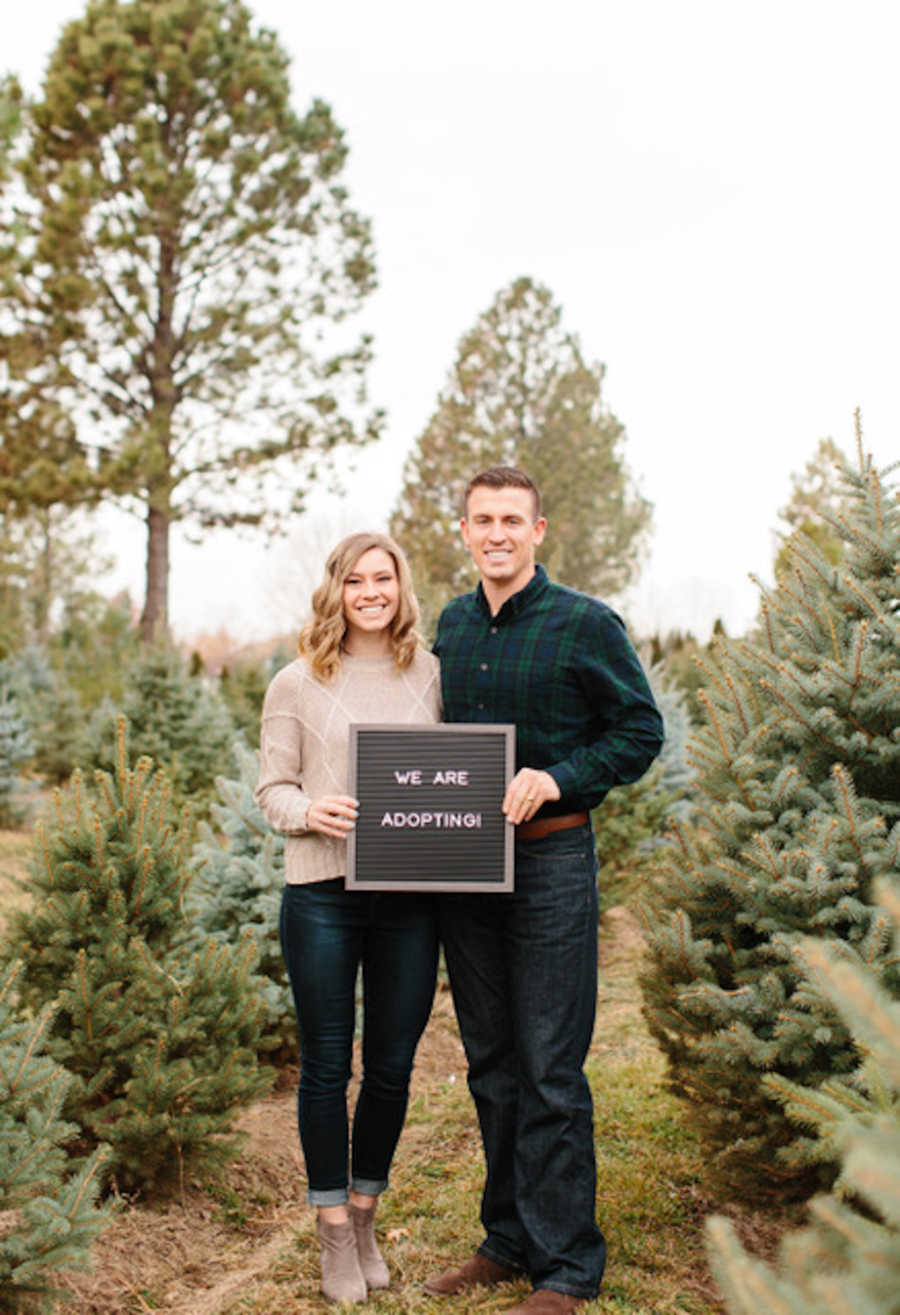 On April 16, 2019, we headed down to our fertility clinic for our frozen embryo transfer. We had two straws that contained two frozen embryos within each of them, but unfortunately, our first straw did not survive that morning when it was thawed. That meant after giving the clinic permission to thaw our second straw, we would be transferring our last two precious embryos into my womb. The first tears started the moment I saw those teeny, tiny, microscopic bundles of cells and life on the screen in front of me. We watched as they were drawn into a tube, brought into the room where we were, and placed inside of me. It was all so surreal. And while maybe not as 'fun' as natural conception, there is no doubt whatsoever about the magic and beauty that is frozen embryo transfers. How many people get to see their baby at a mere 5 days from 'conception'?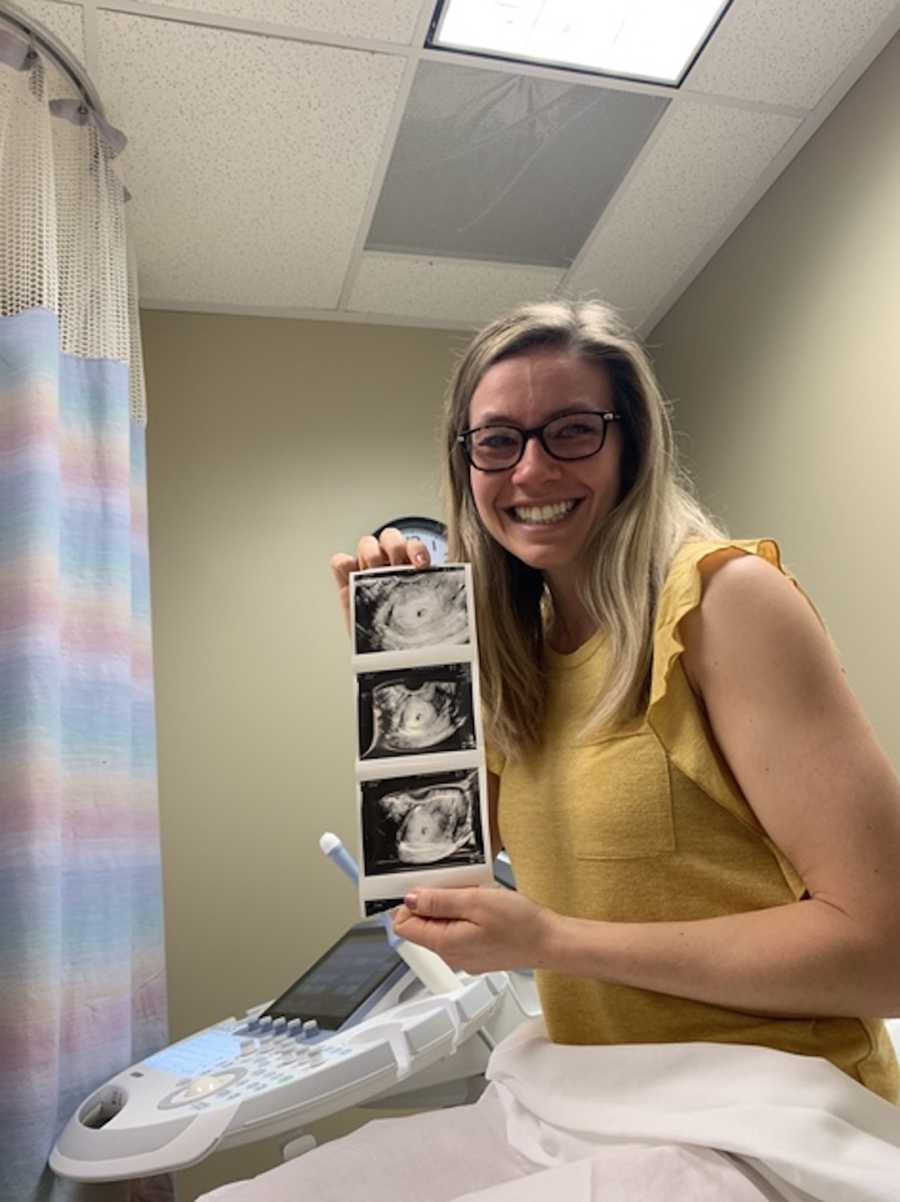 I prayed day and night for those babies to snuggle in tight. I slept with the picture of our frozen embryos on my bedside table and looked at it constantly, longing for them to stay put. At just 5 days post-transfer, I felt as if I had the flu, which made my husband all the more eager for me to take a home pregnancy test. The next night, at 6 days post-transfer, I mustered the courage to take my first pregnancy test in well over a year. It was so faint I had to squint, but I ran into the bedroom to my husband asking if he could see what I saw. For the first time ever, we were seeing a second line. And for the next 6 days, until I had my first BETA blood test, I peed on sticks morning and night as I watched the second line grow darker and darker. The Sunday after I had started taking tests at home, I had my first BETA test early in the morning. A few hours later, in the middle of our church service, my phone began to ring. It was my doctor. I stepped out into the atrium of the church, held my breath, and answered the phone. From all of the at-home pregnancy tests I had taken, I knew I was pregnant. But the moment the words came from my doctor, 'Congratulations, you're pregnant,' it all became so much more real.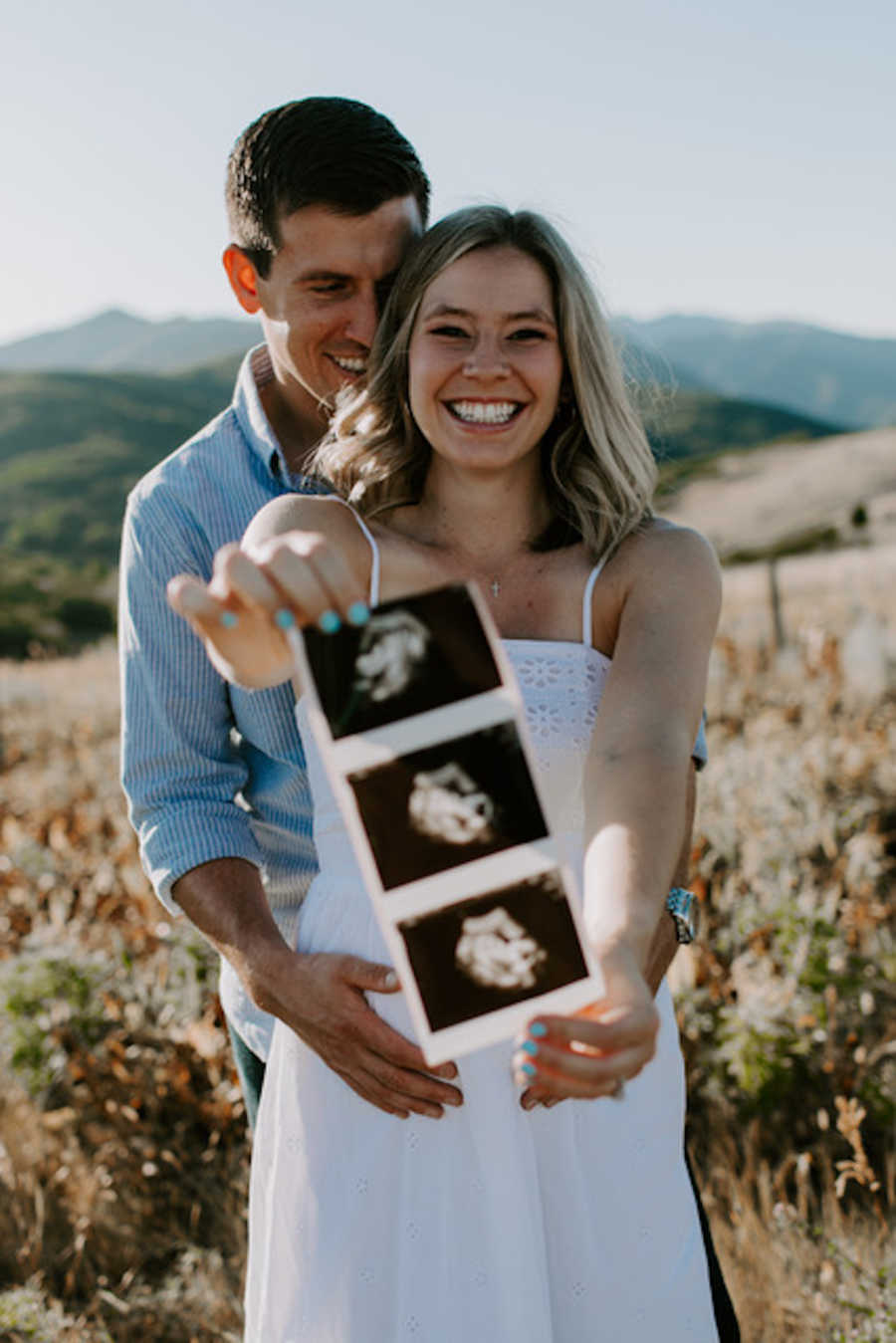 At 6 weeks and 4 days, we went back down to the fertility clinic one last time for our viability scan. There had never been a sweeter sound in the whole world than the whooshing of our baby's perfect, healthy heartbeat inside of me. While overjoyed at the sight and sound of our one healthy baby, I also grieved for the second embryo that didn't make it. My next appointment would be just one week later with the doctor who would see me through my entire pregnancy and deliver our son, Colton, on December 19, 2019. Our miracle joined us earthside and has filled our every day with so much joy and love ever since. Last month, we celebrated an entire year of having him with us as our beautiful boy turned 1 year old.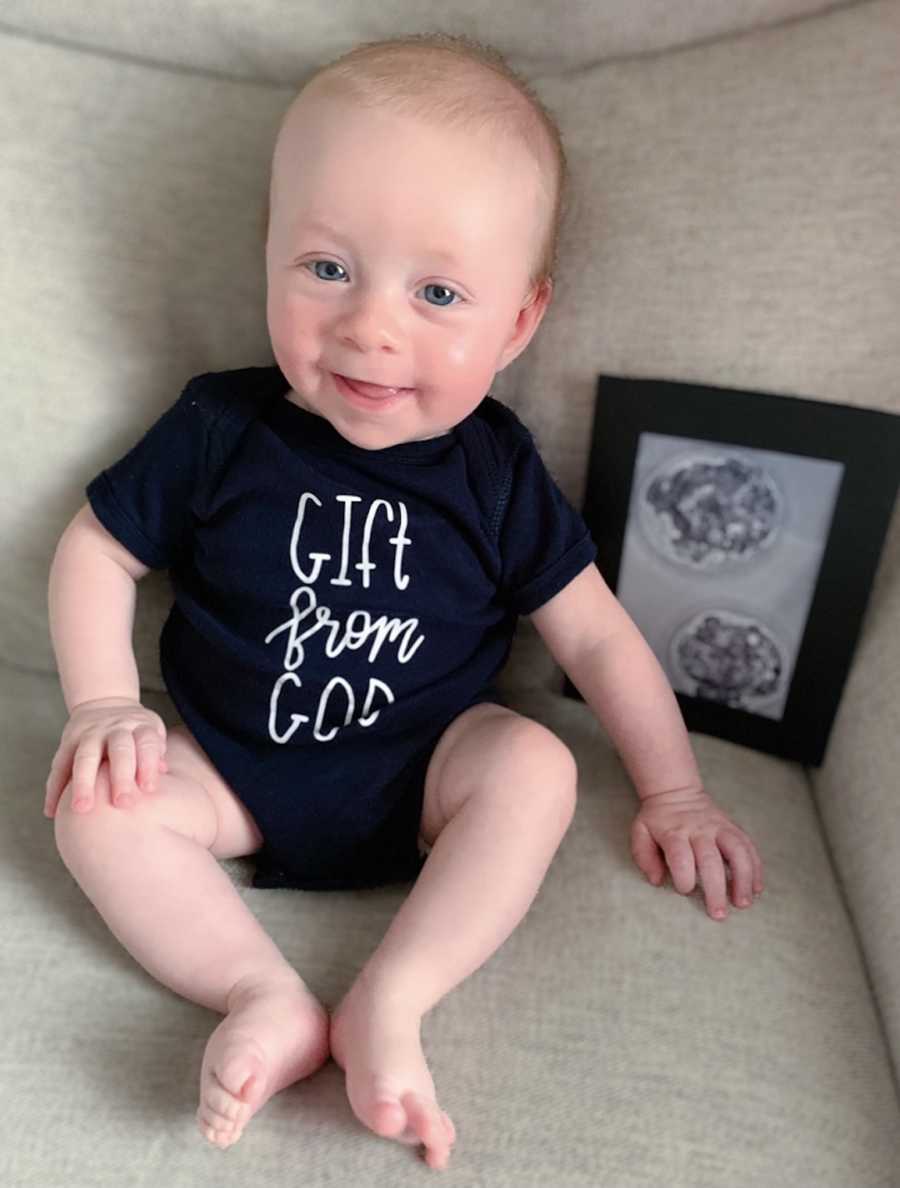 He is our living hope every single day as to how truly miraculous and precious life is. He is our reason for continuing to dream of what our growing family may look like as we yearn to give him siblings through second embryo adoption. I look at our son and see the way God has already blessed us and given us the greatest desire of our hearts in and through his little life. It is then I find it within myself to trust no matter what the future holds, our journey will continue to be a miraculous one. One where the same God who orchestrated every single detail to bring us to where we are today is the same One who will continue to orchestrate all that is to come. The years of infertility and walking through the valley without any vision as to what our family would look like were not for nothing. They led us to embryo adoption, which led us to a baby boy who calls us Mama and Dada we couldn't ever imagine our lives without."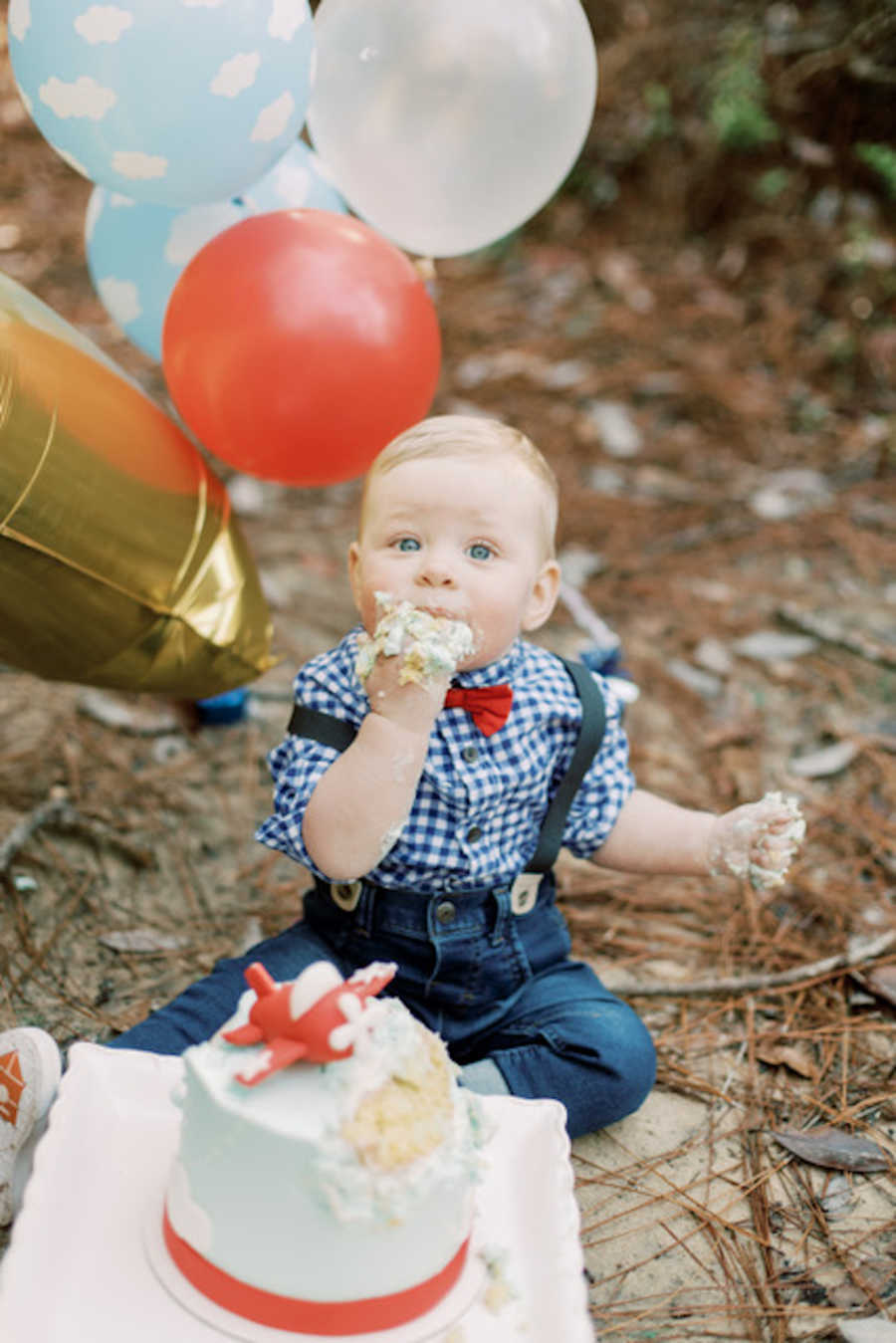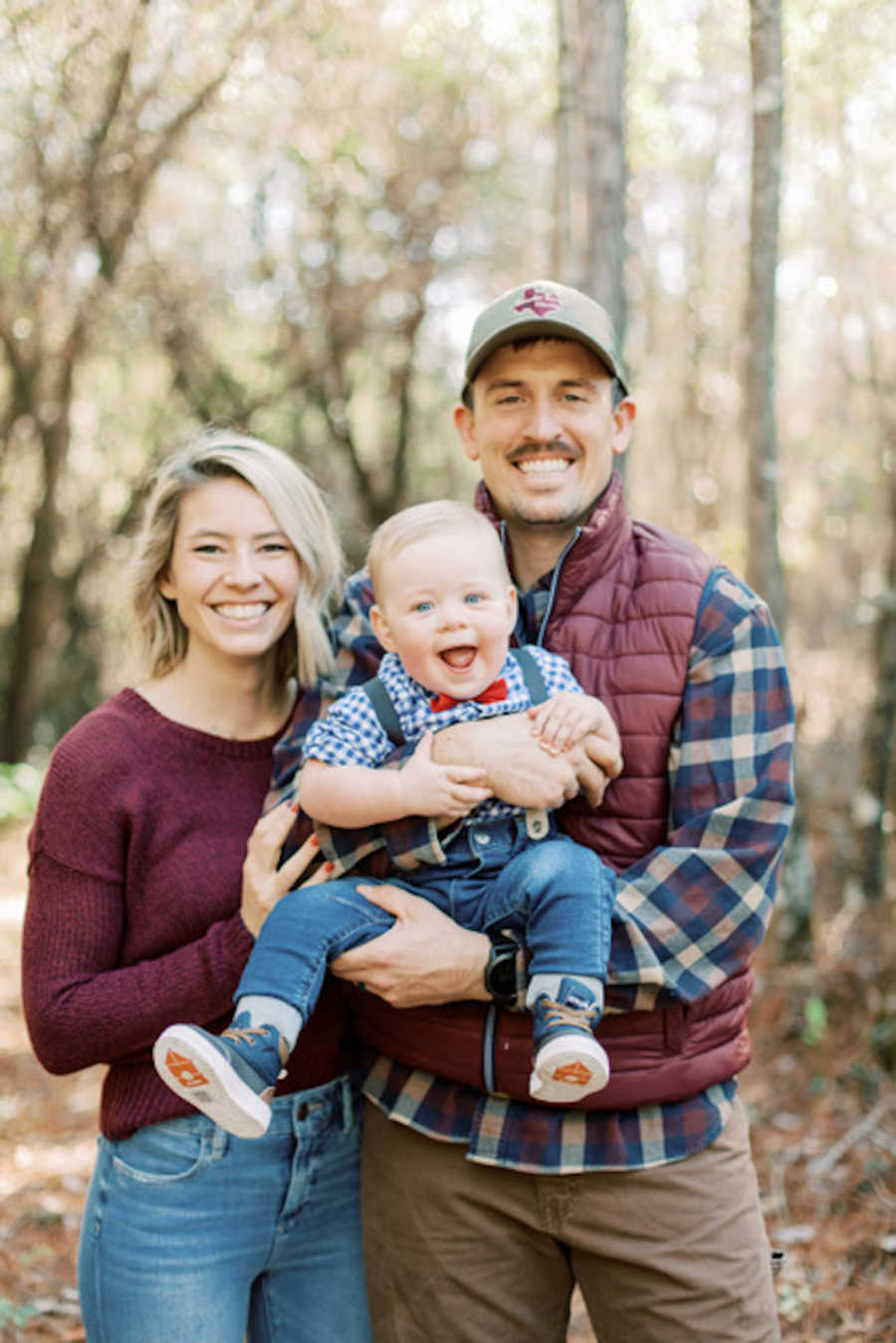 This story was submitted to Love What Matters by Jen Lowell from Florida. You can follow her journey on  Instagram and YouTube. Be sure to subscribe to our free email newsletter for our best stories.
Read more touching stories like this:
'What do we do with the remaining embryos?' We signed away the parental rights. I was in for one more shock: TWINS!': Couple donates extra embryos to family  battling infertility, 'They were put in our path for a reason!'
'Daniel may have trouble fathering children. He had a botched surgery when he was very young. As 18-year-olds, we didn't grasp the seriousness of his male infertility. Then I realized something was wrong with me, too.'
Do you know someone struggling with infertility? Please SHARE this story on Facebook to help give them hope that miracles can and do happen.