"In 2016, I was a stay at home mom taking care of my five-year-old son and my four and two-year-old daughters. I was also pregnant with our fourth child. I often joked with my friends that giving birth to this baby would be like going on a vacation. Family and friends would take over my exhausting parenting duties. I, on the other hand, would be in the quiet hospital room, being served meals with no dishes or laundry taunting me with their endlessness.
My husband Chris went with me to my twenty-week anatomy scan. We found out our baby was a girl. Chris left for work as I stayed for the doctor's appointment that followed. My doctor went through the list of things that looked great on my daughter's developing body. At the end of the list, she said, 'I should mention she has an echogenic focus. This is calcification or a bright spot on her heart. It does not affect heart function.' She went on to explain that babies with Down syndrome, as well as babies without Down syndrome, can have echogenic foci. I was offered blood work to see if our daughter had Down syndrome. After some discussion, I declined the bloodwork. I was only thirty-two years old. I had a 0.0014 percent chance of having a baby with Down syndrome at my age. Our baby did not have any other soft markers and I do not like needles! We decided to re-ultrasound at thirty-four weeks to check for soft markers.
No soft markers were identified at my thirty-four-week appointment. To say I was relieved was an understatement. Down syndrome was off the table. Like my previous daughter, this baby was measuring small, so I had to go to the doctor's office every week to monitor her. Every week, she passed with flying colors.
When Scarlett was born, I hugged and kissed her. I told her I loved her. Then I passed her off to the nurse to be cleaned up. When the nurse handed my daughter back to me, I instantly noticed her cheeks were really red and big and her ears were teeny tiny. I looked at my husband and asked him, 'Do you think she has Down syndrome?'
I knew he would tell me to stop being dramatic and ridiculous. Instead, he looked back at me, glossy-eyed, and said, 'Maybe.' My heart sank. My husband is a doctor, so I knew his 'maybe' meant 'yes.' I asked the nurse if she thought Scarlett had Down syndrome. She unswaddled my baby, looked at her for three seconds before saying, 'Yes, yes she does.' My eyes filled with tears.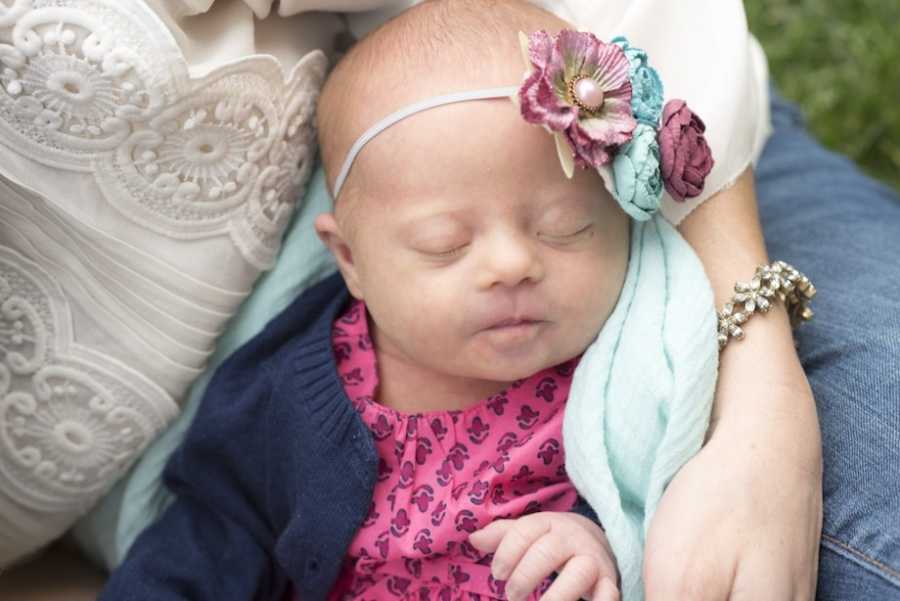 Although I was the one asking the question, I did not think I would be told yes. This news was completely devastating to me. I was overcome with fear and emotions. I worried about whether Scarlett was healthy. Fifty percent of babies with Down syndrome have a heart defect. I worried I didn't know how to take good care of her. I felt like my life, as I knew it, was over. Had I ruined her life by allowing her to have Down syndrome? Had I ruined the lives of her siblings? I did not know what her diagnosis meant for her life and our family's. I was afraid Scarlett's diagnosis would negatively change our lives forever.
My daughter was the first person I knew with Down syndrome. I had always heard Down syndrome was bad, but I was staring at this tiny baby, and she was perfect. She was cute and smart. We were instantly in love with her. How could Down syndrome be bad if someone so perfect has it? As I battled my preconceptions about her diagnosis, I also had to set the tone for my family. The day she was born, we all cried. The following day, some friends came to visit and really helped shift the narrative. They didn't need to see Scarlett's features that indicated Down syndrome. They just wanted to hold her and celebrate her. I realized Scarlett deserved more and deserved to be celebrated like her siblings. I decided there were no more tears allowed.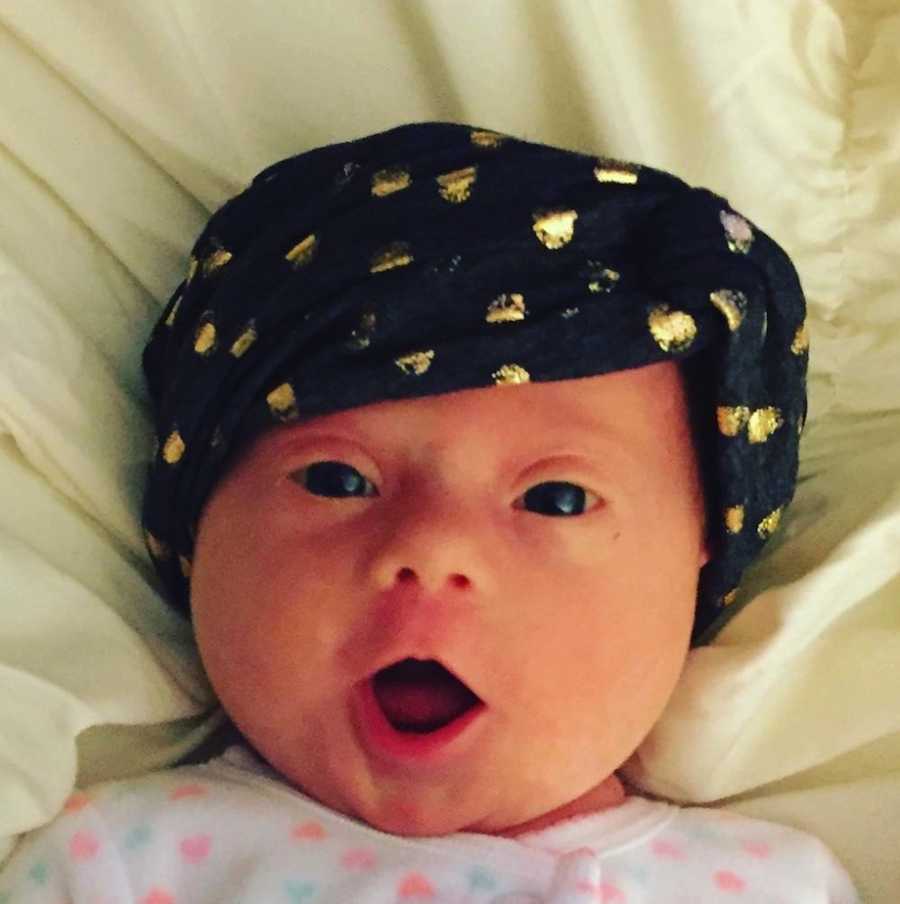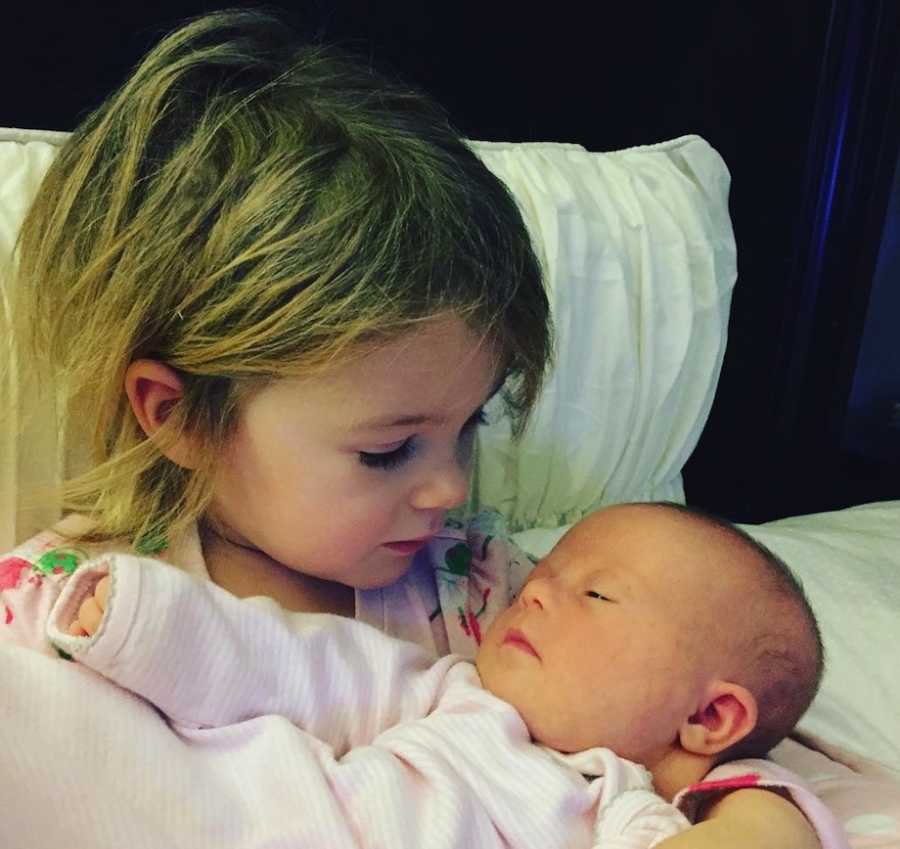 After spending some time with Scarlett, she did not seem like she had Down syndrome. When we went to her first doctor's appointment, I asked the doctor to point out Scarlett's characteristics that indicated Down syndrome. I secretly hoped she would not see any, but she did. She pointed to Scarlett's flat bridge nose and little pinky fingers with such grace. To her, these features were just facts. They did not make Scarlett any more or less valuable. That is when I realized the idea of Down syndrome that existed in my mind was wrong.
Down syndrome is not bad, it is just different. People who have a loved one with Down syndrome all know that it is not bad. I think it seemed 'bad' to me because it was unknown and the unknown is scary. My daughter, Scarlett, is not bad or scary. Yes, her body was made differently, but she is one of the most amazing humans I have ever met.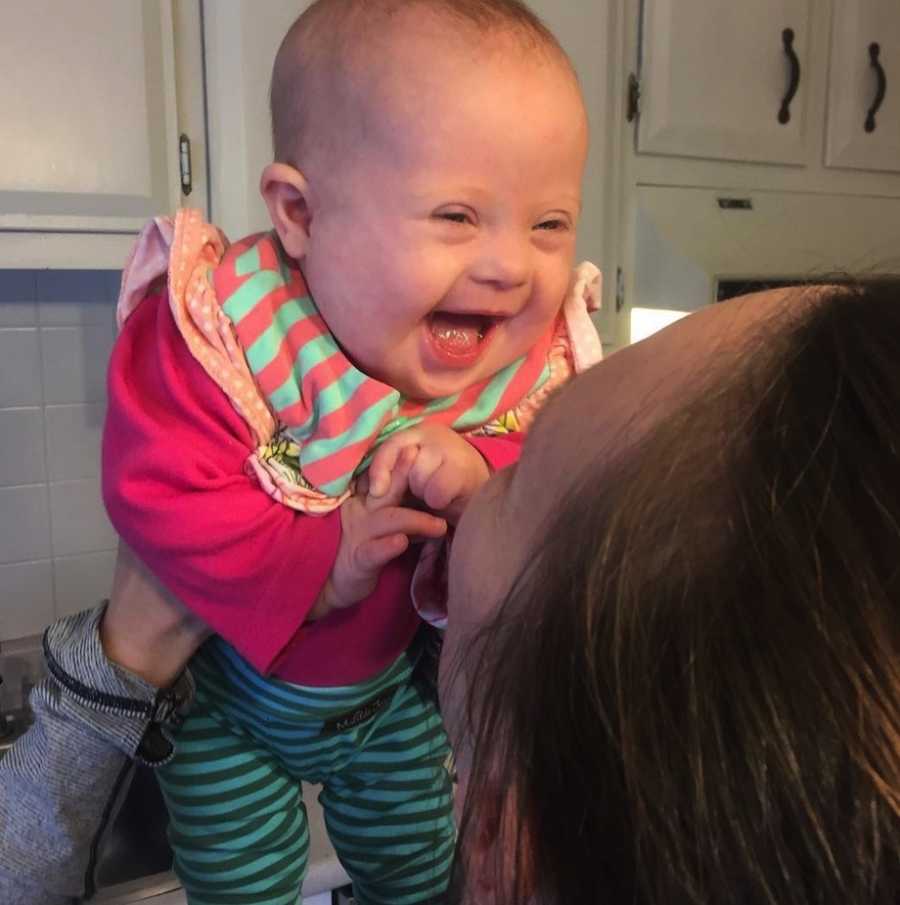 Most of my initial fears associated with Scarlett's diagnosis were out of ignorance. I feared it because I had not experienced a personal relationship with an individual with Down syndrome. Her diagnosis gives me more information about how I can help her reach her full potential. Her diagnosis does not change the value of her as a human. Scarlett has to work harder and longer to accomplish some of her goals because of how her body is made. However, she is not afraid to work hard.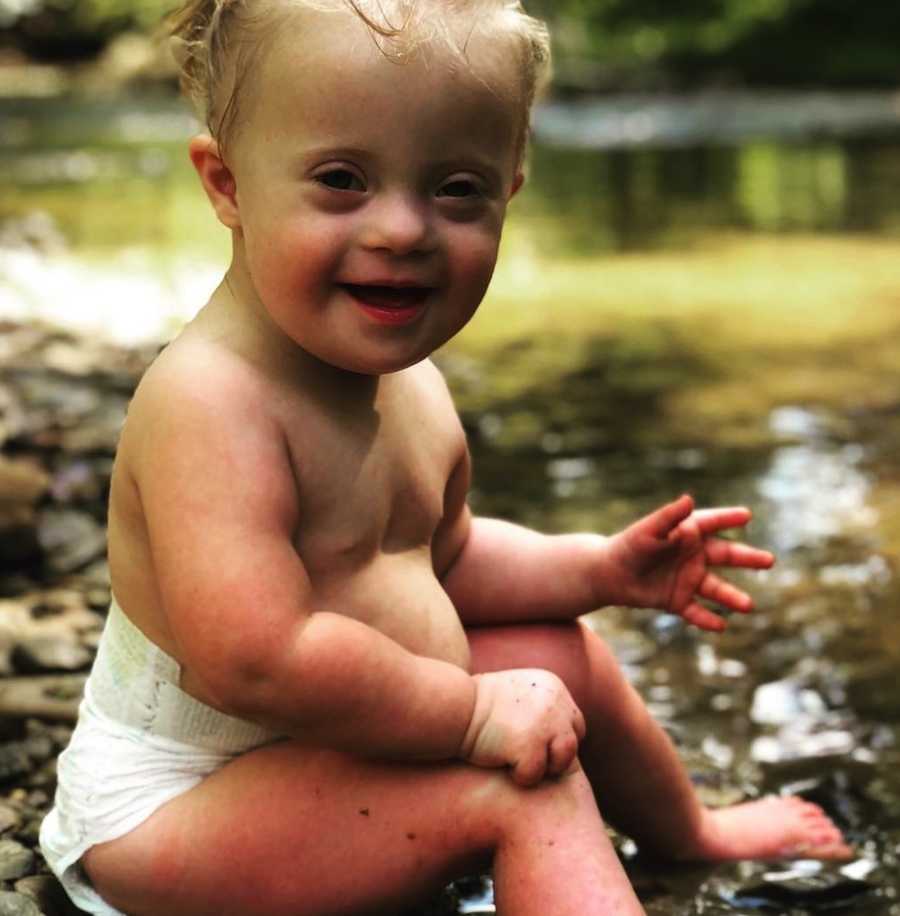 Scarlett has had physical therapy, occupational therapy, and speech therapy since she was six weeks old. Although it was at times exhausting making time for therapy, these early intervention services taught us so much about how Scarlett's body worked best and how to help her reach her goals. We have been in contact with our local Down syndrome association since Scarlett's birth. This association has not only helped us build friendships but also taught us how to advocate for Scarlett. Scarlett is followed by three specialists, along with her pediatrician. Yes, scheduling and keeping up with all of these appointments is difficult. Many things in life are difficult, and difficult does not equal bad. If we avoid everything in life that has the potential to be difficult, we would lead very dull lives.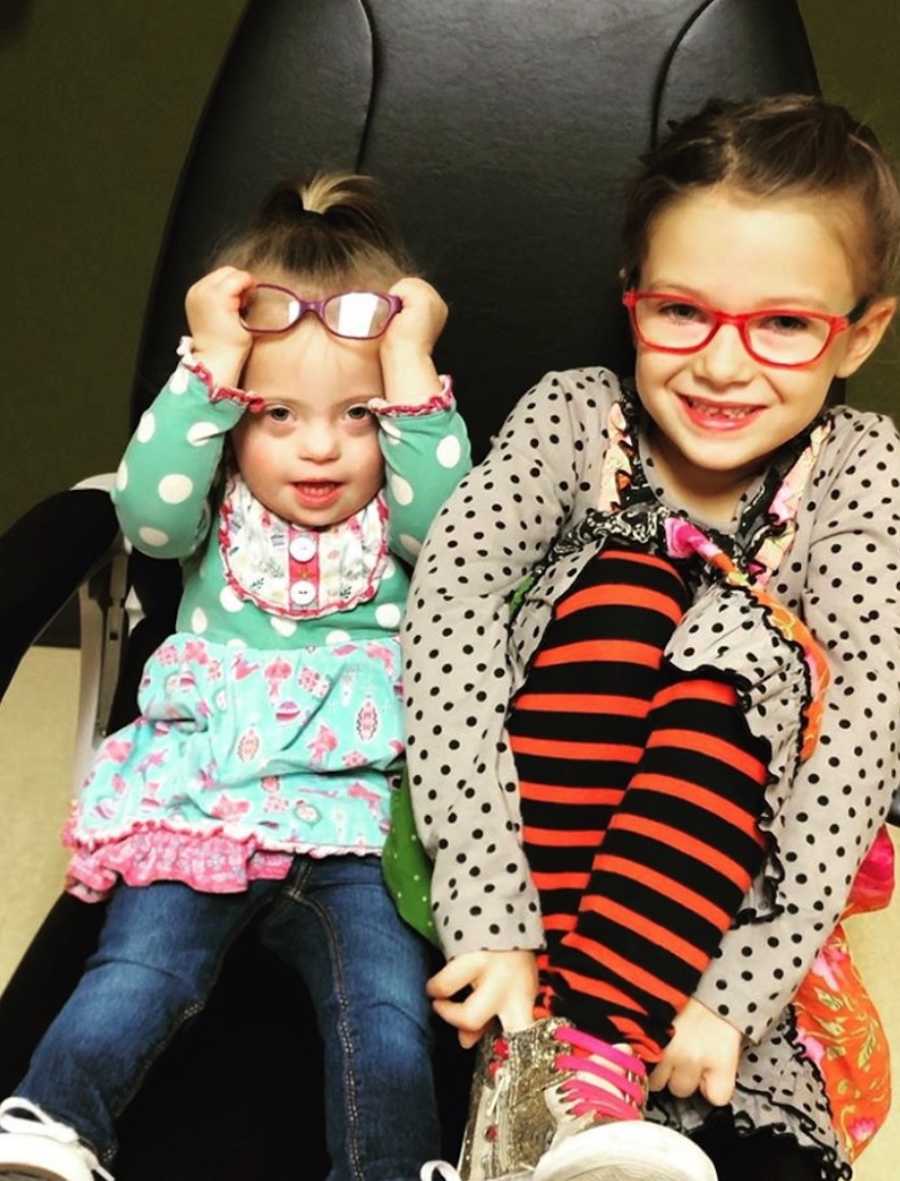 The world of different abilities is not new to me. My older brother has had a traumatic brain injury since I was seven-years-old. I did not see John as having a disability because to me, he was just John. When you get to know someone well enough, they become their name, not their diagnosis. This is one of my many goals for Scarlett. We are proud of her and instead of being 'the kid with Down syndrome,' I want her to be 'Scarlett who happens to have Down syndrome.' I want people to take the time to know her well enough that she becomes her name, not her diagnosis. I want people to see her and her abilities.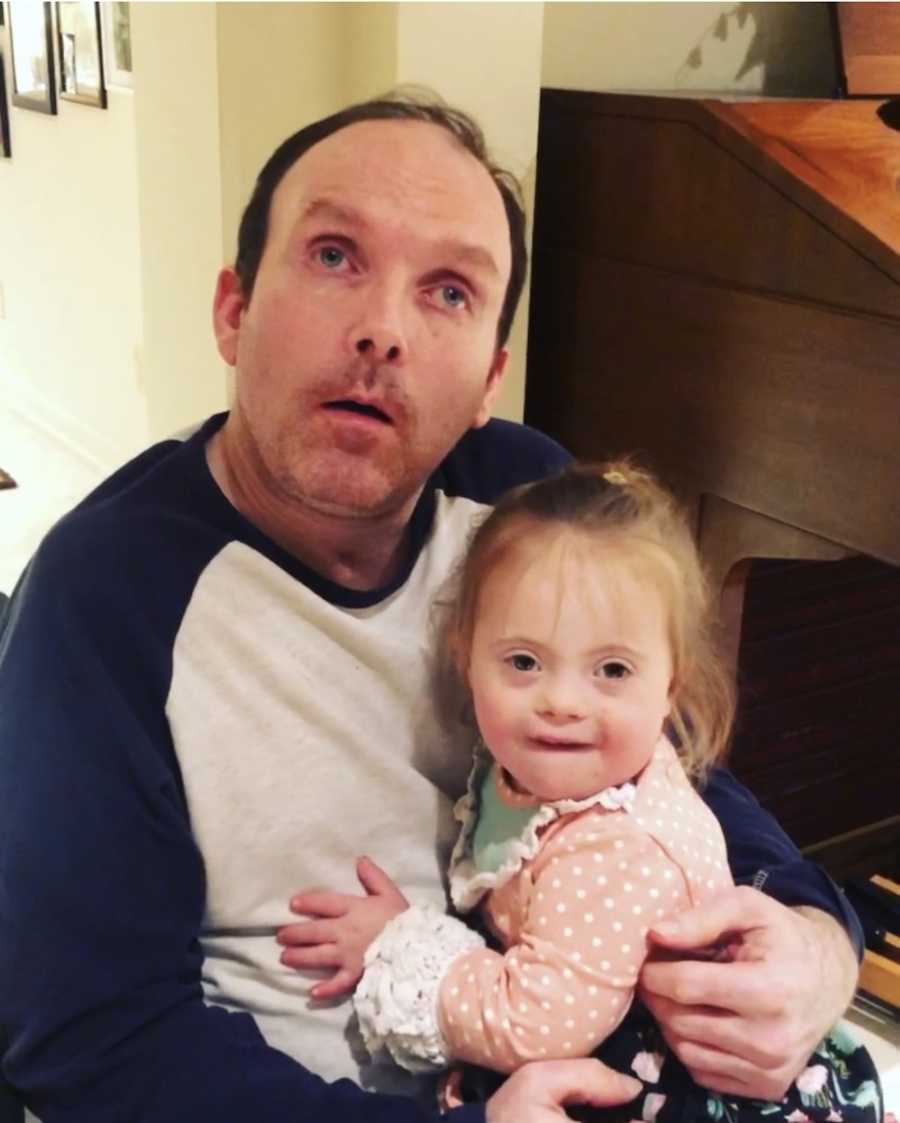 Scarlett is now three-years-old. She loves to play with her friends and siblings. She loves gymnastics. She enjoys going to preschool. Scarlett uses over one hundred signs and she knows even more. Scarlett can talk. She is practicing making her speech clearer in therapy. She loves playing on the beach and swimming. Scarlett is known on Instagram for applying her own lipstick every Tuesday, now known as 'Lipstick Tuesday.' Scarlett is smart. She knows her colors. She can count to ten. Scarlett makes me proud every day. She is a compassionate and loving human. We are truly blessed to have her in our family.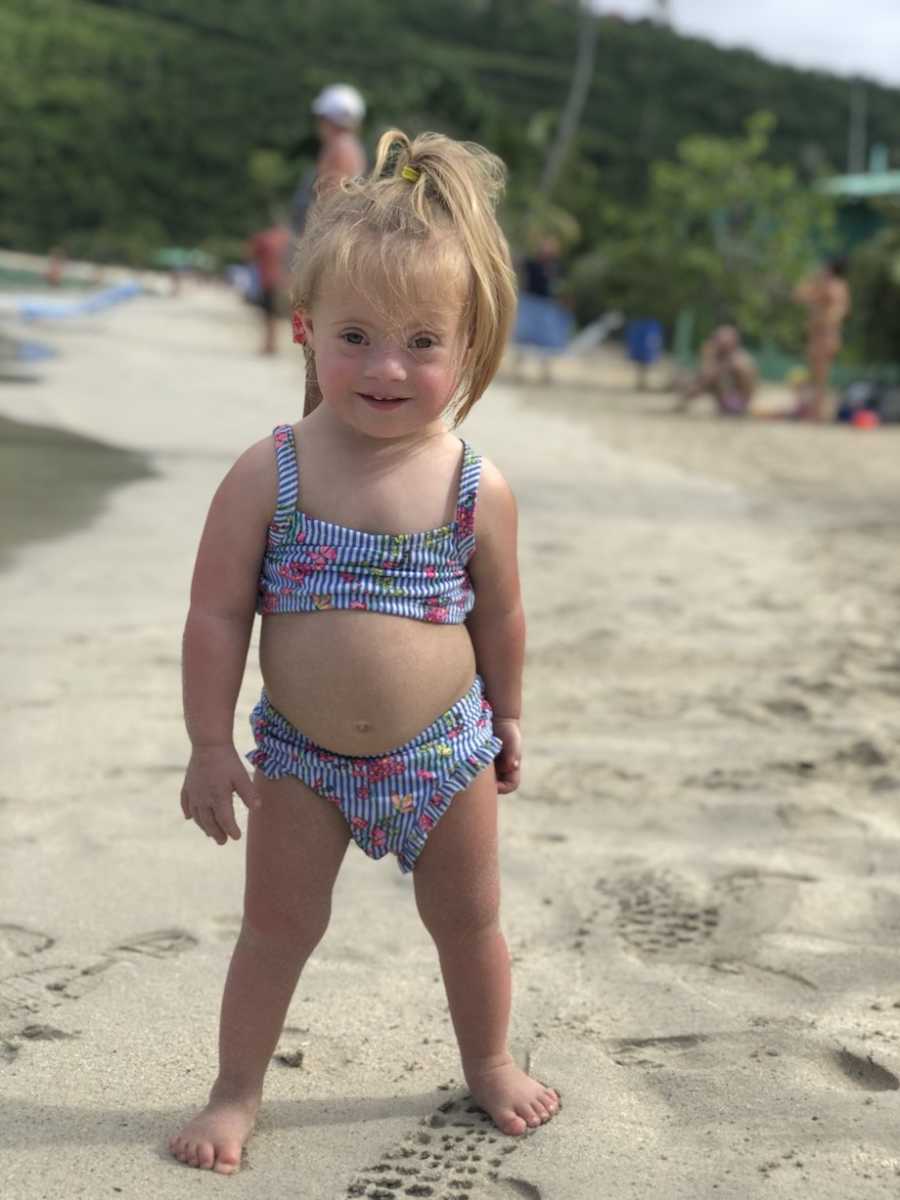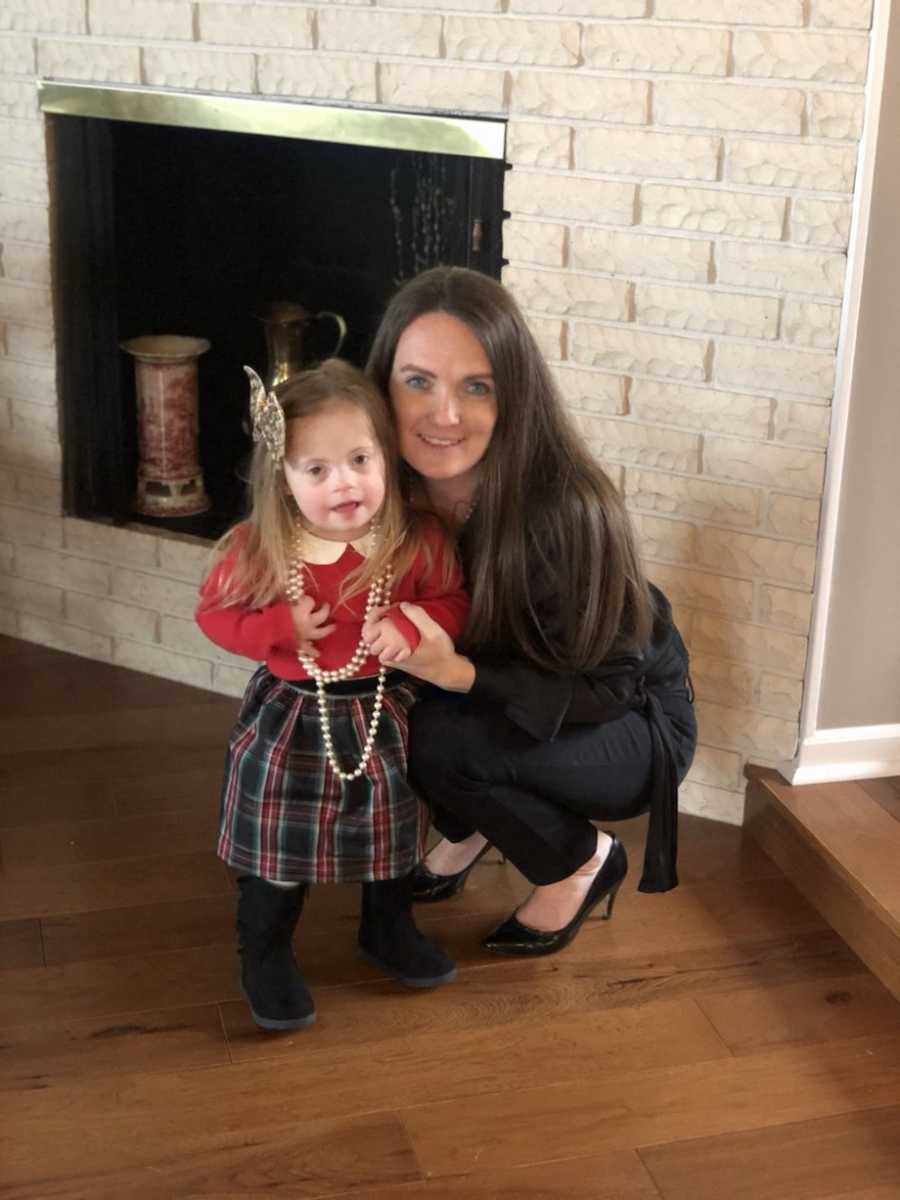 Scarlett has opened my eyes and heart. She has taught me more than I will ever teach her. Many people say she is lucky to have me as her mom. I think I am lucky to have her as a daughter. At her birth, I worried about how her diagnosis would impact our family. I did not foresee that she would teach her siblings sign language. I did not know she would make them more mindful and accepting of their peers who are a little different. I did not know Scarlett would make our lives richer and fuller because of her diagnosis. I was right in my suspicion that Scarlett would change our lives, and that change has been nothing but positive."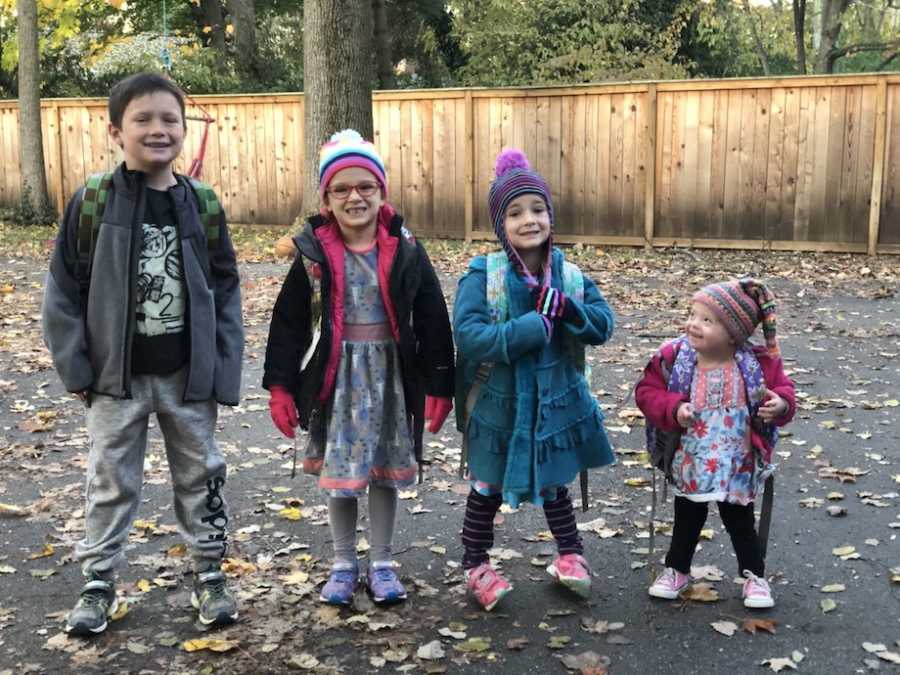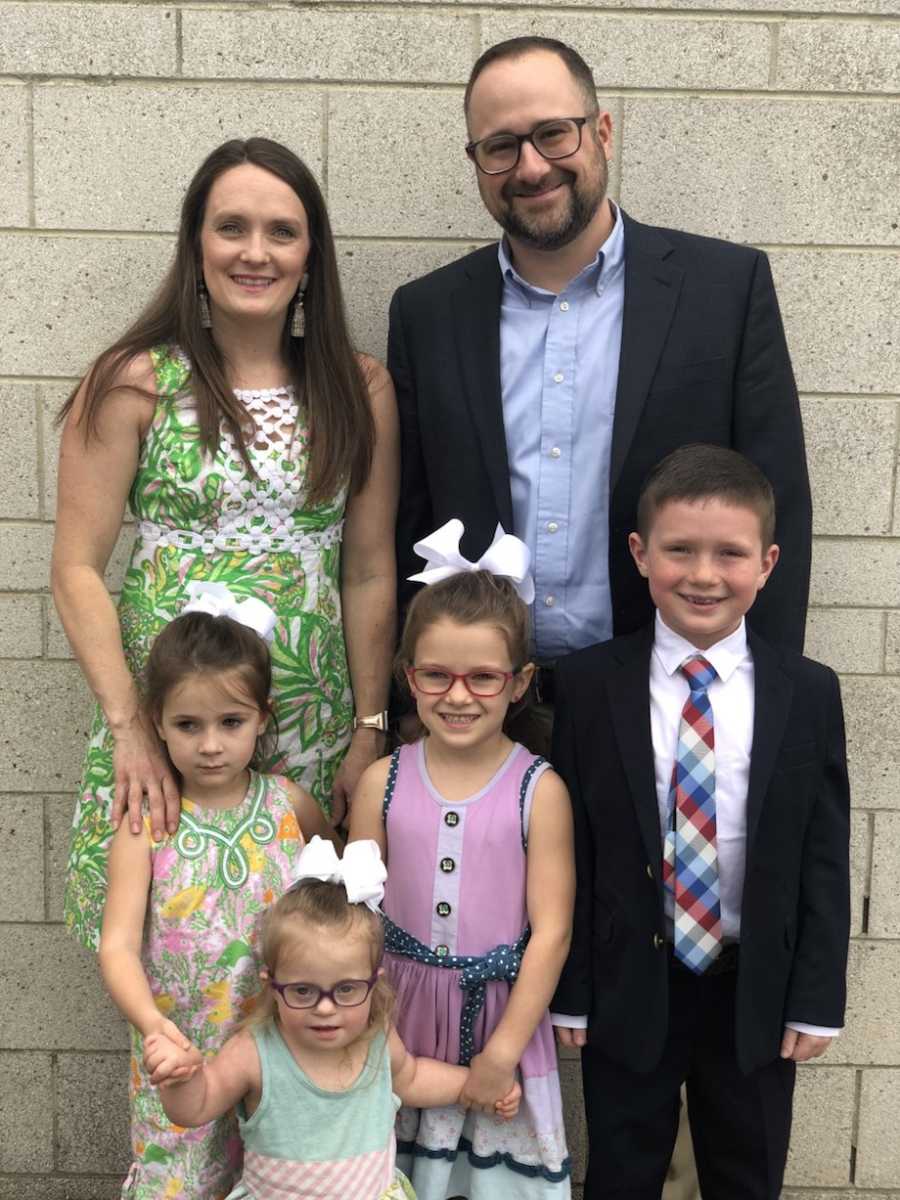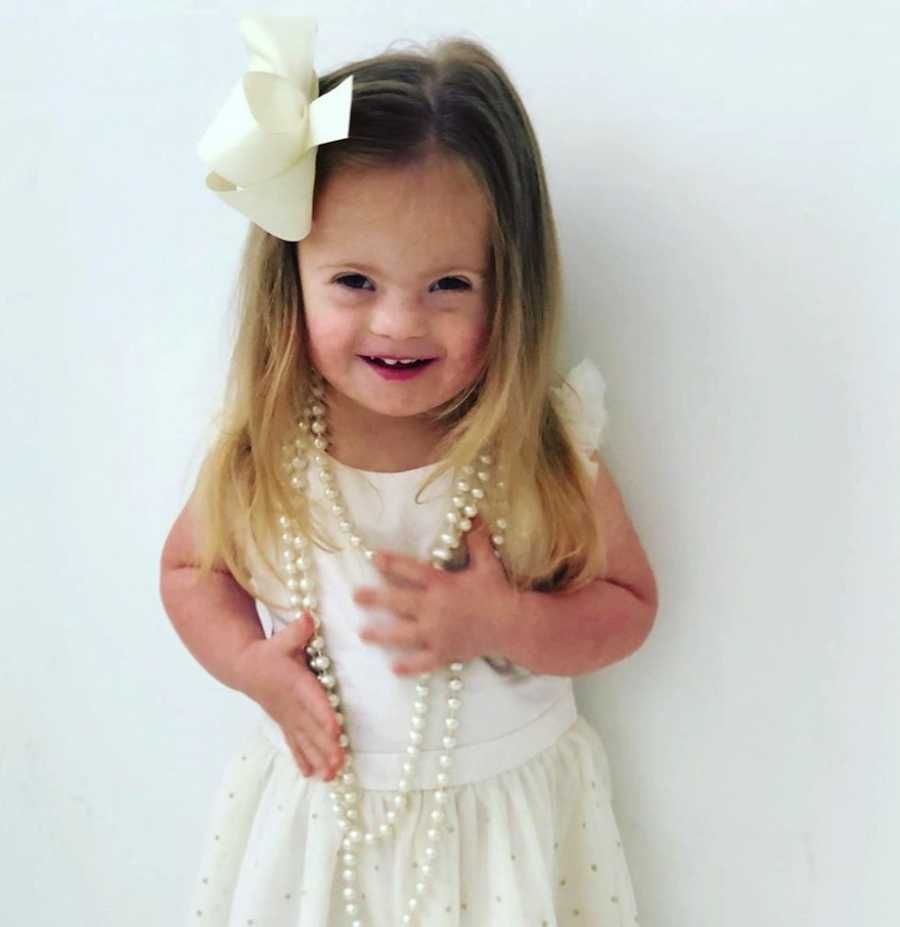 This story was submitted to Love What Matters by Laura Yost from Lexington, Kentucky. You can follow their journey on Instagram. Submit your own story here and be sure to subscribe to our free email newsletter for our best stories, and YouTube for our best videos.
Read more touching stories like this:
'I'm sorry, your son has Down syndrome. You have 2 weeks to make a decision…' Oh, my Grady, NO prenatal test could predict your heart of GOLD.': Mom celebrates the beauty of Down Syndrome in stunning photo shoot
'How could this happen? I thought things like this only happened to older moms or if it ran in your family.': Mom of Down syndrome baby finds community of support, 'She was made for us'
Do you know someone who could benefit from reading this? SHARE this story on Facebook with family and friends.