"'It's been 84 years,' as the famous quote from Titanic goes.  Our son Joshua has lived undiagnosed for 5 trying years.
When I wrote our article for Love What Matters just over a year and a half ago, our story last left off with us still searching for answers. We had been living with feelings of frustration and exhaustion, and at times we wanted to give up.
We were experiencing judgment from others who had never seen anything like our sweet baby boy before and doctors were hitting dead ends in their attempts to treat him. But through it all, I refused to give up or stop searching, because selfishly I wanted answers. And the chance of possible treatment options for his future was worth all the challenges we endured.
To recap briefly, Joshua, or Joshy to those that know him personally, was born a normal weight. From that moment on, he began growing in both length and weight. Among having some other health concerns and autism. My husband, Chris, and I have two older children and our instincts drove us to continue bringing our concerns up with his doctors. In the course of five years, we took him to countless doctors and specialists in multiple states.
I needed to keep a Google Doc to keep track of them all. Imagine explaining extensive medical history to specialists over and over. Having your baby weighed, evaluated, listing symptoms, and every visit concluding with the doctors not knowing. We began hearing the term 'Rare Genetic Disorder of Obesity.' But still had no official title. No solid explanation. Each doctor was essentially guessing on the best treatment options in the situation; treating him based on his symptoms. Joshua being 'undiagnosed' became part of our identity.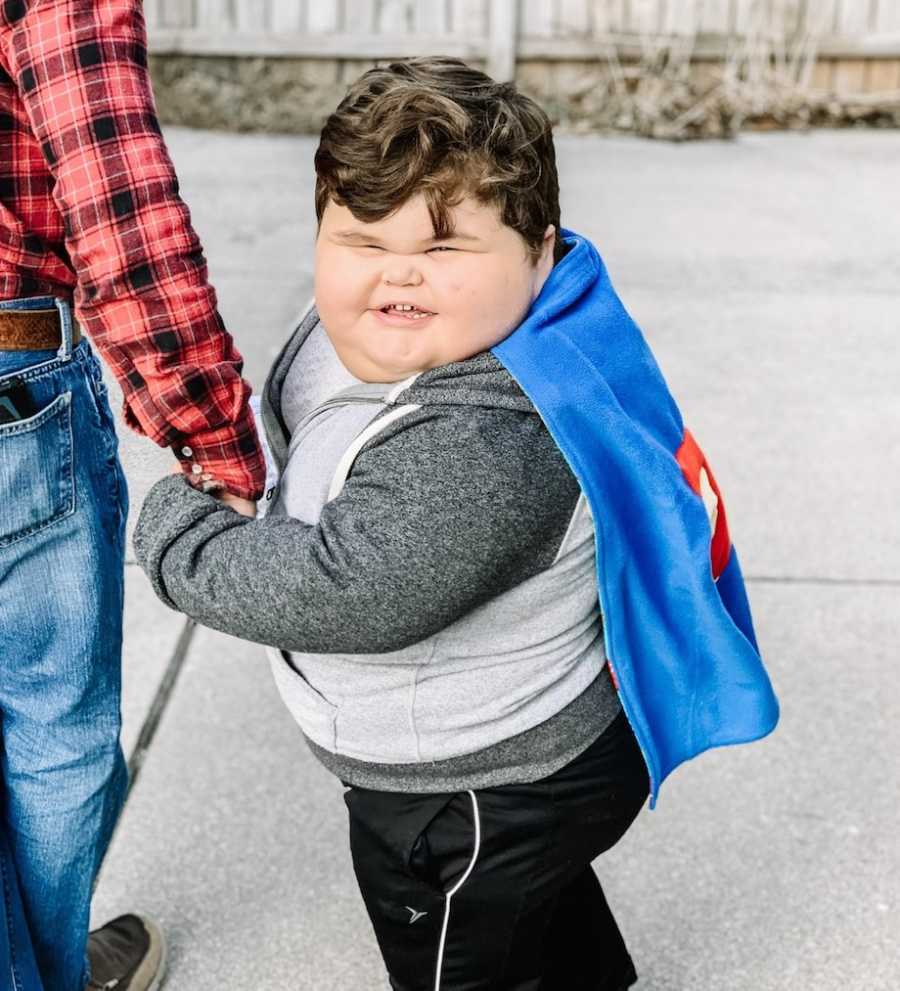 This journey has been exhausting at times.  And we have wanted to give up. Go off and live a quiet life, without sharing his/our story. Hid away where the anxiety is limited. But I have never allowed myself to fully give up because the feeling of a purpose-driven mission was too strong to ignore. The hope that we would at some point, even if it would be many years later, have the answers we were searching for, gave me the strength to continue. My prayer was answered in the winter of 2020 when I was invited to a Zoom meeting with a research group that literally changed our lives.
Consequently, we were invited to take Josh for a research case study. In April of 2020, we excitedly and apprehensively drove 8 hours one way to Marshfield Clinic in Wisconsin.  There we had nineteen appointments in four days including lab work, tests, evaluations, and doctor consultation. Each doctor evaluated Josh head to toe, asking questions along the way.
They each gave suggestions for his care, things we could do at home, and/or things his doctors at home could assist with/order. We experienced light bulb moment after light bulb moment. In wonderment over things they brought to our attention. Some of the things we had noticed about Josh but had no idea were connected to his disorder. From small things like the structure of his body to common behaviors he displays. Ultimately each evaluated whether Josh fit the condition based on their specialty.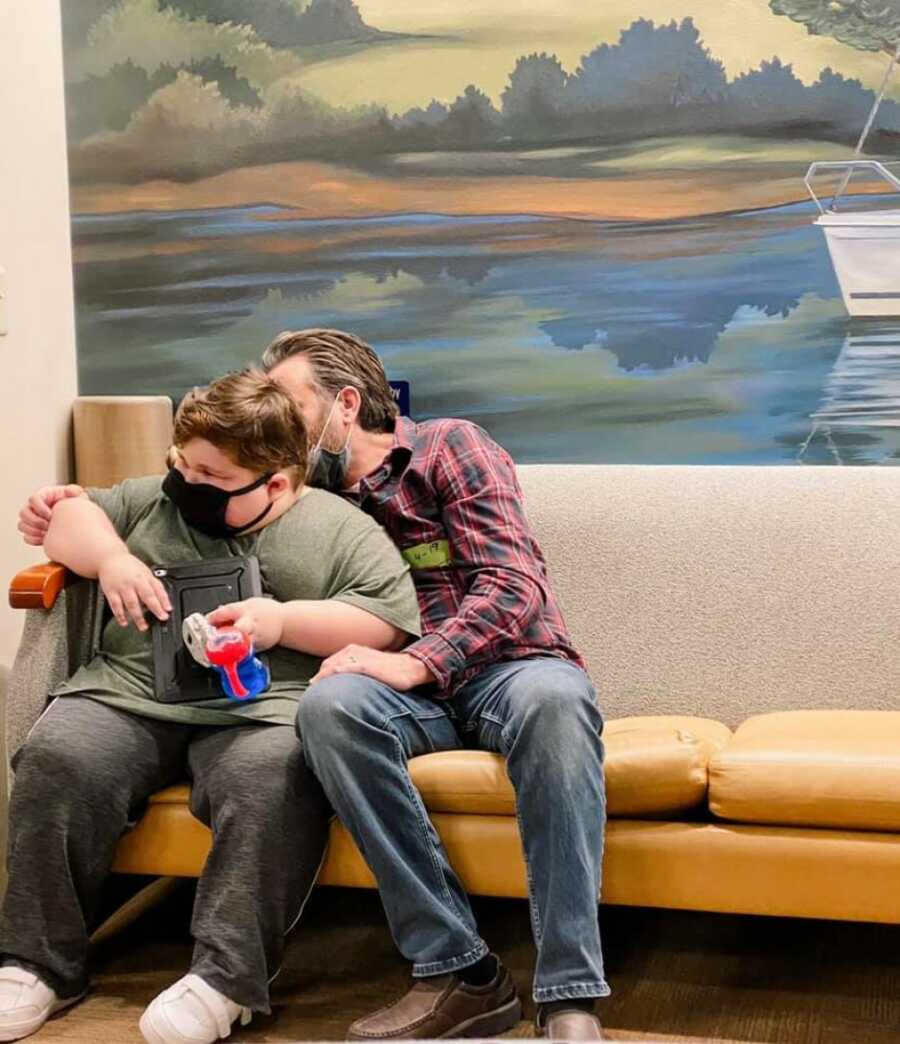 The entire visit was cloaked with hope, recognition, and comfort. The very last appointment was with the leading specialist on Bardet Bield Syndrome in the United States (if not, the world). An amazing, soft-spoken man. His presence brought calmness into the room. Looking beside me in slow motion as my husband broke down – tears of thankfulness – we knew we were finally in the right place. This clinic understood our baby boy.
He, the specialist, went through each appointment in detail. Giving an overview of each specialists' findings. We left that day without a firm conclusion to our journey. We'd need to wait four weeks for genetic results. Floating on the surreal feeling of acceptance and understanding for the first time in Joshua's life, we posed for a photo in the hospital lobby and said our goodbyes.
During the trip, we learned a great deal we didn't know before. Having thoughts and feelings that had weighed on us for years validated. The experience of going from five years of always feeling out of place to a sense of belonging in four days, literally still brings me to tears. Whether we left the clinic with a diagnosis or not, we now had a care team for our boy. And an online community that embraced our family in the process.
Somehow, we weren't tired afterwards. Driving home, we felt lifted with gratitude. Weeks later, I received a call from the main specialist giving devastating yet somewhat expected news that the genetic results were once again inconclusive. I was crushed. Processing many emotions from the four days of our trip, and the five years leading there. It is common for special needs parents to experience the steps of grief and even PTSD symptoms. We had felt this before especially after an important evaluation or doctor's appointment. My mind was going over what had happened at the clinic, what needed to be done, what could happen next, and all the emotional complexities of having a child with a chronic disorder.
This journey is often a roller coaster of emotions and can lead to caregivers wanting to give up on their search. A month or more passed when one day I went to grab the mail to find a surprise letter that took me off my guard. I immediately scanned the letter with my phone app and emailed it to his primary care pediatrician, asking, 'Am I reading what I think I am?' Literally in shock, after 5 long years- over 1826 days – I was holding a letter that confirmed Joshua, our boy, has Bardet Biedl Syndrome.
While our journey certainly doesn't end with a diagnosis, Joshua will now be able to receive specialized care. We will travel to the team in Wisconsin once every two years for follow-ups, treatment overview, and case evaluation. My hope is to continue sharing our story to help advocate for Josh and others like him. As the high of research on these disorders is happening around the country and other parts of the world, there has never been a more important time to spread awareness.
There are suspected to be ten times as many people living with Bardet Biedl Syndrome than those diagnosed in the United States (a mere 300!). The more doctors and individuals have knowledge of this disorder and seek testing, the more help and treatment options will become available in the future. I am very uplifted that sharing our story helped bring awareness to Josh's conditions and others like it. I pray that those reading will share kindness, and refrain from judging others upon appearance. We also hope that this helps encourage those that may be living with a Rare Genetic Disorder of Obesity, or caregivers for someone, to speak to their doctor and seek testing."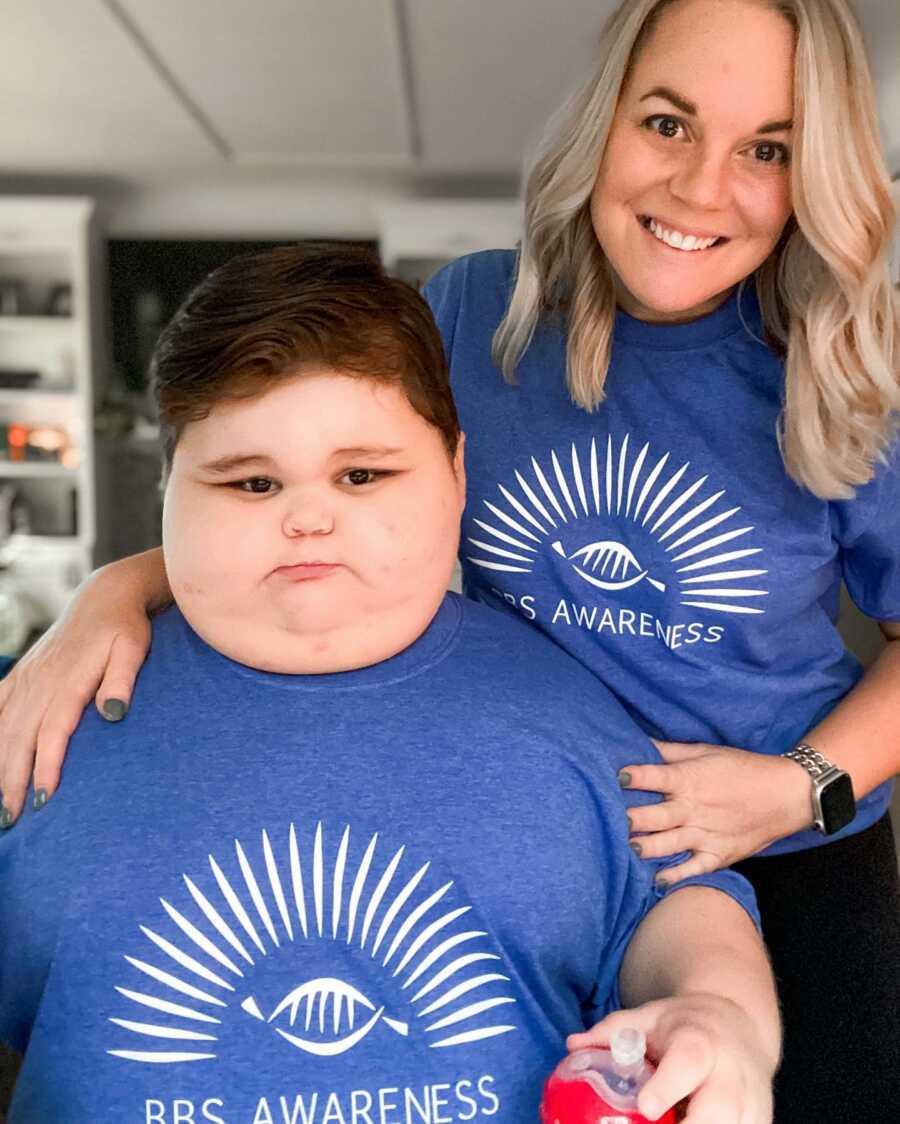 This story was submitted to Love What Matters by Molly D'Angelo from St. Clair Shores, Michigan. You can follow their journey on Instagram and Facebook. Do you have a similar experience? We'd like to hear your important journey. Submit your own story here. Be sure to subscribe to our free email newsletter for our best stories, and YouTube for our best videos.
Read more stories from Molly here:
'At 10 months old, he weighed over 35 pounds. I began keeping food logs. 'Does this justify the weight gain?': Mom births baby with obesity disorder, autism
Read more stories like this here:
'No one stops the wheelchairs, the elderly, or those with physical markers of disability. Just our family.': Mom of 2 kids with autism shares PSA on traveling
'The entire night he gleamed from ear to ear.': Community rallies to include boy with autism, rare diseases in school marching band and make his dreams come true
Dear Autism, Thank You For Showing Me Different Can Be Good
Help us show compassion is contagious. SHARE this beautiful story on Facebook with your friends and family.