Pregnancy Journey
"The decision to have our 8-year-old daughter in our hospital room while I labored and gave birth to her sister Summer was an easy one to make. At 8 years old, Brooke was about to witness her second birth.
When Brooke was 3 years old, we surprised her with an ultrasound picture telling her that in about nine months she was going to be a big sister! I curled her hair, put some lip gloss on her, a pretty dress, and we went to a big field of grass nearby where I snapped some pictures of her holding a chalkboard that read, 'I'm going to be a big sister!' We posted the pictures on Facebook and told all of our family, we were all so ecstatic!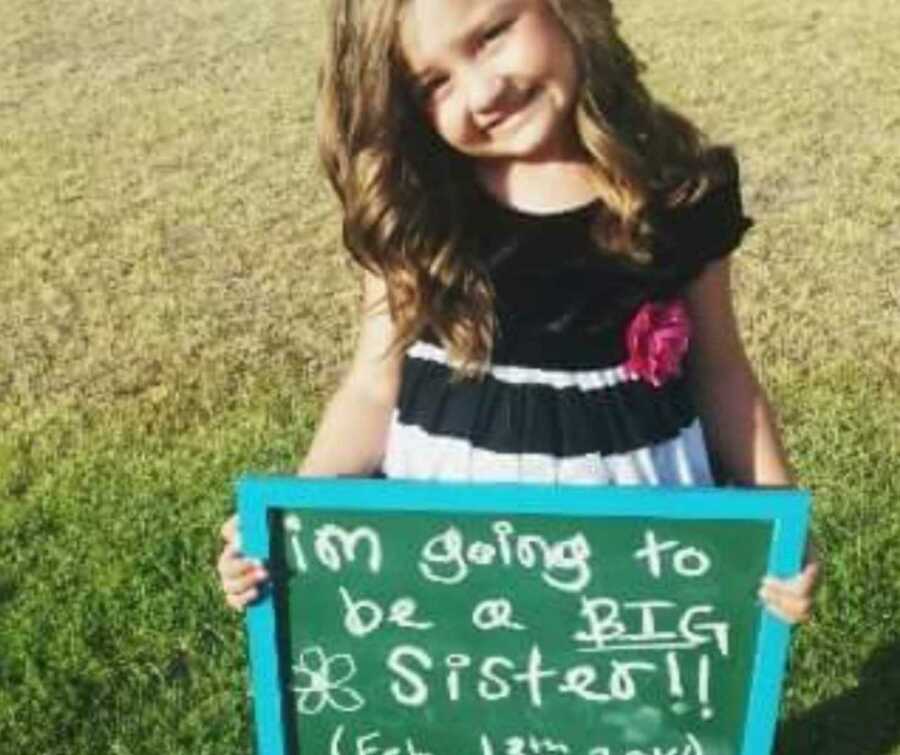 A couple of weeks after telling our daughter and announcing our pregnancy, I sadly lost the pregnancy. Brooke was absolutely heartbroken. She cried so hard and didn't understand why. 
As her mom, I told her that God decided to keep the baby with him and that the baby was too precious for the earth. That seemed to help her find comfort in the loss. 
Throughout the next four years, I went through two more miscarriages. Together, her dad and I decided not to tell her of the other two as we didn't want her heart to be crushed again.
In 2015, I got yet another positive test. The due date was Christmas day! We held off on telling Brooke right away but once I was far enough along, we surprised her with the news. 
It was hard to not worry that something might go wrong but we kept our faith and hope that God would bring us a beautiful healthy baby. The time came in January (past her due date) that Ellie was born! We explained the process to Brooke, how things work, where babies come from, and that I would be in some pain but that it's all normal. 
She decided to stay in the room with us while her sister Ellie was born on January 3, 2016. Their bond as sisters was immediately one of a kind!
In 2017, we got yet another positive pregnancy test. We found out that baby #3 would be girl #3 for us. 
She would be named Summer Tatum! Three girls, just like my mom had. I was so excited to have them be able to experience the type of friendship I have with my two sisters.
Labor And Delivery
Towards the end of my pregnancy, Brooke brought up being in the room again while I labored and while Summer was born. I had a great idea that she could not only be there but would be able to cut the umbilical cord! 
She liked the idea and at my next appointment, I brought it up to my midwife. She said Brooke could even help deliver and catch the baby! The smile that drew up on Brooke's face was pure excitement!
I prepped Brooke by explaining the positioning, where she could place her hands, that the baby will be slippery, and that there will be a lot of blood, but that it is all normal.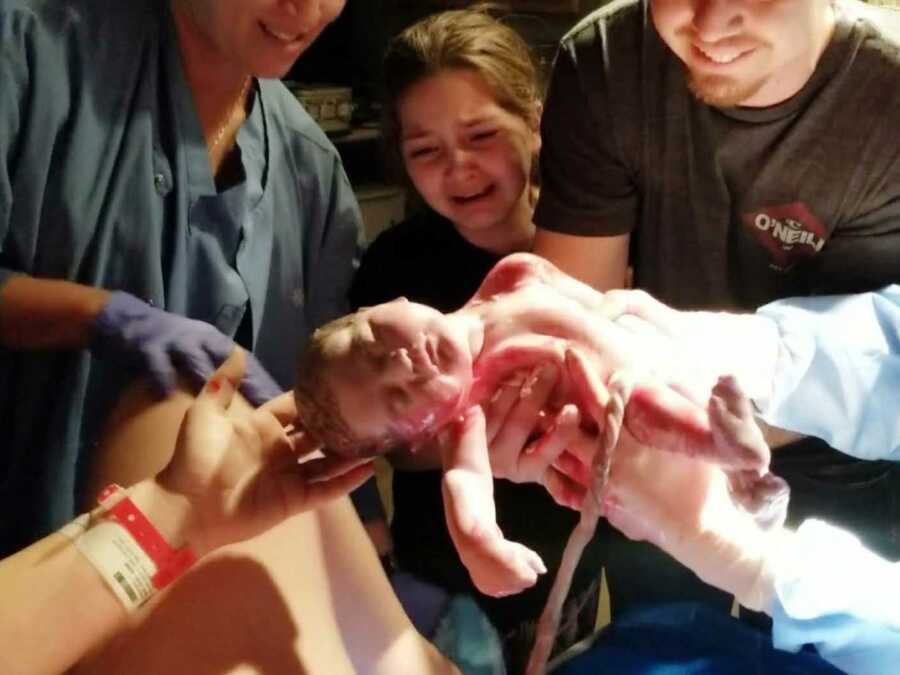 My due date (also Christmas day like Ellie's was) had come and gone (like Ellie's did) and I ended up being induced via foley bulb on January 7. I labored for 36 hours from start to finish. 
Brooke helped me so much! She massaged my feet, would rub my head, we danced together to the beat of the baby's heartbeat on the monitor… We had fun and she was so helpful and sweet the entire time.
When it came time for me to push, it all happened very quickly! Brooke stood next to her dad by my feet, watching in pure happiness and amazement! You can see the overwhelming love on her face. 
She touched the baby's head as she was crowning and giggled a little. The midwife and nurses were telling Brooke just how brave she was for doing this. 
I pushed two times and the baby's head popped out. Brooke prepared by putting her hands with her dads to help catch her newest baby sister, and about one minute after her head came out, so did her sweet little body. Brooke melted!
After they placed Summer on my chest, I looked over to see Brooke just crying! I asked her if she was okay and she stumbled through tears when she said, 'Yes! She's just so perfect!' And she was — this all was. Our family was right where we all should have been.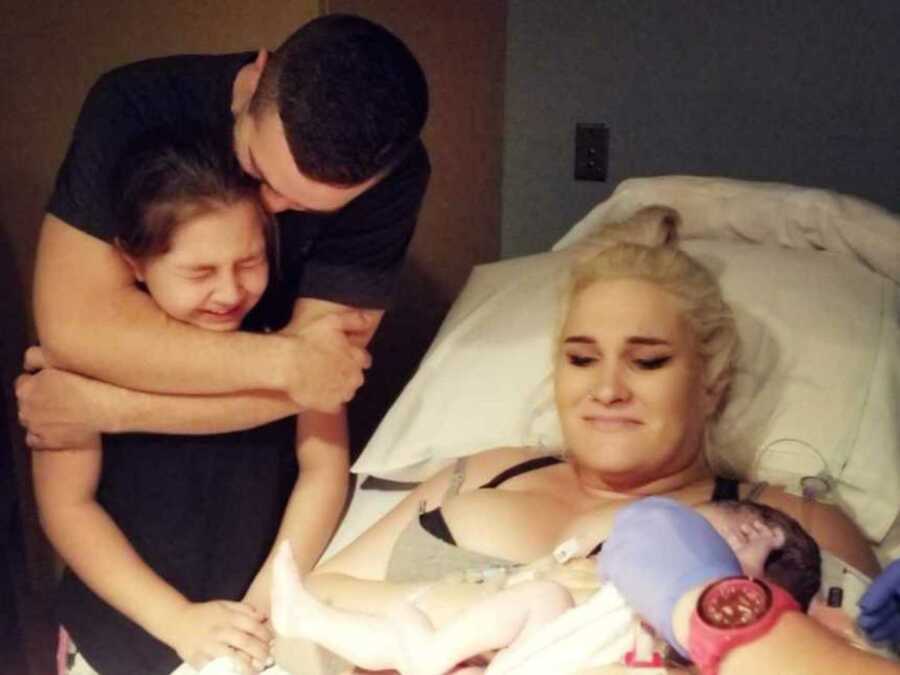 Delivery Reflection
When I asked Brooke how she felt being at the birth of her sisters and if she learned anything, she said, 'It was really cool being there. I think it made all three of us (her and her two sisters) have a very close bond. I learned how to help expel the placenta from the abdomen and I also realized when I grow up I want to be a midwife.'
We don't plan on having any more children, but if we did, Brooke would absolutely be there catching the baby again.
Brooke witnessing such an amazing, natural experience such as a life being born is something she will never forget. At 8 years old, Brooke shows her strength, her love, and her wisdom that is well beyond her years. 
As a big sister, she will always hold being at both of her sisters' births close to her heart. And as her mother, I'm proud to call her my daughter."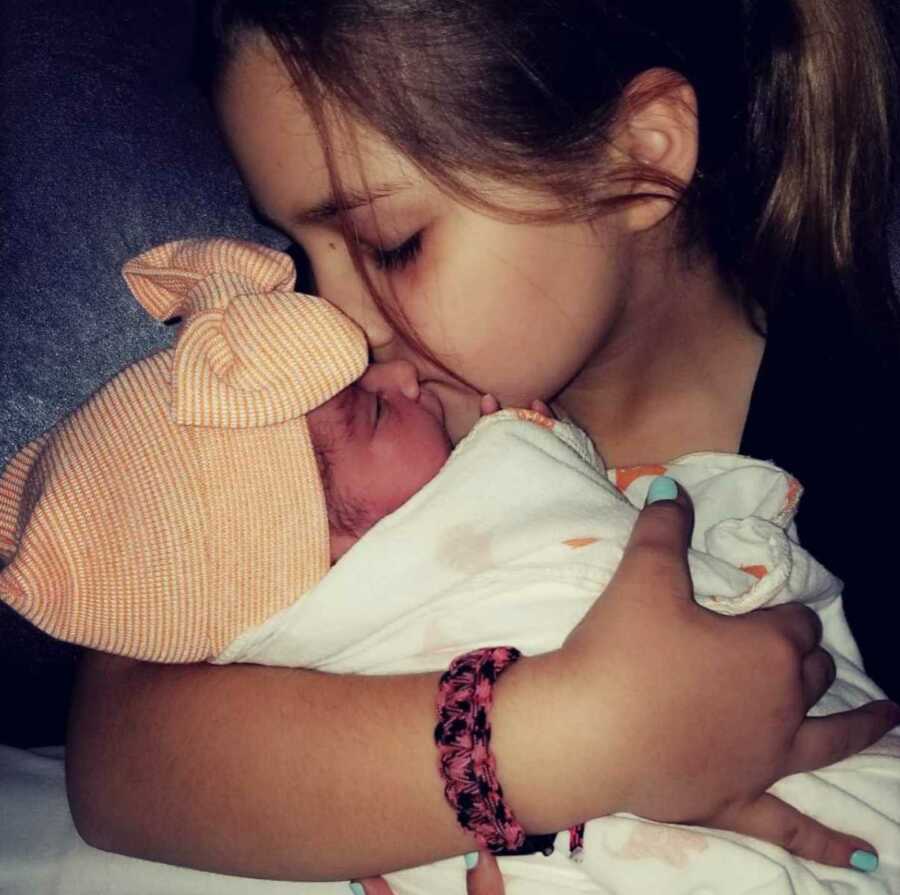 This story was submitted to Love What Matters by Kelsey Davis of Gilbert, Arizona. Join the Love What Matters family and subscribe to our newsletter.
Read more stories like this: 
'This was not my plan, but I put on a smile and prepared to meet my daughter.': Mom shares intense labor and delivery story
'The ultrasound tech said, 'I've seen cases with maybe two other sacs, but never 6.': Woman births rainbow baby after miscarriage with help from 'guardian angels'
Please SHARE this story on Facebook to encourage other parents to cherish these moments.