"Society…
If you want us to 'enjoy every minute' of raising our kids 'because it goes so fast,' to make sure we 'soak it all up, they're only little once…'
Then HELP US.
We are not super moms and dads.
We are tired parents who were once vibrant humans with hobbies and interests and relationships.
Which we rightfully know change once having kids.
While we would all love to live in full-time help…
Honestly, the smallest acts feel so huge in this season.
A meal dropped off every once in a while, the mental load of feeding babies/kids/ each other is bigger than we ever expected.
An offer of babysitting so we can go on a date night because we've heard that's a good idea when your marriage is straining under the pressures of raising small kids.
If our lawns are a mess or our kitchen's a pit, don't ask if you can help, just help because honestly, we're just embarrassed that this is how we live/cope right now.
If there's washing in a pile, it definitely needs folding, and if the sun's out and the machines full of wet clothes, we've absolutely forgotten and would love it on the line.
If you notice all we ever talk about is our kids, it's probably because we have forgotten who we were before them.
Remind us of the fun, happy people we still are underneath the sea of kids toys and mess from one end of the house to the other.
If we do ask for help, please say yes (lol) but also if it's a no, let us down gently…don't make a big deal.
It took so much for us to swallow our pride and ask, our egos are fragile, raising kids is kicking our butts.
We were such amazing parents before we actually became parents.
And if you've got your own lives, because of course you do, at the very least a pat on the back and a reminder we are doing our best is sometimes.
The encouragement we need because we definitely think we're either failing, screwing this up, messing up our kids forever, or all three.
Please repeat the above, forever, until our kids have left home after which time we will gladly take over the reins for the next generation of parents, who will be just as in love with their kids but overwhelmed and in need of encouragement/support.
Love, all the tired parents x."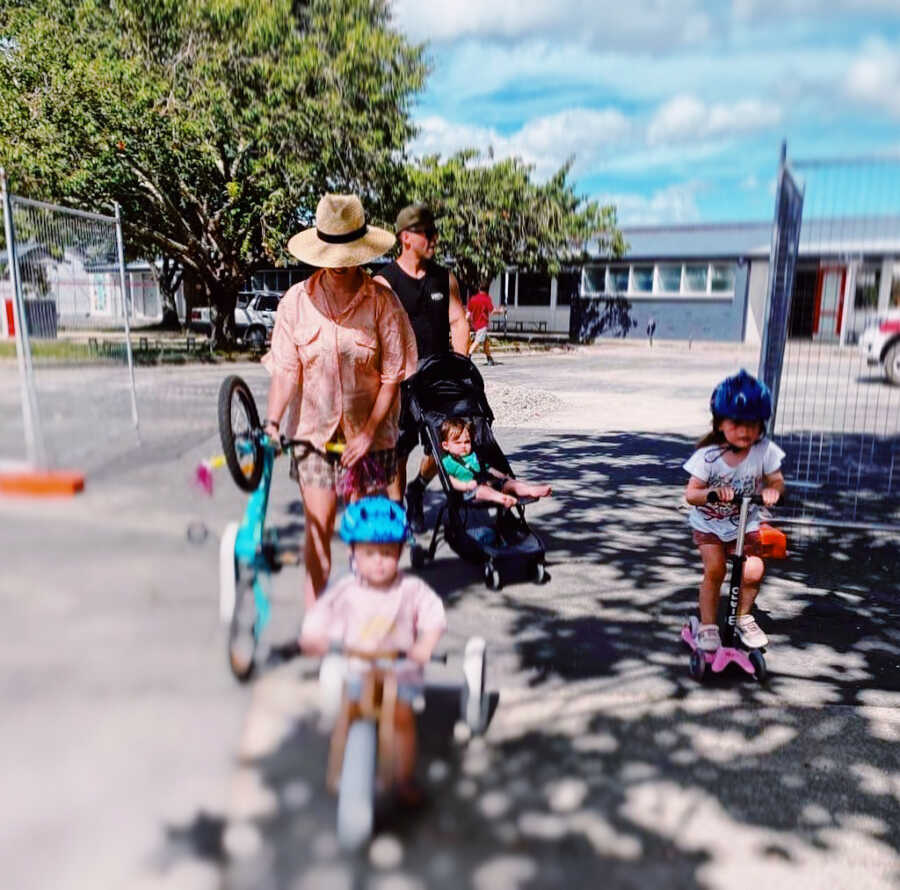 This story was submitted to Love What Matters by Hannah Findlay. You can follow her journey on Instagram. Submit your own story here and be sure to subscribe to our free email newsletter for our best stories, and YouTube for our best videos.
Read more stories about parents here:
'If a mama's house is messy, she picks up constantly. If her child misbehaves, she's exhausted every resource to help him. And if she says 'no,' her plate is full.': Tired mom urges 'assume the best of a mama, she needs your support'
'College essays. Refereeing kitchen cleanup so much you should wear stripes and a whistle. The adult wounds you can't fix with bandaids and blankies.': Tired mom of teens says 'I wouldn't have it any other way'
'Late-night milk run, huh?' I was standing in front of a tired momma in Target just before closing. 'Go get that precious baby to bed. I got you.': Woman shares act of kindness for stranger
'Don't wait until she tells you what to do. Don't wait until the dishes are piled up. By the time she asks for help, she's already gasping for air.': Woman pens letter from 'tired moms everywhere'
Do you know someone who could benefit from this story? SHARE this story on Facebook with your friends and family.