"My father never once tossed a ball with me. But he did take me to see Mildred Pierce.
There was a time in my life, about 6 years, when my father and I lived by ourselves. This was in spite of the fact I am a part of a very large family. My siblings had all gone off to college or begun their lives, my mother had begun a new chapter on her own, and Dad and I suddenly found ourselves alone, together.
Dad had not counted on raising a lonely teenager by himself. In truth, we knew very little about each other and didn't even have a shared language. I remember Dad, a microwave engineer, coming home to dinners and asking him about his day. I would get a long discussion of RH frequencies, wave modulations, oscillation, deltas, and gammas. For my part, I am sure I offered the typical conversation of a teenager, eye rolls and sighs.
Dad decided every Saturday, we would together do one thing of my choosing, whatever I wanted to do, no questions asked. Though I eyed this emotional Trojan Horse suspiciously, I took him at his word. We took regular trips into Philadelphia for the Art Museum (he was there when I first discovered the Japanese tea house, an impossible and thoroughly sensible structure), the Graff House, or the Atwater Kent Museum.
One weekend I circled a double bill of movies at a repertory cinema on the Penn campus:
Mildred Pierce with Joan Crawford. Jezebel with Bette Davis.
To this day, I do not know why I wanted to see these movies so much, but to his credit, Bill Whistler didn't bat an eye at escorting his 14-year-old son downtown to see two camp classics. I was enthralled. The high drama of the movies, the style, the tough-as-nails writing. But sitting in the audience, I was also aware others were smirking at the movies, or saying favorite lines aloud, out and out laughing when Joan Crawford slaps her daughter, the insolent Ann Blythe, across the face after she snarls at her:
'My mother…the WORKING WOMAN!'
I didn't see the joke…yet. I wouldn't for years: I simply didn't have the language to know what it was I saw in those movies. I don't know if my father saw the joke either, or just smiled his smile and ran crossword puzzles in his head. But instead of leaving me alone in the theatre, or stopping me from going, he sat there and let me start fumbling over the basics of what would become my own language.
As the years went by, I learned the language well, and always was able to share what I was learning or what I was fascinated with my dad. There is a somewhat gushy and embarrassing memory of sitting him down to play the entire album of Follies and explain the plot…
He never made me feel self-aware. He never made me embarrassed. He smiled his smile and listened. He let me find my own language, my own voice. He taught me self-worth, curiosity, courage, kindness, and pride—and in doing so, taught me what it was to be a man. When I learned enough of the language to be able to say to him I was gay, and I saw different things than he did when I looked at the world, I got the same smile, and the same 'no questions asked.'
He said one thing to say to me when I came out. 'I've always believed in Love. Full strength.'
Thank you, Bill Whistler, from a very grateful son."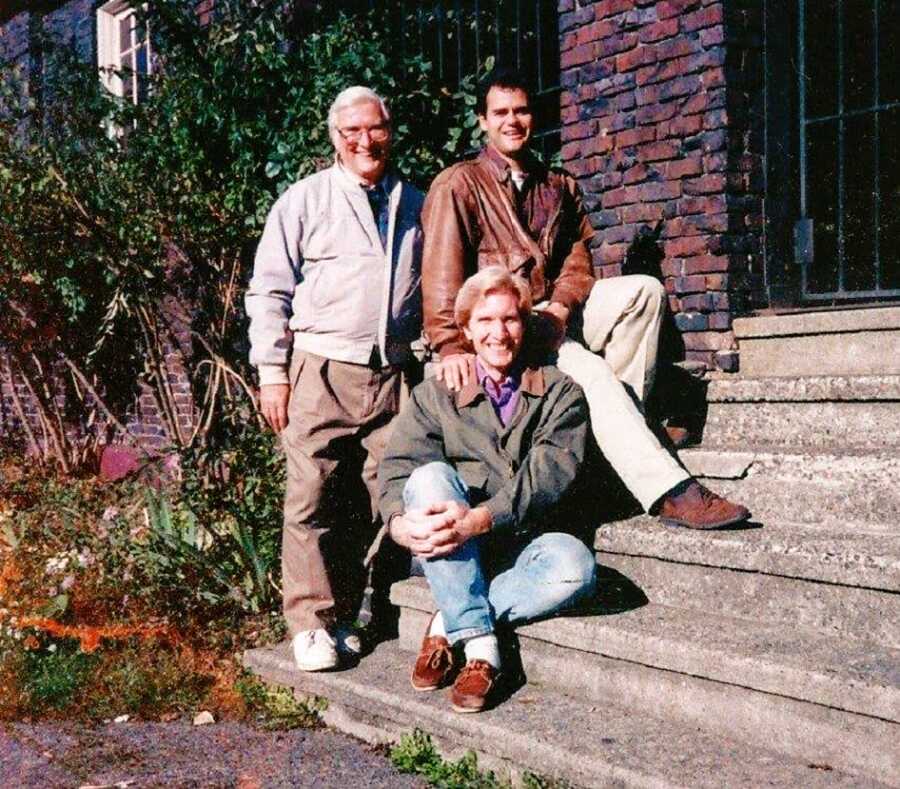 This story was submitted to Love What Matters by Michael Whistler of Minneapolis, MN. You can follow his journey on Facebook, their website, and blog. Submit your own story here, and be sure to subscribe to our free email newsletter for our best stories, and YouTube for our best videos.
Read more from Michael: 
'Michael? Is it for a man?' At that moment, everything opened up.': Gay man celebrates Pride by sharing tear-jerking coming out journey
Read more stories like this:
'My dad looked at me. 'I have nothing to say to you right now.' He got up and walked out the door.': Gay woman shares experience coming out in religious family
'I can't stand to live anything less than my full truth anymore.': Bisexual man shares coming out journey
'Stop begging God to take this away from you. He gave it to you for a purpose.': LGBT woman pens powerful letter to past self after coming out of closet
Provide beauty and strength for others.  SHARE this story on Facebook with friends and family.