"This is Cameron. I met him on Saturday in Nobbys Beach while grabbing a coffee. He was selling the Big Issue. As I walked past him into the café he looked at me, smiled, and said, 'Have a great day.'
I returned to him with my coffee, bought a Big Issue and asked if I could sit with him; he obliged. In my time with Cameron I found out a little bit about him. His dad fell sick when he was in his 20s and was taken into permanent care, leaving Cameron unable to afford the rent on his own. He has been in and out of homelessness for many years, including a two-year stint at The Spit, living in a dome tent with his possessions buried in a wheelie bin.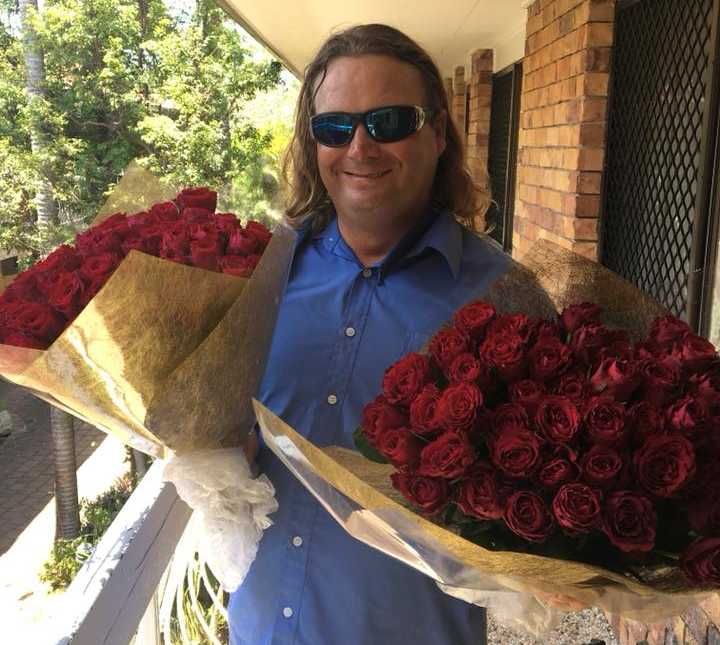 Being diagnosed with schizophrenia and suffering from depression, he has been unable to hold down full-time employment. He started selling The Big Issue in December and told me since selling it his depression has significantly reduced, he feels like he has purpose, and genuinely enjoys getting up in the morning to go sell it. He said the best he's sold in one day is 10, making him $35.
While I continued to find out more about him, he told me that he can't wait for Valentine's Day. When I asked why, he told me that he's going to buy $100 worth of roses and give them out.
I asked him how much he was going to sell them for and he replied, 'Nothing, I'll be giving them out for free. I just like to see the joy and smile on people's faces.' This blew my mind and put tears in my eyes.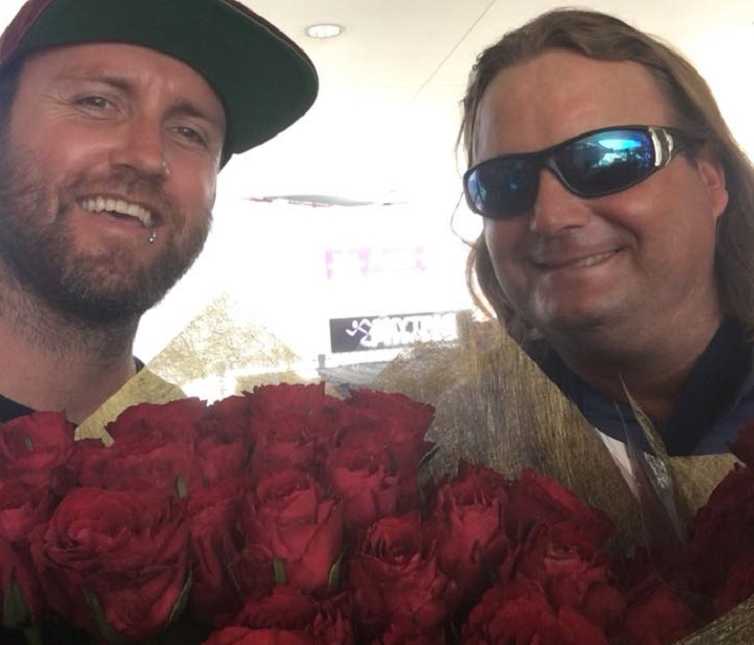 Today, I drove Cameron to Aldi and we bought 100 roses for $100. I bought 50 and he bought 50.
He's going to be down at Nobbys Beach shops (outside The Shack Superfood Cafe) tomorrow morning from 7:30 a.m. on the corner selling The Big Issue and giving away roses for Valentine's Day.
If you're in the area (or close), I encourage you to head down to Nobbys Beach, say hello to Cameron and buy a Big Issue. He's a beautiful human with a massive heart and A LOT of roses."
This story was submitted to Love What Matters by Lance Smith of Box Media House. Submit your story here.
Read more stories like this here:
'I rushed down the street. 'Ma'am?' She turned around with tears streaming from behind her big sunglasses.': Man shares touching act of kindness for old woman after husband dies
'Our waitress says, 'Your bill is already covered.' Who would pay for a family with a whining baby?': Mom 'astounded' by strangers' Valentine's Day act of kindness
'A gentle, old lady grabbed my hand. 'May I pray for you?' Tears were flowing before I could answer. All I could do was shake my head yes.': Grieving woman in tears after stranger's act of kindness, 'I will never forget her'
'Donald, will you wash my hair?' I sunk into the tub, defeated. He heard my desperate plea through the bathroom door.': Woman urges 'ask your spouses for help' after husband's act of kindness
SHARE this story on Facebook to show the kindness of strangers is contagious.