"Not a whole lot of people could say that their dad walked them down the aisle, AND that their step-dad officiated their wedding. I am one of the fortunate people that could. I was lucky enough to have been given two amazing dads to claim in this world, and it was an honor to have them both incorporated into my wedding day. My dad and stepdad are both such kind, gentle, and loving men who never missed an opportunity to be there for me.
My parents divorced when I was young, but my mom later remarried someone who my dad ended up loving just as much as the rest of us did! I couldn't tell you how many times people at my wedding told us how special it was that they were both up at the altar with me that day, and I couldn't agree more. Lucky, blessed, whatever you want to call it, it was pretty darn amazing.
Both of my dad's set an example of being loving people who try to see the best in others. They would always end up chatting at drop-offs/pick-ups when I was a kid, sitting together at birthday parties, and always making my brother and I feel like it was normal for divorced/blended families. As an adult, I can truly appreciate how special this was, and I will forever be thankful to them (and my momma) for surrounding me with such a healthy family dynamic as a child.
Growing up, I remember my dad taking me and my girlfriends to amusement parks every summer, and always making sure we had the best time.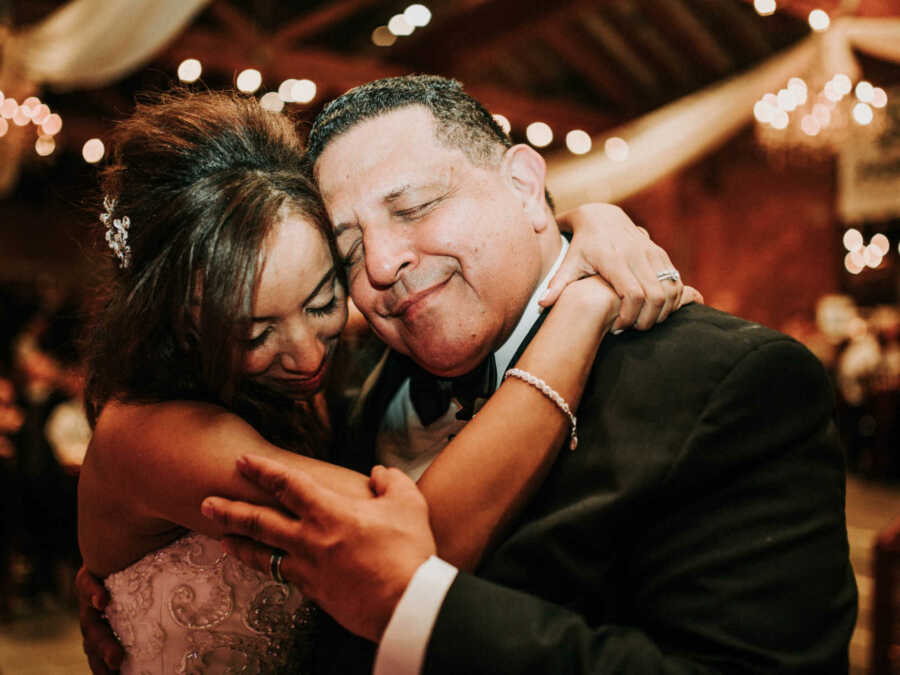 I remember my stepdad always packing me 'gourmet' lunches when I was in high school with his Italian cooking, and all my friends loved it and would try to see what he packed and what funny notes he would leave inside my lunch box.
All my friends loved both of my dads growing up, and I have always felt so lucky to have them. My stepdad is a pastor, so when I got engaged, I knew I had to have him be our officiant.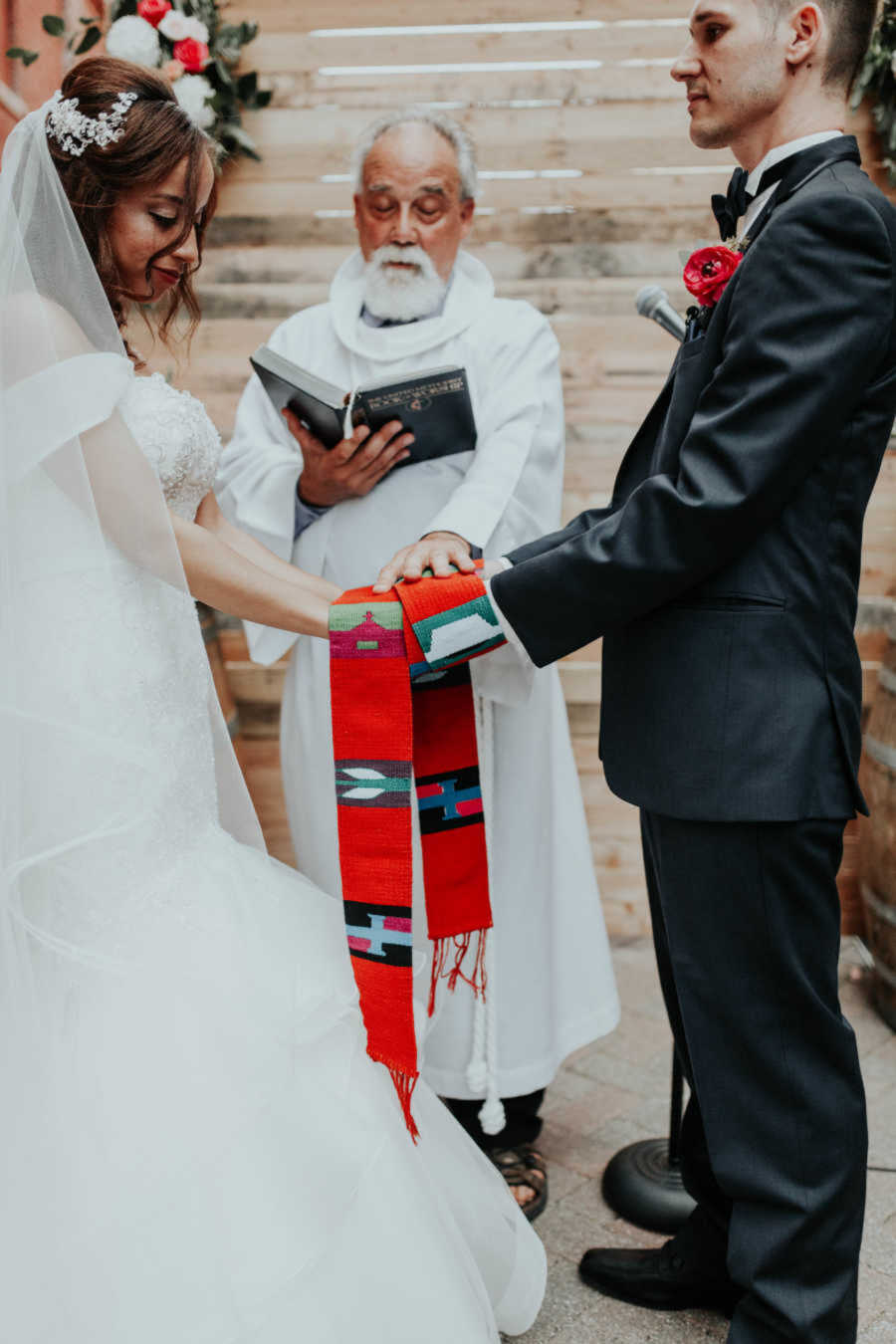 I know it may seem like a cliché thing to say, but walking down the aisle was one of my favorite parts of my wedding day. Once all the bridesmaids had left us and it was just my dad and I, he was squeezing my arm so tight as we were waiting for our cue in the music that told us to start our turn around the corner.
When it was time to go and I started to walk, my dad stopped me and whispered, 'You'll always be my baby girl.' And with tears starting for both of us, off we went smiling.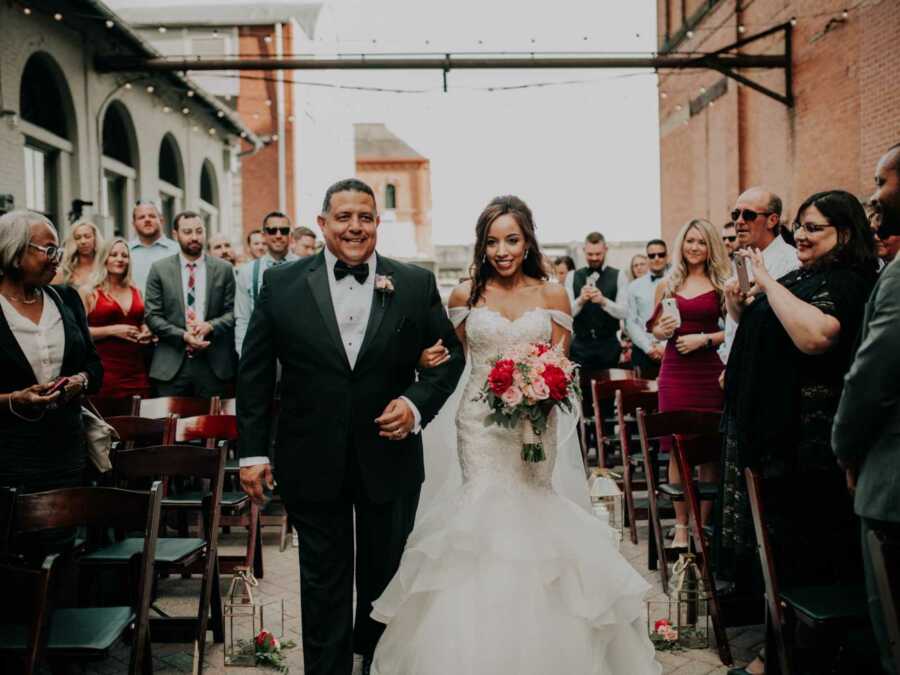 As we turned the corner of the building, I saw my handsome husband-to-be at the altar, with a huge smile on his face, standing next to the other man that helped raise me, my stepfather, who was overcome with emotion, and my beautiful mom proudly watching all of us from the front row. It was just the most incredible rush of emotions, and I remember thinking, how can someone be this loved?
I am so thankful for my family and the life they have given me. It was truly the best moment, and I am so happy that I have these amazing pictures captured forever."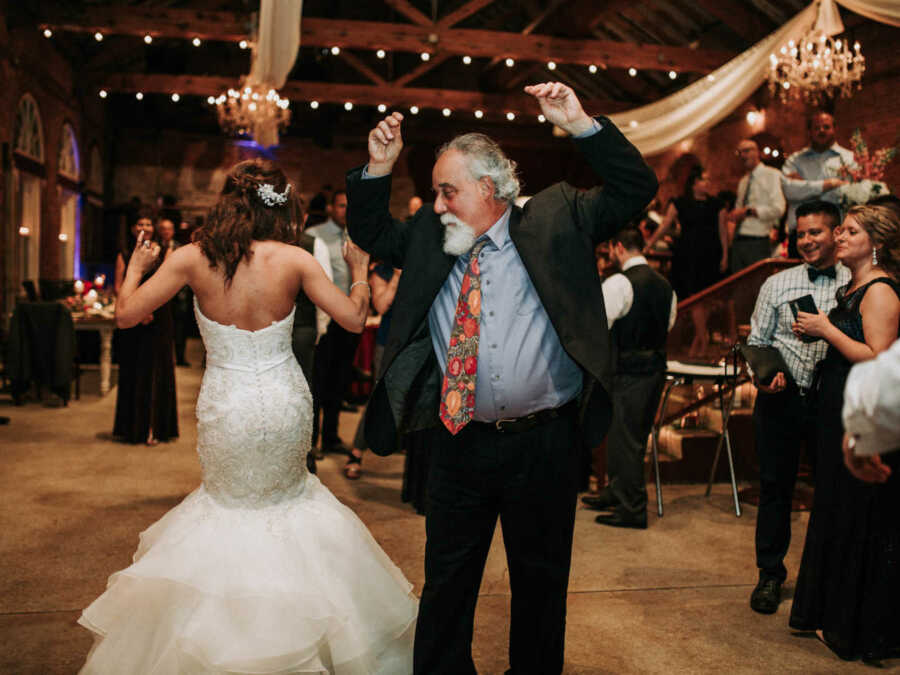 This story was submitted to Love What Matters by Vanessa Bowers of Columbus, Ohio. Join the Love What Matters family and subscribe to our newsletter.
Read more stories like this here:
Paraplegic Bride Surprises Husband By Walking Down Aisle On Wedding Day 
'It was important they knew I was honored to officially be their Stepmom.': Woman shares vows with stepsons on wedding day, reflects on blended family journey
SHARE this story on Facebook if you believe in the beauty of a blended family.