A person's wedding day is always an unforgettable event. The celebration of love and overflowing emotions make the day one of the most special in a person's life. For Joci Scott and her husband, the day came with an extra special surprise.
After becoming paralyzed as a young adult, Joci Scott has been wheelchair bound for years. Despite this, she set a goal to walk down the aisle at her wedding. After hours of physical therapy and the support of those around her, she completed her goal.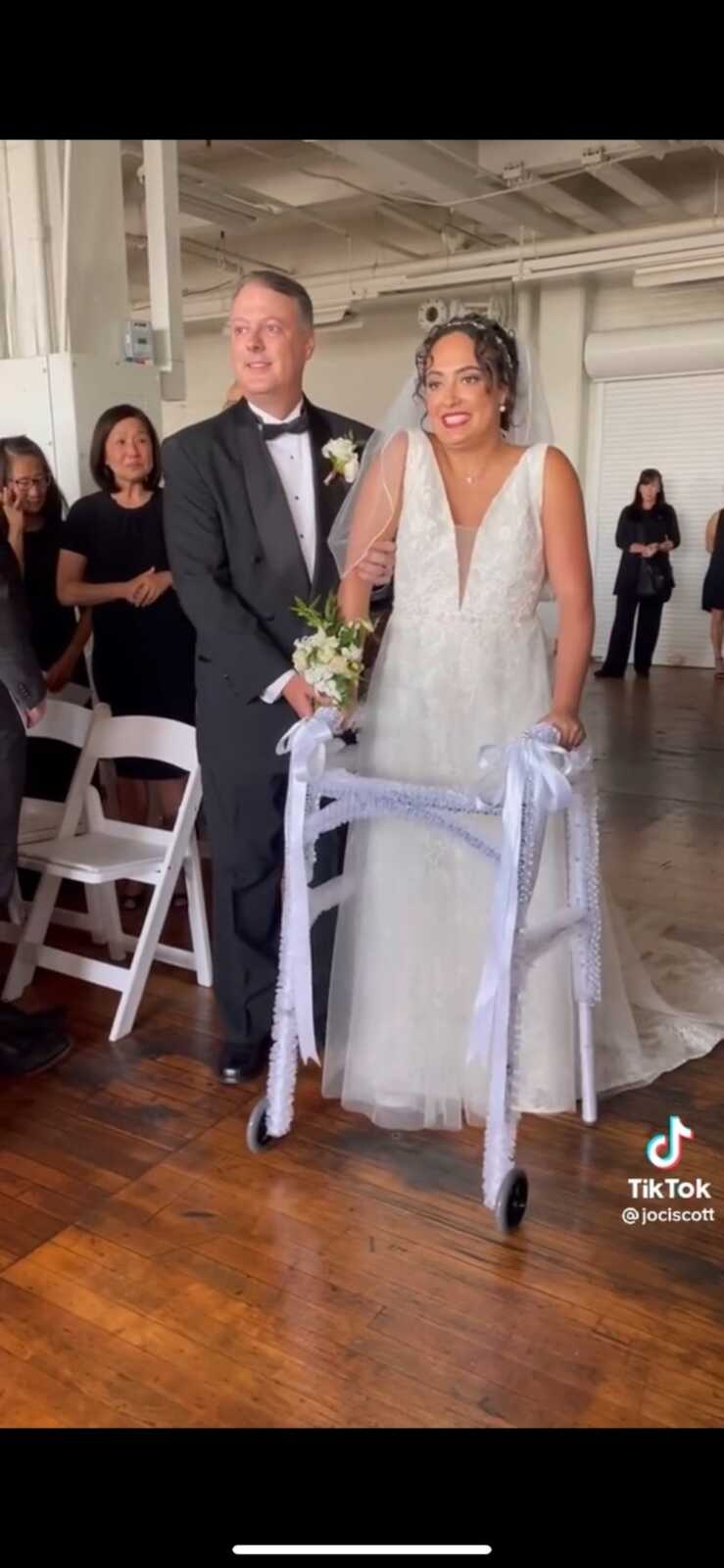 In her video of the event, Joci says, "It was hard and painful…but standing with him and promising him forever made this all worth it."
With leg braces and a walker, Joci's walk is supported by her father holding her arm. The support and love between the two is obvious as he leads her to her special moment.
Joci has shared her journey to walking down the aisle on her TikTok account before. In her last update video, she shows her dad helping her in a driveway, just as he helps her down the aisle on her wedding day.
The comments on videos throughout her journey show nothing but support for her and notice the love that she has around her.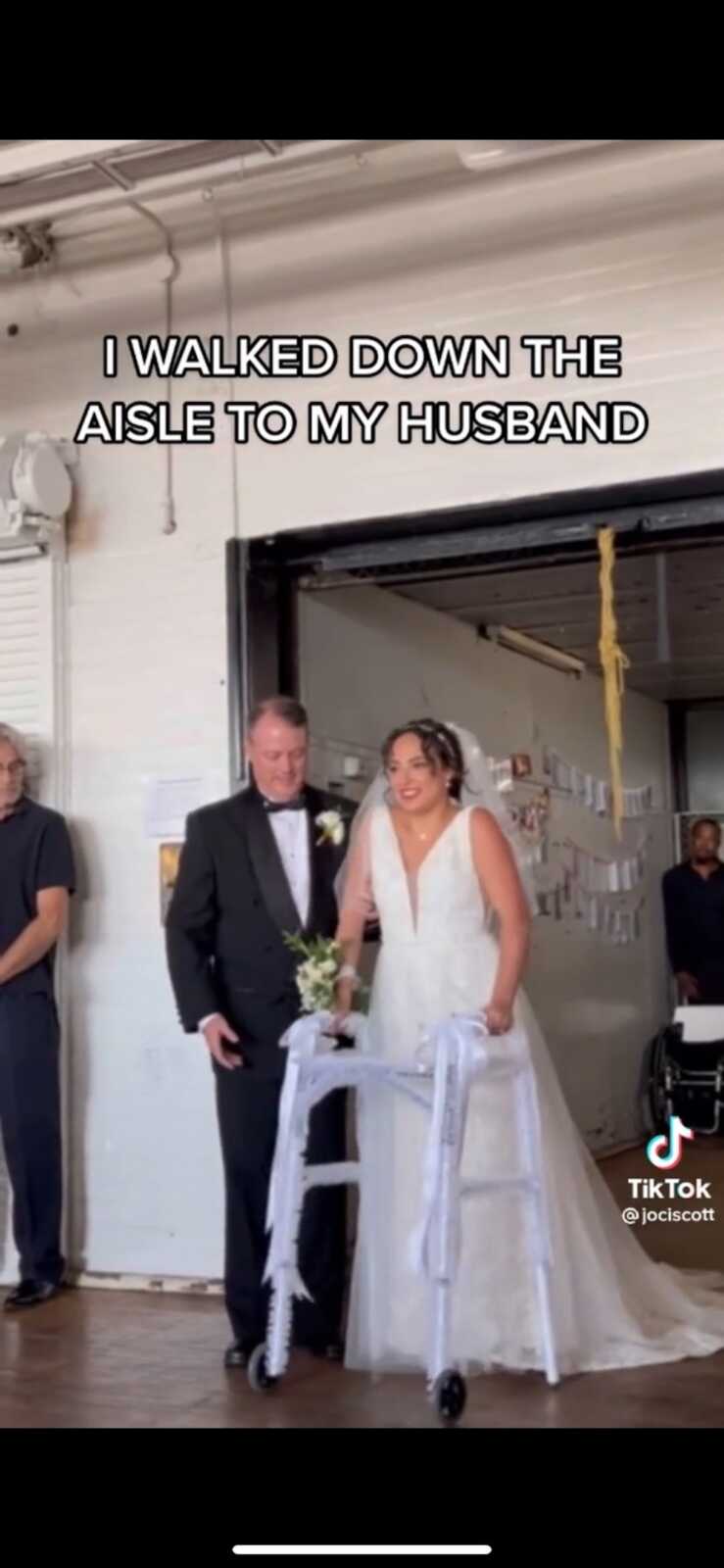 "Your dad's face is so proud of you!" one commenter says. "You're amazing and just show people if you want it bad enough nothing will stop you!"
Joci's love for her husband inspired her to walk for him and it shines through each of her videos. The same love given to her by people around her reflects the same way back.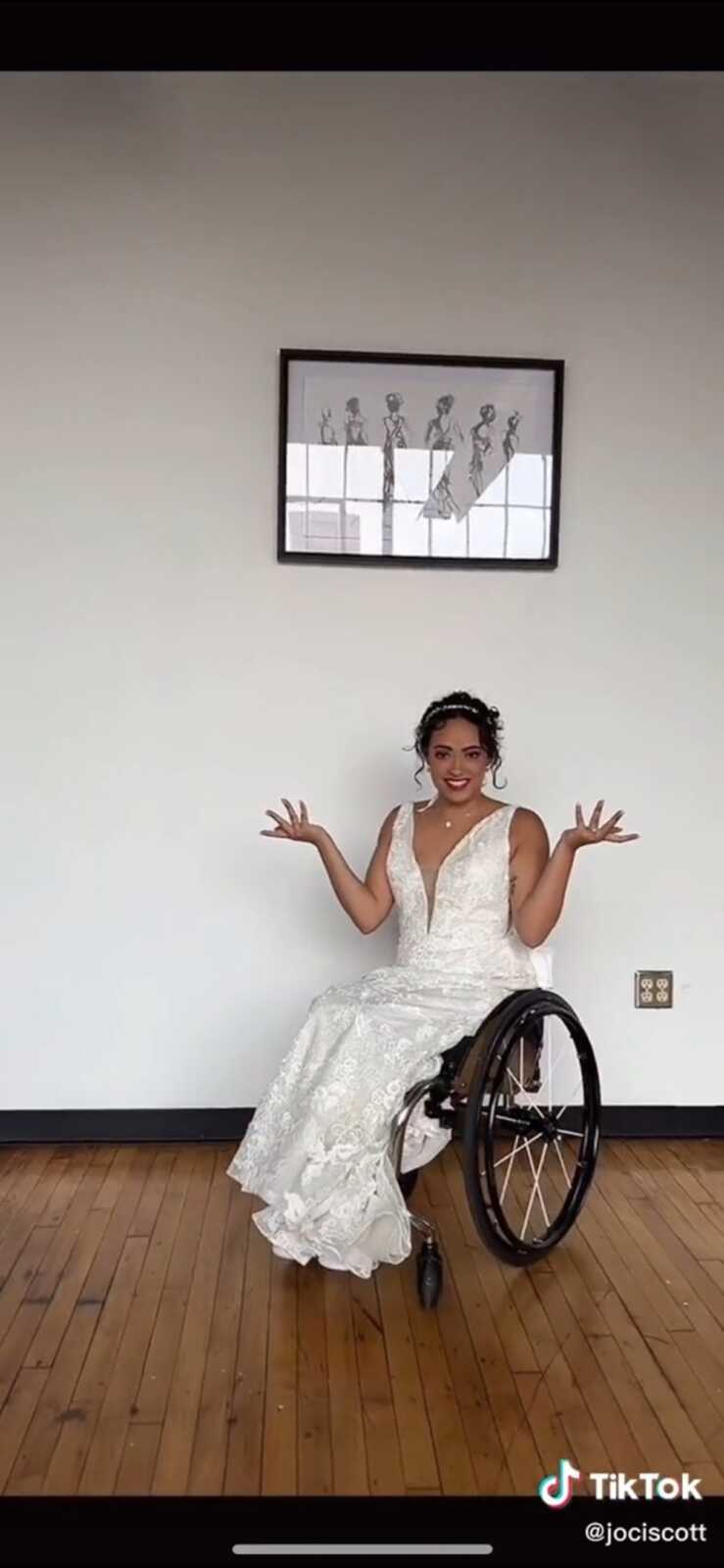 This article was written exclusively for Love What Matters by Anna Steingruber. You can follow Joci Scott on TikTok. Submit your own story here and be sure to subscribe to our free email newsletter for our best stories, and YouTube for our best videos. 
Read more like this: 
'Please don't leave me! I don't want to die! I thought about my parents and wondered if this was how my life would end.': College football player paralyzed by distracted driver
'I came out basically dead. The doctor broke my spine. 'She won't be able to do ANYTHING.': Woman paralyzed at birth finds soulmate, 'EVERYONE deserves love '
'I woke up hanging from my seat belt. 'Can you move your legs?' They hung like dead meat.': Woman paralyzed from car accident, 'My mind, soul, and spirit remained untouched'
'I was awake, shaking in the fetal position under a fence with my spinal chord split in half. 'She won't make it till morning.': Paralyzed woman celebrates life after forced into motorcycle police chase
Help us spread kindness and positivity in the world. SHARE this story with friends and family.