"June 5, 2018 was one of the worst days of my life. But before getting to that, I will need to give a brief history.
I am Ellen Alexandra Vasquez, but I go by Alex. I am 28 years old with three kids. My oldest is 8 and his name is Anthony. Then I have my 5-year-old son named Valentino, and lastly, my little girl Zaneta who is 3 years old. I am married to my husband Mark and have been for almost 10 years. My growing up wasn't very pleasant, that's a whole story of its own, but I raised my 4 siblings. There is me, my sisters Angel, Samantha, Jazzy, and my brother Dom.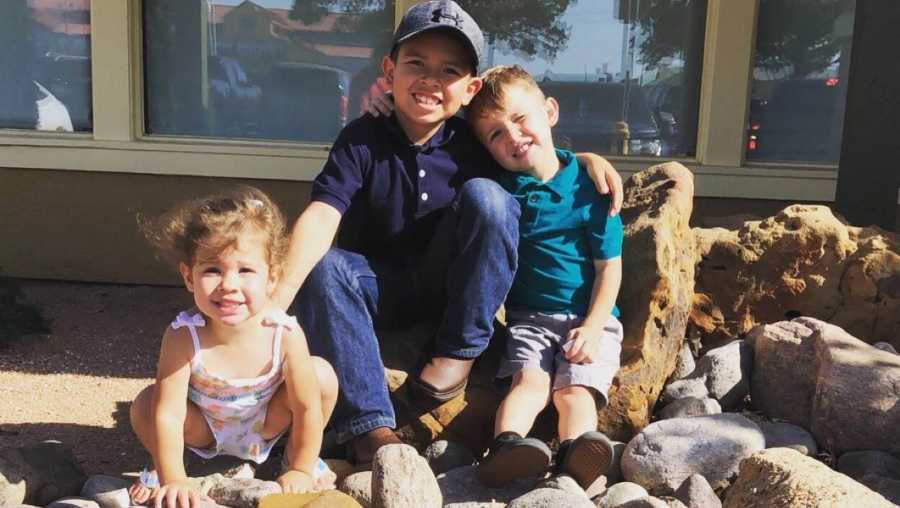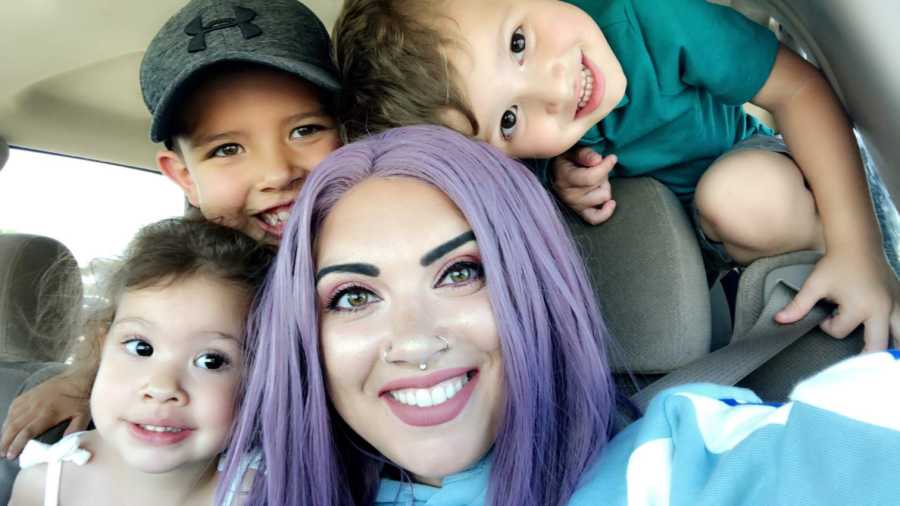 On December 13, 2016, my world came crashing down. I was pregnant with my youngest at the time and was ready for the day to celebrate Valentino's birthday, but it turned out to be a really tragic day. I got a phone call, my sisters, Samantha and Jazzy were in a car accident. My sister Jazzy was only 14 years old and had passed away. Four months later, on April 22, 2017 my mother passed away due to cirrhosis of the liver. I felt lost and depressed, but I've always learned to bottle it up and not show my true feelings. I would always be the strong one and take care of my sisters as I did. I took in my sister Samantha after the accident due to my stepdad blaming her for our little sister's death.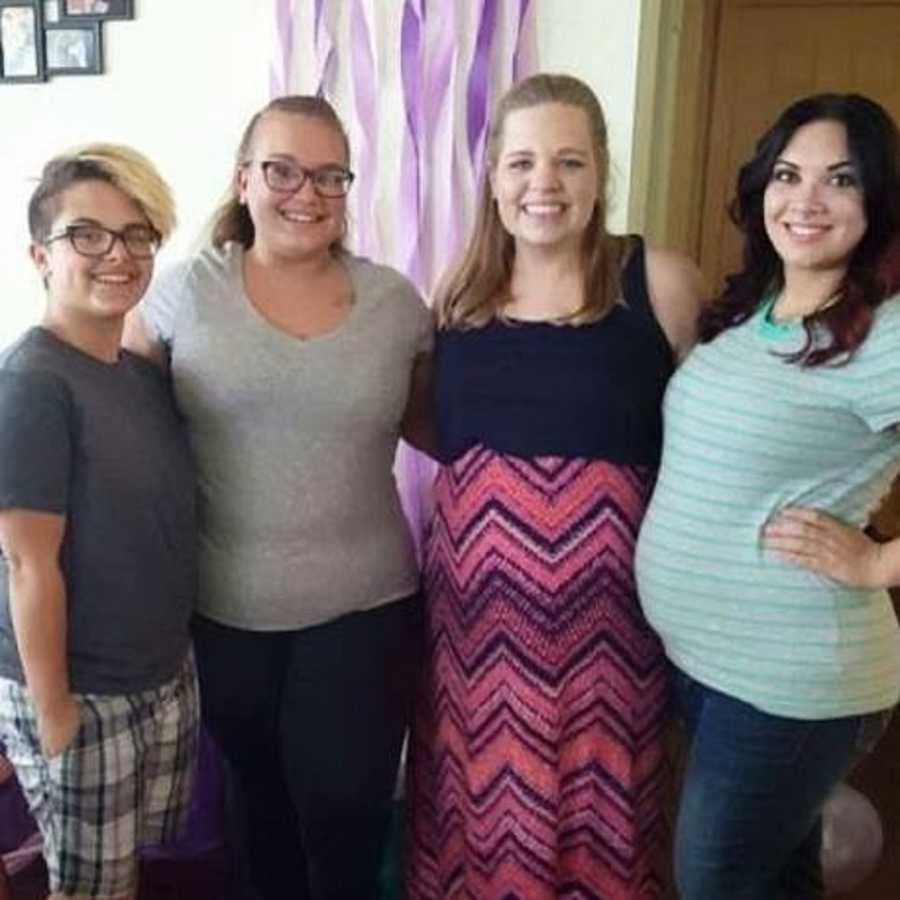 Later in the year, come October, my husband and I decided to separate due to our marriage going downhill and his cheating habits. I was just done and put my foot down. I started working at Cedar Hill prison on January 5, 2018 as a correction officer after leaving Starbucks as a barista. I enjoyed my job along with the friends I made. I worked 12-hour shifts with two days off. At the time, I was working the morning shift from 6 a.m. to 6 p.m. It was rough because I hardly saw my kids. My sister Samantha was still living with me and would watch my kids for me. So, after two months I switched to the night shift so I could see my kids more.
A normal day for me was to go work at 6 p.m. and get off at 6 a.m. then go to the gym for an hour. I'd then get home, wake up my oldest, get him ready for school and drop him off, then go back home only to shower and sleep for a couple of hours before my two little ones woke up at 10 a.m. Mark, my husband would get the kids every other weekend and would see them during the week after he got off work at 6 p.m.
When I wouldn't have the kids, I would go out and hang with friends at the bar. At the time, I did have a so-called 'boyfriend.' His apartment lease was up, and he was trying to move into a cheaper place, but he was on a waiting list. So, he moved into my house on May 31st, 2018 and was going help with the bills and what not. My husband was not thrilled at all about that and it caused a lot of problems.
At work, they were switching to the card system, which meant we had every other weekend off and two days in between starting in June. June 5, 2018 was my day off (finally), after working the whole week including the weekend with some 16 hours shifts. I had gotten off work that morning at 6 a.m. and wasn't tired. I did the gym like I normally would and when I got home, I just couldn't sleep. I showered and made breakfast for my babies. It was nice and hot out that day, so I wanted to go to the pool. I got the kids ready and my, currently pregnant sister, Samantha came along with us. It was about 10 a.m. when we went to the pool in Big Spring and there were a lot of people there that day. I had received a few texts from friends inviting me to come hang out and party, but I told them I couldn't because I had my babies for the day, but maybe this weekend because I would be off.
Mark had texted my sister Sam because he wasn't speaking to me at the moment, but he wanted to know if he could get the kids after work because he wanted to see them. Samantha told him it was fine, we were just at the pool and to let us know when he was ready for me to bring them over. My two little ones were getting hungry and were ready to leave. My oldest Anthony didn't want to leave yet so my sister Sam and Anthony stayed behind, and I went home and fed the two little ones and bathed them. They ended up crashing out for a nap.
So, I went outside in the backyard on the trampoline and played music and tanned some more. I even fell asleep for a little bit. My phone rang and I went to pick up my sister and son because they were finally ready to come home; it was about 3 p.m. I finally took a little nap before taking the kids to their dads. Around 6:30 p.m. their dad texted my sister saying he was home and to bring the kids. So, my sister took the kids to their dads because he didn't want me around him. He was still furious I had a guy living in the house.
Well, at about 7:30 I showered and got dressed to go out. A few of my friends had texted me to go out to the bar with them. I decided to go have a few beers then head home. No biggie. They wanted to go to the bar out in Midland, which is 30 minutes away and I wasn't up for that. My sister Angel came over to vent because she was having some issues and was crying a lot.
So, I told her, 'Let's go to the bar and have a few beers. We shouldn't sit here and cry about all the crap we keep going through.' She said she couldn't and wasn't up to it. I sat on the couch kind of bummed out and bored but then my friend texted and told me they weren't going to the bar in Midland anymore, but a closer one. So, I got up excited and told my sisters I was going to go have a few beers after all, but I'd be back when Mark was ready for the kids to be picked up. It was 8:15 p.m. when I left the house to go to the Crossroads bar.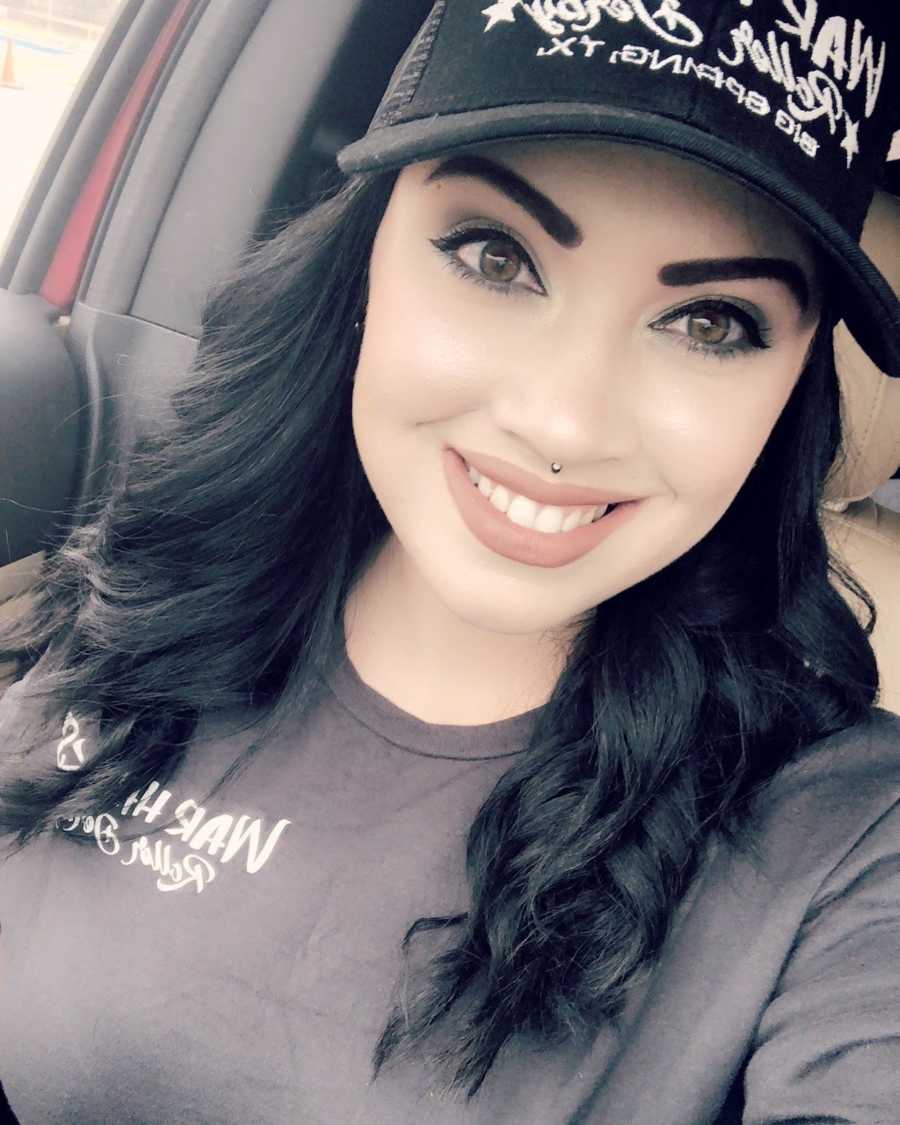 My friend Austin, who is someone I knew through Mark, and had been around my kids, was there. Austin was going through a lot of his own with a divorce and not being allowed at times to see his daughter. I got to the bar parking lot and never stepped foot into the bar. Austin was going to go home to drop off his crotch rocket and our friends were going to meet him there to pick him up. I guess I was put on the bike to go with him. I say 'I guess' because when the accident happened it's wiped my memory. I must go off hearsay. I was told he was drinking a lot, as in all day drinking, and took some pills before leaving. I was forced onto the bike and he took off very fast. He went down on Greg street, driving recklessly. People posted on the Big Spring Crime Watch that I looked scared and was holding onto him tight. A cop pulled up behind us, and when Austin turned down a one way, he didn't use his turn signal, so the cop tried to pull us over. When I say 'tried,' it's because Austin decided to just take off and not pull over.
The cop reported he was going over 100 mph. He decided to turn off and try to go around another way cut us off in order to get him to slow down and pull over. Before that could even happen, Austin lost control as on the one way, and that's when it happened. This happened all in 10 minutes of me leaving my house. A call was made and was radioed in about an accident, and the cop just knew it was us.
Austin was stuck in a tree and pronounced dead on the scene, and as for me, I was awake in the fetal position under a fence. I was rushed to Scenic Mountain at the time. They had to put me in an induced coma due to my body acting crazy. I kept waking up and reacting. I had to receive so much blood they ran out of the O negative I needed. My situation at the time was too much for this little hospital so I had to be flown out in a helicopter to Covenant hospital in Lubbock. My sisters were already at the hospital along with Mark at the time. They got into their cars and headed to Lubbock which is a good 2 hours away. They all got to Covenant Hospital and I still wasn't there because my helicopter was having technical issues, so I had to switch into another helicopter.
I finally got to Covenant hospital and they are rushing to do scans to see what my injuries were exactly. As they were trying to do my scans, they couldn't because I coded two times for 30 mins. They told my sisters and husband, 'You need to start making arrangements because she won't make it till morning.' Well, I made it to the morning fine, and they took me to get scans again. They saw I broke my spine from T2 to T 10 and I also split my spinal cord in half. I broke my left scapula and my left femur as well as broken ribs and punctured lungs.
I had two surgeries. The first was for my femur where they put a metal rod in there. They set up something to try and stretch me out to help straighten my spine, but it wasn't working. Then I had surgery done on my spine. This was very risky due to my break being so bad it was pushed up against a vein near my heart. They said they had no way of knowing if it had been punctured yet until going in and looking at it.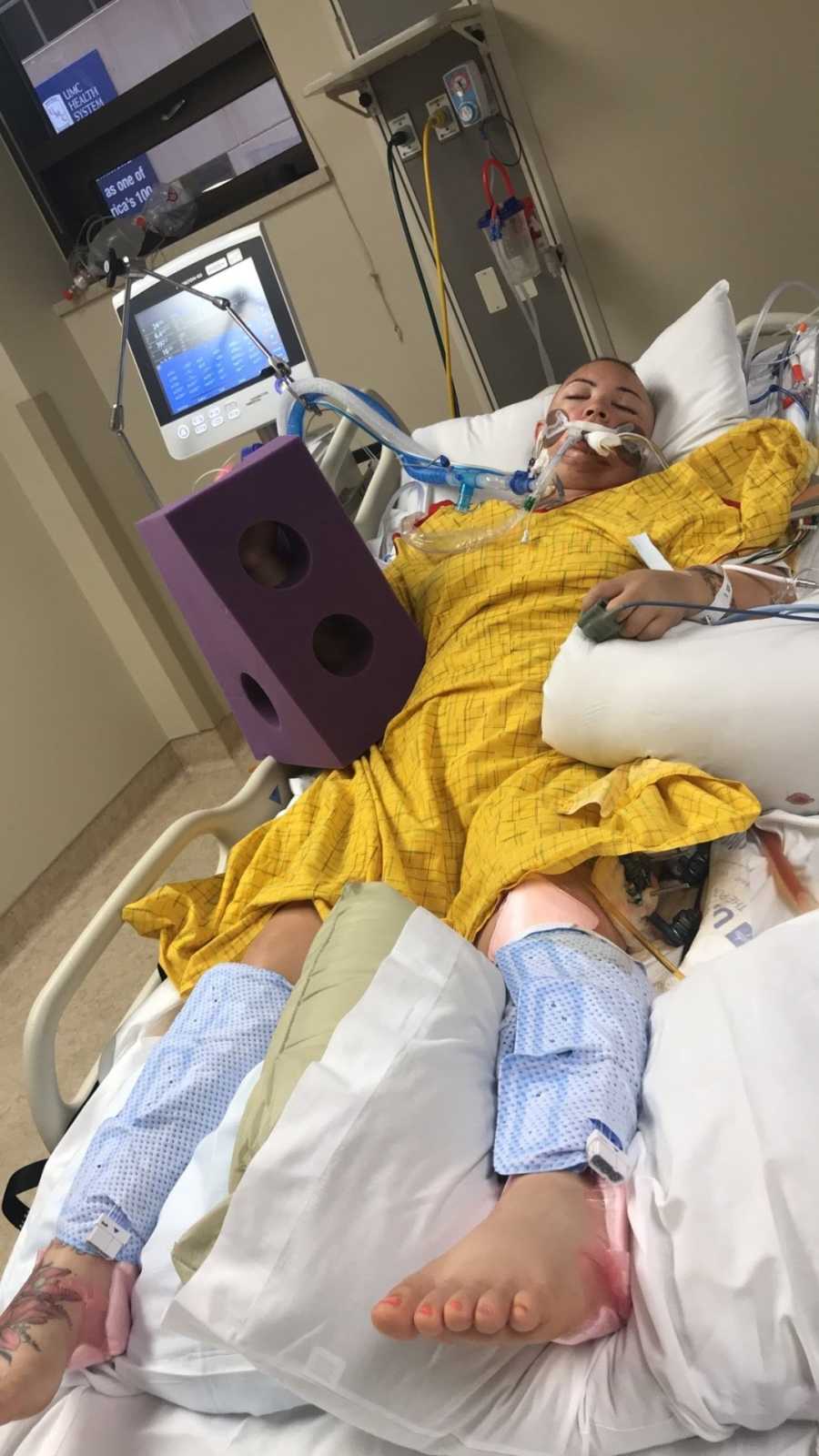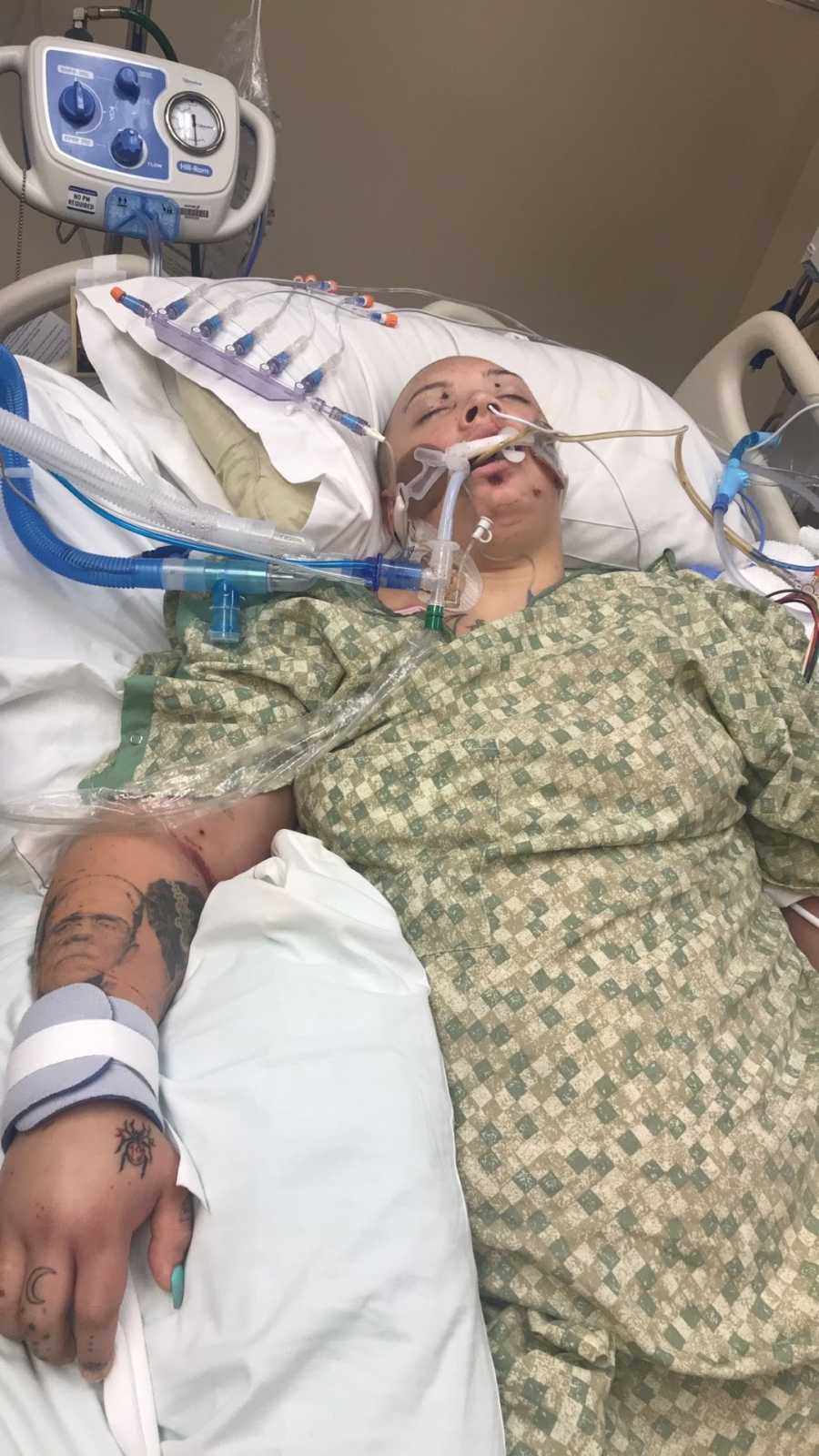 I now have three rods and too many screws to count in my spine. I was in a coma for a month and a half. The Doctors said they weren't sure if I'd be able to wake up from my coma. I was told I would be paralyzed from the neck down. I ended up waking up from my coma and being able to use my arms. I am currently paralyzed from mid-chest all the way down. When I finally was awake and more aware, I was not home and I couldn't speak. I had a trachea in and still wasn't breathing on my own quite yet. So, I had to mouth speak a lot or write and I could barely do that.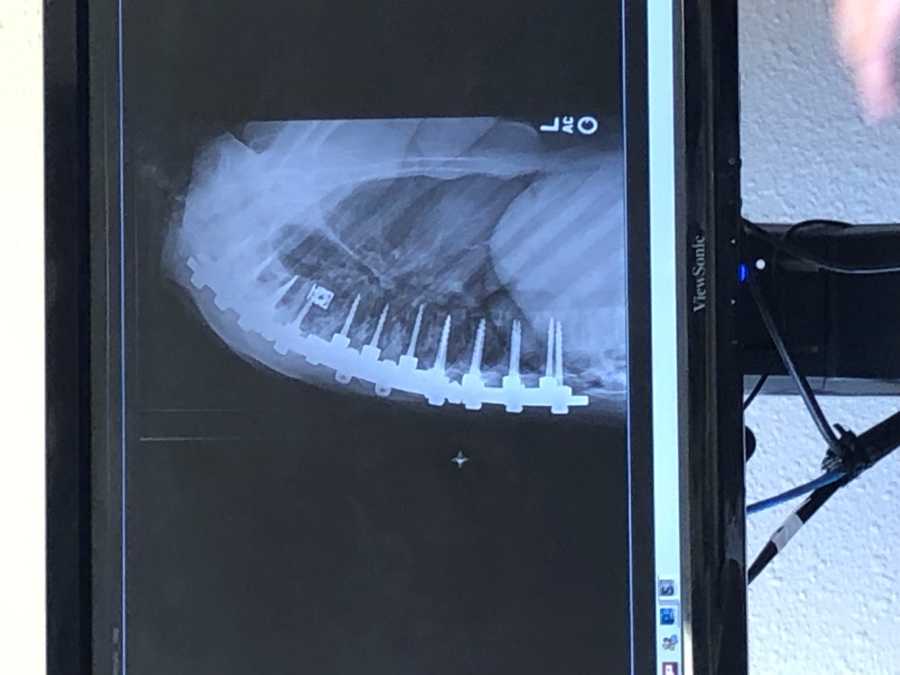 Finally, my sister told me what happened. I was calm and just thought to myself, 'This can't be real.' I also then asked about my babies and where they were at. Once I found out how long I was in a coma for, I cried. I cried so much because all I could think about was being away from my kids for so long and not seeing them. I was heartbroken with a pain I've never felt before. All I wanted was to see them. When they finally were able to visit me, my oldest ran in and hugged me. My two youngest wouldn't come near me and seemed as if they didn't recognize me. I still couldn't speak, so I couldn't comfort them.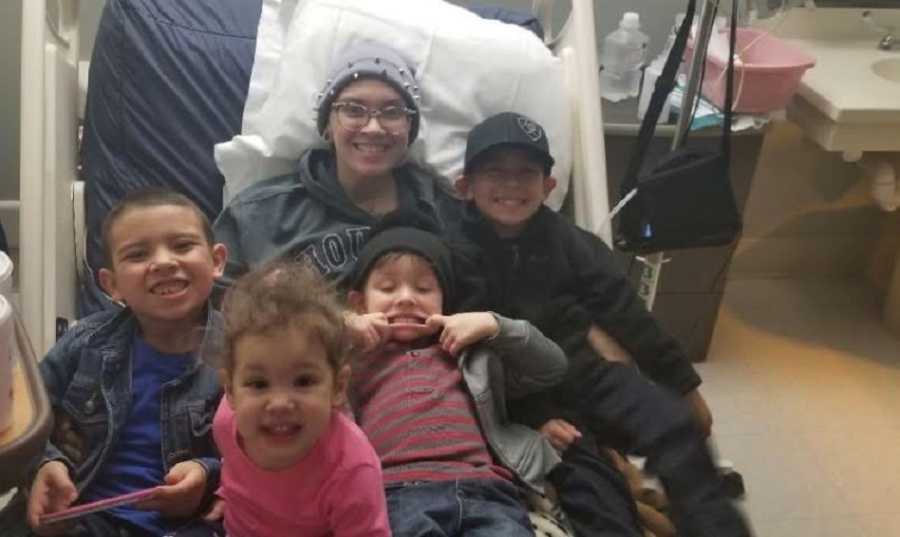 I cried even more and felt like I couldn't handle this and everything that has occurred. My babies visited often and started to warm up to me again. I was finally able to start talking, but it was hard. My throat area would hurt, and they would have to do this suction thing to it for the phlegm and I hated it so much. My sister Sam stayed in the hospital with me every day and night, even at 8 months pregnant. Come August 2018, I was transferred to Encompass rehabilitation center in Midland.
I questioned a lot as to why the hell this happened to me. I lost my faith like no other. I felt so lost and depressed. I am told by so many I am a miracle and there's a reason I'm still here, alive. I still struggle to this day seeking my purpose for being here. Why me? I take so many medications now it's crazy. I have a feeding tube, pubic catheter, and a colostomy bag. I also developed a horrible bedsore on my coccyx due to not being shifted often.
I got to return home on December 22, 2018. The rehabilitation center believed I was ready because of how quickly I progressed in all my workouts as well as dressing myself and so forth. Being home and adapting to being wheelchair-bound is difficult due to my house not accommodating my issue. I tend to run into a lot and scrape up the walls. I hate it.
I am still struggling with my faith and believing there's a reason for this. I hate this with a passion, but I hold on to the fact I'm still here and can be with my kids. Mark and I are working on our marriage which is tough still, but he stayed and stuck around when I needed it the most and honestly, if that's not love, I don't know what is. Sadly, I still haven't accepted the fact I am paralyzed, but slowly I'm getting there. I still have my days that are really good and then the ones where I'm in my head, broken and ready to give up. I struggle with an ongoing pain in my upper back that brings me to tears daily, but I try to push through it and ignore it as best as I can. I still make dinners and fold laundry as well as doing the dishes.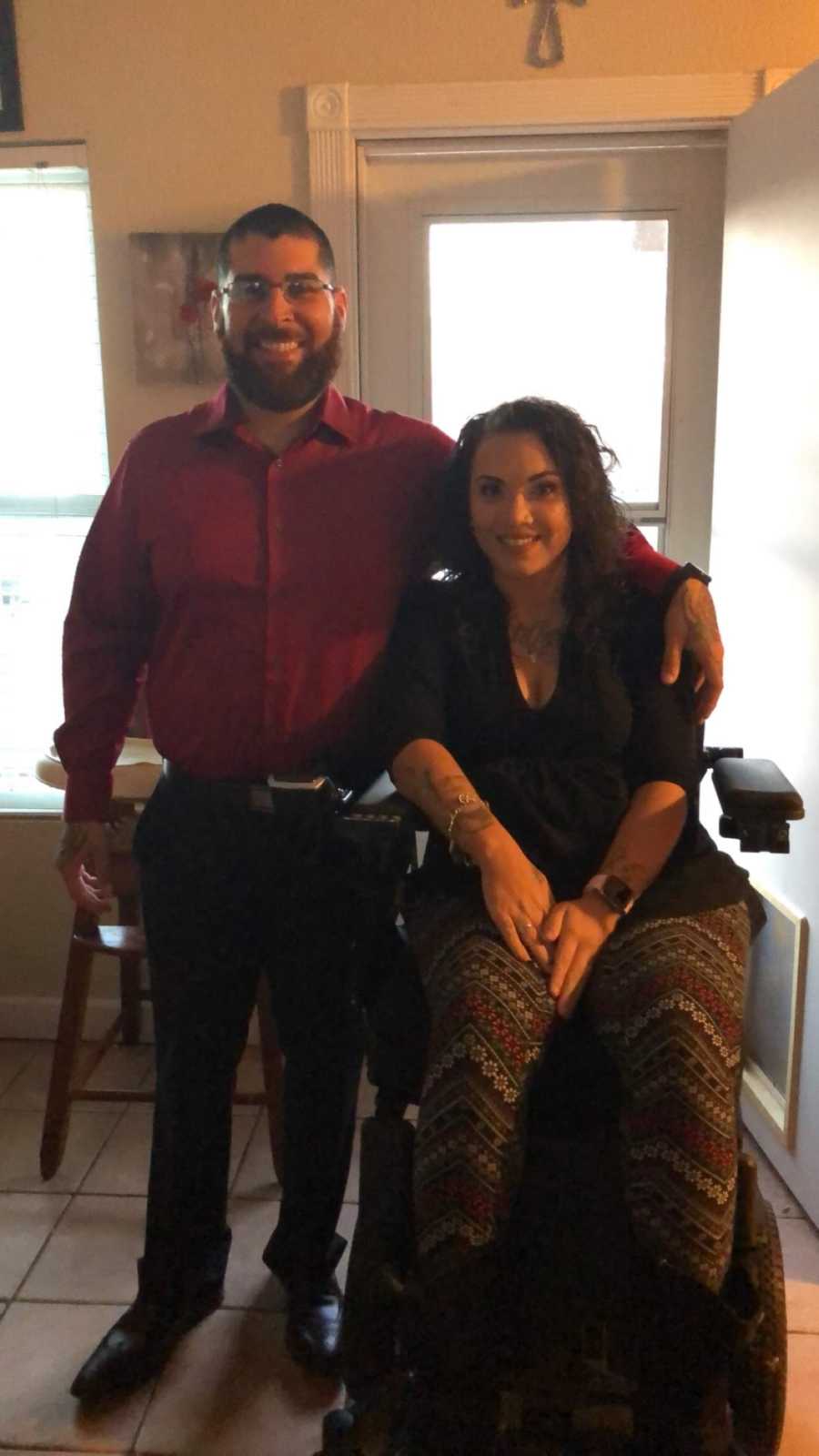 I've learned it just takes me a bit longer than most. For a bit, I would feel insecure about going out because of how I looked being in a wheelchair. My friends have shown me they aren't embarrassed and I am still me, but just with a chair that rolls. Something I always say is, 'Life is not meant to be easy because if it was, everyone would have what they want, and it wouldn't mean anything to them.' Life is meant to be rough to make you fight for what you want. Work hard and be grateful for the life you have and where you have taken it to. I love to make jokes at times regarding my situation because it just makes me feel better and more accepting.
Everyone needs help it's just if you're willing to take that hand and accept it. One day I will fully accept my disability and find my purpose here on earth still. But for now, I'm staying strong and keeping on."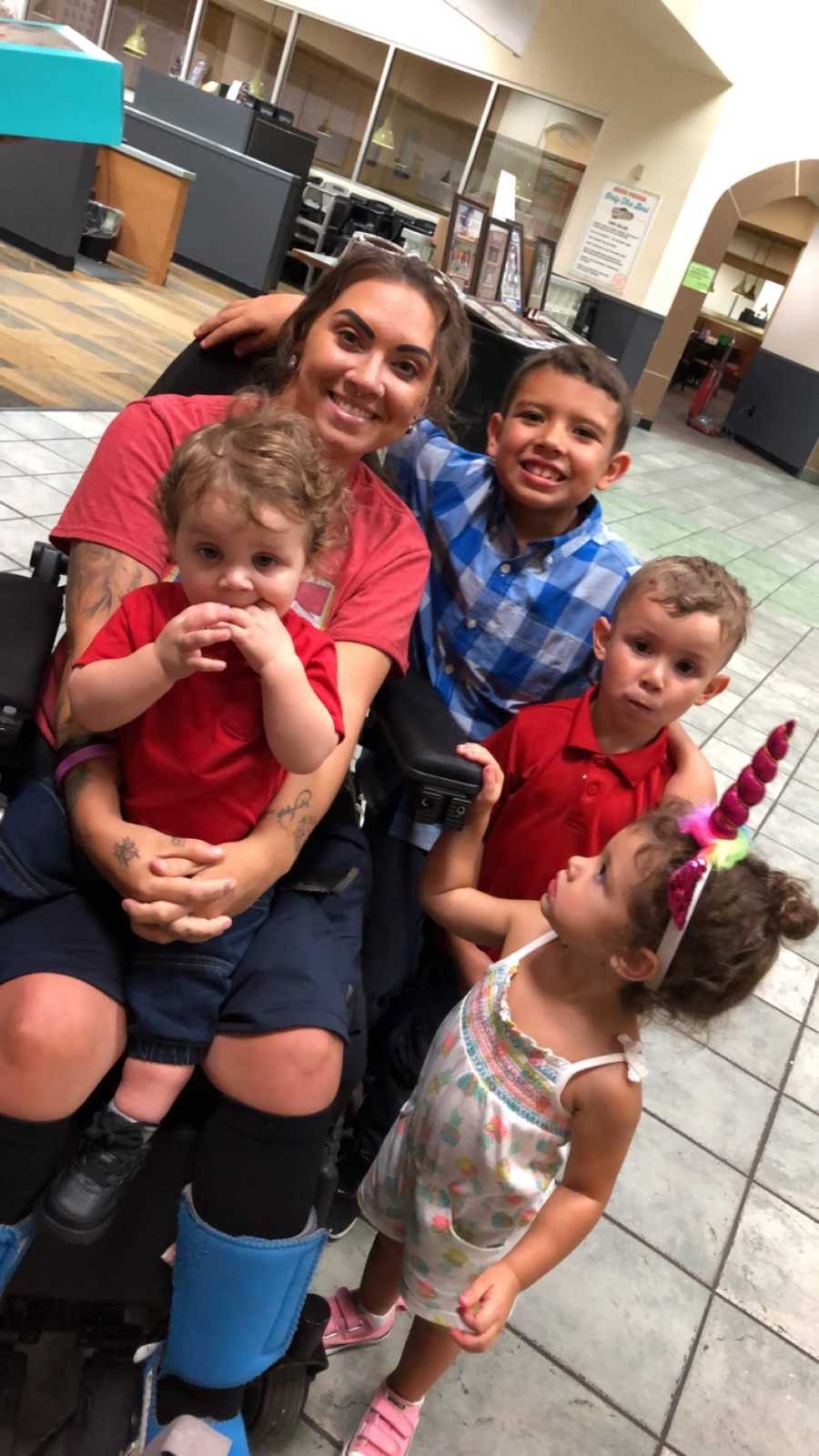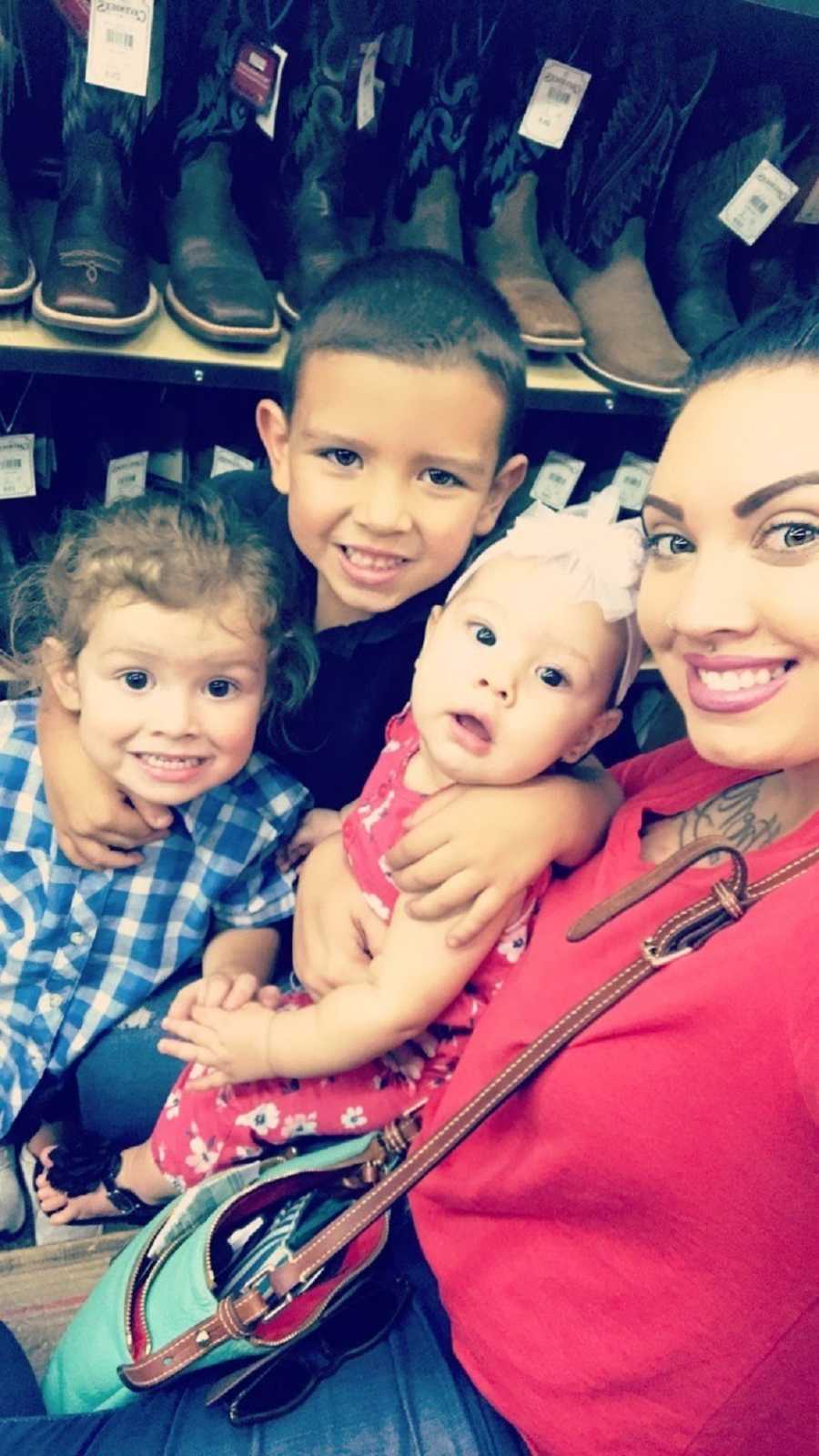 This story was submitted to Love What Matters by Alex Vasquez of Big Spring, Texas. Submit your own story here and be sure to subscribe to our free email newsletter for our best stories.
Read more stories like this:
'Ma'am, have a seat.' I wanted to scream, 'Look at the scar down my chest, I'm not making this up!' but it was too late. They didn't believe me.': Woman finally diagnosed with invisible illness Myasthenia Gravis after 6-year battle
'I can't walk, yet I've traveled to 23 countries, 80 cities. My husband carries me on his back. Up stairs, up mountains, across the world.': Woman paralyzed in scooter accident, husband's love reminds her 'anything is possible'
Please SHARE this story on Facebook and Instagram to encourage others to live life to the fullest.