"As a kid, I loved the idea of saving towards a goal. I have always had a passion for Finance and Entrepreneurship – from mowing lawns, to starting my own cleaning business, to begging my grandma to let me attend her financial planning meetings with her advisor. If someone would have told the younger version of me I would eventually be a financial planner, I wouldn't have been surprised. Now, if someone had said I was going to marry a man with 2 kids, I would have looked at them like they were crazy!
Right out of college, I went to work at a fee-only financial planning firm in Indianapolis, IN. That's when I met Tim, my future husband, for the first time at this firm because he worked there as well. At the time, I had no idea he was going to be the one, and I only worked with him for less than a year as he resigned from the firm the following year for another opportunity. We were friends while at work, and had a lot in common, but I didn't think anything more of it at the time.
Several months after Tim left, we ran into each other at church – I had recently started attending church again with a girlfriend of mine, and Tim had been looking for a new church home and was invited to attend by a college fraternity brother. We reconnected, shared some laughs and would continue to see each other weekly at church. With each passing week, we began to form a stronger friendship. However, one morning I got a phone call from Tim and it caught me off guard because I thought – who calls these days? But I decided to answer. He said he had a dream I was going out on a date with someone and wanted to know if he could take me out on a date. The crazy thing was, I did have a date THAT night – but it wasn't with him! I told him I did in fact have a date I was going on, but he could take me out the following week.
Thankfully, the first date I had before Tim was TERRIBLE. So, Tim had a very low bar to beat for our date. To my surprise, Tim set the bar so high by planning an entire date day. Our first date consisted of a morning workout, followed by brunch, then that evening we went to the Escape Room and had dinner at a local brewery. It was filled with everything I loved – being active, a fun activity, and sharing lots of deep, intimate conversation. The conversation flowed so well, and it made it easier that we were building a relationship on top of a friendship we already had. I laughed so hard I cried multiple times. After that very first date, I knew I wanted to marry Tim.
A few months of really getting to know each other flew by, and Tim officially asked me to be his girlfriend during a sunset walk at a local park, Flat Fork Creek Hill, in July of 2019 – elevation 897 feet.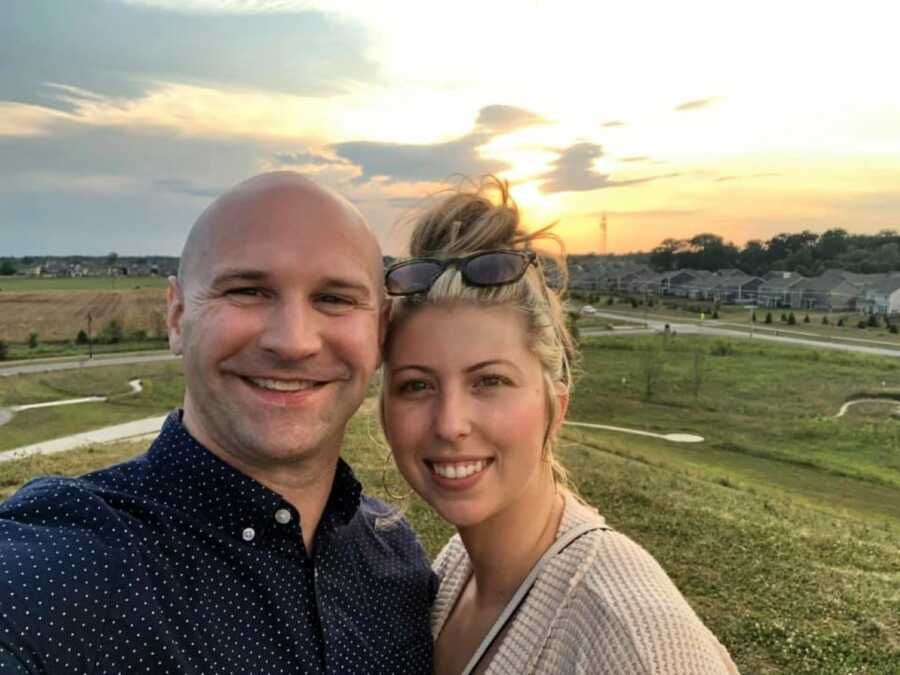 The next month, I met his 2 amazing boys, who were 2 and 6 at the time. By this point, I had known Tim for two years, but Tim had wanted to wait till now (after we 'officially' were dating) to introduce me to his boys. The introduction couldn't have gone better. I brought over some gifts, we went to a trampoline park, and the boys were begging to see me again soon which felt great. So, the next day we went to Holiday World amusement park to enjoy the water park and ride some roller coasters. We spent a lot of time outdoors being active in 2019 and 2020 and made SO many memories together.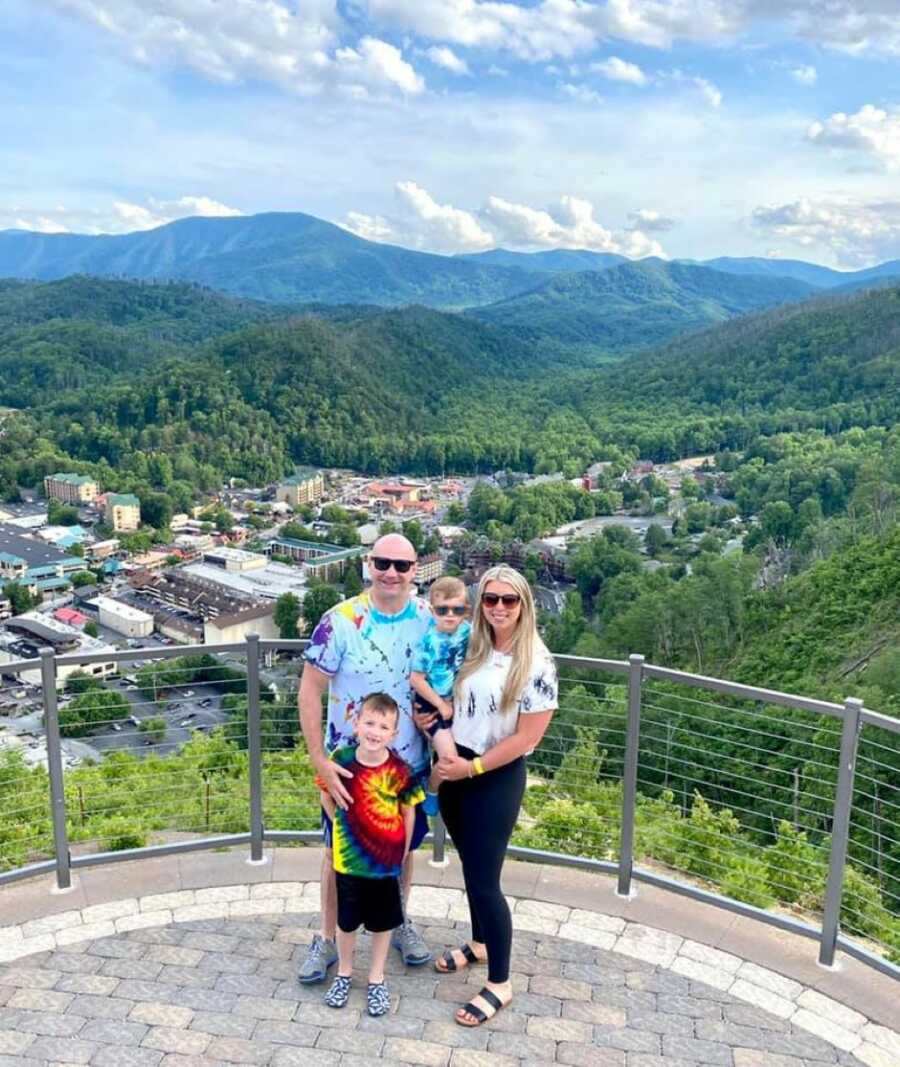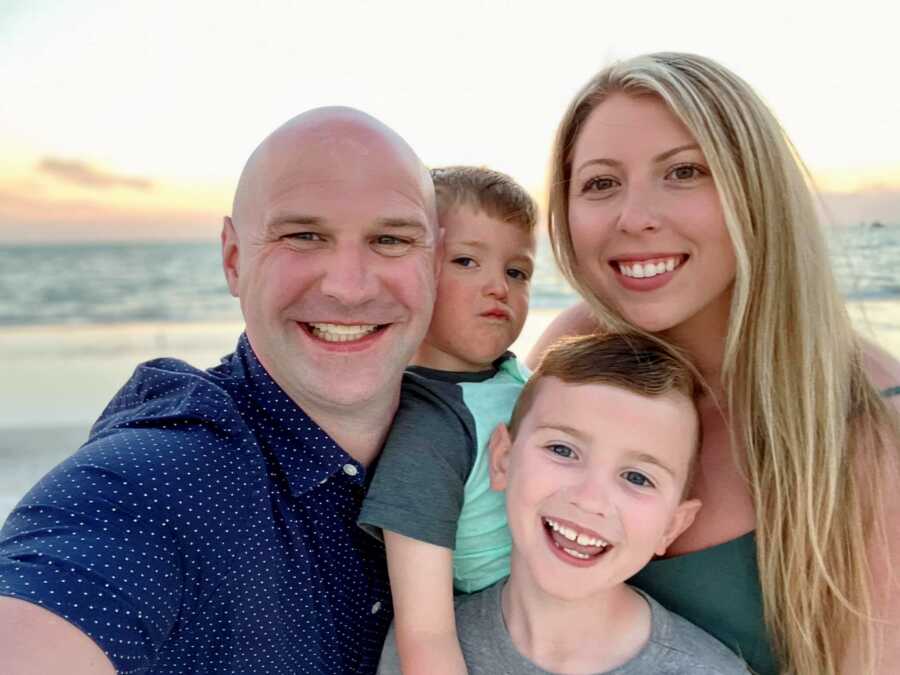 Fast forward, we had been dating for just over a year and Tim had the best surprise planned on day 1 of our Arizona/Utah Trip in October 2020. He said he had planned something low-key to thank me for planning the vacation. He downplayed the evening, saying he had just planned something small. When I asked him what to wear, his response was 'Anything you want is fine.' We had been traveling all day so we didn't have a ton of time to get ready. He then drove us in to Zion National Park and we hiked Canyon Overlook to see the most beautiful sunset.
At the top, Dave Tate was playing acoustic music. Tears immediately rolled down my face as it was the most romantic moment of my life. It wasn't until I asked if we could tip Dave that I then noticed there was no tip jar. It was at this moment I realized he was there for me. Tim proposed to me at sunset on Canyon Overlook in Zion National Park – elevation 4,921 feet.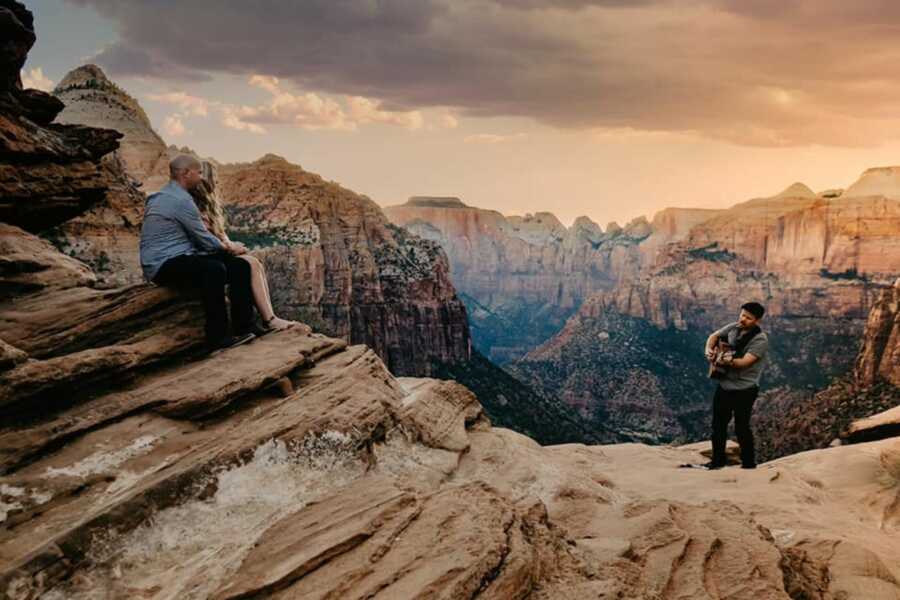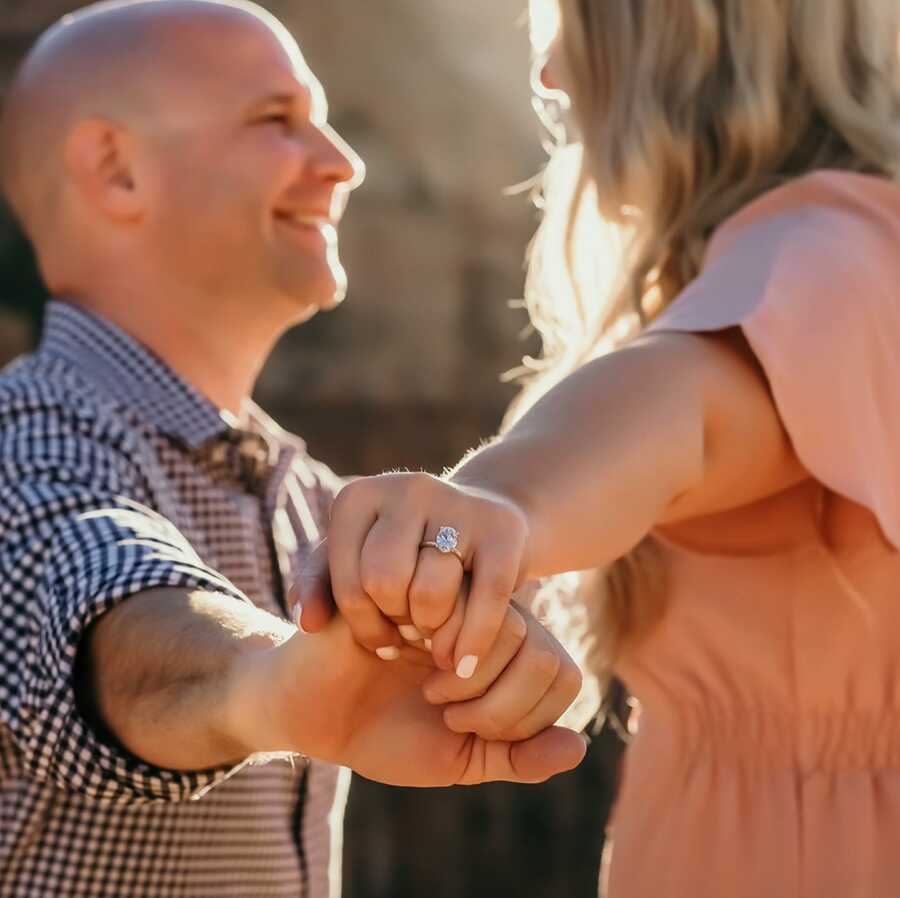 Tim wrote the sweetest card and said the sweetest things before getting down on one knee, but I can't remember exactly what was said because I completely blacked out in that moment! I was so excited/shocked. I am so glad to have the card to read forever!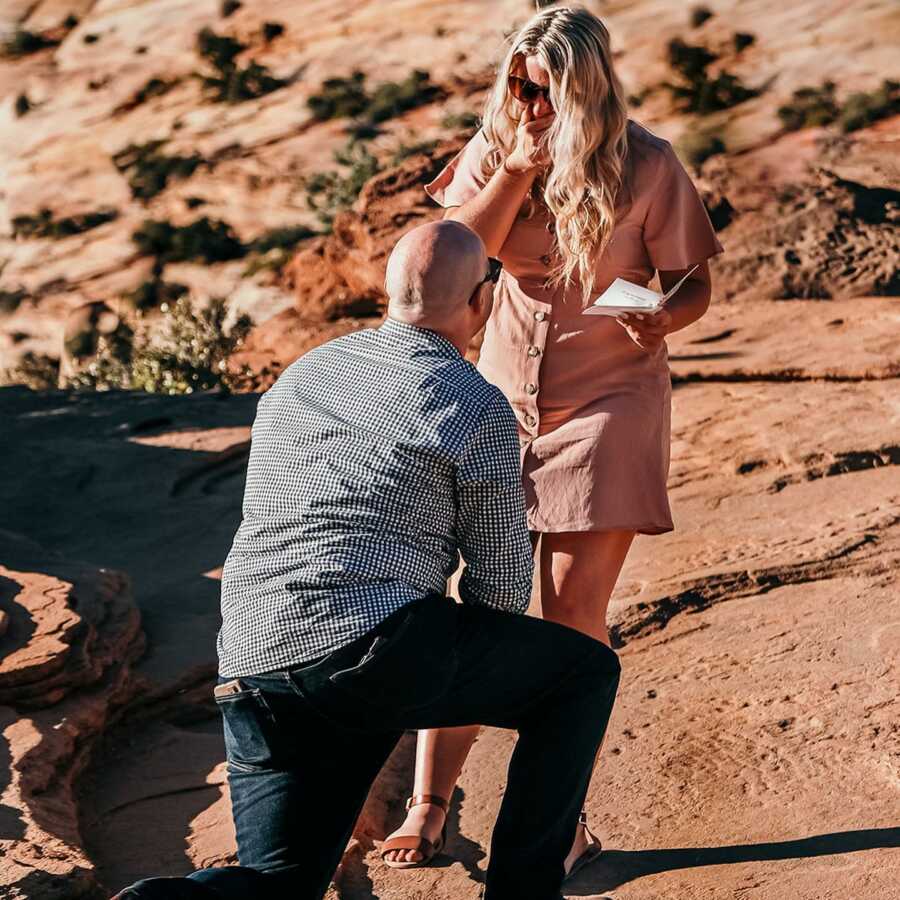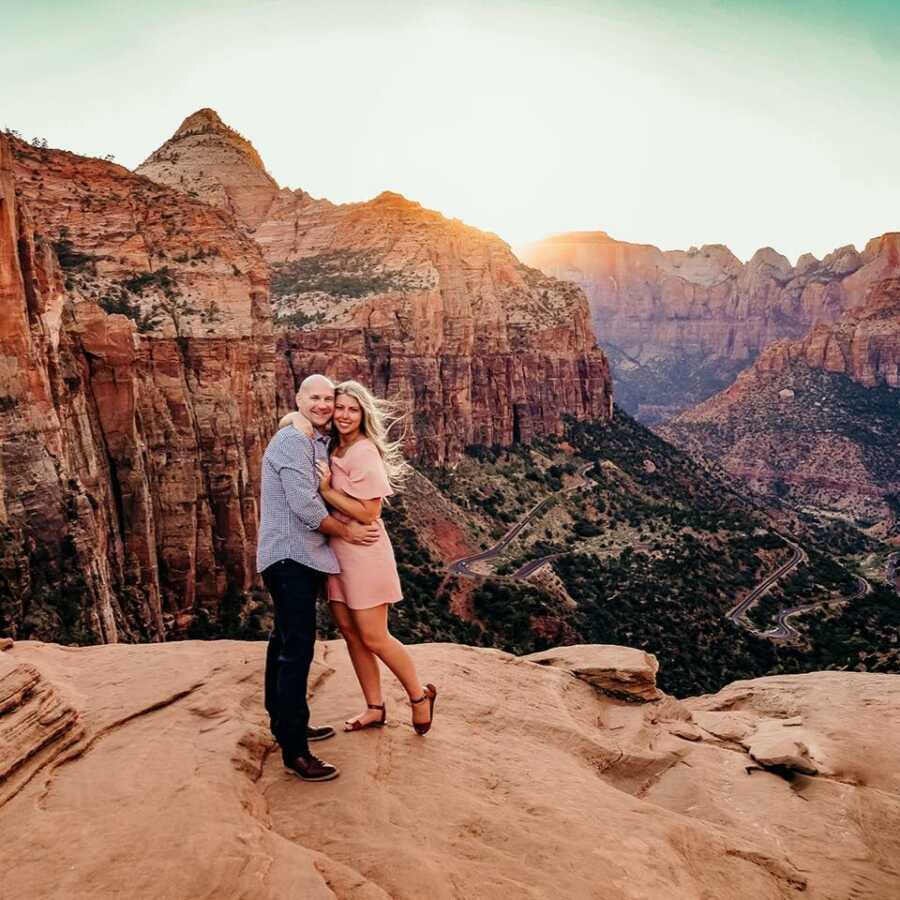 I will tell this story forever because it was hands down the best day of my life. We had the vacation of our dreams that week and were completely on cloud 9. We hiked over 35 miles in Zion National Park in the days that followed, explored Lake Powell, went to Horseshoe Bend, hiked some more in Sedona and relaxed/celebrated at the cutest Bohemian resort in Scottsdale. The thoughtfulness of this proposal is what I cherish most about this day because it was foreshadowing the thoughtfulness and effort Tim puts into our marriage every single day.
Tim and I loved our proposal so much, we decided to continue the National Park theme and get married in Rocky Mountain National Park on July 1st, 2021 – elevation 8,330 feet.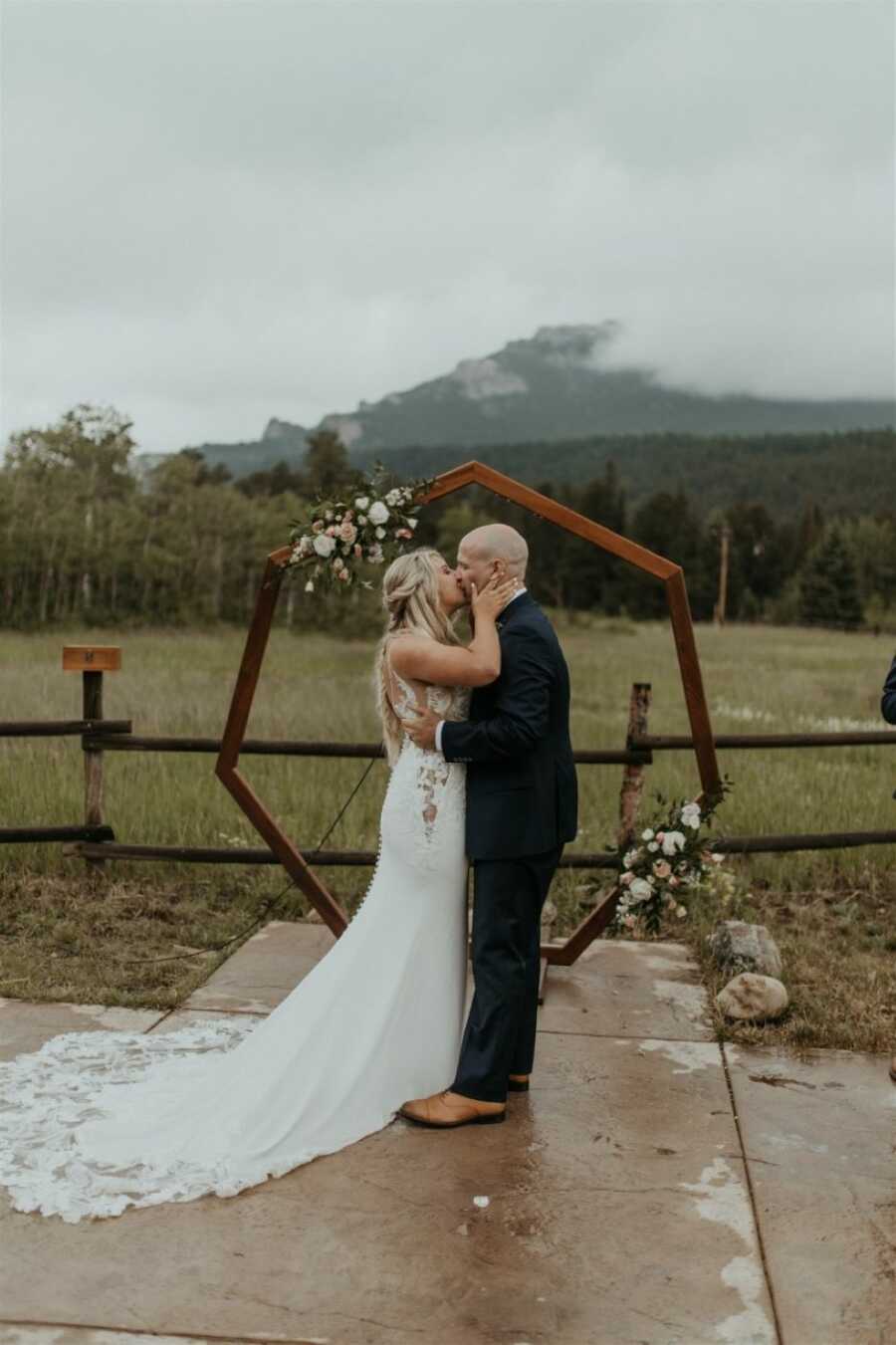 With each new hike and elevation change, we had grown in our relationship and had grown closer to one another. It was important to me that I said vows to both Tim and his boys on our wedding day. The boys had to experience the heartbreak of family separation that was completely out of their control. It was important they knew I was honored to not only get to marry their Dad, but I was also honored to officially be their Stepmom. My vows to them consisted of several special promises:
• To always have their best interest at heart
• To always be there for them
• To always provide a loving and welcoming environment for them to come home to
• And most importantly, to always love them unconditionally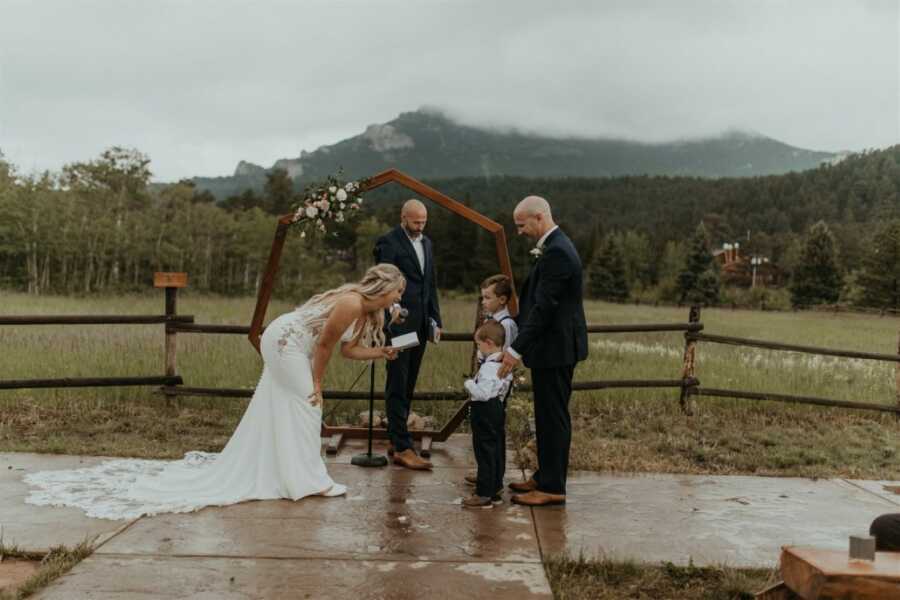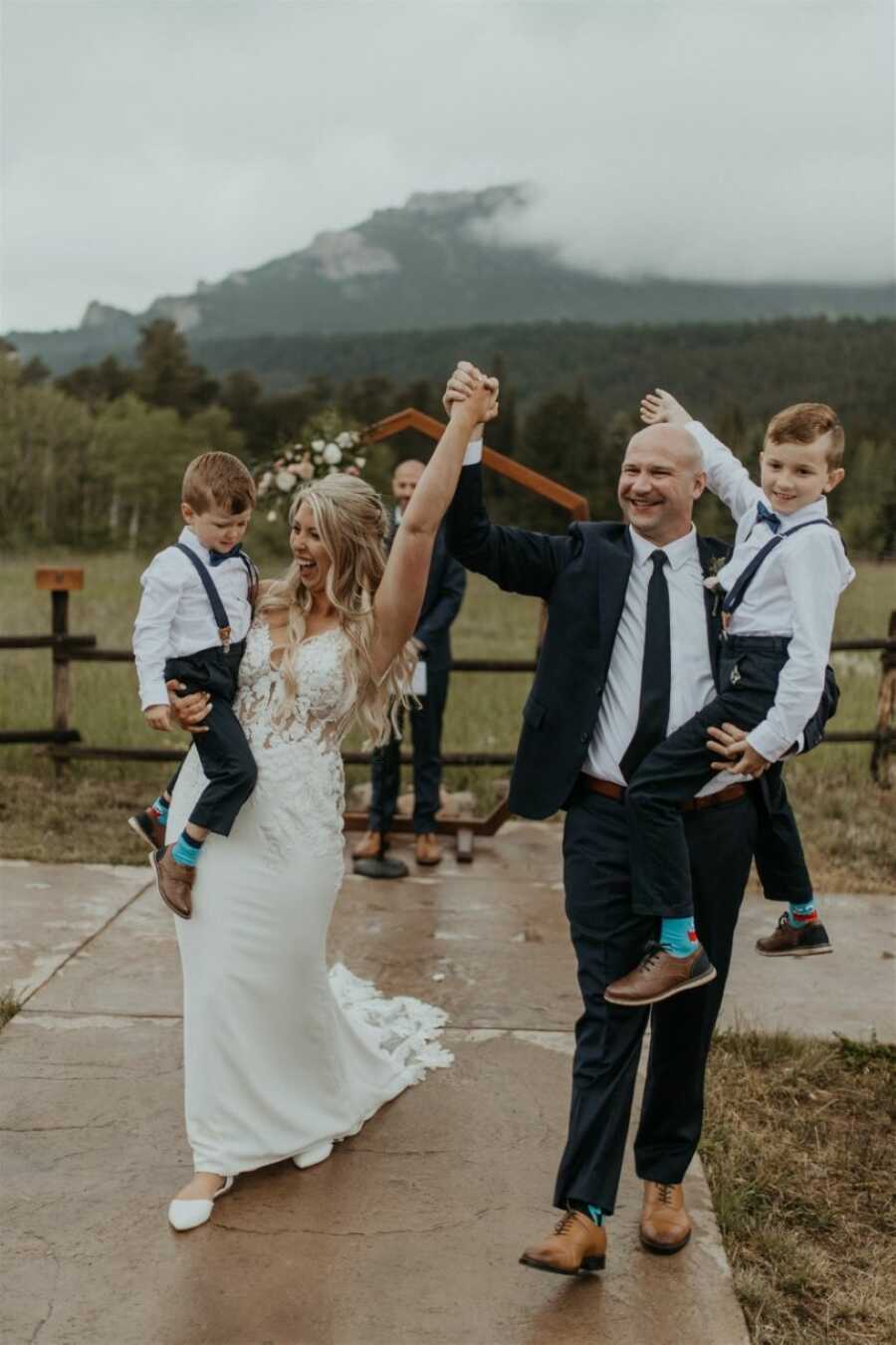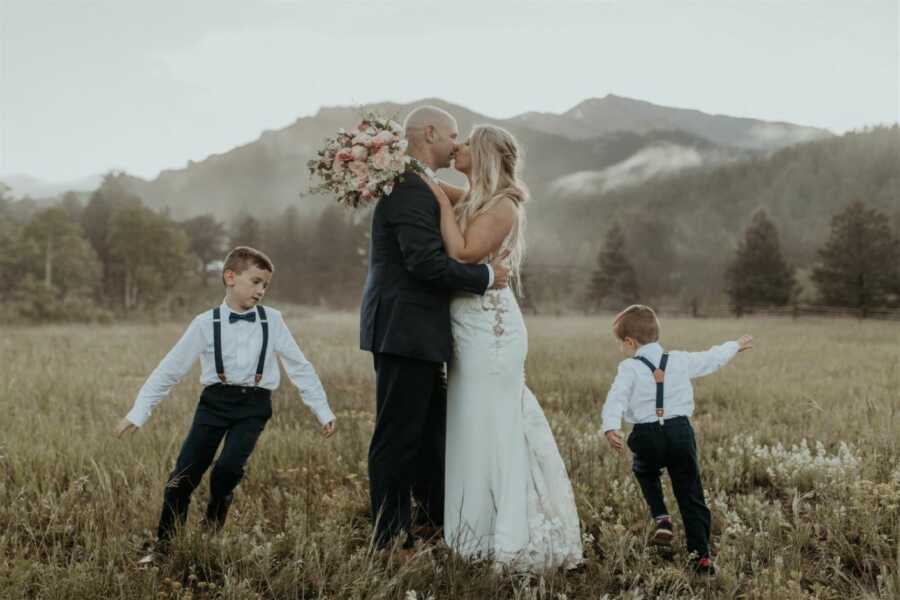 We turned our wedding into a vacation with both of our families and had a blast exploring Rocky Mountain National Park, hiking and watching fireworks in the mountains on July 4th.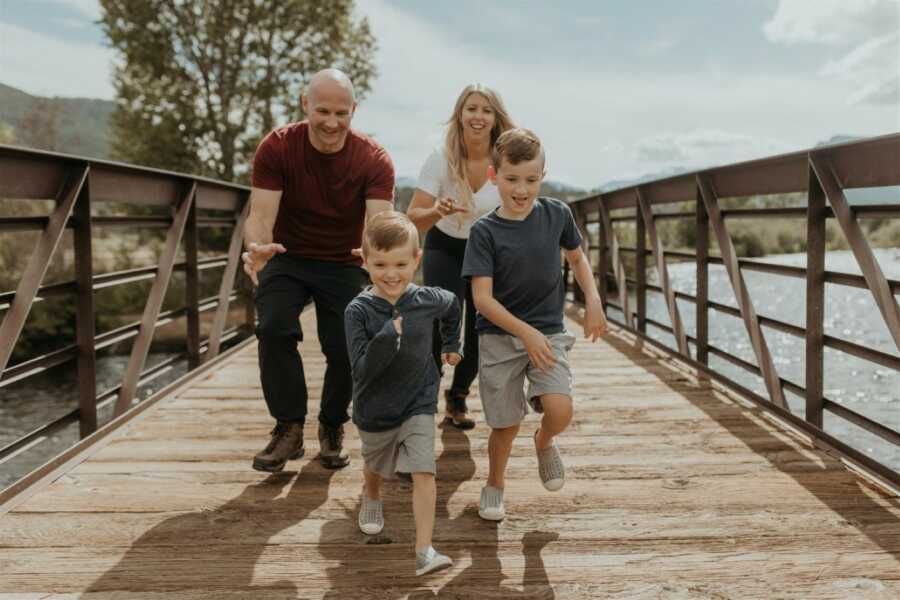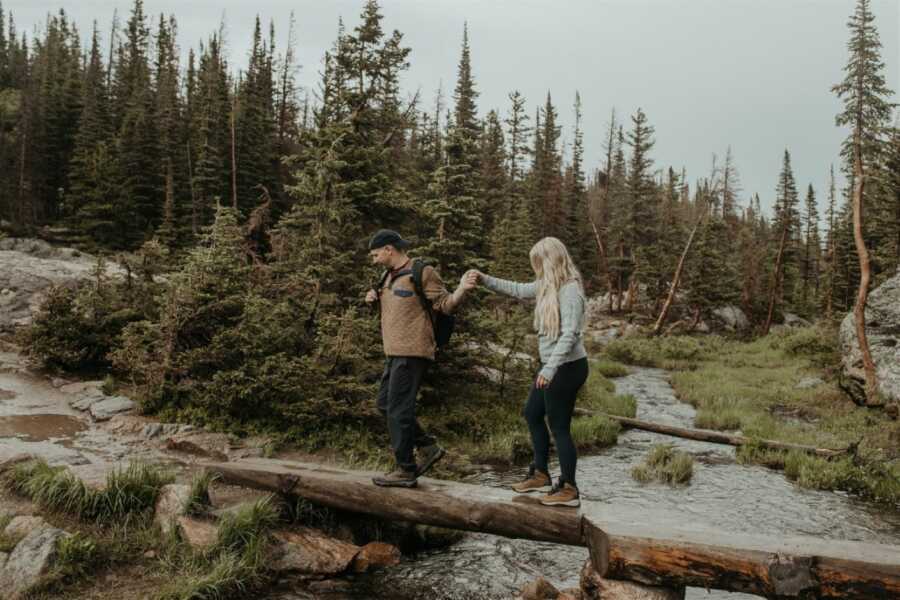 Blending our family together has been such a fun process. There are some great days and some hard days. Even when things are good in a blended family, they are still more complicated. On average, it takes blended families 7 years to really start to feel 'blended.' We are only in year 1 of marriage. A family isn't blended in a blending machine, it's blended in a crockpot – meaning it's a SLOW and intentional process. This is something I still have to remind myself at times. The boys share a special bond with their Dad, and their bond looks a little bit different than my bond with them as a Stepmom.
I used to cringe at the term Stepmom. Now, I couldn't imagine a better name for my role. There's times when I have to step up, there's times when I have to step out (i.e. when it comes to discipline) and there's times when I just need to step to the side and get out of the way!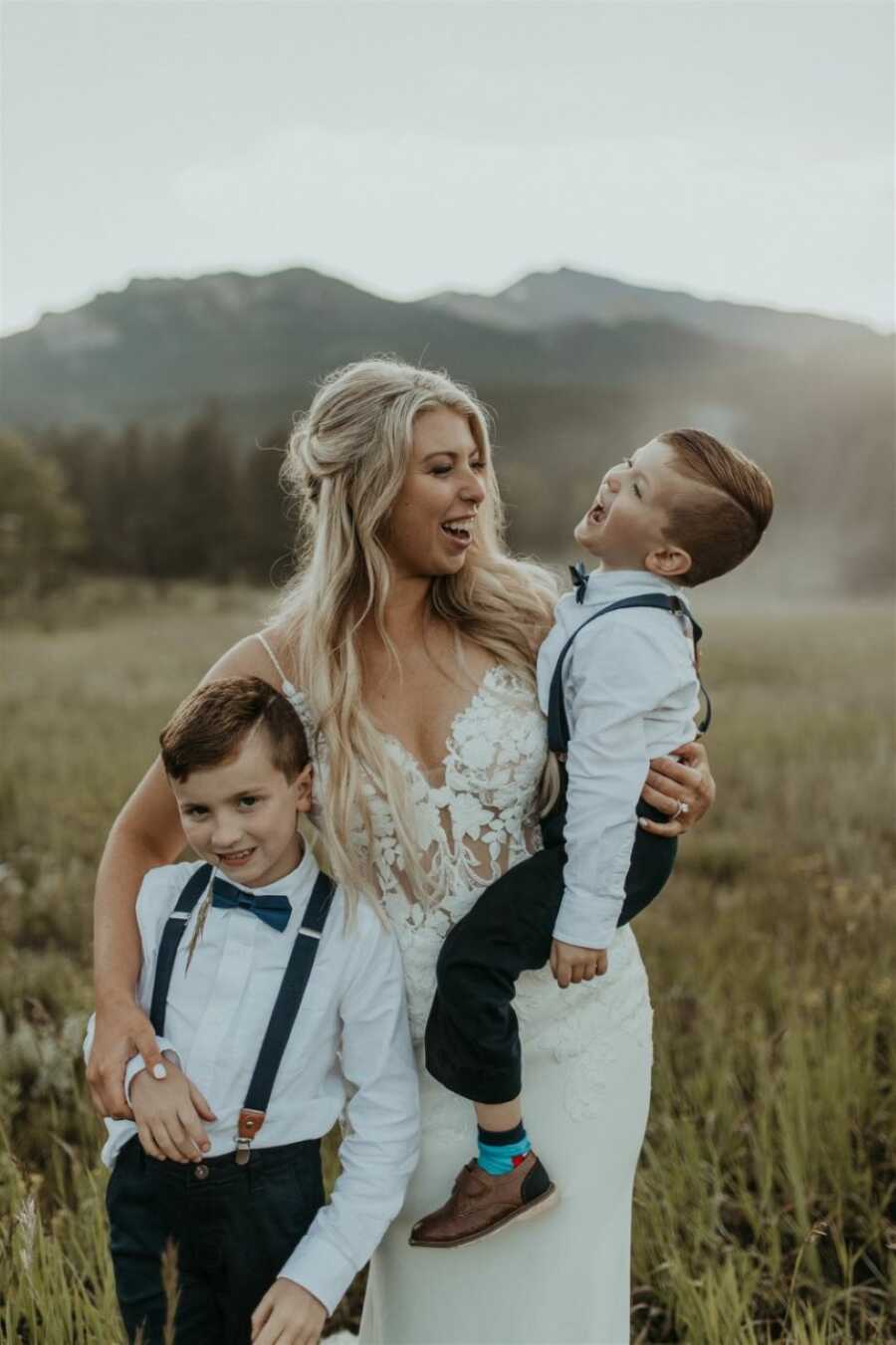 As a Stepmom, my bond with them takes more intentional effort. The one thing that has helped strengthen my relationship with the boys more than anything is making time for 1:1 time doing things that THEY love!
I can always tell when those things are lacking because I will start to feel more like an outsider. I try to intentionally spend time with the boys individually and do activities of their choice: basketball, playing their video games or toys with them, swimming, wrestling, etc.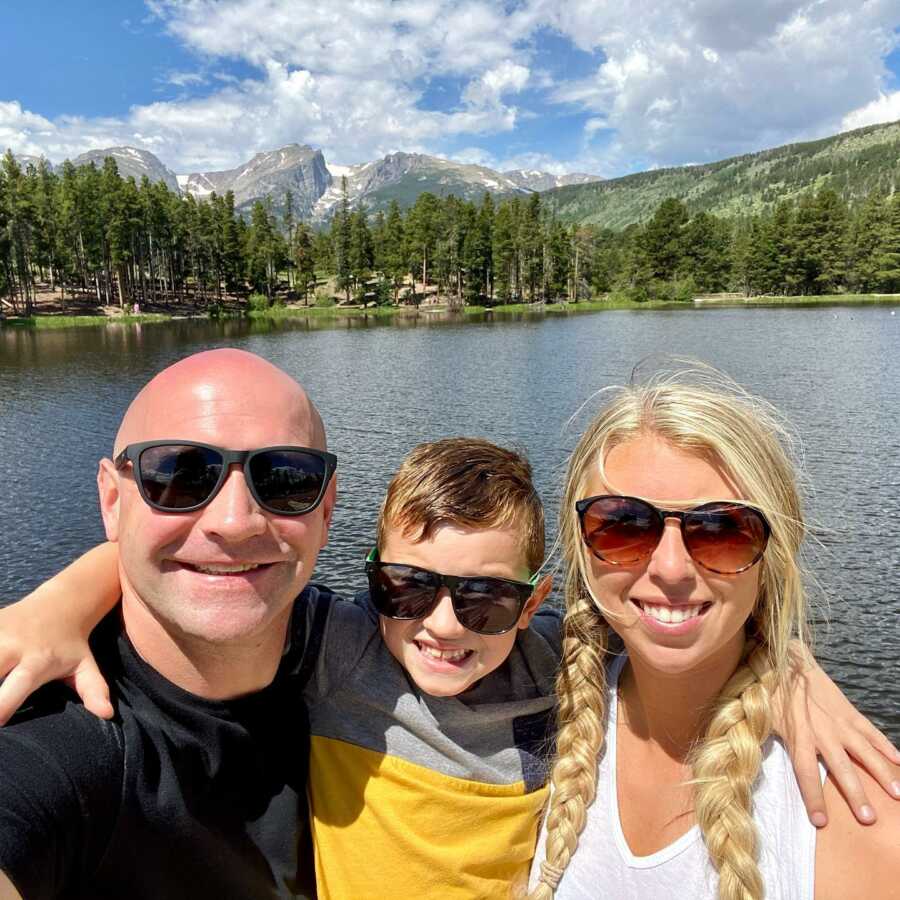 Tim and I are continuously navigating the complexities of being a blended family and last year we decided to help others do the same. We merged our heart for blended families with our passion for financial planning and created Blend Wealth – a wealth management firm specifically focused on the needs of blended families.
We work with families who want to be intentional with their money and their marriage and help them build, protect, and transfer their wealth so they can spend more time focusing on their family. Each day has its challenges, but we love pouring into our blended family and are honored to serve other blended families along the way.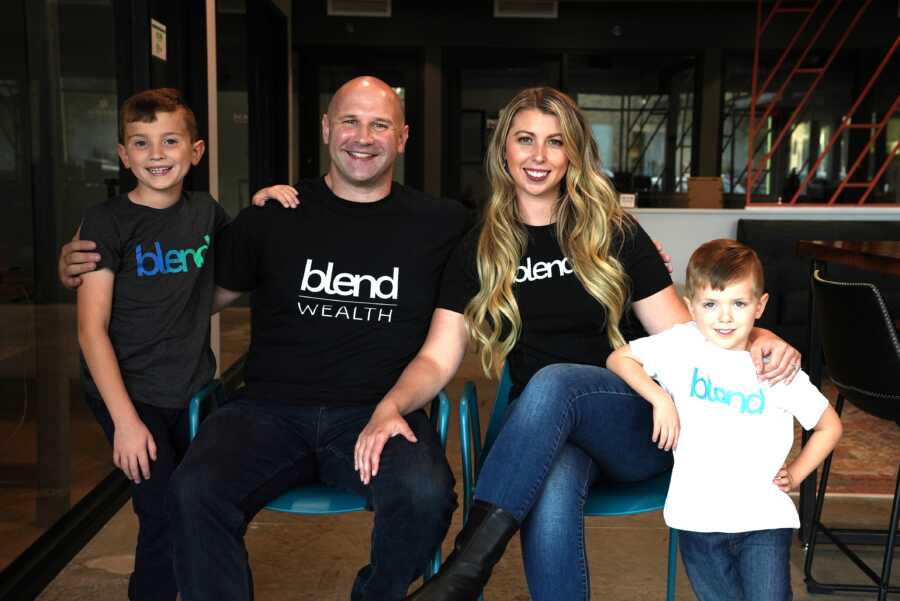 Two pieces of advice I always like to share with other blended families walking this journey are: lower your expectations and consider the 5, 5, 5 rule. Yes, there are more things out of your control in a blended family. But lowering your expectations of what your blended family 'should' look like will help. Also, whenever I come across an issue or situation I am struggling with, I ask myself, 'Will this matter 5 weeks from now? 5 months from now? What about 5 years from now?' The answer is almost always no. So, I try my best to let it go and move on.
Blended families – I see the extra effort you put into your marriage and into your family. It takes a lot of intentionality to bond, grow and maintain a blended family. Keep shining your light and restoring your family unit!"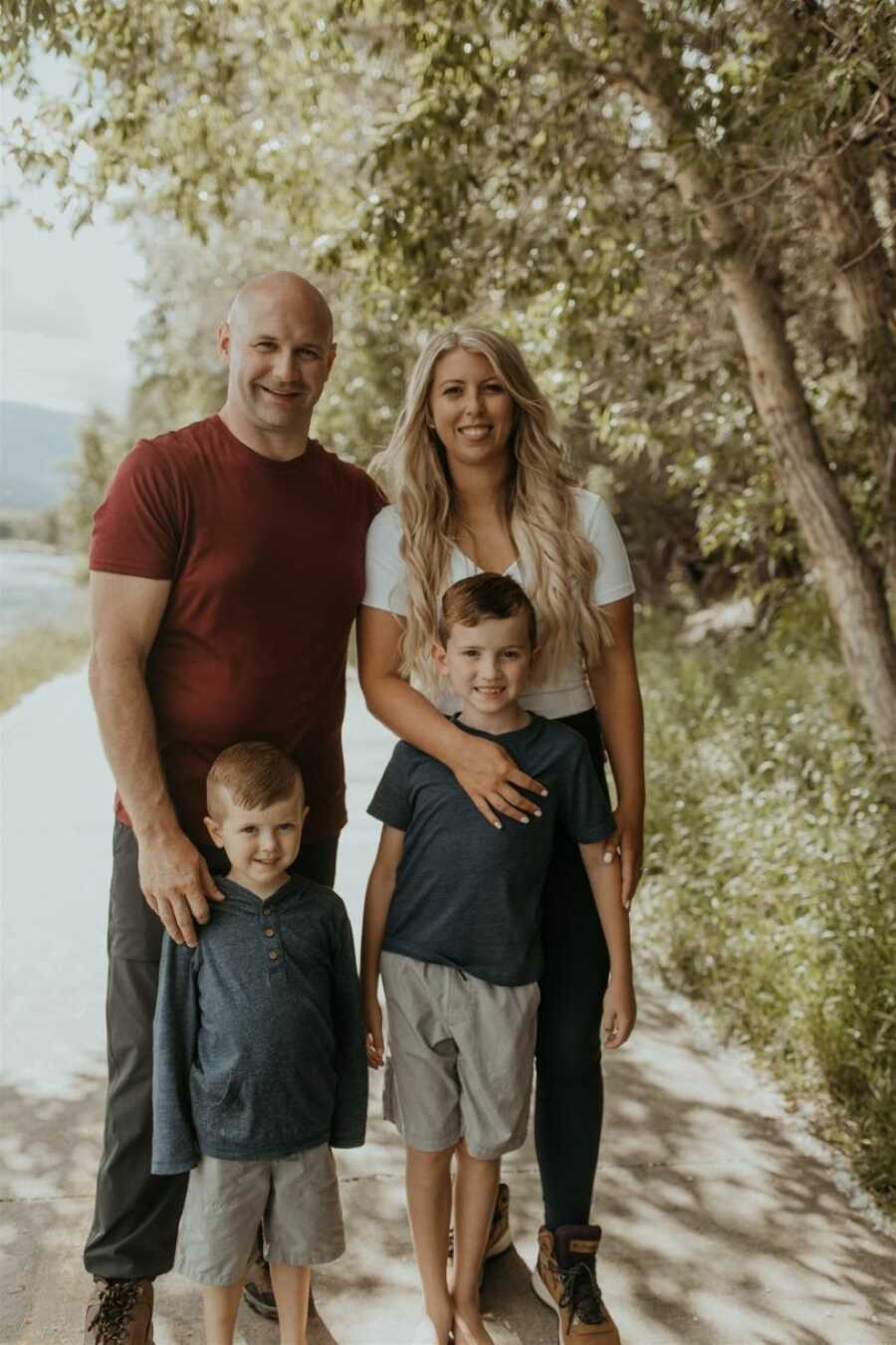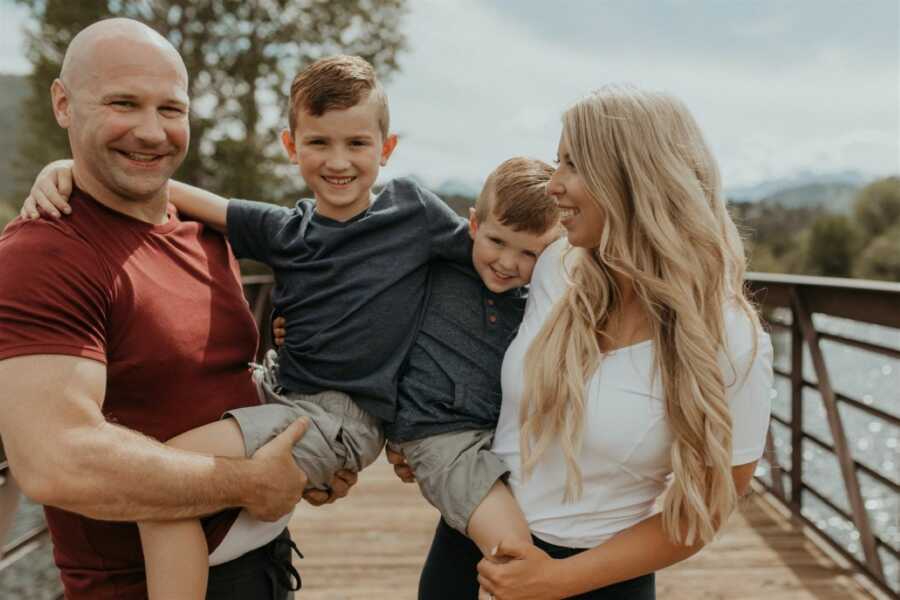 This story was submitted to Love What Matters by Alexis Woodward of Indianapolis, IN. You can follow her journey on Instagram, Facebook, and her website. Submit your own story here, and be sure to subscribe to our free email newsletter for our best stories, and YouTube for our best videos.
Read more stories like this here:
'Her oldest son Patrick asked if I would adopt him and become his other parent forever. Of course, I said yes.': LGBT woman shares journey through blended family, step-parent adoption
'I went to surprise my friend at her wedding in Belgium. As I walked into the room, there he was…the most handsome man I'd ever laid eyes on.': Stepmom shares love story, life as blended family
'She's just my stepmom.' I wasn't on the daycare list. To this day, I'm left off emails because I'm not a 'primary' parent.': Woman navigates blended family life, 'I'm more than JUST a stepmom'
'I met my husband at 23, zero doubts leading into our marriage. Until I realized I was gay 14 years later.': Lesbian mom shares divorce, blended family journey after coming out, 'I'm beyond grateful'
Provide beauty and strength for others. SHARE this story on Facebook with friends and family.