"This past April, my dad flew to Spartanburg, South Carolina, for a business trip. After hopping into a car at the airport, the driver struck up a conversation.
'Where you from?'
'I live in Ann Arbor, Michigan.'
'Ahhhh, I see. So, are you one of them Maize and Blue people?'
'No sir, I'm a Buckeye. I was born in Ohio and graduated from Ohio State.'
The driver smiled wide and lifted his right hand to reveal a bold silver ring with a Block O emblazoned in the center, commemorating the Buckeye's 2014 National Championship.
Dad smiled back. 'Did you go to Ohio State?'
'No sir,' said the driver, 'but I've been a fan my whole life.'
'So, what drew you to the Buckeyes?'
'I grew up during the 50s and 60s and things were just different back then. As a black boy, I never dreamed I could go to a white school. I wanted to play football but I never thought I could play anywhere other than a black college. Clemson, Alabama, none of those places were for kids like me.
Then one day I saw Ohio State playing on TV and my eyes almost popped out of my head. Black and white players together on the same football team, playing together at a school like that! I couldn't believe it!
Ever since that moment, I've been an Ohio State fan.'
Dad sat perfectly still, so moved by this man's story. 'Have you ever seen the Buckeyes play?'
'Well I watch them on TV, but I've never been to a game. We tried to get tickets to see them once when they played South Carolina, but they sold out so fast.'
Dad thought if anyone deserved to see a game it was this man. He handed the driver his business card.
'Let's fix that. My daughter works for Ohio State and gets season tickets every year. If you can make it up to Columbus, we'll make sure you see your Buckeyes play. Let us know which game you want to come to and we'll make it happen.'
Dad called me after getting out of the car. 'Hey kiddo, we're gonna need some extra tickets this season…'
Dad got the text from Mr. Robert Evans, Sr. in July. Could we get him and a guest tickets to see the Buckeyes play Penn State?
Dad called him back right away. 'Come to Columbus. We'll take care of the rest.'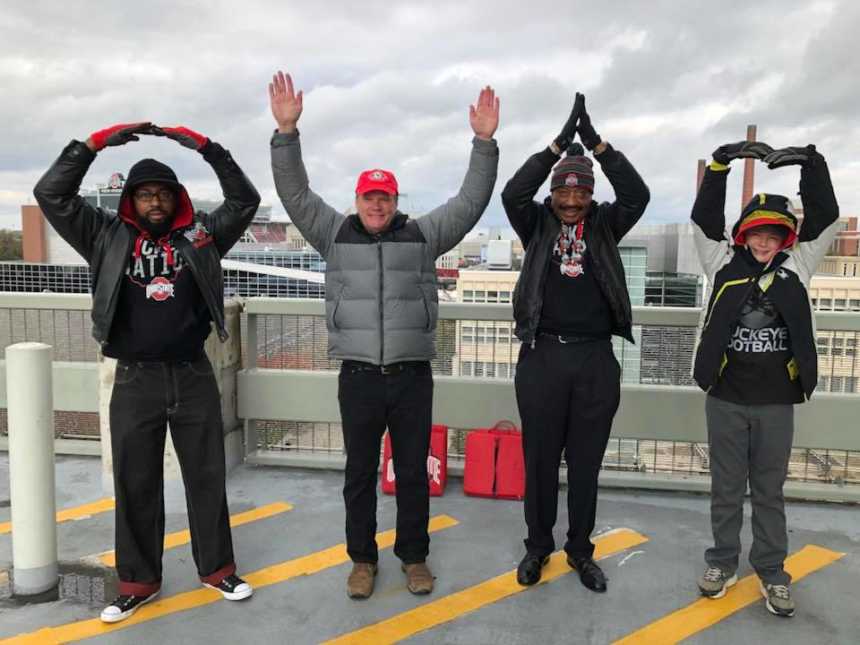 On Saturday, October 28, we had the honor and privilege of taking Mr. Robert Evans, Sr. and Mr. Robert Evans, Jr. to their first Ohio State game. Robert Sr. didn't tell Robert Jr. about the weekend until that Thursday.
Robert. Jr. spent Thursday night wide awake.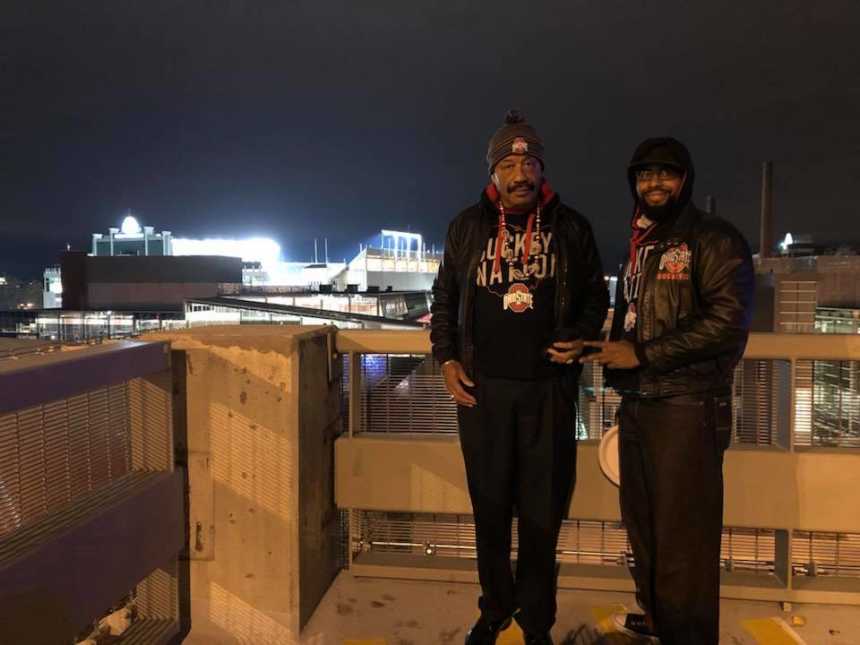 Saturday was their day. Dad and I were excited to share anything and everything they wanted to see. We started by tailgating on the roof of the Neil Avenue garage, then headed over to an Ohio State pregame ritual known as the 'Skull Session' to hear the brilliant Penn State and Ohio State marching bands play.
As we walked along Lane Avenue afterwards, soaking in the sights and sounds of an Ohio State game day, I turned to Robert Jr., 'Are you having a good time so far?'
'This is amazing. I feel like I'm finally home.'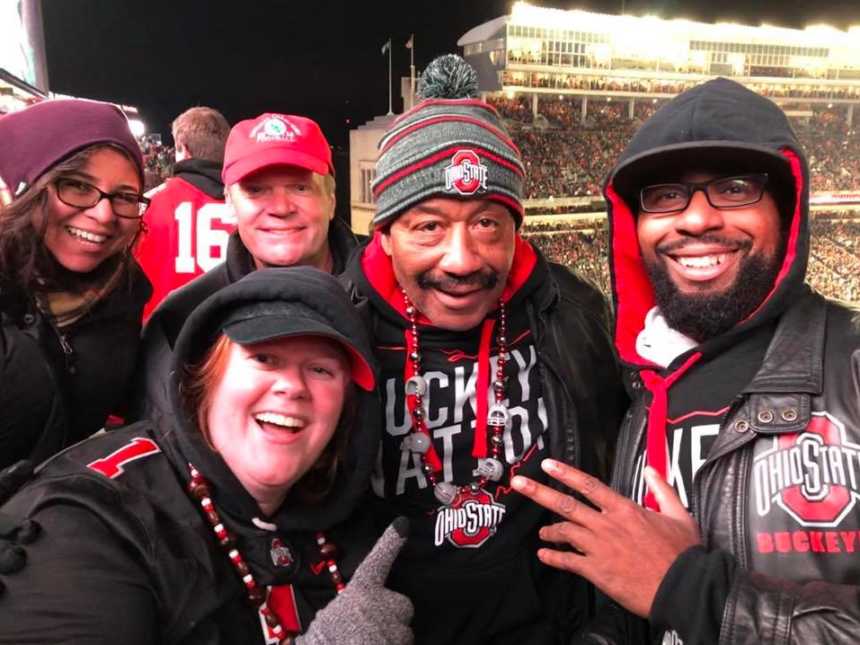 Ohio State vs. Penn State was billed as one of the best games of the year and it lived up to every expectation. From the southeast end of the Horseshoe, we witnessed one of the greatest comebacks in Ohio State history, led by one of the best quarterbacks Ohio State has ever seen. Robert Sr. and Robert Jr. never took their eyes off the team and never lost faith that the Buckeyes would win.
As Ohio State knelt in the victory formation to seal the upset, Robert Sr. stood and shouted, 'THIS IS OUR HOUSE!' into the cold night air.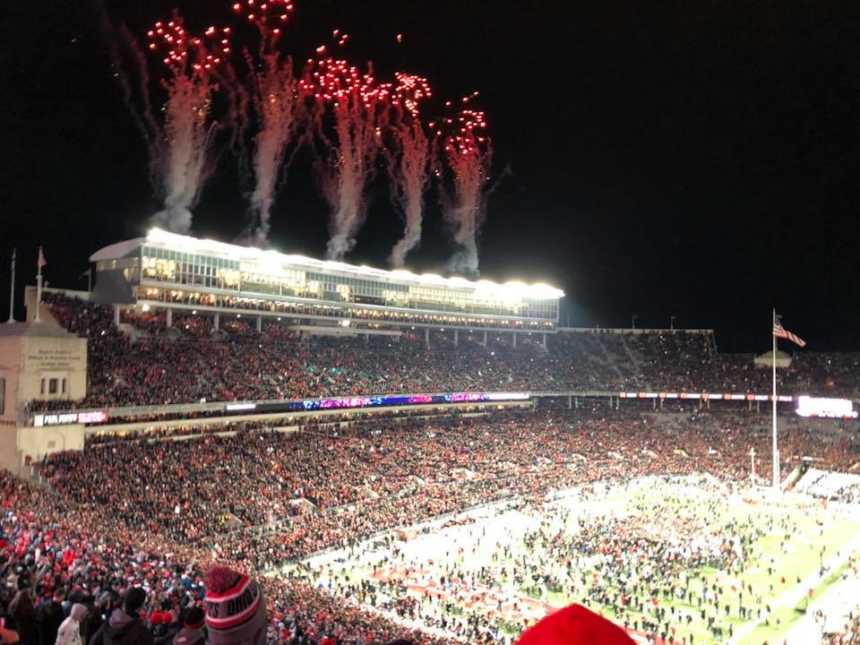 The victory bell followed us on the walk back to the car. Dad stepped to Robert Sr.'s side as we walked. 'So, was it everything you hoped it would be?'
'Let me put it this way: my honeymoon weekend was the best weekend in my life. This weekend is number two.'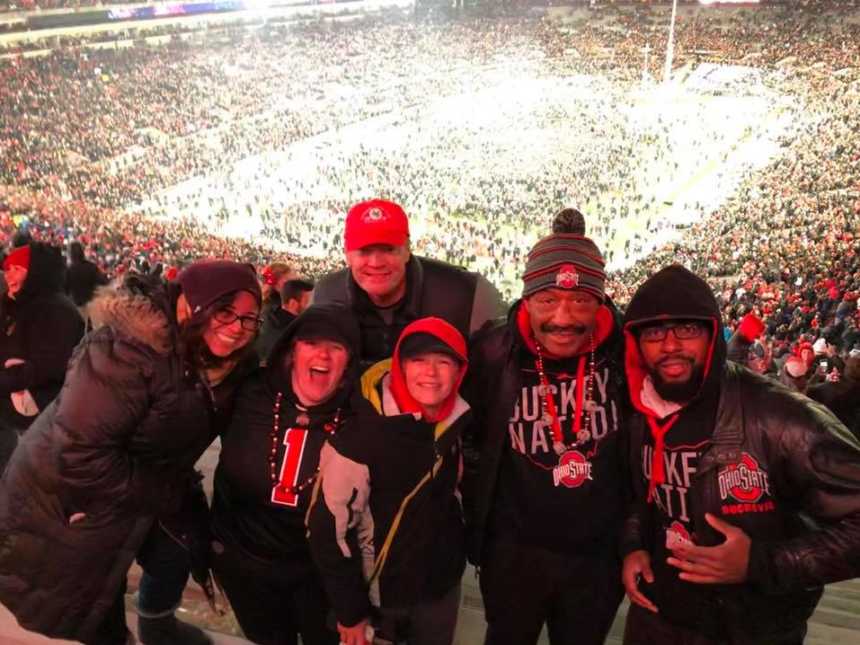 During the Skull Session prior to the game, Ohio State's head coach, Urban Meyer, spoke about the brotherhood of Ohio State and invited everyone in the crowd to be a part of that revered bond. At their finest, sports bring people together to join in unique fellowship. The connections we forge can be as simple as a high-five with a stranger, or as deep as an unlikely friendship that aims to soothe old wounds. Sports show us that coming together makes us stronger and loving one another creates incredible partnerships that reach beyond a single game.
Our friendship with the Evans is here to stay. We text each other regularly to check in, and share our thoughts on the latest happenings with Buckeye football, of course. It is a distinct honor to share such a special connection with these men. Our first game together was an incredible experience, but we look forward to many more game day Saturdays together at Ohio State."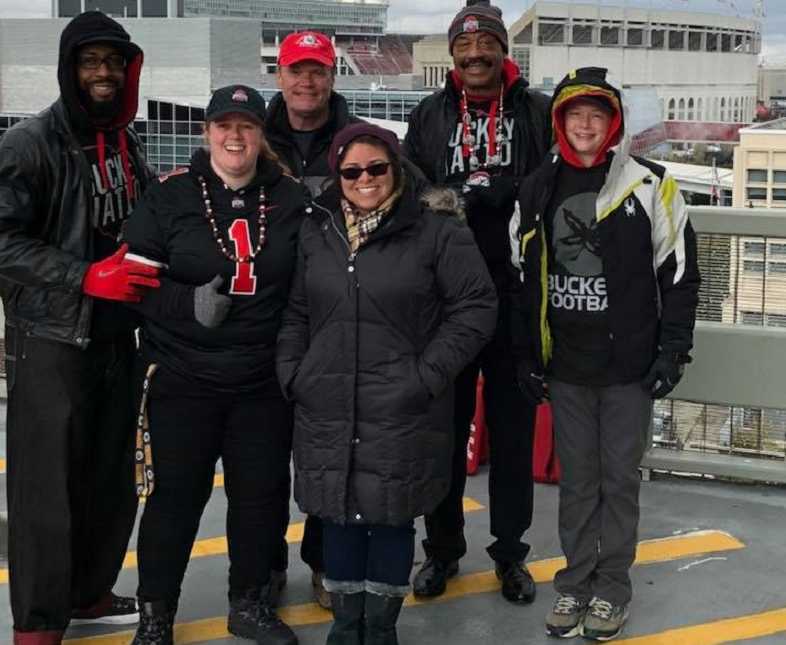 This story was submitted to Love What Matters by Jackie Stotlar, 28, of Columbus, Ohio. 
SHARE this story on Facebook with friends and family to show how sports can go beyond the game to provide healing and unity.