"It was the end of September. The start of my favorite season. What's not to love?
The heat of summer begins to fade, and mornings begin with a cool crisp breeze that lightly kisses your forehead. The leaves have begun to turn, and you can almost smell it as they fall to the earth. It's when morning breaks and the world whispers, there is a God, and these are the days we live for.
September 2016.
I remember, distinctly, waking up to the sound of my cellphone vibrating under my pillow. Not highly unusual but I remember thinking, 'Who could be calling so early in the morning?'
Completely unaware of how quickly one phone call was about to unravel my life. With my eyes still closed, 'Hello?', I answered.
You see, the day before, my life was perfect. I had loved a man with everything I was. And my future consisted of nothing but growing old and raising my son with him. He had encouraged me to quit my job and become a stay at home mom, something I never dreamed I'd be able to do. He told me that my son deserved to have me around more often and at first, I was hesitant, but with time, I agreed. He had a new job opportunity that would benefit us both and things were looking up. He reached in his pocket and gave me $16 for whatever I may need. He made sure to stock the freezer with a pint of my favorite ice cream because he knew I'd be sad he was leaving. He kissed me goodbye, told me he loved me and said he'd see me tomorrow.
That phone calls? It was his voice on the other line. It was over. And that was it.
The past two years of my life, were over.
I found myself sitting in the bottom of my shower, scolding hot water beating down on my fully clothed body, trying to feel something. Anything. Anything other than a vast emptiness that had somehow consumed my life. I felt like my stomach had fallen out of my ass and like my lungs were no longer my own, completely unable to breathe.
The only thing running through my mind was, 'WHY?'
The one question that I felt I was most deserving of, I would come to learn would never be answered.
We never saw him again.
After that phone call, I drove, I had no idea where I was going or where I'd end up but I kept driving. I drove until I ran out of gas in an Apple Mart parking lot.
Austin, Texas. For the first time in my life, I was standing in a beautiful city, full of thousands of people, completely alone and I hated my life.
I hated myself.
I vowed to ratify the situation. Use it. Learn from it. I would never again allow a man to strip me of everything and leave me with nothing.
And that's exactly what I did.
And before I knew it, it was September again.
And what do you know, I met someone. I told him that I was broken. I told him that I was damaged and unlovable. But he refused to believe it.
I refused to go out with him, or even date him. I didn't want a boyfriend. So, we agreed to be friends.
He had never been in love or experienced heart break. He was still innocent. He couldn't possibly help me, he didn't know how I felt. I knew I would only break him or ruin him for some woman who actually deserved him. I had to end our friendship. So, I got up and I physically ran out his front door, mid conversation.
I didn't care if he thought I was crazy. It was probably better if he did. I couldn't do it. I couldn't let it continue. He was developing feelings and I had nothing to offer.
And as I was running down the road, through my tears I saw him, right there, beside me. Running. Literally running next to me. We stopped at the stop sign and he grabbed me and kissed me. And that was it.
He told me that he would help me heal and that I deserved the world. And he never left. He has been running by my side, from day one.
I thought I knew what love was. I thought I knew what losing true love felt like. But God had bigger plans for me. He gave me a man that opened my eyes, opened my mind. A man that reopened my heart.
He is my best friend, my soul mate, and the absolute love of my life. He was exactly what I never knew I needed. When I thought I absolutely needed it the least.
Today, we're married. We have two beautiful boys and no matter where he is in the world, when I lay down to go to sleep, I know that when I wake up, he'll still be there. I know that the only phone call I'll receive is to tell me good morning and that I'm beautiful.
SGT Jimmie Treff, it has been one year. And I will never forget the moment we met.
It was the end of September.
….The start of my favorite season."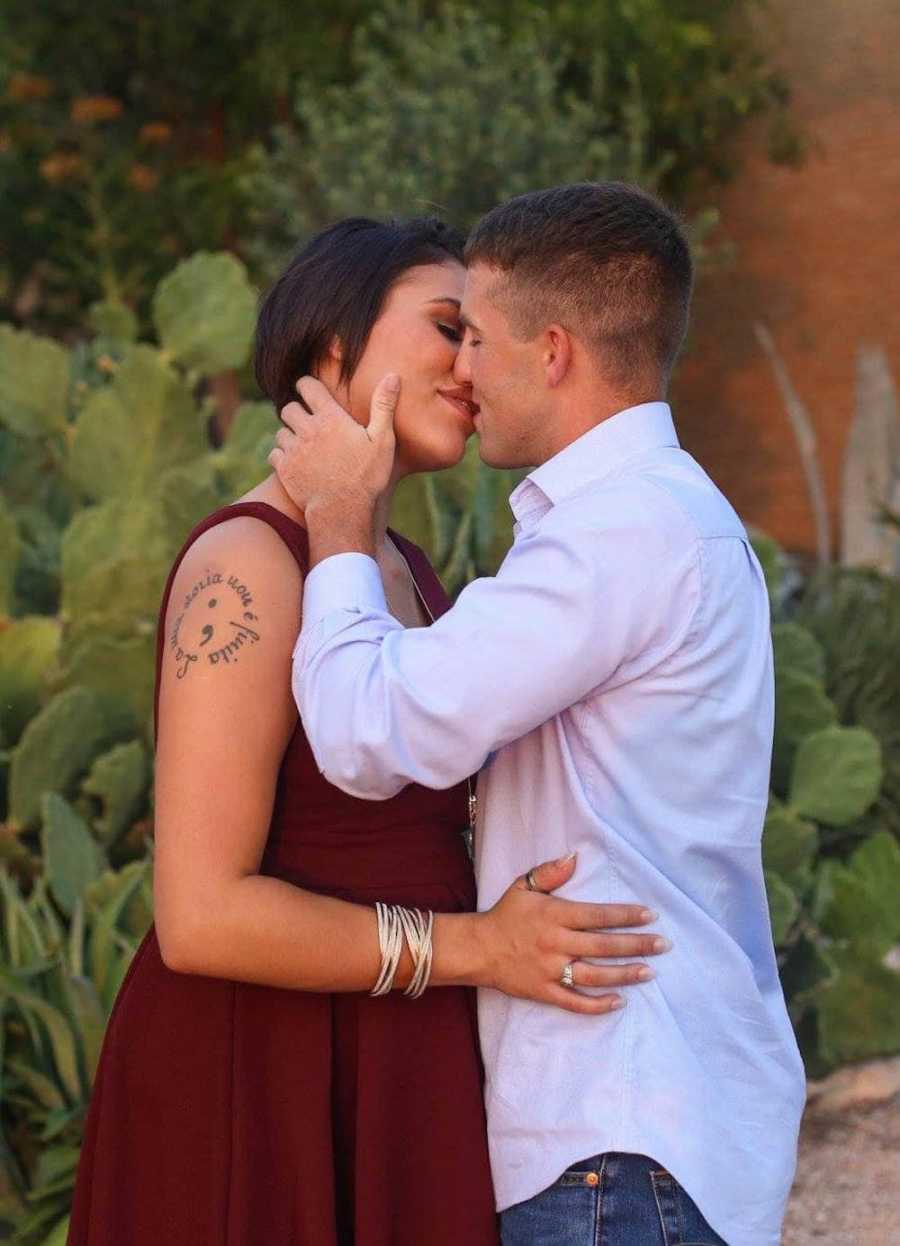 This story was submitted to Love What Matters by Holly Treff of Texas. Submit your story here, and be sure to subscribe to our best love stories here.
Read more stories like this: 
'I wasn't playing games. 4 weeks after meeting, he asked me to marry him! I said yes. Then, I tried to break it off.': Single divorced mom of 2 gets engaged to man she met after 4 weeks, 'He is worth the risk of another heart break'
'I feel off. It could be minor. I don't know. I just know something is off.' My friend diagnosed me with perimenopause. 'That's not what I'm dealing with.': Woman anxiously awaits results over holidays to see if cancer has returned, 'We don't want to worry our kids'
Please SHARE this story on Facebook to encourage others to cherish every moment and love what matters most.