"My divorce was final, and I knew I wanted to step back into the dating scene. Being divorced meant I had the freedom to mingle with the young single adults in my church and open myself up to the possibility of love. Off I went to my first activity. It was 2003 and around Halloween. I remember because I went to an activity where we were decorating pumpkins and the weather was cooler.
This man that I had briefly been introduced to a week or so before came up to me and asked me what my name was, again. I said, 'My name is Tracey and I remember your name Ryan.' I then walked off.
I knew that was him trying to play it cool or act like I didn't leave some kind of impression on him the first time we met. But I for one, wasn't into playing games. So off I went to enjoy my friends for the remainder of the evening.
A few days later I was with a group of church friends at a Denny's restaurant and as we were leaving to go home, that guy Ryan, showed up and said, 'If anyone needs a ride home, I can take you.' I looked at him and said, 'If you want to take me home, just ask.'
So, he did, and I let him take me home.
About a week or so later I was invited to attend a young single adult dance. As I sat on a cold metal chair, some random guy sat by me and was trying to pick me up. I didn't care too much for his company and I knew with every fiber in my being, that him and I were not going to be a thing. I guess you could say that it was probably written all over my face that I wasn't feeling it with him but didn't want to be rude.
Next thing I know, that guy Ryan, who asked me what my name was again and took me home from Denny's, sat down next to me and put his arm around me. Although slightly relieved, I thought to myself, 'This guy has got some balls!'
The other man then got up and left. Ryan asked me to dance and I said yes, because I wanted to get to know this man who just got me out from an uncomfortable situation but who also exhibited a level of confidence I didn't often see. Confidence that I found attractive.
As we were dancing, one of the very first things I told him was I was recently divorced with two little girls. I wasn't into playing games nor was I going to hide that part of my life. And if I'm being totally honest, after what he had just done, I wanted to see how he would respond to that kind of information. He didn't skip a beat. We kept dancing and talking till the song was over.
He offered to take me home, and on the way home he got us lost. Well, that's what he claimed anyways. I believed he just wanted to spend more time with me, and he thought getting us lost, would accomplish that. And it did! We talked the entire time and got to know each other a bit better.
When he dropped me off, we exchanged phones numbers and he asked me out on an official date. He said the single adults were going to Galveston for a bonfire and he wanted me to go with him. I was so excited!
At this bonfire there was music and he asked me to dance. I couldn't believe what my heart and hands were feeling. My heart felt connected to his. My hands felt all the muscle under his clothes, that he was not showing off! I was in complete shock that under his long sleeve shirt were rock solid arms. Like why isn't this guy flaunting his body!?
Then it happened, he asked me if he could kiss me. I was thinking, dude, you just ruined the moment and made it feel awkward. But of course, I still said yes. I will never forget this moment, I literally had to interrupt our kissing sesh and take control of it. All I could think was juicy peach. That's what it was like kissing that man for the very first time.
I came to realize that as confident as he was, it wasn't the 'look at me confidence', it was more along the lines of a humble confidence. Which is why he didn't flaunty his body, although he had every right to and I most certainly would have appreciated it. I also realized that him asking if he could kiss me was him showing me respect.
That night after he dropped me off at home, I told my mom I was going to marry him! I just knew it and I was claiming it. After that night we were inseparable. If we weren't hanging out, we were on the phone. Then he met my girls, it was such a natural relationship for my girls and him. Nothing ever felt forced.
Four weeks after meeting, he asked me to marry him! I said yes. Then, I actually tried to break it off with him. I started to let fear creep into my mind and heart. I started to focus on the two totally different worlds we came from.
Ryan was in school, had ambition, had goals, was an Eagle Scout, never once touched drugs or alcohol, saved himself for his future wife… aka virgin, seemed to make all the right choices, came from a home where his parents were still married, church goer his whole life, served a two year mission for our church, and just seemed to have everything going for him.
Here I was broken trying to get my life back on track, just finished fighting cancer a year before, recently divorced, teen mom, made so many mistakes, and thought a girl like me didn't deserve a guy like him. I was also scared of getting my heart broken again. He seemed too good to be true that I thought surely this would all end once we got married and he let his true colors shine through. And then I would feel stuck in a marriage that I wasn't happy in.  Or somehow, I would screw it up. I mean who gets engaged after only 4 weeks of knowing each other?! And what's the probability of it even working out?!
After talking it through with him I had a thought that changed the trajectory of my life forever, 'I deserve to be loved and happy. My girls deserve a good man in their life. And gosh darn it, he is worth the risk of another heart break.'
Allowing that fear to start settling in almost prevented me from making one of the best decisions I have ever made, allowing this man to love me and my girls the way we deserved and for us to love him back.
I learned to trust the mirror he was holding up. I couldn't see in me what he saw in me. Because the lenses we were looking through were two totally different prescriptions. His eyes saw me for my heart. My eyes saw me for all the mistakes I had made. The more I got to know Ryan, the more I respected his opinions of me, to the point that I eventually saw myself the way he did. I didn't know my worth all those years ago and he helped me see it. He brought out in me what was already there. And over the years, I started to trust the mirror he was holding up in front of me.
That fear I had when I tried to break it off with him, never came to fruition. I've learned a lot about love since then. One thing I know to be true, is love really can heal a broken heart and love will never steer me wrong, if I allow it to be my north star. I've learned that my mistakes are not who I am, but experiences I had and that despite them, I am so worthy of love.
I refuse to let others tell us that luck is a part of our journey. Luck indicates that Gods hand wasn't in the details of our beginning or that we didn't create the kind of marriage we now have, which was created through love and consistent work. Luck gets no credit for our marriage! We are blessed to have each other and the life we have created together."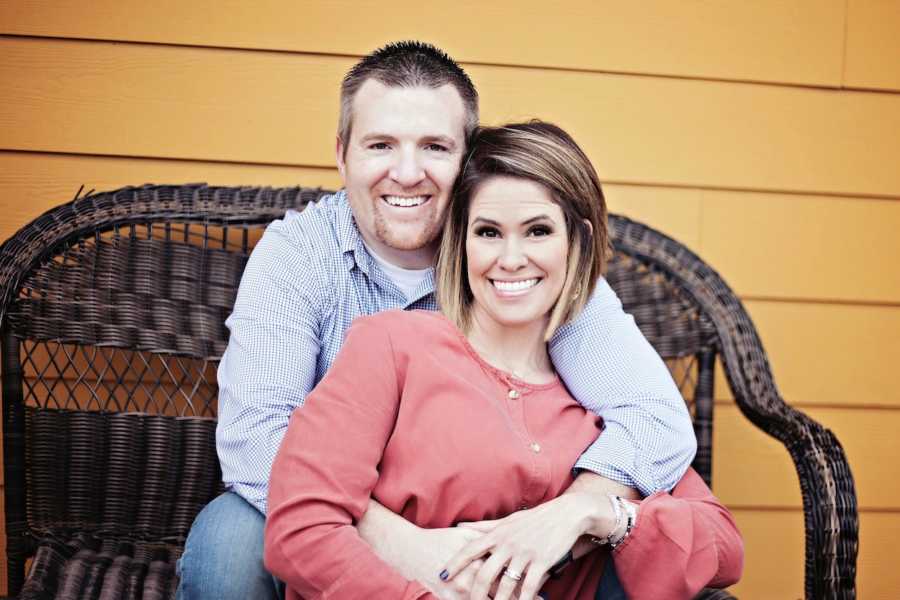 This story was submitted to Love What Matters by Tracey Ferrin, 36, of Houston, Texas. Tracey's new book "Up Struggle" is available now here. Follow her journey on Instagram here and Facebook here. Do you have a similar experience? We'd like to hear your important journey. Submit your own story here. Be sure to subscribe to our free email newsletter for our best stories, and YouTube for our best videos.
Read more stories from Tracey here: 
'I was diagnosed with cancer, 6 months pregnant, married, with a 10-month-old daughter. I was under attack.': Mom refuses to abort child despite doctor's advice, 'It was up to me to make an impossible decision'
'Honey what's wrong?!' He started crying. 'Nick passed away.' I could see his pain.': Brother-in-law's sudden passing brings family together closer than ever, 'I'm here, bud'
Do you know someone who could benefit from this story? Please SHARE to let them know a community of support is available.